Hold On: Should I Tell My Boss I'm Depressed?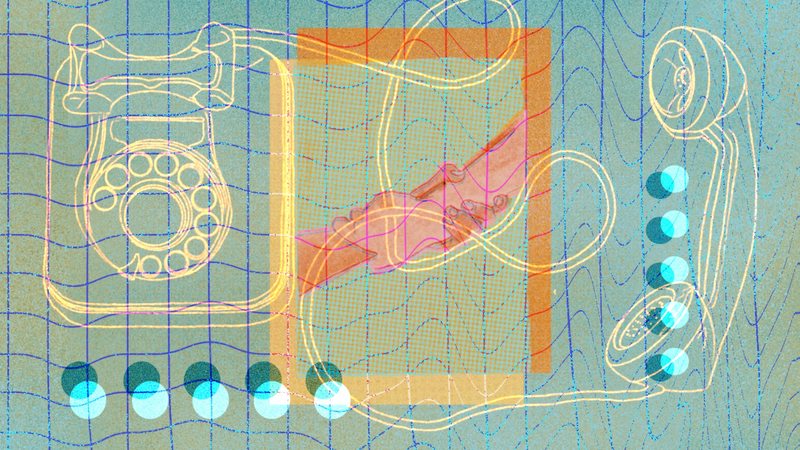 Transcript
Anna Sale: This is Death, Sex, & Money – the show from WNYC about the things we think about a lot and need to talk about more. I'm Anna Sale.
This is our final episode of our series Hold On, our live call-in specials I've been hosting for the month of May with WNYC on public radio stations across the country for Mental Health Awareness Month.
Before we get to it, I want to let you know about something else you should listen to this week. Over on the podcast feed for On the Media, my WNYC colleague Micah Loewinger has hosted the whole hour this week about his reporting about right-wing extremists and where they communicate online, and how that led him to be a called to be a federal witness in the criminal trial against the Oath Keepers founder Stewart Rhodes.
You'll remember that a few weeks ago, Micah and I interviewed Stewart Rhodes' ex-wife Tasha Adams for Death, Sex & Money. And in the On the Media episode this week, you'll hear a little of that, and you'll hear me interviewing Micah about what it was like to be a witness in the criminal courtroom with Stewart Rhodes, right before Rhodes was convicted.
Micah also looks into the history of reporters being asked to testify on the government's behalf, so you can think of this On the Media episode as the second part of that collaboration that we did together, and we have links to both in our show notes for this episode.
This episode, that you're listening to right now, is all about mental health and the workplace, when and how to disclose to your boss or co-workers that you're going through something, that maybe you need accommodations or time off. You'll hear people calling in from all over with success stories, and the relief that comes with not carrying around a secret, and also about when disclosures about mental health at work did not go so well.
Here it is.
["Waiting" by Crowander starts]
Anna Sale: This is Hold On, a live national call-in special about our mental health from WNYC and the Death, Sex & Money podcast. I'm Anna Sale. Thank you for joining us. We are on public radio stations across the country this month of May, which is Mental Health Awareness Month, to talk together about the state of our collective mental health.

This hour of Hold On, we are talking about mental health and the workplace, when and how you disclose mental health difficulties, and how workplaces can better support all of our mental health.
["Waiting" by Crowander ends]
Earlier this year, freshman Pennsylvania senator John Fetterman, took a leave from his job to take care of his mental health. A few weeks after being sworn into office, he checked himself into Walter Reed Hospital for clinical depression.

Clip of Senator John Fetterman: It's like, you just won the biggest race, you know, in the country. And the whole thing about depression is, is that objectively, you may have won, but d, depression can absolutely convince you that you actually lost.

Anna Sale: That's Senator John Fetterman on 60 Minutes last month, in an interview he gave as he was just finishing six weeks of inpatient treatment for depression. He's now back at work in the US Senate.

Even if you don't have to disclose a mental health problem to the whole country like Fetterman did, telling your boss or your employees can be extremely difficult, and that's even if we feel comfortable talking about it at all.

Then there's the question of how our work impacts our mental health and what we can do about that. We are talking about that this hour, and we wanna hear your questions, your stories about mental health and the workplace.

A 2021 American Psychological Association Survey found that 59% of employees report experiencing the negative impacts of work-related stress in the month prior to the survey. And a vast majority, 87% of employees, say their employer could make changes to the workplace to help their mental health. And in the cold, hard, zoomed out data of economics, the World Health Organization estimates that around the world, 12 billion, billion working days are lost every year to depression and anxiety, and wind up costing $1 trillion per year. Those are numbers. Let's take a listen to what this actually looks like and feels like on the ground. We asked listeners to the podcast I host, Death, Sex & Money, to share voice memos about mental health at work. And here's some of what they told us:

Listener 1: I've become the, the manager of a small factory and I'm, I'm absolutely shocked with how much negotiating and, and dealing with both the physical health and mental health of employees comes into my role, and how directly it conflicts with other aspects of my role.

Listener 2: So I see my therapist on my lunch break. I've chosen to tell certain people that, you know, oh, I got to go, I had to do therapy. But other people are sort of like, "Therapy! Are you going to the doctor? What's wrong?"

Listener 3: Booze is really pervasive in the legal community. But it's not like I'm going to go tell the chairman of the law firm that I don't drink because of the stigma associated with alcoholism. And, and so I worry about how my mental health, and managing it by not drinking among other things, will affect my career.

Listener 1: There's just so much business conflict between the needs of a business and the needs of employees.

Anna Sale: You hear there that it's not just workers and managers not knowing how to take care of mental health, but also how taking care of mental health in the workplace isn't straightforward. Because there are inherent tensions built in, to being responsive to everyone's mental health and the work that happens in a workplace.

Joining me in this conversation is Melissa Doman, I'm so glad she's here. She's an organizational psychologist with a background as a clinical mental health therapist, and she's the author of the book, Yes, You Can Talk About Mental Health at Work… Here's Why (And How To Do It Really Well). Welcome Melissa, thank you for being here with us.

Melissa Doman: Thank you so much for having me, I've really been looking forward to this.

Anna Sale: Good! Well, let's first define some terms, because I think often in, and perhaps in particular in a workplace, there can be kind of a word salad, uh, when it comes to employee wellness. There's discussions about how to manage stress, there's discussions about life/work balance. There's also discussions about mental health.

There's also and, and, and real trauma that people can experience while they're, while they're doing their jobs. How do you define what is mental health, and if you're an employer, thinking about making sure we have an active and ongoing conversation about the mental health of people who work in a particular workplace?

Melissa Doman: I deeply appreciate that you're asking that question, because even though there are many different phrases that we use to refer to the same organ, the brain, it's really important that even though it's about the same organ, we have to get those different phrases right. So if we think about mental health, it's something that every single human being on the planet has. Even animals have mental health. It's basically your baseline social, emotional, and cognitive functioning.

So much like in the film Inside Out, one of my personal favorites, mental– [Anna laughs]

Anna Sale: Mhmm. Mine too.

Melissa Doman: Oh, they're making a sequel. I am so psyched. I'm like, how's rally as a teenager? I cannot wait. So mental health, it's not just the positive emotions, it's also the neutral ones and the negative ones, none of which are clinical. So I love referring to the feelings wheel by Dr. Gloria Willcox, W-I-L-L-C-O-X. And you see dozens of emotions that we come pre-programmed with out of the box for a very clear reason to let us know what's going on in our environment, what are those stimuli, how do we need to respond, and do we need help?

And none of those emotions are, are really clinical. It is a spectrum. And so when we refer to mental health, it's really important that people understand that it's a state of the brain, whereas mental illness is something that is, is quite different.

Anna Sale: I wanna point out, we've had a lot of shouts for the feelings wheel all throughout this series.

Melissa Doman: Nice, it's great.

Anna Sale: So, um, if you haven't Googled it and Google image searched it, blow it up and take a close look at it. Um, you, you mentioned mental illness because the other thing I wanna bring into this conversation right at the top is for many people, work is also how we access our health insurance.

And so if we have a, an illness, if it's a mental illness or something we need to seek care, it, it often is a conversation with your manager if it's time off or it's also a conversation at open enrollment time when you're trying to get a sense of what's covered and what's not in your workplace when it comes to mental healthcare coverage. How much, how much should we think about, say I'm, say I am someone who needs to access care, and take time away from work?

Melissa Doman: Mm-hmm.

Anna Sale: And it's for a mental illness.

Melissa Doman: Mm-hmm.

Anna Sale: Um, I don't have a relationship of trust with my manager. Um, there's not a real culture of, uh, talking about mental health in my workplace. Um, how do I decide how much to disclose?

Melissa Doman: So that's a really good question. And there are many cases where talking to your manager is not only not an option, but it's not a safe option. And so when it comes to taking time off of work for mental health reasons, usually that conversation is actually best slated to speak to HR. Because when you're speaking to HR, they're the ones that can kick off that accommodation process, and basically tell you, you know, here are the things that you'll need, uh, to prove from a medical perspective.

You know, these are the things that we'll need to set you up for success because once you are explaining, or let's say disclosing that you're struggling with a mental illness, which is a protected characteristic under the ADA, the Americans with Disabilities Act. It kicks, it kicks off an entire process.

So if you're not feeling safe to talk to your manager, well, good news, 'cause they're not really the one that you should only be speaking to anyway. So I would really recommend speaking to HR because they're the most equipped to deal with that situation. And if you're not feeling psychologically safe to talk to your manager about it, odds are that hopefully if you get a good HR representative, that they're gonna help you navigate that conversation, or potentially intervene to inform your manager about the fact that you're taking time off, and how to best set you up for success upon your return.

Anna Sale: I wanna bring Tyler in Hagerstown, Maryland into the conversation. Tyler, what's been your experience with mental health while you've been working?

Tyler: Hello, thanks for having me.

Anna Sale: Sure!

Tyler: Um, so I was at a point in my life where I was struggling with alcoholism and uh, it got to the point where it was affecting my job and I worked as a cook at a small family-owned diner. And, uh, I had missed a few days and my work performance was going down. And I decided that I was gonna come clean with, uh, the owner, uh, slash manager. And I told him what was going on. Uh, you know, I was having trouble drinking, it was affecting my performance, and I was really glad that I came clean with him instead of, you know, just disappearing because, uh, he told me he had a previous restaurant where he had a cook with a very similar issue. Um, and they actually ended up taking him in, uh, to get him some help. Uh, unfortunately he ended up leaving and, uh, going back, you know, through the vicious cycle. And he ended up passing, but they had that previous experience.

They didn't wanna see me go through the same thing, so they were willing to give me time off. Uh, they asked if there was anything they could do to help to find, you know, treatment centers or something like that for me. Um, and just being real with them and being open with them about it, and them being so accepting, which was a huge surprise for me. Um, it really helped me. And it, it, knowing that my job was secure, uh, was even easier for me to go out and get help knowing that, you know, I still have income when I got out.

Anna Sale: Tyler, thanks for sharing your story and also for, like, reminding us that there are many workplaces where there's not an HR rep, um, and, and you had to figure out who was the person to talk to i, in that case, um, and how it helped you understand, uh, that there were more resources than you knew about. Um, thanks for your call. Anything you wanna add to what Tyler said, Melissa?

Melissa Doman: Absolutely. It warms my heart when I hear situations like that where employers are getting it right. There are so many examples of that people need to hear what you have to say because there's so many people that won't speak up, that won't get that help when their employers have, you know, what I really like to refer to as a basic duty of care, to make sure that you have a physiologically and psychologically safe place to work. And that if you need resources, that it's okay to have that conversation, and it is a very, very important reminder not every place has an HR rep for someone to talk to, and if you are working somewhere where you, you don't feel like you can have that conversation, that, that's a whole different kettle of fish. But I'm so happy that you were able to speak to your boss and that it, it sounds like it strengthened your relationship, which is great.

Anna Sale: Thank you for your call, Tyler. I'm Anna Sale and this is, hold on, we'll take more of your calls after the break.

I wanna bring John in Chicago into the conversation, because he's got something to add to that perennial workplace question. Is HR a place that's for me, or is it for the company? John, what do you wanna add to the conversation?

John: Uh, yeah. Well, I mean, I think it's pretty clear that, you know, the role of HR is ultimately to support the company. It's not to support you, right? The mission or the shareholders are gonna come before you and your mental health any day of the week with HR. I'm a Teamster union steward. I think that if you really want to have your mental health like taken care of at work, you need first of all, you know, ideally union, union negotiated benefits like sick leave, uh, to rely on for that. You also just, you know, I've, as a union steward, I've had to help people navigate the FMLA process for intermittent FMLA with, uh, going to, you know, therapist appointments and things like that.

Anna Sale: Family and Medical Leave Act.

John: And I've seen, you know, I've seen the employer mess with people about it. Yeah.

Anna Sale: Uh-huh.

John: You know, they'll, they'll say, oh, well you only got approved for an hour appointment, and they'll only approve you for that. You go out, come to your appointment, you come back after the commute time, they're like, that was longer than an hour, it's an unexcused absence. Most employers have attendance policies that are extremely onerous.

If you're having a panic attack on the way to work, if you're going to, you know, use FMLA and then get caught in traffic on the way back, you end up at risk of losing your job. And HR is the person who's gonna haul you in and fire you when you hit the, you know, limit on your occurrences.

Anna Sale: And John, I have a question for you. Say, I work in, in, in your workplace and you're my steward. And I am struggling with anxiety and I'm having panic attacks at work, and I, I know it's affecting my performance. I'm trying to figure out how open to be with the managers about this. What's, what's the first thing you tell them to do about how to think about that question of what the management needs to know?

John: Well, I mean, the first thing is to, you know, if you wanna have your steward back you up when you're in there with that, that's the first thing you should do is, you know, have a little bit of emotional support there, little bit of backup. It's like 90% of what stewards do, honestly is like emotional labor of supporting people through the toughest times in their lives, right? And most of us are happy to do that.

Um, but you know, you also want, it'll protect you against potential retaliation or discrimination, right? People are afraid that if they go to their manager and they say, I'm having panic attacks, the manager's gonna turn around and find a reason to write them up, force them out, fire them, whatever, right? But if you have a witness there who's like, okay, well I know that they went in and they talked about how they've been having troubles at work, now you're potentially discriminating against this person. Now maybe we need to call the EEOC to make sure that you actually respect their mental health needs, you know?

Anna Sale: John, thanks so much for calling. And Melissa, I wanna ask you. If, say I work in an, in an organization that's not, doesn't have union, a union, and I am trying to figure out that, that question of like, do I want to indicate that there's something I'm struggling with, with my mental health to my manager that I fear could be used against me? Um, do you advise that people, if they don't have a union steward to go to, that they talk to a lawyer first before they have that conversation? Or, or, or not.

Melissa Doman: So that's a really good question and I would love to, to comment on, on what this caller has said. I want to be very clear: there are many workplaces and many managers, and unfortunately some folks in HR, they don't get it right. In fact, they get it very wrong and do everything that you shouldn't be doing.These are very, very, very common tales and it, it really breaks my heart because it totally fights against the cause of what we're trying to accomplish.

There are some organizations, and some people in HR who are incredibly people-centric, that do get it right. But if you work in workplace after workplace after workplace where they don't, it's hard to believe it even exists. But a lot of those workplaces are my clients. And so when you think about what do I share in an organization where, I don't know if I feel safe to tell my manager? I don't know if I feel safe to tell these folks in HR, because they've given me observable reasons to be concerned, because other people who have brought stuff up didn't work out so well.

I always recommend to people, it's good to know your rights. It's good to know, going into the workplace, what you are protected under what you're not, what your options are. And this is, even if you're not planning to disclose anything, I think this is something that people need to know in general. It's not something that we're encouraged to know, but if you are feeling like you want to disclose that potentially to get accommodation or something like that, and it is in a workplace that, let's say you don't have the luxury of applying for a new job or going somewhere else, because not everybody does. It's good to know your rights going in where you can maybe consult with an employment attorney and say, Hey, this is my situation. I, I can't leave this job, this is what I need to do. How do you recommend that I approach it, what do I do if it goes south, et cetera, et cetera, because information is power.

Anna Sale: I wanna bring Gary in Farmington, Connecticut into our conversation. Gary, what's been your experience about mental health in a workplace where you've worked?

Gary: Hi, and, uh, thank you for having me on. Um, I just wanted to say I've kind of been on both sides of the spectrum.

Um, my previous employer really did not do anything, uh, in terms of mental health, um, we did get, you know, time off, but it, it really felt that we were pressured to be in the office, and if you were out of the office, you were breaking the rules and you are not doing what you were supposed to.

And over the last, I wanna say, six months or so, um, got a new job and it is highly encouraged that if we are not feeling well, uh, not to come into the office, be that physically or mentally. Um, we, we have, you know, uh, sick days. We also have some, um, absence time that we can take, which is basically just flex time, if there's anything that we need to get done throughout the day that cannot be done outside of working hours and just having that flexibility to know that I can get these things done, and I'm not just gonna be sitting in a chair all day. It's just a really great freedom to have. So I'm just very happy with this new employer who's really just gone above and beyond trying to make sure that all of us are, uh, are happy.

Anna Sale: And Gary, do you mind telling us what, what kind of industry you're in and, and do you have a sense of why the company has taken this position to try to be so attentive to, to the mental health needs of the workers?

Gary:: Yeah, so, I mean, it's a fairly large company. Um, so I, I think that what they're trying to do is just better their company by bettering their employees. And I think that they understand that fully, so anything that they can do that will help make the lives of their employees better, that's, I, I I think that's really what they're trying to accomplish.

Anna Sale: Hmm! Melissa, have you noticed that employers have taken more seriously, uh, the mental health of their workers after we've all been through the pandemic together? What, what have you noticed in terms of the appetite for really doing meaningful, uh, support around mental health in the workplace?

Melissa Doman: To say that there is an appetite is the understatement of century. I cannot explain how busy I have been in the past three years when companies basically realized, "Oh no, we are so far behind the curve. This was always important. Now it is emergent." We can't afford not to talk about it, and we have to do this in a sustainable way because the world is often feeling like it's literally, or figur, figuratively burning. And so we can't really change that.

But what we need to do is to equip our workforce to be able to have these conversations, to learn how to realistically cope, and make sure they have the resources that they need. And so, any organization worth their salt who is on the, the right side of history, and the front end of the curve is investing in this in a long term way, because it is not a fad, it's not going away. And several years from now, you know, organizations who can afford to have those resources or afford to bring, you know, trainers and have these sorts of conversations that aren't… if people can afford to, they will vote with their feet, and they will leave and go to places that will. And, and for, for Gary, I'm so happy that you're having such a, a positive, uh, experience with this new employer and it's, it's always wonderful to hear.

Anna Sale: Lenore in York, Pennsylvania, I understand you have a question about mental health in the workplace?

Lenore: Yeah. Um, hi, uh, I have a question about accommodations, um, with an adult diagnosis of ADHD. I've never been through the process of formally requesting accommodations before and haven't really been in, um, organizations that are of the size to really propose that. Um, so I'm just wondering how do you even begin having the conversation about what accommodations to request, if you wanna go in there prepared and ready to advocate for yourself and, um, ready to think outside the box?

Melissa Doman: So that's a really good question. So if you are going to approach, uh, your HR representative, or potentially your manager, and say that you do need to have an accommodation for a recent diagnosis of, I believe you said, ADHD, there will need to be, uh, medical documentation for what it is that you will require to set you up for success at work.

So if you haven't approached that conversation yet, I would speak to the relevant folks in your care team and say, you know, I'm going to be looking to get accommodation in the workplace, and I will need documentation for this. You know, can you let me know what would be most useful for me to get from you to provide to my employer? Because that, that will be absolutely required.

If you do feel safe enough to speak to your manager or to your HR representative about this, usually speaking, they will also inform you about what will be required in that process, and basically the whole compliance process that kicks off, and basically guiding you through that because you want to make sure to be clear about what your ask is, why you're letting them know, and how can, how they can best set you up for success? Because that's the intended outcome and the ultimate goal, right? Is that if you're letting your employer know what's going on with you, it's with the purpose of saying, "Hey, I wanna make sure that you know about this so I can work in the way that I will best succeed for this organization."

Anna Sale: And Lenore, I have a question for you. When you think about the kinds of accommodations that would be helpful to you, uh, now that you understand this diagnosis about yourself, what, what are you thinking about asking for? And, and when you, when you think about having that conversation at work, how does it feel in this moment?

Lenore: Hmm. My problem is I don't really know what to ask for.

Melissa Doman: Mm-hmm.

Um, so I'm trying to work that out, um, because I, I work on a really great team that's already very flexible and willing to sort of be people-centered. It's more like okay, in the landscape of what generally tends to work for folks with ADHD and like, what, what to draw on, and I don't, I've Googled it, but it's, it's sort of hard to figure out where to begin. Um, so yeah. Um, help, help with, um, organization, time management.

Um, but I don't know, I… there's lots of advice out there and, um, it doesn't sort, sort of seem to square with what, what would actually be helpful, so yeah.

But it feels okay! Um, for, for the first time, I mean, it's, the diagnosis was a decade ago. Um, and this is the first time I'm thinking about bringing it up with an employer, so,

Anna Sale: Oh, that's interesting. What, what prompted you in this moment after 10 years?

Lenore: Um, my, I, well, I work for a larger employer now, um, with an actual HR system. Um, so that's helpful. And, uh, I think that there's been enough vulnerability and conversation on my immediate team, but I know that, um, I have pretty good confidence that a disclosure of adult ADHD wouldn't be subject to a lot of the misinterpretations I was worried about, um, in other contexts.

Anna Sale: Thanks so much for your call, Lenore. And Melissa, do you have any other, uh, uh, suggestions for Lenore, of just, like, thinking about the universe of accommodations that might be helpful for her at work?

Melissa Doman: Yeah, absolutely. So, depending on the person who diagnosed you or if you're currently seeing a counselor, I would really speak with them to try to deduce what type of accommodation you want to ask for because you ultimately want to ask for what is right for you. And I would also encourage you to look up, uh, an organization called the Kaleidoscope Society. Uh, it's led by Margaux Joffe, who's completely amazing. And, uh, she is an ADHD advocate that is letting workplaces know exactly how to set up adults who have ADHD or other areas of neurodiversity for success. And I wish you all the best of luck.

Anna Sale: Thanks for that recommendation we're we are collecting resources at wnyc.org/holdon. That's the website for this series where you can check out a number of resources and we'll add that one. Again, wnyc.org/holdon. I wanna bring Jim in St. Paul, Minnesota into the conversation. Jim, what?

What's been your experience with mental health and work?

Jim: Well, I'm, I'm envious of Tyler, and I'm sorry to have to break Melissa's heart again, but–

Melissa Doman: I'll survive, tell me the truth.

Jim: I've struggle, I've struggled with depression most of my life. And back in the nineties, um, I was just, after I went on antidepressants, I was having a real hard time. I disclosed to my manager and I was fired. Um, and this was a large healthcare organization. I went to an employment attorney who said, you know, you could pursue it, but you're in a kind of a niche, um, specialty, and that word will get out and you'll essentially be unemployable. So I decided to suck it up and, um, not say anything. And then I, uh, you know, continue my field of work.

And then fast forward to about seven years ago, my brother committed suicide. And I knew that if I didn't pull out all the stops, I was gonna follow him right down that little black velvet hole. And so I, you know, I started seeing a therapist and I got into a real discussion with her about disclosing because I didn't feel safe disclosing to my manager. I felt safe with the senior vice president. But she adamantly discouraged me from doing that due to my age. Uh, I was in my sixties at that time, and, you know, the work performance issues that were caused by the depression. Ultimately, you know, um, about 15 months after that, they invited me to seek other opportunities, which I did.

And, uh, you know, right around then the, the pandemic started, and so I finally decided to retire. But it just shocked me that in between, you know, 1995 and 2020, that really no, no change had happened. In the health, you know, in terms of how healthcare, many large healthcare institutions handled this. I, I wish I had known that maybe going to HR would be the better choice..

Anna Sale: Jim, thank you so much for your call, and uh, I have a question for you. Now that you are not regularly going into a workplace, how's retirement and how's your mental health?
Jim: Um, retirement is pretty good. Um, I do find that I'm having to take, you know, do a lot of work, um, on, uh, getting better.
["Chrome and Wax" by Blue Dot Sessions starts]
Uh, I've really gotten a lot of help from not only a, a support network of friends and family, but uh, also something called the Depression Project, which is, uh, something out of, I think, um, Australia that, uh, is sort of a self-study thing that, um, that I follow and that I actually do online lessons and so forth with.
Anna Sale: Oh, interesting. Jim, thanks so much for your call. And, and, um, it's nice to hear all the ways you're continuing to work to take care of your mental health. This is Hold On, and we'll take more of your mental health calls after the break.
["Chrome and Wax" by Blue Dot Sessions ends]
–
BREAK
–
["Waiting" by Crowander starts]
Anna Sale: This is Hold On, a live national call-in conversation about our mental health from WNYC and the Death, Sex & Money podcast, I'm Anna Sale.

This hour, we're talking together about mental health and the workplace, how we talk about our own mental health, how we talk about the mental health of the people who report to us. I wanna bring Kelly from Chicago into the conversation. Kelly, what's been your experience with mental health in the workplace?
["Waiting" by Crowander ends]
Kelly: Oh boy. Well, first off, thank you so much for having me. Um, I was first diagnosed about 13 years ago. And when I first got that diagnosis, I couldn't imagine that I would ever tell anyone at work about it. And then fast forward to 2020, I was already in the middle of a major depressive episode when my father's cancer turned terminal, and suddenly I had no choice.

Um, because I knew that if I stayed at work and I didn't take a leave of absence, that my performance was gonna suffer. And I worried that my job would be at risk. And I remember after that leave coming back and being… so empowered and feeling like it was so important to me to not hide it anymore. Because coming up in my field, I didn't have any examples of what it looked like to have mental illness and be in the workplace.

So, since then, I've actually also had to take a leave of absence. But, both in between and after, I've been much more open with my co-workers and I think I'm 17 years into my field so I think that also factors into why I'm willing to disclose now. But it's just been such a blessing because it's helped me to connect with other people in the workplace who have similar struggles. A coworker, and I figured out coincidentally, that we have the same therapist. [Anna laughs]

Anna Sale: Whoa! [Anna and Melissa laugh]

Kelly: And I think just for me it's, it's almost become a way of changing the shame that I felt about having to take time off from work to being open, especially with people younger than me of, it's okay if you're struggling with this. It's okay if you tried to do everything you could to manage your mental health while working and that you might need a higher level of support. So it's almost become like my life calling just to be open in the workplace, so that people who are younger and coming up don't have the same shame about it that I did.

Anna Sale: Kelly, thanks so much for your call, and I, I have a question for you about privacy, and deciding how much you wanted to share. Because you, you des, you described this pivot point being when there was an illness in your family, an external factor that was causing stress. You, you very likely could have said, at work, at least initially, I, I have an illness in my family, I need to take time off because of that, and I'm struggling with that, but you chose to also say, and I struggle with depression. Wh, why did you choose to include your mental health diagnosis in what you chose to talk about openly at work?

Kelly: I had reached a point in my career where I realized that… I could no longer hide it anymore. Um, that unfortunately it's a chronic condition that I'm managing and I almost liken it to like, there are periods of time when I'm in remission, and I'm great and nothing affects me, and there are also times where it feels like I'm relapsing, where my mental health becomes the most important thing.

And I had just seen, you know, through my experience and other friends' experiences, how sometimes… withdrawal or, you know, the way someone might behave when they're in a major depressive episode can be misinterpreted as someone being lazy or being not engaged at work. And it was extremely important for me to be able to control that narrative. So that, one, it honestly reflected my experience. And two, in that moment I felt like I couldn't keep living hiding it, and I almost felt like I was doing a disservice to people around me, of trying to project this image of high performance, of always being calm under pressure, when I know that all of that was taking a toll on me behind the scenes.

Anna Sale: Kelly, thanks so much for sharing. Melissa, what do you wanna add to what Kelly just said?

Melissa Doman: Kelly, you're absolutely incredible, can I just say… everything that you said, you're getting it right because you're taking that opportunity to role model for people, that talking about your mental health, and talking about how you manage your mental health is a healthy adult practice, and it's something that you're trying to encourage other people to do.

And also that taking a leave of absence that takes serious strength and courage. That you're saying, I'm not okay, but these are the things I'm going to do so I can be okay. And letting people know that that should be really an encouraged behavior because what's the alternative? Not taking that time off, and, and driving yourself into the ground.

And so I just wanna commend you for the courage and, and the strength to not only do what you needed to do, but to role model and set that example for other people, that this is what getting it right looks like, and when you're not okay, and choosing to do something about it in a healthy way.

Anna Sale: Yeah, thanks for your call. Kelly, I wanna bring Melody in Pittsburgh, Pennsylvania into our conversation. Melody, what's been your experience with mental health in the workplace?

Melody: Well, I have an experience, but I also have a question. So my experience was I was a schoolteacher, a middle school teacher, for 25 plus years. And, at one point, I decided to, um, go to my supervisor, my principal, and explain that I do suffer from depression and anxiety. Um, and what was unfortunate is… throughout my career as a teacher, we're often told by the administration, you know, if, if it's getting to be a lot, we'd rather you take a mental health day and, and recover and come back and be your full self.

And yet, after I went to my administrator and explained that I do suffer from depression and anxiety, um, from that point on, it became, um, a weapon where the, um, administrator would say, well, maybe you're having your as, some anxiety right now. Maybe you need to take a few days. And I, you know, that became something that, again, caused, I already felt shame for having depression and anxiety. And then to add that, um, harassment to it… didn't help me function very well in my job, because then I began to try to prove that I was, you know, I could handle it. That I, that I, you know, even though I had this, I, I could forge ahead.

Anna Sale: Yeah. And Melody, you mentioned, you, you, you were a middle school teacher for 25 plus years. Thank you for being a middle school teacher for 25 plus years.

Melissa Doman: Mm-hmm.

Anna Sale: Um, and did, and did this contribute to you deciding to no longer be a middle school teacher, just feeling like you didn't have a, away to take care of your health while you were also doing this work?

Melody: Somewhat. Um, also, um, unfortunate, unfortunately, when the pandemic came along and we had to start teaching online, and it, the, the whole, the whole change of education. You know, unfortunately, education, um, administration, parents, and students, and teachers have all changed over 20 years. And, I just felt like it was a good time for me to leave, um, and possibly pursue something that wasn't quite as stressful as what education had become.

Anna Sale: Hmm. Melody, thanks for your call. And, and Melissa, it, it brings into the conversation the experience we've all been through with the pandemic and also the disruption in workplaces of how much we're actually face-to-face, and how much in many workplaces, we're not together as much as we used to be, and it can be difficult to monitor how your employees are doing if you're a manager. It can be maybe if you are inclined to hide when you're struggling, that can be reinforced.

Um, how do you talk to managers about checking in on their employee's mental health? Um, how do you do that in a way that, as Melody described it, you know, you can have a manager where it can, if it comes up too much, it can sound like harassing and not actually supportive. Um, how are you doing with your anxiety? Um, what's the way to open that conversation that doesn't feel too aggressive or unsafe?

Melissa Doman: That's a really good question and I, again, it breaks my heart to hear when the, those sorts of disclosures are, are weaponized against people. 'Cause I've heard it all the time, where they take a disclosure that you wanna tell them so they don't assume the reasons why you're doing things, you are filling in the blank, but then they use it to attribute meaning whenever certain occurrences happen, when it may have nothing to do with that.

And so, when it comes to managers bringing up these conversations to their teams, and especially in a remote environment, and especially if you haven't done it before, it's really important to explain why you wanna bring up these conversations to begin with, as opposed to just diving right in. Because if you haven't done it before, and all of a sudden you say, ow have you been doing, you don't really seem like yourself? They can feel really on the spot. And so if it's not something you've done before, Letting them know, let's say you're, uh, you'd like to organize your thoughts by email. You wanna send it out to the team ahead of time. Hey guys, I realize that we don't talk about mental health very often, but here are the reasons that I want you to know that I care about it. Here are the reasons that I want to check in with you all as a team or on one-on-one, because if you don't give that statement of intention, they will fill in the reason.

And it could feel overbearing, or in some cases harassing or inappropriate, or make them uncomfortable. So I would just be very clear about the why, and what you're trying to accomplish by bringing it up, and asking them, you know, what would the cadence look like in terms of useful checkpoints? How often would those be?

Are you more comfortable doing it in one-on-ones or in a group setting? You know, ask for their input and their collective buy-in. So it feels more like a collaborative ag agreement as opposed to something dictatorial.

Anna Sale: Yeah. Sharon in Harrisburg, Pennsylvania, what do you wanna bring into the conversation? What's been your experience with mental health in the workplace?

Sharon: Oh yes. I'm so grateful for this show. Um, I really liked how, um, you, and, uh, Dr. Cyrus? Uh, you discussed that, that, that mental health is emotional, social, and cognitive. And I wanted to ask you, cuz I'm a long COVID, long haul COVID, um, patient. And, um, I was wondering if, if you have had experiences with, uh, patients long h-, long COVID patients who get complaints about, um, being agitated. And the reason I say that is because, um, it took me a, a year of the 21 month road I've been on to find out what was wrong, and I had never had a neurological condition before and it was agonizing. So come, what came out with work was being agitated when I didn't know how to, when I couldn't remember something, or until I did find my diagnosis. And my supervisor has been great since I, I have my RA now and I'm very blessed.

But I'm wondering if you've had experiences with people saying, you know, I have this long haul, long haul COVID, I'm agitated and it's coming out sometimes, and I get told that I'm being disrespectful or out of turn, saying things out of turn. Because, um, I ended up giving an article to, um, my higher ups about how this can cause agitation and it's not personal, you know?

Anna Sale: Hmm. Sharon, I'm so sorry. You're, you're, you're, you've been going through that and also how challenging it must have been to not know what was happening in your body and what was causing these changes and, and to be educating yourself in real time, and then having the added work of having to educate the people you work with so they can understand what your experience is.

Melissa, when Sharon describes that, that, like, here's how I understand what is happening, and, and it may… my behavior may be interpreted as negative, and it's also a part of my condition. Is that, is that, is that a conversation that you recommend people have at that level with their managers?

Melissa Doman: So, I really think it depends on the type of relationship that you have with your manager, and what sort of level that you want to disclose. And so, you know, I, I left clinical practice, you know, a number of years ago, and I focus on the, on the workplace now and changing workplace, uh, behaviors and dynamics.

But I know a lot of folks just like you who have experienced these long haul COVID symptoms that are impacting their mental health. And so, as we've been talking about before, you know, I'd really take into account the level of trust and rapport and psychological safety you have with your manager, and really think about, you know, if I'm gonna let them know how my behavior has changed since I've had COVID, what do I want them to do with this information? What am I prepared to do with this information?

Because usually speaking, you want to be able to fill in the blanks so they're not assuming why you say certain things, why you do certain things, because that, that's human nature, to make assumptions. And so by saying, Hey, I just wanna let you know. This is what I'm, I've been struggling with since I had COVID a while back. It's something I'm working on, but I just wanted you to know in case I seem X, Y, Z, this is the reason, and really having that conversation about how they can best communicate with you, and, and set you up for success. So I would think about those intended outcomes.

Anna Sale: And I wanna bring David from East Greenville, Pennsylvania into our conversation as we come up on the end of this hour. Because you are self-employed, I understand, and of course, work looks a lot of different ways for a lot of us. How do you manage your mental health as a self-employed person?

David: [David chuckles] That, that's a very good question. [everyone laughs]

Melissa Doman: It is! I, I've been, I am also self-employed. I get that.

David: Yeah, I, I've been dealing with, uh, mental health issues, but for a long time I've been diagnosed with a d d I've been untreated and diagnosed with depression and treated, which was not e which was not an easy thing to do.

There are a lot of weird, anti-depression medications, some of which are weird.

Anna Sale: Yeah.

David: Uh, and probably I'm, uh, suffering from… the other nicer ways to say it, but abuse, uh, I've been in a lot of abusive relationships in my life.

Anna Sale: Mm-hmm.

And, you know, being self-employed. Uh, you know, motivation and getting up in the morning every day is essential.

Anna Sale: Yeah.

David And sometimes, uh… recently, it's been hard to do. And the pandemic has been particularly difficult. I'm an introvert by nature.

Anna Sale: Yeah.

David: But I understand the need for relationships with people.

Anna Sale: You know, David, I I'm gonna, I'm gonna leave it there because I wanna thank you for calling in and we're unfortunately at the end of our hour, but you describing the importance of relationships with people is the reason we've been having this call in. And so if anybody else out there is, is self-employed and, and thinking about how to take care of their mental health, um, take care of it!
["A Path Unwinding" by Blue Dot Sessions starts]
Mental health is healthcare, and we've discussed and heard from a lot of you over this series that it's not an easy thing to do, to figure out how to take care of your mental health. But one way we can do it a little bit better is by talking more openly together about it, about what we've struggled with, what we've found helpful, um, and giving each other a little bit more support, and guidance as we make our way through.

David, thanks so much for your call. And Melissa Doman, I want to thank you for taking calls with us this hour. You are the author of Yes, You Can Talk About Mental Health at Work… Here's Why (And How To Do It Really Well). If you are a manager, or if you are a worker, it is really worth checking out and thinking about how you wanna talk about mental health, perhaps in new ways, ways you never have before at work. Thanks for being with us, Melissa.

Melissa Doman: Thanks for having me.
Anna Sale: This was Hold On, a live national call-in show from Death Sex and Money and WNYC.
Please share this series with anyone in your life who you think might find it useful, and be in touch with any feedback or stories you want to share. Our email is deathsexmoney@wnyc.org.
For a list of resources we complied, and to listen to the whole series, you can go to wnyc.org/holdon.
Death, Sex & Money is a listener-supported production of WNYC Studios. This series is produced by Zoe Azulay and Liliana Maria Percy Ruiz, along with Megan Ryan and Zach Gotterher-Cohen. The rest of the Death, Sex & Money team also helped out: Afi Yellow-Duke, Lindsay Foster Thomas, and Andrew Dunn, as well as our intern Baiz Hoen.
Matt Marando, Raymond Chan, Wayne Schulmeister, Rob Christiansen, and Aaron Cohen supported us with engineering and technical support in New York, and Topher Routh engineered for me in the studios of the UC Berkeley Journalism School. Ariana Martinez made the illustrations for this series.
Thanks also to Alicia Allen, Jaqueline Cincotta, Robin Bilinkoff, Mike Barry, Tara Sonin, Kim Nowacki, and Rachel Lieberman.
I'm Anna Sale, and this is Death, Sex & Money from WNYC.
["A Path Unwinding" by Blue Dot Sessions ends]
Copyright © 2023 New York Public Radio. All rights reserved. Visit our website terms of use at www.wnyc.org for further information.
Music Credits:
"Waiting" by Crowander
,
"Chrome and Wax" by Blue Dot Sessions
,
"A Path Unwinding" " by Blue Dot Sessions