Hold On: When Shame Keeps You From Therapy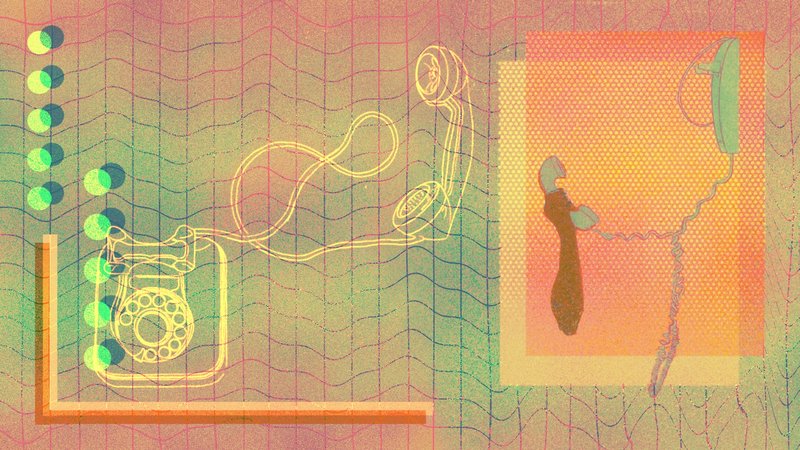 Transcript
This is Death Sex and Money, the show from WNYC about the things we think about a lot and need to talk about more. I'm Anna Sale. This week we're continuing our Hold On series of live national call-in shows about the state of our mental health. In this hour we asked public radio listeners around the country to call in if the idea of getting therapy was something they felt excluded from, either because of how they were raised, because of expectations around masculinity, or some other reason. That being said, I really appreciated how ready to talk these callers were – vulnerability, especially on live radio, is hard.
Please share this episode…or any part of this series…with anyone in your life who you think may be helped by it – friends, relatives, clients, students. And you can be in touch with us anytime by emailing deathsexmoney@wnyc.org.
This Saturday you'll get our last installment of Hold on in your podcast feed, all about mental health and the workplace.
Okay, here's the show.
[MUSIC]
Anna: This is Hold on, a live national call series about our mental health from WNYC and Death, sex and Money. The podcast I host, I'm Anna Sale in this series of specials that we've had on public radio stations across the country, we've been talking with you this month about your experiences with the mental healthcare system, about what it's been like to get a diagnosis about getting on medication and figuring out the best ways to monitor how it's working and the side effects with your provider.
We've talked about the particulars of the mental healthcare crisis for teens and heard from mental health professionals about how their clients are doing to generalize what they've told us– not good. There's a lot of feelings of overwhelm about the state of the world, gun violence, climate change, making it, and affording housing, and also a lot of feeling disconnected from community, very much like you're on your own.
And that's what the people are saying who have found a way to access mental health support. We've heard from you in this series how difficult that can be. Figuring out what kind of therapy or mental healthcare you need takes time and effort, and also money. If you pay out of pocket, you've gotta fit it in your budget.
If you have insurance, you've gotta do all the research to find someone who will take it and then maybe wait a long time for them to have an opening. It is not easy to access mental healthcare, and that's even when you or your loved one is bought in to the idea of finding mental health treatment. This hour we wanna talk with you about the reasons we don't access mental healthcare that are not because of these systemic barriers and more about the reasons we tell ourselves that mental healthcare may be good for some but isn't for us.
Sometimes that's because of stigma. Other times it's because you haven't seen people like you benefit from mental health treatment and what you know of the available treatments don't seem like they were designed for people like you. Here are some statistics on who seeks out mental healthcare.
Women are twice as likely to go to therapy as men.
When facing anxiety and depression, white men are twice as likely to seek treatment as Black men, and if given a diagnosis, nearly 50% of white people will seek treatment within a year versus 33% of Hispanic people, 31% of Black people, and 25% of Asian people.
These, of course are big, rough numbers, but we wanna get into your stories this hour about how you have felt this in your life.
We're asking for your calls if the concept of taking care of your mental health didn't feel like it was for you: Men, men of color, we're asking for your voices in particular this hour. We wanna hear from you if you still feel that way or if you've changed what got you there. Was it a breakdown or a burst of anger when finally you were forced to ask for help?
Maybe it took being court ordered to go to counseling, or maybe a partner or spouse put down an ultimatum: They wanted more vulnerability from you, or maybe it was raising children of your own.
Avi Klein is here. He's a psychotherapist who's been working with men, women, and couples since 2009 after graduating from Columbia University School of Social Work. Welcome, Avi. Thanks for being here with us.
Avi Klein: Thank you. Pleasure to be here with you.
Anna: And also here is Danielle Muñoz. She's with us. She's the director of the Center for Basic Needs at Cal State University Long Beach, and she's a trained therapist.
She also hosts a podcast called Nobel Queens that focuses on mental health within Latino communities. Welcome Danielle.
Danielle Muñoz: Hi. Thank you.
Anna: Avi, a large part of your psychotherapy practice has focused on men, and now we know men have lots of different personalities and dispositions, but generally they are a population less likely to pursue therapy than women.
So I wanna ask you, when you have someone coming to you for the first time, they show up with their arms crossed, they're sizing you up, you are feeling their skepticism about what a session with you might be like and what it's gonna achieve for them. How do you invite them in? How do you explain what you want to do together?
Avi Klein: Yeah. Um, first of all, I think it's important to, like you mentioned in your introduction to, to note that a lot of the men who come to see me initially, it's at someone else's request to their children or their spouse. Um, so that informs part of the reluctance because I think they feel like they're in trouble in some way.
I think any therapist will try and join with their clients. You want them to feel, um, safe with you. Since I often see men who, who do feel like they're in trouble, I really try my best to convey how much I respect them, respect even their motivation for coming. You know, even if they wouldn't come for themselves, they're coming for a family member or someone they love.
And I think there's something really honorable in that. So I wanna make sure they know that I see that. Um, and I think it's really important to me that I like the people that I work with, so I try very hard to find things that are likable about them because you can't fake that.
Anna: Hmm. You wrote in an essay for the New York Times that one of the first emotions men often name when they're talking about how they're feeling is frustration. What does that word signify for you? What does that mean?
Avi Klein: You know, I think about it, there are two things. One is I think there's studies about, um, how men and women cope with their emotions and, am, it's pretty broad, but men have a tendency to externalize their emotions, which means they put them outside of themselves, and women tend to internalize, which means they blame themselves for what they're feeling and what's happening around them.
So when I think of the word frustration, I think of it as a reaction to something outside of yourself. So that's one thing that I think about. And the other is that it's kind of a broad, vague word and men, you know, traditionally have been discouraged from being in touch with their emotions, and so sometimes they lack kind of a nuanced emotional vocabulary, at least at first, and so, um, frustration to me is, is one way that they're trying to explain something that's going on inside, but they don't quite yet have the language to do it, and that's our work together there.
Anna: Hmm. We've talked in this series about the feeling wheel if, if you are by a computer listeners, go Google "feelings wheel" and look at all the various words there are to try to articulate what your feelings are. It's been very helpful to me to look at it, um, as someone who also often finds myself saying, I feel frustrated.
It's not just men. Um, Danielle, we first met when I was reporting my book. Let's talk about hard things. You have long worked in, in public universities in California, and you are often encountering students when they are in crisis at the center for basic needs where you work in Long Beach on campus.
Students are coming through the door because they lack housing that's secure and stable. They don't have enough money for food, and then you may notice some underlying mental health challenges when you are needing someone in crisis and then you are inclined to recommend that they seek out some mental health care or mental health treatment of some sort. How do you convince them it's worth a try? And when do you suggest that they do it if they're coming to you in crisis?
Danielle Muñoz: Yeah, that's a really good question, and I think for me, I understand that it's also coming from understanding their brain and how the brain works, and sometimes people hear it from that angle rather than the stigma behind mental health, which sometimes is like, well, you might be insinuating I need help.
And culturally, some people equate that with I'm crazy, and so they can't hear that when you say you might need to talk to someone about this. Um, especially when a lot of people try to take things on on their own. So when I come from it, from a more science side, I'll say, you know, you've been in survival mode for so long, that your brain is probably just doing its best to protect you, and sometimes that can lead to feelings of just being really hyper-vigilant or not being able to sleep at night because your brain is so revved up. So sometimes it's helpful when you talk to someone about what's been going on, that your brain can adjust and calibrate again, and you don't always feel like you're being chased by a bear.
And that's the, that feeling of peace that you want can sometimes come from just talking. Um, and you're doing it because that's what's gonna help your brain understand that you're not in survival mode anymore. So, and this happens a lot when I actually house people right around the time they get housed and stable is where mental health challenges increase because they've had some time to rest and things are bubbling up.
Um, so I try to explain it more like your brain is really trying to protect you, and talking to someone can sometimes bring that down a bit and let you have some peace and, and especially if I talk about it leading to better sleep or feeling more organized, a lot of people really want that back in their life.
Anna: Like suggesting it could be a means to relief of some sort. I wanna bring Mike from New Jersey into the conversation. Mike, what's been your experience, um, with kind of encountering your own internal reluctance to access mental health treatment?
Mike: Yes. Thank you for having me on. I just wanted to speak on, uh, which, which y'all was currently speaking about, and it was, you know, I could see the professional there was eally accurate, you know what I mean? And, and then just speaking on the reluctance side is you could still hear those things and still, uh, try to not identify with it to not do it.
But, uh, I was told by somebody, my sisters, that I should go to therapy because our mom passed in 2018, and I deal with things through, like, like everyone saying I got, I tried to deal with externally and uh, I just kind of felt that it wasn't right, cause mentally I was kind of like sluggish and I still worked out and stuff. Everything on the outside, I really looked fine. But you know, your family members and people who love you can really tell.
Anna: And did you, did you take your sister's advice? Did you go, go seek some treatment, some help from someone?
Mike: Yes, I, I, I didn't get the treatment. I reached out a couple of times when I was employed for a company, but now I work for myself. So like, once I switched over to the other insurance, I just didn't go back into figuring it out. But, uh, it helped me be more open with them.
Anna: Yeah, thanks for your call, Mike. What I hear you saying there is your sisters nudged you to, to have some conversations with a professional and then as we've talked about, can be hard to keep up that kind of treatment when your insurance changes. But, um, maybe those conversations with your sisters have continued and maybe deepened a bit. I wanna bring in McKayla in Schoenberg, Illinois. Hi Mikele.
Mikele: Hi. Thanks for having
Anna: How are you? Did I say your town correctly? Is that Schoenberg, Illinois?
Mikele: Yeah, that that's actually which where I work, but yes, you to the right.
Anna: Okay, cool. What's been your experience with accessing mental healthcare? What do you have to add to the conversation?
Mikele: So I've always honestly been an advocate of mental health, especially to my male peers. But I've only been in therapy probably about a year now. I've always given myself the excuse that I don't have time or it's not necessarily for me in a sense. And one reason or another up until um, I met my girlfriend, uh, but two, three years into a out relationship, we hit a kind of a wall.
And both, you know, she was dealing her, her trauma, and I know I've come to realize after, you know, talking with her thatI had some unresolved trauma too. And then, as you know, a male and as a first generation immigrant where my mom and her go-to was, "I don't have time for depression." We didn't really have, you know, space to speak about our mental health in a sense.
So even though I knew it was, you know, unnecessarily a toxic trait, what I tried to do was promote it, but never did it myself. But you know, like I said, since we hit this wall, I made the plunge. I walked into an office that my coworker recommended, and it's been actually, you know, very, very helpful and very healing for both of us, honestly.
Anna: Ah, you describe it as a plunge, which can sometimes be exhilarating, also a little painful. Um, how, how do you,
Mikele: We, we often bank on our friends and our families to be the shoulder we cry on and, you know, speak to, which is fine and dandy, but at the end of the day, usually it's not their responsibility to deal with our problems, with our traumas, you know?
So it's also not fair to put this emotional baggage. Sometimes you want to vent and you vent in a way that is just on, it doesn't seem like it, but maybe just unhealthy for your partner or your family members. So it's nice to have someone who's, you know, willing not only to help, but is unbiased and actually has, you know, a response to some of our bigger questions.
Anna: Thank, thank you for what you added there. I think sometimes in some families, um, where accessing therapy or mental health treatment isn't, isn't part of a family tradition, it can feel like a bit of a threat or uncomfortable for the family when one member of the family first goes to therapy. And I, it's interesting there how you frame it as a loving, uh, a, a loving gesture for the rest of your family and, and not putting the weight on them and, and depending solely on them.Avi, is there anything you wanna say to what Mikela added to the conversation?
Avi Klein: I applaud what he said. I, I can tell he is done a lot of thinking about it and, um, I liked his distinction about, you know, as much as, as wonderful as it is to share with friends and family, that there's something different about what happens when you meet with a therapist and maybe you don't want to, you don't always want to bring what you bring to a therapist, to your friends and family, and, and it's good to have both resources.
Anna: I wanna ask you, Avi, in particular about the practice, the style of therapy that you do called accelerated experimental dynamic psychotherapy. Experiential, excuse me. Um, what is that and, and how is that? If I have not been in therapy before and I'm not sure it's for me, I'm picturing a couch, I'm picturing a box of tissues. I'm picturing someone taking notes on me with a notebook, with a raised eyebrow. Um, how do you describe what you're gonna do together?
Avi Klein: Well, um, I think more broadly the kind of therapy I practice is one of a newer wave of therapies that focus a little bit more on the body, on expressing emotional experience, not just understanding what you're feeling cognitively, but having, um, access to it, a felt experience, right? So that it's not just knowing that you're sad, but allowing yourself to cry, which for some people is easy, but for some people, especially men might feel a little harder, and so in some ways there are other differences, I think, like I mentioned before, the relationship, um, between the therapist and the client is a little bit more at the forefront. Um, it's not just a one-sided listening experience, which for some people can feel alienating.
I really try to, um, bring my presence into the room and, and have it be a healing experience more explicitly with my clients. It's not unique to the way I practice – I think a lot of other therapists practice that way too. Um, but I think for men, It can be very powerful because, um, they haven't always had relationships where they feel really safe to explore and express their feelings, and, and so it's been a model that's been, um, really important to me in that way.
Anna: Hmm. I wanna bring Griffith and Baltimore, Maryland into our conversation. Griffith, what? What do you wanna add? What's been your experience in
Griffith: Hi. Um, it's, Yes. Thank you so much for taking my call. So my experience comes a little bit, um, it's a little bit niche, but I wanted to bring up the topic of eating disorders and how they are so vastly undertreated because of the stigma around them and the stigma that they have to look a certain way. You have to weigh a certain amount. There's BMI cutoffs, and the amount of people who don't seek help is just astounding for like very, very disordered dangerous behaviors, um, where they just don't feel like they're being seen or heard because maybe they don't fit the stereotypical look or demographic. Especially with men, especially with younger people, and I just, I, I think about the number of people that could be getting care but aren't getting care because they feel internally, like they aren't valid enough or sick enough.
Anna: And Griffith, you share what you feel comfortable sharing on the radio, but is this something that
Griffith: Yeah, of course.
Anna: personal exposure to?
Griffith: Yeah, definitely. I was diagnosed with anorexia when I was 13, and I have been in and out of treatment, all of my adult and teenage life, and just the, there's a really huge variation on the demographics. There's men, there's lots of people of color who struggle with these things, but you know, the, the stereotype doesn't necessarily include those demographics am, and as a trans person, I know that I felt that way too um, you know, with the stigma around men and eating disorders,
Anna: Mm-hmm. Thank you so much for your call. Um, Danielle, do you wanna add something to what Griffith was calling about? Just about when it mental health difficulties don't, aren't expressing themselves in sort of these very sort of blunt ways that we have ideas of what it's supposed to look like, can it be difficult for people to recognize that they ought to be asking for help?
Danielle Muñoz: Mm-hmm. Yeah, I think they touched on a really, um, great topic and I think something that a lot of people ask themselves like, am I sick enough? Or how bad do I have to get until I get help? And it's actually you, you don't have to wait, you know, until you get to a certain point. If you know that youu're starting to feel that distress if you are having those intrusive thoughts. Um, if you're starting to feel like you don't like your body and, and who you are and when you look in the mirror, you have what we sometimes call body dysphoria, where you just have this extreme sadness about how you look. Um, those are extremely valid reasons to get help and a lot of times a therapist will, you know, start wherever you're at and, and that's one thing I love about therapy and when I do therapy, it's about, it's up to you. It's when you're ready to start healing and, um, there is no idea for me about what it's supposed to look like. It's about what you're feeling and what you want from your life. So yeah, they just brought up a really good topic., made some really good points about folks really struggling with, am I sick enough? And it doesn't help when insurance companies sort of push therapists to have to make a diagnosis before they pay for people's therapy, and so that's sometimes can perpetuate that feeling too of you sort of have to be, there's a certain point where you can start getting therapy and I just think that, just like our caller said, it discourages people from getting help.
Anna: Hmm. I wanna bring Armand in Chicago into our conversation. Armand. Hello? You're on the air.
Armans Hi. Hello.
Anna: Hi. What do you wanna add?
Armand: Yeah, I kind of wanted to add, um, speaking of maybe Black men specifically or people of color, um, how hard it is that, um, when we do finally try to open up and we do finally, you know, choose uh, transparency or whatever it may be when the person we go to isn't exactly open or, um, receptive of, uh, feelings or thoughts or whatever it may be, and it's often gaslighted, and I feel like there's something there where it prevents men to get to that therapist because they went to there most trusted person or companion, and they weren't able to get that. So it, I feel like there's a barrier there because a lot of men feel like, um, they, they already opened up and they did this thing, and then they just got shamed or got used against them or some, or something like that.
Anna: Yeah. Yeah. And are you speaking about that kind of experience in, in the setting of, of being with a mental health professional or the experience of being vulnerable with someone in your life, a loved one, a friend, a family member, and then feeling like you didn't get the kind of understanding that you hoped for?
Armand:: Yeah, for me specifically, it was, it's both. I, it took me, I feel like maybe three or four tries with different therapists unuk I found someone I, you know, could really resonate with and they could resonate with me. So I, I mean, the barriers are there and, um, you know, um, getting back to that sense of, I've already tried. Um, that's, that, that's one of the biggest barriers I had to get over, cause even after that first therapist took me about a year to try again,
Anna: Yeah. Thanks so much for your call. Um, Avi, do you wanna add something to what Armand was just saying?
Avi Klein: I mean, I, I absolutely wanna affirm, uh, what he's describing. I know it, um, I, I'm familiar with both sides of that. Um, Certainly I've heard from, uh, clients that I've worked with and, and outside of my own patients, the experience of having a therapist not validate your experience or, um, you know, kind of deny what you're, what you're going through and how much that can alienate a person from, from wanting to try again. Especially when you're not sure if you're, if what you're struggling with is really valid, that can be, uh, really devastating. And I've also seen, um, quite a, quite a number of times men, you know, who are encouraged to go to therapy because their partners want them to be vulnerable, and then suddenly when they're vulnerable, um, their partners are a little turned off by what they see, you know? So that's real too.
Anna: Hmm. And Armand used the word shame there. Um, and I just wonder if you could, let's talk about shame at, at the root of most stigma is the idea of shame. I have some, there's something about me that I want to not acknowledge, cover up. Um, it's a red hot feeling when you tap into it. Um, how do you talk about shame with, with someone who's, who's feeling that maybe openly for the first time.
Avi Klein: Yeah, I, let's talk about shame. I think especially, I mean for everyone, but in but for men, I think shame is such a powerful feeling and such an inhibitor of them, um, getting in touch with other emotions, especially, you know, because there are some definitions of masculinity that, um, it's all about what you are or are not, and, and shame is all about um, you know, like if you're not man enough, for example, um, and being in touch with your feelings for some, for some men can make them feel emasculated, so shame is operating all the time. When I'm working with someone, I think part of that is, you know, when it's appropriate, I'll share my own experience that they don't feel so alone, um, with what they're feeling to lessen their shame, cause I think that's a great way to reduce shame is to know that you're not the only person who's felt that way or has even felt shame about what you're going through. Um, and. And then it gets complicated also sometimes because sometimes it's, it can be healthy when you've hurt someone, for example, t's okay to feel shame and um, and sometimes I try to affirm that because I think it lets us know, um, that our conscience is operating and that's something sort of good inside of us that we want to hold onto. So those are two ways that I might work with it.
Anna: I wanna bring John in Gettysburg, Pennsylvania into our conversation. John, what, what's been your experience with that inner voice in your head, uh, telling you maybe mental health care is not for you or your loved ones?
John: Hey, well, um, thank you so much for having me. It was wild to tune into NPR and hear something that was just like, wow, so applicable to me, which is like a very NPR thing. Um,
Anna: welcome.
John: So yeah, thanks. Um, yeah, it's, it's been wild. Um, I sort of grew up in a very anti-healthcare and medication, uh, evangelical home and then like realized later, got a diagnosis of ADHD and had a really bad therapist for a bit, um, that I was too, I don't know, uh, stressed to say, 'hey, I need to see someone else.' So I ended up essentially, uh, ghosting them through an email through their assistant after a little bit. Uh, but through job stress and parenthood stress and stuff like I, the, I, the task of finding a good therapist seems almost insurmountable, even though I know that I need one really badly.
Anna: Hmm,
John: Um,
Anna: you're feeling that right now
John: I've asked for help.
Anna: you're feeling the need, but not knowing where, where to get that treatment.
John: Right. Yeah and that, and insurance changes making, uh, you know, like ADHD medication, crazy unaffordable, and yeah, just wild. I definitely need therapy. The task seems impossible, which is probably inaccurate, but yeah.
Anna: I, I, uh, you are not the only person that feels that way when, when dealing with the mental healthcare system. Um, Danielle, is there anything you wanna wanna say to John about, like, just one place to look where he might find some help? A, a resource who could lead him to the next right door, um, in his community?
Danielle Muñoz: Yeah, and it depends where they are and what state they're in, but I know that there are some, you know, really good, maybe loval based mental health places that offer low cost, uh, therapy that are sometimes really impactful. I know I used one when I was in grad school – I went to a local place where they only charged 25 to 50, I think it was because there were interns working, but they were so passionate and they were so in touch with me, it actually felt that that was very valuable at the time.
The he caller touched on something really important – if you're struggling with a ADHD, the idea to stay organized and on top of this is the hard part too, so it's like that's the part where they, you know, you do need some help walking through the system because of all the executive functioning it takes just to set up your own services.
So, um, some, as someone who al also struggles with ADHD it, it's like, oh my gosh, that's the irony right there is I need to stay on top of it and be task oriented just to get this help to be task oriented. It's very hard.
Anna: Thank you Danielle and John. Thank you so much for your call. You can check out our list of resources at WNYC.org/holdon. We're gonna be taking more of your calls after the break about encountering your own biases, stereotypes, stigmas about accessing mental healthcare, and if it, if you found it helpful, do you wanna be an ambassador and tell people about how it's changed your life?
BREAK
This is Hold on, a live national call and show about our mental health. I'm Anna Sale. I host the podcast, Death, Sex, and Money, and we are on public radio stations across the country during this May Mental Health Awareness month, and we're taking your calls this hour about stigma and mental health. I am joined by Avi Klein, a psychotherapist in New York who sees men, women, couples, and we've been talking this hour in particular about what gets in the way of men accessing therapy – They are not as likely as women to access therapy.
Women are twice as likely to access therapy. And Danielle Muñoz is joining us from Cal State University Long Beach, where she's the Director of the Center for Basic Needs. And Danielle, I wanna ask you, in your family growing up was, was seeking out mental healthcare something that was part of your family's practice?
Danielle Muñoz: It wasn't, I think that mental health treatment was even just a system my family wasn't familiar with. Where they grew up, um, town that was very under-resourced, and I also came from a Latino community and my grandparents immigrated here, so I, I think where they came from and, and the city that they lived in, which was very under-resourced, just didn't provide those kinds of, um, things.
And so even I was just talking to my aunt the other day and just, she's in her sixties, she's like, I'm just making all these connections and realizations now in my life – Um, learning and unlearning things, uh, throughout my childhood that I didn't know how to name to it until now. And so I know that, uh, we just weren't familiar at all and even knew to ask, and I feel like there's even a sense of, uh, if I ask for help for myself, I'm being selfish. I should be thinking about everyone else first before myself.
Anna: Yeah. What, what do you say back to that, to someone who says maybe they're looking for an excuse, but one of the excuses they grab onto is, ugh, therapy is just indulgent. It's me, me, me, me, me. Like, I've got kids to take care of. You're, you just want this drama over here and make it all about you. Like, what do you say back to those kinds of harsh critiques that people can face when they're looking to get mental healthcare?
Danielle Muñoz: I feel like mental healthcare really supports you in being able to be that person for others. And so if you're taking care of your needs first, you're sort of refilling your cup. And I explain it to families, especially when I work with Latino families. Um, It's like, imagine your kids and your, and your spouse and your parents and your tios, tias, your cousins, they're all taking something from you. They need you, and so you're like an emotional ATM and they're withdrawing all day. Well, an ATM at some point needs to be refilled, and so imagine that every time you help someone, you're giving away a little bit, a little bit more and a little bit more. Um, and so what therapy can do or just talking to someone is refill your own cup, right? Or replenish yourself so that you, the reality is you might have to still go back out there the next day with the kiddos, you know, or take care of your parents, and, you know, a lot of Latinos, we do caregiving, uh, when our own parents get older. It's very common for us to stay within the family for that elder care.
Um, and so I feel like they can hear it from that angle because it is validating people do need a lot from them and they are very important, but that by filling up their own cup again, they can still be that person and, and not have to, uh, sacrifice their sanity, nd so just kind of understanding it from that view and not taking it away from them, that by doing therapy you're somehow gonna have a different role. Like it's, you're gonna still have the same role, you're just gonna be better at it.
Anna: Mm-hmm. I wanna bring Victor from Philadelphia into our conversation. Victor, what's been your experience with this? With the question of whether and when to access mental healthcare?
Victor: Hi. Thank you. Thank you for having me on. Uh, my experience has been fairly, has been pretty positive for the, for the most part. I started going to, I started seeing a mental health therapist when I was in college, and I've been going ever since.
Anna: What prompted you to first try it out?
Victor: Um, for me, uh, like, I just wanna give like a quick background for me. Like, uh, I'm a first generation American whose parents are from West Africa. So, um, yeah, I had a lot of hardships growing up between trying to navigate between their culture, uh, American culture and, and, um, like the Black American subculture.
And, you know, for me, I always grew up with like, uh, just always feeling anxious and always going through depression. And before I saw a therapist, I always thought that they were my problems, it's like it's my fault.ut, uh, when I saw a therapist, it really opened my eyes and see that it wasn't necessarily, it's not necessarily my fault, it was just my upbringing and how I was raised.
Anna: Yeah, you had a lot of things you were trying to integrate. Um, Avi, is there something you wanna say to Victor while he's on the line?
Avi Klein: I think that's so wonderful that you tried out therapy and have had a positive experience and have stuck with it ever since, and going back to our conversation about shame earlier, I think what you're describing is such a common way when people are sort of alone with their experience, it's natural to feel somehow blame yourself cuz there's no other way to make sense of it, and it really does take a conversation with someone else to rethink your narrative around that.
Anna: Mm-hmm. And Victor, I wanna give a shout out to, to campus-based mental health centers because that's where a lot of people who have the ability to, to, to be in school on a campus maybe access mental healthcare for the first time. Was it difficult for you to figure out how to keep your therapy up as your life as you moved on from school?
Victor: Yes and no. It was just difficult at times to find a therapist, uh, either that will accept my insurance or that's available during my time schedule because my job has changed, the hours have changed, so it's been difficult at times to find someone more consistently. But since, uh, the pandemic, it's just been a lot easier since all of them are all virtual these days.
Anna: Yeah. And do you talk with your family of origin, your parents, about what you've learned about yourself in therapy?
Victor: Yeah. Oh man. Yeah, I, I have, and it becomes a source of contention because my mom, especially, you know, she's a deacon at her church, and for her, if you have mental health issues, you gotta talk to Jesus. Pray, pray, pay to Jesus, and he'll answer your prayers, and I always try to suggest to my mom and my brother especially to go see a therapist because my dad, you know, he's–I'm grateful–without him I wouldn't even be in this country. Besides that, he's, uh, he's an alcoholic, so we dealt with a lot of issues relating to that as, uh, verbal abuse, emotional abuse. I wasn't even aware of adult children alcoholics, for instance, until I saw a therapist. So even now, I try to encourage my brother to see a therapist.
Because, um, you know, I'm not professional, so it's not appropriate for me to diagnose, but I can sense that there's depression, codependency going on. So I just want him, I always try to promote him to go see therapy, even offer to pay for him, but he is always been reluctant to go and see a therapist, mainly because my mom just does not see any value in it.And I think my mom has influenced my brother's, uh, viewpoint when it comes to seeing, uh, a professional to seek, uh, professional help.
Anna: Yeah. Victor, thank you so much for your call. You're describing family dynamics that I bet, um, are not unfamiliar to many people listening along.
Um, Avi, I wanna ask you about couples in particular. Um, I'm imagining that when a couple comes to you, one member of the couple is sort of the one who booked the appointment, found you pushed this to occur, and maybe another is less bought in.
Um, when you're in a session with two people and one of the people really wants something to happen and the other person is not really sure they want to be in the room, um, can that be an effective session? Like how do you, how do you open that conversation and who do you focus on?
Avi Klein: Yeah. Um, that's a great question and a very common dynamic, and for starters, I, I think I focus on the fact that whether they're entirely gung ho about being in the room, they are in the room, and that counts for a lot. Um, which I guess is another way of saying that's the person that Itend to focus on more because I think, um, having them come around to, to being fully in the room is really important.
Um, and often it turns out that it's really not, it's not about doing therapy, it's about the feeling of failure. Um, it's that, you know, and, and you know, even though we're being sort of vague, it tends to be that the, if we're talking about a heterosexual couple, that the male partner is the one who feels this way, that being in couples therapy is a sign that they failed instead of maybe an opportunity to get closer.
And, um, and I think there are a lot of ways to work with that, cuz that's, to me, it touches my heart cuz they really care about the relationship and, and that's what I, where I might go next.
Anna: Hmm. I wanna bring Alex and Lancaster, Pennsylvania into our conversation. Alex, what's been your experience encountering stigma around mental healthcare?
Alex: Hi. Yeah. Um, so for context, I am a transgender man who's been fully, I guess as they call it, stealth, which is to say I'm perceived by cisgender people as a cisgender person. For about three to four years, I have a bouquet of mental health issues and I've been through the system several times, both pre-transition as a female and post-transition as a male and, um, what I'll say is, especially like as a woman, it was almost seen when you were talking about like your mental health issues and stuff, it was seen as like a bonding experience to kind of bond over those vulnerabilities. I remember a lot of times with conversations with some of my women friends, when I would start talking with them, one of the earliest conversations we would have was about mental illness. Like, oh, this has been my experience, this has been your experience–let's bond and discuss our vulnerabilities.
With men, it was kind of where trauma was seen as a strength. Something to make you more masculine, something to one up each other with.I've been in a lot of conversations where it's been like, oh, my dad's, you know, so-and-so my dad's an alcoholic, and then immediately it'll be one up, then he'll be like, oh, my old man used to do this, and you all laugh about it and it's kind of seen with youras masculinity, it's seen not as a way to be vulnerable, it's seen as a way to one up each other. I'm a better man because so-and-so trauma happened to me, and that makes me better than all of you because my masculinity has been improved. And obviously going through therapy, a lot of that is very different just because as a woman, if you're in a womanly experience, having a woman therapist kind of one-on-one, you're used to talking about those vulnerabilities, you're used to being that open, but as transitioning as a man talking to a woman or even another man, a male therapist, you're sitting there and it's like, well, how do I talk about this when I'm so used to talking about my trauma as a series of one upping, aa series of glossing over, and using it as a way to further my social class, per se, my social standing, and not as a way, the vulnerability, you're not moving on, you're simply using it as kind of a leverage tool.
Anna: Competitive, uh, a competitive drive to it. And Alex, I'm curious for you, what's, what's been your relationship to stoicism and masculinity as you've transitioned? Like, do you find that you present in a different way when you're having powerful emotions?
Alex: Yeah, I would say definitely like, um, with stoicism, particularly like with being a man and I think I'm not sure if this also just has to deal with like testosterone and estrogen, because a lot of people who I know have gone through testosterone also have like issues crying, displaying emotions, things like that, but as a woman starting off, my first reaction used to be like, oh, I'm gonna text someone about how angry, I like sad I am about this. And then it was kind of like, an urge to very much intrinsically, If you have a woman friend and you're very close, you're expected to express like the very outburst emotions, I would say, and I've had that experience with a lot of other womanly friends towards me. And then as a man, you're very much expected to be like stoic, calm about it. You might text someone and they'll say, 'hey man, that sucks,' and you say, 'yeah, man, it's all right,' but that stoicism is very much like a heavy, heavy present part.
Anna: Yeah, thanks so much for calling in. Um, and I think, you know, saying, 'Yeah man that sucks,' like both, it's like, it is like validating even though it's many fewer words than maybe, um, what a female friend would text back. Um, thanks so much for your call. Danielle, is there anything that you wanted to say to Alex's call that Alex made you think about?
Danielle Muñoz: Yeah, I do think about, for a long time I had the honor to of providing therapy to trans-identified folks through their transition, and there is a sort of like gendered, healing where they would share that, you know, as a female it was much easier to be vulnerable with folks and then it, when they fully transition and they present as male, people didn't receive it the same way and it wasn't as welcome to be vulnerable.
And I think that does go back to, uh, maybe, you know, Avi can expand on his work on this, but where males definitely feel a stigma behind being vulnerable and so, when you now live your life as a man and, and be authentic in that role, it's hard to get in touch with your vulnerable side anymore because of how society is seeing how you should do your healing, and so now it's sort of like this gendered thing that we're doing, which is not good.
Anna: Yeah, before you respond to that, Avi, I actually wanna bring Amber and Pinehurst, North Carolina into the conversation because you have a question about, um, talking with your son about accessing therapy. Is that right Amber?
Amber: That's correct. My son is an adult and very resistant to therapy, saying that he doesn't feel like there's any value in it, and he's also resistant to medication feeling like it would change his base personality, and since he is an adult, I really have no leverage. I just have tried to encourage him to seek therapy because he is very deep in a depression and it is very obvious to everyone who has ever known him, but he feels like this is just who he is now, and I don't see that as a functional human.
When you don't leave your room except for meals and when you are specifically asked to do a task. It seems like you should want to seek therapy, but he's very resistant to it, and will not see it as an option.
Anna: Thank you for your call, Amber and, and Avi, what would you say to Amber and to other people who love and want, uh, want their loved ones to be thriving and, and can't get them to, uh, around on the idea of accessing care for themselves?
Avi Klein I think that's very hard. I mean, my heart goes out to her and you know, on the one hand I, in my experience, sometimes people have to really put, like kind of pushed into a corner before they'll go, unfortunately. Um, I think one thing that can help destigmatize things is more, you know, there are, um, there are like really nice online resources, you know, I mean, a place like Reddit has good and bad things, but there are some really great, um, subreddits for, um, for men and advice from, um, from men and, um, I think just hearing from your peers one way or another, that this is not such a strange thing and that healing and growth and change is possible. I think that would be a place to start.
Anna: Thank you. Avi Klein is a psychotherapist in New York. Danielle Muñoz joined us from Cal State University Long Beach, where she's the director of the Center for Basic Needs. Thank you to both of you for taking our calls and listeners, thank you for calling and sharing with us. This has been Hold On.
Music Credits:
"Waiting" by Crowander
,
"Chrome and Wax" by Blue Dot Sessions
,
"A Path Unwinding" " by Blue Dot Sessions