Hold On: How Therapists See the Mental Health Crisis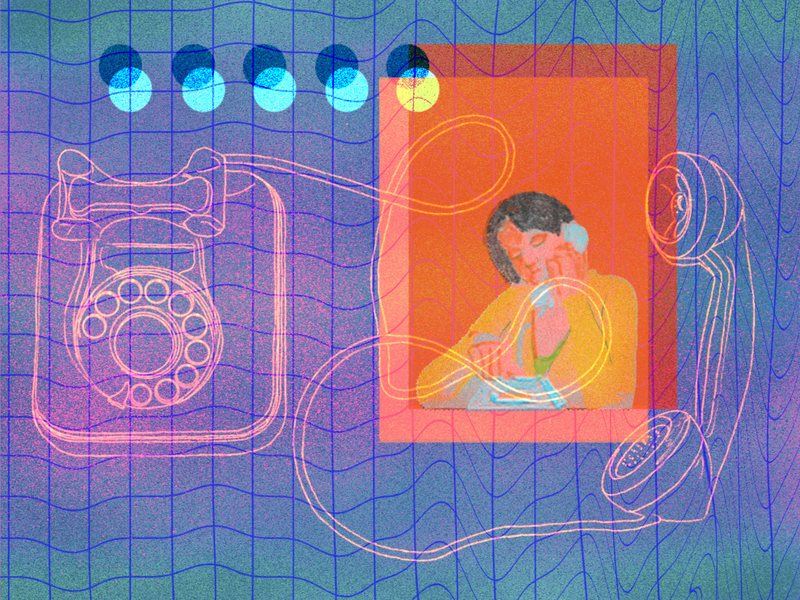 Transcript
Eileen: I've gotta say, people just seem lost. Where's my community? I have no backup. It just seems that so many people are struggling with a lack of a social safety net and finding safety in community.
Anna Sale: That's Eileen, a Death, Sex & Money listener and therapist, telling us what she's been noticing lately at work.
As you may know, May is Mental Health Awareness Month. And while mental health is something we talk about all the time on the show, we wanted to mark this month at Death, Sex & Money by doing something a little different. We are partnering with our colleagues at WNYC, and public radio stations across the country, on a series of live national call-in's about mental health.
We're calling the series Hold On… get it? It's a double meaning of how being in crisis or a mental health downturn can feel like you're just holding on, and also it's a call-in show, so hold on the phone!
This is the first of six hours of conversation we'll be sharing with you this month. And we're beginning at the place where most of us get stuck: how to start therapy. We asked you what's worked in finding help, and also asked mental health professionals to call in and talk about what they're seeing in their sessions. We heard about loneliness, anxiety, and the frustrations and successes of telehealth.
We're going to drop the second episode, which was all about teenagers and mental health, this coming Saturday, and the plan is for you to get two episodes per week for the next three weeks.
If you want to participate live, the next two call-ins are on Thursdays 8 to 10 Eastern time, so that's May 11th and May 18th. We're on 100 public radio stations, but if we're not being broadcast where you live, you can stream it live on WNYC's website, which is linked in our show notes.
We want to know what you think about this series, and to hear any stories from your own life that it stirs up. You can always be in touch by emailing us at deathsexmoney@wnyc.org.
Here's the episode.
_
["Waiting" by Crowander starts]
Anna Sale: This is Hold On, a national live call-in special about our mental health from WNYC and the Death, Sex & Money podcast.

It does not have to be this way. I'm Anna Sale, and those are not my words.

They're from a recent White House statement on the collective mental health crisis Americans are experiencing.

Some of the statistics it mentions: two in five adults report anxiety and depression. Two in five teenagers describe experiencing persistent sadness or hopelessness, exacerbated by social media, bullying, and gun violence.
["Waiting" fades out]
Drug overdose deaths are also near record highs, and suicide is the second leading cause of death among young people.

All of this is happening at a time during an epidemic of loneliness. Just this week, the US Surgeon General issued a report on what he called "a loneliness epidemic," saying about half of American adults are experiencing loneliness and isolation, which has major consequences for both our physical and mental health.

So, many of us are suffering… in isolation. Others of us are getting mental health care, but aren't sure it's the right kind of care. And of course, there are those of us suffering from serious mental illness without coordinated, continuous care and an adequate safety net. We feel and see this across America. In cities, like on the New York City subway, where a man experiencing mental distress was choked to death by another passenger just this week. We see it in small towns and communities, where finding help or getting off a waitlist can feel impossible.

There's a lot we need to address over our series of specials about mental health this month. We are on public radio stations across the country to do it in the north and south, in big cities and rural places, and we're also streaming wherever you are.

And here's our hope for these live call-in conversations. We want to gather together, and tell our stories, commiserate, swap strategies that have worked, and lift up the questions that are still nagging at you. So we can listen together, and really hear how this is not something that only you or your family is struggling with.

There may not be simple fixes, but there is company to be found. To help us all hold on, and maybe even with a firmer grasp then when you started listening this evening.

To start this conversation, I'm joined by Dr. Kali Cyrus, a practicing community psychiatrist, and assistant professor at Johns Hopkins Medicine, and you may also recognize her from Couples Therapy if you, like me, watch that show on Showtime. Welcome, Dr. Kali, thank you for being with us.

Dr. Kali Cyrus: Thanks for having me.

Anna Sale: You are gonna take our calls with me this hour. Later, we're gonna share advice about finding the right kind of care at the right time. We want to hear from all of you if you've had that experience.

But to start, we wanna hear from the mental health professionals out there listening, to hear your sense of what you're noticing about how we're doing right now. Be our reporters. If you're a therapist, a counselor, a psychiatrist. We hear the stats, we hear these big reports on our collective mental health, but we wanna hear your sense from what you see on your days at work, what keeps coming up again and again, what's new? On Death, Sex & Money, the podcast I host, we asked our listeners this question, and here's some of what we heard from mental health professionals:

Eileen: The biggest theme that I see amongst many different clients is the adverse impacts of extreme social isolation.

Listener 2: People are just kind of wanting to get back to what they had before the pandemic.

Listener 3: I've seen a huge growth in the amount of people seeking out therapy with a spiritual component: somatic work, ancestral work, intuitive work. I believe that people are cracked wide open.

Listener 4: Couples were seeing me to just fight in my office, and one of them would storm out and say, "Life's too short. I'm done." Um, I had many men that were in their forties, like white men, two of which I had to drive to the ER because they were suicidal.

Eileen: What do I do if I move far away from my family, or I don't know who to put down on an emergency contact form? I hear these things all the time, just grown adults searching.

Anna Sale: Dr. Kali, what are some of the patterns you're seeing from your clients? How would you describe this moment?

Dr. Kali Cyrus: I've been calling it a fever pitch, actually. Um, and maybe that's just a kind of Debbie downer in me, but, um, I don't, it just feels like it's getting worse. And at some point, what's the system gonna do? There has to be some sort of breaking point. Um, and while there, you know, there are moments of improvement, but, um, it's just the, what people are coming with is really kind of hits your soul in a way that you, you feel powerless, you feel hopeless.

Anna Sale: Huh. And when you say the, it's getting worse, what's the "it" in your office?

Dr. Kali Cyrus: Yeah, a lot of the themes that the callers mentioned, I like to group things in terms of like love, health, and work, and it feels like all three of those things, or usually one or two of them at one time aren't going well. Uh, and so, whether it's someone who's isolated since the pandemic, who's now afraid to leave the house, that's one thing that's worsened, even though things have opened up. And the ramifications of seeing someone in a dark room every week, and you might be the only person who they actually have another conversation with is a thing.

Uh, you know, there's also the aspect of feeling like there's no point in being in a different relationship because everyone's so traumatized right now and so stressed out. So this is the best I can get, or there's no point, and even trying to go out and make friends. Uh, and then there's also the… I don't have anything else to necessarily do, or how do I deal with this moment right now at the end of the day? And I come home and I drink, or I smoke, and that is the way that I'm getting through. So there's a, there's a mix of, from the way I hear it, the everything that each caller kind of said that shows up in everybody. And it's tough as a therapist because you're trying to address all of it, this like… yeah.

Anna Sale: Yeah. And, and are you hearing these themes from people who've been longtime clients of yours and, and you're seeing in real time the stress compound and compound? Or, is this also how people are walking in the door, that they are in more distress as a first time patient than you've seen before in your practice?

Dr. Kali Cyrus: Yeah, I think it's a bit of both. So I have folks who come to me in crisis, and those are obviously the toughest, and some of those haven't seen a therapist or haven't been on meds before, and you're just trying to do damage control. Um, and sometimes that damage control is a traumatic thing that happened. Like this is an email that, you know, you can get a, someone reaching out, looking for a psychiatrist saying something happened, I have a crisis. I need to be in contact or be connected ASAP. You don't know what they're writing about on the other side of it, and then you end up being in contact with them, and you're literally just hitting the ground running. You don't know, you know, what to do with their issue, or how to sort of just calm down their trauma that they, they're showing up with right now. And then with my regular patients, you know that that does give me a little bit more hope, I'll sa. They will have crises like we all do, but it kind of ebbs and flows where there are moments of improvement. And even if one crisis gets solved, then there's a next one that comes up. Like it's just, maybe that's the tenor of, of what I feel is that there's just no rest. There's no break. Everyone has one hurdle after another and it might be love one day, health the other day, work the other day. And it's just like, when do you get some relief?

Anna Sale: Oh, so that trick of stabilizing when if you stabilize one thing, something else is exploding is a, is a real difficulty right now.

I wanna bring Francesca into this conversation. You are a professional mental health professional in Paloma, California. What would you say, what are you noticing in your work right now about our mental health crisis?

Francesca: Hi, thank you. Um, all of my patients are gender non-conforming, so what I've seen is a spike in anxiety where people who are dealing just fine with, you know, the social anxiety and the, the difference involved in, in not being a typical gender are suddenly asking me, should I get surgery, should I get procedures that I was not even considering, gender affirming care now, because that right may go away.

Anna Sale: And what do you say as a professional in that question, if you are, do you feel like accelerating care due to a political moment is something that you think about with your clients?

Francesca: And that is the, the tough part because folks are not choosing care because they've come to a decision after determining what their best option is. They are politicized, they're scared, they feel pressure. And so the question becomes, can you cope with the concept that your ability to get this care might be taken away? Which is a greater anxiety producer for you, the idea of submitting to a procedure that you may not be ready for, or the idea of never having that option? And that's how they're feeling.

Anna Sale: Hmm. Can you cope with two choices that are both distressing? Uh, thank you for your call, Francesca. Destiny in Detroit, what are you noticing at work as a mental health professional?

Destiny: I am noticing, especially as a person who completes the, um, the assessments when people are first entering care, that they are wanting the services for themselves as adults, or services for their children, and they want to have a human component again. Um, our clients are tired of sitting at home. They wanna come in and meet with someone face-to-face. They want the, the, you know, the body heat, the body language. And unfortunately, we don't have enough clinicians to fill that space.

Anna Sale: I see.

Destiny: So while we have clients who are ready to come back in, we don't have clinicians who are yet in a, um, professional component ready to be back in the office.

Anna Sale: Huh.

Destiny: So, I'm not seeing the shift yet that we need.

Anna Sale: So, the opposite of the remote work difficulty: people are wanting to come in and you don't have the ability and the capacity to, to welcome them in. [crosstalk]

Um, thank you Destiny for your call. Is that something, Dr. Kali, that you're navigating with your clients?

Dr. Kali Cyrus: Uh, it's, it's interesting. I don't know that my clients are requesting to come in, they all started working with me virtually. I will say on my end, there are some clients who I wish I was in an office seeing them. They may not necessarily ask me, but they're the clients who are definitely the ones who might go a week without seeing someone else, uh, and I just wanna reach you across the screen and say, why don't you meet me at the track across the street and we can go walking?

Anna Sale: Uh-huh. I wanna bring in James in Naugatuck, Connecticut. James, what are you noticing from what, what your clients are talking to you about?

James: Yes! So, uh, I'm a hypnotherapist here in Connecticut and I've been here for 13 years Uh, and I do both online and in person. And what I've noticed, um, the biggest age group, like 15 to 25, the amount of anxiety that these kids have about everything from exams, to just regular everyday life and how to be able to communicate with other people and how nonverbal they are, um, has just been amazing to me, and it wasn't like that when I first opened my practice. But the amount of adults since the pandemic that I've had with isolation, anxiety, and um, all of those things, that, that has also increased.

Anna Sale: Mm-hmm.

James: I think though, that there is some good news when you let somebody walk away with some tools, um, the cognitive tools, that they can use on their own to help them get through some, some of this anxiety as well, and teach them that it's not such a hopeless thing. That we do control our minds at some level, and we can do that through, through a lot of different means of going inward.

Anna Sale: Well, I, you said you're a hypnotherapist, so I'm gonna ask you just to give us an example. If I am feeling totally overwhelmed with anxiety and say I'm a 16 year old who doesn't have a lot of language to express what I'm feeling and, and not a lot of experience to know how to get through it. Um, what is the thing that you say about the way that you can have a little bit of control over those feelings of overwhelm?

James: Well, I explained to them about the mind. Subconscious versus conscious and how we can reprogram our subconscious mind through things like positive affirmations, listening to, um, direct suggestion type recordings, through sleep, um, and also some, uh, actual both physical and breathing exercises that they can do diaphragmatic breathing, uh, for example, to bring them back into the moment. And explaining that anxiety is about future thinking, depression is often about past thinking, but the only place that we can get that moment of peace usually is by remaining in the moment. Now we know we can't remain in the moment all the time, but teaching them ways to reel themselves back in by just simply noticing the sounds around them, or the sights around them, or what they feel in that particular moment.

Anna Sale: Dr. Kali, what do you wanna add?

Dr. Kali Cyrus: Yeah, I-, the approach that James is talking about is, it is extremely helpful, but more cognitive. Thinking about what your, what the inputs are, and how they need to be altered in terms of then decreasing the output or changing the output, which is decreasing anxiety. But I guess what I was gonna go back to and say, is there some adults who are showing up with things that maybe you would expect kids would. A lot of people don't know how to talk about feelings, especially people of color, especially, you know, folks who are over the age of 30. Uh, and so I'm just seeing so many people with a range, and it's, I'm having to start way below and from the beginning, like far less advanced in talking about, in a, in a cognitive sense. Like, more like showing a feelings wheel, having to have folks identify, is that a thing that you're actually feeling? How long have you felt it, do you notice when it comes up? Um, a lot of folks saying, you know, I don't know what's going on, but, you know, I keep getting it, it feels like I'm gonna have a heart attack, or I get so nauseous, and not necessarily even connecting it with how they feel. So there's just, it's, it's really great that so many people are coming to get care right now., uh, and it is striking which age groups, uh, you know, are presenting in certain ways. But, it's, it's across the board and I think that's important to recognize is not just one group presenting one way. There's a lot of this just mixed through everybody.

Anna Sale: Yeah. And Dr. Kali, you say a feelings wheel. I'm imagining it's this wheel of, like, is sadness something you're feeling now? Is anger something you're feeling now? Is that, is it as simple as giving people permission to say, I am sad?

Dr. Kali Cyrus: Sometimes, that's it. People will say, oh, it's, it feels weird. I feel down, I feel depressed, and you don't, that means different things for every person. Also, I will say there are a lot of feelings that you've just never actually knew were feelings or words. We tend to use the same three, sad, angry, mad, you know, stuff. But if you look at these wheels, they are amazing. I, you should just get everyone to do a little image search of this. But, but there's, there's so many, um, within the sad category, or within the happy category. And it's really helping people put words to it, because that's the first step, like what James is talking about, is that if you can't identify or name the thing, how are you gonna move forward by addressing it or doing something with it?

Anna Sale: Hmm. Lauren in Baltimore, Maryland, what are you noticing in your practice about this moment? What are people struggling with?

Lauren: Thank you, thank you. Um, yes, I am director of, uh, the Intercultural Counseling Connection. We provide therapy for survivors of torture and trauma from many different countries through a network of pro bono therapists, and we're gonna focus on the issue of isolation that's been so salient. Um, the people we work with are isolated, not only because of the extreme nature of the kinds of experiences they've been through, but also often culturally, and also because they're new to the city. Many have just arrived here in the last few months.

Um, and the broadening of virtual therapy services throughout the pandemic has certainly enabled not only our clients, but of course people everywhere, to access, uh, [beep] more so than, well, it was a necessary, uh, measure. Now that it's possible to return to in-person individual therapy, that's all fine, but we have consistently seen how really essential group work is to helping people reestablish a sense of connection, and to help them realize that they're not alone in what they're experiencing, to get the benefit of the group support others can offer. Um, and with that, um, we've also seen that just helping people, for example, get outside, spend time in the sunshine, engage in activities like gardening. Um, and going back to the previous, uh, the previous callers speaking about being mindful and aware of the, what's going on in a sensory way in the moment, we've been bringing more of that into our work with people in our garden spaces, mindfulness within nature.

Anna Sale: Huh. Lauren, I wonder–

Lauren: So, these are the kinds of things we're finding are helpful.

Anna Sale: And when you say group therapy being helpful, I, I've never really thought of that as a way of, like, creating micro-communities and community building. Is that something that you feel like you're doing when you say, rather than just come and have this one-on-one session, how about join in with a few other people and, and, and just see the way that you are mirrored back by other people?

Lauren: Oh, absolutely! I mean, again, the individuals we work with, many of them have been through really, um, terrible forms of persecution, sexual and gender-based violence and the like. Um, and to be in a group, we're not, we're not talking about these trauma experiences in the group per se, but using different expressive, mindfulness approaches to dealing with practical issues, like how to decrease anxiety, how to use different kinds of techniques in the moment where you feel yourself being affected by intrusive memories. Um, and to do the things together, to engage in artistic or expressive modalities, to go out the garden. We, we work with people from about 27 different countries, and we have interpreters so that people are able to connect across cultures, you know, uh, across genders. Um, and it, some of our participants have been involved with groups over years as they've moved on of their journeys, and they are much further along in their experience here in the US, they're more stable. They welcome the newcomers. We had someone come into our program just a few weeks ago, and she was told by one of our old timers, um, you will be safe here, welcome. Things are going to get better now. And that was just amazing.

Anna Sale: Lauren, thank you for your work and for this work of, of building relationships that you're doing. You know, Dr. Kali, it's, it's reminding me that one of the titles you use is community psychiatrist. Um, and you have a background in public health along with a private practice. And I just wonder how you think about that, about what your, how much of your work ought to be helping people establish connections with others and build relationships?

Dr. Kali Cyrus: That's the job. [chuckles]

Anna Sale: Huh.

Dr. Kali Cyrus: You know, at the end of the day, you know, there, there are a lot of studies that, that look at what makes psychotherapy effective, and so many of the studies come down to the relationship you have with the therapist and what the bond is. And that is that, I think that's a microcosm of, of what, of what we all need. Again, back to this loneliness, we just need to connect to someone to know that someone hears us, and to be able to share it which is why, um, so for me, a community psychiatrist that's like in a clinic, it's kind of a hustling, bustling people around saying, hi, there's laughter, there's other things happening. Um, I used to go to people's homes. It's a very different model, you know, I'm wearing my sneakers. Um, as opposed to the psychotherapy frame, um, which is–

Anna Sale: No sneakers. [chuckles]

Dr. Kali Cyrus: In an office, you know, there, um, I still wear sneakers, don't tell anyone that. But, uh, um, but you know, you have the noise machine on and all of this and, um, it's a lot more stuffy. I think it's probably what we imagine when we see things on TV, but that's been upended, with–

Anna Sale: Mm-hmm.

Dr. Kali Cyrus: With virtual therapy. You know, I, I have, I'm in the form of psychoanalysis, which is basically a therapy like old school Freudian, where you lay on the couch and

Anna Sale: Mm-hmm.

Dr. Kali Cyrus: And talk off the top of your head for three to five days a week. And this is very, like, very strict kind of frame. My analyst is now on Zoom looking at text messages that I sent her screenshots of… that is not something that would've never happened before.

Anna Sale: Huh!

Dr. Kali Cyrus: And, I think that it's bringing folks closer together to a, um, it's, I think it's forcing us to be more flexible with how we meet clients where they are, which is amazing, uh, from the perspective that I see it. Um, and group is one of those things I, I don't know if we'll go back to group, but just in case folks are looking, it's a really, it's more affordable, so if you're trying to get in with a therapist and you can't find one, group is one really good thing to look for because you wouldn't necessarily have to pay as much. I know some folks are like, "Well, I don't wanna put my business in the group. I don't know those people." I understand that, but why don't you just try it? You're not forced to tell all of your business. The other thing is that you can benefit from other people sharing their stories. And so, you have four other people, or five other people, you don't necessarily have to share everything about yourself, you can learn from them.

Um, there are also a lot of different types of groups out there that you would probably be able to get in, um, and there will be more availability and not just therapy groups, but like folks have been mentioning, there are creative arts therapists, there are, you know, more somatic groups. There's so many different options out there, rather than kind of the way we expect it. And I think that's something that's really great that's happened.

Anna Sale: Yeah. Um, I wanna bring in Maria in Philadelphia, because you just mentioned group therapy as being a way to also have it be a little bit more affordable if you're paying out of pocket. Maria, it sounds like money is coming up with your clients?

Maria: Hi! Yeah, um, so I'm a, I guess a community psychiatrist. I practice in a suburb of Philadelphia, and I mostly serve a middle to lower socioeconomic status population. And I can't even begin to describe the financial challenges that patients sort of bring up as their primary concern. So, uh, there's a tremendous lack of affordable housing in the community where I practice, as well as nationwide. And it's just really hard to sort of try to encourage, uh, mental health and mental wellness when people are spending time on friends and families' couches, they don't even have a stable place to live, or, uh, they don't have access to healthy or affordable food, and that's been sort of, that's become even more prominent after the, uh, declaration that the COVID-19 emergency has come to an end and, um, people lost critical access to funds that they were using to pay for medications and food. And it's just so overwhelming to try and sort of help people feel good while they're struggling to fight for their most basic needs.

Anna Sale: Yeah. I mean, what do you find yourself saying to clients who are saying, "I don't have the money it takes to live in this community, housing is too expensive." Like, how, how do you talk about that in a way that's gonna hopefully make them feel a little relief by the end of a session if you don't have money to give them!

Maria: I know, I, and I wish I could. Um, so I try to do as much as I physically can. I oftentimes will surf Craigslist and apartment websites, as do many of the therapists that I work with to help people find affordable housing. We have gotten really good at becoming aware of the community resources available, so we'll direct people to food banks, so a lot of, I guess what I generally end up doing when I meet with patients who have some of those concerns, I kind of take my psychiatrist hat off, and I put on a sort of a community resource manager hat on because, truthfully, like I cannot do my job as a psychiatrist if my patients are hungry, if my patients are cold, if they do not have access to utilities. So I do essentially what they need me to do in, in my appointments with them.

Anna Sale: Hmm. Maria, thank you for your call. Dr. Kali, I love that distinction that Maria made: I have to take off my psychiatrist hat, and put on my community resource manager hat. Um, is that something you were, uh, trained to do in your education?

Dr. Kali Cyrus: No. [chuckles] No.

Anna Sale: Is that something you find yourself doing with your clinic?

Dr. Kali Cyrus: Uh, yes. I think that's part of the job and I, I just wanna say thanks to Maria. But that's the thing is that, so, especially if you're thinking about psychiatrists, we're trained to prescribe meds. We're not necessarily trained to do therapy or to, uh, just take our psychiatrist hat off and do what we need to do for the basics for our clients. And, depending on who you work with, and in what setting you work in, you have to if you want your clients to get better. And that takes time. It's a lot of energy, and you feel like you can't fix anything. It's, it's, it's, but you have to just keep going, because they keep going. You have to find some way to be able to help folks. Um, but there are a lot of different hats that you have to, you have to wear other than psychiatrists. Sometimes you have to wear, a parent or advocate, call people's families, and try to touch base in that way. Sometimes I am, you know, the Karen on the phone who's calling the government office, who's calling the doctor's office, who's calling to say my client needs services with you. So–

Anna Sale: Um, the Karen on the phone, meaning you're the, the, the person who's the strong advocate who feels entitled to good service.

Dr. Kali Cyrus: Exactly–

Anna Sale: Uh-huh.

Dr. Kali Cyrus: Exactly. Saying, my client needs this. They can't get outta bed. They desperately need their Adderall, you know, things like this. And so it's, it's, and there's a different flavor of it. So Maria's talking about the community that she's working with, which is, um, you know, in terms of what insurance they might take, how they're able to pay. There's again, a flavor of that happening in the kind of community that might be born middle class or upper middle class. Obviously, not as severe, but they're dealing with their own financial issues.
["Chrome and Wax" by Blue Dot Sessions fades in]
And you can't really help them if those are the things that are always gonna be there, which I was just gonna say comes back to something that Francesca, one of the callers were saying, which is, how do you just cope with things being the way that they are? Yeah. It's like, if this is it, what can we do to get you through it?

Anna Sale: That's what we're gonna talk about after the break. We want to hear from all of you, whether you're a mental health professional or not, about where you have found care that has been helpful, when there are so many big things that feel like you're not in charge of it.
["Chrome and Wax" by Blue Dot Sessions fades out]
–
[Death, Sex & Money midshow theme music starts]
Anna Sale: If you're listening to this in your podcast feed, I have a question for you.
For our May 18th Hold On live show, we'll be talking to organizational psychologist Melissa Doman about how to talk about your mental health at work, and we want to know your experiences.
Have you ever had to disclose a diagnosis to your boss or in a job interview? Are you a manager wondering how much to talk to employees about their feelings? What's the line between being a compassionate leader, and "Um, this is soo not my job."
We want to hear from you about how you've talked about your mental health at work. What boundaries you drawn, how you've talked with your co-workers about their mental health, and what's helped you make work a more human place?
You can record a voice memo and send it to us at deathsexmoney@wnyc.org.
[Death, Sex & Money midshow theme music ends]
–
["Crowander" by Waiting starts]
Anna Sale: I am Anna Sale, and this is Hold On, a national call about mental health. I host the podcast Death, Sex & Money from WNYC, and you're hearing me on your public radio station. And we are talking now about how you have found the right kind of mental health support, once you realized you needed help:
["Crowander" by Waiting ends here]
Listener 5: I am the type of person who is telling everyone that they should be in therapy.

Listener 6: Finding a new therapist, especially after having a fabulous therapist, sucks.

Listener 7: There's just not that many people in the world that you're gonna feel like you can trust and that you like talking to and that you feel are helpful and, and good for you to talk to.

Listener 8: I had a therapist who had me hold two crystals in my hand and open and close my arms really widely, and at the end of that, I wasn't supposed to be mad at my father anymore.

Listener 6: If you have to force the conversation, or if what they are saying to you just doesn't land right? Then find a new one.

Listener 9: At the end of the day, you'll know if the person you're speaking to understands and respects you.

Listener 7: Unfortunately, it's a lot like dating.

Anna Sale: Those are listeners of the podcast I host, Death, Sex & Money, describing the journey it can be to find the right kind of professional help for your mental health.

We are taking your calls right now about what's been helpful for you! Tell your fellow listeners, who maybe have never sought professional help before, what do you wish you'd known at the start about finding the right kind of care for yourself? I'm joined this hour by Dr. Kali Cyrus, a practicing psychiatrist in Washington, D.C. Hi, Dr. Kali, I wanna ask you first: when do you know that it's time to try to get some help from a mental health professional?

Dr. Kali Cyrus: You know when it's time to get help when the typical strategies that you're using are not helping, and you feel it every day.

Anna Sale: Mm-hmm.

Dr. Kali Cyrus: Uh, you know, I don't wanna necessarily throw around diagnoses, but the way I think about it is if you, whatever's going on, you're not able to get sleep, you're not eating as much, you're not ever able to cope and do the things that you need to do most days of the week for weeks at a time, it's time to do something different. Um, and whether that's meds, whether it's talking to someone, the first step is just connecting with anyone who can listen to you, talk through it, and help you decide next steps. So, that's the thing for me is when you know you're just, back to that stability thing, hurdle after hurdle and not having a chance to get up, and you don't feel like you can get up, and you wanna give up, it's time to seek some help.

Anna Sale: And say you don't know anybody who's in therapy, as a close friend or family member, where's that next step? What do you do next about where do I go?

Dr. Kali Cyrus: That's a good question. I will say I've had some folks who don't have any family members or know anyone who's been in therapy reach out to me, just know that they needed someone. So I'm just gonna go ahead and start with the search engine.

Anna Sale: Mm-hmm.

Dr. Kali Cyrus: Type in what is therapy type in, you know, how much does it cost? How does it work? What if you've never been in therapy? There's so many resources out there on the internet. I think maybe the thing you're asking is just about courage and about the fear of reaching out and participating in the process, tat may be taboo, that may be for folks who are weak, that may be a waste of money. Um, and I think that why not just try it, that at the end of the day?

Anna Sale: Sarah, Sarah in Baltimore also has a tip. Sarah, you're live on the show. What have you learned about the best way to get care for yourself?

Sarah: Well, it's been a long journey.

Anna Sale: Mm-hmm.

Sarah: Um, I've been through a number of therapists and, um, wasn't working. I kept on getting the diagnosis of depression, depression, depression. I kept on telling my story a thousand times, and knew every time I told my story, I kept on feeling worse. And, um, I hit a really bad point where I got laid off and also injured simultaneously. Uh, and, uh, I guess I was middle aged at that point and, um, really crashed. And I had always known that I had had difficulties, just like the doctor was just saying, you know, can't get it together, and yet I should be able to get it together. I'm not a, you know, I'm no dummy, I can figure things out. And so I ended up Excelling myself, putting myself on an Excel sheet, and writing down when things that wou- shouldn't bother me, would bother me. I would write those things down with as much detail as I could. And I made another Excel sheet about things that worked for me, and that was really detailed. And I… then looked at the different types of therapy that there were, and, uh, went on Psychology Today, and you can see all the different types of therapy and some are not asset-based, some focused on the hole, and some focused on the donut. And I know when you focus on my negatives, we're not going anywhere.

Anna Sale: Hmm.

Sarah: Because that's part of the problem. So, um, I was real specific about what I was looking for in a therapist, and I finally had the nerve. Two things happened. I had a friend, fortunately, who was going through a PsyD program, and I told her about my list of symptoms that I had kind of narrowed down, which were kind of oddball. And she said, has anybody ever said to you PTSD? Now, I had been in therapy for a total of God from the time I was 14 through the age of 30, off and on, mostly on. And I said, "No, what is it?" And she, "You know, what are the, what are the, uh, distinctive characteristics of it?" And she wrote 'em, laid 'em out, and they were exactly, exactly spot on.

Anna Sale: Hmm.

Sarah: And, uh, from there I had always known that I had suffered the big three, you know, in terms of, uh, childhood assault. Um, you know, physical, sexual, emotional, and, um, had, had suffered them rather well, but I could always move on. I could always put on a good face. And, uh, it led me to seek out help in my community. Um, it took me looking at the pamphlets a couple of times, you know?

Anna Sale: Mm-hmm.

Sarah: Before I felt safe enough to make the call, and then I made the call and it was a great woman who connected people, um, with therapists that were particular for them that were trauma informed. And that is really, really key. If you have experienced trauma in the strict sense that is fear for your life or that of someone near you or close to you, um, or fear for your bodily integrity, um, which is also another definition of trauma, it's really, really important that you are, are seen by someone who's been trained to deal with this. And she hooked me up with someone who was a perfect match for me, and I did not make it easy for her.

Anna Sale: You know, you're describing this long journey and, uh, first of all, I've never heard the term "Excelling myself," and I just love that. I love the idea of creating spreadsheets to help make yourself a little more legible to yourself. Thank you for calling. And, and it took that, then it took the Internet, then it took running and asking a friend who was in education, then it took looking at pamphlets. Um, thank you for describing this journey and for sharing all that with us. Dr. Kali, is there anything you wanna add to that?

Dr. Kali Cyrus: Yeah, I, I, I'm really glad you were able to find someone on Psychology Today because it's really tough. I'm hearing from folks that they have to call up to 15 people before they find someone who is actually available or who actually picks up, picks up the phone. So it's, it's unfortunately not that easy these days to look at a directory, put in your zip code, and find someone who's available. I'll say on the other end, in case this is helpful for listeners, always reach out, circle back again. There are times, there are weeks when I let the emails pile up, I can't even think about it. And then there might be a month later where I'm like, "Oh, let me get back to these people. I have some room on my schedule. I have folks who will say, can I circle back? And I say, "Yes, you set a calendar reminder. Circle back to me." Um, and so I, I think it's really tough to find someone right now, as Sarah was, was saying, and find someone who can diagnose you, whereas the kind of quality that you feel like you need. Um, but I would say be persistent and just keep in mind if you feel like you start seeing someone, 'cause sometimes just getting in somewhere is better than not. But if you're leaving feeling more stressed out, then when you went, you know it's time to move on. So sometimes help is better than no help. Keep in mind when you don't feel like it's working for you, because that's, at the end of the day, you're the one who's paying for the service.

Anna Sale: You know, you're describing the persistence that it can take to get the right kind of care. And, and again, we're asking people to do that when they m, their reserves are already low, that's why they're seeking care. So that I think that can be part of the struggle and the difficulty of this. I wanna bring in Samantha in New Haven, you found good care when you were in a crisis.

Samantha: Yeah. Correct. Um, thanks for having me on.

Anna Sale: Sure.

Samantha: Um, yeah, so my mental health battle has been going on for many years and you know, it's hard enough going through the process of, you know, finding the provider and, and getting diagnosed, and then the long journey of sometimes finding the correct meds. Um, so I was lucky enough to go through that and, and find the right meds. And, um, unfortunately after a while, um, my provider was, um, no longer gonna be practicing. So for me, procrastination is one of like, I don't know if you'd call it procrastination avoidance. Um–

Anna Sale: Mm-hmm.

Samantha: So at that point, it became very hard for me to find a new provider and, um, I'm sure you know, there's other people listening, um, who also have bipolar disorder and people may know that, you know, when you don't take your meds, you know, it can be easy to go into, you know, a, a manic state and, you know, other things can happen. But, um, my point is that… I was, I became off my meds for a long, long period of time and, and things were not going well for me. And I was able to, um… talk to some people who I was around, and they mentioned a place called the APT Foundation, which is a New Haven, Connecticut, um, which is a non-for-profit that they mostly focus on, um, substance abuse, but, um, they are prescribers as well. And what the person told me was that I could go in the next day, and see someone that day, and that they would be able to prescribe for me. And, and I did. And um, I was able to see someone they prescribed to me, and I've actually been going there for the last, uh, couple years because… for me, you know, the whole thing about, you know, Psychology Today is a great resource. And, and, um, you know, that whole thing about like circling back and, and all that, for me that was just, you know, too much. And I needed to know, Hey, if I'm gonna really put my effort into doing something that's really hard for me, I, I need a result right away. So I was

Anna Sale: mm-hmm.

Samantha: I was very, um, fortunate to come in, in contact with that program. And, uh, so like one of the things I wanna say is definitely like, look for programs like that in your, uh, area, because I don't think I had insurance at that point and now I have state and um, and I was, uh, able to get care.

Anna Sale: That's great. Um, right then. Thank you for your call, Samantha. It was wonderful to hear that story and, and, and thank you to all those local providers out there who provide that kind of essential service, um, to people when they need help. Um, Donna in Haslett, Michigan, what's been your experience finding mental health care that's worked for you?

Donna: Well, at first it was really difficult. I made hundreds of calls and left messages, and I got two callbacks.

Anna Sale: Two!

Donna: Yes, two. And one, it was gonna be physically impossible for me to do because I couldn't go up steps.

Anna Sale: Hmm.

Donna: Um, and the second one I got, um, I explained to her that I had lost, uh, most of my memory and that, um, I had difficulties with trusting, and I wasn't sure I'd be able to get out of my car. Um, and she said, "No problem. We'll figure it out." So I thought, "Wow, this is awesome."

Anna Sale: Hmm.

Donna: So I went there.

Anna Sale: So what happened?

Donna: And I'm, I was sitting in the parking lot cuz I could not get on my car. Yeah. And she came over to my car after I should have been there, she came over to my car and she goes, are you, are you Donna? And I went, yes. And she said, um, do you wanna come in? And I said, I don't think so. Hmm. But, uh, she offered to sit in my car, I told her I didn't think that would be good. Because like I said, I didn't know who to trust, so she just talked to me, um, and just, you know, a little bit about herself and, um, you know, asked me some questions. And after about 10 to 15 minutes I was able to go in with her. And, it had gotten wonderful, because I was in desperate need. 'Cause no one could understand what it's like 'cause I lost, you know, I lost my memory.

Anna Sale: Yeah.

Donna: So I wasn't just, I didn't know people. I didn't know me even.

Anna Sale: Yeah. Donna, I love, um, how much that counselor, she, she really met you exactly where you were, uh, in, in the way that you needed. Thank you so much for your call.

Um, Dr. Kali, I wanna ask you kind of a big question before we wrap up here, because I think one of the things that can be difficult to gauge is say you see somebody, and it's early in the relationship, a therapy relationship. You kind of leave a session feeling, uh, churned up. Um, when is that a marker of incompatibility, and when is that a marker of a therapist who's got your number? Who's making you look at some things that maybe you ought to but don't want to? How do you, how do you know whether that discomfort is part of the treatment that you need to be in?

Dr. Kali Cyrus: If you're, um, if that discomfort is not overwhelming and distress, you gotta get some more information. Call that ambivalence. When you feel two different things, you don't know which direction to go, you need some more information, so go back.

Uh-huh.

Dr. Kali Cyrus: And that, it's kind of weird, you know, you're gonna pay to go back to somebody you don't know if you liked them and they pushed you, you know, but you gotta go pay back and do it. I, I like to think of this as, it's a, you use a space like the real world, so confront them, ask about it. You don't really have the opportunity in any other spaces to practice being confrontational. I had a colleague who used to say, um, you know, when she went to see her therapist, she's like, yeah, I curse at her all the time. [Anna laughs]

And I, and it's been a piece of advice for me, is use this space. And so go back and talk to the therapist and try to try to see if, um, you know, ask some questions about whether or not it's actually to help you, or if you know you don't feel good, I tend to use a, the rule of threes, which is an average. If two outta three of those times, it just doesn't feel good to you, you don't have to go back. Again, it's a service that you're paying for. Um, although it might be something that's useful for you to learn if you're someone who leaves, you know, before you challenge, uh, but I think it's, it's gonna be up to you. If you know it's not good for your health, don't do it, but it can sometimes be a good lesson.

Anna Sale: That is good advice. I wanna point you to resources on our page, wnyc.org/holdon. If you wanna look at where you might find some mental health support, if you've been inspired, encouraged that it is possible by listening this hour. This is Hold On. It's a series of live conversations about mental health, and getting the help you need as part of May, Mental Health Awareness Month.

We are having live conversations with you all this month. I'm Anna Sale. I host the podcast, Death, Sex & Money from WNYC, and you can again check out those resources at wnyc.org/holdon. Dr. Kali, what's your hot tip? Where did you find the best therapist you've ever had? Where did you come upon them?

Dr. Kali Cyrus: I asked, um, another doctor. Mm-hmm. I, I happen to know other doctors, so I think that's easy for me. But I think one of the callers said they talked to a friend who had a PsyD. I really think asking people, asking people, um, either friends, you know, are in therapy, asking your primary care doctor, asking folks in the community. If you don't know anyone in the community, do, like, maybe get on Instagram, do some Googling for people who maybe look like you, or have a similar background, and then read about them. Um, but I do think it's easiest once you, if you know someone in the community, unfortunately, that seems to be the best way to reach out to them.
["A Path Unwinding" by Blue Dot Sessions starts]
Anna Sale: And I like this homework. You can take it as, uh, as an opportunity to do some community building by asking that you are looking for help and see what you might find by people who are near you, loved ones, family members, friends, and they might give you just the person who's gonna be a successful–

Dr. Kali Cyrus: And share.

Anna Sale: Share. If you're a successful therapist. This is Hold On. Let's keep talking together, I'm Anna Sale.
["A Path Unwinding" by Blue Dot Sessions ends]
Anna Sale: Thanks for listening to this first hour of Hold On, our series of live national call-in specials from WNYC and Death, Sex & Money.
Keep listening, there's more to come in this series. Watch your Death, Sex & Money podcast feed, and you can join us live on Thursday, May 11th, and Thursday, May 18th, 8 to 10p Eastern time. We'll be on your local public radio station, if we're on the air where you live, or you can stream it from anywhere at wnyc.org. And if you go to wnyc.org/holdon, there's also a list of resources for you there.
Please share this series with anyone in your life who you think might find it useful, and be in touch with any feedback or stories you want to share. Our email is deathsexmoney@wnyc.org.
Death, Sex & Money is a listener-supported production of WNYC Studios. This series is produced by Zoe Azulay and Liliana Maria Percy Ruiz, along with Megan Ryan and Zach Gotterher-Cohen. The rest of the Death, Sex & Money team also helped out: Afi Yellow-Duke, Lindsay Foster Thomas, and Andrew Dunn, as well as our intern Baiz Hoen.
Matt Marando, Raymond Chan, Wayne Schulmeister, Rob Christiansen, and Aaron Cohen supported us with engineering and technical support in New York, and Zhe Wu engineered me in the studios of the UC Berkeley Journalism School.
Thanks also to Alicia Allen, Jaqueline Cincotta, Robin Bilinkoff, Mike Barry, Tara Sonin, and Rachel Lieberman.
I'm Anna Sale, and this is Death, Sex & Money from WNYC.
[Music ends]
Copyright © 2023 New York Public Radio. All rights reserved. Visit our website terms of use at www.wnyc.org for further information.
Music Credits:
"Waiting" by Crowander
,
"Chrome and Wax" by Blue Dot Sessions
,
"A Path Unwinding" " by Blue Dot Sessions