Brooklyn Left Me Broke, But I Came Back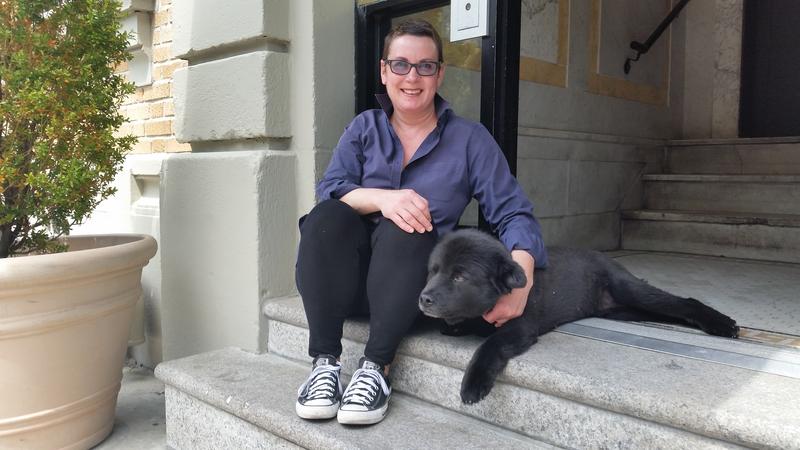 Transcript
Heidi Reinberg: What money does is it gives you choices. And now if I stay I'm choosing to stay, if I go I'm choosing to go, versus being forced out and not having any choice like last year.
This is Death, Sex & Money.
The show from WNYC about the things we think about a lot…and need to talk about more.
I'm Anna Sale.
HR: I got a text at night, saying she needed to talk and I knew. I knew. Because this had always been my fear, that I was going to lose the apartment.
A year ago, Heidi Reinberg was getting ready to leave New York after 30 years. She'd lived in her Brooklyn apartment for more than a decade. And she had a great deal in her neighborhood…Park Slope...until her landlord decided to sell the building and told her she needed to move out.
HR: I don't necessarily have the money. I don't know what I'm going to do.
Heidi was on one of the first episodes of Death Sex & Money. She's a freelance documentary producer and works on Television shows like Househunters… but it had been months since she'd had steady work. She did have thousands of dollars in credit card debt...and very little savings.
When I met her, she had just started looking for a new place to live.
HR: My goal is to sort of keep my family intact as much as I can.

AS: When you say your family intact, who do you mean?

HR: Well, my dog and my cat.
Her cat Romeo, and her dog Stella, an old chow mix with three legs.
I went to her apartment when she was packing up. Her plan was to go live with her sister in LA.
HR: I haven't decided whether I'm taking the animals yet. Which is killing me.
She told me then, that during those final days on her block…she was avoiding her neighbors.
HR: You feel like a failure.

AS: I mean, do you feel like you're slinking away?

HR: Well, there's definitely a shame factor to it. I mean, I'll say that. I think you can talk to your friends about....you can talk to them about sex, you can talk to them about you know, depression, you can talk about health things -- what are the other things that are taboos? -- but you can't talk about money. Money is the last taboo. And maybe I'm underestimating my friends, but nobody wants to hear you're having a hard time making ends meet.

AS: So when you think about your life six months from now and what you want it to look like, what would your day be like?

HR: Um, I guess what I would hope for myself in six months, because I can't envision anything now, but what I would hope for is that I do have a job that makes me happy. And I guess I am looking forward to the time when I can leave New York and not miss it so much.
I thought about Heidi often after this episode came out. I know a lot of people like her who stitch together a living with very little give for something unexpected. Heidi's old apartment was $1100 a month and when she lost that deal, everything gave way and every decision during her 30 years in New York was up for examination. I needed to know what happened after she left. I reached out to Heidi last fall. The first thing I learned is she didn't stay gone for long.
HR: I am back. I have not gotten an apartment because I can't see spending the money to get an apartment because I'm on the road working so much.

AS: Wait, you're back? What does that mean?

HR: Originally, I guess I moved, what was it, June 4th -- I think that was the date -- I moved June 4th out to LA. July 7th I flew back to New York City for a job. I think I went back out to LA once to see my cat, and then ended up coming back here for work. So. It's very clear to me that I need to be in New York for work now, and work has just sort of exploded.

AS: Wow.

HR: Yeah.

AS: What changed?

HR: I don't really, it's funny. I don't know that necessarily anything changed. When I initially came back, things were really bad. So it was like, I was getting a job. I was paying to board my cat out in LA so I was basically paying rent, as much in rent for my cat out there. I was living paycheck to paycheck. And things were not great for awhile. I didn't see any reason to go back to LA necessarily. I didn't have work there, but I had the hope of work here. And I was working, I would say, going out once a month. Then things hit sort of rock bottom. My cat died in LA. I wasn't there. I couldn't afford to go back there. I couldn't afford to have Romeo cremated.

AS: How much does it cost?

HR: It was $120. And I couldn't afford it. He'd spent the last month of his life at the vet's office in a cage, which was not the way I wanted things to go.

AS: So right now you're staying with friends?

HR: Right now, I'm staying with friends and I've been staying with friends.

AS: Like in a spare bedroom?

HR: In a basement. I call it the sensory deprivation chamber. In the basement it's completely dark.
Her friends Tim and Chris are also freelancers. They weren't particularly close before Heidi moved in, but they understood. And they held her accountable. They asked her what she was doing to find work, helped her build a website, had dinner with her every night.
HR: At a particularly low point, they took me out and part of the structure was, okay, you need to exercise. So we're going to go buy you some sneakers so that you can walk, because you can't afford the gym. And I was like, no no no, I can't accept that. And they forced me to go buy sneakers, and then I was forced to walk every morning too. What they did is they just created a safe space for me to be where I was and that was okay and baby steps, very much baby steps. Because I'm like, you know, when I got the shoes it was like, I'm gonna start running! Maybe I'll run the marathon. And they were like, just walk. Just take a walk every day.
That's Heidi Reinberg, from when we talked last fall. Another thing her friends Chris and Tim did for her is to keep Stella, that old three-legged dog, when Heidi had to travel for work.
Coming up...I visit Heidi's new place in Brooklyn...where she and Stella just moved this spring .
HR: I've really learned, and it's not rocket science, but I really have learned everything is a compromise.
So, a year ago when I said I was starting a show called Death Sex & Money, this is something I heard a lot.
Bill Withers: Who in the world would come up with a title like that?
Now, I'm hearing things like this:
"Hi Anna and everyone else at Death, Sex & Money…"

"I'm leaving you a message from Cape Town, South Africa."

"I'm contacting you because I have experienced something that I feel alone in experiencing but I suspect isn't so unusual."

"My story is just so different that I thought it was worth sharing."

"I want to know people's stories about dealbreakers."

"I just think these relationships are so, so important."

"And not only am I totally living it, but your podcast actually changed the very way I'm going to frame my life."
Wow, Thank you. Thank you for listening and for sharing so much with the show. And it's made us want to do more. So as we celebrate the first year of Death, Sex & Money, I want to ask you to give us some money. We make the show at WNYC, New York's public radio station and we rely on listener contributions to do what we do. You make up the single largest source of funding for us. So to do more at Death, Sex and Money, I'm asking if you can pitch in. Go to deathsexmoney.org/donate to give. Give any amount and we'll send you a Death, Sex & Money sticker -- it's the perfect size for a laptop, a musical instrument case, the back window of a pickup truck.
The website again - deathsexmoney.org/donate. And it really does matter that we hear from you as we look ahead to the next year. We have some big plans. Again, thank you so much for everything over this last year.
On the next episode…Texas musician Robert Earl Keen. He writes and sings songs that are honest and clear. He answers questions about sex the same way.
RK: I think sex is a huge driving force in your life, and to be honest I would say that somewhere in your fifties you lose some of that drive and it is somewhat devastating.
This is Death, Sex & Money from WNYC. I'm Anna Sale.
I visited Heidi Reinberg in her new apartment a few weeks ago. She's just rejoined the YMCA in the neighborhood and wears those sneakers that her friends Chris and Tim bought her.
HR: There's not a person in the world that says that exercise makes them feel worse. Is there? So, I don't think it's hyperbole to say that Chris and Tim saved my life.
She's not living out of a suitcase anymore, and for the first time in a year, she's getting her stuff out of storage.
HR: I spent 2 hours going through all my kitchen boxes and pulling out the stuff that we absolutely needed.

AS: When did you move into this apartment?

HR: So, I've been in this apartment now, I guess as of April 1st. So I'm efficiently sharing an apartment now, I'm two blocks from where I actually was last year. Not by design. That's just the apartment that I sort of lucked into. And I'm actually, um, my roommate is a 25-year-old. So I'm sort of back where I started. I was like, when I actually came to see her, and I found an internet listing, and when I actually came to meet her I was like, oh my god, she's gonna think I'm like, Grandma Moses. And, is this my life in my 50s, I'm going to be looking at roommates again. But actually, it's worked out pretty well.
The apartment's small, it's basically two bedrooms with a living room in between, the kitchen off to the side. But it's airy with lots of light and great views of Manhattan… because you have to walk up four floors to get there.
It's not the setup Heidi envisioned for herself a year ago, but after so much moving around, she's more realistic about the tradeoffs it takes to stay in this city.
HR: That's New York, but it's a lot of other places right now too.

AS: Can we talk a little bit about your financial situation?

HR: Sure. You're going to ask me for numbers, aren't you? Okay, you can try, sure.

AS: Well, let's start kind of broadly. When we spoke a year ago, you had credit card debt, and you didn't have much in savings.

HR: Yeah. And I've got some in savings now, from um, sort of a flukey thing that happened. I was working very consistently through the last summer and fall. Well, once I started working, I started working consistently.

AS: And the flukey thing was just that you had consistent work?

HR: Well, that was a flukey thing. Um, but then I also just got a little bit of money from a sale of some family land. A very little bit, but at least I could just put that in the bank and just have it in the bank.

AS: And, when we talked a year ago, you said that you didn't discuss money with your mom.

HR: Yeah.

AS: Did you have to discuss money with your family as you were selling that land?

HR: Um, no, because we didn't have -- I mean, my mom's still not going to discuss land with us. And it was below -- she gave us -- maxed out on -- so we wouldn't have to pay taxes on it.
That means the amount of money was less than $14,000 -- Heidi didn't want to tell me the exact amount because she didn't want to upset her mother.
HR: And then that would be the point at which a lot of people would say, "That's not a small amount of money," you know, and I get that.

AS: So you got a chunk of money that was below the taxable threshold that's not like down payment money, but it's cushion money that you didn't have before.

HR: It's cushion. Yes. And I haven't had a cushion.

AS: Have you changed the way that you save and spend money since 2015 started?

HR: Well I have money to spend which is really nice… um. I don't know. Um, I mean, that's almost I guess sort of a luxury, I know I don't want to be broke again. But I do know that I don't want to pay, I think when last we spoke I was like, "Well I'm just going to have to make a lot more money if I want to live here and if it costs" -- and seriously at that point I was like -- "if it costs me $5000 a month or $3500 a month or whatever to live here then I'm just gonna have to make that." And now I'm to the point where it's like, I don't want to pay that much for an apartment anymore.

AS: How much is your rent here sharing with a roommate?

HR: I'm not sure what the total rent is, I'm paying $1350 plus utilities now.

AS: And how is your credit card debt?

HR: Oh it's still there and I'm paying it down, so you know, I'm paying things off.

AS: You said you don't want to be broke again. What have you done to not be broke again?

HR: I start worrying about running out of money long before I run out of it for one thing. Um, when my bank account gets to be a certain point, I start getting agitated a little bit more. I also, I tell people very pointedly that I'm looking for work. So I'm doing, I hate the word networking and think that can be so desperate but I do sort of look... that's the way you get work.

AS: So you're 54 years old.

HR: And a half, let's just go there.

AS: You're 54 and a half years old. Are you preparing for retirement?

HR: I will prepare for retirement when financially I'm able to prepare for retirement. Financially what I could prepare for right now would be a dent in what I need to obviously to live on. I will say that I am fortunate enough to be from a family where we're not, I wouldn't even put us in the rich category, but I'll have a cushion because I will have family money at some point. I can't worry about retirement. I'm sure there's many people that are going to say, "We're gonna be taking care of you, you irresponsible hussy," so.

AS: You said that Chris and Tim saved your life.

HR: Yeah. I don't feel like that's hyperbole to say that. Yeah. I think when I went to live with them I was just at the end of my rope. So. Do I have it in me to do that... do I have it in me to kill myself? Probably not. I've thought a lot about that and it's certainly felt like if there was ever a time that I was near that, and they asked, they flat out asked. But I think, I've learned over the last year that I just have so many friends, and somehow I always manage to rally and I really do think... Are you watching Kimmy Schmidt?

AS: I've seen it, yes.

HR: OK, so you know she says just do it for 10 seconds and then do it... you can take anything for 10 seconds, and then do it for another 10 seconds, and then start the counting over, and that's really… I don't know the questions to ask... I don't know -- almost like a corkscrew, I just kept turning around and turning around and turning around. I had no idea which way I was supposed to take a step. And when you lose your identity, particularly with people in my age group -- we talk about reinvention, well by nature if you're reinventing yourself then you're shedding one identity which you've lived with for 50 years, you've lived with it your entire professional life and now you're being asked to throw that away and put on a new coat. And that's, you've lost everything about yourself, and when you're confronted with that, it's very difficult to know where to...never mind what coat you're going to put on but how to even go to the store to get a coat at that point. You lose your professional life and you just, or who you think you are, it can be personal it can be professional, your marriage can break up, whatever it is, in my case it was my home, and my life in Park Slope. And even if it takes a year to get back, I think eventually you do get back, you just have to do it ten seconds at a time as Kimmy Schmidt says. And eventually those 10 seconds add up to however much they need to add up to.
Heidi Reinberg, in her new apartment in Brooklyn. She signed a 6 month lease. She's not sure how long she'll stay -- or where she and Stella might go next.
Death Sex & Money is a production of WNYC. The team includes Katie Bishop, Emily Botein, James Ramsay, Caitlin Pierce, Zachary Mack, and Joe Plourde.
The Reverend John Delore and Steve Lewis wrote our theme music.
I'm on twitter @annasale, the show is @deathsexmoney.
Don't forget. Please give to Death, Sex & Money to get that sticker. You can pledge support at any level -- at deathsexmoney.org/donate.
One more update -- Heidi is online dating, which she mentioned to me when she was showing me her bedroom...where she and her dog sleep on a mattress on the floor.
HR: I read something on OkCupid, like this is the dealbreaker, that you don't have a bed frame because you're not a serious person and you're not financially whatever if you don't have a bed frame. The bed is on the floor so that Stella can get on it.

AS: So you read that it was a dealbreaker, so you want to make sure everyone knows there is a rationale.

HR: Exactly. It's the world's biggest dog bed, but yeah.
I'm Anna Sale, and this is Death, Sex & Money from WNYC.
Copyright © 2019 New York Public Radio. All rights reserved. Visit our website terms of use at www.wnyc.org for further information.
Music Credits:
"The Moon Remix" by Kenneth J. Brahmstedt
,
"Take a Ride - Death, Sex & Money Theme" by The Reverend John Delore and Steve Lewis from John Delore
,
"Hook, Line and Sinker " by Jack Ventimiglia from BWN Music