The Children Of Heart Mountain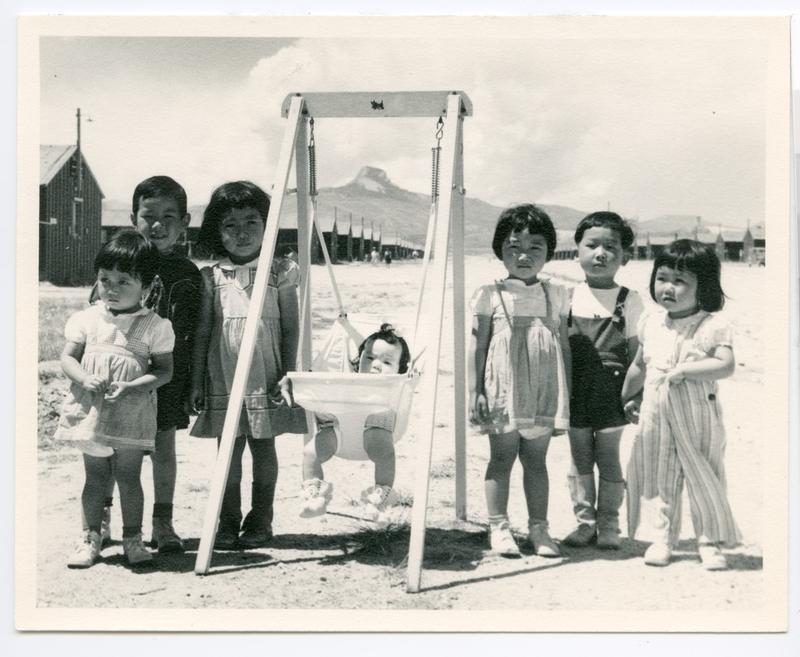 Transcript
TAKASHI HOSHIZAKI: Japan had attacked Pearl Harbor. We were at war. And what was happening to us was sort of the fallout.
This is Death, Sex & Money.
The show from WNYC about the things we think about a lot…
…and need to talk about more.
I'm Anna Sale.
Esther Abe was the first former incarceree I met at Heart Mountain last summer. She's in her 80s now, and hadn't seen this place since World War II, when she was a young girl.
ESTHER ABE: You know, I haven't been back here since we used to live here.
Here, is where Esther and her family were once held under guard of military police, by the U.S. government, because they were Japanese American.
It's just off the highway about 13 miles outside of Cody, Wyoming, between farms and sagebrush covered fields. On the horizon is a mountain with two rounded peaks. Heart Mountain.
EA: We just accidentally found the website and we had like, three weeks notice that we had to pack up for this vacation. But we found out they were having a pilgrimage.
This gathering is part reunion and part witnessing. Esther traveled with her grown son and daughter to show them where she was forced to relocate as a girl from her home in Washington State.
EA: So, it came to life for my daughter, she saw our name in the registrar's books and it kind of woke her up. Thought, oh, this is true.

AS: Were there any flashes of memory that came back, what you did when you were a little girl?

EA: You know, it was something happened that I didn't expect. I saw that Heart Mountain -

AS: On the horizon?

EA: I saw that and I kind of choked up. I didn't realize I was going to be that emotional. No tears, just choking up.

AS: Mmhm. What do you think that was?

EA: I think it's you know, it's a big part of Japanese history of Japanese, really, American history and a lot of the schools didn't know it because it wasn't even in the textbook for decades. So all of a sudden for us to be here, and talk about it freely and everybody's memories are coming out and they share their stories. It's big.
Japan bombed Pearl Harbor 78 years ago this month. After that, the U.S. government determined that people of Japanese ancestry living on the west coast were a national security threat.
NEWSREEL: More than 100-thousand men, women and children—all of Japanese ancestry—removed from their homes in the Pacific Coast states, to wartime communities established in out of the way places….
Franklin Roosevelt signed the executive order mandating their relocation in 1942, the year this newsreel was made. The U.S. Supreme Court later upheld the decision.
NEWSREEL: Two-thirds of the evacuees are American citizens by right of birth, the rest are their Japanese-born parents and grandparents….
More than 14-thousand people lived here at Heart Mountain, in a community of hastily constructed wooden barracks…
NEWSREEL: The entire community bounded by a wire fence...and guarded by military police.
All those barracks are long gone. There are few physical remains on the land from that time.
Japanese Americans have had pilgrimages to former incarceration sites for fifty years in some places, but they've only done them annually here at Heart Mountain for a few years, since a museum opened in 2011. More than 350 people came this year...
By now, enough time has passed that the only firsthand accounts of life at Heart Mountain are from people who were young children at the time, and are now in their 80s and 90s.
AS: How old were you when you were here?

MARIE SAKAGUCHI NIWA: I think I was either 9 or 10, somewhere around there, I can't remember….
Marie Sakaguchi Niwa's family was sent here from San Jose, California. She went to elementary school at Heart Mountain.
AS: Have you been back since?

MSN: No, this is the first time.

AS: What memories have come back, being here?

MSN: Well, actually, kids' memories. What we did, played around. I wasn't, at that age, I wasn't aware of all the social consequences of the evacuation, and didn't know anything, really. I was a dumb kid. [Laughs]
That's what I heard over and over again when we talked to the people who lived here. This place represented many things, including their childhood home.
SHIG YABU: This sounds kind of idiotic, but as a kid, there was no fear…
Shig Yabu was 10 when his family was sent here from their home in San Francisco.
SY: You have to remember there's 120-thousand people who went to ten different camps. Everybody has a different story. But as a youngster, we were looking for adventure. Like, a vacation. You kind of look forward to what is going to be. You know, we didn't think about the guard towers, we didn't think about the barbed wires, we just wanted excitement.
When Shig was in his 70s, he wrote a children's book about his time at Heart Mountain, called Hello Maggie, about the magpie bird he kept in his family's barrack. That was just one of the animals he befriended, as he told a crowd while he was leading a tour.
SY: Here's some of the pets I had. Lizard, horn toad, salamander, ant farm in a jar, a sparrow…
Shig's been coming back to Heart Mountain every summer for several years now. New this year is a barrack that was restored on the site.
SY: I remember my parents sitting on the bed. Why? because there was no chairs, no table, no shelves, no toilet, no water.

KEN KITAJIMA: Yeah. I remember something else about the description of the barrack. Sometimes, the barracks would be high, and the cold wind during the dead of winter would go underneath the barrack, and the floors would be real cold.

UNNAMED: What's your name?

KK: Ken Kitajima.

UNNAMED: And what block were you in?

KK: Nine. Facing Heart Mountain, the fence, yeah. By the way, Shig, I got you beat by two years. I was 12 years old when I was incarcerated here.

SY: What an old man! (Laughs)
Sitting in this barrack, you could tell people's connection to the incarceration by looking around. The oldest people were the ones who lived here. The middle-aged people were their children. The teenagers and young adults, their grandchildren.
And for the descendents of incarcerees, the mood was a little different. Less light swapping of memories. It felt more like a diligent search for missing information.
UNNAMED: C'mere Kai...

AS: Are you all related?

UNNAMED: Yeah. My wife, it was her dad who was at the camp as a kid.

KAREN ONO HAMMOND: And my grandparents.
Karen Ono Hammond brought her husband and their two teenage boys to the Pilgrimage from Orange County, California.
KOH: My dad passed away a year and a half ago, so I thought this would be a really good opportunity to come and show them, kind of, their Baba's history.

AS: And what's it like for you to be here?

KOH: It's hard! My dad didn't really talk about it much until just right before... probably four years ago he started talking about it. So I think that kind of opened up things for us to start talking about it and finding out, like, what exactly happened and –


AS: How old was your father when he was here?

KOH: He was four, like probably, four to seven years old.

AS: So a little boy.

KOH: A little boy, yeah. But he remembers looking through the barbed wire and seeing the mountain, and my aunt just told me that he used to, he was in one of the barracks that had a window and he would trace the mountain. Like put a piece of paper up to the window and trace it. So. Yeah.

AS: You hadn't heard that before?

KOH: No.
Just a few feet away, I ran into Denise Hatakeyama, who also made the trip from southern California.
DENISE HATAKEYAMA: This is my friend Barbara, she came with me.
Both Denise's parents were here. Her mother is in her mid-90s. Her father died when he was 102, just a few years after the museum opened here.
DH: I asked him if he wanted to go, and he said, he never wanted to go back. He didn't need to see it. So.

AS: Did your mother, what did your mother think about you making this trip?

DH: She thought it was kind of neat, she says, oh, that's really... and I think, she has dementia and if she was able to, she probably would've come.

AS: What's the word that she uses for this place? What's she call it?

DH: She just calls it camp. Yeah. She calls it camp. 'When we were in camp.' I don't know if that's her way of making it sound not so bad, or maybe it wasn't that bad, or whatever.
Denise's friend Barbara Jenness is not Japanese American, she's white. They've been friends for 40 years.
DH: Because of dogs. We have Newfoundlands.

Barbara Jenness: We have the same dogs. And, and I love history. We were just looking at all their paperwork. She's got all the paperwork for them being assigned here. It's just, it's... it's, God, it's bizarre. I mean, it's just...to think that you were told you had to...

DH: Go somewhere! And stay there!

BJ: Yeah. Yeah. And I cry. I'm terrible. I can't even fathom that this could have happened. You know, I'm like, oh my God, so...yeah.

AS: It's pretty terrible.

BJ: Yes, like I said, I just cry.

DH: It's ok, Barb.

BJ: Yeah, so I think. Yeah. So I think, just something that we all need to know about.
TH: Uh, I think that people should, should, uh, know as to what happened. Yeah, and so I really don't mind, uh, talking about it.
Takashi Hoshizaki was one of the oldest people I met at the Pilgrimage. He turned 94 this year. He was a teenager when he first came to Heart Mountain.
TH: We got on the train, um, not knowing where we were going to go [laughs], and spent four days on the train.

AS: Wow, they didn't tell you where you were going when you were on the train.

TH: No. Uh, no idea. And then also, we were then asked to pull the shades, so we, and we, and then you thought, well, is it because they didn't want us to look out and see what was going on? Or, I guess in the other case, the government didn't want the people on the outside to think, wondering, what is this trainload of people that looked like, Japanese? So I think it was sort of a safety thing. And so, we had no idea.
When we sat down for an interview, Tak, as he goes by, told me that he also remembers being intrigued by the adventure of leaving his home in Los Angeles.
But Tak also said, as his family was shuffled around on their way to Heart Mountain, he listened in on the conversations of other Nisei's—that's the term for the children of Japanese immigrants—who were Americans, born in the U.S.
TH: Talking to the other people, especially the older Niseis, I heard things like, yeah well, we should have resisted. So then I said, well what's happening? You know, what's really happening?

AS: Were they college students or what - how old were they?

TH: I think. They were the - what I - in my mind, I said, the older Niseis - I was 16. I think these guys are probably early 20s and probably no more than 25, 26 years old. Yeah.

AS: And you're just sitting there listening as they're talking, and you're saying, wait a minute.

TH: Yeah, listening as a little kid. [Laughs] Yeah.

AS: And they, I mean, they they transformed the way you saw the world.

TH: Mmm. Yeah, so it to me very enlightening. And so I said well wait a minute, something is really wrong here. And as I began to talk more with the people, then I realized, I guess I got a little angry.
Tak settled in with his family in Wyoming. He graduated from the first high school class at Heart Mountain. But that feeling of anger—that's what came up when he got his draft notice in the mail there in 1944.
TH: I said no. That's it. I'm not reporting. And in fact, I did not discuss that particular decision that I made to anyone. And eventually the marshals or whoever they were, came by and picked me up and then I ended up in the, I guess you might call it a prison.
First, it was a county jail in Casper, Wyoming. Then, along with 62 other young men at Heart Mountain who were protesting the draft, Tak was sentenced to three years in federal prison.
TH: They apparently, as the saying goes, threw the book at us.

AS: When you were here at Heart Mountain with your family and then when you were incarcerated in a county jail, and then a federal prison, did it feel - how did it feel different and how did it feel similar when you were told you had to be in a place and you couldn't leave?

TH: Well, when we, when you arrive at the, in the federal prison, you get an interview with the warden, because the warden wants to find - probably find out what what type of a prisoner is this guy going to be? And I remember telling the warden, I says, I feel no difference here. There's barbed wire here in the prison, there's barbed wire back in the camp. We have searchlights in both places and restrictive - basically very restrictive type of an environment. But I told him the only thing I miss now is the family. And so that was the difference. So - so there's very little change, in the transition as we went from camp life over into a prison life.
Tak was released from prison after serving two years. And in 1947, just before Christmas, President Harry Truman pardoned Japanese American draft resisters—more than 280 overall—including Tak.
TH: Uh, jumping way ahead, in 1952, I got married, 'kay, and my wife was very interested - she liked to ride horses, so I said well - and I had heard stories of wild horse herds running around in this area. So I said, well, you know, Barbara, how would you like to go to Wyoming and see if we can find some of these herds of wild horses? And she says oh, okay fine! So on our honeymoon as part of the trip, through Jackson Hole and Yellowstone and so forth, came down into Cody, and up the road to where Heart Mountain was, and drove back in, and that's 1952. So I just suddenly thought, what was it when I left, I left when, in...in 40-something, but anyway, within five to six years, I was back.

AS: On your honeymoon. [Laughs]

TH: Yeah.

AS: Wow.
Tak was also drafted again. He served in the Korean War. Afterwards, he earned a PhD from UCLA, raised a family, and had a long career in biological research.
Coming up…
SHIRLEY ANN HIGUCHI: Who knows what a lot of these kids were really exposed to.
I hear more about anger from Shirley Ann Higuchi, the child of two former incarcerees. She says coming to the annual pilgrimage has reshaped the way she feels about her parents' generation.
SAH: I think psychologically, sort of what happens, um, with these pilgrimages, knowing that our 80 and 90 year old Nisei are now, you know, really beyond years, um, and, and knowing that they were incarcerated as children. Um, I think the kind of imagery I get is that, uh, it's almost like a certain level of protectiveness. It's almost as if they become my children.
—
Growing up, the term that I learned in school for places like Heart Mountain was "internment camp." During World War II, they were called "relocation centers" by the government. Some of the older people that we talked to at the Pilgrimage also used the term "evacuation" when talking about coming to the camp—another term the government used back during the war.
Since the 1970s, Japanese American groups as well as historians have reexamined the words used for these places and the people imprisoned in them, and have advocated for other, less euphemistic terms. In this episode, we're using the words "incarceration" and "incarceree"— those are the terms that the museum at Heart Mountain uses. Some have also advocated for the use of the term "concentration camp."
The team at the NPR podcast Code Switch did an excellent episode earlier this year called "America's Concentration Camps" that digs into that term—and the conversation between Jewish and Japanese American groups about its use. You can find a link to it in our show notes.
Speaking of Code Switch, we are still working on our collaboration with them about race and friendship. And one group that we could hear more from is white guys. If you've got a story to share about race and friendship…particularly about a moment that stands out to you…we want to hear it. Send in a voice memo to us at deathsexmoney@wnyc.org.
On the next episode…musician Liz Phair. In 1994, she was in her mid-twenties and riding the wave of her provocative hit album Exile in Guyville. And she told me, all that attention drove her into domesticity.
LIZ PHAIR: I felt like my life had taken this hard right turn and I couldn't keep up with it. I couldn't keep up with the person everyone expected me to be. I couldn't keep up with how many people had heard the record. And I think getting married and buying a house and getting really domestic was like a way to retreat from that. And I put a really hard, um, stop to it all.
—
This is Death, Sex & Money from WNYC. I'm Anna Sale.
When Shirley Ann Higuchi was growing up, her parents talked about their childhoods at Heart Mountain. It was how they met.
SAH: But for that incarceration, I wouldn't be here talking to you. Um, when they bumped into each other years later at the University of California, Berkeley, their faces, interestingly enough, looked identical to when they were kids. And I, that recognition, um, turned into, um, a love affair and marriage.
Shirley is now the chair of the Heart Mountain Wyoming Foundation. She works in D.C., where she's a lawyer for the American Psychological Association.
She grew up in Ann Arbor, Michigan. Her father's family had lost their farm in San Jose during the war, but her dad went on to become a professor of pharmaceutics and co-founded a few biotech firms. Their family was comfortable financially when Shirley was growing up.
She says there weren't a lot of other Japanese American families around in Michigan, so all she knew about Heart Mountain was from her parents' stories. Primarily, her mother's.
SAH: She was 11 years old at the time when she got ripped from her home in San Francisco and put in, ah, to Heart Mountain. Um, I think one of her coping tools, and this comes up I think in terms of, um, uh, childhood trauma or traumatic events is um, to somehow gloss over the experience and sort of recreate it, um, in some ways to be a little bit different than it was. So she really never talked about the negative aspects of camp. In some ways, she made it sound like it was almost a fun place to be.
It wasn't until Shirley was in college, and doing a project for a philosophy class, that she started to question what had been left out. She interviewed her mother about Heart Mountain, and then, another Japanese American woman who was incarcerated during the war.
SAH: At that time, I realized that there was another view to the incarceration than my mother's view, because the woman that I interviewed cried most of the time that I was talking to her.

AS: What was that like? What did, what do you remember about that conversation?

SAH: I guess in some ways I was a little surprised and it was almost a little bit of an alarming feeling. Um, mostly because I then began questioning the objectivity and the information that my mother was sharing. And then I think on a second level it was almost like me being worried that she wasn't able to fully express herself, um, around her experience.

AS: Your mother?

SAH: Yeah. My mother's. Um, and I remember I questioned her about that later. I said, "Well, mom, you know, weren't you angry at all about what happened?" And you know, she pretty much, you know, said, "No, I, it was a fun place to be. It was where I met Dad." I said, "Come on mom, you know, weren't you a little angry about what happened?" And then the conversation escalated to her yelling at me, telling me that I don't know what it was like there. And essentially I, the communication I got from her was, you don't have a right to have an opinion about the incarceration because I was there and you were not. Um, it wasn't an easy feeling to be in at that time.

AS: Were you angry as an American?

SAH: Uh, I would say yes, I have been angry and I probably still am. [Laughs] You know, it's like a, um, you know, it's funny, I didn't, I don't know how much that go-to emotion of being angry, um, is a result of my parents' incarceration. But I noticed on my, throughout my childhood, even into adulthood, my first reaction to go with, my first emotional reaction is to be angry.

AS: Mmm.

SAH: Growing up in Ann Arbor, I mean basically I remember as a kid, you know, being a little bit of a bully, I mean I would beat up kids, you know, beat up boys mostly because girls are too easy to beat up so - [Laughs]

AS: [Laughs]

SAH: But I would, I actually, it came down to a point where one time the next door neighbor kid, you know, I think his name was Tommy something or other, he actually called me up one night and he goes, can you meet me in the playground after school tomorrow because I want to wrestle you. And I'm like, sure, you know. [Laughs] And it's like, I don't know why I did that. I just remember growing up that I was always getting in physical fights with kids.

AS: That's - that's interesting. I was thinking of it like more like a political anger. And you, thinking back, were wondering about even your disposition as a child, if that was related to your parents' experience being incarcerated.

SAH: Right. I, I often wonder whether maybe it's somehow tied to the incarceration. Um, you know, because I think that if you feel like information is kept from you and then you later through your years, find out that what had happened to my family was, you know, basically unconstitutional and, um, a deprivation of the rights. Um, I think you slowly do develop an anger over a period of time.

AS: But it sounds like from your mother's point of view, she didn't welcome your anger on her behalf. She didn't feel like you were angry -

SAH: Well, women weren't allowed to be angry back then.

AS: Yeah.

SAH: You know, I think women in generally, and I think being of Japanese background, I mean I think being angry was considered, uh, bad manners. I think the Japanese culture is very complicated. But I think there's sort of something there where you need permission sort of to speak. Or need permission to talk out on things. So, um, no, she didn't welcome it. Although I think in reality in many ways she was angrier than I was, but she just suppressed it and managed it differently.

AS: Why do you say that?

SAH: Um, because I think that one of the things I remember telling, um, I have, I work for a psychological association and I have a lot of friends that are psychologists. I remember one time, I just said, "God, my mom is just so controlling!" You know, like she would send me clothes even though I'm working and I'm, had a family, she would send me clothes. And the psychologist turned to me and said, "Shirley, of course your mother's controlling." And I said, "What do you mean?" She goes, "She was ripped from her home and put in a prison camp pre-adolescence and she lost everything. And you're wondering why she's controlling? It would be strange if your mother wasn't controlling." And then talking to other, uh, people in my generation, we're called the Sansei, third generation, they told me, '"Oh yeah, my mom was really controlling too." But the thing is, again, remember I wasn't exposed to other Japanese Americans growing up, so I couldn't really compare notes. That has been resolved since my engagement with Heart Mountain because now I know I'm not alone and essentially what I experienced was normal.

AS: I love that, that you come to these gatherings and you're talking to the children of people who are incarcerated and one of the threads of conversation is like, "Oh god, what ways do your parents drive you crazy?" [Laughs]

SAH: Right, right, right.

AS: That you can, you can see the ways that going through this trauma has echoed through many different families.

SAH: Right, right. And there were a lot of great things growing up in my family because my mom wanted to assimilate and she wanted achievement. She would make sure, you know, we had a really nice home, um, which was probably—even beyond the neighborhood we lived in—was probably beyond really my father's means at the time. And she would buy me a lot of nice things and I noticed that the, all the, my friends at the time who were all white and black, but um, would comment like, "Ooh, I wish my mom would do things that your mom does." I mean, my mom would let us play, you know, when we had company over, we would, the kids would play Bingo with a silver dollar. She would go to the bank and get like, I still have them, like a hundred silver dollars that I won playing Bingo and everything was always fun. You know, we went to the World's Fair, we went to Disneyland. We did, always, everything was fun! And I think that was to make up for what had happened. You know, that we will have the best of everything. So you will always be kind of on top.

AS: I want to move forward to the time before your mother's death. Um, did the conversation between you two about Heart Mountain and her experience shift as she was nearing the end of her life?

SAH: Um, I think it shifted in one substantial sense in that on her deathbed, um, my Aunt Kathy, her younger sister, asked her where do you want your koden to go? Which is, in Japan, is the memorial money, you know, so if you die, it's very traditional for Japanese to designate a charity. And without a beat on her deathbed—uh, she had pancreatic cancer—she, she said Heart Mountain. And we were frankly stunned. And apparently she had donated up to a $100,000 to the Wyoming, uh, Heart Mountain foundation. Um, and we were totally unaware of that donation. I knew nothing about it. I think my dad had an inkling, but she was secretly sending money to Wyoming to dream of something being built here. So, um, when she died, um, the original founders or some of the founders of, um, the local community here in Wyoming made a decision to dedicate the walking trail in her honor. And I remember my first reaction was actually being annoyed and feeling a little angry. Like, oh my God, my mom just died. And they're trying to get us to come out to some dedication. There's obviously a fundraising motive here. And my dad didn't want to go and my brothers didn't want to go, nobody wanted to go. And I was really on the fence about going as well. And there was something about being invited out there, knowing and having some idea that my mother valued Heart Mountain, um, that sort of pushed me over the edge to say, "You know what, I'll just go."

AS: It was only you from the family?

SAH: It was only me. But then when I expressed the reservation and resistance to my son—um, who was in high school at the time—he goes, "Mom, I'll go with you. I'll, I'll be with you to go through that." Um, which is great. I mean, he's a great son. So.

AS: Mmhm. Yeah. And, and that was the first time you had been to this place?

SAH: Yes, it was the first time. It was, it was very, um, emotional to see so many people there. Sorry.

AS: That's okay. It's okay.

SAH: Honoring your mother.

AS: Mmhm.

SAH: In some ways, I learned more about her after she died than I knew about her growing up.

AS: How have you come to understand why she was sending money? Do you know why it was important to her?

SAH: I'm still sort of working through that, um, several of the incarcerees told me that, um, prior to her death in some meeting they had in San Francisco that she literally stood up and said, "I don't care what we build but we're going to build something at the site. I don't care if it's a tea house or a, um, um, a memorial or a, you know, even a small restaurant or cafe. We're building something at Heart Mountain." And, and, um, I never heard that from her before her death. I think there was some part of my mother who really knew what she went through was something that shouldn't be forgotten.
That's Shirley Ann Higuchi. Her mother was Setsuko Saito Higuchi. Shirley's working on a book about her family, called "Setsuko's Secret: Heart Mountain and the Legacy of the Japanese American Incarceration." It'll be out next spring.
In 1991, Shirley's parents, along with all the other living former incarcerees, each received a check from the U.S. government for $20,000. It came after Congress passed a law, that President Ronald Reagan signed, to formally apologize for the forced relocation and incarceration of Japanese Americans during World War II.
The memorial and museum at Heart Mountain is open year-round, just outside of Cody, Wyoming. It is definitely worth a visit.
Death, Sex & Money is a listener-supported production of WNYC Studios in New York. I'm based at the studios of the investigative podcast Reveal in Emeryville, CA. Our team includes Katie Bishop, Anabel Bacon, Afi Yellow-Duke, Emily Botein, and Andrew Dunn.
Thanks to Dakota Russell at the Heart Mountain Interpretive Center, and the Buffalo Bill Center of the West in Cody, Wyoming.
The Reverend John Delore and Steve Lewis wrote our theme music.
I'm on Twitter @annasale, the show is @deathsexmoney on Twitter, Facebook and Instagram.
One other thing I heard from people incarcerated at Heart Mountain…was about what happened right after the camp closed. A woman named Mitzi Asai Loftus told me, it wasn't the happy return she was expecting.
MITZI ASAI LOFTIS: When I went home, the kids I grew up with in the first to fourth grade, would have nothing to do with me. I was so excited to leave Heart Mountain and I'm going home and nobody would talk to me, walk with me, play with me at recess. And I had to walk a mile and a quarter to school, a mile and a quarter home every day and half way along the way Mrs. Bettswith would come out and yell at me, say nasty things and sic her dog at me. And before I went to the camps, she used to invite me into her yard on my way home from school, give me a glass of milk and a cookie. And she had a tire swing. I'd sit in there and sing to her. I was so bewildered to have her—I just decided, she's going through menopause and she's out of her head. [Laughs]
I'm Anna Sale, and this is Death, Sex & Money from WNYC.
Copyright © 2019 New York Public Radio. All rights reserved. Visit our website terms of use at www.wnyc.org for further information.
Music Credits:
"The Bus At Dawn" by Blue Dot Sessions
,
"At Our Best Alone" by Blue Dot Sessions
,
"Our Only Uplift" by Blue Dot Sessions
,
"San Diego Sunday" by Blue Dot Sessions