A Headline Stays Static Even As A Life Transforms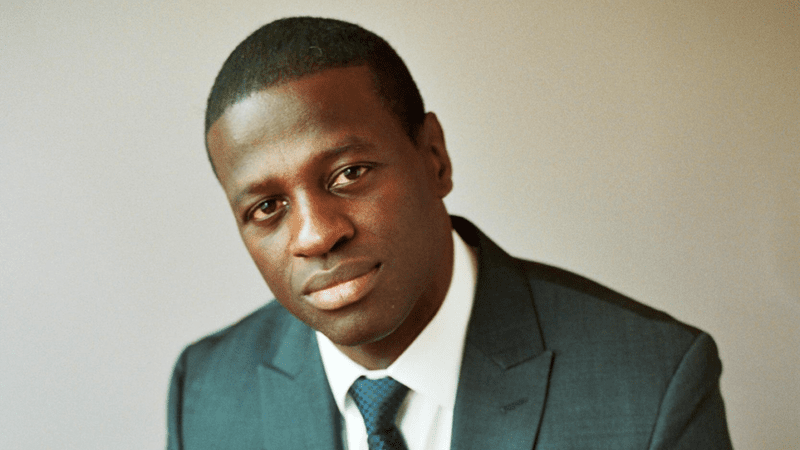 Transcript
ANNA SALE: It's our first interview that we've done together, Lawrence, when we've really been journalistic peers, you know,
[laughter]
LAWRENCE BARTLEY: Good. This is gonna be fun then.
[music DSM theme]
ANNA SALE: This is Death, Sex & Money.
The show from WNYC about the things we think about a lot....
....and need to talk about more.
I'm Anna Sale.
If you've listened to this show over the years, chances are you might have heard me interview Lawrence Bartley. I first talked with him when he was incarcerated at Sing Sing in upstate New York, and over the years, I've talked with him and his wife Ronnine as he got out on parole..and began a career in journalism…
LAWRENCE BARTLEY: This is Inside Story. The only show about the system by people who lived it. I'm Lawrence Bartley.

-VOICE: Our prisons have gotten so violent, even if you didn't go in with a trauma disorder it's hard to come out without one

-CHANTS: No kids in Angola! No kids in Angola! [fades]
ANNA SALE: Lawrence covers criminal justice issues for the Marshall Project…and earlier this year, he launched an interview show with Vice News.
LAWRENCE BARTLEY: In fact, just yesterday, well this morning I just came back from South Carolina–
ANNA SALE: huh
LAWRENCE BARTLEY: From a prison there, and just seeing the things that the men in there cherish, like their barbershop area, like their kitchen area and it's really, uh, not something that I would cherish. You know, I understand that it's, it's, it is what they have, but it reminds me of that place in, in, in a way that doesn't feel good.
[music Blue Dot - True Blue Sky]
ANNA SALE: When we first talked in 2014, Lawrence was just starting to imagine his life on the outside. He was in his early 40s, and had been behind bars since he was a teenager.
LAWRENCE BARTLEY 2014: You say many times I want to go home, I want to go home, and, you know, sometimes I wake up and say, what if I wake up and I'm in my bedroom, you know, and I wake up and I always see the bars there, and I wonder a day that I'm gonna wake up and I'm not gonna see the bars there. And that forces you to think about: What you did to get here.
ANNA SALE: We talked then about the crime he committed…he fired a gun once during a shootout in a movie theater when he was 17…a 15-year old bystander was killed. Lawrence was convicted of murder.
We talked about other things too: his education and the degrees he'd earned inside, and becoming a husband while he was incarcerated. He'd first dated his wife Ronnine when they were in middle school in Queens, New York…
LAWRENCE BARTLEY: I would walk her from my house to her house, and then, she would say, no I want to walk you back to your house, we'd walk back to my house. Then I'd say, I'm going to walk you back to your house...so we just spend the day walking from house to house. [laughs]
ANNA SALE: And he told me about the two boys he and Ronnine have thanks to private family visits he was able to earn at Sing Sing. He also has an older daughter from before he was incarcerated. And he told me about the classes he took at Sing Sing on fatherhood…
LAWRENCE BARTLEY: But I don't want to lie to them, that's what I don't want to do. I learned that in parenting class, you don't want to lie to a child and tell them you're away at school or something like that. But when the time is right, I'll explain it to him where he can really understand it.
[end music]
ANNA SALE: Lawrence was paroled in 2018, five years ago,…soon after, the Marshall Project hired him.
LAWRENCE BARTLEY: And the first thing I was tasked with was looking at the website to get familiar with what we do. And when I saw that we do all this criminal justice journalism that people on the inside, particularly me, I could have used, I could have used some of that language to move the court to try, try to get my sentence reduced.
I could have just been abreast of what's going on in, in other prisons and jails. I could have used the ideas of the prison programming to pitch it to the prison administrators to get better programming in my facility.
ANNA SALE: Lawrence pitched the Marshall Project an idea… to create print issues of their criminal justice coverage for incarcerated people. Lawrence became the director and then publisher of News Inside, a free magazine…It was also designed with prison security measures in mind…like, with attention to the way the pages are bound.
LAWRENCE BARTLEY: So they call it the saddle stitch, which are just two or three staples in a magazine. And that's easy enough. You can, you can, security can look through that and see there's no contraband in there.
And they could take that out if they want lose the pages. See, there's no contraband stuck in there. And, and that had allowed us to gain entry and a lot of prisons in jails.
ANNA SALE: huh
LAWRENCE BARTLEY: Right now the magazine is read in over 950 prisons and jails across the country/
ANNA SALE: And the show with VICE, Inside Story, was an outgrowth of that work…Lawrence and his colleagues thought that given the low literacy rates in prison, video would allow even more people to access their journalism…Lawrence is the show's host.
ANNA SALE: Did you find you like being on camera? Do you like it?
LAWRENCE BARTLEY: Um, um, I like it, but I wouldn't say I like being on camera, but what I, I like the process of doing the thing of learning something and doing it at the same time and knowing that what it would mean to people. So that just infused me with, with a, a, a sense of energy.
ANNA SALE: uh huh
LAWRENCE BARTLEY: And also the fact that knowing that someone, someone with my background usually doesn't get these kind of opportunities, um, this is like a dream. I'm, I mean, I could be, I remember the times when I was sitting in the solitary confinement cell.
Uh, so why, why wouldn't I just put all my effort into this grand opportunity that's gonna help so many people? So that, that, that just, all those thoughts going through my mind that just made it, made me feel awesome when I'm in front of a camera made me really enjoy what I'm doing.
ANNA SALE: Yeah, I wanna, I wanna talk with you about like…. How you thought about your work as a journalist and as an interviewer, um, because I think about, you know, your first encounters with the news media. Um, were you being the subject of an interview, um, or being covered by people most of whom had not had intimate contact with the criminal justice system themselves or, or with their family.
And when you started to think about the kinds of, uh, interviews and interactions that you wanted to have, um. How did you like begin to think about the approach, like what had been your experience in your encounters with being the subject of media interviews and how do you think that informed how you wanted to do it?
LAWRENCE BARTLEY: Well, um. First, when I started being a journalist or in this field, I, I kinda, I, in my mind, I always envisioned incarcerated peoples watching me.
ANNA SALE: Hmm.
LAWRENCE BARTLEY: When folks on the inside would see the news, they would say, they would always have this little rye look on their face. Like, yeah, yeah, yeah. That's just somebody else's story. It's not really the truth.
ANNA SALE: Hmm.
LAWRENCE BARTLEY: You know what I mean? They'll always try to make us look bad, but there's other folks that are bad as well. They should help you held accountable too. So when I started being, going into this and, and interviewing that, I make sure that I. Uh, bring out the fear questions or the questions that, that no one else would, would ask.
I interviewed these two police officers and they were talking about being fair and, and they called themselves "the right police". And I got a lot of respect for those two guys. They were, they, they're really, they're really trying to do something positive. But I remember they were saying that, um, I mean, I asked them about, you know, interrogations.
LAURENCE BARTLEY: how do you handle interrogation?
POLICE: Interrogations. I mean, that's a, that's an art, you know, that's an art.
LAWRENCE BARTLEY: One of 'em starts saying, interrogation is a art. You know, no, it's this. but if you ask an incarcerated person, when you hear that word interrogation, it was like, that's when the unfairness begins.
ANNA SALE: hmm
LAWRENCE BARTLEY: And so, , I started asking 'em questions like, you know, what would you do if you see someone you know, beating on someone? Like, you know, they say, oh, well there's cameras there. Well, it's not cameras there. Well, it's right to remain silent.
POLICE: If he invokes his right to speak and waits for his attorney, we can't interrogate.
LAWRENCE BARTLEY: Well, I mean, but does that happen? I remember it when I,
LAWRENCE: What? When I was arrested, right. I said, I want a right to remain silent. They said, yeah, hi. You gonna get your ass in there and I'm gonna right to whoop your mother–
POLICE: Yeah. That policing culture, that's fucked it up.
LAWRENCE BARTLEY: But then we started having these real dialogues. It's like, yeah, it happens. That's, that gives us a bad name and, and you know, that's part of it that needs to change. And you know, when. Incarcerated people see that they be like, finally someone is given the real, asking the real questions, and I don't see it as advocating for one thing or another I'm just saying let's stick with the facts and, and fact check everything to make sure we giving people the complete side, and that means doing journalism in a way that's reflective of everyone's experience.
ANNA SALE: Hmm. Do you feel like, have there there been any moments where you've been working as a journalist when you, when someone sees you as somebody who gets it and can, who can help them, whether it's with the details of their case or, or some detail of their incarceration, um. You come up against the limits of, of what you can and can't do as a journalist?Like what, what's that been like for you?
LAWRENCE BARTLEY: Yeah. Um, it's been. It's been [sigh] crazy to say the least. I mean, people, I get 60 pieces of mail every week, and that's not counting the calls I get from family members or emails I get from family members saying, this is urgent. Please help my dad.
ANNA SALE: Hmm.
LAWRENCE BARTLEY: Please help my son. Please help my husband or my brother or, or my sister who's incarcerated and, and I do my best to read them all. I do my best to respond to them all, but more times than not, I find myself saying, um, we're a journalism organization. We are not lawyers. It's like, like, we can't, I can't move the court on your behalf. And they would say, well, can you get my story out there? People need to know my story. But it's not easy. It doesn't work like that. You know, stories are pitched by reporters and then it has to be a thread that we can pull and sometimes it takes us two years to report on a story, and I try to be kind and explain it, but it's a long way of saying no.
[music Blue Dot - Heather ]
LAWRENCE BARTLEY: And I always, I feel, I hear a person crest falling on the other line or in their email and it's like, it is tough. It's tough.
ANNA SALE: Coming up, Lawrence and I talk about the day we first met back in 2014, and a journalistic decision I made that Lawrence took issue with…
ANNA SALE: You didn't like say directly to me, like, that's really bothered me over the years, or would you mind taking a look at that episode title? You just sort of referenced it. Um, is this okay to talk about? Are you okay talking about this?

LAWRENCE BARTLEY: Absolutely.
[music ends]
MIDSHOW
Hey, it's Anna.
I want to tell you about an upcoming live interview that I'm doing with comedian Maria Bamford at the Sydney Goldstein Theater in San Francisco on October 14th, with City Arts & Lectures.
Maria has a new book that's just out…called Sure, I'll Join Your Cult. It's all about her career in show business and comfort she's found in rigid systems like self-help books, and various 12-step groups…and also about money! She includes breakdowns of how much money she earns and what she spends it on, with real dollar amounts! If you know Maria Bamford's comedy, and if you heard her on the show before, back in 2020, you know she's hilarious and also, a generous, thoughtful and candid storyteller about mental health and living with mental illness.
If you make it to San Francisco, to see Maria Bamford on stage with me…on October 14, come out! There's a link to to tickets in our show notes…and if you can't make it in person don't worry – you can grab a ticket to watch the event from wherever you are. mental illness out there. I promise you…time with Maria Bamford is time well spent.
BREAK
ANNA SALE: This is Death, Sex and Money from WNYC. I'm Anna Sale.
Lawrence Bartley now lives in Connecticut in a house that he bought with his wife Ronnine, their two sons are 10 and 15. He travels in and out of New York City for work when he has to, and since his parole ended in 2019, he's been allowed to travel out of the country, too…
LAWRENCE BARTLEY: I went to Italy, I went to Peru. Um, I went to St. Thomas. I went to Guyana. I went to Guyana. That's where my parents are all from, that's where they grew up. And I saw the room my dad was born in.
ANNA SALE: Hmm.
LAWRENCE BARTLEY: I saw the house my mother grew up in. I saw some relatives that I've never seen before and it felt really wonderful.
ANNA SALE: Lawrence and I have stayed in touch through all this…and he's kept up with the changes in my life since we've known each other – when I got married, had my first kid. When I was on my second maternity leave, Lawrence reached out to say he was at a journalism conference at UC Berkeley – and I was able to run down to campus to say hello in person.
It was quite a different setting when we first met. He walked into a prison conference room where our team had set up microphones…we'd never spoken before…I'd corresponded with a prison official to set up the interview…and he'd agreed to talk to this new-ish podcast, called Death, Sex & Money of all things…sight unseen.
ANNA SALE: I'm curious if you remember like the rest of your afternoon after I first did that interview with you. Like what was your experience of that? Did you think like, who is this woman? [laughs] She asked me a lot of personal questions.
LAWRENCE BARTLEY: Uh, uh, [laughs] I remember, I remember going back, I was in the cell that they had me in, you know, I kinda, uh, kind of decompressed and, and, and debrief what had happened in my mind. I didn't have no one to talk to about it, but I was waiting to get out so I can, I mean, get out of the cell so I can go to the phone booth a little, dusty wooden phone booth we had. So I can call Ronne on the payphone.
ANNA SALE: Yeah.
LAWRENCE BARTLEY: It looks like a payphone. And I, and I called her and, and she asked what happened and I explained what happened. And she was, she was looking you up on looking your previous shows up and see how it was done and, and. We had, there was this guy who was in the theater program that I was a part of in there, and he had done an interview and he had that, he, he had, he thought he was doing this, this thing, great thing with theater.
He was acting in prison and it was like this, this great grandest moment for him. And, and this publication was interviewing him about it, but when it, when it came out, all they talked about is two thirds of the interviews about the horrible crime he had committed, and he's doing this acting thing and, and he was really embarrassed when it came out.
The program was really embarrassed and, and, and folks around the prison was like, 'oh, be careful talking to the media. This is what they're gonna do to you. Be careful and, and, and, and you gonna be reliving it for your victims. It might be 20 years ago the crime happened, but it brings it up and the victims start thinking about you and relive their pain. And you go to the parole board and once you go to the parole board, they're not gonna let you out because of that'.
And, you know, that was like the big talk. So after I came from the interview, I started thinking about that. I said, um. You know, I was like, am I dredging up the pain for someone? How they gonna do it? How is Anna gonna depict me in, in the piece? Um, and, and I think you did a fair job. And, and I felt that what I shared, the intimate details of what got me in there and how I felt, was honest.
ANNA SALE: Yeah. [pause]
LAWRENCE BARTLEY: How did it feel? For you going into a maximum security prison, hearing what you heard, um, that first interview was so emotional
ANNA SALE: Yeah.
LAWRENCE BARTLEY: And, and I, I, and, and I know that, you kno. Thinking about the crime, you would think about the victim, but then you have someone you're interviewing, um, maybe you don't want to feel, you don't wanna feel like you're feeling sympathy for this person above the other.
And it's like this weird kind of dynamic, but you're a human being. Like, how did it make you feel?
ANNA SALE: Yeah, I mean, I, I remember Lawrence so clearly, like the first time we met and I, I can picture the, the conference room where we were and you were sitting, I think you were sitting at one corner and I was sitting at the end of the conference rooms where we were sort of diagonal from each other and you were wearing the greens, the prison green uniform.
Um. And you really shared so much about your coming of age as a man, uh, in that first conversation that we had. And I remember feeling so like close to you by the end of that interview because the way you let me and, and then subsequently our listeners in. Um, and the way that that... You know, as a journalist I remember feeling that, like, it's an immense responsibility when you have those kinds of encounters with incarcerated people who–
LAWRENCE BARTLEY: Yeah
ANNA SALE: –who, like so desperately desire to feel heard and seen. Um, but also, you know, from a, from like the details of your case, like you were, you were gonna be eligible for parole in not long. Like there was also reasons why, um, you know, sort of I understood that, that you had an interest in, um, telling your story of how much you had grown and developed and, and the kind of man you had become while you were incarcerated.
Um, you know, I, I thought about it a lot, uh, this spring when we first started talking about, um, doing this follow-up interview. Because do you remember when I, I first asked you about it–
LAWRENCE BARTLEY: Yeah.
ANNA SALE: –You just sort of like casually mentioned, um, you sort of said, well, that first episode and the name of the episode, That was sort of all you said, you just referenced it–
LAWRENCE BARTLEY: Um hmm.
ANNA SALE: Um. You didn't like say directly to me, like, that's really bothered me over the years, or would you mind taking a look at that episode title? You just sort of referenced it.
Um, is this okay to talk about? Are you okay talking about this? Okay.
LAWRENCE BARTLEY: Yeah. Absolutely.
ANNA SALE: In 2014, we titled Death Sex & Money's first episode with Lawrence, I Killed Someone. Now I Have 3 Kids....That's what Lawrence was mentioning…when we were catching up in a phone call earlier this spring.
ANNA SALE: Um, and I remember I got off the phone with you and I, and I, um, I googled your name and I hadn't done that. Uh, just, and I noticed that what comes up with your name is, you know, your work at the Marshall Project.
And then very high up is that first episode that we did together. That's an episode –
LAWRENCE BARTLEY: Right.
ANNA SALE: –That I feel like is quite nuanced. Um, and, and, but the title was not, the original title was not.
LAWRENCE BARTLEY: Right.
ANNA SALE: Um, and, I was, I felt this like real shame, as a journalist for having not thought through, you know, a decision that we made quickly in 2014 when we were like deciding what the episode title ought to be and to post it so it was ready to go down the podcast feed–
LAWRENCE BARTLEY: Ummhmm.
ANNA SALE Not thinking through, this is a digital media product. This is something that is like gonna live on the internet. Um, and it continued to live in a very alive way on the internet for you up until 2023. Like even as your life has transformed the way that we packaged this episode, um, you know, it was very clear, like the episode title made it very clear that you were in prison on a murder conviction and that now you were a father.
And I, and, and I thought, I'm not sure that's what the episode is about. The episode is more about your experience of becoming a father in prison. And so, um, so I, I, we've, we've updated the episode title name and corrected it. Um, but it, like it made real for me the way that episode titles and headlines can cast something in amber that's very much like a much more complicated human story. Um, and so–
LAWRENCE BARTLEY: Yeah.
ANNA SALE: I just, I, I, I apologize that it took me nine years to realize the impact of that quick decision.
LAWRENCE BARTLEY: [pause] No worries, no worries. Um, I, I know that you didn't go out with intention, like try to offend me or, or shame me in any way. Um, a lot of publications are doing that, have been doing that, and they, they still do. Um, I, I mean, I've been, when I first heard the term, not to say that that's what was done with with this episode, but one of my colleagues, one of the editors said, 'well, it's called clickbait.'
[laughter]
LAWRENCE BARTLEY: I'm like, 'clickbait? What's that?' You know, just got out. I was like, oh, you give it this flashy salacious title, and people will click on it and they'll read it and you captured it. So I was like, oh, oh. You know? So that's why people do that.
Um. So, but yeah, man, so when, when, you know, people would see that I have a friend of mine, um, and she, and, and she always brings that up. She's like, 'I'm just so hurt by the title.' And I was like, well, she, but the, the, the interview was great, but the title is hurtful. Um, so I really appreciated it when, when you called me and said that, you know, we took it down. And, and, and we changed it. And because that, that means something is meaningful. Right?
When, when people consider me now, I don't hide the fact that I, I, I've, I've committed a crime. Um, but when they see me, I'm, I don't want to be seen as just that, you know, I'm, I'm, I'm more than that. And you know, and… titles and, and, and labels, and the lack of them goes a long way in allowing the person to be seen for who he she, or they really are.
[music Blue Dot - Heather ]
ANNA SALE: The new title of our 2014 episode is Becoming A Father in Prison…I added a correction to the original posting to note that it was changed after publication. And that new title…that's what comes up in google searches now.
ANNA SALE: Um, can I ask you a few questions about parenting teenagers?
LAWRENCE BARTLEY: Sure.
ANNA SALE: Um, so your, your young boys are now young men. Um, like are you, you know, you were a teenager when you, when you went away.
[music ends]
ANNA SALE: Do you, um, do you think of yourself as an overly protective parent? Like, are you trying to get in the way of them making Knuckleheaded choices or are you more of a parent who's like, I'm gonna teach them about character and then I'm gonna trust that they're gonna make the right choice?
LAWRENCE BARTLEY: Um, yeah, I think I'm more leaning on the overly protective side, but I do give them more freedoms than my wife would like…
[laughter]
LAWRENCE BARTLEY: They would say, oh, I wanna go out.
ANNA SALE: She is even more protective.
LAWRENCE BARTLEY: She's even more protective, you know? So when I say, oh, they need to go out with friends, like, my son want to go to Manhattan and, and on his own and, and do this and that.
He's 15, she would say no. I'd be like, he needs to, when I was 15, I was doing this. When you was 15, you was doing this. So, um, I try to allow him to get some experiences where, where, where he feels confident if, when he's on his own. Same thing with my younger one, but I am, um, super overprotective, like where they go, I need to know where they are. Um, I need to have met the parent. Um, I try to do all those sorts of things to, to ensure that I am doing my part.
Make sure that they grow up responsible and, and safe. And while their brains aren't fully developed yet, they don't take those risks that I did or do something that could either get them hurt or get them in trouble.
ANNA SALE: Mm-hmm. How did you celebrate your 50th birthday? Lawrence,
LAWRENCE BARTLEY: Ah, ah, uh uh. Don't say that word! [laughter]
ANNA SALE: By ignoring it? [laughter]
LAWRENCE BARTLEY: Oh word, a dreaded word. [laughs] Oh no, that was oh something. I mean my, I tried to ignore it. I mean, for many years after my 18th birthday, I ignored every single birthday, but. When I got out, Ronne would have none of that, and she made a big deal of my birthday over and over again. And when I turned 50, she was, she's told me to pick her up from work.
She wanted to take me somewhere and she said, just go with, go with it. Just let me do this thing. You have to let me do this thing. I said, okay. So I'm on the phone talking to two of my colleagues and I'm like, I'm telling them like she–. I'm complaining to them. I'm like, oh, she has me doing this, she has me doing that. I have to drive all the way to Jersey.
But little did I know, she took me to a Atlantic City. The door opens about 50 people in there.
ANNA SALE: Oh.
LAWRENCE BARTLEY: Surprise!
[laughter]
LAWRENCE BARTLEY: Including two of the individuals I was having a conversation with on the phone, complaining the whole time. They was like, oh, I hope he gets off the phone. We have to get dressed. Uh, I'm like, it was really good. And um, They had the dreaded 50 balloons there and I tried to take it down. So the theme of the party became not 50.
[laughter]
ANNA SALE: Not 50.
[laughter]
ANNA SALE: Wait. Of those 50 people, like who, who was it? Like who was in the room?
LAWRENCE BARTLEY: It was a mix of people. I'd known some people I work with, some, some, a lot of people who were incarcerated with me. Um, a lot of their wives, um. Uh, um, some people who, who worked inside prisons that I were in, um, people who, who, who I've, who I've known for a while, who can make it. Um, not everyone could make it who I, who I know and love, but there were a lot of folks who, who came out and I really appreciate that.
[music DSM end theme]
ANNA SALE: That's journalist Lawrence Bartley. You can find his work from News Inside and Inside Story, on themarshallproject.org. And we put links to all of my previous conversations with Lawrence, and his wife Ronnine, in the show notes.
Death, Sex & Money is a listener-supported production of WNYC Studios in New York. This episode was produced by Zoe Azulay. The rest of the team is Liliana Maria Percy Ruiz, Afi Yellow-Duke, Amy Pearl, Lindsay Foster Thomas, and Andrew Dunn.
The Reverend John Delore and Steve Lewis wrote our theme music.
I'm on Instagram @annasalepics, that's P-I-C-S, and the show is @deathsexmoney on Facebook, and Instagram.
Thanks to Christine Cowles in New York, New York for being a member of Death, Sex & Money and supporting us with a monthly donation. Join Christine and support what we do here by going to deathsexmoney.org/donate.
Lawrence and I don't just have journalism in common…we also have dogs at home…that like to interrupt recordings at home…
LAWRENCE BARTLEY: I have two puppies. One is over 130 pounds.
[laughter]
ANNA SALE: Wait, I was just hearing some barking. Wait, is that, what is that one of them?
[laughter]
LAWRENCE BARTLEY: I guess he wants to be on your show
ANNA SALE: So a 130 pound puppy does not sound like a puppy.
LAWRENCE BARTLEY: But for the record, that wasn't him. That was the 13 pound puppy barking.
[laughter]
ANNA SALE: Of course it was.
LAWRENCE BARTLEY: When he barks he shakes the room.
ANNA SALE: I'm Anna Sale, and this is Death, Sex & Money from WNYC.
Music Credits:
"True Blue Sky" by Blue Dot Sessions
,
"Heather" by Blue Dot Sessions