Hasan Minhaj's Honest Mistakes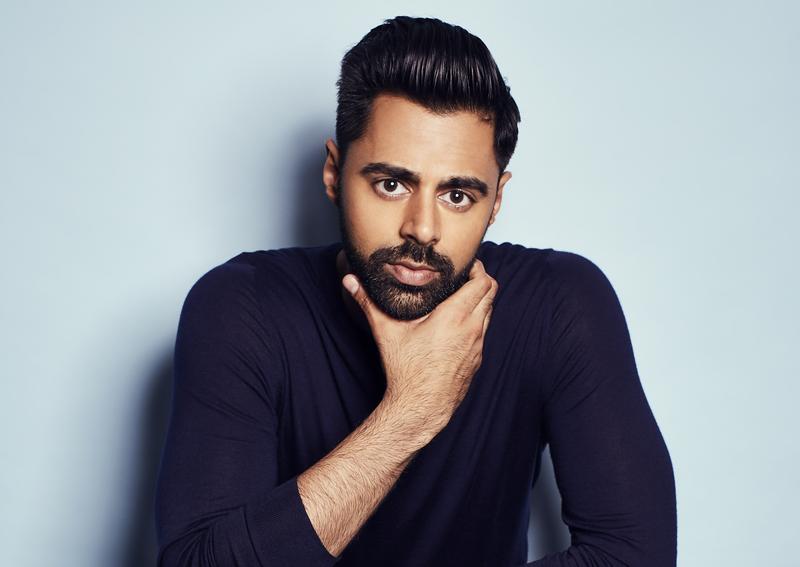 Transcript
HASAN MINHAJ: You know how like when you're growing up, they always teach you, you know, the best rule of thumb is to always tell the truth. Is it? I mean, is it?
This is Death, Sex & Money.
The show from WNYC about the things we think about a lot...
...and need to talk about more.
I'm Anna Sale.
In the spring of 2018, comedian Hasan Minhaj became a dad.
HM: It's been the most beautiful and horrific thing that's ever happened to me in my life. I'm being real. Like it's, it's a doozy. It is a doozy.
When his daughter was born, Hasan was working as a correspondent for the Daily Show. He'd recently won a Peabody Award for his stand up special, Homecoming King. And he was in the thick of developing his weekly political TV show for Netflix, called Patriot Act.
Hasan's wife, Beena, a PhD in public health, also has a demanding career. So it's felt like a lot to manage all at once.
HM: That's been the, the the biggest sort of like push and pull of it. we got to divide and conquer. Alright. Like you sleep this time, I'll pick up this. Alright. Swap it out. I'll sleep. Now you cover this. Just like the strategizing.

ANNA SALE: Yeah. The logistics.

HM: Just the logistics. Yeah. And I've never been really great at 'em. And so I've just had to level up, you know, and, um, I dunno. I'm amazed. I'm just like amazed by like, even I think about what my parents had to do and the resources they had and how were they were, they were able to figure it out. So.

AS: Mmhm.

HM: And I've seen like this whole new side of my parents, which is wild. It's so strange seeing 'em. Like I see, I see my dad sprint. I've never seen my dad sprint. He like got up and like ran to get my - my daughter just ran out of the apartment and ran down the hallway and he just got up and sp-, I've never seen my dad sprint like that. I'm like, "Dad, I did not know you had this fast twitch muscle in your calves." It's unbelievable.
Hasan grew up primarily with his dad until he was eight in Davis, California. Both of his parents immigrated there before he was born. But his mom went back to India for several years to attend medical school, and then did her residency in New York.
HM: It was a lot of Simba and Mufasa time, so to speak.

AS: Wait tell me what that means.

HM: You know, I would say, he's sort of establishing these rules and structures and I'm trying to subvert and break those rules um and just trying to establish my own autonomy. And I think we butted heads a lot just for me, you know, as a kid growing up, um, and then pursuing comedy, there was a lot of of that. But um, I really, I really do, um, I have a lot of respect for him. He's a really ethical and decent person and as I've gotten older, I, I, I've really started to appreciate that more.
AS: Did you go to mosque in Davis?

HM: Yeah, yeah. I went to the mosque. Yeah. My, my dad would take me to Sunday school and um, I would go to the mosque. Yeah. There's only one mosque in the city, so it was the mosque that you had to go to. You know, when you go to bigger cities, sometimes the mosques are divided by sub-communities, so you'll have like a, you know a South Asian mosque, then you'll have a more Arab mosque and you'll have um um a a black mosque. Um, this is one of the, one of the things that I thought was actually kind of beautiful and cool. There was only one mosque in the town, so we all had to go there.

AS: And what were the power dynamics like in terms of like who got to be in charge?

HM: I mean that's what I, it's a - I think that's a whole other podcast in and of itself. I mean mosque politics are wild. I mean, you, 'cause I mean you're talking about global geopolitics, race, class.

AS: Right!

HM: Sunni-Shia dynamic. All sorts of stuff. "You shouldn't be praying that way. This is the right way to pray." It's wild. I mean I've seen fist fights in mosque mosque parking lots and -

AS: Really?

HM: Yeah, totally, totally. Yeah. It's like a microcosm of what's happening in the world right now. Like, one time my dad broke up like this heated fight between two uncles. Um, one of the uncles was clearly wrong. Like I think that one of the uncles was just like bigoted, racist, like it was just offensive, like, you're wrong dude. And my dad said something really powerful - and he was like, hey you guys both need to say sorry to each other, which first of all is like again, an an impossible thing. You're asking two uncles to apologize and admit fault. That's just not going to happen. "Say you're sorry to each other." And then number two, like he had them hug it out. And I remember we, when we got in the car, I was like, dad, why did you do that? Like, why didn't you just defend the guy who needed to be defending, you know, you should have been defending and we should've just kept it moving. And he said something really powerful. He said, sometimes it's better to be together than to be right.

AS: Huh.

HM: And I think, you know, I think about that a lot. And I think there's a time and place for both.
Hasan felt that tension between unity and difference a lot when he was growing up. Davis, California, is more diverse now, but it was about 70 percent white when Hasan was in high school. He's said he felt like he was surrounded by a bunch of "Ryan Lochtes."
HM: I've always felt like I was wearing an away jersey, even though I'm supposed to be playing a home game. I've had an ability to be able to uh communicate to uh I think all sorts of different people because of that. I've spent more time observing them than the other way around, if that make sense?

AS: Mmhm.

HM: Like I can guarantee with the the people that I've met, I've spent more times in their types of households than they've spent in mine, you know, and at the time that can feel a little weird, jarring, alienating. You're always kind of on guard.

AS: Uh huh. When did you realize that that you were handsome?

HM: Um, I don't know. I - I, that's a very weird question. I don't even know how to answer that. I - I, you know, growing up I didn't consider myself to be particularly uh good looking like um, you know, I have really bad eyesight. I - I have negative 7.5 and negative 8.5 respectively in my right and left eye, uh, which is, which is pretty thick. Like my, my lenses were really thick, so I wore glasses and stuff like that. Uh it was pretty bad. And I would use LA Looks hair which is like, you get -

AS: Wait, like the gel or the mousse?

HM: The gel. Yeah. You could get it at, you could get it at Rite Aid or CVS. It was a dollar, uh and you'd get about three gallons of it, which which is like insane. Yeah. And it would just turn your hair to concrete and um, yeah, I'd spike it up.

AS: You have the same tub of LA Looks that you bought when you were 16. You're still working on it.

HM: Sure, sure, sure. Yeah, yeah yeah yeah yeah. Like, um, you know, I had really bad acne. I took Accutane. Um, if there are any Accutane heads out there.

AS: I took Accutane. I did too.

HM: Yeah. Yeah. I -

AS: Did yours also have the pregnant woman with the like, the script, the like X -

HM: Truly terrifying. Anna, I actually think that you and I are both, yeah yeah yeah, we're both up for a class action lawsuit. So you and I should call Habis, Emindola and Associates. That's Habis, Emindola and Associates. They pumped Accutane into me through high school. Oh my god.

AS: To be clear, Accutane was acne treatment.

HM: Yes. And it would purge it from your skin. It would just, it would, there would be volcanoes of white heads just throughout your face. It was, it was like an exorcism of bacteria just spewing out of your face.

AS: [Laughs] You had to do like urine tests to make sure that your liver was functioning while you were taking it. And I still was like,

HM: Yep.

AS: whatever, get the, get rid of this acne. I'm taking -

HM: Get this out of me. Yeah it was insane.

AS: So you, you went to UC Davis after high school.

HM: Yes. Yes.

AS: And you lived at home?

HM: Yeah, my freshman year I lived in the dorms and I, then my parents made me move back home. So I lived at home the rest of, uh, the rest of college. But I met, I met my wife in the dorms my freshman year. My now wife, Beena. I saw her in in my freshman year of, of college. Yeah.

AS: Did you have a sense when you met her that this was a special person?

HM: I - I definitely knew like she was super special. She was wearing these overalls and then she was wearing like a green bandana Aaliyah style.

AS: Ooh.

HM: And I was just like, oh my god, who is that? And then we got together and you know, and we were college sweethearts.

AS: She's still living on campus and you're living at home?

HM: Yes. Yes.

AS: So what was, what was dating like, how did that work?

HM: I mean, it was like a reverse "Rapunzel, let down your hair," you know what I mean? Generally the prince is going to the princess's place and is like, hey can you come out? This was like the reverse. She would like come to my place, call me and be like, hey can you come out? I'd be like, alright, wait a sec. I'll be right there.
Beena was a big supporter when Hasan started doing stand up at open mic nights during college. She'd lend him her car to get to gigs and hand out flyers on the street about his shows.
HM: She's like, you're going to do great and you're gonna make it. And um, I needed that.

AS: What was it that drew you to comedy when you were in college?

HM: I just love the radical honesty in it. I love that idea of like, wait, you can say that? I remember seeing Chris Rock's Never Scared, and I remember him talking about George W. Bush, politics, seeing John Stewart talk about the war in Iraq and Afghanistan. And I remember being like, how can you possibly talk about this stuff? You can't talk about this stuff. I worked at Safeway at the time I was, I was bagging groceries and stuff. Like, I can't talk about this at Safeway, I'll get fired. And that is what I loved about it.
But as Hasan experimented with being radically honest on stage, he says he was not always honest in his personal life. After he graduated with a degree in political science, he decided to give comedy a try in Los Angeles.
HM: You know, Beena and I were still dating and I remember I was lying to her, my parents about what I was doing, where I was going, who I was dating, who I was seeing. Yeah. I really lost their trust for a long period of time. There was a few years - like I - I - I lost the trust of someone who's, who's now my wife, my, I think my relationship with my, even my dad was, was really bad.

AS: Why were you lying to all these people in your life? What were you trying to protect?

HM: Um lying to my parents—they really wanted me to go to law school. Uh, so I, I was lying to them. "Oh, hey, I'm, I'm, I'm going to come down here. I'm going to apply to law school, uh, law schools in Los Angeles. That's what I'm going to do. I'm going to, I'm going to pursue that." And, um, "I - I - I'm, I'm doing great. I'm doing, I'm doing stand up and I'm being able to pay the bills. Everything's going great, Mom and Dad." I wasn't telling them where I was living, you know, I, it was bad. I was living with like four or five other people. Like, you know, it was a thing that I didn't want my parents to see. So lying to them. With Beena it was like, hey, you're pursuing your masters in Northern California. I'm down here in LA. I'm meeting all these new people and I can, you know, I don't have to sneak out of my house to see them. I - I wasn't honest about that stuff. Right? I was like, nah, I'm not seeing anybody else, no. Like -

AS: Were you, did she think you were together?

HM: Yeah. Yeah. And that was like a -

AS: So you were together and you were seeing other people that she didn't know about?

HM: Yeah. I got caught. I remember she asked me, you know, "Are you seeing other people? I think I know you're seeing other people." Yeah, and it was a really painful, and we broke up because of it. Like it was really painful for her. Like, I think the reality of it was like, I should've been honest. Hey, I'm in my early twenties. I don't really know what I'm doing. These are my, I - I'm being ratchet. That's why I kind of make jokes about it, about being a a Desi fuckboy.

AS: Hm, 'cause you were one. [Laughs]

HM: Yeah. 'Cause I was one, totally and I, that's why I own it. I just be like, yeah, I'm, I, I make fun of Desi fuckboys because I am the prototype of that. I remember my sister one time called me and was just like, I don't know what you're doing down there, but it's not good.

AS: Oh, she knew.

HM: And I remember just like, you know when you get that from even like your family or a loved one that's not your parents and they know, you know it's bad. Like you're just like, what, yeah, what am I doing? Like I'm lying to my parents about where I live. I'm lying to like someone who really loves me about who I'm dating, who I'm seeing, what am I doing? And you think about that time, I don't know, I really struggle with this. Was that period of time necessary? Like is that just a part of growing up? Is that, is, is that period of time of being a fuckboy just part of life or is that thing I could have avoided? Is that a thing that if like I had stronger character and if I was a better person, I could have avoided? I don't have the answer to that. I really don't.
Coming up, Hasan wins Beena back. And as his career takes off, he tries balance being honest to her with being honest to his audience.
HM: Especially because I'm a public figure and uh, uh, my wife, uh, being as she lives a a a relatively very private life, that's something that I think about too, a lot. Like when we're talking about and, and sort of discussing and, and sometimes having arguments about stuff, is it better to be right or is it better to be together and I've chosen uh a lot of times the latter.
—
We heard from a lot of you after our recent episode with the former debt collector, Angela…who talked about the methods she used to try to get people to pay up...and why she's dodging debt collectors now.
On Instagram, a listener named Kirstyn commented, "I was a debt collector and it was the most soul-sucking three months of my career. No idea how she did it for 15 years."
And another Kirsten wrote, "It was so refreshing to hear an interview with someone who believes people should be responsible for their debt."
But most of you told us you felt frustrated by Angela. A third listener named Kirsten wrote, "I really struggled toward the end when she began talking about having children and not being able to pay the medical bills. She seemed unable to see the irony in her situation."
And it made you share about your own experiences with debt collectors. Meg wrote on Instagram, "This episode made me think of a time a year or so after college, when a debt collector said some awful things to me to get me to pay off a loan. I went downstairs crying and my mom called her back, reamed her out, got my money back and explained to me how to approach calls like that in the future. That no, she couldn't ruin my life or credit forever or whatever she'd said."
Thanks as always to all of you…especially the Kirstens. We always include listener feedback in our weekly newsletter. If you're not subscribed, you can fix that at deathsexmoney.org/newsletter.
On the next episode: My conversation with the writer Anne Lamott on stage in San Francisco. It was part of the Reimagine End of Life festival. Anne just got married for the first time at 65 years old, and I wanted to know how much she was thinking about death when she made that decision.
ANNE LAMOTT: Well I had decided that my husband to be was actually after my Medicare payments. But I didn't really think about death except for him killing me or sedating me and keeping me hostage while he cashed my Medicare checks.
—
This is Death, Sex & Money from WNYC. I'm Anna Sale.
Hasan Minhaj and his now-wife Beena were broken up when he learned she was moving down to LA to get her PhD in public health.
HM: I remember I was just like, I gotta, I gotta make this work. Like she's such a quality person.

AS: And - and what was that period of, of coming back together like? What, what, what, how did you apologize?

HM: Um, I mean I was just like, I just think you're an amazing human being and I think that my life would be so much better with you. And she was like, no. [Laughs]

AS: Really?

HM: Yeah, she shot me down. I had to like, it was a struggle. I had to, I had to work for it. It was the toughest audition of my career. It was a lot. I mean, it was like months, like we were just talking and really trying to make it work. She's like I'm getting my PhD. You're an open miker. You got a lot of things to figure out. She was like, you gotta go to therapy. You got to like talk to somebody about everything that's going on in your life.

AS: So this is like part of you trying to win her back. She's like, go to therapy.

HM: Totally. Totally. She's like, if you want to take up my time and talk to me, like these are my requirements. You got to do this, you got to do this, you got to do this, you got to do this. And, um, yeah, therapy was one of them. And it - it was really about rebuilding trust, you know? And I think, 'cause I'm also thinking about now, right? Like, even to this day, there's still things that when me and her are arguing and discussing stuff and we talk about trust, there are still things that we have argued about that have been that same idea of violation of trust. I've taken an idea and I've taken it out too far and then she'll find out about it and she's like, hey, you doing that implicates us and I don't have a say in that. And that's a violation of our trust.

AS: An idea too far, like what does that mean?

HM: I'll give you an example, like the idea to do the episode about Saudi Arabia.
In October of last year, Hasan released an episode of his Netflix show, Patriot Act, that took on the Crown Prince of Saudi Arabia.
PATRIOT ACT CLIP: Now if you've been watching the news, then you know that Saudi Arabia has been engulfed in a massive diplomatic crisis over the gruesome killing of Jamal Kashogghi. And it blows my mind that it took the killing of a Washington Post journalist for everyone to go, oh, I guess he's really not a reformer. Meanwhile every Muslim person you know was like, yeah, no shit, he's the CROWN PRINCE OF SAUDI ARABIA.
HM: That was something that like I had been cooking up for a while, you know, and I didn't tell Beena or my family about it cause I was personally struggling with it. And I remember she was like, when we were about to shoot the episode, she was like, are you aware that there are implications to this?

AS: How did she find out about it?

HM: She just came to the office. She saw it on the whiteboard. She had known I had been kicking the idea around, but she saw it on the whiteboard in the sense that like, oh, you're really gonna press play on this. Like this is going to go forward. But that was one of the, that was another sort of big inflection point where it's like, no, you're at this point in your career where the things that you say and do have an impact on us. You know, and you have to, you have to involve me in that.

AS: And what were, what were the ramifications for your family after you did that Saudi Arabia episode?

HM: Well, you know, the first few days after like the, the social media side of it is, is pretty, pretty scary, right? Which is something that, you know, you can't tell the difference between, is this going to, is this a real death threat or is this just a Twitter death threat? You just don't know.

AS: Did you bring on extra personal security for yourself or for your family after that?

HM: Yeah.

AS: Do you still have that security?

HM: Yeah. It really shook me. Like I'm pushing a stroller with my wife up the street in New York, right, and, you know, people pull over in a car and they're like, "Hey, I saw your episode," and you're like, I don't know if this is good or bad, you immediately sort of jump into this flight or flight thing. And it was something I just wasn't ready for. I remember the second big one was Indian elections. You know, both of us have family in India and the things that I'm talking about are extremely controversial there. Incredibly heated that date back to the partition of India, um, that have been long, long, long third, third rail issues in that region. There have been a couple of these sort of instances where, it's again, talking through with Beena like, she kind of was like - you know, she saw a rehearsal and she was like, hey, there's this sentence, this sentence and this sentence that's like really, really, really, that could get, get you into a lot of trouble or that could hurt, it would really hurt the feelings of certain people in our family. Do you want to say that? And that was a long conversation.

AS: Did you keep those lines in?

HM: A couple of 'em we kept in, and another one was really painful and we cut it. And again, it's so, it's one of those things, I'm trying to be radically honest. But then there's also the reality of like, I also have, I have, I have a duty uh to my loved ones and to my family too. And figuring out that has been the new challenge for me.

AS: Mmhm.

HM: I've really had to lean on that thing that Beena told me about even when we were getting back together. Like, you gotta be honest with me, you gotta be straight with me. Because she's the only one that's going to tell me for real for real two things: She's going to check me on it artistically. But then also just for us as a family, like okay, you say this, these are the implications and there's a difference between even what I'm talking about with Saudi Arabia, that affects our future and going to that region, right? Me making Hajj, all those sort of things. And then there's the stuff that I say about India, that's gonna, that could potentially shape travel plans and safety for family members over there. You have to think about all those things.

AS: And you said hajj, you've, you've done pilgrimage before? You've been to Saudi Arabia?

HM: No, I haven't.

AS: You haven't?

HM: And um, yeah, I don't know if that is a thing that can be done at this point. You know, I don't know.

AS: Is there a sadness about that?

HM: Yeah, yeah. 'Cause - and that's, and that, and that to me is like a, a pillar of our faith to make your pilgrimage. It's one of the five pillars of Islam. Now, can I go? Maybe. Should I go? I don't know. You know what I mean? Like the, the, the, the safeties and things that we assume here in the United States, that is a privilege. Assumed safety that we have here is not a, is not a thing around the world.

AS: When did your parents become aware that you were doing the episode about Saudi Arabia?

HM: They became aware after the fact. You know?

AS: After it was made? And out?

HM: Yeah. After it was made and out. Yeah. There is no way I could've gotten that bill passed through Congress with them. No way. No way. No way. But look, like that's the thing, I gotta be honest with somebody, right? Like I got, there's gotta be somebody that like, that can navigate both things, personal and professional. 'Cause I can talk to the other comics and they'll be like, yeah man, say it. You got to say it. But they're not the ones that are pushing that stroller,

AS: Yeah.

HM: you know, up the street in New York and just trying to go to Trader Joe's and not trying to have like anybody roll up on you, right? Like they don't have to live with those repercussions.
Hasan has one other person he really relies on to talk through personal and professional dilemmas: his writing partner Prashanth Venkataramanujam. They started working together in their early 20s when they were both living in Los Angeles, and Prashanth is now the co-creator and executive producer of Patriot Act.
AS: Like what is something that he can tell you that somebody else in the writer's room can't?

HM: He would say something like, "Don't say that." And I would be like what do you, what, I go what do you, what do you mean? He goes, it's going to sound really bad. That's Prashanth. And I would see it in his eyes. It's like a person that you've known for 12 years. It's just like, he's just, it's like when you would, when you go to Zara or something and you go, I'm going to try this hat. And they go, don't, you're not a fedora person, don't do a fedora. You have that one friend that just says it with such raw honesty. You know they're not hating. You know they're not doing it to just like put you down. They're doing it because they really, really love you. Um, and they just care. They just don't want you to look bad. That, he has an ability to do that.

AS: As you became more well known, more recognizable, um, did you notice any shifts in the dynamic of your working relationship? Did you have to sort of re re-establish uh I don't know the power dynamic or have conversations about how that was changing your collaboration or anything like that?

HM: He's someone who's so close to me that I would never want to lose him as a friend. So as things started to change, um, there's two things. I was just really straight up with him. Like number one, like about everything about like, this is how much I'm making, this is what I'm doing, this is what, what they're offering me, this is what they're, they've asked me to do, like number one, and then number two, like it would be, it was, it would be something like, I would say, I want you to do this with me. This is how much money they're offering. Let's split it. Let's do this together. Like, I I, I want, I want to do this with you. And then there's this just other intangible that a lot of people don't understand, you know, in show business and what's happening right now. There's not a lot of people that look like us and are doing what we're doing. And we both, I remember around 2012, 2013, we both kind of realized nobody's looking out for us. Nobody's going to come save us. We got to do this on our own. There is no big brother. There's no big, there's no mentor. Do you know what I -? There's no Desi Judd Apatow or Spike Lee that's going to sort of extend an olive branch and go I'm going to executive produce your first thing.

AS: Uh huh.

HM: Like, we really are just blazing this trail with machetes ourselves. We're using sort of the, the foundation that a lot of um immigrant and minority communities have sort of laid out for us from before. But we just have to kind of do it and go for it ourselves. And we just kind of made this partnership that, hey we're gonna figure this out no matter what, you and I will figure it out brown, brown paper bag style. Like, hey, this money came in, I'll Venmo you half, let's do this.

AS: Huh, yeah.

HM: You know, and that that's the same way our parents, when our fathers first got to this country in the early eighties had to brown paper bag and figure it out. We, we sort of figured that out with show business, you know.

AS: Do you go to mosque in New York City?

HM: Yeah. Yeah. I go to the mosque.

AS: What's your mosque like in New York?

Hasan: So I go to the one uh on 72nd Street. Uh, it's on the west side, so it's a lot of people that are commuting or, uh cab, driving cabs. They're transient, people that are sort of trying to get in and out as quickly as possible. That's, that's the mosque that I go to.

AS: So it's like people coming in for prayers, but not a lot of chit chat afterwards.

HM: Yeah yeah yeah. "I'm here to pray. I'm not here to make friends." It's that vibe, it's that vibe. But it's cool. I, again, it reminds me a little bit of like the Davis mosque too where it really is, it's not for one specific group. It's for like all different types of, you know, it's for Muslims from all different part parts of the world, which is really cool.

AS: How often do you go to the mosque?

HM: I try to go every Friday. I try to go every Friday. I remember after the New Zealand stuff happened, there was some time that I I didn't go to the mosque for awhile. Um -

AS: Because it didn't feel safe?

HM: Yeah. It just freaked me out. You know? I just, I I I probably shouldn't have done it, but I, you know, uh you, you go on social media and just the, the footage was there and it just freaked me out, you know? It was a weird period of time where I was almost doing the like, it's kind of dark, but it was like I was doing the, I was doing the long division in my head, you know what I mean? It's like, well, if I, if I don't go, is that mean, is that means I'm like, I'm like, I'm too scared to pray, but if I do go and something happens, like maybe that means I'll go to heaven. Right? Like, cause that's how like, you know what I mean? Like God will be like, he was, he really was committed. Like it was really dark.

AS: How long did you stay away from the mosque?

HM: It was about a month or so. Yeah. Um, and what what was really beautiful is I remember going back and, um I really, this was made me, actually really made me really proud to be in New York. I come back and there was all these people standing outside of the mosque on 72nd Street holding up signs. Like, um, we're, we're, we're, we're proud to protect you. We're here to like protect you. It was -

AS: Non-Muslims.

HM: Yeah, It was the Jewish community, Christian community, just different people from the city just stood outside during prayer. Like they were holding up signs like, "Salaam." Like it was like really cool. Um, and um, to this day, there's still one woman, she still comes and stands outside of the mosque. Still! Like to this day. Like, she'll come every Friday and she'll just stand just to watch.

AS: Have you spoken to her?

HM: Yeah, I see her every week. I see her every week. I say what's up to her.

AS: And describe, what does she look like?

HM: Uh, she's a, she's an older uh Upper West Side uh Jewish lady. You've, you, you've recognized her, you've you've seen her. She's got her tote bag. She donates, you know, she donates to NPR.

AS: She's a WNYC listener probably. [Laughs]

HM: Yeah, of course. Yeah. Yeah. She has a scarf. She's got really cool broaches, yeah. She'll say "salaam." She'll do the full "Assalamu alaykum." You, she'll, she won't even just do the "salaam." You're going to hit all the syllables? I mean it's incredible.
That's Hasan Minhaj. You can find his show Patriot Act on Netflix.
Death, Sex & Money is a listener-supported production of WNYC Studios in New York. Our team includes Katie Bishop, Anabel Bacon, Afi Yellow-Duke, Emily Botein, and Andrew Dunn.
The Reverend John Delore and Steve Lewis wrote our theme music.
I'm on Twitter @annasale, the show is @deathsexmoney on Facebook, Twitter and Instagram. And you can email us anytime at deathsexmoney@wnyc.org.
Hasan and Prashanth have the kind of relationship where even Hasan's by himself, he can hear the edits Prashanth would give him...including after this interview.
HM: Like I imagine if Prashanth was here, he'd be like, don't say fuckboy on WNYC. Just don't do that. That's not a good thing. It's like not the right audience for it.
I'm Anna Sale, and this is Death, Sex & Money from WNYC.
Music Credits:
"Highride" by Blue Dot Sessions
,
"Ghost Byzantine" by Blue Dot Sessions
,
"Plaster Combo" by Blue Dot Sessions
,
"Kid Kodi" by Blue Dot Sessions
,
"Watermarks" by Blue Dot Sessions