Gabrielle Union Is Fed Up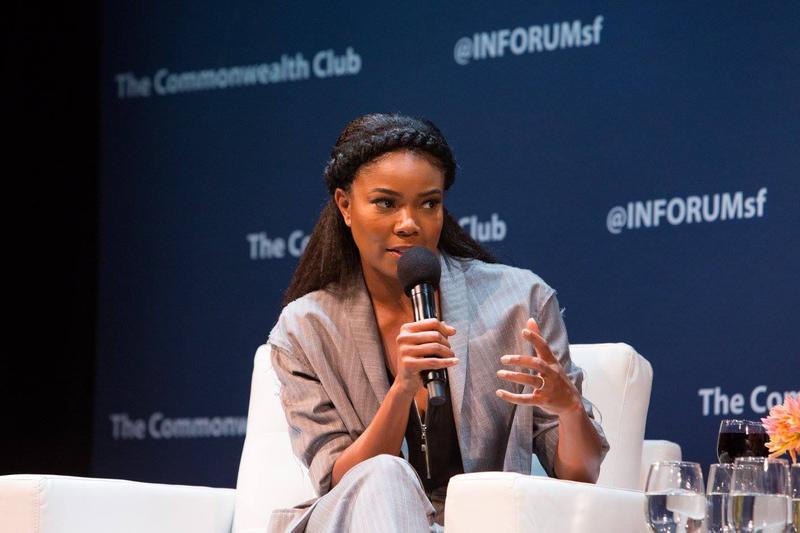 Transcript

Anna Sale: If you feel like you have been harassed, if you feel like you have been violated, if you have been grabbed, if you have been raped, if you've been assaulted and you feel comfortable, on the count of three lets say me too together. One, two, three.

ALL: Me too.
This is Death, Sex, and Money
The show from WNYC about the things we think about a lot...
....And need to talk about more.
I'm Anna Sale.
It didn't take revelations about Harvey Weinstein to get actor Gabrielle Union to talk about sexual assault.
"This is real. We are real," Gabrielle wrote last year in the L.A. Times. She was starring in the movie Birth of a Nation, and new details had emerged about a rape case against Nate Parker, the movie's writer and director. Gabrielle confronted the news head-on. She wrote, "Sexual violence happens more often than anyone can imagine. And if the stories around this film do not prove and emphasize this, then I don't know what does."
Gabrielle described how she was raped when she was 19, by a man who came into the Payless shoe store where she was working.
Gabrielle writes about recovering from the trauma of sexual violence in a new collection of essays. It's called We're Going to Need More Wine. She also describes breaking out in movies like Bring It On, getting divorced in her mid-thirties, and raising a family with her second husband, NBA star Dwyane Wade
I got to talk to her about all of this, over a glass of wine, on stage in San Francisco, at an event hosted by InForum at the Commonwealth Club. It was just a few days before Gabrielle's 45th birthday.
[applause]
AS: You have written a book that is profoundly honest about your family and growing up, about the family you've made, the boys you are raising, about trauma you survived, about the life you've built...how are you feeling about your 45 years?

GU: Oh, the 45 part, that's good. I feel so solid. I've never felt more whole and healed and connected and present and beautiful and powerful and legit, I've never been more in demand in my entire career that I have been at this moment in time. So that is great. In the last week since the book has been released, in the midst of the... the cultural shift that I believe that we are having, I was very nervous at the Harvey Weinstein scandal was the tip of an iceberg that that would somehow melt away, and it wouldn't signal the sign of a greater shift, but I think what we are seeing, and what we will continue to see, is we are fu-- oh well, you might as well get used to it, I cuss-- we are fucking fed up, and we've had enough. And it's awful to say it's nice to have this community of people who are finally sharing their pain, but it is nice to know that I'm not alone, I'm not on an island, I'm not... you know, sometimes you feel like a helium balloon, sort of drifting off and nobody's trying to catch you. I just feel finally very connected and rooted and okay.

AS: Good!

GU: Yeah.

AS: Because...

[Audience clapping]

GU: Thank you for that.

AS: You also write about growing up, a young black girl in Pleasanton, California--who's from Pleasanton? Not far from here.

GU: Hey! P town!

AS: And you also spent summers in Omaha, Nebraska visiting your grandmother, where you were in a community surrounded primarily by black people, and you would go back and forth between these two places. When you would come back to Pleasanton after spending the summer in Omaha, how would you feel about your blackness?

GU: In the beginning, it felt like I was an animal that just got put on display at the zoo. It felt like I was starting over again when I was much younger As I got older and I finally had crushes where the love was returned, and I'm like... me? You know, in Pleasanton I was not an option, I wasn't... it was... you're invisible at a time you want to be seen. In Omaha I started becoming an option, I started being seen, and so the reentry period as I got older, I became very angry at having to conform and shape-shift and be invisible again, because once you've had a taste of attention that you've been craving, especially male attention, for a girl that had very low self-esteem, to go back to being invisible, to go back to being voiceless, to go back to being the one that is supposed to feel special when they say, "Oh you know there's niggers and then there's black people, you're one of the good black people." And you're supposed to be like, "yeah, sure!" You know, my parents of course, they thought moving us to Pleasanton was giving us all of the opportunity, you know, you have great schools, safe neighborhoods, you're going to be around the right kind of people, and all it did was isolate us. It made it, we were immediately othered. I always talk about at high school dances, there is that moment when the fast songs, you know, are on and you're like "Okay, I'm happy magical negro!" and then the slow song comes on and there's that 30 seconds of like, "Anybody? Anybody?" and you suddenly have to come up with an excuse for why like no one's asked you to dance. "I was thirsty and I'm so hot! So hot... I have to go outside." I wasn't fucking hot, you know what I mean? I was just hoping for a pity dance to Bryan Adams. "No one wants to be in heaven with me? No one summer of 69 and at 68 I owe you one, something? No? No one?" Yeah.

AS: You write about a young man who was interested in you and his compliment to you was, "You're like a white girl without the hassle."

GU: Yes. [Audience reactions] And this was supposed to be a compliment. And I took it as one, not understanding...

AS: What did you hear in that moment and what do you hear now?

GU: Well, in the moment I felt ... I felt chosen, and chosen, and I thought I might get lucky so chosen again. Like I was the girl that was, "I'll suck your dick, anybody, any.. any of them. Anybody, anybody? No?" So he could have said, "Gibeldy goo, gibeldy goo," and I would have been like, "Great!" I just wanted to be chosen so badly, and for him to say that... Now, when I when I hear it felt like, for him, I got this completely assimilated good girl from the right side of the tracks, who speaks a certain way, who lives--I don't know how he thought I lived, cause he's never seen my house-- But that you had all the perks of a white girl, but you didn't have to deal with interracial dating. For whatever you think that means. Or black guys mean when they say that. But I didn't care. He was a dream. He was a vision. He could have had a club foot, I don't know. He chose me and ...

AS: When you think about your teenage self learning about men and sex, what do you wish you could tell yourself?

GU: That you don't have wolf pussy, vaginas come in all shapes, sizes, colors, you know, and that they're all amazing. They're all flowers. Various states of blooming, but that what you're going through is not unique, everyone else is is experiencing the same thing, no matter what kind of bravado they are putting forth. But also know that you are not just a vessel for male sexual gratification. You are not a disposable mouth or orifice. That you should have every expectation of enjoying sex as well and you should communicate what you like and don't like. You don't have to just take it because someone has chosen you in this moment. That you have agency over your body and over your own sexuality. That you don't have to accept the sexuality that some random dude puts on you, you know, that he saw in some old porno on VHS porn.

AS: So, you're learning about sex, you're learning about what feels comfortable for you to do, what feels comfortable to be done to you as you are a teenager, and then you're 19, the summer after your your first year ofcollege, and you're at work. You write about this in the book in detail. You write about a man coming in your closing time with a gun to rob the store, taking you and your coworker to the back, and he asks you to take your clothes off at gunpoint. And he rapes you. And you press charges.

GU: Well, you know it's interesting. I didn't. It was just done. Which is interesting because I'm assuming because it was a stranger rape, it wasn't something that anyone asked if I wanted. It was just... they just, you know, assumed...

AS: They assumed you were a victim.

GU: Yeah.

AS: They let you be a victim.

GU: Yeah, yeah.

AS: And, when you think about just those first hours, what you write about is seeing your parents' faces, and you have a sentence that on your father's face you saw, "he thought we were priced out of this shit." What does that mean?

GU: Well, you move your your black kids to Pleasanton to be different, to have the American dream, to show everyone that not only are we keeping up with the Joneses, we've shot past the Johnsons. And you think if I just raised my daughters in this idyllic community, with all of these white people, you know, going to the right Catholic Church, you know, if she is in sports, if she is a leader, I have basically insulated my family from pain. From harm, from violence, from life. And his face was, "I failed."

AS: You failed.

GU: He failed, I somehow failed, I don't know if he quite understood everything that had happened. I mean, obviously later he did, but that first moment it was, "What the fuck did you do, what the fuck did I do, to get here? This doesn't happen to us. This doesn't happen to good people."

AS: You at one point took the gun that he was aiming at you and you shot at him. How do you feel about guns?

GU: On that day? [Audience laughing]

AS: Yeah.

GU: Great, great! On that day. But you know, when they say, you know, "Had she been armed with the gun when..." I would have shot myself probably. In that moment when it was me or you and motherfucker, ain't gonna be me, not today. So, I'm going to try to, you know, take you out if I can in that moment. Later, when I thought about gun ownership, mixed with my Post Traumatic Stress Syndrome, those things don't make good for a good symbiotic relationship. That is a recipe for disaster.

AS: I think about how you talk about sex and the joy that you bring to conversations about sex and the emphasis on female pleasure, and then I think about what that trauma must feel like in your body. How long did it take for sex to feel good after you were raped?

GU: Not long.

AS: That's good! [audience clapping] because is that... is that because it felt like such a fundamentally different act?

GU: Well, it was, I mean, rape is violence. You know what I mean? And also because my... thank God for my soul literally was kind enough to leave my body when I was being raped. So it was almost like I was watching a movie of someone else being raped. So, it's like I didn't feel that, I don't have that connection to it.

AS: What I didn't realized when I read your book was the crime was was described in the newspaper very soon after.

GU: Yes.

AS: And it was described as having a black victim.

GU: It was "Black, 19, from Pleasanton." Okay well, if you're from the tri-valley area, wouldn't take you that long to put that together. And my place of employment, which... everybody knows everything. I was immediately identified.

AS: And how do you feel about that, that your ability to decide when and how to reveal that this was part of you to people in your hometown was not your choice?

GU: That was the... that was the bit that felt the worst, because I'd worked my whole life to assimilate, and to disappear when necessary, to be the unseen, to not cause a problem, to... you go along, you get along, you fly under the radar unless it's for something grades or sports-related, and now I've been publicly othered. Something bad has happened to you. You know, that was what I'd run from my whole life, as having...as this black body being this othered, negative thing. Even though I didn't asked to be raped. "You were raped." Like, you become that black girl. And that, was actually the most traumatizing part.
Coming up … Gabrielle learns that getting famous while protecting her personal space is going to be hard.
GU: There's no boundaries. And if you do create boundaries you're an asshole. You're a bad celebrity; people write blog posts about how they had shitty interactions with you.
---
We have been asking for your stories about when you have felt your class status--and you are sending in so many interesting stories. Thank you!
And last week, we started a survey to get a snapshot of how you feel about your class relative to your parents. Nearly 1,000 of you have taken the text survey so far -- Most of you, 40 percent, feel like you've moved up, and are in a higher class than your parents. But then it's an even split -- about a quarter of you feel like you're in the same class as your parents, and a quarter of you feel like you're worse off.
To do the survey, just text the word "class" to 70101. Again, text the word "class" to the number 70101 to join in.
And one thing I forgot to mention last week -- this text thing only works in the U.S. I'm sorry I forgot to mention this! Please forgive my American myopia!
We do want to hear your stories about class from outside the US-- and the different, local ways you define it. We've gotten some stories from other parts of the world already, including this voice memo from a listener named Molly, who sees class very differently than her working class grandparents.
Middle class means something a little bit different in the U.K. For example, if I say I did a lunch instead of dinner, that would be considered middle class by my grandparents, or if I ate foreign food, or if I listened to some jazz...it's just about being a bit posh.
Please keep sending us your stories about when you've felt your class status. Send an email or record a voice memo and send it to us at class@deathsexmoney.org. And if you're sending it from outside the US, for good measure, put your country in the subject line -- with an exclamation point! -- so we don't miss it.
Again, the email is class@deathsexmoney.org.
On the next episode…
I box a lot of stuff up.
I talk with a first responder in my hometown of Charleston, West Virginia… who spends a lot of his time now on calls for heroin overdoses.
It's hard to take it off. You can take your boots off when you get in the door, and you can change uniforms, but it's hard to go to the same grocery store where you've run overdoses in the bathroom.
--
This is Death Sex and Money from WNYC. I'm Anna Sale.
In the year after Gabrielle Union was raped, she says only left her house to go to court or to go to therapy. When she finally did begin going out more, she'd carefully evaluate the safety of the most mundane public places.
GU: It started with, you know, I didn't want to go anywhere that could be robbed. Which eliminated... I mean, a lot of places that you go exchange money. Most places can be robbed. So, just figuring out where was a safe space. Libraries. Turns out my love of books came in handy. You know, going to restaurants not sitting with my back to the door. Always having an exit route. I felt like if I could just be efficient, if I could manage the clock, I could eliminate the time where something terrible could happen to me. Eventually that gave way to talking to myself in the parking lot of Target, "the likelihood of you been murdered or robbed from the car to Target and back is very low, you're gonna be fine, you're gonna be fine, you're gonna be fine." But meanwhile, I'm in Hollywood as I'm going through this process, and I'm becoming recognizable. So there is these moments where I'm literally talking to myself in the parking lot of some store, and someone has literally T-boned me in and I'm shaking, sweating, and then they proceeded to scream the cheers from "Bring It On." You know, so trying to deal with Post Traumatic Stress Syndrome, trying to function, trying to get to class, and then trying to navigate Hollywood as a young actress all at once when you're... there's no boundaries.

AS: So, how did you?

GU: I didn't. No boundaries. I would be just shaking. You know, randomly I would say no, but it's very rare. Me and my former spouse were having an argument on the casino floor in Vegas and I'm literally, you know, crying, you know, screaming the whole operation. Clearly not a good time. And it was a cheerleading competition in the hotel. And I looked up and it's a swarm of Bring It On-ers, just with the bows and they looked like deranged clowns, you know, and then they're like, "Bring It On!", and I was like, "It's not a good time girls!" Because I'm just, you know... and then they just looked so disappointed, I was like, you know, okay I'm not gonna... I'm gonna try not to say no again. But not saying no means there's no boundaries. So self-care goes out the window. You've got to be everything to everybody at all times, which is impossible. It's impossible. Think about what it takes to get a selfie. How you have to position your body next to someone. Mind you, I've got post-traumatic stress syndrome. I've been violated. Things keep happening to you that you don't want to happen to you. And for some people it's like, "Fuck, I just asked for a selfie!" But when you think about what it physically takes to get in somebody close enough...the grabbing of someone that you don't know, full of expectation. For those people, that moment is everything. I'm literally feeling like a hunted rabbit, and if I try to escape it, I will be called a bad celebrity. I'm not a nice woman. "She was a bitch."

AS: I want to skip ahead a bit. To a moment when you're in your 30s, after the end of your first marriage, and you're under the bed.

GU: Hmm, with Bubba.

AS: Bubba your dog came to investigate. You write, while you are under the bed.

GU: I'd hit rock bottom. I absolutely hit rock bottom. It was... I had this trifecta of very public failure and humiliation. Divorce, my TV show "Night Stalke" got cancelled, and I had this weird random racist incident happen that played out like, you know, in social media, and I just had hit rock bottom. And I was a hider. I don't know if anyone else hides... Or I tried to fold myself up into, you know, like small spaces. Whatever-- it was a thing. And I finally decided to link up with a life coach and she had said, you know, I need you to come up with 10 things to put on your happy list. And I was, you know, we were boxing--she's also a trainer-- so, you know, I'm boxing, I'm crying, you know, I'm literally rock bottom and she's like, "Name stuff!" and I'm like... "Ground beef...real butter, and "imitation crab." And she was like, hold up, she grabs the bag and she was like, "Did you just say imitation crab? Like you don't even like the real fucking thing?" And I was like, "Well, it taste the same and it's cheaper!" And she said, "It's no wonder you got a divorce. You have no idea what makes you happy, how the fuck did you think someone else was going to make you happy?" That was kind of the response. That was my "Ooohhhh!" Like Oprah has "aha moments," I have "Ooohhhh!" Because it feels more like, "Oh, god, you dumb motherfucker," like you didn't... It's such common sense stuff that like, did you really need that spelled out for you? And over time I slowly added things to my happy list and finally started figuring out what actually made me happy. You know, one marriage in, in the middle of my career, you know, at the times when you think that you have it all together--you'd think that by my mid thirties I should have a general idea--and I had none. Ground beef, real butter, imitation crab. And I think there is so many of us who if you had to say, "name 10 things that make you happy," we might struggle a bit. So maybe that's your homework for tonight. Write down 10 things that make you happy.

AS: Good homework! We are about 5 minutes until the Q&A, so think about your questions. You write about going through IVF cycle after IVF cycle after IVF cycle in your book. What did you call that chapter?

GU: Oh, Get out of my pussy.

AS: Why did you call it that?

GU: I felt like my pussy should be the sacrificial pussy. For everyone else who's had any kind of fertility issue, who is so tired of being asked, "So when is the baby? Oh, is it coming? How did it go?" Like, if I wanted you to know I would fucking tell you. Alas, I have not. So stay the fuck out of my pussy. And again, I know some of us here don't think that, you know, the Kardashians deserve basic decency, but the manhunt into like Kylie's bump and Khloe's, you know, like, "What's in her uterus, boy or girl... tell us!" And it's like we are the townspeople, "Kardashians, we need to know, gender reveal now!" It's fucking weird and the fact that she is so fucking hunted is sick. It's actually sick that we would put pregnant women in harm's way, for what? if you've ever had, if anyone in this audience has ever had any fertility issue, and you're finally pregnant, you want to put a cage around your whole body. Not only are you not telling anybody... you know, we made the mistake of telling everybody, you know, when we got pregnant the first time, because we were so... just, I have never seen my husband so happy. And then to have to turn around and call all those people. And then they just kept coming, you know, you start to get numb, it's like you don't even get excited anymore, you're like, "Well, let's just see, you know, let's hope for the best," and it's just not happened for us. But that time of, do I even get hopeful, do I...but again, you want to move through the world with a steel cage around you to protect yourself. And watching, you know, female celebrities be hunted during this very crucial time and delicate time, you know, emotionally, physically, it's terrifying. And I know that's to come, if and when this happens for us and just knowing what's to come is terrifying.

AS: And with that we'll turn to questions.

Audience member: Hi Gabby, how are you? [GU: Hi! Good.] Thank you for being so honest. I wanted to ask you when you were talking about going through your list of happy things, the 10 things, was there a moment in being the woman that you are now where you just kind of looked in the mirror and were just like, "I'm the shit!" Like, when did you really know, not like in a perfect way, but you were just like, "I feel good about who I am."

GU: Like last year. [Laughs] It wasn't, yeah, I mean, it's been a gradual thing. I really realized I had put the shackles on myself, the shackles of fear and it waschoking me. I was literally being snuffed out by my own fear. And it just took someone suggesting that I had done that, where I was like, "huuu." It was one of my "huuu" moments. And it was like, "take the shackles off!" Fuck, it worked! And that was just my beginning. It wasn't some big transformative moment or it was like, "at this premiere I wore this dress and oh, the bitch was bad." It was just, it was a slow process. Behavior modification. I think a lot of us have totally identified what the problems are, but we have made no move for behavioral modification or accountability, you know. So my happy list now is my husband is at the top of my happy list. He is literally like the coolest, yummiest little being. Parks, like we... we do like the things that make us the happiest have turned out to be the cheapest things, like taking a football to the park and challenging other couples randomly. It's a really good time."Yes, we would like to play football with you," they didn't realize it's like "Ahhh, It's Joe Montana and Jerry Rice!" D has this thing, he's like, "Throw it mama!" And I am humdingering it, and it's a very good time, he runs a nice little 9 rout and it's a fabulous time. And it's free. Except there is the emotional pain and toll of the other couple.

Audience member: Hi Gabrielle, I love you by the way. So, you talked about how you had low self-esteem and you've gone through different traumas and PTSD and all these things, and now you seem to be this really confident woman that knows her self-worth, but my question is how did your younger self decided to go into a career that had such hyper-vigilance and surveillance and, you know...like how did you decide to get into acting?

GU: So, my low self-esteem led me to a career where you get to be chosen. And your being chosen is very visible to millions of people. See, the more productions I get chosen for, I see I'm valuable, I'm worthy, I'm beautiful and I'm talented! But then what happens when you don't get the job? Your ass is under the bed with your dog. And it all started with a Tupac video. I was interning at a modeling agency for... as office help as an internship while UCLA, and as my internship was ending, one of the agents was like, "Do you think Gabrielle would want to audition for this Tupac video?" And the man I've been interning for was like, "No, she is a serious student, she would never!" And I was like, "I'm sorry what was that? I need to go in a bikini and gyrate in front of Tupac and 25 of his closest friends? I would love to! Can I bring my UCLA degree with me? I'll write an essay perhaps on Freud and Durkheim!" But yeah, just a hot mess for many years, many many years. Yes.

Audience member: Hi Gabrielle, thank you so much for sharing your story, I really appreciate it. My question is: I see you and Dwyane Wade in the media and you both seem so happy, what's the secret to the both of your happiness versus your first marriage? How did you both, you know, get it right this time?

GU: Well, we got it wrong a lot during the courtship. You know, when you shovel a lot of shit onto each other it takes a lot of digging to get yourself out, and we had to hit rock bottom as a couple and decide is this worth it? I love you, and I like you, but this isn't healthy for either of us. And it took therapy, you know, it took being painfully accountable for us to figure out how to love each other at the same rate, at the same time, moving in the same direction, in a happy, healthy, honest, loving way, where we are supportive but also cool enough to give each other space to breathe and exist. There is no you-complete-me shit, it's I'm making a conscious choice to be with you every single day because we both have a lot of options, so I'm choosing you every day.
That's Gabrielle Union. Her new book is called "We're Going to Need More Wine."
Together, she and Dwayne Wade are raising three boys -- two of his sons from a previous marriage and his nephew. They live part of the time in Cleveland, where Dwyane plays for the Cavs.
Thank you to Inforum at the Commonwealth club for hosting this conversation-- you can find out about more of their events at commonwealthclub dot org slash inforum.
Death Sex and Money is a listener-supported production of WNYC Studios in New York. I'm based at the Center for Investigative Reporting in Emeryville, CA. The team includes Katie Bishop, Anabel Bacon, Emily Botein, and Andrew Dunn.
The Reverend John Delore and Steve Lewis wrote our theme music.
I'm on twitter @annasale, the show is @deathsexmoney.
Keep sending us your stories about class, especially if you're living outside of the US! Send us an email, at class at deathsexmoney.org
Since making her original happy list of ground beef and imitation crab, Gabrielle says she has added a few more things.
GU: Animals, nature, travel, friends, beaches, ice cold Coronas, Mexican food...oh, family! Family time, kids. Don't tell them, don't tell them, don't go on their Snapchat and be like, "She didn't even say y'all, like, she said Mexican food well before she said you guys."
I'm Anna Sale and this is Death, Sex and Money from WNYC.
Copyright © 2019 New York Public Radio. All rights reserved. Visit our website terms of use at www.wnyc.org for further information.
Music Credits:
"Sunday Lights" by Blue Dot Sessions