The NFL Made Me Rich. I Won't Watch It Now.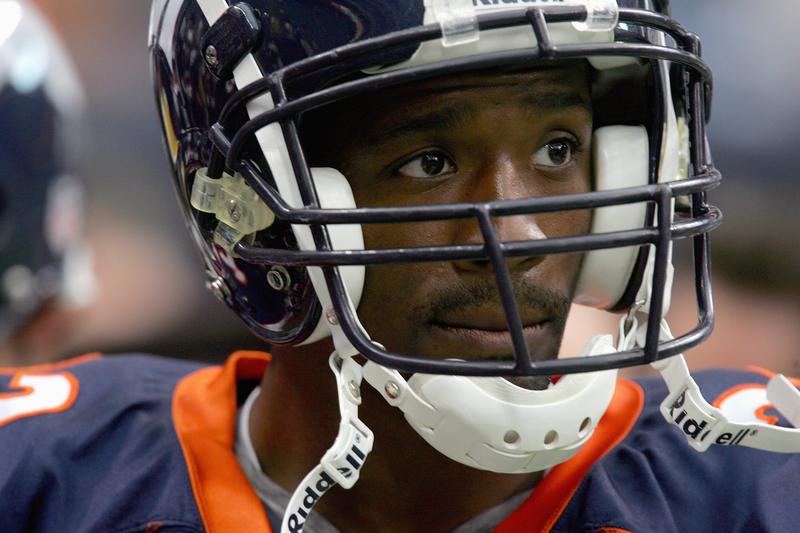 Transcript
Domonique: I started to be honest with myself I guess more than I had been before, and accept that you're just a football player. You're not this deity that they built you up to be in high school and college.
This is…Death, Sex & Money.
The show from WNYC about the things we think about a lot...and need to talk about more.
I'm Anna Sale.
Domonique Foxworth used to play in the NFL. Defense for the Baltimore Ravens, the Atlanta Falcons and the Denver Broncos. He was also president of the NFL players union for two years.
When we spoke, he was ending the summer in Baltimore, the city where he grew up...before starting his second year at Harvard Business School. I was in New York… but we've been in the same place before.
"I was at the 2004 Gator Bowl in Jacksonville, Florida. And I was rooting for West Virginia."
"Sorry about that."
"Yeah. Do you remember the score?"
"I know we had forty-something, and I believe you guys were in the single digits, or maybe like the teens?"
"That's right, no. 41-7."
"Yeah, it was a good game."
"No it wasn't."
By the end of that game the guy sitting right behind me in the stadium puked on his feet. It was not a great day to be a football fan.
But I am a fan. I get why football matters, at least where I grew up. West Virginia is a poor state. We didn't have any major professional sports. So when you're standing in a stadium watching your state win and know it's being beamed across the country -- it's a surge of collective pride that I haven't felt anywhere else.
But football is hard for me to watch now…at a time when the NFL admits in court that it estimates one in three retired players will face long-term neurological problems. Or when the league fails to harshly punish a player after decking a woman in the face -- until a video on a gossip site forces its hand.
And I'm just a spectator. Imagine what it's like for other football players, men who've dedicated their entire childhoods and early adult lives to this sport.
Like I knew that this wasn't right.
Domonique retired from the NFL in 2012. The sport made him a millionaire. But as president of the players union, he also negotiated with the team owners and saw close-up their cost benefit calculations about the safety of his and his teammates' brains.
I don't want to paint all the owners with a broad brush, because I've developed some relationships with some who, I don't think they're, like, assholes, to put it that way. But I think a lot of them are, honestly.
It made it hard to love the game he started playing when he was six.
I remember very clearly in the apartment where we were living in, sitting down with my dad, and he asked me what I wanted to be when I grow up. And I told him, professional football player. And he proceeded to say, okay, you should set little goals between now and when you get there, and you should do something to work towards it every day, no matter how big or how small. And that night, I actually did sit-ups, because I was like, alright, I'm going to get strong enough right now to get in the NFL. So, it's good old six-year-old logic,, I did sit-ups until I probably got to 300 or so, and I remember probably for the first time since I was a baby, not being able to control my bowels. Because I was so dehydrated. I threw up, and had some other stomach issues. So I remember my dad saying, well, you can't do it all in one day.

Is it true that your parents have never missed a football game of yours?

That is absolutely true. I had one or both at every single game my entire life. So, it was—

This was pee-wee league, junior high, high school, college, NFL, all over the country. One of your parents is in the stands.

Yup. I remember when I was a kid not knowing that I had good parents until after a practice in high school, my parents were late picking me up from practice one time. I was like really upset. Like, what the hell? Why am I still here 30 minutes after practice is over? And all these other kids are like, yeah I wait here every day for an hour. Who knows when my mom's gonna show up? That was the first time they were like, not there for me. Exactly when I needed them. The first time I looked around at other people who were just like me and saw that they didn't have that.

When you get older in high school and you're thinking about college, and college ball and the NFL, you start to realize like, not everyone who says they want to be an NFL player when they're a six-year-old boy gets to be an NFL player, did you question it? Or did you always kind of know?

I don't think I ever had like real, serious doubt. But, so I graduated from high school half a year early, and I started at the University of Maryland full-time class and full-on practice with the football team. And I was awful. So, you go from being a dominant kind of player in little Baltimore to playing with men, essentially. 21, 20-year-old guys who have been in a full—a real training program and played against other men, and the high school that I went to had a football team two seasons before I got there. So we didn't really have a developed, much of a developed program. So we got there, I was getting dominated on the field, dominated in the classroom, because, I mean, you know your senior year in high school, you're just kind of chilling. So then I go there, and they are not chilling. So I ended up pulling it all together and getting like, a reasonable GPA, but that first month or so, on the field, and in the classroom, was miserable. And that was the first time when I was thinking, well I don't know if this football thing is for me.

What was life like in the dorms, for you?

I don't know, it's definitely a different experience than the average freshman, because you're kind of a celebrity on campus.

What was it like to be a celebrity on campus with women?

There were some easy opportunities, or lay-ups, as I called them back then. And those easy opportunities—

Oh man, lay-ups.

Yeah. I was an 18-year-old guy. I mean, forgive me. Are we gonna get a chance to get into conversations about the more mature Domonique Foxworth, that has a better perception of masculinity than racking up numbers and stuff like that? That's how I thought when I was 18. Forgive me. So, when those opportunities presented themselves, it was a specific type of person who was looking for you. And those are not the type of people you're necessarily looking for for a long-term relationship, if that makes sense.

Yeah. It's an extension of fandom.

Yeah. So having fun, and having these great sex stories from being a college athlete—but attracting the type of woman, like attracting my wife, we went to the same school but we didn't date then, because she was not enamored with the persona that I was, and so I think it hurt us academically. Where our professors were harder on us because they thought we were dummies who were just there to play football, and it definitely was difficult romantically. And I think it probably had a racial component also, going to a predominantly white school. It's like, well these women who wouldn't necessarily be interested in you as a long term relationship type person, they're like well, this big kind of Mandingo strong black man, let's experiment with that and see what this is all about. Obviously—

Were you aware of that at the time, or looking back?

I think I was aware of it at the time. Or I kind of used it to justify some of the things that I would do. So I wasn't like the best boyfriend or the best everything at the time, and I think I would use things like that, like, well they're just after me because they want to be close to the football guy, or they think I'm in great shape and they think I'm this stereotypical, oversexed black male. And they want to give that a try. But they don't want to actually take me seriously. So, whatever. I don't care if I am with her and her friend and don't think much about it. So I think I was aware of it to the extent that it gave me cover, you know.
So playing on a winning college team is sort of like being a rockstar...along with the other 125 guys on the team. You're growing up together, learning how to deal with the celebrity together. But none of you are making any money.
A moment I'm really interested in is that transitional moment—you know, University of Maryland was good when you were there, but there were just a very few of you who went on to the NFL after you graduated.

Mm-hm.

Did you talk about that with your teammates, the reality that when you play for the NCAA, you do not get paid, and just very few of you are looking forward to a massive payday.

One of my best friends in life, and he's still a really good friend of mine, like it breaks my heart to talk about now, because our friendship is up and down occasionally, but we're still pretty close. I'm the godfather to his daughter. But I remember, we kind of stopped talking for a year or two when I went to the NFL and he didn't. And I remember very clearly, when we were training together to get ready for pro day, which is when NFL scouts come and watch you work out at your school. So we're training for the pro day. And I think it was evident that he was a great player, but he had had injuries, and it was evident that he was going to have a much harder time making it professionally than I was. And I said something to him to the effect of, well, I love you. As long as I make it, like we both make it, and whatever you need. And I guess maybe that was the wrong thing to say at the time. I thought maybe it was the right thing to say. But I remember very clearly, him responding to me by saying that it was some quote from the bible that said, a rich man has about as much chance to make it to heaven as a camel passing through the eye of a needle. It felt like he resented me, or there was some jealousy. And it definitely hurt our relationship going forward, and I don't know that we've ever like, been the same.

Well it's interesting that it was financial. You get to realize this dream, it was like, I realize you're gonna get this big pay day.

Yeah. The guy that I was just talking about had three knee surgeries and a shoulder surgery and reconstructed his index finger. So he's going to have to have a knee replacement, he was told that in his 20s. You're going to have to have a knee replacement by the time you're 40, and no one's covering that. That health care that he needs. And no one's making up for the fact that they guided him towards something major that he wasn't interested in, he needed an easier major that was more flexible with his football schedule. These were all decisions that were pushed upon a seventeen-year-old kid that would benefit the institution more than it would benefit him.

So it sounds like it was in college that you were politicized a certain way, about the economics of sports, and how players need to advocate for themselves.

Oh yeah. None of us had any control or leverage in order to protect ourselves, and then there's the whole idea that we're students before athletes, but if I had an exam during practice, then I went to practice. And if I got 100 percent on my chemistry exam no one is going to receive any benefit, including me. So the motivation is there for me to do well to get an interception on Saturday. That will benefit me. It will benefit the athletic director. It will benefit the coach, the university, the president, the alumni, the students. I take issue with people pretending that the benefits that are afforded the university and all the people involved are not a result of the sacrifices of the players.
Coming up, Domonique Foxworth explains why it got hard to play football when he finally started feeling like a grown man.
I've been hearing from more of you about funerals that changed your life. And a lot of your memories are about that clumsiness when a loss first hits. About not knowing how to fit it in alongside the mundane tasks of everyday life. Like, the question of figuring out what to wear.
Marta, from Chicago, sent in her memories of her boyfriend's funeral three years ago. He died suddenly, when she was in her 20s, from an enlarged heart he didn't know about.
"I wore this completely ridiculous dress, it had these huge yellow poppy flowers all over it but, it was his favorite dress that I wore, so of course I wore it to his funeral."
Felicia Kazer in Boston had the same question. When she lost her first pregnancy at 8 and a half months...she didn't know how to begin mourning. They decided to have a funeral for her daughter, and she wrote,
"I remember struggling to pick out an outfit to wear. Having just given birth, my body was still too big to fit into my regular clothes but wearing maternity clothes felt depressing and wrong….I chose a blue maternity dress that I was borrowing from a friend."
On the next episode...finding out your father has a mysterious illness.that people don't full understand, but know is deadly.
"I just remember waking up that next morning, taking a shower, and having that moment in the shower of like, oh wait this is real. This horrible thing that's gonna change your life forever is actually true, and is actually happening. and I remember very clearly being in the shower that next morning, and being like, my dad's dying. And I don't know why. Or how."
Whitney Joiner remembers her father, and his death from AIDS in Kentucky in the early 1990s.
This is Death, Sex & Money from WNYC. I'm Anna Sale.
When Domonique Foxworth was 25 years old, he'd played for the Denver Broncos for three years...but was sent to Atlanta to play for the Falcons.
The year before, the Falcons had lost 12 games, and only won four.
Domonique needed to WIN to get a new contract -- and the move South made him wonder if his career was over.
I was living in a hotel for a little while, and then on an air mattress. In the place I rented until my furniture got there. So I was really, a lot of time to think when you're on an air mattress and you don't have a TV, and you're on the depth chart and you think your career's coming to an end. It's a lot of time to think. And I think that was a really pivotal time in my life, and had me thinking differently about who I was. Then it turns out, I ended up having a great season, and signed a major, really big contract in Baltimore.
Baltimore -- a return to the town where he grew up. And that big contract was worth 28 million dollars over four years.

Then, Domonique got injured.
You had a shorter career than you could have had in the NFL because you tore your ACL in practice.

Mm-hm. Right.

Did you know that it was going to be over?

No. I didn't know it was going to be over.

When did you realize?

I think when I went back, the day I—so I recovered from the ACL, and I went back to start practicing. And things weren't right. That was an issue. But also, things weren't right for me psychologically. I just participated as the president in the negotiations for the collective bargaining, the most recent collective bargaining agreement, and I sat across the table from the owners of the teams and negotiated over the ten billion dollars the NFL was supposedly making. And days later, I was on the practice field. Like, sweating and listening to coaches yell and all that, and that—at this point in my life, I felt more comfortable at the table than I did on the field. It didn't feel like—I went from the top of the totem pole to the bottom. We get paid well because the talents that we have are so rare. But you're still the labor.

So in some ways it felt like you weren't being treated like a grown man. You're being yelled at by coaches after sitting at the table. Now you're back on the field—

Yeah, that's exactly what it felt like. And that's when I said, I should apply to Harvard Business School. I always had business school in the back of my mind, but I realized I could kind of play—the same way I realized I could play with the best in football, I could play with the best intellectually and professionally.

That's interesting because you know, you hear career-ending injury, and you think it would be this very fraught moment for you. But it sounds like you had stored up some resentment by that point, that you were ready for something else.

Yeah that's exactly right. I mean it's, the really big difference is guys who are able to maintain the love for the game, and I don't think I've maintained that. I don't know if I've joked with some of my friends, saying that you're either really strong mentally or really weak mentally to be able to maintain that, because you either don't see what's going on around you, or have their strength to put that out of your mind. When I was a high school student, obviously like, to do anything I could for my team and the guys—that's the last time I felt like I was really on a team. When you get to the NFL—I had a great rookie season, and I was playing well, and they went and signed another player at my position for 30 million dollars, and then I was not allowed to start. My first contract was not a ridiculous amount of money, it was great money, but it wasn't life-changing, your grandkids will have these great opportunities kind of money. And that's why I wanted to come to the NFL. When I saw him sign this deal, and him get this playing time over me, I was very angry and I wanted to get that opportunity. As much as I wanted to win the Super Bowl, or play really well, I wanted to play well because I knew that if I could play well, I could get this extension, I could make this money, and then my kids can go to private schools. And so, it became more about that. Getting to the next transaction. Than it did about being the best player and supporting your team and sacrificing for your team, in the way that it was in high school.

Did you decide to retire, or was it forced on you?

I think I decided before it was forced on me. Like, I knew that I was done before they knew I was done. And then eventually they said, you know you're done. And I said, I know. Thank you for the opportunity, I'm sorry—I felt, it's crazy too, because I felt this great amount of guilt that I wasn't able to fulfill my contract. I didn't feel enough guilt to give them the money back, that's ridiculous. But I remember thinking, when I was a rookie and I was a third-round pick on a rookie contract, like, they owe me more money. I started half the season, played in a bunch of playoff games, made big plays, and played like a starter. And they're playing me like a third round pick. And I feel like, for my last contract, it was the opposite direction. And I tried to—in the same way I tried to rationalize some of my decisions in college, I tried to rationalize it like, well, the league as a whole owed me this money, or something like that. But it still didn't like, alleviate the guilty that I felt. But again, I wasn't that guilty. Because they're not getting the check back.

And are you, where you are financially right now, are your grand-kids set, or do you need to make some money?

Absolutely.

They're set.

Oh yeah. It's great. Love it.

How does that affect your decision making about life, when you're in your early 30s and don't need to worry about money?

It's a weird thing. Because there's—I think we all kind of say this, say like, well if I hit the lottery, I'm quitting my job. And I'm gonna travel and be on a beach all the time, and just hang out. And I can. But I don't—there's this, I did some reading recently about the hedonic treadmill, which is what I feel like I'm on. I had like a mini, mini existential crisis while in business school, because in my mind, I'm like, I want to go to business school—I want to become a billionaire. I want to take however many millions I have now, and turn them into hundreds of millions. Or billions. And that's just like how—why you go to Harvard Business School, right? But, when I got there, I was surprised, because that's not what they teach. They kind of teach, this like, more look for fulfillment. So there was a period there where I was like, what would really fulfill me? Do I want to stay home, be like a stay-at-home dad? And I came to realize that that's not what makes me happy. So like, the one thing that I got—or the couple things that I got from football that I realized that I want to continue to have in my life is, 1) relevance. And 2), competition. I remember when I, sitting and being honest with myself, like, you really liked the attention, didn't you? And it's not something you want to say, but it's like, yeah, I kind of did. And I liked having the platform. But I still think that somewhere inside of me, there's like, I don't like not being the big man on campus. And I don't want to be that anymore.

You mean you came of age at a time when your name was announced, people would cheer.

It's kind of ridiculous what—and I think I found, when I was having this existential crisis, what do I really want from my next job, what do I want for the rest of my life, the year between football and business school, I would just study all day, but I'd be around the house and I was not very happy. This does not make me happy, to not have a goal to strive towards.

Tell me about your wife?

She's awesome. She's crazy smart, because she's—private schools her whole life, both of her parents are doctors, and she had a different experience than me growing up. Which was very cool to have. I want our kids to have that perspective. But she went on to Harvard Law School, and I remember thinking, this is really great, I don't want a stay-at-home wife, that's not how I grew up. I thought that's what I wanted. So then we had kids. And that's not who she is. She's a stay-at-home mom, most of the time, and that works for us. I thought I wanted this kind of power relationship where it's two people who are just climbing to the top of everything, and I think I probably thought that because I was in the NFL. I like, feared that somebody was going to come and try and take advantage of me for my money. I wanted someone who also had earning power, I think that was probably like, subconsciously why I thought that. But that's not actually the person that would fit into my life. If I had this kind of alpha personality person around, and we would clash a lot, and who's going to stay home with the kids? That question's never asked with us, it's like, she wants to, I want her to.

Do you still want to make a lot more money?

I don't know, honestly. I think it's become more clear to me that the money is less important. I think the money, I don't live a crazy life. It's, most of my life is pretty normal. I've, the best thing about the money is having flexibility, and more than that is, for me at least, kind of gives you that kind of prestige and relevance that I'm looking for. People knowing that you have that money. Or people knowing that you have had success in the NFL is good. And I think, part of the reason why I want to make more money is because I think that, I don't like that people think—or I assume that people make assumptions about me, about what i'm able to afford or what I'm able to do is only based on me being an athlete. Whether it's true or false isn't important, it's just, I want to get to the point where I feel comfortable saying the things I've achieved financially, and the things I can afford in my family, is partially because of football, but even more because of what I've done afterwards, if that makes sense. So it's not actually about having the money or spending the money as it is about—

Respect—

Yeah, respect, and achievement. The achievement that comes with being able to be a success after football.

Do you enjoy watching football now?

Nope.

No? Do you just not watch?

Nah. I have a hard time watching injuries. It's difficult for me to watch guys get knocked unconscious. The strategy and the mental part of football, I still love. It's a lot more like chess, and these calculated decisions, than these other sports are. And I love that about football, and I love that about business, and I love that about chess. But, the play-by-play guys don't know what they're talking about, which is shocking considering there's so many ex-athletes, and maybe they just simplify it for the sake of the common fan, but I can't listen to them. Most of them. because they don't know what they're talking about, and it makes it hard for me to watch, like, no that's wrong. And I want to see the entire field, so I can, like, really analyze the chess match. TV copy, I can't—the angles that they have, what I enjoy about football, I can't see.
Domonique Foxworth lives with his wife and two kids in Cambridge while he goes to Harvard Business School. And if you're curious -- even though Domonique retired a year before his 28-million dollar contract was up -- he still got paid most of that money -- because the big payouts were front-loaded with bonuses.
Death Sex and Money is a production of WNYC. The team includes Emily Botein, James Ramsay, Jessica Miller, Chris Bannon, and Jim Briggs. Thanks also this week to Stephen Dubner.
The Reverend John Delore and Steve Lewis wrote our theme music.
We're on Facebook….I'm on twitter @annasale. If you like the show subscribe on iTunes, or your other favorite podcasting apps.
And you can email us at deathsexmoney at wnyc -dot- org. Send story ideas...or let me know if Domonique changed anything about the way you see football.
He says there's one thing he really misses about playing defense: beating Peyton Manning.
So, pre-snap you see Peyton making all these hard counts...making fake audibles…
He spent a full 3 and a half minutes recounting to me one single play:
"...and Ed's there to pick it off!

Interception!!! Whoo!!!

Outsmarting Peyton throughout the course of the game was so, so great.
I'm Anna Sale. And this is Death, Sex & Money from WNYC.
Copyright © 2019 New York Public Radio. All rights reserved. Visit our website terms of use at www.wnyc.org for further information.