Ellen Burstyn's Lessons on Survival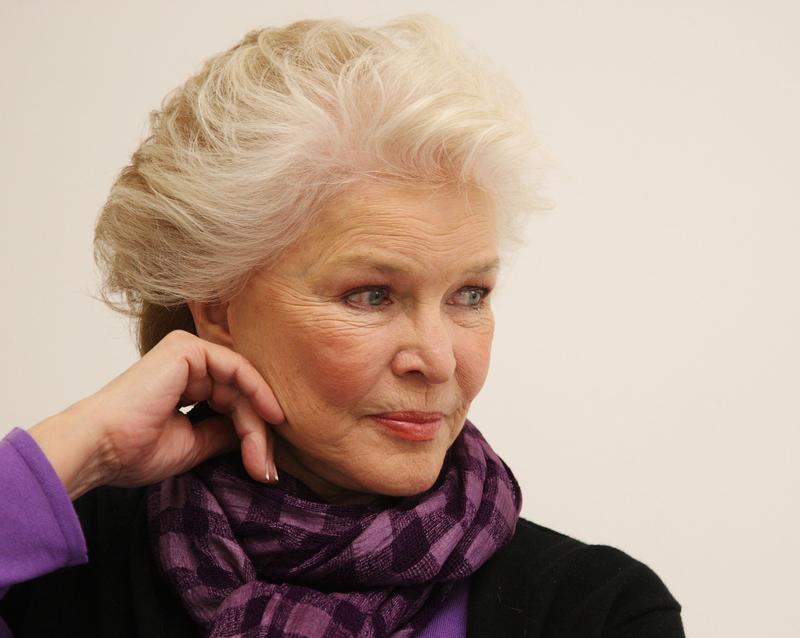 Transcript
Hi, it's Anna. And this episode with Ellen Burstyn is one of my all-time favorite Death, Sex & Money shows.
It's an example of what I'm proud that Death, Sex & Money adds to our world right now, when we need more conversations that are complicated, curious, honest, and sometimes uncomfortable.
And you know, one of the uncomfortable things I try to be direct about on this show is money—and I'm going to be direct with you about that right now. It takes money to make this show, for us to travel and report stories, to do live shows, to put together big projects like our student loan series. And your support—your pitching in with your fellow listeners—is our most important source of funding.
But right now, less than 0.3% of people who listen to Death, Sex & Money have donated. An even smaller percentage signs up to support us as ongoing sustaining members, which is the kind of reliable support that helps all of the shows here at WNYC Studios plan and grow. I want us to at least get to 1 percent of listeners of Death, Sex & Money. And I know we can do it! Join in and give what you can. Here is your chance to be part of the 1 percent!
So, if you like the show and want to keep it going, we need you to donate now. At a time when it feels like there's a lot going wrong with our world, I'm trying to direct my money to things I believe in. I hope Death, Sex & Money is one of those things for you.
So please, sign up to become a sustaining member of the show and chip in what you can every month, along with your fellow listeners. If you can give $8 a month, we've got a special new way for you to show off your Death, Sex & Money pride. More on that later. Go to deathsexmoney.org/donate, or if you're in the U.S, just text "DSM" to the number 70101 to get started.
Thank you for listening and for helping us continue to grow and build this Death, Sex & Money community.
Here's Ellen Burstyn.
ELLEN BURSTYN: See, everybody thinks acting is pretending. It's the opposite. You don't go to a great acting teacher to learn how to pretend better. You go to learn how to tell the truth. That's the hardest and most challenging thing to do.
This is Death, Sex & Money.
The show from WNYC about the things we think about a lot...
And need to talk about more.
I'm Anna Sale.
If you're a movie fan, you know Ellen Burstyn. She's in a lot of the greats. The Last Picture Show, The Exorcist, Requiem for a Dream. On TV, there's Big Love, Louie, Gunsmoke -- she even had her own sitcom in the 80s called The Ellen Burstyn Show.
You get a sense of her central place in acting history, walking the hallway of her apartment. The walls are lined with framed awards, certificates, and honorary degrees.
But the glitz of this public life stops at her bedroom door. And that's where we sat down to talk…in wicker furniture next to a huge picture window overlooking Central Park.
EB: I love to be among the plant world.
It's New York...so you can sometimes hear buses rumble by below...but it still felt like a warm oasis... comfortable, a little ethereal, even.
It's full of crystals, because they catch the light and reflect the light.
The fabrics are purples, aquas and white. And lots of plants. And at different corners of the room she set up different altars.
EB: I have Genesha and Saraswati and Jesus and Shiva. So there's a sacredness to this room. This room, which is full of light—some people choose a room to go to sleep in. Other people choose a room to wake up in. So this is a room to wake up in.
Waking up. That's what a lot of Ellen Burstyn's story is about -- the things she's realized over her 81 years. And there's so much good stuff we're going longer than usual this episode.
Waking up is also what my favorite Ellen Burstyn movie is about. Alice Doesn't Live Here Anymore is about a mom who is suddenly single and has to figure out how to make money to support her son. So she hits the road and leaves her small town behind.
When Ellen Burstyn made the movie, she had just left an abusive marriage, her third, and was raising a son. She won an Oscar for this performance.
I had to ask Ellen Burstyn first about my favorite scene. It's when her character Alice is flirting with David, this strapping divorced rancher played by Kris Kristofferson. They've just kissed for the first time.
AS: That scene in Alice doesn't live here anymore, where you're talking with Kris Kristofferson about who taught you how to kiss. Was that scripted or ad-libbed?

EB: That was scripted from a story of mine.

AS: So it was a real story about your brother teaching you how to kiss?

EB: Uh-huh.

AS: And teaching you wrong about how to kiss.

EB: Uh-huh.Yeah. My older bother was the authority on everything for me. I don't remember how it first got communicated that it was very important to squeeze your lips tight when you kiss somebody because you didn't want to get all sloppy and get spit on the other person. And then we went to see A Postman Always Rings Twice, and I quickly turned to my brother who was sitting next to me in the movie theater to see what he had to say about that. And he didn't flinch. He just kept looking at the screen, and I thought, hm that's very curious. I thought you're supposed to close your lips tight. And then a few days later, he said, Ed—that was my nickname then—I've been thinking, I think maybe you're supposed to open your lips a little when you kiss.

AS: So he called you Ed, you grew up—

EB: My name is Edna Rae Gillooly. And my nickname was Ed.

AS: What was little Edna Rae like as a little girl?

EB: You know I just realized the other day, I was picturing myself as a child, and I realized that whenever I picture myself as like a 7 to 12-year-old in that period, I always see myself in my Girl Scout uniform. I think I was pretty much a Girl Scout. And when I think about it now, I'm pretty much a Girl Scout.

AS: Well what do you mean?

EB: Having a sense of honor and integrity and doing the right thing and being kind to others and being helpful. A Girl Scout's always helpful. And I guess that's basically it, that's kind of my general ethos, is to be as helpful as possible.

AS: When I think about you, I think of someone who comes off as very warm and kind but your ironclad spine is always very clear somehow, even through that warmth, which is kind of interesting to think of Girl Scouts—not as meek, but as tough little girls.

EB: Yeah. Well I was tough because I had a tough mother. And she ruled with an iron fist. A psychic I met once, looked at me and said, ah yes, your mother was quite strong wasn't she. And I said yes. And she said him, it must've been like being brought up by General Patton. And it kind of was. So, it taught me to be strong.

AS: And not just strict but cruel, your mother sometimes.

EB: She had a temper, and when she got angry, watch out. And she got angry pretty easily.

AS: When did you realize you were beautiful, at what age?

EB: That's an interesting question. I don't think of myself as beautiful. I know that I get a lot of attention for my looks. The other day, I was doing a production of "The Cherry Orchard" at the Actor's Studio. And the director said his friend came to see it and all he could talk about was how beautiful I was. And John said, he kept wanting to hear about the direction, and he never got it. I said, you know when I was about 24 I decided to not base my career on my looks, but to be a serious actress, so I could have a long career and not have it fade when the beauty faded. And here I am 81 years old and now all I hear about is my beauty. I don't know what happened. There was a bend in the road somewhere. When I look in the mirror, I don't see beauty. When I look in the mirror, I see, who is that lady and where did she come from? What happened to the face that I think of when I think of myself. It's gone. I know I always got a lot of attention for my looks, so I guess it was there. But I never identified with it. Partly because I look so much like my mother. The beauty was always hers. So I had to develop other things that were mine.

AS: When you first started getting male attention because of the way you looked, did it feel exciting and like a source of power, or was it a little scary?

EB: Um, I think because I didn't have a father, I had a stepfather, I grew up with my stepfather mostly, who was very critical of me. And punishing. That I never had that sit-on-daddy's-lap experience. I never had the approval of the fatherly figure. And so I was always kind of looking to men to give me that. So I don't think I felt powerful nor did I feel scared. I felt like I needed it and was glad to get it. Probably not a healthy reaction, but that's what it was. I think an absent father—not ever having that experience of a man who just loves you because you're you—is a big detriment. I think it's very hard for women to overcome that. Thank god I got to Lee Strasberg, because when I got to him, he approved of me for me, and I hadn't ever had that. You know, without wanting sex from me.
Lee Strasberg ran the Actors Studio in New York. Ellen Burstyn wanted in. She called and asked for an interview, and that began a nearly 50-year relationship with the training school for actors. She's still co-president of the Actors Studio, with Al Pacino and Harvey Keitel.
EB: It was just a revolution in my psyche. A revolution or a revelation or both. What he really asked for was for people to be honest about who they were. And my whole journey had been to hide behind a mask of personality that I developed, you know. And he was in very subtle ways saying, that's not gonna work here. And it felt so vulnerable to be seen, but it's the beginning of my real life.

AS: When you left Detroit at 18 years old, and told your mother you were leaving, you were on your own, were you supporting yourself starting then?

EB: As a model.

AS: But were you paying all your bills?

EB: Oh yeah.

AS: Was that scary, leaving home and saying, I got this?

EB: You know, when I think about it now, I'm scared for me, then. But I got on a Greyhound bus and I arrived in Dallas, Texas, because somebody told me they liked my type there. And I checked into a hotel whose bill I couldn't pay, confident I would go get a job. Which I did. And the same thing, I arrived in New York with 25 cents. I don't know—I think I was stupid. I mean I was certainly naïve, but I just didn't seem to think ahead of what could wrong. I guess in a way I didn't have any fear. I guess. I mean when I think about it now, I wouldn't get on a bus and go to Dallas, Texas, and check into a hotel with, maybe 50 cents. And hope it'll work out alright. I don't know what I was thinking. But I just didn't have any doubt. I don't know what I didn't have, but there was something I didn't have. I wasn't afraid. I just did it, and thought it would all work out, and it did. So I can't explain that.

AS: Yeah, the forces were pushing you out were greater than any forces that would keep you there.

EB: Oh yeah there was nothing that was keeping me in Detroit. Not my family, or—I had wanderlust, is it wanderlust or wonderlust? I think I had both. I wanted to see the world, and I really wanted to go to as many places as I could, as foreign as possible, and see how the rest of the world lived. I had hunger for that. And I was modeling as a way to make money to do that. And I modeled for I think five years before I made up my mind to be an actress. I never had a lot of money, but I had enough to get by.

AS: So speaking of a young woman with wanderlust, you also in those early months, you discovered you were pregnant. And it was 1950.

EB: That was before I left home. I was still in Detroit. When I left home, I was 18. I think that was just before then. Yeah at that time, there were no legal abortions. And you could only get an illegal abortion. And that's not a pretty sight. There's nothing but shame connected to that. And although I don't recommend abortion to anybody, I don't think it's a good thing to do, at the same time if women are pregnant and don't want to have a baby under any circumstances to take care of a baby, they will get an abortion one way or another. And if it's illegal, they will get an illegal abortion. As I did. And it's a scarring experience.

AS: Did you go by yourself?

EB: Yes. I had no one. I had no one to go with me. That's not a good way to go. It's not a good experience. It's harmful. And I would always, if I had the opportunity, counsel somebody. A girl. To not have an abortion. To have the child and give it up for adoption. But, it has to be legal.

AS: Is that because of what you personally experienced, having gotten an abortion, that you advise against it?

EB: Yes. Yeah, I think it's a very traumatic experience. Not necessarily at the time. But later. It doesn't go away.

AS: When you were married to your second husband you were trying to have a child and you discovered you were not able to have a biological child. Was that related at all to the—

EB: Oh, totally.

AS: It was.

EB: Oh yeah. The illegal abortion just botched me, so I couldn't ever get pregnant again. That was a part of the trauma.

AS: You adopted your son.

EB: Mm-hm.

AS: How did you find your son?

EB: Through a lawyer. I remember when I was in Iran, I was talking to this teacher, spiritual teacher, and he said, sometimes our children are our spiritual children. And sometimes our children are not our spiritual children. If we saw them on the other side we wouldn't recognize them, we'd walk right by them. I don't know that that's true or not. But I do have the feeling that my son is my son. He is my son, period. There is no difference between when you mother a child—I mean I was astonished to learn that mother is a verb. You know, that's when you mother a child that a relationship is formed, and you become the noun then. You become the noun by doing the verb.

AS: And you've been in each other's lives since he was born. Since early.

EB: Absolutely. Since the day he was born. He's 52 now. Can't believe it.

AS: How did you, when you were working as a mother, what was your childcare?

EB: Well, depending on where I was working, for instance, when he was a baby, I was in Hollywood. And I had a nurse who came and she often brought him to the set. I remember he was about 8 months old and she brought him to the set. She was holding him and I was in the make-up chair and the make-up artist hit me in the face with a powder puff and he started crying. Because it looked to him like I was being attacked. And later I took him with me, with tutors. And then after "Alice Doesn't Live Here Anymore,"he was with me. He was in it. He played the little boy next door. After that, he told me that he didn't want to travel with me anymore, that he found that when he got back, new cliques had been formed. And he was out. And so although it was very good for him as far as his schoolwork went to have a tutor, socially it was a problem. So from that point on, he stayed home with whomever was my housekeeper at the time. And tutor, if he needed it. That was his choice.

AS: So you became Ellen Burstyn in midlife, how old were you when that became your name?

EB: In my 30s. it was my husband's name, I took my husband's name.

AS: Your third husband Neal.

EB: My husband Neal, yeah, my third husband.

AS: What were the first years of marriage like, how do you remember those years of your marriage?

EB: Well he was a lot of fun, he was younger than I was, and he was talented, he was a writer and an actor. More successful as a writer than an actor. We were in acting class together, we auditioned together for the Actor's Studio, I got in, he didn't. But we, right after we got married, we got into the 60s, so there was a lot of pot smoking and drinking and partying. We had a very good time. But then he got into LSD and it seemed to have triggered a latent psychosis and he became permanently psychotic. And then it was hell from that point on.

AS: So did it feel like overnight he became sick?

EB: No, it was a period of about a year I would say when he was doing LSD and smoking pot. And he just started to get ideas that were eccentric. But then they got more and more bizarre. And he had a friend who he decided was Jesus, and he was John the Baptist, and he had a whole mythology created. And then it just evolved into a really serious mental illness.

AS: And when did you realize that you weren't safe?

EB: I realized I wasn't safe when he kept his hands around my throat all one night, threatening to kill me. That was a pretty good clue, wasn't it? And I started having to stay away, move, have protection. So forth.

AS: Was that when you were still married?

EB: Mm-hm.

AS: And when that happened that night, was it clear to you that was a line that had been crossed and you needed to get you and your son away, or was it—

EB: Well, when I read my diaries, I was shocked to see how I would read something like that and then two days later, I read an entry that said, I guess my husband is a crackpot, but he's awful cute. And when I read that I went, what is the matter with you girl? What does it take? So it was a series of those kind of things, until finally it was just, couldn't be ignored anymore.
Coming up, what happened when Ellen Burstyn finally left her husband, when laws didn't yet recognize domestic violence.
--
I did this interview more than three years ago now, and I think about moments from from it all the time. We've had Ellen back on the show since - she hosted an episode when I was on maternity leave last year. She interviewed her pal Gloria Steinem. If you missed it, there's a link on our website and in our show notes.
One moment from this episode with Ellen Burstyn that has stuck with me is coming up...she describes how she spends her rare days off. She declares them "a should-less day."
I have tried to seize this in moments of quiet, to allow myself to appreciate leisure, and slowness...to not pick up my phone.
It's not easy.
But now, we have a new tool to help us GO SHOULD-LESS: the world's very first Death, Sex & Money mug. It declares, "I'm Having a Should-less Day." I can't wait to curl up on a couch with this mug in my hands. You can see a picture of it at deathsexmoney.org/donate.
That's where you go to support our show and get that mug, when you become a member with a contribution of $8/month. If you are already a Death, Sex & Money member, THANK YOU, and you can still get a mug. Details are at deathsexmoney.org/donate or just text "DSM" to 70101.
Thank you so much.
On the next episode… our live show from Los Angeles with Niecy Nash, Alia Shawkat and Terri Coleman...about what we learned getting through our 20s.
---
This is Death, Sex & Money...I'm Anna Sale.
Ellen Burstyn divorced her third husband, Neil Burstyn, in 1972. He struggled with mental illness, and was violent. But it was a very different time when it came to protections for abused women. It wasn't until 1977 that New York passed a law allowing a married victim to bring criminal charges against a spouse.
So Ellen didn't feel safe, and she was very much a public figure who often acted on stage in front of dark audiences she couldn't see.
AS: How did you protect yourself?

EB: Well, I kept my whereabouts hidden as best I could, and he would find me. Things like opening night on Broadway for "Same Time Next Year," I had to have detectives. I could never be alone. I kept people around me, I had other people live with me. It was about ten years of that, I just couldn't, I could never be alone.

AS: And as a woman, as you're experiencing this in your marriage, it's prior to a lot of the policy changes that came out of the women's movement, in particular around protecting wives who were being abused or who were under threat from husbands. Did you feel like the authorities were appreciating that you were threatened in your marriage?

EB: Oh not at all. When I called the police, they said, we don't mix in household problems. And I said, he's threatened to kill me. And he said, no we don't respond. And I said, well what is it you do? And he said we apprehend criminals, when a crime has been committed. And I said, you mean, I should call if he actually kills me. And he said, that's right. He was perfectly, when he raped me, he was in his right to rape me. There was no such thing as a law against somebody who's legally married, even though we were separated, he had the right to my body. The police—oh, domestic affairs, we don't mix in domestic affairs, that's what they said.

AS: Did you report the rape?

EB: No. You don't. I mean he had the right to it. When we separated, and I had the car, the insurance was in his name, and I called to have it changed to my name, and they wouldn't, it was denied. I told them my husband was in a mental institution at the time. That we were separated and going to get a divorce and that he was mentally ill, not driving the car, and I was driving the car, taking my son to school. And I needed the insurance in my name. No, it was denied. Why? On three bases. First of all, you're a woman—oh, you're a greater risk. On what basis? You're a woman. You're going through a divorce. And I said, wait a minute, you're telling me that you know my husband is psychotic and in a mental institution, but because he's a man, he's at less of a risk than I am? Who is paying for the insurance and paid for the car and is the full support of the family, but I'm a woman, so I'm the greater risk? And he said, what I'm telling you is, we're not going to accept the transfer of insurance. And that was it. So I had to keep it in my husband's name, and pay, even though he was in the mental institution. That's the way the law was then. So that's, out of that came "Alice Doesn't Live Here Anymore." The realization of a woman as a human being, not an appendage of a man. That line I put in—it's my life, it's not some man's life I'm helping him out with. That's what I learned in that period. Because I certainly had it in my head as I grew up that I was an assistant person to a man.

AS: Alice doesn't leave her abusive husband, though. He dies.

EB: Well, I didn't leave my abusive husband until he went crazy.

AS: So you're the breadwinner for your son at this point, making the money.

EB: Always did, by the way. Even before my husband got sick. He never had very successful career, so I was always the supporter of the family.

AS: Did you get to make the money decisions?

EB: I can't remember exactly. I remember one night coming home, I had been shooting all day at a television show and I worked 12 hours. 12 hours is a long day. It's the way it is in the movie business. And I came home and I walked in the door and my husband was sitting in front of the television watching a sports event. Baseball game or football game, something. There was a huge ashtray beside him, full of butts, and some empty beer cans. And when I walked in the door, he said, hi babe, what's for dinner? And I remember just having this little moment of, what's wrong with this picture? But I wasn't sure. I was like, um, I couldn't put my finger on what was wrong there. It changed.

AS: But still I think, for me, I was born in 1980. That sense of, something feels off but I can't quite articulate what it is. It took some learning to be able to articulate when something feels off. I don't think that that's gone away for women.

EB: I think that we have a natural impulse to serve. We like to serve a man dinner. We like to get up and give him a cup of coffee. But that leads us down a path where it gets taken for granted. As though we are supposed to, as opposed to, we want to. One has to learn that. It's not an obligation. It's a gift. That we want to give. But if it's not received as a gift, but as a duty, one starts to get their hackles up after a while.

AS: Are you currently in a relationship?

EB: Not currently.

AS: How do you like it?

EB: Well, it's good to be in relationships. I like having love in my life. I don't seem to have been so successful at it, having had three husbands. And I've not counted lovers. But certainly more than one. But at this age, 81, I can't imagine sharing a space with someone. I think I'm past that. I can imagine having a companion, you know, who lived nearby in his own apartment. But not having that, it's okay too. Because I have a lot of love in my life. Especially my son. And Zoe who walked over just as I said that. And my friends. And to me, what's really important is having love in your heart to give. And I have that. So it's alright.

AS: When your third husband committed suicide, what did it feel like for you?

EB: Well after all of the years of his mental illness and his stalking, and breaking into my house—all of that. It felt like an enormous relief. I was very grateful to him for ending it. He couldn't end his madness. He couldn't control himself. I thanked him for releasing us from the torture of his madness.

AS: That's a—you thanked his spirit is kind of, he released you and your son, and released himself from the madness, is a magnanimous way to say you that felt relief.

EB: I did. I had to. I was afraid for my son and for myself. I don't know how many years, ten, more than that. It had to be a relief. I mean I felt profoundly sad at his illness. Deeply full of grief for the beautiful soul he had been before the illness. He was a funny, charming, talented, adorable guy. The tragedy was the mental illness. Not his suicide.

AS: How old were you when your mother passed away?

EB: I don't know, in my 50s? 60s? Somewhere in there.

AS: She saw you achieve great success in your career. Did you, what was your relationship like at the end of her life?

EB: Well it was always difficult. I think in her later years she was very regretful of how violent she had been when we were kids. As she said to me one time, "Well I'd never do it again now that I see how much trouble it caused." And the trouble it caused was a rift in our relationship that was un-healable. I mean I always saw her, stayed in touch with her and went to visit her and was as dutiful a daughter as I could be. But there was so much trauma. Physical abuse. For my whole childhood. That it doesn't make for a cozy warm relationship. I know she did the best she could. She always said, well we always had food on the table and a roof over your head, didn't you? Well that's true. But the love was absent. And that's, that becomes material you have to deal with in your life to transform. When you look at the stuff that got put into you, and didn't get put into you, you say okay, this is what I have to work with. This is the lead that I have to turn into gold. And you either get passed it and grow up and say okay, I guess I'm going to have to mother myself, and father myself, and learn how to do it, or then you're unhappy for the rest of your life. That's not a good choice. So forgiveness is all, hanging onto regrets and anger and resentments, it just makes you a nasty person. So.

AS: You're a grandmother. How many grandchildren do you have?

EB: I only have one grandchild. One son and one granddaughter. Emily.

AS: Where do they live?

EB: In Rockland County, where I used to live. About an hour away.

AS: What do you like to do with your granddaughter?

EB: Well she's a teenager, and she texts a lot. She texts all the time. I took her to Washington and we had a tour of the White House, the private quarters, the oval office, everything. And then we went out to lunch. And she was texting. So I texted her. And said, are you enjoying your lunch? She looked up startled. I said I figured that was the only way to communicate. She's very smart, she's very bright, and she's a lovely girl. But she's a teenager. And that's a whole type of human being for a little while. I'm sort of wading on the end of the teenage years, and hope this human being would appear who doesn't only text. Actually talks directly to you.

AS: So you're 81 years old. You are quite busy with work.

EB: Very busy. Yeah.

AS: Why work so much at this point in your life?

EB: I'm good at it. And it feels good to do things that you're good at. You know? Things that you've developed and learned and perfected to the best of your ability, it's your vehicle for excellence. And that feels healthy. I like working.

AS: And when you come to a day off after many days of working, what do you do?

EB: I'm very lazy. I have what I called should-less days. Today is a day where there's nothing I should do. So I only do what I want to do. And if it's nap in the afternoon or watch TV, and eat ice cream, I get to do it. I had that kind of day yesterday.

AS: Should-less. I like that.

EB: Should-less days, I recommend them. Because, what I figured out is we have wiring. I have wiring in my brain that calls me lazy, if I'm not doing something. God you're so lazy—can't imagine whose voice that is? And that wiring is there. I haven't been able to get rid of it. But what I can do is I can put in another wiring, I can put in should-less days, so when that voice goes off and says you're being lazy, I turn to the other wiring in my brain that says, no, this is a should-less day, and I'm doing what I want.

AS: I'm following the rules of a should-less day.

EB: That's right.

AS: I love that. So when you think back on your career. When you think back, you're 81 years old this year, what do you feel really proud of?

EB: The thing I'm most proud of is that my son is the most outgoing, loving, available, good-hearted, fine human being, that somehow, with all of the turbulence in my life, and all of the unconventional upbringing he had, I didn't ruin him. He survived it all with grace. And he's somebody, I'd rather be around him than anybody I know. We have special days we take together and go to the museum or whatever, and there's nobody I enjoy being with more than him. And I'm proud of him that he survived my life. And I'm proud of our relationship, that it's so deep and solid and beautiful. So I would say that's the one thing I can feel pride about and not be embarrassed to feel pride.

AS: When we first sat down and I told you the name of the show, you perked up when I said it was Death—was the first word. What does that sort of bring up for you at this point in your life?

EB: Well, of course when you're 80—you see that row of pictures over there? They're all dead. The important men in my life.

AS: Who are they?

EB: The first one with the car is my older brother Jack who taught me how to kiss. The second one, Steven Arnold, an artist, incredible artist, close friend who died of AIDS. The one in the middle is my brother Steve who died three years ago if I've counted the years right, I lose track of timing easily. The next one is Brujoy, who I studied healing with when I was working on Resurrection, and it became a close friend. And the last one is Henry Madden, who was a lover for about five years. And they're all men that I was really close to and really loved. When you're 81, a lot of people have already died, you know. As somebody said, they're calling our class. My younger brother Steve's death was the hardest thing that I ever experienced in my life. Because we were very close, I adored him. When my mother, after she gave birth to him she had problems that eventually meant that she had to have a hysterectomy. But for the first 8 months of his life, she was bedridden. So he was my baby. So he was in my bedroom, and I did the 2 o'clock feeding in the morning and changed his diapers, so we were very very close. He died of cancer when he was 70, and I was, my son and I were both there. I would not have known how to love as much as I do if I didn't have that baby brother. And it is a bigger mystery than death. And of course you always, once I passed 60, the way I felt was like, you're looking down a tunnel and there's a light at the end of the tunnel and you realize it's getting closer. I Wonder if Mary Oliver would let me read her great poem, When Death Comes.
At this point, Ellen stood up and left the room. She came back with this big scrapbook.
AS: This is beautiful, when did you make this book?

EB: A couple years ago.
We looked through decorated pages, some with pasted pictures of the Hudson River.
EB: That's where I lived in Rockland County.
Other pages with typed poems on them. And then she got to Mary Oliver's.
EB: Okay ready? When Death Comes by Mary Oliver. When death comes like the hungry bear in Autumn, when death comes and takes all the bright coins from his purse, to buy me, and snaps the purse shut. When death comes like the measle-pox, when death comes like an iceberg between the shoulder blades, I want to step through the door full of curiosity, wondering, what is it going to be like, that cottage of darkness? And therefore, I look upon everything as a brotherhood, and a sisterhood, and I look upon time as no more than an idea. And I consider eternity as another possibility. And I think of each life as a flower, as common as a field daisy, and as singular. And each name, a comfortable music in the mouth. Tending as all music does towards silence. And each body, a lion of courage, and something precious to the earth. When it's over, I want to say, all my life I was a bride married to amazement. I was the bridegroom taking the world into my arms. When it's over, I don't want to wonder if I have made of my life something particular and real. I don't want to find myself sighing and frightened or full of argument. I don't want to end up simply having visited this world. Isn't that a great poem?

AS: That's beautiful.

EB: I don't know what you're going to do with all the sirens in the background.
Even as Ellen Burstyn read a poem about mortality and talked about her own death, she was still aware of the scene was unfolding. She's not just an actress. She's also a director.
So I probably shouldn't have been surprised when a few days after we talked, I got word: she wanted me to come back.
So I went...
EB: Hello, so good of you to come back!
And she quickly ushered me back to her bedroom.
EB: Ready?
She had something else she wanted to say.
EB: That was such a good question you asked me, how do you think of yourself. And I realized after you were gone that I had never asked myself that question nor had anyone else. And i answered you kind of superficially, because I just realized that I had pictured myself in my Girl Scout uniform, and I was amused at that, but that's not really a full answer. That's kind of a complimentary answer, being a good girl. And everybody's more complex than that. Everybody has the side that their ego likes to see, and their shadow side that they don't look at very often, or don't want to see, and when I started thinking about that, I thought, you know there's this whole side that I don't normally admit to, being bossy and driven and really ambitious, and wanting things my way. But the fact of the matter is, I really think of myself, when I ask myself that question, as a work in progress. You know? That I'm a student of life. That's what I love best, is learning. That's the most important thing in the world to me. And growing, and being open to what life is teaching. Someone in process, I've done the most with what I was given that I could—well, I probably haven't done the most. But I've tried to do the most. And failed a lot. You know? I know I'm a successful actress, but I don't feel I'm necessarily a successful person. You know? I still have a lot of areas that need work. But I do strive to be better, and to learn what each stage of life offers. For development. And I don't know if I talked before about letting go, that's the big lesson for me. That's a Buddhist concept of always letting go, not grasping on to what was, what you hoped to be, your expectations. Your ideas about yourself. But with each moment being present in the moment and letting go of everything else. And that is where I am in my life now.

AS: You know it makes me think of the Girl Scout, on the one hand, and then the should-less days you talked about on the other hand. This mix of trying to be good, and then also trying to teach yourself that there are some days that you just don't have to do anything but be.

EB: Right, that's very good. And it's well said. I hadn't put it together like that. But that's what I meant when I said I'm overly ambitious. I'm always striving, you know. Striving to be better.

AS: Moving, hustling, not sitting, yeah.

EB: Yeah. So the letting go is a should-less day. That's very good.
That's Ellen Burstyn. She's currently on stage in New York in a production of As You Like It, through October 22. She's also making her directorial debut this year, with the movie Bathing Flo.
Death, Sex & Money is a production of WNYC Studios in New York. I'm based at the Center for Investigative Reporting in Emeryville, CA. Our team includes Katie Bishop, Anabel Bacon, Emily Botein, and Andrew Dunn. Thanks to James Ramsay, Jessica Miller, Jenna Weiss-Berman, Jim Briggs and Anne Squadron for their help with this episode.
And we need your help in order to make this show—join in with your fellow listeners with a donation at deathsexmoney.org/donate. Get yourself an "I'm having a should-less day" mug!
The Reverend John Delore and Steve Lewis wrote our theme music.
I'm on Twitter @annasale, the show is @deathsexmoney. And we want you to
One last thing from Ellen Burstyn: inspiration to water your houseplants.
EB: I've learned a lot from my plants. I learn that if a plant's not growing, it's dying, and that growth is a state of health.
I'm Anna Sale, and this is Death, Sex & Money from WNYC.
Copyright © 2019 New York Public Radio. All rights reserved. Visit our website terms of use at www.wnyc.org for further information.
Music Credits:
"Through the Night" by Kenneth J Brahmstedt from BWN Music
,
"Cellar" from BWN Music