Ellen Burstyn & Gloria Steinem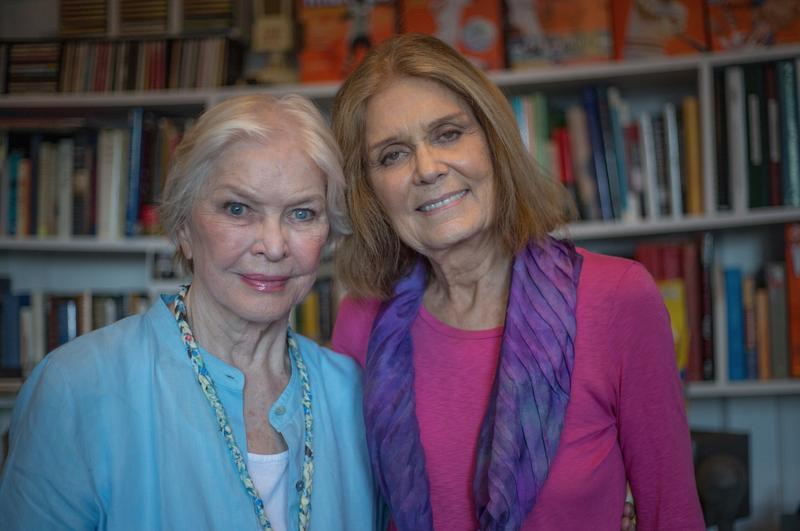 Transcript
ELLEN BURSTYN: So Gloria, I loved your book.

GLORIA STEINEM: Oh.

EB: I just loved it. You're such a good writer.

GS: You know, no writer wants to hear anything but that. Now I'm your slave for life. (Laughs)
This is Death, Sex & Money.
The show from WNYC about the things we think about a lot…
…and need to talk about more.
I'm actress Ellen Burstyn, in for Anna Sale.
EB: I'm going to put on my hearing aids on...
And today, I'm talking to one of my heroes, Gloria Steinem.
EB: ...which I only do for special people like you.
For many of us, Gloria Steinem represents the women's movement. She was a founding editor of Ms. magazine in 1972...
EB: I brought the Ms. magazine for, I think it's 1975, when I'm on the cover.

GS: Oh!
...and has spent decades crisscrossing the country—and the world—to make women's voices and lives heard.
EB: Well, you're living alone now. We're in our 80s. I live alone. You live alone. How is that for you?

GS: Well it's - it's not very alone actually because I - I want my own space. I never ever, you know, whether I was living with a man or married, I never gave up my space, my apartment. It's also true that I have a guest room and a bath, which means there is a kind of Steinem Hilton aspect of my apartment, of people coming and going. And also treasuring being alone. Both.

EB: I have found that I need solitude. What do you do when you're alone?

GS: Well I answer my emails. I read, I...I sometimes get up and dance to music for a minute or two.

EB: Do you?

GS: Or I do yoga and stretching. Or I -

EB: I have to work to be in as good a health as I am. Do you? Do you work at it?

GS: I'm beginning to have to work on it. Yeah. I've been lucky so far.

EB: You don't smoke.

GS: No. It made me sick to inhale, fortunately.

EB: And drinking? Do you drink?

GS: No, I'm not interested. I'm an ice cream person, not an alcohol person. Sugar is my problem, not alcohol.

EB: That's not a good problem. I mean, something to address.

GS: Right.

EB: During the 60s and 70s everybody was doing drugs, did you do drugs?

GS: No I didn't. You know, I think that age-wise, I just slipped right through. I was a little young for the alcohol generation and a little old for the drug generation. And I just slipped through there.

EB: Well that was clever of you.

GS: Did you fall into one or the other?

EB: Oh, I drank quite a lot. And I smoked dope a lot. I took LSD twice but it was a waste of good drugs because I just cried the whole time. And then at a certain point I just had had enough and I stopped all of it. And I'm so much better now in every way that I don't. I mean, here we are in our 80s working, healthy, thriving. And it's a miracle to me.
And that's what it does feel like—to be here and to look back on all we've done. Gloria's been doing a lot of this lately. Her book My Life on the Road came out earlier this year. It looks back at over four decades of travel as an activist and a journalist.
EB: When you were a little girl did you say, "I want to be a writer when I grow up"?

GS: I – I don't know if I said it that way, but I was in love with Little Women and Louisa May Alcott, and I lived in books.
But she says she didn't spend a full year in school until she was 12 years old. Gloria's father was a traveling salesman, and spent most of his life on the road buying and selling jewelry and antiques. Gloria said she learned to read from road signs.
GS: My mother told me that I was always scribbling nonsense and saying, "Look I'm writing!"

EB: You know, I heard a writing teacher say once, "I can teach you how to construct a story. I can teach you how to construct a paragraph. I can teach you how to construct a sentence. But I can't teach you how to have something to say." When did you begin to feel that you had something to say?

GS: I remember in a momentary contact with something like the fourth or fifth grade because—I say momentary because my family then would, you know, leave for Florida or California. We were living in a house trailer, so I would go to school until Halloween, say, when it got cold. Or maybe it was Thanksgiving because I remember writing a Thanksgiving poem, and I remember the teacher saying, "You couldn't have written that that. Somebody else must have written that." And it so hurt my feelings that, you know, it kind of set me back as a writer.
Gloria's mother had also been a journalist, but depression took over. Gloria says that her mother spent two years in a sanatorium. She described her mother as someone who was afraid to be alone; someone who couldn't hold down a job or even concentrate long enough to read a book. Her parents separated when she around 10, and Gloria became her mother's main caretaker.
EB: Do you look like your mother?

GS: Um, a little bit. I have her nose. A missionary nose, as she always said. Points the way to heaven.

EB: You know, the two of us have been blessed with the gift of beauty from our mothers, I assume. Did you have an awareness as you walked down the street that you were an attractive girl?

GS: I thought that if I made an effort—I knew that if I made an effort, I could be a pretty girl. I never was actually called beautiful until I became a feminist and that so lowered the standards.

EB: You're so modest.

GS: No, really.

EB: Well I remember when I first heard about the women's movement, and I was totally, you know—men were the boss and they were the smart ones, and they were the ones that made the world happen. And, so anyway, when I heard about the women's movement secondhand, I kind of had an attitude about it. And then I saw you on television and I went, "Oh, she's beautiful!" And then I started paying attention. And I say this because I think it's important to know that the patriarchy has been very successful in brainwashing not only men but women.

GS: Yes, absolutely. I was kind of worried by this idea that I was only getting attention not because I was saying something worthwhile but because I was a pretty girl. And finally one wonderful old woman—probably younger than I am now, I don't know—but anyway, stood up in the audience and said to me as we were discussing this very thing. And she said, "Honey, it's important for somebody who could play the game and win to say the game isn't worth shit."

EB: Oh, that's great.

GS: And I thought, "Oh good. Now I have a purpose." (Laughs)
Gloria and I are nearly the same age—I'm one year older—and we both came out of the Midwest: she, from Ohio, me, from Michigan. We were both born at the end of the Great Depression. We both voted for Adlai Stevenson the first time we voted for president. We both landed in New York. I was here studying with Lee Strasberg at The Actor's Studio. Gloria established New York as her home, from which she traveled.
EB: The one thing that is very different about us is that you had a loving and supportive father. And when you talked about the fact that your father was interested in what you had to say and sought out your opinions, I realized in reading that that the first time anybody—man—was interested in anything I had to say was Lee Strasberg when I was already 32 years old.

GS: Oh, that's fascinating. No because, I think it's so crucial to have the first male human being you know, you know, be somebody who listens to you and takes you seriously. Because otherwise it's really hard to know that it's possible.

EB: Well it certainly was for me. Whereas what was comfortable to you was always kindness from a man—I was so moved by that.

GS: Yes. No, I realize my father was kind and funny and listened to me and treated me like a friend. He was completely kind of irresponsible about money and all of that. But that matters so much less, and actually it was kind of good in the long run as a good training for being a freelance writer.

EB: When did you learn about money and how did you learn about money?

GS: Well, you know, thanks to the fact that my father also never had a job and was always, you know, making deals and, you know, never...His philosophy of life was that if you don't know what's going to happen tomorrow that's a good thing, because it might be wonderful. (Laughs.) So I was being a freelance writer and not having any money to save, and assuming that I would be a bag lady. Did you ever think that?

EB: No. Not for a moment.

GS: I was sure I was going to be a bag lady.

EB: No kidding. What would make you think that?

GS: Well, I just couldn't imagine that I could continue to support myself. I mean, I was supposed to get married and have a man to support me. But that seemed to be a kind of hard bargain.

EB: You really didn't want to get married? That was an active thought, that you didn't want to get -

GS: Well it wasn't - I wasn't that smart. I just kept putting it off. I kept saying, "Yes, I'm definitely going to do what society says I have to do because there's no choice." And fortunately the women's movement came along and said this amazing thing, which is, "Not everyone has to live the same way."

EB: Yeah.

GS: And that was like a blessing.

EB: I was so impressed with the fact that your book is really telling other people's stories. And yet we get to know you better through the telling of the stories by what you choose to tell about people.

GS: Part of it—if being a journalist first means that you're supposed to not tell your own story and tell the stories you see, it's a little hard to get over that. And then I realized, no wait a minute, I have to go back and put myself in it as the seer because I am the stand-in for the reader.

EB: Well, it's the context. I mean, for instance, you being on the bus—third-class train in India with the Indian women. Where did you get the courage to travel through India? At one time, you said, with a sari, a cup, and a comb? I immediately went, "No moisturizer?" Was it an ambition? Was it a drive to understand? What was propelling you?

GS: There were both positive and negative things. I mean, for instance, I realized in later life that most people feel safe at home and maybe not so safe outside. I was always the reverse. I felt not so safe at home because I was a small person looking after a big one, that is, that my mother was not well and I was often her caretaker. So I felt the world outside the home was safer. So I got it reversed. And that probably helped me, you know, go off to India too. Also I was escaping because I was engaged and I...to a very nice man. I knew I should - you know - it would be a mistake if we married. And anyway, marriage seemed quite like death, you know. So it didn't feel like it took courage. It felt like it was more free and more safe than the alternatives.

EB: Mmhm. I just wonder what makes each of us want to do something that, you know, nobody else is doing. That drives us forward. I mean, I know when I set out from Detroit on a Greyhound bus to go to Texas, of all places, with enough money to get there and arrived with 25 cents—when I think about that now I think -

GS: Okay, well why did you do that? What made you make that decision?

EB: I wanted to see the world. I say, "I was flinging myself at the world." That was the feeling. Like, "Here I come!" And without fear and I don't know where that comes from. You're very confident and I understand your confidence from your father. Or are you very confident? Is that a fair description?

GS: Well, I-I don't know if...let's, how shall I say...I have confidence in the possibility of connecting to other people. I never had confidence that I was, you know, going to be successful or have a lot of money or, whatever in those terms. But I had the kind of chutzpah. I remember thinking when I was a teenager, because all the news of the concentration camps, you know, was still very fresh then. And some of my relatives who I did not know, but anyway, had perished in concentration camps. I remember thinking with incredible unrealism and chutzpah—I can't believe I thought this—that if there, if there was only one survivor I would survive.

EB: Wow.

GS: I mean, that makes no sense, of course, because nobody in those camps was in control of their, you know—other people were in control. But you know being—having a childhood in which you grow up too soon and kind of have to take care of somebody else does give you that feeling of being a survivor. You know you can do that.

EB: That's what we have in common. We're both survivors.

GS: Yes, right.
Coming up, Gloria and I talk about getting older...and what comes next.
GS: I feel so heartened by young women now. It's just—I mean the only way I can say this that I've finally tried to express what I feel is that I just had to wait for a lot of my friends to be born. You know, because there they are, you know, with more daring, and more courage, and just unquestioning ability to say that this makes sense and that doesn't. It's great to see.
—
EB: Anna, are you there?

Anna Sale: Hi Ellen.

EB: How are ya?

AS: I'm good, how are you?

EB: I'm very well, thank you, but you've had a baby since I last saw you. What did you have?

AS: That's true. I had a little baby girl.

EB: What's her name?

AS: Her name's June. She's named after my mother.

EB: June is such a nice name. You don't hear that name too much any more.

AS: Yeah.

Baby June: [Sounds.]

EB: I hear that little June in the background.

AS: You hear her?

EB: I do. Hi June!

AS: She's saying hello.

EB: I have real, desperate baby hunger so maybe you'll let me come visit her someday.

AS: Of course. The invitation is open.

EB: I just, I just need to hold a baby's foot. You know?

AS: That makes me think about something you told me in our first conversation, when we were talking about your son. And you said this beautiful line, you said, "You become the noun 'mother' by doing the verb, by 'mothering.'" And I just thought about that so much in the last few weeks and months, feeling clueless in moments but then realizing, "Oh, I'm just doing the verb and that's making me the noun." It's just really something that's echoed in my mind.

EB: Yeah. One of the wonderful things about motherhood I found, it's very intense. You're so focused on keeping that child safe and well-fed. And all of your attention and energy and effort is focused on that one little being. And then later when, you know, after he or she is a grown up person and you're on with other aspects of your life, you find that you have these little snapshot moments that you treasure forever. Like, I remember the first time I saw my baby cry, and I remember the first time I saw him smile. I was feeding him and he made a face and I just said, as part of the patter that goes along with that process of feeding, I said, "Ah, you're putting me on." And he laughed at that! And I thought, "Where did you get that sense of humor?" And that's a little snapshot I carry with me. You don't realize as you're doing it that those are happening, and that they'll be a part of you forever.

AS: You're making me cry Ellen while I'm on, you know, I'm on maternity leave. So I'm on this like, in this very intense moment. So to think about flashes of this time coming back to me over years and years from now is just kind of overwhelming.

EB: Well, that's what happens.

KATIE BISHOP: And this is what's gonna happen next! I'm Katie Bishop...


CHESTER JESUS SORIA: And this is Chester Jesus Soria.

KB: We are Death, Sex & Money's producers and we want to say thank you so much to Ellen Burstyn for guest hosting this episode.

CJS: And if you missed any of our other guest hosted episodes with Sonia Manzano, Chris Gethard, and Diane Gill Morris, you can find all of them on our website and that's at deathsexmoney.org. While you're there, make sure you sign up for our newsletter.

KB: And, the news you've been waiting for...Anna is returning from maternity leave very soon, so look out for a brand new episode with her back in the host chair in just a few weeks.

CJS: But until then, we hope you go back and listen to some of our favorite episodes. We've created a playlist just for you. You can find that on our Facebook page at facebook.com/deathsexmoney.
—
This is Death, Sex & Money. I'm Ellen Burstyn, in for Anna Sale.
EB: Can I read that dedication?

GS: Yes, absolutely.

EB: This is how Gloria dedicates her book called My Life On the Road. It says, "This book is dedicated to Dr. John Sharpe of London, who in 1957, a decade before physicians in England could legally perform an abortion for any reason other than the health of the woman, took the considerable risk of referring for an abortion a 22-year-old American on her way to India. Knowing only that she had broken an engagement at home to seek an unknown fate, he said, 'You must promise me two things. First, you will not tell anyone my name. Second, you will do what you want to do with your life.' Dear Dr. Sharpe, I believe you, who knew the law was unjust, would not mind if I saved this so long after your death. I've done the best I could with my life. This book is for you." I wonder how many of us can say I've done the best I could.

GS: Oh, surely you of all people, and many many more. I mean the best I could doesn't mean we didn't make tons of mistakes and take detours that made no sense.

EB: Do you have regrets?

GS: Yeah, no, I do have regrets.

EB: What do you do with regret when it rises up?

GS: Um. Well, it's funny. It depends what it is. I mean, for instance, after I've been speaking someplace I will walk around for the next day thinking of what I didn't say.

EB: Oh, I do that too.

GS: So the closer it is, the bigger the regret. Or the more time it takes. You know, the more detail it's in. Then it begins to kind of disappear in the rear-view mirror somewhat. And I just began to realize that, in a general way, what I regret is not doing what I could uniquely do. That is, I spent a lot of time doing what I already knew how to do because it was useful or people asked me to do it or. So I don't know if I do a good job of taking that to heart now. But I try to. I mean, I realize that I - I mean, I'm trying to make better use of time. Because time is it, right? It's what we have.

EB: How much loss have you had in your life so far? Your father's gone. Is your mother still alive?

GS: No. And my parents and my sister who was my only sibling are all no longer here.

EB: On the other side of the mountain, as you say in the book. I love that.

GS: Yes, as Wilma Mankiller would say, right.

EB: Also, my family is all gone. I'm the only one left standing. It's a funny feeling, isn't it?

GS: It is. You know, I never felt all that rooted in a genealogical sense. You know, maybe I absorbed my mother's feeling, because as a Theosophist she believed in reincarnation. So she felt that children were little strangers born into the world who were not necessarily like the family at all, because they were reincarnated beings and you had the pleasure and the duty of looking after them, but they were already themselves. I don't know if I absorbed that but I didn't have a strong feeling of connectedness to blood family ever. And I still don't.

EB: Really?

GS: But I - I have a very strong feeling of chosen family. Of people we meet and connect with and can finish each other's sentences.
Gloria says Wilma Mankiller, chief of the Cherokee Nation, was chosen family to her. She was a friend of Gloria's for almost 30 years. At a memorial for Wilma, Gloria said, "We bonded in the way that friends bond, which is a marriage in itself—in sickness and in health, in good times and bad."

GS: And I totally feel that we were connected.
Wilma also played a big role in Gloria's actual marriage, in 2000.
GS: We were going to see her anyway for their annual powwow when I called her and said, "I'm thinking of doing this. Should I do this?" And she said, well, she'd think about it and call me in the morning. (Laughs) So she went out and sat under the stars and called me in the morning and said, "Yes!" So she and her husband, who was a traditional healer, offered us a Cherokee ceremony.
At 66 years old, in a sunrise ceremony in Oklahoma, Gloria married the South African-born English entrepreneur and animal rights activist David Bale.
GS: David and I fell in love, and we wanted to be together. And that's the important thing. I'm sure we never would have thought about getting legally married had he not needed a green card. And by that time the women's movement, generally speaking, had worked for, I don't know, 30 years to equalize the laws - the marriage laws. So no longer would I lose my name and my credit rating and my legal domicile and all my civil rights, as I would have had I got married when I was supposed to. So I thought, well, you know, why not? I mean, I'm not going to lose. And in fact he will gain the security of having a green card. The one thing that I learned from this was that people suddenly started to say things to me like, "At last you've met the love of your life," as if there were one love in our lives.

EB: Yeah.

GS: I think there are different loves in our lives. And David too had been married and had children. You know, I mean, why make a hierarchy out of the people we love?

EB: And then only three years after you married, David died. Was that sudden or was he ill?

GS: He had been ill for quite a long time. A little more than a year. Yes. Yeah. He had brain lymphoma. So it was quite incapacitating for most of a year.

EB: And were you with him at the time?

GS: Yes. Yeah. Yes.

EB: How has that affected you or changed you?

GS: I think it was all consuming, and I was kind of obsessed with whether or not he knew that I and his grown-up children—who tried to be there as much as they could—that we were there. Because he had been an abandoned child. And I think - I feared that he was - he seemed to be returning to his childhood and feel abandoned. So it was hard. It was really, really very hard. But in retrospect I think he—the fact that we were together gave him what he needed, which was some happiness and fun and newness, and also someone to escort him out of life. And he gave me what I needed, which was an intense experience of living in the present. Otherwise I live in the future. He forced me to live 100 percent in the present. And also he let me do over what I couldn't really do for my mother. I mean, being a small person taking care of a big person is is hard. And I couldn't really do it. And I was haunted by it. But being an adult taking care of another adult was possible, and it gave me a chance to do that over.

EB: Have you been with other people at the moment that they left?

GS: Not...no, not very—my mother. And my sister.

EB: Oh, you were with your whole family.

GS: Not my father, I'm sorry to say. I wish I had been there.

EB: What is that moment like for you? What happens to you in that moment?

GS: Well. And with Wilma. I was with Wilma. The most amazing thing to me is that you know the moment that someone is gone.

EB: Yes.

GS: It's - I don't even know how to describe it and I don't know if it's - other people experience this or not. But suddenly the person you love isn't there.

EB: That's right.

GS: And I can see why people speak of the soul or some, you know - because it's just suddenly that spirit is gone.

EB: Yeah, I think of it as an animating presence.

GS: Hm. Yes. That's a good way of—right.

EB: Yeah. And do you feel that having experienced that changed you as a person? I don't mean just your husband. I mean all of them.

GS: Yeah, I think so. You know I think I'm still dealing with it because of course I continue to behave as if I were immortal, which is not very practical.

EB: You're pretty close though, I have to say!

GS: I don't think I am yet as comfortable as people in other cultures are, you know, with the idea of death. And I'm still trying to hang in there 'til I'm 100. Because just to meet my deadlines I have to do that. But I think it did make me feel more comfortable, especially because Wilma, who had been very near death once many years before she actually died, described to me a near-death experience.

EB: It's so beautiful in the book, that moment. Would you just say it now?

GS: Well she was describing a car accident, a nearly lethal car accident, and the fact that she felt as she was going toward death, warm and loved and as if she were flying faster than any - than anything could possibly fly. And at one with the universe, and as if she kind of knew this was the purpose of life. You know, it was kind of an ecstatic experience. And that she called herself back because she had two young daughters.

You know, I'm - I'm torn because I love it here. I love walking around the streets I love, you know. I love what I do. I love listening to people and learning. I love stories. I love - you know, so it's hard because I'm very attached.

EB: Your account of Wilma and when she died or crossed over to the other side of the mountain, as you say, signal fires were lit around the world. Because it was a tradition in both Pagan times and in native tradition that when a great one passes, fires are lit all over the world. So I just want to tell you that should you get to the other side of the mountain before I do, oh great one, I will see to it as best as I can that signal fires are lit for you.

GS: Oh. And because we are chosen family, I'll see you there. Whichever one of us goes first—doesn't matter. I'll see you there.

EB: Okay.
That's Gloria Steinem. Her latest book is My Life On the Road.
Death Sex and Money is a listener-supported production of WNYC Studios. The team includes Katie Bishop, Chester Jesus Soria, Emily Botein and Andrew Dunn.
The Reverend John Delore and Steve Lewis wrote our theme music.
You can find me, Ellen Burstyn, in a film I just finished shooting in Minnesota called The House of Tomorrow. It's a really good one, I love it.
And you can find more episodes of Death, Sex & Money—including the one where Anna interviewed me—by visiting deathsexmoney.org. You can also find it and other episodes on iTunes.
Gloria has been leading the movement for decades, and knows there is still plenty of work to do.
GS: I just had a revelation from a friend the other day. She went to see her in-laws. The man, because his wife is ill, was longing to go into assisted living. And it made both of us realize that he had been in assisted living his entire life (laughs) and had not learned how to take care of himself.

EB: That's right.
I'm Ellen Burstyn, in for Anna Sale, and this is Death, Sex & Money from WNYC.
Copyright © 2019 New York Public Radio. All rights reserved. Visit our website terms of use at www.wnyc.org for further information.
Music Credits:
"Weathervane" by Blue Dot Sessions
,
"Thread Magenta" by Blue Dot Sessions
,
"Bees" by Kenneth J Brahmstedt from BWN Music
,
"Slow Down" by Reverend John Delore
,
"When the Guests Have Left" by Blue Dot Sessions