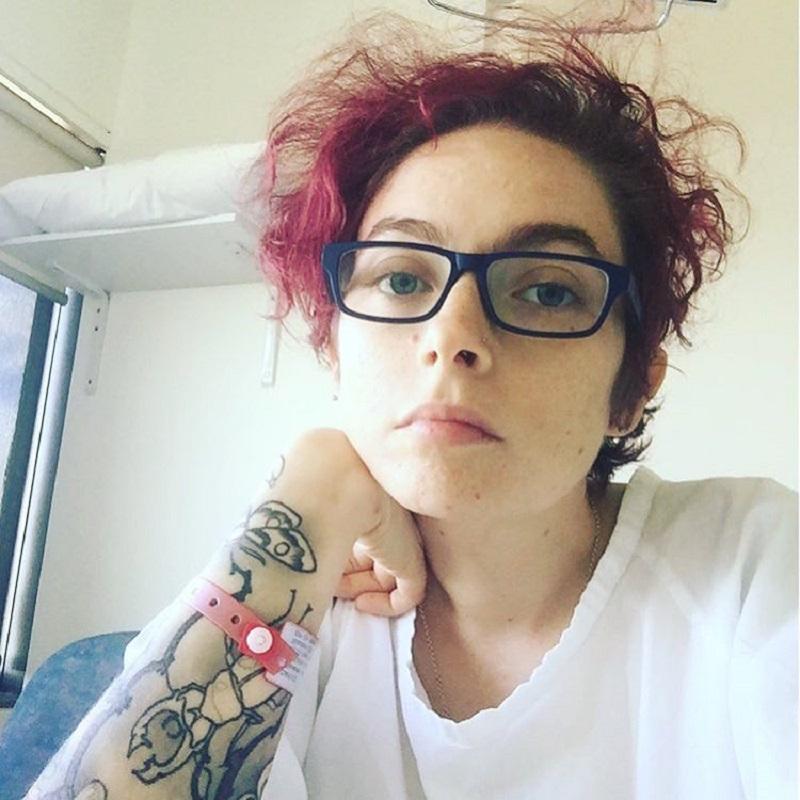 Transcript
Hi, this is Anna. I'm still out on maternity leave. I'm actually recording this in a closet while June's out on a walk with Arthur.
I'm in here because I wanted share something with you. A conversation that we recorded back in March. I talked with a woman named Elizabeth Caplice. She was all the way on the other side of the world, in a studio in Canberra, Australia.
AS: Are you wearing like a raincoat or something? There's something that's crinkling.

EC: I'm wearing a leather jacket, which I can take right off.

AS: What color is the leather jacket?

EC: Black.

AS: Does it have like a lot of zippers on it?

EC: A big zipper down the front, yep. One of my other leather jackets has multiple zippers but this is my simple one.
Elizabeth charmed me right off the bat. She was funny, self-deprecating, thoughtful. Hers was one of the stories that you heard in our episode called "When I Almost Died." I spoke with listeners who shared their near-death experiences, and Elizabeth described her life as one big near-death experience.
EC: With stage four cancer, the reality of it is you will probably die. So it's kind of always been an awareness in the back of my mind that this is probably what would kill me.
What had started as colorectal cancer had spread to her liver and lungs. She'd been writing about this in detail for about two years on her blog called Sky Between Branches. Elizabeth died just a few weeks ago, on July 12th.
There are some interviews that just stay with you. And for me, my conversation with Elizabeth is one of those. So I wanted to share more of it with you. When I talked with Elizabeth five months ago, it was almost her 32nd birthday.
AS: Do you have any plans for your birthday?

EC: Yeah actually. I just booked in a restaurant that I really like down in Melbourne for me and four of my friends down there. So. I really like fancy restaurants. It's one of my biggest weaknesses. So, um. Often I don't really even care what it is. I just like fancy stuff on weird plates.
When doctors first discovered Elizabeth's cancer in 2014, she was working as an archivist at the National Library of Australia. She'd been with her partner, Alex, for about two years.
AS: How's your relationship changed over the course of your treatment and diagnosis?

EC: I feel like it's gotten a lot stronger. I don't - it's - it's hard. Like, my partner deals with it exceptionally, exceptionally well. There's a lot of things... The more medically gross bits, I ensure that if I can't do them, somebody else can do them. Because it's not her job to give me injections. It's not her job to change my colostomy bag. It's not, you know, her job to do a lot of those things. She does end up having to sort of take the, you know, tail-end of stuff. Like occasionally having to do the dishes when she'd rather not. I have a joke along the lines of my cancer card, which is when I pull out the, "But I can't do the dishes, I have cancer." Which is often usually not the case.

AS: How are you feeling physically today?

EC: Uh, look. A little tired. I've actually had a particularly rough couple of days. Um, we're doing estate planning at the moment with my - essentially I got an insurance payout for being terminally ill. And, um, we're discussing the best ways to manage that money in order to make sure that I don't blow it all before I die. And then my oncologist called me yesterday and was... They've started - they've finally started giving figures after a year and a half. And he said, yeah, conservatively I could have three months. Optimistically I could have twelve months. But the reality lies between those two numbers. So, that's kind of just been my last 48 hours, is learning to adapt to that.

AS: That's a lot.

EC: Yeah. It's a lot all at once.

AS: What have you been thinking about in these last 48 hours that you didn't either allow yourself to, or didn't occur to you before?

EC: Um, that's a tricky one. I mean, I think I've been thinking about a lot of the things already because it was my internal expectation. Like they didn't tell me something I didn't already know. From the beginning, they didn't know if they could operate on my liver. And it was a gradual process of gut-level acceptance -- I mean, there's intellectual acceptance. And then there's the really solid, 'No, now I know my life is ending.' This has sort of shifted it into a new gear.

AS: When you think about your life before you got sick, before you felt bad and before you were diagnosed, and you think about where you are now, what have you stopped caring about that used to be really important to you?

EC: This is also quite tricky because the symptoms, to what we can assume, are the cancer, started approximately after I finally got my bipolar -- because I have bipolar I -- under control. So I finally found a medication that started to control my bipolar. And at the same time I started to feel nauseated a lot of the time. So I kind of feel like I've had an entire adulthood which has been coated quite heavily in serious illness. And I'm not really sure what it feels like to not exist within the confines of serious illness.

AS: So you were - you were just reaching a place of feeling stabilized.

EC: Yep.

AS: Does that timeline - the fact of that timeline, that you found a medication that was working for you, and then you become physically sick, has that made you angry?

EC: Yeah. Yeah. I think a lot of it - the whole thing makes me pretty angry. Not all the time. I get bursts of it. A lot of the time I just... I've had cancer, or I've had the knowledge that I have cancer, long enough now that I don't get super angry all of the time. A lot of the time I just feel annoyed and tired by it all.

AS: When you - when your bipolar condition was not stabilized, did you ever have suicidal thoughts?

EC: Yeah, I did have suicidal ideations. Part of the -- I suppose irony may or may not be the correct word -- of it all was that the sort of thought-management I did to control any suicidal ideation I had was to imagine, essentially, a body of water in which you throw a pebble in and that pebble is my death. And then each ripple out of the water is the people who will be affected by my passing. And knowing now that that's going to happen is - is very challenging, because the thing that kept me alive gives me absolutely no hope in the eventuality of my own death.

AS: Yeah, it's the opposite of helping you with acceptance.

EC: Yep. Pretty much. It's - it's no longer a very useful technique at all for helping me deal with it.

AS: Do you have a new visualization that's been helpful?

EC: Not really. As it is, it's - I think there's so much pressure with things like cancer to do that sort of stuff. From reading - I occasionally dip into other people's cancer blogs. I very roughly refer to it as - as "Cancer Internet." Yeah, there's like Cancer Twitter as well. All of which I haven't really - haven't really responded to much. I often don't find my own experiences reflected. A lot of the times because women around my age with cancer often do have children, where I don't. And that changes the equation I think quite significantly. I read one and the last entry was her discussing hospice and had a line -- this is heartbreaking -- being about how she could still tuck her children into bed despite having a morphine pump into her thigh to manage the pain. And then the blog ends. Which is kind of a strange - strange thing.
AS: Have you become less afraid of death?

EC: Um, I think so. I used to be very, very frightened and kind of - almost obsessively so - of dying. And it's become a less - a less horrifying prospect. Especially now that I've been able to have conversations with my doctors about how I will most likely die. The tumors in my liver will grow - continue to grow - and will block it and cause liver failure.

AS: And what will that feel like?

EC: From what I've read it's actually not too bad. You get tired. You get slowly more and more tired. You get jaundiced. Your skin gets quite itchy. But knowing, yeah, the end of death - at the end - the point when I get to dying, as long - you know, they will keep me comfortable. My awareness will be limited in my final stages of life.

AS: Do you want to have a funeral?

EC: I want to donate my body to science or to have it in an eco-burial, which means I don't want my body in front of a room of people. That grosses me out. I'm comfortable with memorial services. But no matter what, I don't want my corpse in front of a room of people. I'm not sure why, but on a gut level that just makes me feel sick.

AS: Have you picked out music or readings for a memorial service?

EC: I have picked out some music. Um, I'm a bit of a terrible person. I really like the idea of starting with Madonna's "Like a Prayer." Because I'm really fond of the line "Life is a mystery." I use it a lot in, like, whatever ridiculous new thing happens with my cancer, "Well, that wasn't supposed to happen but life is a mystery." And then I break into singing "Like a Prayer." I have like a list of songs which oscillate between quite bleak and just kind of absurd.

AS: Are they all dance songs?

EC: No. No. There's a little bit of everything. There's some Smiths. A friend of mine has banned me from playing "Girlfriend in a Coma" by The Smiths because -- we often sing - when I was last in hospital, friends of mine printed out a very large picture of Morrissey with this speech bubble saying, "I know, I know, it's really serious." But we'd often sing the first line of it, which is, "Girlfriend in a coma, I know, I know, it's really serious." But we'd replace it with "Tumor in my rectum, I know, I know it's really serious" to each other. So I'm quite disappointed that can't be on my funeral playlist.
After we talked, Elizabeth decided to hold her own wake with her friends and family. She called it her "A-wake." She held it at a bar. It included a menu of specialty cocktails named after her friends and her doctors. She told the local newspaper that, quote, "When your liver gets to the point mine does, a little bit of alcohol doesn't make a difference."
Elizabeth published her final blog post in June, telling her readers that she was ready to stop her cancer treatment and enter hospice. Two weeks after that, Elizabeth died. Her partner, Alex, posted on Elizabeth's blog that her death was not a life coming to its end. It was cut short.
EC: There is the constant question of whether or not I continue treatment. Um. Being how young that I am, a lot of oncologists would be tempted to treat me highly aggressively. But there are days where I wake up, and I just go - you know, the constant sort of physical degradation of it... The endless pills, the endless hospital trips, living a life so impaired. It does make me just go, "I don't even see the point." And that feeling passes. Right now, I still choose to go down that path of continuing treatment. And that it's also okay that it will possibly come to a part of my life where I choose not continue treatment. And there's nothing wrong with that either.
That's Elizabeth Caplice. Her family and friends held a small, private funeral for her. She had a natural burial. There's a larger memorial service currently being planned. The date will be announced on Elizabeth's blog, at skybetweenbranches.wordpress.com.
Copyright © 2019 New York Public Radio. All rights reserved. Visit our website terms of use at www.wnyc.org for further information.
Music Credits:
"Cold Feet" by Will Bangs
,
"Santre" by Blue Dot Sessions