E. Jean Carroll: More Interesting, Not Damaged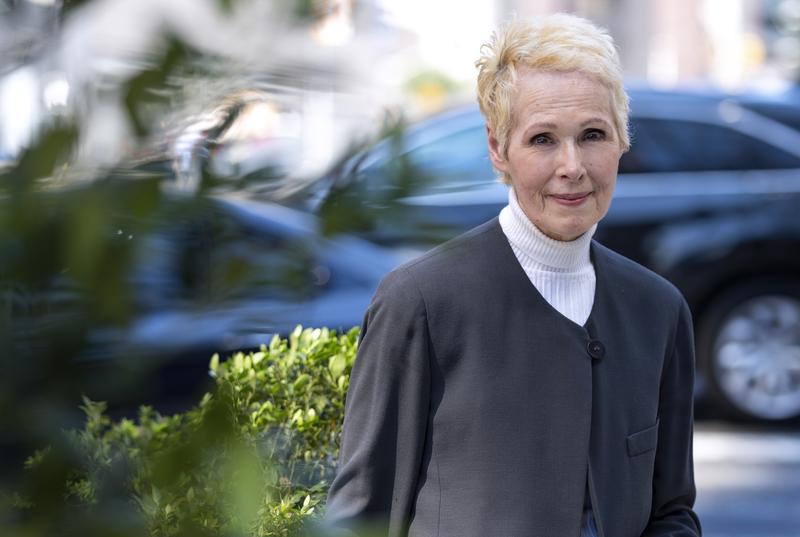 Transcript
I want to let you know that this episode contains conversations about sexual assault...and childhood sexual abuse.
E. JEAN CARROLL: See, here's the thing. When you go back and really write what happened to you, uh people are gonna say, don't you wish you spoke up? Yes, yes. But I was trained from a baby to keep my mouth shut. I was born during World War II. We did not speak up.
This is Death, Sex & Money
The show from WNYC about the things we think about a lot…
...and need to talk about more.
I'm Anna Sale.
When writer E. Jean Carroll was 39 years old, she'd been married for 14 years. She was living in Montana...and pitching story ideas to editors long-distance. Then, she was assigned a story that brought her to New York.
EJC: I saw the bright lights, big city and boy I did not want to go home to Montana.

ANNA SALE: Uh huh.

EJC: You know, I had that life for 14 years and then I saw New York and, oh honey, hoo, did I love it! I just loved it. I'm walking down the street and here comes a woman with hair four feet long, blonde, gorgeous. It was Erica Jong. That was right after Fear of Flying came out.

AS: Wow. That's quite a welcome to New York City.

EJC: Yeah I know. It was great. I thought I've arrived honey, watch out.
And that...was pretty much the end of E. Jean Carroll's first marriage. They divorced and at 40, E. Jean packed her bags for the city.
She's 75 now, and over the course of her long career, she became known for her sharp profile interviews and for dishing out no-nonsense life advice in her Elle magazine column, Ask E. Jean.
But you've also heard her name recently for a different reason.
There is more breaking news tonight. In an interview published in the latest edition of New York Magazine...

E. Jean Carroll...

E. Jean Carroll...

Advice columnist E. Jean Carroll is the latest woman to make sexual assault allegations against the guy in the White House.

E. Jean Carroll accuses Trump of sexually assaulting her in a Bergdorf Goodman dressing room twenty three years ago.

Her description meets the legal definition of rape.
These accusations are specific. They are credible. And they are terrible.
Her story and others are raising questions--again--about what women face when they go public.

E. Jean Carroll: It was hard for me to start telling the story when people ask me, but I've gotten better at, uh, you know, I've gotten better at it.
E. Jean has recounted her memories of that day with Trump in the Bergdorf dressing room in many interviews since, so I didn't ask her to do it again.
But I did ask her about her many other stories of being abused and assaulted by men that she details in her newest book. It's called What Do We Need Men For.
She's telling those stories now in ways she never has. When she was a young woman, she was taught that that bad behavior from men, from belittling to physical assaults was something that just happened.
E. Jean says now those behaviors are things she shouldn't have put up with. But it's complicated because she feels like lingering on them hasn't been helpful either.
EJC: I didn't like the results of talking it over. It brought up too much sadness and if you're uh, you know it, to be reminded of sadness is to what? Double the burden.
And that is what I wanted to talk to her about in this episode.
When E. Jean Carroll arrived in New York, it was the early 1980s. She spent a lot of time at Elaine's, the famous hangout on the Upper East Side where prominent writers, performers, and power brokers gathered….when she first got there, E. Jean was not established like they were.
EJC: I actually stole food off the street. Um, I lived in the flower district. I lived beneath a family of fortune tellers. You didn't need much money. It was just fabulous. This was before Instagram, of course. So yeah, happy, happy times.

AS: Did you feel, um, like showing up at Elaine's as, as a writer who is building her career in in New York and getting to know New York and getting to know the scene...did you feel a bit like um an imposter at first or did it feel quite natural?

EJC: No, I felt natural. I mean it was steeped in writerly history and I just felt like I belonged there, you know? Um, I didn't.

AS: You didn't, what do you mean? Why didn't you?

EJC: I mean, these people were big. Big, big writers and directors and you know, I was nobody from nowhere, but I was just soaking it up, just soaking it up, you know. Um, I happened to be dating a literary agent at the time and so we'd go out a lot with his clients who would be like Jim Harrison. So I was...

AS: Uh huh.

EJC: ..like sitting with the big boys and I always sat at the big boys table and I was the only girl, as we said. Girls.

AS: You were the only girl?

EJC: Yeah, the girl back then. I was the girl.

AS: And why, why did you get to sit at the table and the other women didn't?

EJC: Because I'm like a boy that, you know, I was, I'm, you know, it, I was not uh, I just, I thought I should be included and they included me. That's it. You know, if you just sit down at the table, what can they do? You're sitting there.

AS: How did you think about flirting and charm when you were in those situations, when you were the only woman among a lot of men?

EJC: Oh, I flirted my brains out. I just flirted my brains out. I'm a natural born flirt. You and I are flirting now. You and I are flirting now, or you know, we're, uh, it's just a way of engaging with another human being. Um, and, and drawing them out. You're flirting with me. You're drawing me out.

AS: Well I find, I understand that E. Jean...

EJC: Yeah.

AS: ...and I, and I think something about going deep into conversation with someone is, is, uh, men don't always understand...

EJC: You're cracking me up!

AS: ...what my intentions are but,

EJC: Right.

AS: ...or that I'm interested,

EJC: Right.

AS: but I'm not communicating something else that they think I'm communicating by expressing interest in...

EJC: Oh.

AS: ...in hearing from them.

EJC: Yeah I bet.

AS: I mean, did you, how, how how did you think about that or do you think about it in a different way now than you did then?

EJC: Men and women were charged um in work environments, uh particularly in journalism um because we have to work, as you do, up close and personal. Now talking to a man for an hour and a half about himself is such an ego charger for the man um, that he was completely, you know, he was thrilled with himself. So I understand that as a journalist, when you focus in on another human being and devote yourself to finding out what he thinks, what he eats, what he wears, um, uh, you are entering into a territory which is beyond the male/female relationship. You are on a higher, deeper plane.

AS: And, and how did you learn to communicate when you picked up that somebody, a man for example, uh might have been misinterpreting your interest and your flirting? Like what would...

EJC: Sure.

AS: ...how would you communicate that?

EJC: Anna! I expected it. Women of my generation, and I'm a member of the silent generation, that's what we expected. Now you are of this uh much smarter generation. You read those signs as not good. We read those signs as perfectly normal. He's reacting as he should. And so my generation did nothing about sexual harassment. It's your generation that stepped up and said, oh no, this is a signal. I'm not going to put up with this. My -

AS: And was it, was it something about it that was both fun and electric and also just always skirting the line of making sure you were safe?

EJC: Yep. Always skirting the line and always electric.
But other times it was really clear when that line got crossed. E. Jean writes about a time in 1997...not that long ago...when she interviewed the former CEO of CBS Corporation, Les Moonves. She says he grabbed and pinned her in an elevator. Moonves has denied that.
E. Jean knew his behavior was unacceptable at the time, but she kept quiet about it.
EJC: I didn't tell anybody until about 2001 in Elaines with a New York Times reporter, very big deal, and a major movie star and we're in Elaines and the major movie star started to tell Les Moonves Story. Then the New York Times reporter gave her Les Moonves story, and I told them mine and and they were all similar. And they had, uh both of those women did not suffer, but it was pretty devastating for them. Um, and the way, Anna, nobody knows this, but the way we told these stories was, "Well, that's nothing. Listen to this." And we were laughing because it was not a secret. Everybody knew it. Everybody knew it. So my uh, my way of staying silent about everything has not worked.

AS: Well, you were t, you were telling your stories among women, you know, this is more than 15 years ago at Elaine and you're laughing,

EJC: Yeah.

AS: and, and in one way, laughing is not taking it seriously, in another way laughing is, is mocking him...

EJC: Yeah.

AS: kind of?

EJC: Like "ha ha ha."

AS: So there is a sort of power to that,

EJC: Yeah yeah.

AS: ...of like going back into, you know, the corner of the room with the other women and...

EJC: Right.

AS: and making fun of him, this powerful man.

EJC: Well that's what women have done for 10,000 years. That's how we deal with things. We laugh, we laugh because if we don't laugh, you know what we're doing, we're crying. So we laugh. It brings us together and we move on. But boy, that has not been the way to do it. The thing is not to laugh, but to stand up in the middle of Elaine's and say, this is what Les Moonves did to me, but we didn't do it. We giggled. We laughed, we kept it quiet. Um...

AS: So do you wish that you had done things differently? Do you wish you had shouted in the middle of Elaine's?

EJC: Eh, I was incapable of doing it. It was so against my philosophy. Um, I was a chin up, move on girl. But I, you know, there was no hurt for me to deal with. Or it didn't hurt for long. Okay. For not long.
MUSIC
AS: You write in your book when you are describing what happened to you at camp.

EJC: Oh, that's the one.

AS: when you were 12.

EJC: Yeah, that's the one.

AS: There's a man named Cam...

EJC: Yeah.

AS: ...who was a leader at this camp. He taught you to swim.

EJC: Right.

AS: He was a confidant.

EJC: Right.

AS: He abused you. He told you not to tell anyone.

EJC: Right.

AS: He put his hands up your shirt,

EJC: Right.

AS: And your shorts,

EJC: Right.

AS: Repeatedly.

EJC: At dinner sometimes. Right in front of, you know, 80 campers.

AS: That's humiliating. I'm I'm really sorry that happened to you.

EJC: That was the bad part.

AS: Um, you said the process of writing it, anticipating having to...

EJC: Yeah.

AS: ...write about it gave you a backache.

EJC: Terrible one.

AS: Like you felt it in your body.

EJC: Terrible one.

AS: Um, and it's not something that you had told anyone.

EJC: No, no.

AS: Can you tell me a little bit more about that? Like the physical ways these memories showed up?

EJC: Well the memories of Cam come to me every day. That is a memory I never have been without. He comes every day in some form or other. Cam and his horrible maroon bathing trunks. Um, and uh, so that is, that...far, far more important incident in my life. That's the one.

AS: Did you understand as a, as a girl that he was doing something that you were not responsible for?

EJC: I didn't think about responsibility or not responsibility. I just, I...it was Cam. It was the man who taught me to swim. He gave me my white cap. He taught us how to sail. He, you know, he was it. I, I didn't think about it, but the brain just goes white. All I could think about this is Cam, this is Cam! That's what...my main thought. This, this was Cam. I couldn't, you know, and that was it. I guess it, uh, paralyzed is the word, that uh...or paralyzed. Yeah. Your brain doesn't even think. It doesn't even think, but yet, yet the feelings and the images come back to me almost every day, almost impossible to describe.

AS: And when the memories hit you now, do they show up in a different way since you've written about it?

EJC: No, they're the same. They're absolutely the same. They never changed, you know? The, nope. Um, uh, no, same.

AS: And and I, you write about, you write about a number of, of uh instances of of abuse and, and people, um, assaulting you and, and I just, I wonder when you say that's the one...

EJC: That's the one.

AS: ...that, that's haunting--that's has haunted you.

EJC: Right.

AS: Um, why do you think that is?

EJC: Um, I don't know. Well, probably because it happened often throughout a two week or three week period and because I was paralyzed. I was, uh the, it went deep. It goes deep. It goes very deep into sexual memories, very deep. And that is, there is a, uh, you know, that I, that is probably why. Um, so many of the things that other people think are terrible, horrible, how could, how could you live through...to me were, you know, it was either pleasant or funny or whatever. But this, this was a deep one.

AS: Yeah. What a, it was a violation of trust. Like, what a violation of trust.

EJC: Oh my God. Yes. But I didn't know that at the time. That's why I froze, obviously. Um, I, uh, and, but that, the violation becomes very heavy on the brain and it becomes, um, uh, it become, uh, you know, it, it gets, it somehow permeates the whole uh person. It, you become, uh, eh, you constantly become that little girl in the boat again, constantly, constantly, constantly. And there's really nothing I can do to,... now I just realize I can uh take the image and then I get rid of it. Right. I let it, I don't fight it. It comes and I get rid of it. I've become very good at that. I had to develop some sort of skill at that. So that's what I do.
Coming up...E. Jean on the years she spent brushing past these painful memories...and why the last few months of talking about them publicly has made her rethink that strategy.
EJC: It sounds strange. Um, but that's how I stay happy by putting things uh in the past. Uh, and and moving on. I now realize that I should have been talking about this for the last 23 years out loud. That's what I should have been doing instead of trying to forget about it. And, um, uh, so I was wrong. Absolutely.
--
After I had this conversation with E. Jean, I thought a lot about the world when she came of age., and the mixed messages it sent women about how they should behave.

Because on the one hand, like E. Jean says, you were taught to be a chin up girl...and just tough a lot of stuff out. At the same time, things were rapidly changing, with expanding opportunities for women, especially if you were white.

Women in E Jean's generation learned to walk a fine line...between prioritizing other people's needs...and taking care of their own.

I've heard about that disconnect a lot from YOU in our inbox. Stories from women in our audience who are getting older, and reevaluating some of the ways they over-functioned to handle those clashing expectations.

Like a listener named Susan, who lives in Virginia.

SUSAN: I can't believe it but my next birthday I'm going to be 70 years old. I don't feel that old, but that's the truth of it.

In 2014, Susan's husband of 34 years died. And she told us that while they loved each other deeply, and that the loss has been painful, being on her own for the past few years...has given her a new kind of freedom.

SUSAN: I've discovered or rediscovered things about myself. I've gone to a dance workshop and it really reminded me of how much dancing and music is deep down in my soul, something that makes me really happy and it kind of infuses my life here at home.
Susan has also...bought a swim spa for her back yard.

SUSAN: So now I can step right outside my door and go swimming every day which I LOVE! I don't think I would've done that if David had been here. Not that he wouldn't have in the bigger picture thought it was a good idea, but he was a penny pincher. And he was a skeptic. And he would have looked at me and said, are you sure? I don't think that's a good idea. And then I would have fallen back and said, you're right, it's not a good idea. But now on my own, I can take those risks and make those decisions and do the things that make me happy.

This is something I want to talk MORE about. So if you're a woman over 60, tell us--how has getting older changed the way you move through the world, and interact with people? What's been really empowering about aging?

And also--what are the things you don't feel settled about...the big questions about getting older that you're having a tough time finding answers to?

Record a voice memo and send it to us, at deathsexmoney@wnyc.org

On the next episodes--yes, there's two of 'em!--we revisit a topic that's been in the news a lot lately: student loan debt. A couple of years ago, we asked you to tell us about how your debt is affecting the other parts of your lives. And you told us about how it's disillusioned you about higher education in this country...and changed the way you see yourselves.

SHARIF: I felt like a total complete idiot that I put myself in this position. I think the only person I told was my mother, and she was like, ah, you'll be okay. Because she doesn't really - I mean, she didn't want to tell me how fucked up the situation was!
--
This is Death, Sex & Money from WNYC. I'm Anna Sale.
It's a relatively new thing for E. Jean Carroll to talk about her own pain publicly.
But she's made a living out of talking other women through some of their most private dilemmas. For 26 years, in her Elle magazine advice column, her basic message has been: you can solve your own problems…you just need a little bit of tough love.
Here's a taste from a video series she did:
My sleepy strumpet!

My tangy little perfume pot!

You ditzy boof HONEY!

You're going to give Auntie E apoplexy!

Men want the women they can't have.

Till then just chill, Miss Hickey Lips.

It'll be incredibly hot. Hoochie coochie!
EJC: In my advice column, I don't think I've ever said the words sit down and talk. I certainly tell people to go see therapists, but it would be the last thing I would ever do because my...
AS: Hm, why?

EJC: ...my philosophy is, Anna, you're gonna run me out of this booth I swear to God! I think some, many times that talking makes things sadder because you start to uh tell things which makes you sadder, which makes you suffer and I like my way, which is: I don't think about it, therefore I'm happy.

AS: Mmhmm.

EJC: So. Do you go to therapy?

AS: I'm not right now, but I have at really pivotal points in my life, and I found it very helpful.

EJC: What point did you, what point did you do therapy?

AS: Uh I've done, I did couples counseling with my husband and with my ex-husband, I did individual therapy...

EJC: Right.

AS: ...a lot. Moving to New York and deciding to get divorced. And uh -

EJC: Can I ask you a question?

AS: Yeah.

EJC: Did it harm or hurt your first marriage when the therapist asked you to start telling each other the truth?

AS: Well, I think, um, I think it revealed some things...

EJC: Right.

AS: ...that we were pretending and were too afraid to stop pretending.

EJC: Oh, interesting.

AS: So I think, um, you know, I, I got divorced but I think it helped us articulate why the marriage didn't have a future in a way that we couldn't have by ourselves.

EJC: Huh, did you need to articulate that though?

AS: I did. I felt really guilty and like a failure. Because I think of myself as someone who prioritizes family and commitment. And so when that marriage started to falter, it didn't fit with the way in which I expected our lives to unfold together. And so I didn't, didn't want to admit that it was happening.

EJC: Oh. Hmm.

AS: But I, I want, I'm so interested that you've never done therapy! I feel like...

EJC: No, please. No. To me it would be a total waste of time. Absolutely. I'd much rather talk to you about whatever. I learned a lot just talking to you right now. That you, it was your con, your self concept that leads to guilt.
AS: I imagine for you to recast some of these um assaults as not moments that you pushed through and moved on from, but to linger on them more in your writing, um, I mean, has it made you think about yourself differently thinking back on the woman you were in the '80s and '90s?

EJC: No, I love that woman. She was spunky. I really liked her. Um, I wish I could, you know, I just really, really liked her. I wish she'd come along with me on this, the last 25 years here of my life.

AS: Does it feel like she's with you?

EJC: Yeah, she's around. She's around. You know, she was a, I really liked her spunk. I really did. And I don't want to lose that sort of spunk. Uh coming into the last quarter of your life is very interesting because guess what? You don't give two shits about anything.

AS: Uh huh.

EJC: That's what's so great about being 75 You know, you, the, you have to have that double thing. You don't give two shits, but you never give up anyway, you know, it's like Fitzgerald said, you always have to have two ideas in your head at the same time,

AS: And you said you, you said the the last quarter of your life and you've used, you used the word "elderly" when you, when you talk about yourself sometimes...

EJC: Yeah. Yeah.

AS: um, is that, uh, has it felt comfortable for you to become an older woman?

EJC: Yeah, I love it. I love it.

AS: You do?

EJC: It's always shocking. It's always shocking to remember how old I am, but I, I, I, I like it because you really, you just don't care. When you're 75. You don't really care about getting the makeup on right. Do you know what I'm wearing for my big day in New York?

AS: What?

EJC: Orange coveralls.

AS: That's nice. You, you are a striking woman, a beautiful woman, and you've lived your life as a striking and beautiful woman. Um...

EJC: Thank you.

AS: ...is it, have you noticed the way that people see you and respond to you has changed as you as you've aged?

EJC: Gee, no, AS. They always, no. Yeah. Um, yes. But uh you know, after the age of about 55, um, you start to be less noticed and that's sort of great. But you know what, there's always a way to be noticed if you want to ladies.

AS: Have you noticed that? Like, do you, do you think about, I want to make sure I wear a vibrant color so that people don't just gloss over me when they scan a room?

EJC: Yeah! I like to do that, don't you? Don't you want to walk in a room and have people glad to see you?

AS: I, well, I think that's different.

EJC: Ok.

AS: Notice, notice you is different than -

EJC: Yeah. Yeah, it is. Yeah. Yeah, you want to be noticed I think. I, I mean, why else would you be on the planet? Why else? You want people to know I'm here! I'm here! So yes. Uh, one time I was walking down the street and you know nobody would look, and I stopped in Ricky's, you know, remember Ricky's on 14th Street?

AS: Where you got hair products. Yes I know Ricky's.

EJC: Ricky's! Oh my God. It's just fabulous. So I bought a, an electric blue wig, put it on and walked down and people came up to me and said, "Hello Mama!" and "Hey baby!" And woah, it was like a revelation to me. Now I have wigs in every single color.

AS: Really?

EJC: You know, you, the, you have to have that double thing. You don't give two shits, but you never give up anyway. You know, so it's always, you know, it's like Fitzgerald said, you always have to have two ideas in your head at the same time.

AS: So when you think about your last quarter of your life, do you want to, do you want to keep living like a chin-up girl?

EJC: No, no. I do not. From now on, I tell my story and I don't shut up about it. Oh no, those days are long gone. Right? Shouldn't they be? It didn't work.

AS: And what have you learned about the ways in which, telling your story out loud, often moments in your life when you were humiliated and disempowered and victimized and holding that alongside, not wanting pity...

EJC: Yeah.

AS: ...or not wanting to be seen as weak or like you're trying to be...to cast yourself as someone who, uh, is not resilient?

EJC: Mm. Wait a minute. That's a statement. That's not even a question.

AS: Well, I just wonder what you've learned about that. Because I think that that's often, there's sort of this idea of, you know, if you compartmentalize...

EJC: Right.

AS: ...and you move on and, um, you

EJC: Right.

AS: ...don't dwell on it, you're a survivor, you're not gonna make it all about you. Um, that, that somehow is, you know, is, is one way.

EJC: Right right.

AS: And then the other way is to say your truth out loud...

EJC: Right.

AS: ...um, which comes with the risk of, of um, uh...

EJC: Yeah, you're right.

AS: ...attracting, um, that feeling that some somebody might be looking at you as someone who was damaged or harmed.

EJC: Yeah, yeah, yeah. I'll take it. It's worth it. I got to speak up because if they think think of me as damaged, they're they're way wrong. I am not damaged. I'm probably more interesting, but not but not damaged. No. Uh uh. No no no.
That's E. Jean Carroll. Her new book is What Do We Need Men For? A Modest Proposal.
If you've been sexually abused or assaulted and need to talk to someone, please call the National Sexual Assault Telephone Hotline--their number is 1-800-656-HOPE (4673)
Death Sex and Money is a listener-supported production of WNYC Studios in New York. I'm based at the studios of the investigative podcast Reveal in Emeryville, CA. Our team includes Katie Bishop, Anabel Bacon, Xandra Ellin, Emily Botein, and Andrew Dunn.
The Reverend John Delore and Steve Lewis wrote our theme music.
I'm on twitter @annasale, the show is @deathsexmoney on Twitter, Facebook and Instagram.
EJC: Well it's been, well it's been a therapy session. Sneaking up on old E. Jean here!

AS: I feel like, you know, I used to go to therapy on the Upper West Side and we would make a date, couples counseling, and we would make a date night out of it.

EJC: Oh.

AS: We'd have dinner afterwards.

EJC: Woah.

AS: And it was like, you know, it was like, then we could, you know, we could, we would talk about what we talked about in therapy and then we would also review the therapist.

EJC: Oh that's -

AS: So you can make it fun.

EJC: Well, YOU can make it fun. I'm, I'm surprised you're both still standing. Really!
I'm Anna Sale and this is Death, Sex & Money from WNYC.
Music Credits:
"Restless" by Just Plain Ant
,
"The Wrong Way" by Jahzzar
,
"Vault" by Jahzzar
,
"11" by Lee Rosevere
,
"Admin" by AA Alto
,
"Badly Asbestos-Covered" by Nic_Bommarito
,
"Jardins du Luxembourg" by Jahzzar