A Son, A Mother, and Two Gun Crimes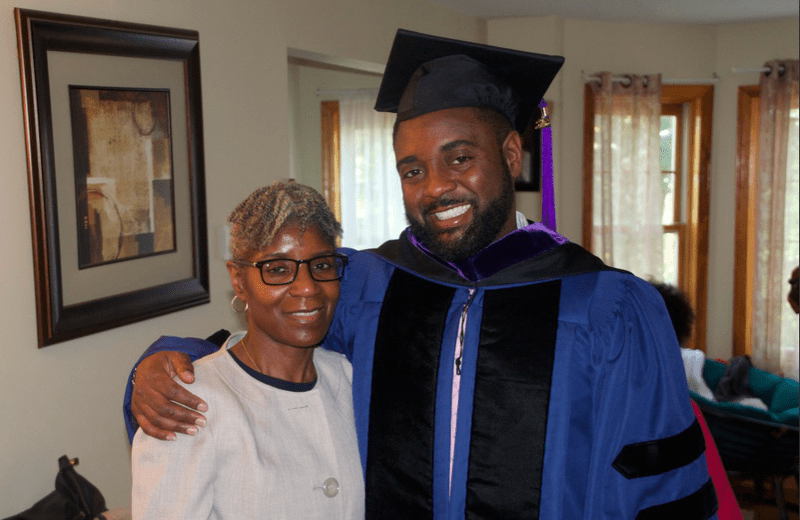 Transcript
Before we begin this episode, I want to let you know that it includes conversation about a sexual assault.
DWAYNE BETTS: My lawyer introduced me to a word very early on. He said, "You need to remember this: This is an aberration. This is not who you are." And one of the things that I think some of the popular culture was attempting to do, is create this idea that aberrations don't exist when you're talking about young black males. Like, what we do, even if it's a one time thing, that is what our identity is.
This is Death, Sex & Money.
The show from WNYC about the things we think about a lot…
And need to talk about more.
I'm Anna Sale.
There's a new podcast from my colleagues at WNYC called Caught. It's a deep dive into the juvenile justice system here in the U.S.... who gets tangled up in it, and who doesn't. Here's the host, Kai Wright.
KW: America incarcerates more people than any country in the world. Well, that starts young. On any given night, roughly 53,000 young people are in some form of lockup. Like, that's more than a sold out crowd at a major league baseball game. And nearly 60 percent of those kids are black or Latino.
The series explores why that is. How a kid's race, economic status, neighborhood, can all make a huge difference in whether a juvenile crime is taken lightly by the justice system, or heavily punished.
DB: The fact that I was a child, I should have been treated differently. And that doesn't mean I shouldn't have been punished, that that just means I should have been treated differently.
Dwayne Betts tells his story in the Caught series. Today, he's 37…a poet, a father of two, and a graduate of Yale Law School. He's working on his PhD in law there now. Back in the mid-'90s, Dwayne was a teenager growing up in Prince George's County, Maryland, just outside of D.C.
DB: We lived in a black belt. PG County, Maryland at that time was basically completely black.
Dwayne was in the honors program at his high school, and hanging out with kids in the neighborhood who were getting into trouble. He was trying to fit in both places.
DB: And it was always this huge tension between like my community, my neighborhood, and the people who were, I was in school with, the people in my classes. And um failing to be able to sort of really coexist in two worlds. Like, I had these rules. First I wouldn't sell weed, I'd just smoke. Then I might sell weed, but I definitely wouldn't sell like hard drugs. Like I wouldn't be selling cocaine, right? And then I knew people who robbed people, but they were just friends of mine. I definitely would never do this.
Then one night, Dwayne was hanging out with some other young guys. Someone's cousin brought a gun. They drove over to a nearby mall, to find someone to carjack.
DB: And I just saw this guy asleep in his car and I tapped on his window and he was kind of startled. But you know, I like whispered and he couldn't hear me, so he rolled down his window and I was like, "Get out the car." He just kind of gives us his wallet and a couple minutes later we jump in the car and we drive off.

AS: When you knocked on the windshield with the gun, do you remember feeling - how do you remember feeling?

DB: I was like a deer in headlights, you know what do you and that entire night I was like a deer in headlights in which I understood that I was doing something that would irrevocably change my life and yet I knew that I didn't want to be doing this thing that irrevocably would change my life.
Within a day, Dwayne was arrested. He was charged as an adult. And he plead guilty.
DB: The judge he, um - look, I've never forgotten this. I was 16 years old. This happened, you know, at this point like 20 years ago, and I have literally never forgotten what the judge said to me that day. He said, "I am under no illusion that sending you to prison will help." And then he sentenced me to nine years in prison.

GLORIA HILL: I think I remember it being like an out of body experience that I'm sitting here but it wasn't really happening but it was happening.
This is Gloria Hill, Dwayne's mom. She was in the courtroom that day as Dwayne, her teenage son, was sentenced to almost a decade behind bars.
After I heard Dwayne's story on Caught, I was curious to hear from Gloria and Dwayne together, to hear what it was like for their family to go through this.
It was just the two of them when Dwayne was growing up. Today, he lives in Connecticut. Gloria is still in Maryland.
AS: How often do you two get on the phone together?

DB: (Laughs) Probably not as much as my mom wants.

GH: Oh, I try to reach out to him maybe three or four times a week.

AS: And how often do you talk?

DB: I answer at least twice a week.

AS: Uh huh. And Dwayne, I wanna ask you about what you remember about the sentencing. Do you remember who who spoke on your behalf?

DB: (Laughs) Yeah. I remember.

AS: Who was it?

DB: It was um, a close friend of the family and then there was this guy who was like a mentor to me and my aunt, Pandora, spoke.

AS: And what was their message to the court about you?

DB: The only thing I heard that morning was that um, this notion that I did it because I didn't have a father in the house. But having them stand on the witness stand and say that I committed a crime 'cause I didn't have a father in the house like bothered me. And I don't know, I've did a lot of things I'm proud of maybe, but this is the thing that I kinda was most proud of. I stood up and I told the judge that I apologize to the victim, I apologize to my family, but I said I didn't do it 'cause I didn't have a father in the house. I just don't believe it's true, right? But the other part of it, it's that like my mom was in the audience, and my mom did an excellent job in raising me. Right? I'm fundamentally who I am as a person now because of my mom. So I could be a lot of things, but at 16, I think I was unwilling to let my dad be the scapegoat for this thing that I had done.

AS: Gloria, what do you remember about watching your son talk to the judge?

GH: I listened to what the um, what my family and friends and other people said about Dwayne and - and I just thought that they were all judging me and it was my fault because that's how I took it. It was my fault. I was a single parent and I gave Dwayne too much responsibility as a kid and he felt like he was an adult, that he could handle anything. So, I listened to everything that people say and it - it did bother me. I was hurt. But I didn't want Dwayne to see that I was upset.
When Dwayne was growing up, Gloria worked as an administrative assistant, and she served in the Navy Reserve, which took up some of her weekends.
GH: When I called him he was at home, he made good grades in school. I thought everything was okay, because that's the way it appeared to me. I thought he was doing everything that he was supposed to be doing. But I guess he threw some extra things out there.

DB: I remember that year, the year that I got locked up, the school had called me in because I missed a bunch of days of school. And I told them, look I just got a girlfriend and sometimes I don't come to school because I'm hanging with her. And instead of calling my mom and even telling her about this meeting, they just let me go about business as usual. I went to a school where the teachers didn't care about me. Maybe they cared about other students, and some of our classmates ended up fine but I don't, I just think by and large, people like me, they didn't care about, so -

AS: And when you say "people like me," what's that mean?

DB: Young, black kids who like were loud, brash, smoke weed. I had a history teacher that called me Smokey. I asked my mom if that teacher ever called her and said, "Yes, Ms. Hill, your son who I call Smokey, I've seen him frequently outside of the classroom before school starts smoking weed, and yes he comes to school on time and he does have an A in my class, but he is constantly high to the point that now his nickname from me is Smokey." Like my mom wasn't aware of that and I don't think that that's her fault. Children are chameleons, like we master the art of hiding things from our parents and smart kids are probably better than most.

AS: Gloria, if someone from Dwayne's school had called you and said, "He's skipping classes, I see him out front smoking, I think he's smoking pot," do -

GH: I would've left my job and would've been right there at the school waiting for him. But his teachers never called me. In elementary school? They would call me.

DB: Yeah. (Laughs)

GH: At least three times a week.

DB: Yeah they called a lot.

GH: They would call. I mean they reported everything to me. Dwayne likes to take over their class, Dwayne is doing this, Dwayne is doing that. But high school, not one phone call. Report card, all A's. Never a phone call.
AS: How did you become aware that your son had been arrested?

GH: Oh, I was doing my military that weekend and I saw Dwayne in the, before I left in the morning and when I came home he wasn't there. So I called around to all of his friends that I knew and no one had seen him and I called my family and they hadn't seen him, so I think it was probably about 10:30, 11 o'clock at night that I received a phone call from Dwayne. And he says, I'm locked up. Don't worry about it. I'll take care of it.

DB: (Laughs)

GH: And I think I cursed him out.

DB: Oh you did.

GH: I'm pretty sure I did.

DB: My mom cursing out is like, she doesn't curse at all so she probably said like three curse words.

GH: Yeah, so Monday morning we, I had to show up out at Fairfax, at the courthouse.

DB: I didn't realize that actually. Wait yeah I guess that makes sense. 'Cuz you never actually took days off from work. That's a horrible reason to take a day off from work.

GH: Yeah.

AS: Were you angry at Dwayne?

GH: I was angry with him in the beginning. I was. I wanted to choke him. I really did. Because I didn't understand why or how he could get involved and do something like that because I've never had a gun. He's never - well, 'til then, and then it just seemed like everything that happened in my life involved a gun. 'Cause I think right after I was called to active duty, and I was a police, well security. So everything just - it was just a weird time for me.

AS: So you - your son goes to prison for a gun crime and then you have to have a gun as part of your job.

GH: Yeah, I mean, actually after that just before his sentencing, I was raped by gunpoint and then I was called to active duty to carry a gun.

AS: You said you were, you were robbed at gunpoint?

GH: Raped.

AS: Raped at gunpoint.

DB: I actually didn't think you were gonna say that on the on the air. This has just taken a really tragic and devastating turn.

AS: Yeah, I didn't know that Gloria.

GH: It just seemed like guns became a part of life.

AS: And this is something you you've known before, Dwayne?

DB: Yeah I found out when I came home.

GH: It happened just before he was sentenced so when I was going to to court for Dwayne, I was also going for a court trial for myself. So, I didn't tell him until he came home.

DB: Yeah, so I didn't I didn't know um, yeah I didn't know.

AS: Was that person a stranger or someone you knew, Gloria?

GH: Um it was a stranger. I was actually on my way to work and I was at the bus stop and it was someone who came up from behind.

AS: And did he go to prison?

GH: You know, it took him I think - they did catch him, 'cause I was like his third victim.

AS: Having been the victim of a gun crime, did it change at all the way that you you saw your son's involvement in the system?

GH: (Sighs) It - it changed somewhat. I mean I knew Dwayne should be punished for what he did. That I was sure of. But as far as the amount of time that the judge gave Dwayne, I thought that was a bit extreme but I do understand the crime and the punishment.
Coming up, I talk more with Gloria and Dwayne about what happened after Dwayne was sentenced, and how he thinks about the work he does now and his mom's experience as a crime victim.
DB: You know, when I advocate for criminal justice reform, it's not as if I'm advocating for everybody except people who committed rape and so I just don't - I mean often I wonder am I being, am I being some kind of hypocrite?
--
The podcast Caught explores the juvenile justice system from many angles. It tells the stories of kids who are currently locked up, kids who are at risk of entering the system. And those of adults who did illegal things as teens, like Dwayne—but who didn't get in trouble.
Like James. He's white, grew up on Manhattan's Upper West Side. And in high school, he did drugs, skipped school, and stole a lot. Including from his mother.
JAMES: Like $1500. Yeah it was a lot of cash. And then we blamed it on the cleaning lady, my cleaning lady at the time or I did.
James also pawned his mom's jewelry, stole laptops from his school, and got caught shoplifting in stores by police. But they just let him go. He was never arrested. His mom ended up shipping him off to a wilderness therapy camp in Utah to try to straighten him out.
DB: Mom, can you imagine having $1500 laying around in your drawer for me to steal at 16?

GH: Yeah, no.
Dwayne listened to James' story on Caught. And he couldn't relate. And, he told me, it made him wonder, what if he'd been viewed by the system as a kid with a promising future?
DB: What might the system have done differently if they imagine me coming out on the other end as a Yale Law graduate? And that's the question nobody asked.
You can find the entire Caught series at caughtpodcast.com.
On the next episode...I talk with a young woman about why she signed up for Seeking Arrangement, a so-called sugar daddy site. She thinks of it as sex work, but says the guys who pay her for dates seem to think of it differently.
LIZZIE: I think it's a lot of like, the shame associated with sex work in general. They think they're getting better girls if they're not actually escorts. That they're getting these perfect virgins. It's very weird.
--
This is Death, Sex & Money from WNYC. I'm Anna Sale.
When I asked Dwayne Betts and his mom, Gloria Hill, to talk with me together, I thought we were going to discuss what landed Dwayne in prison, and how Gloria dealt with her teenage son being locked up for almost a decade.
I didn't know there would be a whole other side to the story, about the secret that Gloria kept from Dwayne during his entire prison sentence.
DB: I mean I consider myself a a pretty good reader of people. I also consider myself really self-centered, but I still consider myself a halfway decent reader of people and I think that's how I survived prison and man I never had a sense, like it wasn't just my mom. My grandmother and my aunt, my uncle, like everybody who came to see me, like they never gave a a glimpse of the fact that this tragedy and this trauma was going on.

GH: And I didn't want him to know and I told my family don't anyone say a word to him about it. Because Dwayne and I were together for so long it was just the two of us and I didn't want him to feel like it was his fault or that he would get in any trouble while he was locked up because he didn't need any trouble. He didn't need to get himself in it, in any trouble, blaming himself so I didn't want that.

AS: It's interesting to hear the different ways you've tried to protect each other from worrying about the other.

DB: Yeah, well I won't even pretend that I protected my mom from worrying about me in any of the ways in which she had to protect me and she ultimately did protect me.

AS: Gloria, was there - was there - this may be, this may be really, really off, but I'm wondering if you'd had an experience of not feeling safe in public on the streets, your son was arrested for a crime involving a gun, was there any part of you that felt, um, relief when he was locked up?

GH: Um, can I say yes and no to that question?

AS: Sure.

GH: Had he not been locked up then maybe he would've thought it was easy and he could get away with it again. But he learned a lesson from it, so.

AS: And what's the no part, you said yes and no, so what's the part that didn't feel like relief?

GH: The time. I guess, it - it was the time, 'cause it was his teen years.
Even though Dwayne was 16 when he was sentenced, he was imprisoned in adult correctional facilities, including a supermax prison, because of the nature of his crime.
DB: It's probably not appropriate for anybody period to be in adult prison, but it's definitely not appropriate for any child to be in an adult prison. I mean the way that the prisons function in the United States, they are just nests of violence and the reality is it's not as if the whole prison is wretched. But it's pockets of that, and the pockets are most likely to affect children. They mostly likely affect the people who don't have the wherewithal to stay out of the way, who don't have the basic understanding that comes with experiencing the world. And I went into prison, I had never had a credit card, never written a check, never had a paycheck, never worked a job, I just didn't have the kind of experiences that help you understand what the world looks like. You know I was sent to prison at 16 years old, and the reality was I would come home at 24. I prepared myself to come home at 24. Men around me helped me prepare myself to coming home at 24, but prison didn't. They had decided that I was incorrigible and and they were wrong, you know.
Dwayne's planning on becoming a professor once he gets his PhD. And he wants to keep practicing law, representing inmates who've plead guilty, but feel their sentences are unjust.
DB: For people who actually say I committed this crime but I don't think this sentence is just, it's nowhere for them to go and so the kinda cases I wanna take and the kinda cases I wanna work on, both sort of as a academic and as a lawyer, are those kinda cases, so you know like right now I'm working on a parole case for a guy that was my cell mate. He's been locked up since 1994.

AS: And so what you're saying is is cases where it's not a question of guilt or innocence but it's a case of whether the punishment fit the crime. Is that right?

DB: Right, or whether the punishment still fits the crime. You know, maybe the punishment did seemingly fit the crime twenty years ago, but does it still fit the crime today?

AS: Was your cellmate a a a juvenile offender?

DB: Yeah, he actually was. He was 16 when he committed his crime.

AS: Gloria, I have one more question for you be before I let you go. Um, After keeping the secret from your son that you were raped, why did you tell him when he got out of prison?

GH: Um, because I I knew that someone in my family would tell him because they felt like he should have known and I wanted it to be me. I wanted it to come from me and not from them. Because when he was locked up they thought I should have told him, that he should have known.

DB: Well you know nobody told me.

GH: I - I know. But they would have. I just didn't want him to find out someplace else.

AS: Have you talked about this since you told him?

GH: It was just the one conversation. I told him what happened when he came home but I never really talked about it.

DB: Yeah, nah.

GH: Mm mm.

DB: I would say this though. Like, I - I think my mom is like one of the strongest people I know. I didn't know this, so I did my entire prison sentence not knowing this. And I don't know, in retrospect I think it actually multiplies out in ways that I can't put my finger on because I think what it meant was that I couldn't be a son to my mom at that time, and not only just at that time but even now. I mean this shit happened so long ago that like my mom has like figured out how to deal with it. We don't talk about it. I'm actually surprised that she said something about it to you, Anna, 'cause like we don't know you at all (laughs). And it takes a lot for um, yeah I mean we in the center of women really taking a stand about you know what it means to be sexually assaulted. And I think of people who understand, men who understand what it means to be raped, I think you know one of the few - Etheridge Knight, a poet who I admire and have admired for a long time, said that the only person that knows what it's like to be a woman walking the street at night is a 16-year-old in prison. And um I wasn't raped in prison but I went to prison 5'5" and 120 pounds and so I would, I would have been a fool not to constantly contemplate what it meant to be in a situation where I just had no control and so it I you know -

AS: Wow.

DB: Um I don't know. Mom, I appreciate you being like brave and willing to say this um today 'cause I think, I think that I have for a while struggled with what it meant for me. I mean, I committed a crime, and in some ways I think that this guy committed a a crime and it was, it was horrible. But I think what I feel is that um I'm in the same category that he exists in. And um and that's a challenge. That's a challenge for me. I struggle with it a lot but more importantly I think the thing is like, you don't get what it means to be selfless until you become a parent, and when you told me that and you told me that you were able to compartmentalize your pain while helping me get through mine, I was really grateful 'cause I owe you, you know um so much.

AS: Is there anything you wanna say, Gloria?

GH: Mm. Oh. [Sniff] That was sweet Dwayne. Mm. No, I think I'm going to compartmentalize again.
That's Gloria Hill and her son, Dwayne Betts.
You can hear a lot more from Dwayne in the podcast series, Caught. It was produced by my colleagues at WNYC. All nine episodes are available now. It's really worth listening to. Find a link to listen on our website, at deathsexmoney.org—or look up Caught wherever you get your podcasts.
Death, Sex & Money is a listener-supported production of WNYC Studios in New York. I'm based at the Center for Investigative Reporting in Emeryville, CA. The team includes Katie Bishop, Anabel Bacon, Stephanie Joyce, Emily Botein, and Andrew Dunn.
Thanks to the Caught podcast team for for their help in this episode, and for introducing us to Dwayne—in particular, Kaari Pitkin, Karen Frillmann, Courtney Stein, Kai Wright and Sofia Paliza-Carre.
Our intern is Angely Mercado.
The Reverend John Delore and Steve Lewis wrote our theme music.
I'm on Twitter @annasale, and you can find the show on Facebook, Twitter and Instagram @deathsexmoney.
AS: Gloria, I'm gonna let you go but I just want to thank you for your openness, and I hope I hope this has felt comfortable.

GH: It was and thank you for inviting me.

AS: Yeah.

GH: This is the first time Dwayne has invited me to one of his interviews.

DB: I told you I was self-centered.
I'm Anna Sale, and this is Death, Sex & Money from WNYC.
Copyright © 2019 New York Public Radio. All rights reserved. Visit our website terms of use at www.wnyc.org for further information.
Music Credits:
"Come As You Were" by Blue Dot Sessions
,
"Suzy Textile" by Blue Dot Sessions
,
"What True Self? Feels Bogus, Let's Watch Jason X" by Chris Zabriskie from Music For Video
,
"Margerie" by Blue Dot Sessions
,
"The One Shot" by Blue Dot Sessions