I Married A Dreamer During The Trump Presidency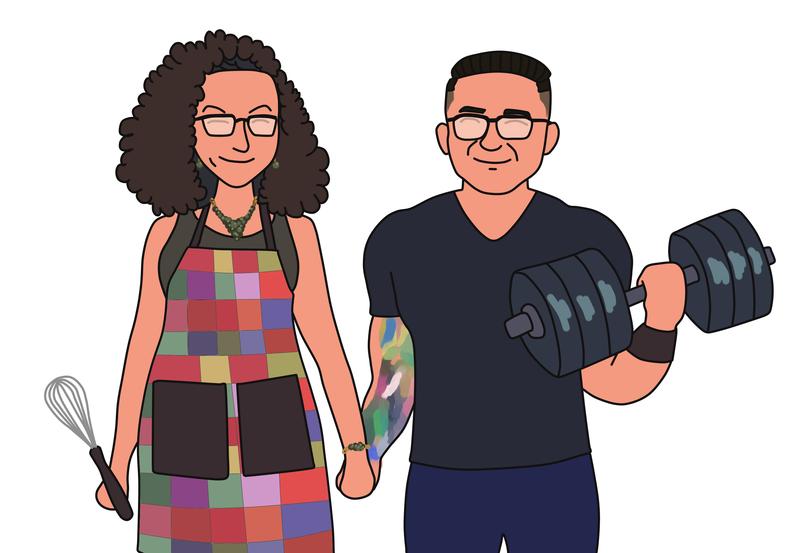 Transcript
FREDDY: There's a lot of things that you can't start or or plan ahead for because you don't know how it's going to go a year from now or two years from now. So those things are just staying in a dream basis right now. That's what DACA recipients are doing. They're dreaming about a future that's that's not there yet.
This is Death, Sex & Money.
The show from WNYC about the things we think about a lot...
...and need to talk about more.
I'm Anna Sale.
AS: Hi!

F: Oh, hi!

VANESSA: Hello!

AS: How are you?

F: Freddy, nice to meet you.

AS: Hi, Freddy.
I met Freddy and Vanessa this fall at their apartment in northern New Jersey. It's a cozy spot, on the ground floor. They met just over two years ago at the gym.
V: I saw him and he looked kind of like the coach and I said, excuse me, are you the coach of this class? And he's like, yeah. I said okay. Well, I need to introduce myself to you. It's my first day here. So just look out for me so I don't die. Like, I've never done this.

AS: Freddy, did you like immediately kind of notice Vanessa or what - ?

F: Well I did notice the hair. She had the biggest hair in the class. [Laughs]
A few weeks later, when Freddy sent out a group text wishing everyone in the class a Happy Thanksgiving, Vanessa responded directly to him, and they struck up an exchange.
V: So then we ended up meeting at Dunkin' Donuts for, like at 11ish, midnight.

F: Or so. How long did we chat for like like an hour?

V: A couple hours, like two hours. Hour, two hours, over -

F: I was listening most of the time. [Laughs]

V: Like always.

[Laughter]
Both Freddy and Vanessa are in their early thirties. Vanessa is an administrator at a university. Freddy works at a paper company, and also part-time at the gym. They both grew up in New Jersey in immigrant families.
V: I mean you told me you were from Mexico. So my - my assumption was that it was a situation like my family, like you came from another country and then eventually you got residency. That was just kind of how I assumed, 'cuz Latinos, most first generation Latinos in this area anyway have had that experience.
Vanessa's mother is from the Dominican Republic, and growing up, Vanessa went back and forth to the DR a lot.
But Freddy's only crossed one international border in his life. When he was 6, he left the small Mexican village where he was born and came to the U.S.
F: I remember that we were in a car, the back seat was taken off. So we lied there. They threw some blankets and covers on top of us. Basically we were covered, we were hiding in there and then they put the baby seats, I think it was two baby seats, on top of us and we drove for like maybe two hours or so.

AS: Did you understand you were hiding?

F: I kind of understood, because they told me not to make any noise but I didn't know why or or or what was the purpose of that.
Vanessa didn't know any of that when things started to get serious between them. She also didn't know that Freddy is one of the 700,000 young people in the U.S. with DACA—Deferred Action for Childhood Arrivals—and that his legal status here hinges on it.
She just knew that Freddy was unlike anyone she had ever dated.
V: I don't know, there was just something very honorable about him all the time, and a couple mon - I would say a month into us dating, we were we were scheduled to meet up that day, probably again at Dunkin' Donuts, I think, um, and I got into a huge fight with my sister who who has mental health issues. And my sister and I were coming back from this party that my mom was hosting and we brought plates of food, you know for leftovers. And so um in - in trying to like defend myself and manage the situation, the food was being flung everywhere.

AS: It had been like a physical fight.

V: Right like, everywhere. Rice, beans, pernil, which is like roasted pork. It was everywhere. My glasses broke. It was a disaster. So, of course, I tell him, don't worry about it, we'll see each other tomorrow because like I can't, I have to deal with something. And he had no idea anything about my sister and his instinct was just to come to the house and see if everything was okay. He just showed up. And he said, what happened? So I just start bawling right, can't even say anything and he said, you know what? He had given me a flashlight. That was the first thing he ever gave me was a like a flashlight bat to protect myself, um walking to and from the bus stop. [Laughs]

AS: A flashlight.

V: Yeah, it's like a titanium steel, this, it's like three feet long um, so it was in my car and he said just hold the flashlight. He cleaned the entire car that night and I'm intermittently going from sobbing 'cuz I'm so upset that this event has occurred to being grateful to then being embarrassed, you know, all these things and um, and he was just there, you know like when he was cleaning my car, he's like don't worry, you're not alone anymore, I got this.

AS: When did you tell Vanessa, Freddy, that - that you had DACA and had previously had been undocumented?

F: Hmm. I think it was, it was like a month or two after? Based on how we were trusting each other or just opening up to each other, I felt comfortable and - and then I figured well if she is going to react in a negative way, it'll be okay, you know, it's not gonna, I guess it's not going to break me. It'll just be a way for me to say she's okay or not with it. You know so, depending on her reaction, I was gonna basically determine how did I stand next to her based on her view of DACA.

V: It came up where he said, well I have to tell you something. And uh, he said I have DACA. And I was like, okay, so? Like I, it just, it didn't click right away, um.

AS: Did it feel like a secret you had to reveal, like something you needed to -

F: Yes. Yes. Yes, because again uh she she never, would you have guessed it?

V: No. And I'm thinking that the process for that to turn into like legal status wasn't that difficult because what my family had gone through was like, oh this is, you can, there's a way. You can find a way. And then I can remember one of the first times we went to this little Mexican restaurant that we love to go to and eat tacos and stuff, and so um we were there and I said, well—you remember this Freddy?—and I was like uh, I was thinking about it and we could just get married. [Laughs]

F: She proposed to me.

V: Do you remember that?

F: Yes.

V: And he just was silent, like he just looked at me, and then looked down at his food and kept eating.

AS: He didn't say anything.

V: I'm like, um are you gonna say something? You know, and then he eventually he said, um you know, I take marriage very seriously and I would never want to go down that path just because of of legal status. And I said, well, you know if it doesn't work out with us and that that could be like my lifetime gift to you, kind of a thing. Also a way to to express my gratitude for - I'm gonna start crying, for his um, sorry - sorry.

AS: It's okay.

V: So weird, um. Thanks. Um, no it was away I think to also express my gratitude for who he was and who he was showing himself to be. Um. I think I looked at it as like, aha! Like, this is an opportunity to like help him because he has it, he's so together, and he's so steady and sure of himself and so, you know, sometimes, I wouldn't say it's intimidating but it is kind of like this is my way to like help you or give you something that um maybe like matches like my, how I felt and my gratitude because after dealing with you know, just regular dating for so many years, it can really uh make you lose your faith in like ha-, finding like a good partner and that's a good match and all these things. And that's what motivated me to say it in the first place. Um and then of course because he's so sure of himself and solid, he says he would never just marry someone for the practical sense of it because even if it's civil marriage, he takes it seriously, and I'm like I can't even get you that, like are you - ? [Laughs] Um. But I think also at that time, I was naive thinking that it was a quick and easy process.
Coming up, politics intervenes in Vanessa and Freddy's relationship when President Trump takes office.
F: Right now, with this administration, you never know where you stand. You know, so you can be good today and then tomorrow its chaos.
—
In case you missed it, I am pregnant with my second child, and right now, and the team and I are in what we call turbo production mode to get ready for my upcoming maternity leave.
While I'm out, welcoming this new baby and nursing and learning how to be a family of four, the team is still going to be putting out new episodes. A lot of them are interviews done by me, and, like the last time I was out on maternity leave, we'll also have some exciting guest hosts who will be sitting in.
But for now, because I have the weird, hilarious due date of December 25th. And so we thought it would be fun to make an advent calendar of sorts, to count down the days until this baby comes and this phase of our turbo production mode is officially complete.
So we're going to share behind-the-scenes moments with you all and some fun surprises every day until my due date. You can check it out right now at deathsexmoney.org/countdown and follow along all month long.
On the next episode, a woman who was working her way up at a bank, all the way to becoming a vice president…but couldn't stop thinking about becoming a nun.
SISTER JOSEPHINE GARRETT: I started to freak out because I'm thinking I don't fit that stereotype. A nun was like someone who's never done bad things, a nun is someone who has no personality. A nun is someone who's boring and nuns are someone who doesn't enjoy her life, right? A none as someone who's not living her best life.
—
This is Death, Sex and Money from WNYC. I'm Anna Sale.
Freddy has had legal status in the U.S. the whole time he and Vanessa have been together.
He got DACA when he was 26, not long after the Obama administration created the program for so-called Dreamers, kids who were brought to the U.S. illegally.
Before that, Freddy didn't have a driver's license or a Social Security number. But he did work and pay taxes. That paper trail was useful when he was applying for DACA.
F: They ask you for records for your tax. Uh, at least four previous years, which I had. And then a lot of pay stubs, medical bills, just records that shows that you never left the country within a certain period of time. So it's a lot of paperwork 'cuz you gotta show almost a weekly basis of paperwork in order to confirm that you - you haven't left the country. So we initiated the case and it was very fast actually and I guess all me, my evidence was very solid, and so maybe within the next few months, I received a letter that I, my case was approved. And eventually, about a month or so after the fingerprinting, I got my my working permit. And so the first thing I went for was for my license. Then I didn't have to get the bus for work anymore. From here to my old job is literally 10 minutes away. When I had, when I took the bus I had to ride almost two hours to get the bus because from here, it's highway straight, with the bus it was around the highway so I had to take two buses.
For five years, Freddy didn't have to worry about that two-hour commute both ways. He also didn't worry about getting deported. Until President Trump took office.
Vanessa and Freddy moved into their apartment together just after Trump's inauguration. And Vanessa started to grasp what it would mean if the President made good on his threat to end DACA.
V: I remember we were coming back from dinner once and um I was like, you know what happens if Trump cancels DACA tomorrow, and then everything that we've tried, that we've started planning for can't happen? If they cancel DACA and you no longer have a social or a work permit, um that doesn't help us in terms of planning to buy a house or what happens if they cancel DACA and then they go after all the DACA recipients and like we have a baby? Like I don't want to be a single mom under those circumstances. And I remember him saying like, I didn't think about that. And I was like well, this is what I think about all the time, like what have you been thinking? [Laughs] And he's like, I don't know. I just thought it would work out. And I'm like okay, we have to get on the same page, um -

F: I - I mean, I think I wasn't giving it so much thought about it, because I had been living without a a working permit longer than with, so in my thought is, I have done so much without it than with it, you know? So that's not going to change anything for me. You know, so that's why in my mind I thought whatever happens, it's not going to stop me, you know, and that's what she didn't understand at that moment.

AS: Because, for you Vanessa, your - your partner losing legal status would be a loss. The way you have lived in America would not be possible if your partner lost legal status.

V: In a way yes. I felt like there would be so much more uncertainty for how do we continue to plan for the things that we've been planning freely? Um you know up until the last couple of years, traveling for me has been a huge part of my life and my identity. I - you know, we had agreed and we made a commitment that I won't travel outside the States until we can do so together. So - so that just kind of totally changes how I was thinking about like our free time or building memories um kind of outside of our daily environment.

AS: So the the reality of building a life with a DACA recipient whose status might be in question slowly occurred to you and then it became something you couldn't stop thinking about.

V: Right. Yeah, it was how how do we, how are we going to make it work? What do we need to do to make it work? I would, I remember being at work, um and every time I had free time, I would be like searching everything online and I would try to look up different scenarios like, "DACA recipient airplane travel." It - it was, I was obsessive. I just needed to know every piece of the puzzle and how it all fit together.

AS: Vanessa, do people at work know about the immigration process you're going through with Freddy?

V: No.

AS: You're secretly Googling, when you're Googling at work?

V: Right.

AS: Do you have to, do you feel like the fact that you're a DACA recipient is information that is best kept private?

F: I think it is. I don't think anybody needs to know anybody's situation, uh in terms of legal status.
Freddy and Vanessa started talking about marriage again. They thought if they were married, it would help protect Freddy if DACA disappeared. They began planning a wedding and reached out to a judge to perform the ceremony.
V: We - we called her and we just said hey, um we're thinking of getting married like maybe by the end of the summer. And she was like well, if you don't have to wait, I wouldn't. I've been seeing a lot of cases get shot down in immigration court lately, so if you don't have a reason for why you're waiting another two months, I think it's better if you just start the process now. And then we were both kind of like oh shit, um. [Laughs]

F: And my goal was to get married maybe a few months, years down the road just to build that relationship more solid. I felt that it was still going to keep growing.

V: And it was funny because, um I guess because we - no one else was part of all of these conversations right, except the two of us. And so not everyone else fully understood and so like the quickness of it was really like a bucket of cold water to I think everybody else, um but our moms were on board and so then that was enough for us and the whole thing was very um memorable, but it was surreal and I think it took a while to feel like married, not like we just kind of like, you know threw it together.

AS: Where was the ceremony?

V: In my mom's backyard.
Freddy and Vanessa met with an immigration attorney right after that. He told them, even though they're married, for Freddy to get a green card, he would need to leave the country and re-enter from Mexico legally.
Normally, people who have entered the U.S. illegally have to wait 10 years before they can apply to come back in. But because of his DACA status, Freddy was eligible for something called advance parole that would allow him to leave for a short period of time and then return.
But the week before he was going to submit his paperwork to travel to Mexico, the Trump administration announced it was ending DACA, and advance parole for DACA recipients.
V: Done deal. No more.

AS: And you hear about it in the news?

V: Oh yeah. And then, um advance parole was no more. Like that was it, cold turkey. Whereas the - the fact that DACA was being canceled was being taken up in the courts and all of that stuff, advance parole was just not gonna be a thing. So then we said, ugh okay. Back to the drawing board.

AS: So the risk of Freddy leaving the country was a whole different thing, uh like leaving the country could mean he couldn't get back in.

V: Would definitely mean, at this point, that he couldn't get back in.

F: I mean we literally, we were in - in a very short period window where if the paperwork would have been submitted, we probably would have made it within maybe days or a week or so. So just that, knowing that alone, that you you missed it by a few days, it's like, it's almost like if you're building a house and the whole house just collapse again, and you gotta start all over.
Now there's a whole other long and complicated process Freddy and Vanessa are trying, to see if Freddy can eventually apply for a green card without leaving the country for 10 years.
And there's time pressure. If court challenges to preserve DACA fail, or if his DACA paperwork isn't renewed next year, Freddy could be deported.
AS: Does having to report for DACA the next time feel like it's a scarier process because of the way the politics are changing around it?

F: I mean it can be. I'm not going to stress it because I can't stress the future.

AS: How do you not stress, stress it?

F: Well, there's two things to stress. Number one, if if it has a solution, you shouldn't stress it and if it has no solution, then you shouldn't stress it. You know?

AS: Freddy you sound like Yoda.

F: I try to put very minimal time to stress.

AS: What do you do with, when - when the uncertainty occurs to you, like what do you do then to to work through that feeling?

F: So any problems that are out of my hands, I pray to God to give me the best outcome out of them. And whatever the outcome is, whether it's good or bad, once I feel like I prayed it and left it in God's hands, then that's the best that came out of it, whether it's good or bad, you know. So even if it's not a good thing at the moment, it's the best because it's going to make me stronger in the long run.

AS: Is that how you process stress Vanessa?

V: Uh, I'm trying to do that more. My - my first response to stress is to analyze like what is, what is a way to solve this, to improve this, to fix this. Um and then all the behaviors that come with stress: stress eating, stress drinking, um sleeping, not wanting to work out or whatever. Um so I'm trying to be more centered uh spiritually so that things don't stress me out as much. And then we have to, we have to just let it go, you know, you can't live in that constant state of fear and stress every day.

F: We just gotta keep moving on and if it gets solved then good, you know, thank God for that. But if it, if it doesn't then we're always going to find a way to live around it.
That's Vanessa and Freddy. They're planning a second, big wedding in a Catholic church later this month, saving for a down payment on a house, and starting to talk about kids.
Since the Trump administration rescinded DACA, young people can no longer apply. But federal judges have ruled that current DACA recipients can ask for renewals. Court challenges are making their way through appeals and are expected to go before the Supreme Court.
Vanessa and Freddy do have a rough plan if he's eventually deported. They'll either go live with Vanessa's extended family in the Dominican Republic or settle in Mexico, even though Freddy hasn't been there in 25 years.
Death, Sex & Money is a listener-supported production of WNYC Studios in New York. I'm based at the studios of the investigative podcast Reveal in Emeryville, CA. Our team includes Katie Bishop, Anabel Bacon, Stephanie Joyce, Joanna Solotaroff, Emily Botein, and Andrew Dunn.
The Reverend John Delore and Steve Lewis wrote our theme music.
I'm on Twitter @annasale, the show is @deathsexmoney on Twitter, Instagram and Facebook. And you can email us anytime at deathsexmoney@wnyc.org.
Since Freddy got his driver's license five years ago, he's owned three different cars. Right now, he's driving a Buick Regal.
AS: How did you pick a Buick Regal?

F: Well, I'm 30 years old. Spiritually, I'm like 45. [Laughs]
I'm Anna Sale, and this is Death, Sex & Money, from WNYC.
Copyright © 2019 New York Public Radio. All rights reserved. Visit our website terms of use at www.wnyc.org for further information.
Music Credits:
"Valantis Vespers" by Blue Dot Sessions
,
"Sino de Cobre" by Blue Dot Sessions
,
"More On That Later" by Lee Rosevere
,
"Simple Vale" by Blue Dot Sessions