The NFL Made Me Rich. Now I Watch It... Sometimes.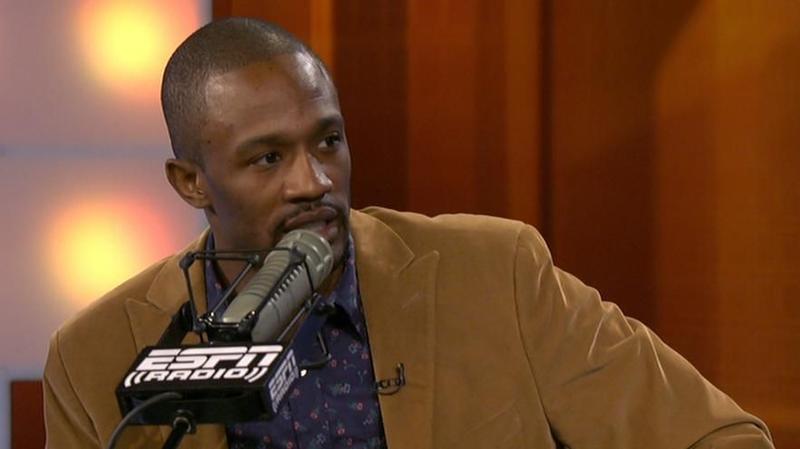 Transcript
DOMONIQUE FOXWORTH: Every other phase in my life, it was very clear that I wanted one thing and I just got off of, off of the treadmill so to speak and then there was like no clear I need to go there.
This is Death, Sex & Money.
The show from WNYC about the things we think about a lot...
...and need to talk about more.
I'm Anna Sale.
Domonique Foxworth used to play in the NFL. I talked to him about leaving football behind about two and a half years ago, and it stands as one of my favorite episodes we've ever done. With the Super Bowl coming up, we thought we'd share that with you again, along with an update about what Domonique is up to now.
Because when we talked before, Domonique was about to start his last year at Harvard Business School. He was in his early 30s. And he was looking ahead to life without football at its center for the first time since he suited up for pee-wee football as a little boy.
Turns out, Domonique says now, hopping off that track was harder than he thought it would be.
We'll have that update at the end, when he tells me, among other things, why he quit the high-paid executive job he landed right out of business school.
When we first spoke, Domonique was in Baltimore, his hometown. I was in New York. But, I told him, we'd been in the same place before.
ANNA SALE: I was at the 2004 Gator Bowl in Jacksonville, Florida. And I was rooting for West Virginia.

DF: Sorry about that.

AS: Yeah. Do you remember the score?

DF: I know we had forty-something, and I believe you guys were in the single digits, or maybe like the teens?

AS: That's right, no. 41-7.

DF: Yeah, it was a good game.

AS: No it wasn't!
Domonique went on to play in the NFL for seven years, for the Denver Broncos, the Atlanta Falcons and the Baltimore Ravens.
He was also the president of the NFL Players' Union for two years. Domonique lead efforts to better understand the long term effects of concussions on players' brains. And he negotiated directly with NFL team owners.
DF: I don't want to paint all the owners with a broad brush because I've developed some relationships with some who I don't think they're like assholes, to put it that way. But I think a lot of them are, honestly.
Domonique says that changed the way he thought about the game he'd loved so much growing up. He started playing football when he was six years old.
DF: I remember very clearly in the apartment that we were living in, sitting down with my dad, and he asked me what I wanted to be when I grow up. And I told him, professional football player. And he proceeded to say, okay, well, you should set little goals between now and when you get there, and work - do something to work towards it every day, no matter how big or how small. And that night, I actually did sit-ups, because I was like, alright, I'm going to get strong enough right now to get in the NFL. So, it's good old six-year-old logic, I did sit-ups until I probably got to 300 or so, and I remember probably for the first time since I was a baby, not being able to control my bowels. Because I was so dehydrated. I threw up, and had some other stomach issues. So I remember my dad saying, well, you can't, like, do it all in one day.

AS: Is it true that your parents have never missed a football game of yours?

DF: That is absolutely true. I had one or both at every single game my entire life. So, it was—

AS: This was pee-wee league, junior high, high school, college, NFL, all over the country. One of your parents is in the stands.

DF: Yup. I remember when I was a kid not knowing that I had good parents until after a practice in high school. My parents were late picking me up from practice one time. I was like really upset. Like, what the hell? Why am I still here 30 minutes after practice is over? And all these other kids were like, yeah I wait here every day for an hour. Who knows when my mom's gonna show up? That was the first time they were like, not there for me exactly when I needed them. The first time I looked around at other people who were just like me and saw that they didn't have that.

AS: When you get older in high school and you're thinking about college, and college ball and the NFL, and you start to realize like, not everyone who says they want to be an NFL player when they're a six-year-old boy gets to be an NFL player, did you question it? Or did you always kind of know?

DF: I don't think I ever had like real, serious doubt. But - so I graduated from high school half a year early, and I started at the University of Maryland full-time class and full-on practice with the football team. And I was awful. So, you go from being a dominant kind of player in little Baltimore to playing with men, essentially. 21, 20-year-old guys who have been in a full - a real training program and played against other men, and the high school that I went to had a football team for two seasons before I got there. So we didn't really have a developed, much of a developed program. So I got there, I was getting dominated by them on the field, I was getting dominated in the classroom, because, I mean, you know your senior year in high school, you're just kind of chilling. So then I go there, and they are not chilling. So I ended up pulling it all together and getting like, a reasonable GPA, but that first month or so, on the field, and in the classroom, was miserable. And that was the first time when I was thinking, I was like, I don't know if this football thing is for me.

AS: What was life like in the dorms, for you?

DF: I don't know, it's definitely a different experience than the average freshman, because you're kind of a celebrity on campus.

AS: What was it like to be a celebrity on campus with women?

DF: There were some easy opportunities, or lay-ups, as I called them back then. And those easy opportunities—

AS: Oh man, lay-ups.

DF: Yeah. I was an 18-year-old guy. I mean, forgive me. Are we gonna get a chance to get into conversations about the more mature Domonique Foxworth, that has a better perception on masculinity than racking up numbers? That's how I thought when I was 18. Forgive me. So, when those opportunities presented themselves, there was a specific type of person who was looking for you. And those are not the type of people that you're necessarily looking for for a long-term relationship, if that makes sense.

AS: Yeah. It's an extension of fandom.

DF: Yeah. So having fun, and having these great sex stories from being a college athlete—but attracting the type of woman, like attracting my wife, we went to the same school but we didn't date then, because she was not enamored with the persona that I was, and so I think it hurt us academically. Where our professors were harder on us because they thought we were dummies who were just there to play football, and it definitely was difficult romantically. And I think it probably had a racial component also, in going to a predominantly white school. It's like, well these women who wouldn't necessarily be interested in you as a long term relationship type of person, they're like well, this big kind of mandingo strong black man, let's experiment with that and see what this is all about. Which, obviously—

AS: Were you aware of that at the time, or looking back?

DF: Um, I think I was aware of it at the time. Or I kind of used it to justify some of the things that I would do. So I wasn't like the best boyfriend or the best everything at the time, and I think I would use things like that, like, well they're just after me because they want to be close to the football guy, or they think I'm in great shape and they think I'm this stereotypical, oversexed black male. And they want to give that a try. But they don't want to actually take me seriously. So, I mean, whatever. I don't care if I am with her and her friend and don't think much about it. So I think I was aware of it to the extent that it gave me cover, you know.
So playing on a winning college football team is sort of like being a rockstar...along with the other 125 guys on the team. You're growing up together, learning how to deal with celebrity together. But none of you are making any money.
AS: A moment I'm really interested in is that transitional moment—you know, University of Maryland was good when you were there, but there were just a very few of you who went on to the NFL after you graduated.

DF: Right. Mm-hm.

AS: Did you talk about that with your teammates, the reality of when you play for the NCAA, you do not get paid, and just very few of you are looking forward to a massive payday.

DF: One of my best friends in life, and he's still a really good friend of mine, like it breaks my heart to talk about now because our friendship is up and down occasionally, but we're still pretty close. I'm the godfather to his daughter. But I remember, we kind of stopped talking for a year or two when I went to the NFL and he didn't. And I remember very clearly, when we were training together to get ready for pro day, which is when NFL scouts come and watch you work out at your school. So we're training for the pro day. And I think it was evident that he was a great player, but he had had injuries, and it was evident that he was going to have a much harder time making it professionally than I was. And I said something to him to the effect of, well, I love you. As long as I make it, like we both make it, and whatever you need. And I guess maybe that was the wrong thing to say at the time. I thought it was the right thing to say. But I remember very clearly, him responding to me by saying that it was some quote from the Bible that said, a rich man has about as much chance to make it to heaven as a camel passing through the eye of a needle. It felt like he resented me, or there was some jealousy. And it definitely hurt our relationship going forward, and I don't know that we've ever like, been the same.

AS: Well it's interesting that it was financial. It wasn't like, you get to realize this dream, it was like, I realize you're gonna get this big payday.

DF: Yeah. The guy that I was just talking about had three knee surgeries and a shoulder surgery and reconstructed his index finger. So he's going to have to have a knee replacement, he was told that in his 20s. You're going to have to have a knee replacement by the time you're 40, and no one's covering that. That health care that he needs. And no one's making up for the fact that they guided him towards a major that he wasn't interested in, but they guided him that way because they needed a easier - he needed an easier major that was more flexible with his football schedule. These were all decisions that were pushed upon a seventeen-year-old kid that would benefit the institution more than it would benefit him.

AS: So it sounds like it was in college that you were politicized in a certain way, about the economics of sports, and how players need to advocate for themselves.

DF: Oh yeah. None of us had any control or leverage in order to protect ourselves, and then there's the whole idea that we're students before athletes, but the sport's - if I had an exam during practice, then I went to practice. And if I got 100 percent on my chemistry exam no one is going to receive any benefit, including me. So the motivation is there for me to do well to get an interception on Saturday. That will benefit me. That will benefit the athletic director, the coach, the university, the president, the alumni, the students. I take issue with people pretending that the benefits that are afforded the university and all the people involved are not a result of the sacrifices of the players.
Coming up, Domonique explains what made him finally leave football behind. And we hear an update from him about another major career decision.
DF: They have all these statistics that they share with us at business school before we leave about how many people change jobs in the first year and I have become a statistic. A good one, I guess.
—
We're in the middle of working on an episode about your breakups. A lot of the stories you're sharing describe the gory details of the breakups themselves. But you're also sharing what happens afterward. Teresa, a 35-year-old listener in London, recently went through a breakup. She says it was sudden and really painful. But, she wrote us, "For the first time ever I was able to do everything right in terms of post break up."
Teresa: All those years of the same advice I've told friends, all the years of advice I've been told but was never able to put into practice, about paying attention to myself, about just mourning and crying and doing what I needed to do in terms of being upset, about no texts, no communication. About all of a sudden I started doing exercise regularly, I started meditating, journaling, all of these things. And even while I was feeling so lonely and so, you know, rejected, abandoned, I knew that I would come out stronger in the end.
It's hard to do breakups well. That's why we're compiling your best advice in a break up survival kit, so we can all be more like Teresa. What have you watched, listened to or read during that painful period after a split? What's helped you move forward and heal? Email us at deathsexmoney@wnyc.org or contribute to our public Google Doc. There's a link to that on our website at deathsexmoney.org. And look out for our episode all about your breakups. It's coming out in just a few weeks.
—
This is Death, Sex & Money from WNYC. I'm Anna Sale.
At the end of his college career, Domonique was drafted by the Denver Broncos. He spent three years on that team. But then, in 2008, he was traded to the Atlanta Falcons. The year before, the Falcons had lost 12 games, and only won four.
Domonique needed to WIN to get a new contract. And the move South made him wonder if his career was over.
DF: I was living in a hotel for a little while, and then on an air mattress in the place I rented until my furniture got there. So it was really a lot of time to think when you're on an air mattress and you don't have a TV, and when you're at the bottom of the depth chart and you think your career's coming to an end. It's a lot of time to think. And I think that was a really pivotal time in my life, and had me thinking differently about my - about who I was. Then it turns out, I ended up having a great season, and signed a major, a really big contract in Baltimore.
Baltimore. It was a return to the town where he grew up. And that big contract was worth 28 million dollars over four years.
Then, Domonique got injured.
AS: So you had a shorter career than you could have had in the NFL because you tore your ACL in practice.

DF: Mm-hm. Right.

AS: On that day, did you know that it was going to be over?

DF: No. I didn't know it was going to be over, um -

AS: When did you realize?

DF: I think when I went back, the day I—so I recovered from the ACL, and I went back to start practicing. And things weren't right. That was an issue. But also, things weren't right for me psychologically. I just participated as the president in the negotiations for the collective bargaining, the most recent collective bargaining agreement, and I sat across the table from the owners of the teams and negotiated over the projected ten billion dollars the NFL was supposedly making. And days later, I was on the practice field. Like, sweating and listening to coaches yell and all that, and that—at this point in my life, I felt more comfortable at the table than I did on the field. It didn't feel like—I went from the top of the totem pole to the bottom. We get paid well because the talents that we have are so rare. But you're still the labor.

AS: So in some ways it felt like you weren't being treated like a grown man. You're being yelled at by coaches after sitting at the table in a position of power. Then you go back to the field—

DF: Yeah, that's exactly what it felt like. And that's when I said, I should apply to Harvard Business School. I always had business school in the back of my mind, but I realized I could kind of play—the same way that I could play with the best in football, I realized I could play with the best intellectually and professionally.

AS: That's interesting because you know, you hear career-ending injury, and you think that that - it would be this very fraught moment for you. But it sounds like you had stored up some resentment by that point, that you were ready for something else.

DF: Yeah that's exactly right. I mean it's, the really big difference is guys who are able to maintain the love for the game, and I don't think I've maintained that. I don't know if I've joked with some of my friends, saying that you're either really strong mentally or really weak mentally to be able to maintain that, because you either don't see what's going on around you, or have the strength to put that out of your mind. So when I was a high school player, obviously like, do anything I could for my team and the guys - like that's the last time where I felt like I was really on a team. Then when you get to the NFL—I had a great rookie season, and I was playing well, and they went and signed another player at my position for like 30 million dollars, and then I was not allowed to start. And so, my first contract was not a ridiculous amount of money. It was great money, but it wasn't life-changing, your grandkids will have these great opportunities type of money. And that's why I wanted to come to the NFL. So when I saw him sign that deal, and then him get this playing time over me, I was very angry and I wanted to get that opportunity. So my goal became less—as much as I wanted to win the Super Bowl, or play really well, I wanted to play well because I knew that if I could play well, I could get this extension, I could make this money, and then my kids can go to private schools. And so, it became more about that—getting to the next transaction—than it did about being the best player and supporting your team and sacrificing for your team, in the way that it was in high school.

AS: Did you decide to retire, or was it forced on you?

DF: I think I decided before it was forced on me. Like, I knew that I was done before they knew I was done. And then eventually they said, you know you're done. And I said, I know. Thank you for the opportunity, I'm sorry—I felt, it's crazy too, because I felt this great amount of guilt that I wasn't able to fulfill my contract. I didn't feel enough guilt to give them the money back, that's ridiculous. But I remember thinking, when I was a rookie and I was a third-round pick and I was a rookie contract, I remember thinking very clearly, like, they owe me more money. I started half the season, played in a bunch of playoff games, made big plays, and played like a starter. And they're paying me like a third round pick. And I feel like, for my last contract, it was the opposite direction. And I remember trying to—in the same way I tried to rationalize some of my decisions in college, I tried to rationalize it like, well, the league as a whole owed me this money, or something like that. But it still didn't like, alleviate the guilt that I felt. But again, I wasn't that guilty. Because they're not getting the check back.

AS: And are you, when you think of where you are financially right now, are your grand-kids set, or do you need to make some more money?

DF: Absolutely.

AS: They're set.

DF: Oh yeah. It's great. Love it.

AS: How does that affect your decision-making about life, when you're in your early 30s and don't need to worry about money?

DF: It's a weird thing. Because there's—I think we all kind of say this, say like, well if I hit the lottery, I'm quitting my job. And I'm gonna travel and be on a beach all the time, and just hang out. And I can. But I don't—there's this, I did some reading recently about the hedonic treadmill, which is what I feel like I'm on. I had like a mini, mini existential crisis while in business school, because in my mind, it's like, I want to go to business school—I want to become a billionaire. I want to take however many millions I have now, and turn them into hundreds of millions. Or billions. And that's just like how—it's like why you go to Harvard Business School, right? But, when I got there, I was surprised, because that's not what they teach. They kind of teach, this like, more, look for fulfillment. And so there was a period there where I was like, what would really fulfill me? Do I want to stay home, be like a stay-at-home dad? And I came to realize that that's not what makes me happy. So like, the one thing that I got—or the couple things that I got from football that I realized that I want to continue to have in my life is, 1) relevance. And 2), competition. And I remember when I, like sitting and being honest with myself, I was like, all right, well you really liked the attention, didn't you? And it's not something you want to say, but it's like, yeah, I kind of did. And I liked having the platform. But I still think that somewhere inside of me, there's still like, who doesn't like being the big man on campus? And I don't want to not be that anymore.

AS: You mean you came of age at a time when, when your name would be announced, people would literally cheer.

DF: It's kind of ridiculous what—and I think that I found, when I was having this existential crisis, where I was like what do I really want from my next job, and what do I want out of the rest of my life, the year between football and business school, I would just study all day, but I'd be around the house and I was not very happy. This just doesn't make me happy, to not have a goal to strive towards.

AS: Tell me about your wife.

DF: She's awesome. She's crazy smart, uh she's—private schools her whole life, both of her parents are doctors, and she had a different experience than me growing up. Which was very cool to have. I think that's cool for our kids to have that perspective. But she went on to Harvard Law School, and I remember thinking, this is really great, like I don't want a stay-at-home wife, that's not how I grew up. I thought that's what I wanted. So then we had kids. And that's not who she is. She's a stay-at-home mom, most of the time, and that works for us. I thought I wanted this kind of power relationship where it's two people who are just climbing to the top of everything, and I think I probably thought that because I was in the NFL. And I like, feared that somebody was going to come and try and take advantage of me for my money. I wanted someone who also had earning power, I think that part of probably like, subconsciously why I thought that. But that's not actually the person that would fit into my life. If I had this kind of alpha personality person around, and we would clash a lot, and who's going to stay home with the kids? That question is never asked with us, it's like, she wants to, I want her to.

AS: Do you still want to make a lot more money?

DF: Uh, I don't know, honestly. I think it's become more clear to me that the money is less important. I mean I think the money—I don't live a crazy life. It's, most of my life is pretty normal. I think the best thing about the money is having flexibility, and more than that is, for me at least, is it kind of gives you that kind of prestige and relevance that I say that I'm looking for. People knowing that you have that money. Or people knowing that you have had success in the NFL is good. And I think that's part of the reason why I want to make more money is because I think that, I don't like that people think—or I assume that people make assumptions about me, about what I'm able to afford or what I'm able to do is only based on me being an athlete. Whether it's true or false isn't important, I just like, I want to get to the point where I feel comfortable saying that the things I've achieved financially, and the things that I can afford in my family, is partially because of football, but even more because of what I've done afterwards.

AS: Do you enjoy watching football now?

DF: Nope.

AS: No? Do you just not watch?

DF: Nah. I have a hard time watching injuries. A sport that's as dangerous as football and has the long term repercussions that we've all kinda been reading about lately, it's difficult for me to watch guys get knocked unconscious.
That was two and a half years ago. Since then, a lot has changed.
[Ring]

DF: Hello?

AS: Domonique?

DF: Sup, California number? You're so cool…

AS: (Laughs)
Since we first talked, Domonique has finished business school at Harvard. He lives in Washington, D.C., now, with his family. He and his wife had a third kid. And, Domonique took a job with ESPN.
AS: When we last talked on the show, you told me you didn't watch football anymore, you didn't watch the NFL anymore. Now, it's part of your job to talk about football.

DF: Yep, yep. So I watch it now.
Right after he finished his MBA, Domonique's career was headed in a different direction. He was hired as the chief operating officer for the National Basketball Association's players union. But, he says, he knew early on it wasn't a great fit.
DF: As an executive, like 80 percent of the day is spent doing really boring kind of mundane things and I tend to think of myself as a little more creative and fun and I was fortunate enough to make enough money while playing that I had my choice and I found myself on the subway to work in New York one morning with a bunch of other people who were on the subway to work and they were angry and I wasn't all that happy and I was looking around, like, but I don't actually have to do this.

AS: Huh.

DF: So, I kind of made the decision to try my best to quiet those ego - the egotistical urges in me that liked having the big title and liked having the big salary and so I quit with no plan to do anything else.
He was unemployed for about two or three months. But he'd started writing on the side. And, he realized, he liked it. That's how Domonique started working for ESPN. He contributes on-air and writes for the site The Undefeated.
DF: I kind of do air quotes when I say I'm a journalist because I don't want to be like disrespectful to, I don't know, like real journalists, like Woodward and Bernstein, the craft of journalism. Because I am far from there yet.

AS: Like, has that felt—in your life you have been a standout excellent performer at everything you've done that the public has been able to see. So, has it felt uncomfortable learning how to be a writer on the internet, learning how to be a commentator with people watching?

DF: Yes, and that's kind of the best part. People talk about, um, how difficult it is to transition out of the NFL—professional sports in general—because there is no supplement for some of the things that you will miss. There's no comparison to playing a game in front of a hundred thousand people or millions of people on TV and having your every move criticized. And I like the idea of - I've come to enjoy saying things that are different and challenges people's beliefs, and then going to Twitter afterwards and hearing people tell me how smart I am or how dumb I am. I enjoy both.

AS: Are you still mostly living off of your NFL money?

DF: Yeah.

AS: As far as how you're paying the bills?

DF: Oh yeah. That's, hopefully I will never have to live off of anything else. I should be fine if I don't do something stupid or Trump doesn't tank the economy. Then I'll be good.

AS: Do you have enough money that you are living off of the earnings of your wealth?

DF: Yeah, yeah.

AS: So, it's, nothing is going down. There's no decreasing.

DF: Nope.

AS: That's a nice situation. (Laughs)

DF: (Laughs) It is. It is a tremendous situation, and I love it, and it is not without guilt. Mostly, I think, just because the older I've gotten, and this is probably in conflict with my football mind, but the older I've gotten the more I realize that we have, as individuals, have less to do with, um, the outcomes of our lives than we want to believe, if that makes sense. So like, in football, it's very, it's kind of like coaches preach and players believe whoever works the hardest is going to win. So it's in your complete control. And I think that's probably something that I believed. And the fact that I was successful, making a lot of money, like, of course I want to believe that the people who are successful and make a lot of money are the people who have worked the hardest because that means that I have worked the hardest. But in actuality, when I go back through the timeline of my life, I think of all of these, like, random happenstance events that happened to break in my favor to lead me to the life that I have. And then once you get more experience in the world and you learn more about other people and other cultures and other situations, you realize that some people don't have a chance in life. And no matter how smart they are, how athletic they are, how talented they are, they are in situations through no fault of their own that they don't have the resources or the opportunity to succeed. So, I mean, I'm not giving any of my money, I give money to charity, but I'm not giving it all back. Like this is a life that I like and appreciate, but I also try to be honest with myself and think, like, to some degree, I kind of feel like I don't think I necessarily deserve it.

AS: What part of Washington are you living in?

DF: The white part. The fancy part. (laughs)

AS: (Laughs) The white part. Because I was going to ask, does it feel, when you're moving back home, but you're in a totally different financial position than when you left, like, what's that feel like?

DF: Like, it never feels comfortable. So my wife, her whole family is super-successful in D.C., and she seems very comfortable in this house and in the stores that she shops in and in the schools that the kids go to. And I'm not. I never have been. I always feel like when I go into the fancy stores with her, I always feel like people are looking at me funny and I always feel like I have to buy something to, like, prove I can be here and I should be here. And the same thing when I go to the kids' schools. I can't help but be like, but I'm a 31-year-old black guy from Baltimore and all the other parents are lawyers who are like 45, and it just feels, to me, it feels like they belong more than I do. Even like, the black parents who are in the schools that the kids go to. It's like, uh, my best friend from childhood, like, did seven years for selling drugs, and I grew up in a nice part of Baltimore County. So I don't know, it just feels odd. But I have to admit there are some benefits to being back here, and being around family. It makes Christmas a lot more fun. A lot more exhausting also, but it's good.

AS: How is family different with three kids?

DF: Yeah, I mean I could go with the old joke that everyone says about going from man to man to zone at this point, but to be honest, we had match-up issues before we had three. So, it's a challenge. But I think the best thing, just because football was such a part of my life since I was so young, I can't help but internalize some of those kind of cultural things. And one of them is everything is super important. And every time something goes wrong with one of my kids, like, in my mind, it needs to be rectified immediately or else they are headed on a one-way course to prison and I have failed as a parent. So, I think kind of realizing that, well, it's okay if things go wrong every now and then and being as patient as I can. Like, kids have, it's kind of a cliche, but they help, they've helped me probably as much or more…nah, not more. I feed them. They wouldn't even eat without me. Never mind. I've helped them more than they've helped me. I was going down this whole beautiful Disney nonsense path, when it's just BS. I feed 'em. If they weren't around I would find a way to eat. But I think just in general, it's funny because we kind of think of growing up as something that we all do when we're young and then we're like in our mid-20s or late-20s or something and, like, we are who we are. And that's just BS. Like, I am different than I was three years ago, and I like who I am better than I've ever liked the person that I was at any point in my life.
That's Domonique Foxworth. He contributes to ESPN and ESPN Radio, and writes about football, race, and culture on the site The Undefeated. We've linked to a few of his pieces on our website, including his reflections after seeing the movie Concussion. "We all played this game, and we're all subject to the potential devastating consequences," Domonique wrote. "Suddenly, I was more aware that I am not separate and safe."
Death, Sex & Money is a listener-supported production of WNYC Studios in New York. I'm based at the Center for Investigative Reporting in Emeryville, CA.
The team includes Katie Bishop, Chester Jesus Soria, Emily Botein, and Andrew Dunn. Jim Briggs mixed the original episode with Domonique. Our intern is Adriana Rush.
The Reverend John DeLore and Steve Lewis wrote our theme music.
I'm on Twitter @annasale. The show is @deathsexmoney. Email us anytime deathsexmoney@wnyc.org.
Domonique may be back to watching football, but he told me he's not interested in his 3-year-old son ever taking up the game.
DF: I would love for him to play sports of some kind but I just don't necessarily think the risk, the risk of doing damage to his brain, it doesn't seem worth it to me to take the chance. Because he doesn't necessarily need the payoff. He could be anything.
I'm Anna Sale. And this is Death, Sex & Money from WNYC.
Copyright © 2019 New York Public Radio. All rights reserved. Visit our website terms of use at www.wnyc.org for further information.
Music Credits:
"Luminous" by Broke for Free
,
"Sludge" by Jack Ventimiglia, BMI from BWN Music
,
"Front Runner" by Blue Dot Sessions
,
"Private Detective" by Cullen Fitzpatrick, ASCAP from BWN Music