Diane Guerrero on Debt and Deportation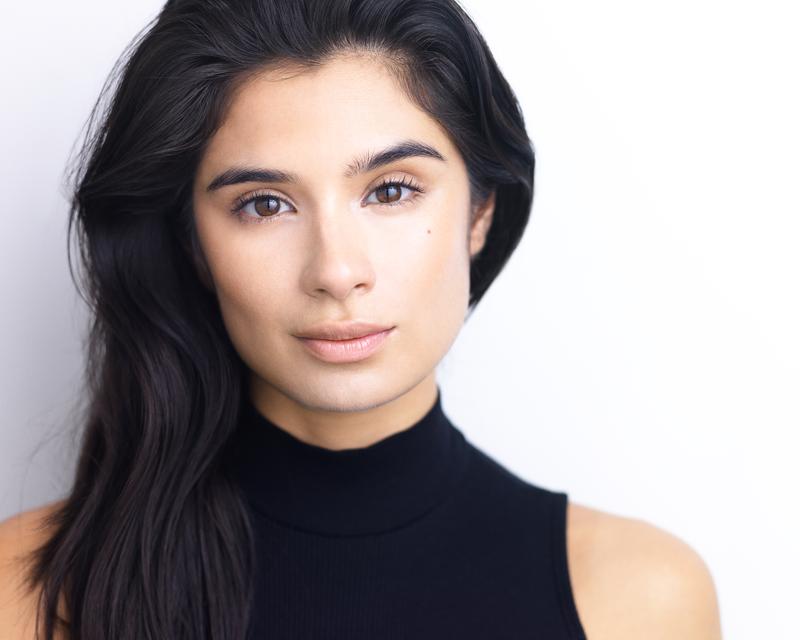 Transcript
DIANE GUERRERO: Every birthday wish would be: "Please god let my parents get their papers, and also that pink Barbie car that you get to drive."
This is Death Sex and Money.
The show from WNYC about the things we think about a lot…
and need to talk about more.
I'm Anna Sale.
DG: If I would call and they wouldn't answer, my heart would drop.
Growing up, Diane Guerrero knew that her parents were in the U.S. illegally.
DG: I'd run home and I'd be like, "Mom! Mom!" She'd be like, in the bathroom scrubbing the toilet and she's like, "What is it?!" I'm like, "Whew!" She's like, "What's wrong?" Sometimes I'd start crying and I'm like, "I thought you were gone, I thought you were gone," and you know, she, I remember her sometimes holding me and rocking me back and forth and, you know, apologizing to me that—that I had to feel that.
It was just over three years ago when Diane got her big break in acting. She landed the role of Maritza Ramos, one of the young Latina inmates in the hit series Orange is the New Black.
Maritza: If you want more pizza, vote for Maritza. I like pizza, everyone likes pizza. It's American as shit!
A year later, when she was 28, Diane was cast in Jane the Virgin as Lina, Jane's know-it-all best friend
A month after Jane the Virgin premiered, Diane went public in another way. She wrote an op-ed in the LA Times about her family.
ANNA SALE: How old were you when you realized your parents weren't citizens, and didn't have papers?

DG: I was young. They were just always so scared, and I didn't understand why. I had to be in on it. You know little kids. They hear conversations, adult conversations and maybe they'll start talking to their friends about it and maybe not knowing or not understanding the implications and I think my parents, and especially my father wanted to cover, you know, his bases with me and let me know what was going on from an early age. So, I knew.
Diane grew up in Boston. She was born in the U.S.. Her parents had entered the country on short-term visas from Colombia. When their visas expired, they didn't leave.
DG: I don't think that they stayed with the intention of being undocumented for a very long time. I feel like they just thought that they were gonna find a way.

AS: When did you realize that you were different? That you had papers?

DG: Whenever I would get upset I feel like my mother, you know, would say all these beautiful things about me. You have everything. You have everything. You're - you're beautiful, you're smart, you're a good person, you're a citizen of this country, you have every opportunity. You know, she would say, you're a citizen. You can - you can do anything you want. And so I felt a lot of guilt through that. I didn't understand if I was a citizen, why weren't my parents? I always knew that if something went down, obviously, like, my parents would go and I guess I would be, you know, I would be able to stay but that made me incredibly sad to know that I had something that my parents didn't. And I felt like I didn't belong in either or.
Diane's mother and father worked a series of low-wage jobs—factory work, washing dishes, cleaning hotels— to stay under the radar.
DG: They would worry about asking, you know, even for directions. I would just remember the fear that my parents had and just not letting anyone in, and kind of keeping it in the circle.
But when Diane was in 6th grade, her mother reached out to a lawyer about getting a green card. She was picked up by immigration a few months later. She was deported, then made her way back into the U.S., and then was deported again. Diane's father took care of her while her mom was in Colombia.
DG: He would prepare me for two things. Death and, and um, and in case he was taken by immigration. And he just told me, okay, have you moment of your - you know, your freak out, and be upset. And then get up and be a big girl, and you knew that this was a possibility and now's not a time to crumple and to you know, lose yourself. This is a time where you need to be astute. Eyes open, ears open and ready to go.
When Diane was 13, her mom returned from Colombia again. Things were finally looking up. Diane was accepted to the Boston Arts Academy, a prestigious high school for the visual and performing arts. And in the spring of her freshman year, her dad even won $10,000 from a Powerball ticket.
DG: We just thought... I mean, we thought our luck was turning around. I'd been doing well in school, I was excited about school and my dad had given me fifty dollars. I wanted a pair of new sneakers. And I went with my friend, and I picked them out, I was really excited, and then I took the train and I called home, because I don't know why, I was literally two blocks from home but I called home. And they wouldn't pick up the phone and it was weird because at that time I knew that, um, that they would be home. So I ran home just praying to God, please, please, please, God, please, God. Just please let them be there, please let them be there, not today. I walk in and I open the door and it's dark and the kitchen light is on, and I walk in and there's my mother's dinner started but she wasn't there. So I called out, "Mom, mom, dad, dad, mom..." Nothing. And I looked everywhere. I mean, I feel like I even looked inside the fridge. And then I went out and the neighbor told me that they had been taken away, and I was just, I just dropped to my knees. I mean, it was just like the worst thing that could've happened to me.

AS: How old were you?

DG: I was fourteen.

AS: So you were alone in your home?

DG: Mhm.

AS: Did anyone from the government get in contact with you to make sure you were safe?

DG: No, they didn't. It was kind of like I didn't really exist. Who knows how different things would have been if someone would've checked up, but nobody did. No one did.
When Diane realized her parents were gone, she did what her dad had told her to do. She called her best friend, whose family knew about her parents' undocumented status.
DG: I feel like I couldn't stop crying. You know, then I'd like slap myself and say, no, I have to stop and then her mom would just tell me to just be. It was always this constant, like, letting go and then like knowing that I had to be strong because, you know, this wasn't the worst to come.

AS: You knew that.

DG: Yeah. I knew that.

AS: And what does that mean, what do you mean you knew it wasn't the worst to come?

DG: Well, just. Everything would change, you know? My - my family unit essentially died that day, so I didn't know - I didn't know what was coming, you know. I still talked to my folks, but, it just -- everything changed. You know, I had to kind of, um, be a big girl and kind of live my life accordingly. Kind of like, day to day. But, for all that I was going through in high school, like, you would never know that I was going through such sadness. I would hide it very well because, well, first I knew I had to keep on going and second I didn't want to, you know, let anyone into what was happening, I didn't want anyone to take me away or send me away or think poorly about my parents, you know. It was shameful.

AS: Did you ever sleep again in that apartment? Where your family had lived together?

DG: No, I just - I went back to like pick up my stuff and try to pack my parents' luggage. There was no point in keeping anything, I just grabbed whatever meant the most to me and I just sent my parents whatever meant the most to them. And the pictures, we had lots of pictures and we - I think we made a box and sent them to my aunt. But, you know, everything was just - we just left it there. You know, there was just no need to keep it.

AS: Was there ever a moment where you thought, these are my parents, I've gotta go where they're going?

DG: Oh, absolutely. And I'll be honest with you, I felt... once I did make the decision to stay, I often wondered if I had made the right decision, if I should've gone back. And you know, I remember, like, arguing with my folks, like, why did you let me do that? Why didn't you make me go with you? And my parents just told me, we didn't think it was fair to do that to you, to make you go. But I think the answer is, you never know what's better. In a way I just felt so... you know, stuck to my ways, I wanted to carry out what they had started, I wanted to really show... I don't know who I wanted to show, but I wanted to show someone that this wasn't a mistake and that my parents' hard work didn't -- wasn't in vain and I was gonna do something to make them proud.

AS: That's a lot of pressure.

DG: But it's a lot of pressure, exactly. It's, okay, now choose. You know? And it's like, one way and the other and then you have to -- and one or the other is gonna determine the rest of your life. So, I don't know, this is the path I chose, and I've had to pay a lot for it. There was a huge disconnect between my folks and I and I think about that every day.
Throughout the rest of high school, Diane stayed with family friends. Her dad would send them money from Colombia… but it wasn't much.
AS: Did it feel like you had a home when you were in high school?

DG: No, I don't think I ever felt that way because a home is not just a physical place, I felt my home was with my mom and dad and if I didn't have that then I was just like, biding my time until I could create my own home. Nothing was my own, and that was clear every day I think.

AS: Did you do anything rebellious during your teenage years or did you feel afraid that you were gonna lose the place where you were staying?

DG: No, no, no, no. I was by the book. I... yeah, I was afraid of losing my place, I was afraid of disappointing the people who had helped me. I was afraid of disappointing my folks. How could I do something to shame them even further? Oh no. I was very clear about that, that I was gonna be a good guest and that they weren't gonna regret their decision in taking me in. Of course, that proved disastrous later, you know, when I finally was on my own and dealing with all these, like, repressed feelings.
Coming up, Diane talks about what happened after high school, when her struggles with alcohol, depression and money began.
DG: I'm working on it every day, you know. Currently looking for a new therapist, for anybody out there looking for a 29-year-old who's experienced losing her family and addiction issues. Call me!
After we released our latest episode, with your stories about near-death experiences, we heard from more of you. Erin from Queens wrote in, about being in a house fire 20 years ago. "Your podcast did not make me feel good but it made me feel connected," she wrote. "I feel sad for those people and for myself sometimes, but we are the survivors. The get out alivers. Warriors that overcame through luck and hardship."
And we received this voice memo from Amy. In April 1988, when she was 12 years old, she witnessed her best friend's mom get shot and killed during an armed robbery.
AMY: Almost every year happens that as April rolls around, just a dark cloud comes over me, and I feel emotionally drained and almost a depression comes about. And it's almost like my body remembers the trauma before my mind does.
And several people wrote in in response to Bex's story about his suicide attempt after getting sober, and getting sexual reassignment surgery.
Jenna wrote, "My stepsister, who was also trans, tragically took her own life last September on her birthday. She was mostly through her transition and I still just couldn't understand why she decided to take her own life. I feel a bit more settled now after hearing Bex's story."
Thank you for your responses. You can always email us or send in a voice memo to deathsexmoney@wnyc.org.
On the next episode, Benjy Unger and Chaim Levin. The two friends grew up in Orthodox Jewish households only a few miles away from each other in Brooklyn. But they didn't meet until they signed up for gay conversion therapy.
Benjy Unger: I wasn't out but I wasn't in. I was like in this really depressing middle ground. I had no friends. I literally lost all my friends.

Chaim Levin: It's called no man's land. We called it that. No man's land. You're caught in between.
--

This is Death, Sex & Money from WNYC. I'm Anna Sale.
While Diane Guerrero was privately grappling with her parents' deportation, she found joy in performing. She studied theater and music in high school, but when it came time to go to college, she decided to take a safer route.
DG: I wanted to go to, like, a conservatory. And I think that was always on my mind. But I didn't think I could do it because… What am I gonna do? Going to an arts school or something like that, that's crazy, A, I'm not talented enough, and B, it's like, who do I think I am? I can't go to an arts school. I don't have the resources for that.

AS: How did you pay for college?

DG: I took out loans. And I worked. I was like an orientation leader, so for a summer I got to stay on campus, so I worked that way. I worked in the school, in the cafeteria. I worked in retail stores in, like, downtown Boston, I tried babysitting but no one really trusted me with their children. That was short career. And cafes, and whatever I could get my hands on, I would work.

AS: You said one of your jobs was working in the cafeteria?

DG: Oh, I hated that.

AS: Cause you were like, visibly working for money that other students didn't have to work for?

DG: Yeah, I hated that, being up there and it was like, front and center, and I would, like, take people's cards and swipe it. And had to wear a hairnet. Hard work doesn't embarrass me, it's just at that point, I just wanted to fit in. I wanted to be one of the girls, I didn't want to be working while my girlfriends ate dinner.

AS: And did you tell...when you went to college, did you tell people about your family?

DG: No, no, I didn't tell people about my family. But, like, sometimes it would just boil up. And like, I remember the first time I told my roommate, I think, not even my first year, like later, later on. I think I was like, you know, acting out and being crazy and being - I was upset and crying and and just didn't know, you know feeling lonely and she didn't understand why I was going through that and you know, finally, I - I needed a confidant. And I told her.

AS: Did you ever run out of money?

DG: Oh, yeah, all the time. I didn't know how to handle money, which is maybe why I, I got in so much trouble. Um, financially.

AS: What kind of trouble?

DG: Well, just, I couldn't pay for things. You know, maxed out my credit card, you know. Um, took out loans I wasn't supposed to take out with, you know, crazy interest rates that came back and bit me in the ass. I was being called into the financial aid office like, constantly. I mean, I had to skip so many classes because I just didn't have the money to pay for it. I couldn't ask for anymore help from the families that had taken me in. I so desperately wanted to do it all myself and not let anyone in that I was struggling. You know, and I tried to fix it. But I would try to, how my mother says, um, tapar el sol con un dedo, you know, try to cover the sun with a finger. I don't know if that translates.

AS: Did you tell your parents?

DG: Mmmm no. Um, they would ask me about it and I'd just be like, yeah, I don't wanna talk about it. Um, but no, I never told them that I was doing that bad.
Things got worse during Diane's junior year. She got really depressed, and says she started cutting herself.
DG: Eventually it felt like almost a drug. You know, almost kind of a release thing of being in control. It was a way of dealing - it was like - it was a moment where you felt like you were about to implode. And you were feeling like you wanted to die. And you were feeling like you didn't want to be around anymore and could not possibly feel this pain anymore. And then it felt good to release. Um. And that's kind of what it felt like.

AS: Where would you cut yourself?

DG: My arms and my legs. Um, whenever I felt like I couldn't handle it, you know, that was there.
Diane also started drinking more regularly.
DG: I was feeling like a grown-up. You know, I was feeling like, oh, this is like, oh, "Yes, a dirty martini please." You know, and I was just, like drinking, like, on a regular basis. And then I used that as a coping mechanism, or in a way to self-sabotage myself. You know, if I had some, a big test or something the next day and I didn't feel like I was gonna do well, or I was scared of it, I would, just like drink and like, be so hungover or like, that I would just sabotage my opportunity. You know, and that would be another reason to be upset with myself and hate myself and you know, another way to prove that I was a loser and that I didn't deserve anything.

AS: Would you drink alone?

DG: No, I mean... sometimes. But I don't think it was - you know, it wasn't addiction in the way that you normally think of it. I was just going out and being a party girl. You know, um and that was hurting me a lot. And I think that later on in my last year of college, I got, like, um, a waitressing gig, you know, I was working at the club - at da clubs, you know. "Utz, utz, utz, utz, utz, oh this is so cool," you know. And I was - that was my way to, like, cope with it. Cope with my feelings and with everything that was going wrong with my life. Was just to party.
After college, Diane kept working in clubs. She also got a job at a law firm... and picked up other work to help make ends meet.
DG: I needed money quick, I needed to pay off these loans, 'cause they were hounding me, I would get calls every day. I remember on Sundays I'd go out in the streets and like, give out Hot Tamale candy to people and you know, do cartwheels and stuff and be like, "Hot Tamales!" And then I'd go to my night job and be like, "Hot vodka sodas for everyone." You know, I had lots of different jobs. Oh, and then in the morning I'd be like, "Hi, welcome to Altman and Altman," you know what I mean? So, I had a lot of, a lot of different hats on. But all the while kind of denying this one thing that I wanted to do, which was be an actor.
By the time she was 24, Diane was exhausted from all of the hustling. She'd started seeing a therapist, and decided to sign up for an acting class.
DG: That's when I felt like, I started, you know, feeling myself again. When I was in those classes and playing and, you know, yelling to the top of my lungs and it wasn't me by myself in a room with a bottle of wine. It was me amongst other people who were screaming, too, and wanting to release all that energy as well and it felt really good. I felt like a kid again. I felt like I was back in B.A.A.—my performance arts high school—and I felt like I had possibilities again.

AS: Tell me about deciding to try to make a living as a performer when you've been telling yourself since you were fourteen that you have to support yourself on your own.

DG: Well, I think I reached a place of giving no fucks. It was just that moment where I was just like, "Okay. So, I've done all these things, I've tried to live by the book, I've really tried to be conservative, and, you know, try all these different ways that I could potentially be successful, and have money and build a family and a life for myself. I've tried it all, guess what, it's not working for me, so let's try something else," because I - it's either try something that brought so much happiness to my life before, and um, and I felt like was missing in my life, or die.
Diane moved to New York in 2011, and a year and a half later, she auditioned for Orange is the New Black. She's been a regular since the show premiered.
AS: When did you - when did you learn about money?

DG: I still am pretty bad. When did I learn about money. I think when I started working on Orange and I actually started getting, like, a real paycheck and I wasn't getting paid, like, tips.

AS: Are you still paying off debt?

DG: Oh, yeah. Yeah. But it's good. You know, Sallie, I got you. I got you Sallie Mae and Fannie Mae. Those are my home girls. They hate me. But we're good.

AS: It's mostly student loans?

DG: Yeah, it's mostly student loans. Thank God. Only student loans. I don't have any credit card, ah, debt or anything like that. It's just, I'm paying off my student loans and it's fine. Eventually I was able to defer them and and handle things and you know, handle my monies right. And yeah, I don't have that many big expenses either. You know, if I pay my rent on time, I don't have a car... oh and then the health insurance. That was -- that was wonderful when I finally had health insurance. Um, and then, you know, everything's all gravy after that.

AS: Do you send money to your parents?

DG: Yeah, I do. Mhm. I wanted to contribute and now I do and it makes me feel happy that they're not struggling as much and that's something that I always wanted to do. And will continue to do. And, you know, it's not anything crazy. It's just, um, enough to make me feel comfortable and make me sleep at night.
Diane's parents split up soon after they were deported. She stays in touch with them on the phone and through occasional visits, but their relationship hasn't always been easy.
DG: I was angry at them for a long time. Um... I knew that they tried and I knew that they did their best but I was, yeah, I was angry at them. And that -- that showed in different ways. Me not talking to them. Me being nasty and acting out. In - in different ways. Um, obviously, you know, that took a toll on me. And obviously it took a toll on them, I mean, they were heartbroken. Um, but they understood. My parents are the most patient people I know. So they just kind of waited and waited until I would wake up one day and say, well, okay, let me understand really what's going on here. So, I mean, every year it gets better and I let it go a little more and I understand where they were coming from.

AS: Do you think your parents would have stayed together if were not for their deportation and dealing with the U.S. immigration system?

DG: I don't - yeah, I don't know. I don't know. That made me really sad. Like sometimes, you know, they would fight and would be upset about their current situation and - and I would think that they were going to separate but it just wasn't something that was on my mind, you know? So when that did happen it really upset me. And, it's weird because it was like I went from seeing them very together and working things out and being happy together. To going to Colombia and seeing them not talk to each other. So that was really really shocking and was very jarring for me. And so - it definitely affected my relationships after that too, you know, and how I dealt with people and how I - what I considered to be love or forever.

AS: Until when?

DG: Um, until I realized I was being really a crazy-ass person, you know, and I was just, you know, sabotaging relationships or letting - letting all that pain affect - affect my relationships.

AS: Are you currently in a relationship?

DG: Mhm. I am. Yeah.

AS: You're working through that in your relationship now?

DG: Working through that.

AS: Yes, when we land in relationships not all is resolved. Yeah.

DG: No, no, you still have - there's - every day you have to work on it.
Diane Guerrero. She's written a book about her family. It's called In The Country We Love. It comes out in May, and you can see her in the next season of Orange is the New Black this June.
Death, Sex & Money is a listener-supported production of WNYC Studios. The team includes Katie Bishop, Chester Jesus Soria, Emily Botein, Hannah McCarthy, and Andrew Dunn.
The Reverend John Delore and Steve Lewis wrote our theme music.
I'm on twitter @annasale, the show is @deathsexmoney.
And if you're new to our show, welcome! We're really glad you found us. You can find all of our episodes on our website at deathsexmoney.org, and sign up for our weekly newsletter there too.
Today, both of Diane's parents live in Colombia. They haven't been allowed to visit the U.S. since they were deported in 2001.
DG: I still hold onto that hope that I will one day wake up and my kid's gonna run into the bedroom and say, "I wanna go see grandma," and it's not going to have to be a five- or six-hour flight. And I still hold onto hope of, you know, going to HomeGoods with my mom one day and picking out a freaking lamp. I do.
I'm Anna Sale, and this is Death, Sex & Money from WNYC.
Copyright © 2019 New York Public Radio. All rights reserved. Visit our website terms of use at www.wnyc.org for further information.
Music Credits:
"Legend Instrumental" by Erick Anderson from BWN Music
,
"La Fosca" by Blue Dot Sessions
,
"Cab Ride" by Blue Dot Sessions
,
"Sanctity Sunrise" by Paul Edward Claypool
,
"Minutes" by Blue Dot Sessions
,
"Rally" by Blue Dot Sessions