Diane Gill Morris & Officer Robert Zink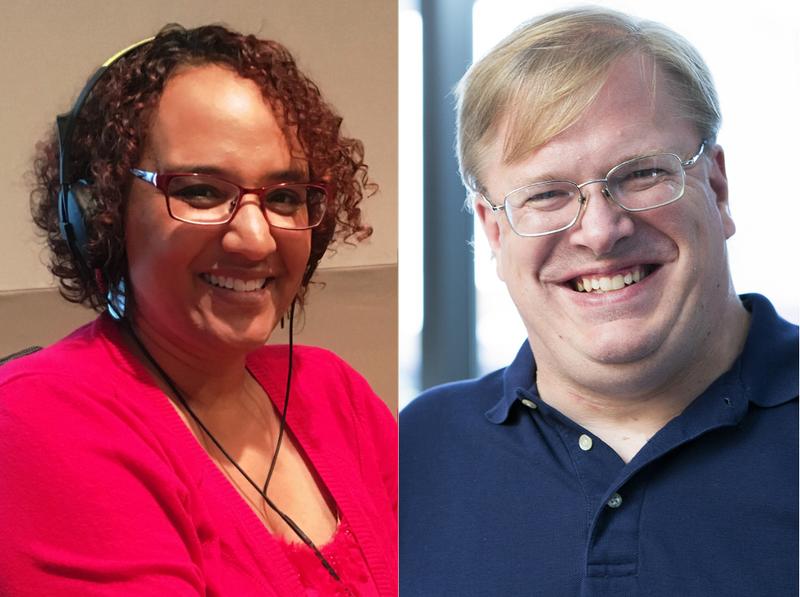 Transcript
ROBERT ZINK: Once that trust has been lost, it takes a lot to get it back.
This is Death, Sex & Money.
The show from WNYC about the things we think about a lot...and need to talk about more.
I'm Diane Gill Morris, in for Anna Sale. And recently, I talked to a woman named Maria Caldwell.
DIANE GILL MORRIS: Hey Maria, can you hear me?

MARIA CALDWELL: Yes I can.

DGM: Hi!

MC: Hi.
Maria lives in St. Paul, Minnesota. She has four kids. Her only son, Marcus, is 18. And last summer, on his way home from the Minnesota State Fair, Maria says Marcus got beat up pretty badly.
MC: Probably all parents fear that someone is gonna harm their child. But never ever has it once came to my mind that that person that would offend my child would be an officer.
Marcus and his two friends were waiting for the train at a light rail station. They were horsing around...Marcus stepped onto the tracks and then got back onto the platform. According to a pending lawsuit, two Metro Transit officers approached Marcus and asked him if he was drunk. They also asked to see his ID. When he said he didn't have one, the officers tried to detain him. Police reports say there was a struggle. And then, Marcus was taken down to the ground by an officer, and put in a neck restraint.
DGM: When did you find out what happened to him?

MC: Actually a neighbor that was driving down the street is the one who called me. No one ever called me. No one ever contacted me, while he did eventually go to the hospital. They wouldn't even let me see him for four hours. The Metro Transit Police wouldn't let me see him in the hospital for four hours.

DGM: And then once you saw him, what was your reaction?

MC: I was ready to take a vengeance for my son, to say it nicely. I was just devastated and crying and—he had a busted head...busted lip. He had choke marks on his neck. He had what they told me was an impression of maybe something pressing down on his neck other than an arm or a hand. He was beat up like he had got hit by the train and survived.
We reached out to the Metro Transit Police about this incident. They declined to comment. The two officers, in their response to that pending lawsuit's complaint, have denied all of the allegations.
But Maria's story about her son, Marcus, really scares me. Because Marcus is autistic, like my two sons, Kenny and Theo. You might remember that I talked about them last year on Death, Sex & Money. My older son, Kenny, is about the same age as Marcus. And, Marcus is black, like my boys.
I hear stories like this about interactions gone wrong between police and autistic people...particularly those of color. And I think, how do I make sure that something doesn't go wrong between the police and MY kids?
Today, I'm going to introduce you to someone else who's been trying to figure out the answer to that same question…for himself, and for the people in his community, like Maria.
RZ: I can't make up for what another department did. And I can't apologize for what a department did. But she lives in the city of St. Paul and I want to make sure that we never have an incidence like that happening again.
This is Robert Zink. He's an officer in the St. Paul Police Department, and he has two sons with autism.
RZ: Jerry's more Aspergers, so he really doesn't present as being on the spectrum in most cases, but he does have the Aspie tendencies. The reading of the social cues has always been a major problem.

DGM: And so, your younger one, he's 11?

RZ: Correct.

DGM: Tell me a little bit about him.

RZ: Gabe is the human tornado is the best way to describe him.

DGM: [Laughs] Yeah.

RZ: He's always moving, he's always funny, he's always creative. He's totally unique in his own being and there's no one like him. He has this weird ability, it's a flash memory, where, you know, he can be in a room for two seconds and be able to memorize and know everything that's in there and see it with precision.

DGM: Yes, we've we've learned never to doubt our younger son whenever he says - we go to the grocery store and he says we need something. It's like, buy it. He almost is - he's always right. [Laughs]

RZ: And it's happened to me an ungodly number of times where we're ready to leave the house. Get in the car and my son Gabe will go, "Dad, you don't have your phone." And then it's like, "OK, where's my phone?" Every time it's exactly where he says it is.
For most of his career, Officer Zink kept his home life with his kids and his work life as a police officer separate. But then, about three years ago, his commander came to him with a problem.
RZ: We had several bad incidences, you know, with police contact with those on the spectrum, and Commander got a hold of me and said, "Hey Rob, I have no background on this." And they said, "Your sons are on the spectrum. Is there anything you can help us with?"

DGM: What were the issues? What - what was - what was it about the interaction that went wrong?

RZ: Well, officers may not read the cues of what the person is presenting. Because oftentimes some of these cues, other officers may view them as cues of, is it drug interaction? Is it a mental health issue? And read those cues wrong. And then when they make their approach, the simple act of just touching somebody on the arm to go, "Hey come with me" now turns into a fight because the reaction of the touch—the officer reads it as an act of aggression. And we go down one path and it gets worse and worse. And now suddenly you have a fight between someone on the spectrum and a police officer that can turn kind of rough unfortunately.

DGM: And when you're - when you were reviewing those instances where things didn't go right, what was your emotional reaction to that as a father?

RZ: Well one, um, I never want to see something like that happen to my sons just because something they did was misinterpreted. And then having to get in a physical confrontation with a police officer scares me because my son Gabe at 11 is a very tall, big kid. If you looked at him you might look and say he's 14, 15 years old, and he's 11. You know, so the idea of an 11-year-old at 5'8", 5'9", he has the mind of an 11-year-old on the spectrum. If a police officer comes up to him, you know, there can be varying circumstances. It wouldn't really happen with him just because he has so much interaction with police officers. But if his father wasn't a police officer, what would those interactions end up being?
This is something that I think about a lot. Because I know that those interactions can end up being deadly. Just a few years ago, police were called to a home outside of Chicago after a 15-year-old autistic boy got upset. The officers followed the boy into the basement, and he slashed an officer's arm with a knife. In response, the officers shot and killed him.
RZ: One of the problems with police work is our standard response to things generally has the inverse reaction with those on the spectrum. You know, greater command presence, you know, yelling, shouting out orders actually makes things worse instead of trying to, you know, show your authority to control the situation. And you've got to learn what it's gonna take for you to back down, try to figure out what things you can key on that they may be saying or reacting to. You know, if you can take a different approach, it'll make your job as a police officer so much better.
Officer Zink now teaches other officers how to recognize the signs of autism through the program he founded, called the St. Paul CARE project, which stands for Cops Autism Response Education. And he teaches cops how to interact with people on the spectrum, especially when they're in crisis.
RZ: As officers you have to treat it as a safety issue first. The number one thing is—common term we use is—make sure the scene is safe. And then if you're able to make the assessment this person's on the spectrum, the route you take of how you handle the situation is vastly different than dealing with a neurotypical person.

DGM: Do you see your children in the people that you encounter in the community when you're dealing with crisis situations?

RZ: Yeah I do. It's all the little behaviors. Um...I think the key thing for me that's been helpful in this job is taking a lot of the calming techniques I've worked with my own children. One of the common techniques I use if a kid's in that crisis meltdown mode is, "Okay, we're not going to talk, we're not going to do anything, we're just going to go for a walk. When you're ready to talk, talk." And I've had it where I've gone a mile and a half when it's 90 degrees out in full police uniform with, you know, bulletproof vest, you know, I'm about to pass out because it's it's so hot and I'm sweating. And then finally at about a mile and a half they're - you've brought that energy level down so now they're ready to talk. Time is always your number one. You know, I've had an incidence where I had one kid, it took me 45 minutes to talk him down. And he was destroying everything in the living room, everything in his bedroom, smashing stuff. But just by spending some time talking, walking, trying to get him calmed down, it - it worked. And no physical interaction was needed.

DGM: But most cops probably wouldn't do that.

RZ: I agree. But that's why we're trying to change the whole scenario on this. And if - if you're not dealing with a life or death situation, obviously someone with a knife, someone with a gun, and there's nobody else in potential harm's way, slow down, stop, and take your time. Because 45 minutes of talking somebody down versus six hours of paperwork because you had to take action or use force or had to book them—I'm sorry, I'll take the 45 minutes any day.

DGM: But then obviously at some point sometimes physical interaction is the - is necessary, perhaps because someone's in danger.

RZ: Mhm. And we've had - I've had instances with it. And it's gotten very physical, trying to restrain them, because they've gotten to the point where they're either going to harm themselves or harm somebody else. And you're not—what people have to realize is you're not looking at it as, "This is a police-criminal action that I'm going to be taking them to jail." You're looking at as a - as a medical issue because taking one of these kids to jail or one of these people - adults on the spectrum, when they're having that kind of issue, jail is not the place for them.

DGM: So um, when you are looking at the news and some of these instances that have happened. Just even a month or so ago when, um, in Florida, when there was an autistic man who had ran from his group home and his support worker was trying to get him to come back and an officer ended up aiming at the autistic man and shot the support worker instead. What's - I mean what's your reaction? Is - I can imagine - you must have a dual reaction both as a police officer and a parent, and I'm wondering how you - what your feeling is when you hear something like that.

RZ: Well the reaction is the same as an officer and as a parent, is they didn't under-—and this is from the outside looking in—I think the police assessment should have been to stand back and let the caretaker do what he needed to do. Because I will do that, as a—even though I deal with kids on the spectrum on a constant basis—I will not be able to communicate with someone that severely on the spectrum. And that you need the individual that has a direct one-to-one contact with that person to be able to understand what they're trying to communicate and how they can be calmed down.

DGM: So when you see something like that instance, are you thinking that person needs to lose their job or that person needs to face criminal charges, that officer?

RZ: I can't make that assessment because there's too many other variables. Did something go wrong there? Yes. But what needs to go further from there? I don't have that direct answer because I don't understand what their training is. Every - every department is different. Was it lack of training? Or was it just a mistake? Was it—there's so many variables—to make a judgment of what should happen to that officer is something I can't really comment on.

DGM: Does it make you angry?

RZ: It's a sad situation any time someone gets shot. So there's a reaction to that. But making snap judgments and assessments based on limited information is - is not a not a good thing to do.
The police shooting of that caregiver, Charles Kinsey, is still under investigation.
Coming up, I talk with Officer Zink about some of my fears...that my sons' skin color could put them in harm's way.
And, I find out more about how Officer Zink juggles his duties as a cop and his duties as a father.
RZ: The amount of time you spend not at work running them to therapy, running them to other special eds or special needs stuff you have to do, it's a lot of time, a lot of dedication for a parent to do it, much less also doing your full workload and actually trying to have an active personal life.

DGM: So how do you handle it?

RZ: I don't have an active personal life.

DGM: [Laughs] Yes.

RZ: You know what I'm talking about though!

DGM: I can relate to that!
—
[Rings]
DGM: Hello?

Anna Sale: Hi, Diane?

DGM: Hey Anna!

AS: Hi, how are you?

DGM: I am doing great. How are you?

AS: I'm good, thank you.

DGM: How's baby June?

AS: She's good! She's gettin' bigger every day!

DGM: Awesome.

AS: So, how was the experience of hosting this episode for you?

DGM: It was amazing. The whole experience was just kind of like, I can't believe I get to do this.

AS: I want to ask you about—have your sons - have Kenny and Theo interacted much with police officers?

DGM: Well, the only time we ever had to call police was, uh, Kenny was about 8 and we had a chain-link fence around our backyard. And what I did not know was that Kenny could climb the chain-link fence. And so, I was inside the house...Theo was inside...Kenny was outside. I was thinking, "He's good." I go out to check on him...and he's not there! I...[laughs]...searched my house...couldn't find him...called the police. You know, and actually, they were amazing. They came - went looking for him, they found him, they got him to get into the car with them, brought him back home and they were very understanding and very good with Kenny. Thankfully, that's been our only real interaction. You know, certainly now my kids are a lot older and so I'm trying to get the boys more associated with the police in our area.

AS: Oh, what are you doing?

DGM: Well, so...Kenny loves to bake. And so what we did was, we made a batch of cookies and took them down to the police station. My big challenge is finding a recipe that doesn't intrigue Kenny so much that he eats them all before we can get to the police station. [Laughs]

AS: [Laughs] What were the cookies that - what were the cookies that didn't make the cut, that made it to the police headquarters?

DGM: Well, Kenny is not a big fan of chocolate. So, we made oatmeal cookies but we put chocolate chips in them instead of raisins, which he was not amused by. He was very annoyed when we did that. But, he ate a few of them but just wasn't his usual, "Let me just polish all these off" kind of attitude. So, we were able to salvage enough to them to get to the police station.

AS: Diane, what made you decide to do this police outreach? What was the - what was the - the event that made you say...this is what we, we need to get this done, and we need to start doing this?

DGM: I don't know if there was a specific event or just pretty much everything that's happened in the past year, year and a half. Right? I mean, we've had - there have just been so made incidences involving black men and police and, you know, also I just look at my boys and I just recognize that people don't see what they used to see. People used to see these really cute kids, and when they were having trouble nobody...I didn't get the stares that maybe I get now. The way people react is just different. Because they feel like this could potentially turn into a dangerous situation and I have to recognize that police officers may have that same reaction. That if one of the boys is having a tough time at the moment that they might consider this to be a danger and be thinking about how they need to protect others and protect themselves. And not thinking about what they need to do to help bring this situation to a calm and peaceful conclusion.

AS: Yeah. Well, Diane, it's so nice to talk to you again. And I - I am so glad that we got to do this with you and we can continue to hear from you and also hear the questions that you have for this mom, and for this police officer. I'm really—I'm just so glad we got to do this.

DGM: It was so great to talk to them. It was such a really interesting and enlightening conversation. And of course, it was absolutely my honor and privilege to do it. I enjoyed it so much. And here's what's coming up next week on Death, Sex & Money.

ELLEN BURSTYN: Ellen Burstyn here. I'm filling in for Anna next week and I'll be talking with writer, political activist and feminist organizer...and my friend...Gloria Steinem.
GLORIA STEINEM: I realized in later life that most people feel safe at home and maybe not so safe outside. I was always the reverse. I felt not so safe at home. So I got it reversed.
This is Death, Sex & Money from WNYC. I'm Diane Gill Morris, in for Anna Sale.
As the parent of two special needs kids, I know that balancing work, parenting, health, relationships—it's all a daily challenge. So I was curious to know more about how Officer Zink finds that balance. It's clear that his wife is a big part of that equation. Her name is Patina Park…they've been married for 15 years. She runs the Minnesota Indian Women's Resource Center, which serves American Indian women and their families.
RZ: Whenever my wife introduced me, because when she tells people who she's worked with that her husband is a police officer and her being a Native American female, they expect to meet another officer of color. And they see a big white guy. They kind of go, "That's your husband?"

DGM: So she works full time?

RZ: Full time.

DGM: Now I know that that's something that my husband and I have - have tried and failed at, the idea both of us working full time jobs. It becomes too stressful for the family.

RZ: We've been lucky because what it used to be is—my wife's running joke was we used to live as two single parents. Because I worked nights, she worked days, and we'd see each other a couple of times a week. But with her work transitions, my work transitions, and the boys getting older, being able to adapt, you know, it hasn't been nearly the issue. And when you actually have two decent incomes coming in, the flexibility to do some stuff is, you know, isn't so stressful.

DGM: The flexibility is everything, isn't it? It's just - it's everything.

RZ: It's huge. And one of the things I've seen—and this goes for almost all the families I probably work consistently with probably about 20 families on a regular basis—you know, the ability to just as a parent to have a date night is hard.

DGM: Yeah.

RZ: Or the ability, you know, to have some time to yourselves independent of your kids, because you're at the point of, "I worked, I had to do whatever with my children, that suddenly it seems that the only thing I'm doing is sleeping." And I'm sure you've had those experiences.

DGM: Yes, [laughs] I am familiar. So how has it impacted your relationship with your wife? I know that time is obviously really difficult.

RZ: We've learned our limitations. We always knew our limitations. And my wife is an attorney by trade, so she understands law enforcement, you know, with her previous work background. So we've learned: never yell, never fight, and if we get to a point where we think we're in that angry mode, that we've—it's kind of the things you've learned with your children—is once you start to see them peaked out, is the last thing you want to do is kind of push those issues. You want to try to find a diverting way to deal with your - the problem at the time. And it's worked well for me and my wife for all these years. So, there's always - there's always stresses in any marriage, in any family, especially with special needs kids. But I don't think it's been a problem for us.

DGM: Yeah I know with me and my husband it's been - it's been stressful but we've developed a really strong partnership in making sure that everybody is taken care of, including each other.

RZ: My wife said, there's no way she could do it on her own and there's no way I could do it on my own. Because I'm sure you have the same kind of perspective too, you couldn't do it without your husband, your husband couldn't do it without you.

DGM: Oh yeah, right. Yes exactly. Yes, I've told my husband as well. He's not going anywhere. [Laughs]

RZ: Exactly.

DGM: He—my husband about eight or nine years ago, he had a ruptured brain aneurysm.

RZ: Ooh.

DGM: And recovered and he's fine. But I was just like, "Don't you even think about dying on me. [Laughs] That is not allowed. That is not an option."

Does - between your job and raising your boys, do you ever just feel emotionally drained?

RZ: Uh, yes.

DGM: And what - do you - have you - have you ever seen a therapist or do you have somebody to talk to about that?

RZ: I talk to my wife. My wife is - is my outlet. Police work nowadays, independent of other stuff, is stressful enough as it is, you know, and you have to kind of...work with yourself and understand, you know, you can't go down that rabbit hole of emotional hell, because if you feed on it you'll never get back out. And otherw- you know, I've had - I'm lucky enough to have a good support structure, whether it be with the police, my wife, my own extended family, that I don't think it's been an issue for me.

DGM: Well I - I applaud that. I know that - I just try to imagine. Because as a parent and I'm raising these two kids and I often find myself just emotionally drained. And, I don't have a stressful job. My job doesn't require me to interact with people in a crisis situation or put myself in danger at all. So the idea of that on top of these challenges just seems to me—in my—in my mind seems that it could be overwhelming.

RZ: And there's many a days you just get home and go, "Honey, I don't want to talk. I just want to veg out," whether it means playing video games for a couple hours or it means just laying on the bed, or just going for a walk for two hours. You know, there's those nights like that you just don't know how to react to it. But you - you have to have your outlet mechanisms to be able to deal with it.
DGM: One thing that also comes up for me as a - I am a black woman, my children are black young men. And the - the challenge of the fact that they have autism and are black is something that I just think about a lot. How do you see the issue of race playing into police interactions with people with autism?

RZ: It's hard for me to say because most of my families I work with are families of color, you know. And I think that more has to do with the economic level than it does, you know, as a race-based issue, per se. Because many of those in the community that haven't had access to services are going to have more interactions and more contacts with police. Unfortunately, economically the disparities between the black community, the Hispanic community and the Asian community versus the white community is vastly different.

DGM: One of the things that you were talking about earlier, this question of whether or not somebody is on the spectrum or perhaps on drugs or something is something that I worry about a lot. I have a son who talks to himself a lot. And I've always worried that if—as he gets older—he's only 15 now—but as he gets older and becomes an adult, if somebody would misinterpret that as being on drugs or something like that. My fear is always that an officer sees a black man and they will immediately go to the idea of this being a person on drugs versus this being a person with disability. I mean, in the media most of the people that we see with autism are white. The idea—I don't think a lot of people are aware that there's a really large population of minority children and adults with autism. And so I feel like an officer just may make an assumption because he just doesn't really think of autism - autistic people being of color.

RZ: And I hope that's something I change because—one social group, the Somali community up here in Minnesota, the ratio is not the 62, or 82 to 1...it's astronomically high in the Somali community and that's not brought up much. And now if you suddenly have a disproportionate- that large disproportionate number of kids on the spectrum, you know, you're going to be dealing with a lot of—whether it's now or in five years—you're going to be dealing with those issues, especially in that community.

DGM: I wonder with—like you said, many of the families that you work with are of color. Do they ever tell you that they are afraid to call the police?

RZ: Well, unfortunately what I've gotten is more parents have me on speed dial and they call me directly. And what a lot of times happens is if I'm not working or if I'm not available, that—I get names of officers that they feel I can trust come to their homes. I will find the officer and say, "I'm going to send this officer. You can trust him. Just let him do what he needs to do. But this is one officer I trust to work with those on the spectrum."
People on the spectrum like Marcus, Maria's son.
[RING]
RZ: Oops, hold on one second. Maria, how are you doing?
Maria's one of those people who now has Officer Zink on speed dial.
RZ: Okay, where are you at?
After the incident between Marcus and the Metro Transit officers last year, Officer Zink reached out directly to their family.
RZ: Sounds good. Thanks Maria!
I asked Maria to stop by the studio to talk with me and Officer Zink.
DGM: When you first met him, did you trust him?

MC: I didn't trust anybody, but I was willing to give him a chance when I found out his situation at home was similar to mine. Marcus didn't want to have anything doing with it. But, you know, we discussed ways of things that Marcus is interested in, what his likes and dislikes are, how we can better improve on him talking to the officers.

DGM: Officer Zink, what was - what was your experience when you first met Maria, knowing what she and her family had already been through?

RZ: I felt the resistance and I understood the resistance. And that whole situation, it didn't turn out well. And it shouldn't have turned out that way. And I want to have Maria to be able to say, "Officer Zink, we're having an issue today, can you stop by?"

DGM: Maria, when Officer Zink comes over, over what do you all do? What does he do with Marcus?

MC: He comes over when Marcus is having a bad day. When he's tore up my walls. Put holes through the doors. He's been there for a lot of things. He takes Marcus out of the home so he can get himself together and everything.

DGM: And how does he feel about police officers now?

MC: It helped a little bit, but he's still having nightmares, the fears, the shakes, the sweats of any officer other than them.

DGM: Is it hard for you to trust still?

MC: With Officer Zink's help it's getting a little bit easier. But, no, I still don't trust anybody.

DGM: Mmhm.

RZ: That's understandable. And I agree with her. It's like any relationship. Once that relationship's been betrayed, the amount of effort it takes to get that trust back is large. And there's no expectation that trust is going to be gained in six weeks, six months, six years, or sixty years. It's—even though you may not have it back right away, you still have to work to get that trust back.
That's Officer Robert Zink, talking with Maria Caldwell. Officer Zink was named the St. Paul Police Department's Officer of the Year in 2016.
Death, Sex & Money is a listener-supported production of WNYC Studios. The team includes Katie Bishop, Chester Jesus Soria, Emily Botein and Andrew Dunn.
The Reverend John Delore and Steve Lewis wrote our theme music.
You can find more episodes of Death, Sex & Money, including the one where I shared my story, by visiting deathsexmoney.org, or subscribing to this podcast in iTunes. Leave a review while you're there.
This was Officer Zink's first time being a guest on a radio show. But, he has had SOME experience in front of a microphone.
RZ: Hey we're cops—if we're on a PA or a mic it's like, "This is the St. Paul police. Please disperse."
I'm Diane Morris, in for Anna Sale, and this is Death, Sex & Money from WNYC.
Copyright © 2019 New York Public Radio. All rights reserved. Visit our website terms of use at www.wnyc.org for further information.
Music Credits:
"Haena" by Blue Dot Sessions
,
"Flitless" by Blue Dot Sessions
,
"Lead Shroud" by Blue Dot Sessions
,
"Worry Nerve" by Nic Bommarito
,
"Micolai" by Blue Dot Sessions
,
"Back" by David Szesztay