Desiree Akhavan's Breakthrough Breakup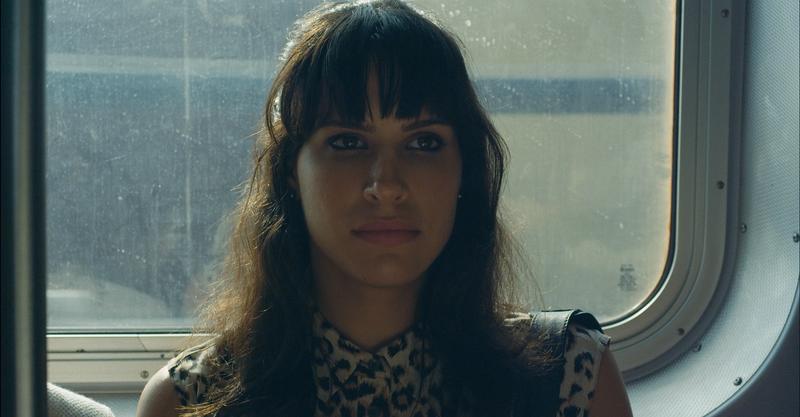 Transcript
In film school the goal was just make that first feature, make a great film that you're proud of. After that happened, I had no idea any of the next steps. I was like, and then you live in heaven, and Playboy models make your coffee in the morning.
This is Death, Sex & Money.
The show from WNYC about the things we think about a lot, and need to talk about more.
I'm Anna Sale.
Filmmaker Desiree Akhavan mines the details of her own life, especially the most uncomfortable ones.
Let's help each other through this." "We can't hold each others hands through our own break up, that's not how it works." "Why did I even bother becoming a lesbian?"
This scene is from her web series The Slope, about -- the tagline says -- "superficial, homophobic lesbians" in Park Slope, Brooklyn. Desiree plays Desiree. She made the series with her girlfriend at the time, Ingrid Jungermann, who plays Ingrid.
And then, they broke up, in real life. And in their series. Sometimes, it's hard to watch.
I mean, we break up over the course of this show. We went into this show together and if you watch the episodes you can watch us break up.

The last episode is called "Miserable Best Friends Who Used To Be Together" and I am assuming it was filmed after you'd split up? What was that like to film that?

It was incredibly painful.
"We're never going to be best friends who used to be together." "Look, I just need a little time before I can be your friend again, that's all." "Okay."
Desiree's first feature-length movie, Appropriate Behavior, draws on the rawness of that breakup. She made the movie when she was a film student with a small budget. Then, it got into Sundance. The New York Times called it a "winning first feature," and this week, it opens in theaters in twelve cities.
It starts with a close-up of Desiree's face.
She's riding the subway, puffy-eyed and sweaty. Cut to an apartment scene, where she's packing a box. Cleaning her hair out of a shower drain. Then, exchanging irritated words with an ex-girlfriend...storming out...walking down the street carrying only a strap-on and a leather harness.
Like Desiree, the main character in Appropriate Behavior is an Iranian-American bisexual woman, about 30 years old. The details are fictional, she insists, and this time, she gave the character she plays a different name -- Shareen. But it all started with that breakup.
"Okay, why don't you tell me what do you need, Shareen?" "I need my girlfriend back."
Were you heartbroken when you wrote the script?

Yeah. Very much so. The film didn't end up being very literally about that relationship that I was heartbroken over, but I was incredibly heartbroken at the time. And I wanted to find a really funny and far more entertaining way to talk about the issues that were not so fun to experience.
"I want to eat my feelings right now." "You know what? I think that's an amazing idea."
The movie follows her recovery from heartbreak...and her coming out to her Iranian-American family. There are two parents, and a brother, just like in Desiree's own family.
Did you have to have conversations about, that this is my art and you may recognize some parts of it but I want you to know that I love you and I am protecting some parts of it? How did you navigate that?

It's difficult. First and foremost you need to be honest with yourself about whether or not you're being fair and I think the person that I'm the hardest on and have the most sharp negative things to say anything about is myself. The only person who's very much like his character is my brother who is incredibly harsh and mean and I adore him.
"You are such a dick...well at least I'm not a sexually confused narcissist. Can we please go inside?"
We're constantly making fun of each other. He won this award recently and he texted us, "I won the Family First Choice Award for pediatric surgeons." And I texted back "I'm glad you're some family's first choice." Whenever I have an accomplishment he's like "whatever, at least you don't save lives on a daily basis."

What did it look like when you came out to your family?

What did it look like? Not great. I'm vague about it because there's so little that I keep to myself. I don't really like to go into it, but it was really negative and very uncomfortable for years.

How old were you when you came out?

24.

So, it's been a process.

Yeah, it's been a process. And it took so long for anyone to wrap their brain around what that meant for my life and for their lives because also there was a real ripple down effect to how other people would find out about it within our community. I still don't know any Iranian gay people. Or out gay people, I'll say that distinction. So because you've never seen it, it's very weird. And the experience of coming out for that specific reason, that I had never seen anyone else open about that in my own community, felt really strange and it still feels really strange at times. And now my girlfriend and I are welcome everywhere, we go to all the big Persian parties. Last night we hung out with my mom and watched The Voice. My mom thought that Gwen Stafani was Debbie Harry, it was really funny. She was like, "She looks amazing. I do not know how she does it. She must have made a pact with the devil."
Desiree was born in New York City. Her parents arrived in the U.S. after the Iranian Revolution, when the U.S.-backed shah of Iran was overthrown and the country became an Islamic Republic.
Being raised by Iranians means that your rules and your mindset is on par with somebody who was raised by people who experienced war. So it made sense that I had this 1950s mentality handed down to me from my parents and I related more to people's parents when we were griping about rules and things we wanted to rebel against. I didn't have the same safety net or same comfort or same entitlement. I had a sense of entitlement but it was highly at odds with the fact that I knew that so many sacrifices have been made for me to be raised in this country, and the horrors that my parents had recently experienced were not distant from us.

You went to Horace Mann, which is an elite high school in New York City. Were you on scholarship at school or were your parents able to pay for private school?

No, they sunk in every bit of inheritance that they had taken from Iran and put it into my education and my brother's education. And it worked really well for him. He is a surgeon. It is paying back tenfold for him but I have yet to show any kind of return on that investment.

And were you aware of that as a kid?

Yeah, very much so. This is not to say that they held it over us. My brother and I were very aware of everything, very nervous for everyone's finances as little anxious kids. We were not sitting back and relaxing. We were very aware of sacrifices that had been made.

What was it like to decide to be an artist?

It wasn't a decision though. It was never like, this is what I'd like to do. I failed everywhere. I worked so hard to be a good normal person. I'd stay up so late studying for tests and just did horribly. I felt so guilty that I went to this fancy expensive private school because I was a really terrible student. But I was very good at telling stories, very good at writing plays, very good at performing and everyone just kinda knew that that was something, and this is obnoxious to say, but something extraordinary happened on stage for me. And so much mediocrity was happening everywhere else. A level of mediocrity that I cannot explain enough. I remember I had tutor after tutor after tutor and they were like "what is wrong with this kid?" That was the case, that it wasn't a choice, it was just who I was and how I function.

I mean, my brother is a doctor. I've said that like 40 times in the past 30 minutes.

I have a sister who is a doctor. I know what it's like.

Well I was gonna say the reason I repeated myself again is because my mother had chronic migraine headaches to this day, but they were very bad when we were children. And he never wanted to be in a situation -- I'm putting on my intro to psychology cap right now -- but he never wanted to be put in a situation where he couldn't solve the problem and I feel I did that in the opposite way. I felt out of control when events were happening and I didn't get to call the shots and this is what I do to be in control. If my heart's broken then I can gain control of that narrative.
Desiree Akhavan learned to tell those stories early, making up plays as a kid.
I wrote a Friday Night Live sketch show. And I had an advert for something called vomlette, an omelette made of vomit.
Coming up, how that vomlette...led to acting alongside Lena Dunham on HBO.
In the last show, I asked for your stories about cheating. Responses have poured in.
"Twelve years ago I cheated on my boyfriend of 10 years."

"To this day I think I have no idea how much my ex-girlfriend cheated on me."

"I think he wanted to be with me but his kids were holding him back."

"She went away for a weekend with a guy but told me that she was with her mother."

"I found out later that he had gotten a friend of his pregnant."

"If you would have asked me beforehand how I would you react if you knew your partner had an affair, I would have probably said I would walk."
So if cheating is something you know about, you're not alone.
We're still collecting stories. Email me at deathsexmoney at wnyc.org. Let me know if this is something you're dealing with right now. If you can, send a recording of your voice telling the story. If you have a smartphone, use your voice memo app -- and you can email it right in. deathsexmoney@wnyc.org.
On the next episode, I talk with comedian Margaret Cho, about answering phone sex calls to support her early comedy career...the different kinds of relationships and wild sexual adventures that followed...and how now, at 46, she's been surprised she wants something different.
The weirdest thing is I realize now, I just want someone to hold my hand. I just want to share a milkshake with somebody. I never had that time where everything is very innocent, where you take everything slowly. And I realize I need that now.
This is Death, Sex & Money from WNYC. I'm Anna Sale.
Desiree Akhavan is tall, with big eyes and dark hair. In person, she's really striking. But as a kid in school, she says she felt invisible. Unless she was on stage.
When I was in 6th grade, that's when all the kids were allowed to do a big show and that year it was The Lion, The Witch and The Wardrobe, and I got cast as the lion. And I remember after that performance, my parents and my brother looked at me very differently. They just had no idea that I could sing and perform. It was very weird, I had not been looked at with respect before that moment and I remember leaving thinking "Oh god, I've got to chase that feeling." Like replaying it over and over in my head. "That's what it is to be special," like how I would have felt to be looked at as a beautiful person. Like that's what my mother must feel like when people look at her because she's a very beautiful woman. And after that performance I had this brief shining moment of my family looking at me like that.

It's interesting that you don't mention the audience and the applause, it was your family.

Yeah, because you can't gauge the audience. I don't know, maybe they're drunk, maybe they really love the show.

You felt like you were making them proud.

Yeah.
That's what makes a video she produced before Sundance...such a thrill to watch. It shows Desiree telling her mom over Skype that her first feature movie had made the festival.
"You did it!... I always knew. I had so much faith in you. Desi...Desi...Desi..."
And then Lena Dunham calls you up…

All my brother does is save lives, I really kicked his ass on that one. I got Lena Dunham to call me.

What was that like?

Shocking and exciting, overwhelming and not at all what we anticipated but also your perspective changes of what success is and what big is. I take it all with a huge grain of salt. It's really exciting. And really shocking that this very tiny low budget film is being seen, and getting to be on Girls, and putting one foot in front of the other. It never feels like enough and I just do not take it very seriously.

You don't take it seriously because it never feels like enough?

I guess, yeah. You're just blindly chasing a goal that you don't know what it is anymore.
That call from Lena Dunham -- it was an email actually -- led to an acting gig on the new season of Girls.
"Don't bother." "What?" "You're in Iowa...no one locks their bike…"
Desiree plays a tough, unimpressed fellow student when Lena's Hannah Horvath shows up at the Iowa Writer's Workshop.
"Are you a first year?" "Oh, no, I'm in graduate school." "Yeah no, you don't look like an undergrad at all, sorry bro."
Your work was immediately compared to Lena Dunham's. What was it like being on set with her?

It was incredible. Its hard to talk about it without sounding like a really phony sound bite like "we're total best friends, we're growing up together." But when I was on the set of Girls I was so inspired and was like this is how I would like to work. I saw the best qualities of each person on set brought to the table. It was so calm. It was so collaborative and she really is a lovely leader at the helm of that ship.

How do you feel like being a woman filmmaker has influenced the way that you make films?

I don't know because I've never been a male filmmaker. It's tricky. The differences between male and female filmmakers, I don't like to put them in the artistic realm. I think they happen on the business level.

On the business level, what do you notice?

What do I notice? I think this is a better question to ask me once I've made a second and third feature. I do notice a huge drop-off that happens after this. And I have no idea if it has to do with the scripts we choose to move forward with, and whether or not women are more precious and want to hit a home run with the second feature. And male filmmakers are more loosey-goosey with their overall career trajectories and feel like they have more time. There's something about this career trajectory that's really intense and I am right now speculating because I'm at the very beginning of it but this is where I see the change happening. Not in how someone runs their set if they're a woman or a man.

That's really interesting.

Two male filmmakers have told me this year why don't you just make a B minus second film. Shoot it this year and you'll be fine. Quit freaking out about it. I don't think I have the luxury of making a B minus second film if I want to keep working. And I have seen male filmmakers make B minus movies and keep working. I don't know. This is hard to say this as a definite statement because I am very naive and inexperienced so what the fuck do I know. But this is what I'm thinking.

That's what you're afraid of.

Who's going to finance the film after that? You go to director jail. Director jail is a place that exists and I don't wanna go there.

How do you know about director jail?

You hear things.

So you're at once saying it's been an amazing moment of opportunity and you're taking it all with a grain of salt because you know you could just chase it to the infinite, but you also have this fear of losing this moment.

The opportunities are incredible but at the same time you have to navigate those. There's a shelf life to all of it and navigating it requires you to be incredibly strategic and intelligent as well as having talent making films. They are two very different skills.
"Who spends $300 on a garter belt?"
It is different to, on the one hand, confidently line up investors for your film … and then, mercilessly skewer your clumsiness in relationships.
"May I help you?" "We're just looking." "Actually yes, I'm looking for the grown up underwear of a woman in charge of her sexuality and not afraid of change." "I've got that."
The way you describe yourself from not fitting and struggling to please your family feels so at odds with the space you take up in your work and the confidence that that takes. Do you see that?

Mmhmm. I think when you're making something you have to shut off a part of yourself. And when you're leading or are a boss you pull this thing that's in you which is blind belief in yourself and your vision. And who is gonna wanna follow someone who kinda sorta hopes it works out well. It's very human to be insecure and it's very human to want to please others but when it comes to the work I really shut that part of myself off. I blindly chase my taste and I don't doubt anything when I'm in my process.

When you're in your process and writing stories with roots in your real life at what point do the real life consequences enter your mind?

I don't think about real life because I think the minute you put pen to paper and write down a story it becomes a story and with each draft it takes a leap away from the truth of my life and it's no longer this thing that's happened to me, but this story I'm using to illustrate a larger point. I really can't stress enough how I don't see it as autobiographical.

Do you find at the end, though, that the parts of your emotional life that you were trying to work out -- do you feel in any way healed after you've gone through that process?

That's really tricky because I find that somewhat self-indulgent to want to do this for the sake of catharsis. I'll say this. When I was 16, I was voted the ugliest girl in my school.

I've seen that you've said this before. Who created those ballots?

It wasn't ballots. It was the very beginning of the internet. I don't know who created it. I would really love to shake that person's hand because it's given me a lot to chew on. How many years since it's been? I don't know. 20 years. I mention that because the first play I wrote that people saw included a whole sequence about that, and that was really powerful for me at 16 because it was no longer this thing that happened to me but it became a thing that I made something spectacular with. That I turned into a crazier story, that I was able to manipulate it into part of my show which was entirely mine. Whereas before I made that play it was this really sad, victimizing moment in my life. So in that way, yes, I have gotten healing from this. But it's not like it healed what happened or made me feel beautiful or made me feel okay with being voted that. It just gave me control and power in a situation that really stripped me of it. And I think a lot of this is about power, and by this I mean storytelling. That the events in our lives really disempower you at times, and that to shape your own narrative is to me the best approach I can take.
Desiree Akhavan's movie Appropriate Behavior opens in theaters this week. It's also available on iTunes, where you can subscribe to Death, Sex & Money too.
Death, Sex & Money is a production of WNYC. The team includes Katie Bishop, Emily Botein, Jenna Weiss-Berman, James Ramsay, Chris Bannon, and Greg Rippin.
The Reverend John Delore and Steve Lewis wrote our theme music.
I'm on twitter @annasale. So is the show @deathsexmoney!
Sign up for the Death, Sex & Money weekly newsletter -- what we're working on in the show, stories you're sharing with us -- and recommendations of other great audio we're listening to. The sign-up is on our website, deathsexmoney.org, in the right-hand column.
And if you're wondering, making a movie and getting onto a famous HBO show may lead to a certain kind of fame...but not fortune.
We are talking paltry sums, like very silly paltry sums. But I've mostly just been racking up debt. It's a way to live. It's an American way. That's how I really prove that we're an American family. A daughter with several hundred thousand dollars of grad school debt.
I'm Anna Sale, and this is Death, Sex & Money from WNYC.
Copyright © 2019 New York Public Radio. All rights reserved. Visit our website terms of use at www.wnyc.org for further information.
Music Credits:
"Midnight Grind" by Cullen Fitzpatrick, ASCAP from BWN Music
,
"Through the Night" by Kenneth J Brahmstedt from BWN Music
,
"Private Detective" by Cullen Fitzpatrick, ASCAP from BWN Music
,
"Midnight Grind"
,
"Through the Night "
,
"Private Detective"