Tayari Jones on Frills and Freedom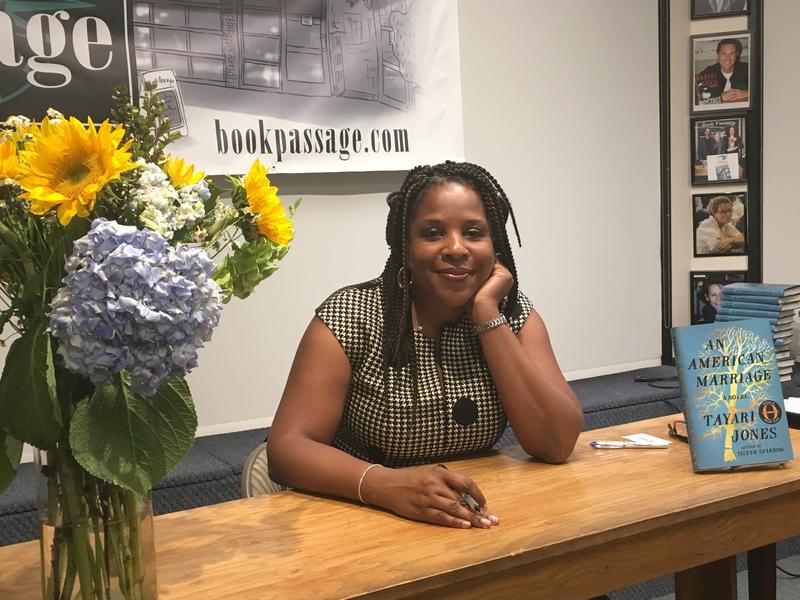 Transcript
TAYARI JONES: Even some of my mentors who are married, and those who are not—everyone agrees that love is wonderful and everyone is ambivalent about marriage.
This is Death, Sex & Money.
The show from WNYC about the things we think about a lot…
…and need to talk about more.
I'm Anna Sale.
Tayari Jones was a successful novelist after her first three books. But her fourth book, An American Marriage, is her first bestseller. And she learned it was going to be a bestseller before the book even came out. She was in Las Vegas on a fellowship…
TJ: So, I was driving and I got a call and it was a blocked call. So I say hello, and she said hi this is Oprah. Just like that. And so I put on my hazard lights and I pulled over. And she said that she had read my book in manuscript pages and that she really loved it and she wanted to use it for her book club and while she's talking to me, all manner of panhandlers are soliciting me for money. They're tapping on the window. I'm shooing them away. I'm trying to make mean faces so they'll back off, and Oprah is just talking and I'm saying yes yes ma'am, yes I would love that. Yes thank you.
With Oprah's endorsement, Tayari's novel was on the New York Times bestseller list for eight weeks after it came out in February. The book explores the confines of what's allowed for women. That's something Tayari told me she's had to do in her life.
TJ: I am of a generation where there are not very many um life mentors who have similar situations. You know this unmarried, no children adulthood, this is something that I think that my generation, that we're forging the the rules of it, the limits of it and this kind of adulthood, that is new.
Like Tayari's previous novels, An American Marriage is based in Atlanta, where she grew up. Both her parents were academics—her dad was a political scientist, and her mother was an economist.
TJ: There's a quote from the writer Kelly Link and she said about being a professor, she said you teach, you treat your undergraduates like children, and you treat your children like undergraduates.

AS: Oh did that does that feel fitting?

TJ: Absolutely, yes.

AS: And what does that mean to be treated as an undergraduate when you're a child?

TJ: Um, for example, when I was a little girl there was a child that I adored. She was so pretty and she had such nice clothes and she finally wanted to be my friend and she invited me to the zoo, and her mother came to pick us up and we were in the car and her mother needed to get some gas, and she stopped at a gas station called Gulf. I knew of Gulf Gas because we were boycotting Gulf Gas because Gulf Gas supported apartheid. And so the lady pulled into the Gulf Gas and I said, excuse me ma'am, we don't use Gulf Gas because Gulf Gas supports apartheid and they kill children, and the lady looked at me and she said, this gas is 75 cents a gallon, and I say, yes ma'am but they support apartheid, and the lady, of course not being the kind of person to treat children like undergraduates, she ignored me and she started filling the car with gas and I was watching the numbers on the gas, you know like the, rack up…

AS: Yeah.

TJ: And I just imagined that that money was immediately going to purchase weapons for the apartheid government and she had to call my parents to come and pick me up, and Daddy came to pick me and he picked me up and I was hugging him around the neck and I was just crying, and he said I am so proud of you. And that little girl never spoke to me again. I would like to point that out. There was no secondary invitation to go to the zoo.
That was not the only time Tayari felt out of place growing up. She was always the youngest in her class—she graduated high school at 16. It wasn't until she went to Spelman, a historically black women's college in Atlanta, that she felt like she fit in.
TJ: It was like I socially, emotionally hibernated and I was like I just have to get to college, if I can just get to college, it'll be okay.

AS: Did the all-womanness of it feel important when you decided to go there?

TJ: I had not at all thought about what it would mean to be in an all-female space. I did not know that as a girl I had been silenced in certain ways, and it wasn't until that I was there at Spelman, that I really learned about the nuances of gender and the way that gender played a part in movements for black liberation. And it, I mean I have to say that I had quite quite a crisis, I mean it caused me to look at my own beloved father, Daddy and I are very close, and like he was friends with, like he's friends with bell hooks. I was like how are you friends with bell hooks and never told me about feminism? And I think daddy felt like, you know he's a nice guy, he's a good daddy, that we didn't need any feminism. We were fine, and wha- and so it took a long, long time for me to really figure out then, because feminism is really about how you deal I mean with the people in your life in a personal way, like the race thing, that's kind of institutional. When we were learning about apartheid, I mean that's way across the world, reading about civil rights movement, it was all about power but not about the day to day and I feel like feminism is about your day to day interactions.
When Tayari graduated from Spelman, she decided to follow her parents into academia, and enrolled in a PhD program at the University of Iowa. It was the first time she had lived outside Atlanta in the U.S., and it was a shock.
TJ: You know how like they tell you that the earth is 80 percent water, and you're like I guess, but here you are sitting on solid land. That's how I felt about race in Atlanta. Like somewhere in the world, hypothetically, there are like a whole bunch of white people, but we don't know them so...

AS: Uh huh.

TJ: So, I was twenty years old and I was living in Iowa City, Iowa, at which point I discovered that actually the world is 80 percent white people. It was not a rumor or a myth. It was real. That was really kind of a stunning thing. I only lasted there a couple of years, and I quit. I was so unhappy, and also it was a PhD program in literature, and I wanted to be a writer.

AS: What was it like to decide to quit after being such a high performing student for your entire life

TJ: It was -

AS: up to that point?

TJ: It was really hard. But I have a mentor um in Atlanta. She's a playwright, um her name is Pearl Clegg and I wrote her this long letter about how miserable I was and how I didn't want to be writing about writing, I wanted to do writing. But I did- I didn't want to quit. I felt like my parents would be disappointed. I felt that if the only black women in the program quit they would say, well we tried to bring black women and they keep quitting—even though I was one person, you know there was this weight.

AS: Mmhm.

TJ: And I wrote to her and explained all of this, and she wrote me back and said, this is your life, you can do whatever you want. Quit. Right now. And just that permission… I wrote a letter to the department saying I was leaving, and I wrote my parents and told them I was leaving. I kinda just like got up out of there. And I would like to say there were utterly no consequences. I think that the reason why people don't quit is that you think you're gonna get in trouble, or that it's gonna go in your permanent record. There is no such thing as a permanent record. You can quit at any time and reset your life.
From Iowa, Tayari moved to Texas, just outside of Houston, where she took a job teaching remedial reading to adults. She lived in a cheap apartment, started writing her first novel, and fully embraced life as a 20-something.
TJ: I think of those as my frozen margarita years.

AS: Uh-huh?

TJ: I had this little Toyota Corolla. I could go wherever I wanted. I had a job. I think it paid like $25,000 a year, which was just like a king's ransom. I had a no frills childhood, but I'm a frilly person. So I bought this four poster canopy bed. And I could do anything I could imagine. I still remember remember those as the best years of my life.

AS: Really?

TJ: I do. I mean, I felt so adult without the weight of adulthood.

AS: Uh huh. What was your love life like during those years?

TJ: I used to fall madly, madly in love. I felt you know like, halfway in love, what's the point? But, oh, I had the most beautiful boyfriend you ever want to see in your life. I think he drove like a Toyota Celica, which was at the time a very sexy car and and we did things you know I had never I had never gone on a trip with anyone. I had nev- you know we would go drive to like jazz clubs and it was just… I felt, again, like I was an adult without the encumbrances of adulthood. We were in love but had no bills in common.

AS: Did you feel, um, you know when you're a women in your twenties and you're in love, did did did you start to feel a sense of momentum around what that was gonna mean for you and the expectations of that relationship?

TJ: You know, I thought I was too young to get married. After all, I had a novel I wanted to write and and and and. I didn't feel the need to settle down. I I wanted to be living a passionate life full of art and excitement. I think I kept thinking that oh once I go to school to study creative writing, then I will consider a different kind of life. But for now I have a dream, I'm chasing a dream, and I was always involved with men who were chasing dreams and I think that what I learned, that two dreamchasers, that's fun but not, it does not a household make.

AS: At what point in your life did you learn that?

TJ: I mean, this is so funny. Okay, years ago I had this boyfriend. He was a mess. He was such a mess, but I just adored him. I thought he was passionate, because passionate and a mess can look the same for a while and a woman said to me, you need to dump that man. He's gonna eat your career. You're gonna come home one day, and it's like cookie monster, he's gonna eat your career and then she made these cookie monster noises like rararararara, you know just and I you know and I just imagined him with the crumbs of my career flying all around his head. And I felt like you don't know him, he's talented, he's creative. And about a year later, I just looked at him and I thought oh my goodness, this man is eating my career. That's what he was doing. He was just gobbling it up. I realized that I was in the position of being support staff to these men who are artists, and I just didn't wanna, I didn't wanna do it anymore.

AS: And what who who were you hanging out with during those years? What were your friends like?

TJ: Well, I had a good friend by the name of Carol, and she was about ten years older than me and she was teaching me the ropes. Like she taught me things, like this is gonna sound kinda silly 'cuz I keep calling these my frozen margarita years, but she convinced me to walk away a bit from the frozen margaritas. And um she was like you should just drink vodka on the rocks because then people know you're serious, and you know at that age you're very into becoming serious. And I've always been... I've always been a very eager protege of women who are older than me who teach me you know how to do things in life and um I remember I had another friend who was older than me who taught told me that you should always keep your passport updated, and I said well why? She says what if someone's gonna invite you to Paris? And I said no one's gonna invite me to Paris. She said of course they're not 'cuz they can tell you don't have your passport up to date, and so I was like okay. So I went and updated my passport. I I was always eager to learn kind of the, I wanted to learn the ropes of womanhood.

AS: Yeah.

TJ: I wanted a... I wanted a kind of life I had never seen before so I was always like really attracted to women who seemed to be eccentric and kind of uncontrollable. I wanted them to teach me how they came to be so free.
Coming up… Tayari talks about building that free life as a woman, but still wondering how much she owes to others.
TJ: I grew up believing to she to whom much is given, much is expected. I mean all my life there's this sense that there's so many people who are of your tribe, so many of your people who have so much less. And I do believe in social responsibility. But sometimes I just get so tired.
--
In our last episode, I checked in with some of the people I spoke with for our student loans series. Many of them told me that over the last year, they'd made some big changes in how they're handling their debt.
Dena is another person I spoke with in the original episode. She sent in a voice memo after she listened to the update, and said, for her, it felt isolating to hear it.
Dena: "God, I wish I could figure it out. I wish that I could understand what they're doing. It almost made me feel kind of a little... I don't know, alone again, or a failure a little bit because I'm the flip side. I'm the one that didn't pay it off."
Dena said she's talked more about her student debt in the last year, but still feels trapped by it—especially by her private student loans.
Dena: I just want to like have like this mediocre lifestyle, and a modest house, and not be freaking out every month because the bank account is going deficit.
We have some free resources on our website where you can ask questions and find help dealing with your student loans. Go to deathsexmoney.org/studentloans.
One more thing to check out on our website—the new Death, Sex & Money starter kit! It's a guide to help people who are new to the show that lists your favorite episodes. Thank you for helping us build it with your suggestions. Find the starter kit at deathsexmoney.org/starterkit and share it with some people in your life who you think need some Death, Sex & Money.
On the next episode, we launch a summer of dating stories from listeners all over the country.
Ceci: All my experience tells me dating sucks.

Dan: I'm 41 years old and I'm a widower. I have a pony, and I have money.

Louis: I have yet to go on a single date.

Miracle: There are some days where I'm like, wow, I'm the loneliest person on the planet. And there are some days where I'm like, it's ok! I'm single, I'm young, I've got all the time in the world.
--
This is Death, Sex & Money from WNYC. I'm Anna Sale.
An American Marriage tells the story of a young black married couple and what happens to their relationship when the husband is wrongfully convicted of rape and sent to prison. The wife is a successful artist who struggles to stay with a man who is absent, even though it isn't his fault.
TJ: All my writing has been kind of me lining lining myself up to ultimately write this book which is really about the challenges of freedom for for black women because, I mean, when I would read novels by white women about women who feel unsatisfied in their marriages, you root for them. You're like girl get free. But,

AS: Uh huh.

TJ: for black women, it's hard to say girl get free when the man is in trouble, and when I do book tour things and we talk about the book, the people always say isn't she so selfish? And they say selfish like isn't she a murderer? But I don't even you know I don't even think she's that selfish, I think that she looks out for herself sometimes but I don't even think she's all that selfish, but I always think when I talk about books, what are the implications of that for our real lives, and it's very challenging because as a black person, there are people in your family, in your tribe, who do desperately need you and so the so choosing yourself, it has consequences that are that that are real.

AS: Your novel, your latest novel is called An American Marriage, have you ever been married?

TJ: I've never been married. Nope.

AS: Has that been um an intentional identity choice or or something that's happened?

TJ: I feel like it's just something that has happened. I don't think I ever said I will never marry. But I do think that the older you get without marrying, the more being married or not becomes a choice. And sometimes people try to throw that back in your face at your highest moments, um I remember when I wrote my second book which I was really proud of, 'cuz your second book means you're not a flash in the pan, you're the real thing.

AS: Yeah.

TJ: And I had a cousin, who said wow this is you're second book, and he kind of turned it over in his hands, he looked at my author photo, he said oh I bet all the guys are scared of you and I was enraged by this, and Daddy tried to calm down and say oh I think he meant it as a compliment, and I was like no he did not. So there is this way of using being unmarried or not having as a children as a way of making women not take pleasure in your accomplishments, and you have to figure out how just to, you know as the old people say in church, you have to figure out how just to rebuke that.
When Tayari got the call from Oprah, she knew she was headed for the biggest success of her career. But because of a non-disclosure, she couldn't tell anyone about Oprah's endorsement for 5 months.
TJ: So I just lived with it. Me and my publicist and Oprah.

AS: What were you thinking about during that time about just like not knowing how your life would change?

TJ: Well you know about um, in 2011 I had a fellowship at Harvard University, and I met a lot of famous people—people who have been very successful. And actually I think it harmed my ambition meeting so many famous people because I realized that the way that you get famous and stay famous is to never be satisfied, you know

AS: Mmm...

TJ: Ambition is the opposite of contentment, and I think I decided I didn't want to be famous because I just saw the constant kind of hamster wheel of it all, and so when the Oprah call came and I knew that my book could possibly be a bestseller, I wanted to do everything I could to insulate myself against this never satisfied, this constant running. I think that I'm really lucky that this moment came you know fifteen years into my writing career at age 47 and that I had, and I had enough time, those five months gave me enough time to really think about what I wanted and how I wanted it [...] and I wanted to make sure that my existing friends knew how much I loved them. And I wanted to make sure that those relationships were there to to hold me during this really this time full of transition and change. So I I write letters, and I sat down with my box of stationary and I wrote letters to so many of my friends and then like say four days before the Oprah announcement came, I put the letters in the mail to, and all the letters just said it was a you're my friend, I love you, I appreciate you, I know I may not be available in the way that I used to be but it's not that I don't love you because I don't want to lose what I have in my life. And they got the letters early—I would like to add a coda, they got the letters early and they were all like why are you tripping, you've written three books before. Why are you acting like you've never written a book before? But then once the announcement came, I think everything made sense in a different way.

AS: Um, have you felt the life changing-ness when it comes to money?

TJ: I haven't got the money yet. The way publishing works, like I will not receive a dime of the royalties from "An American Marriage," you know the foreign rights and everything—I won't get any of that until the middle of October. So I'm just living my normal life in my walk up apartment. You know I'm still buying diet cokes by the case 'cuz it's too expensive to buy them one at a time like I'm still

AS: Uh huh.

TJ: I'm still living my life my life, although I have made some ill-advised clothing purchases.

AS: You like frills.

TJ: I do, and I just but I only go to Neiman Marcus dot com slash sale. I never go I never look at the things that are not on sale.
Around the same time that Tayari is expecting her first royalty check, she'll be dealing with another big change in her life. She lives in New York, but this fall, she's joining the faculty at Emory University and moving back home to Atlanta.
TJ: My daddy is 81, my mother is I think my mother is 76, and everyone, all my mentors say that you will be so happy to live close to your parents as they get older and this is always been kind of a goal of mine to get back, to get back home, and also I'm just I'm just a Georgia girl. As I wrote in something one time about going to Spelman, we came to feel that we were exceptional without being exceptions. That's how I feel in Atlanta.

AS: Do you think of your return to Atlanta as part of that insulating yourself from fame?

TJ: In Atlanta I know a lot of people from a lot of walks of life where it's, books are not the center and I think it's good for me as a writer to be around other people. And I feel like socially in New York I don't know how to get away from it because it is the headquarters of publishing, but in Atlanta, I know all kinds of people who do all kinds of things and I can just kind of I don't know build some of my other muscles I guess.

AS: Mmhm. So your parents are back in Atlanta?

TJ: Yes.

AS: Is there, as you think about being an adult back in the hometown where that you're sharing with your parents, um is there any part of you that's nervous about that proximity?

TJ: Yes, you know I mean I do think that one of the good things is going to be able to see my parents and it's not Christmas.

AS: Uh huh.

TJ:I wanna see them just random. I wanna go to Costco with them and I'm looking forward to being in the natural habitat, but at the same time I'm like oh my goodness. Am I gonna end up married to somebody I knew in high school? Like would that mean that I'm no longer moving forward with my life, like does it mean that I'm not this renegade person? I mean I always was proud of myself for you know heading off by myself and living in New York. What does it mean that I'm coming home?
That's Tayari Jones. Her new novel is An American Marriage.
Death Sex and Money is a listener-supported production of WNYC Studios in New York. I'm based at the Center for Investigative Reporting in Emeryville, CA. Our team includes Katie Bishop, Anabel Bacon, Stephanie Joyce, Emily Botein, and Andrew Dunn.
The Reverend John Delore and Steve Lewis wrote our theme music.
I'm on twitter @annasale, the show is @deathsexmoney on Twitter, Instagram, Facebook... and find the new Death, Sex & Money Starter Kit at deathsexmoney.org/starterkit.
Before Tayari moves back to Atlanta, she's planning to celebrate one last birthday in New York City.
TJ: You know I wanna do something big. I like wanna invite all my friends and I wanna wear sequins, because I'm a southerner, we like to sparkle. I just wanna invite everyone to say goodbye, and I want, I don't want my friends to have to pay for anything. I mean part of the stress of living in New York is that even if you're okay, your friends are not. You're always one degree of separation from someone who's in real trouble, so I wanna have a lovely birthday and invite everyone out to celebrate and I don't want anyone to worry about a thing.
I'm Anna Sale, and this is Death, Sex & Money from WNYC.
Copyright © 2019 New York Public Radio. All rights reserved. Visit our website terms of use at www.wnyc.org for further information.
Music Credits:
"Southside" by Lee Rosevere
,
"Spills" by Blue Dot Sessions
,
"Vinyl Couch" by Blue Dot Sessions
,
"Instrumental 2 Revisited" by Gillicuddy
,
"Valantis Vespers" by Blue Dot Sessions
,
"More Weather"