Robert Earl Keen Quit Nashville and Stayed Married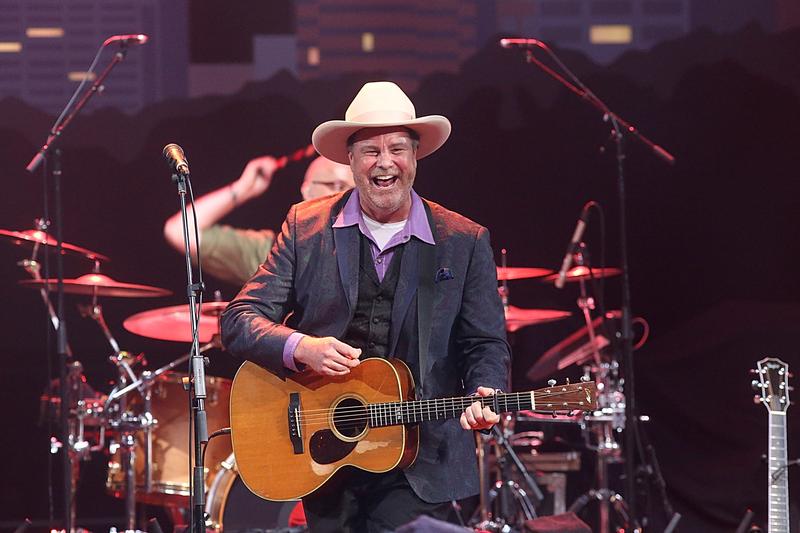 Transcript
Robert Earl Keen: I always used to tell people, "If you get a name for yourself, the money comes, so you don't have to worry about that." I found out since that there's a little problem with that logic.
This is Death, Sex & Money.
The show from WNYC about the things we think about a lot….
….and need to talk about more.
I'm Anna Sale.
Singer-songwriter Robert Earl Keen has been with his wife, Kathleen, for 30 years.
REK: When we first got married and we were living in Nashville, this woman said, "I give you six months," and I said, "You don't know me, it's not like that for me."
That tenacity -- to stick things out and hold on, even when they get hard -- has served Robert Earl Keen well over the years. In family and in his career. In part because his story songs never really found a home on country radio.
REK: I'm truly an outlier, there's no other way to describe me. It allows me a great deal of freedom. At the same time, there's a great deal of frustration of not being able to fit in the country club sometimes.
[SONG: "Gringo Honeymoon"]
He's made his career by steady touring. At 59 years old, he plays about 120 shows a year -- and tends to his loyal fanbase that started in his home state of Texas and spread.
His fans love him. His hair and beard are now flecked with gray, but every Robert Earl Keen concert I've been to still feels like a party. First, there's the chanting…
"Robert Earl Keen! Robert Earl Keen!"
Then, Robert Earl Keen strides out on stage, in a jeans and a cowboy hat or in a sharp suit if he's playing bluegrass standards, and everyone just goes bonkers.
But before all this, Robert Earl Keen's music career had a slow start...when he was a young husband, with a new wife.
REK: We laughingly say that our first 12 years of marriage were rounds. We went through 12 rounds of marriage and then it got better. It's tough on anybody's marriage when you're struggling so hard to make something work and there's that anxiety and there's that fear going on.

AS: What would you argue about?

REK: Oh, well, the classic things. The money. The career. The direction you're going. The "maybe we should try something different." I mean, my heart was always completely fixed in the idea of making a career out of music. I couldn't get off of that, so any time that that would be hinted to me I was pretty testy about that kind of thing. And even if she'd say, "Well, maybe you oughta try this or something like this." "I don't need to try that, I'm doing the right thing." But I just wasn't having any success at it.
Robert and Kathleen moved to Nashville from Texas right after they got married, in 1985. He'd just released his first album, called No Kinda Dancer. And his friend, musician Steve Earle, told him that if he wanted to make it big, he needed to go to Nashville.
REK: It was exciting and scary for me. I was somewhat secretive about it because all the way through college I was always playing and always thinking this is what I wanna do but I wasn't telling anybody because I didn't want to fall on my face and embarrass myself but I was always playing. So when I finally made a record I felt like I had made this giant leap into semi-adulthood and that I've done something on my own. And when I moved to Nashville that was true a leap of faith. I had never even considered it. I never considered the real road map to fame. I just thought that you would want it bad enough you could figure out, so I'd never thought about, oh, here's what normal people do. They go to Nashville and learn how to be a songwriter -- I had absolutely no vision of what the music business or the entertainment business was about.

AS: Did you feel like everybody else around you sort of did?

REK: Well I love that quote in that movie Diner when Mickey Rourke says, "Do you get the feeling that something's going on that we don't know about here?" And I always related to that comment because I do get the feeling to this day that there's something that I'm not clued in on. And, you know, some of that bliss is really healthy as far as I'm concerned, because you can work yourself to death trying to figure out all the angles. But I do have kind of one mantra. It's brute force and ignorance. Just keep pushing.

AS: Brute force and Ignorance. [laughs]

REK: Yeah, right.
[SONG: "Leavin' Tennessee"]
REK: My stint in Nashville, which lasted 22 months, was difficult. Difficult. I moved there with some friends. All my peers that were musicians blew up, I mean they completely blew up and I went the other way. I just kept sliding further and further away from my goal and I didn't know what was wrong and I didn't know what I was doing wrong. And I was hitting the streets and knocking on doors and trying to get some attention and it just wasn't happening. So, by the end I was standing outside -- I had come back from Lawrence, Kansas where I had played, and my car broke down and I spent all the money that we had made in Lawrence -- and my wife was with me -- and I got home and someone had broken into our house and we had, I don't know, a couple little cabinets and a couple of trinkets or something and a VCR and a television and they took all of it. And I thought, well this is a sign. There's another -- more of a funny thing -- while I was broken down on the road in O'Fallon, Missouri, Steve Earle -- who had talked me into coming to Nashville -- bus passes by. Big huge bus goes whooshing by, says "Steve Earle" on the side and I thought, "This is not really good." I got backed and our house was ransacked. I felt ashamed and humiliated and at the same time felt like I had to make some kind of move to just change the way things were. So I turned to Kathleen and I said, "You ready to go home?" And she said, "I'm ready." I said, "Okay, let's go." So we left.

AS: So it sounds like it wasn't so much like not having the money in Nashville, it was just feeling totally spiritually depleted.

REK: Yeah, well I was broke too. I had hocked everything that I had hocked. I was completely broke. It was all of it at one time. It was. But the part where I was making no inroads whatsoever -- and I wasn't even writing good stuff. I was deflated and somewhat embarrassed -- a lot of my friends knew that I had gone up there and I thought that I would come back with the prize and instead I came back with my tail between my legs. And my whole reemergence was somewhat slow. But when I had the nerve to open up the guitar case and start strumming on the guitar I realized, "Oh, I don't have to write a hit song, I can write what I want to write." And I did.
[SONG: "Feelin' Good Again"]
AS: What was the decision like to start a family with your wife? You'd been married for a while.

REK: For a while, and that had to do with we were struggling so much, my thing was I have got to make this work, I've got to get this career off the ground -- it's so weird to call music a career 'cause it's not exactly that, it's almost a complete lifestyle -- so when we, I had to get this off the ground and feel like I could be responsible for a family and I wasn't going to leave them in a lurch or try to figure out something else. I did feel like I had to be able to handle it financially as well as psychologically. The first several years that we were married, I wasn't ready at all, I thought it would all come unraveled.

AS: Was there something that made you feel ready?

REK: Yeah, I played a night one time, I played a couple of shows where they totally sold out, and I thought, you know, I got something going, I think I had a couple of records under my belt at that point, and I didn't have a plan but I did think I had something going, I had the wheels in motion so, at that point, I felt more comfortable and that's when we, shortly thereafter, Claire was born.

AS: And your wife previously would tour with you on the road, right?

REK: Yeah, I never did any of that nonsense about having her sell merch or glad handing people and stuff like that. We enjoyed each other's company and we had a really good time. It was like Kerouac's On the Road sort of thing. It was this great, Travels with Charley experience, it was really fun, Travels with Kathleen, it was really good.
[SONG: "The Road Goes On Forever"]
Coming up, Robert Earl Keen on life on the road over the past two decades...including the many nights of partying and drinking.
REK: All things in moderation including moderation.

AS: Do you still drink?

REK: Oh yeah, it's amazing I'm alive at this point. All the AA people out there will probably go, "Oh, this guy's totally in denial." But the fact is, I've never had the problem with it. There was probably a time I don't know, 20 years ago, it was a little tougher and I was pushing it too hard, but these days it's very United Methodist Church kind of drinking.
Our episode about Heidi returning to Brooklyn stirred some passionate responses from you. This came in from Michelle Fogarty in Vernon, Connecticut.
MF: When you asked her about being ready for retirement, she basically said, oh, I don't need to worry about it because someday I'll have family money. I have a friend with a similar attitude and it absolutely enrages me that they live their entire adult life being financially insecure because someday their parents are going to die and give them money.
Others wrote in that they were frustrated Heidi hadn't changed more in the year after getting priced out of her neighborhood.
But others heard a story that felt very familiar. SR wrote on deathsexmoney.org .. Thank you for sharing your story, Heidi...I also experienced near destitution recently, but I was helped by friends, and, as I looked back on my worst year in terms of finances, I was surprised to discover that I considered it a good one.
Speaking of money...I really do appreciate the donations you've sent in to support Death, Sex & Money. I mean, it's incredible. You get the show for free, and you're voluntarily pitching in your hard-earned money to help us make more shows. It means a lot.
If you haven't given yet...and have the intentions to do so...go to deathsexmoney.org/donate and we'll send you a Death, Sex & Money for a contribution of any level. Thank you.
Also -- if you live in Portland, Oregon, I'm coming to town on May 30 to be on Live Wire with Luke Burbank. Info is at livewireradio.org. The show's at 7:30 at night, but I'm free earlier in the day. So -- if you're in the area and want to get together for an afternoon activity, email me at deathsexmoney.org. We're cooking up something fun.
On the next episode...hear what happened when we were live on stage in Brooklyn. Designer and potter Jonathan Adler was there with his husband Simon Doonan, the writer and creative ambassador for Barney's New York. Jonathan and Simon talked about their 20 year relationship...and their 14-year age difference.
JA: I think the reason our relationship works is because he's so technologically tragic that I am in complete control of the remote and the radio and it just works.

SD: Yeah, he's away on some trip to Peru, wherever, I just sort of sit in darkness. It's very poignant.

This is Death, Sex & Money from WNYC. I'm Anna Sale.
For the past 20 years, Robert Earl Keen has spent half the year on the road. This summer, he's booked up solid from May through September. Traveling with him are the guys in his band, many of whom have been with him for a long time.
REK: I've made a commitment to my band, my band is paid, they're paid like anyone else in the world on a salary. I have a retirement program that I've had for 20 years now, we have insurance which we've had for 10 years now, and we take a month off every year. So I decided to treat the music business like people treat their own businesses and try to just follow that model, it was simple. To me, it was simple because that's what you should do for people. They give you their lives basically and you need to make sure that you're not going to steer them down the wrong path or leave them in a lurch. So I'm very passionate about that. I can't do what the musicians around me do. They have this incredible talent and you know there's a handful of people that really, really appreciate how hard they work, how much they do. I wouldn't inflict the rigors of the road on my worst enemy because there's a lot of waiting and fortunately for us, like I said, I have a great band and a great bunch of guys. There used to be a time where you'd finish a show and then it was about the after party and that just doesn't really happen anymore. At one point I did think the drinking in the whole group was over the top or it was getting that way so I started ordering these pizzas so everybody'd have something to eat and maybe slow that down a little bit and now it's like, I think we look forward to the pizza more than we do the beer.

AS: There's something about being at your shows when you look around and you see grown men fist pumping in the air and singing along with with tears streaming down their eyes. It's something about your songs. Many of them sort of allude to this intimacy with melancholy but your songs are joyful. Is there something about this is your real life where you figured out how to be in a good mood despite sadness?

REK: I feel like in general that life is good, and I'm always, even to this day, somewhat surprised when you get a tsunami of bad news or hard times and I do think it's always, there's a brighter sunset coming on. That's just the way I think. Also just to kind of drag on in some incredibly sad fashion, I don't want to bore people. The performer in me wants to always make sure that you go away with some kind of good feeling.

AS: Part of what comes with that is feeling adored by fans, which for a lot of musicians also means by women, how have you navigated that as a traveling musician?

REK: You know, I have a great bunch of people around me, we're all like-minded in that way, it's not, that's the kind of the unsexy, "Well I don't want to hear that, I want to hear these crazy rock stories" and stuff, but really and truly we're a bunch of guys that go out and play music and then we get on the bus and we play Scrabble. And occasionally there's the late night party or there's the bar and some stuff but you just get up and you walk away because that's such a side road to what the purpose is, the purpose is to get out and play music, to get these songs across, make people happy, come home to your family and take care of your family, those are the things that are most important to me so I don't really veer. That doesn't mean that I don't like women or there's not some great feeling of, "Isn't this nice that all these people like me," and I've been pinned to the wall as being flirtatious and stuff but to me it's just all fun, it's not about crossing the line or figuring out something else. I don't have another agenda.
[SONG: "I'm Coming Home"]
AS: Do you think the distance, having some time apart over your long marriage, has had any benefits?

REK: I think it has a lot of benefits, in the world of, what the divorce rate is at 50% or a little over 50% these days, I think a lot of it is being too close quarters or not being able to figure out how to handle that time away from your spouse and we've been very dogged about our effort in trying to make sure that that works, so I would have to say yes.

AS: Which of the two of you is more concerned about stability?

REK: Me. I'm definitely, she has her thing that she likes routine and things like that, but I'm always thinking in terms of making sure that we're covered, that the girls are fine, that my band is covered, that's high on the list.

AS: And on sex…is sex….Compare for me sex in your 50s versus your 40s.

REK: Wow. I wish I were a clever person at this point and I could say something really funny, I don't know. I think sex is a huge driving force in your life, and to be honest I would say that somewhere in your 50s you lose some of that drive and it is somewhat devastating. It is as much as losing a loved one somehow.

AS: Because it makes you feel you're aging?

REK: Yeah there's the aging part but the other thing is a certain amount of fatigue and a certain amount of losing connection with the world around you, beginning where you are used to people looking at you and then all the sudden realizing you're just invisible. That's part of it, it's that loss of whatever we have in our hormonal makeup that I think that makes you invisible and it's rough.

AS: I think of it as part of a pulse and an energy that's happening around you that you feel more alienated from. I've never thought of it like that.

REK: Absolutely, if it were a movie or something you would all of the sudden be a half tone instead of a full tone, you would be starting to become invisible and I think that's the main ingredient right there. Hopefully what you do is you work on your intellect, I don't know, I can't grow old gracefully. I damn sure can't figure that one out.
Robert Earl Keen. He's playing shows from across the American south and west this summer. Tour dates are at robertearlkeen.com. His latest album, Happy Prisoner, is a great collection of bluegrass songs -- that also features Peter Rowan, Natalie Maines from the Dixie Chicks, and Lyle Lovett, Robert's old college buddy from Texas A&M.
Death Sex & Money is a production of WNYC. The team includes Katie Bishop, Emily Botein, James Ramsay and Joe Plourde.
Thank you to our fantastic interns Zachary Mack and Caitlin Pierce. Best of luck in your next adventures.
The Reverend John Delore and Steve Lewis wrote our theme music.
I'm on twitter @annasale, the show is @deathsexmoney.
Don't forget -- we want to give you a Death, Sex & Money sticker. Please pledge support at any level at deathsexmoney.org/donate.
And Robert Earl Keen's is hard to pin down -- it's country, folk, bluegrass, blues. But when I asked him how he thinks about death, it was all rock 'n' roll.
REK: My plan: a donkey, two big wooden boxes on the donkey, like saddlebags, right? Full of heroin put me into the desert and let me go out into the desert and you can find my bones in about 30 years. That's what I'm thinking. I always heard it was good so why not? I'm not gonna go read a Nicholas Sparks book that's for damn sure.
I'm Anna Sale, and this is Death, Sex & Money from WNYC.
Copyright © 2019 New York Public Radio. All rights reserved. Visit our website terms of use at www.wnyc.org for further information.
Music Credits:
"Gringo Honeymoon" by Robert Earl Keen
,
"Feelin' Good Again" by Robert Earl Keen
,
"The Road Goes On Forever" by Robert Earl Keen
,
"Leavin' Tennessee " by Robert Earl Keen
,
"I'm Coming Home" by Robert Earl Keen