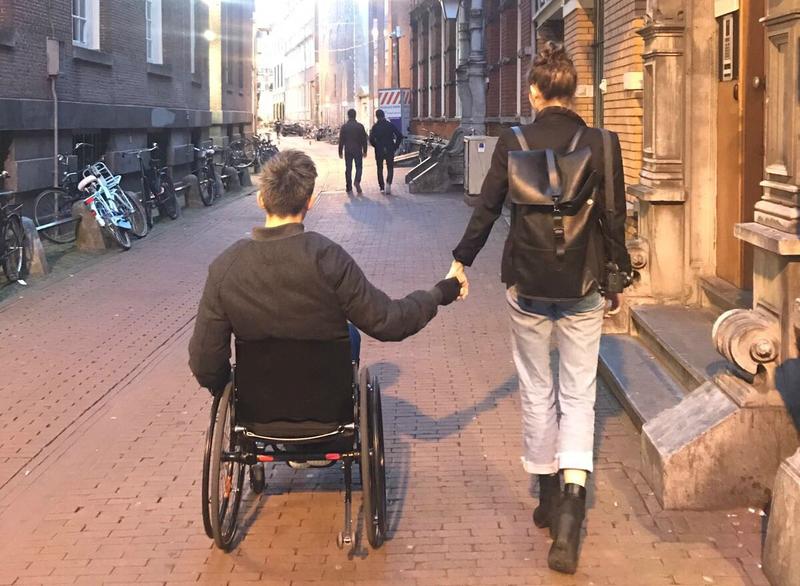 Transcript
Rachel Swidenbank: The amount of times I've told him to be careful on that bloody bike. Like, honestly, I used to say it all the time. And it makes me mad to be like, your carelessness has cost you so much and our relationship so much.

Hiroki Takeuchi: And, you know, it's one thing to blindside yourself, but I've blindsided Rachel as well.

This is Death, Sex & Money.

The show from WNYC about the things we think about a lot….
….and need to talk about more.
I'm Anna Sale.
When I talked to Rachel Swidenbank and Hiroki Takeuchi, they were sitting in their apartment in London. I was in California.
HT: Okay, can you hear me now?


Anna Sale: I can hear you now.


RS: This is working fine. Yeah.


HT: Yeah, this is great.

Rachel and Hiroki moved into this place last summer, just before they got married in August.
AS: Do you have wedding pictures in your apartment?

RS: Yeah, we have one up on the -

HT: Just that one.

RS: Yeah, one up on the wall. The two of us stood together outside the reception. It's weird - I'm looking at it now and it does feel weird.

HT: I actually found more difficult was the video. We got a video made that I found even now watching it I find really difficult.
Before their wedding, Rachel and Hiroki had been together for eleven years. They met as college students at Oxford…
RS: Literally like just flown out of my parents' nest and then straight into Hiroki's arms basically is what happened.

They dated for 10 years before they got married. Rachel was 29, and Hiroki was 30.
HT: Rachel's best friend sort of pulled me aside and was just like, yeah, you need to sort yourself out.

RS: Put a ring on it.

HT: Exactly, and make it happen.

RS: Um, I've never really been one who's obsessed about marriage but I didn't realize how important it was before something like what's happened.
Three weeks after their wedding, Rachel got a phone call from Hiroki's younger brother.
RS: And he said you need to get to the hospital. Hiroki's been in a cycling accident. And then when I got to the hospital, being able to say 'I'm Hiroki's wife and you need to tell me what's happening' is very different from saying 'I'm Hiroki's girlfriend,' even though there is no difference in our feelings towards each other or the history of what we had.

AS: Hiroki, to the extent that you're comfortable recounting it, can you - can you tell me what you remember of the day of your accident?

HT: It's like I remember the moment of the accident itself and then I remember a lot about what happened afterwards. But then I don't really remember like much about the lead-up to the accident. You know, like I couldn't tell you like - which is a bit different from what Rachel remembers. Like Rachel seems to remember, like, what she was wearing and what I was wearing.

RS: It's like I remember getting up in the morning. I remember we had this like really long hug in the hallway just before I left. I left to go to an early - an early morning gym class. I remember on the way to the class it was a pink sky and I remember saying - there was like a riddle when I was younger that's 'Red sky at night, shepherd's delight. Red sky in the morning, shepherd's warning.' I remember thinking, I wonder what the warning is?

HT: So I was actually out cycling with my brother. I just remember this sort of moment where I kind of like lost concentration, looked up, and there was this car right in front of me. And I was - you know, I don't actually remember the impact itself. I think I sort of passed out but I remember sort of waking up and looking up and there's these sort of police officers out over the top of me sort of me checking if I was Okay. And clearly I wasn't okay because I have got this huge gash on my neck. And I'm apparently bleeding quite a lot out of it. And my brother was sort of over the top of me as well, sort of telling me that it was going to be okay.

RS: And he called me and in that moment I had just got out of the shower, I was actually butt naked in the women's changing rooms, and literally collapsed on the floor screaming. And all these girls just run around me and some of them run upstairs to get a taxi for me and I was making a bit of a scene to be honest. And then when I got to the hospital and they took me and there were just people running out of the doors and above the doors it said MAJOR TRAUMA. And I was like, 'Major Trauma, it sounds so serious.' And then eventually -- I think it must've been two hours -- they let me in to see him. And yeah, I remember him looking up at me. He had like a big swollen face and like his head was in this red like cushioned thing. And he just looked at me and he was like, "I'm sorry, I'm sorry, I've ruined everything."

AS: That was your first impulse to tell her, to apologize?

HT: Yeah, well I mean, like, I think it's sort of - sort of deep down, I kind of knew that this was a really, really impactful incident right? Like, I couldn't feel my legs. I kind of knew - there wasn't - you know, part of me wasn't even sure I was gonna survive.

RS: Then a female surgeon came over to us and she was like, 'Well I'm going to take Hiroki for the operation now. Hiroki's had a really serious like fracture of his back and you're never gonna walk again.'

AS: She said that prior to surgery?

RS: Yeah, she said that prior to surgery.

HT: Mm, yeah, I remember that, yeah,


RS: And I remember then, we were talking about - we just moved into our apartment and we were like - we were a bit crazed actually. We were like, 'Oh it's good because there's a ramp at the back entrance and a lift so practically we'll still be able to live there. And don't worry, I'll go and call the kitchen guys and put the kitchen on hold so we don't get it built before we knew what your needs are.'

HT: I dunno. It's kind of our minds went straight to the pra- small, mundane practicalities of what it was going to be like to live in a wheelchair.

RS: Yeah.


HT: I think it was our way of coping in a way.

RS: Yeah, I think - I think it was.

HT: To sort of try to make sense of the situation.

RS: Yeah.

HT: Yeah, so it was very odd reaction.

RS: Yeah. And then you went - and you went into surgery. And so I made a group on WhatsApp and messaged all of our friends to say 'Oh it's really sad this has happened. Hiroki's in surgery. Like he's never gonna walk again but he is gonna survive so, like, don't worry too much.'
That first surgery, to stabilize Hiroki's spine, was just the start. He damaged his sixth thoracic vertebrae, right in the middle of his back. He lost all sensation from there down. Rachel was there for it all, documenting each milestone on her phone. For the first five weeks in the hospital, she even slept on a mattress on the floor beside Hiroki's bed. She knew how important it was for Hiroki to have her there.
RS: One of the things he said to me a lot in the early days of the accident were like, 'Are you going to leave me?' But there's nothing from the accident that would ever make me want to leave.

Rachel focused on staying positive for both of them.

RS: So the hardest things were - to deal with were obviously Hiroki not being able to walk and then I would just really quickly be like, 'Oh but I've always said I prefer arms and chest being built than legs.' [laughs] And it was just really silly, silly, silly things. [laughing] And then I would be like, 'Now you're gonna have a massive chest, this is great.'


HT: Yea.

RS: And it was like - just everything I came up with, like some silly reason that it was okay and it was meant to be like this and I can handle it and it's fine.

AS: What was it like when you would come home from being with him and you're back in your apartment without him? What would you do?

RS: Oh I hated it. So it took me a month before I went back to the apartment.

AS: At all?

HT: Yeah, 'cause you were staying at the hospital, right?

RS: Yeah. So I used to ask other people to go and get me my things because I didn't wanna come back by myself.

AS: 'Cause it was too painful to think about life before?

RS: Yeah. It was just like - we had just moved in. We had everything. Like, our relationship was good, we'd just gotten married, we'd just bought our first house. Like everything just felt good. Like we were just in such a good place. And then suddenly it was like everything was taken away. And it's - now I look at it and it's not everything's been taken away. But in that moment it felt like it. And I didn't wanna come back to the flat and look, and at that point in time, as well, bearing in mind he couldn't even sit up or move from his wheelchair into a different seat. So I would go - the idea of coming home and being like, 'Oh we'll have to get a new bed, and we'll have to get a new table, we'll have to do this.' Like I couldn't - I didn't understand the changes that needed to be made and I didn't wanna go sit in the house alone and think about them.


AS: Hiroki, when you were in the - in the middle of rehab and you're - you're trying to learn how to do what you can with your body, I imagine it was both physically exhausting and mentally exhausting. How much were you able to think about your relationship and and trying to take care of Rachel?

HT: Yeah, I mean, that's something that was hard. I mean it's hard still now, to be honest. So then it was like I didn't have the capacity to - to think about anything other than like, 'How am I gonna make this transfer work? Or how am I gonna, you know - how am I gonna be able to sit upright in this way? Or how am I gonna be able to reach for something?' Like such basic things. But even now, you know - even the way that I used to be able to care for Rachel and now how I can care for Rachel is very different, right? Like, I guess like I feel confused by it.

AS: Yea, why confused?

HT: Because - because like so much - it doesn't make sense anymore, right? It's like, you know, if I - if I wanted to treat Rachel before I'd - maybe I'd go out and like cook a nice meal or I'd, you know, go and fetch something.

RS: We used to joke he was the fetcher [laughs]. So, like, if I was like, "Oh would you fancy a glass of wine?", he'd be like, "I'll go and fetch it." So - [Laughs]


HT: Yeah, I can't do that anymore.


RS: Yeah, so it's - it's the roles that we played previously have changed.

HT: Yeah.

RS: But they're slowly - they're slowly - like this is so early that they're slowly changing. Like already every morning now Hiroki gets up and makes me a cup of coffee and brings it to me in bed. And so I can already feel like he's doing these things that are the old role.

AS: When did you bring that cup of coffee? When was the first time you were able to do that?

HT: When was that?

RS: I mean you still struggle a bit now.

HT: Yeah, yeah, I do. But I remember Rachel sort of having a freak out one evening and being like, 'Oh, you're never going to be able to bring me coffee again.' [Laughs] And so that was - that was - to the next day I was determined I was going to do that.


RS: It was once he had mastered wheeling with one hand.

HT: Yeah exactly. [Laughs] I still haven't mastered it.

RS: [Laugh] Yeah, there are often coffee drips all over the floor. [Laughs]
Hiroki moved back into their apartment just before Christmas, three months after the accident. Coming up, where Hiroki is in his recovery now, and why he's back at work, but Rachel isn't.
RS: I help most mornings with the toilet and the shower. So one of the big things at the moment is Hiroki's not able to use the bathroom independently. And so that's the thing that we really need to change because at the moment it just requires - it's probably the only - the only area of your life where you haven't gotten your independence back. So once once the bathroom is done then, yeah, then we'll be good to go.

HT: Yeah, hopefully yeah.
In the last episode, we asked you to tell us about your student loan debt, and a lot of you have shared your stories. You've told us about how much you owe…
LISTENER: I owe $134,000. That's correct. One three four zero zero zero.
And the impact that number has had on you.
LISTENER: It affects absolutely everything in our lives, in terms of our finances, you know, And, of course, finances are connected with your sense of well-being and security in this world too.

We're still collecting your student loan stories for an upcoming episode. We especially want to hear how your student loans have driven other major life decisions, like where you live, what kind of job you do, whether and when you'll have kids. Record a voice memo or write an email and send it to us at deathsexmoney@wnyc.org.
Our email inbox is where many of our stories come from -- including this episode, with Rachel and Hiroki. Rachel first emailed us just six weeks after Hiroki's accident. "I want to understand if this isolated feeling is normal," she wrote. "I guess we are right in the beginning of our journey -- but I so badly want to hear about other couples who have been through this."
So next week we've got another story about living with disabilities. Two parents who've relied on wheelchairs their whole lives, who are now raising a 5 year-old daughter.
NIKKI: This society and the State, or however you want to say it, looks at us like, 'They can't care for themselves. So how could they care for another child?' I mean that's how people on the street even say it to our faces.

DARRELL: We had to change the ideas of some of our family members, even. That this was going to be an okay thing.
This is Death, Sex & Money from WNYC. I'm Anna Sale.
Before Hiroki's accident, both he and Rachel had started companies in London's tech scene. Rachel's was just getting going -- it was a site for ordering home-cooked food. Hiroki's company was more established. It's a finance startup called GoCardless. Hiroki is the CEO.
RS: I mean, one of my common things I always used to stay was, 'Hiroki, you're having an affair with your company!' Because sometimes that's what it felt like.
After his accident, Hiroki was on medical leave. Most of his hospital expenses were covered by the National Health Service in the UK and some private insurance, so money hasn't been a major stressor. When we talked, Hiroki was still going to rehab regularly but working two days a week.
HT: You know, I'm lucky enough that my job doesn't involve any kind of physical exertion really and so I'm able to go back and when I'm in there and in that moment there's no real difference between me now and me before.

AS: And Rachel you're not working now?

RS: Um, no. So, uh, I was going through an investment round with my company that I was kicking off the week the accident happened. So in an already challenging environment, we didn't raise the money that we needed to in time. And so I shut down the business in December, just as Hiroki came out of hospital. So I've not been working since then, which i think is the first time in my life I've ever had this. I feel a little bit lost actually. I guess losing a little bit of my sense of identity. I've kind of always liked working hard.

AS: Before the accident was one of you kind of the optimistic one and one of you was the worrier? Like how have your emotional roles in your relationship shifted?

RS: We like refer to each other as I'm very fiery and Hiroki's like a rock. And its interesting cause I say to Hiroki one of the things for me that's been positive about this -- I don't know if this sounds right -- but for the first time in our relationship I've felt like he needed me?


AS: Hmm.

RS: And i think I've always been so insecure about being on the sidelines. And suddenly I was actually needed and so realizing that and knowing that, like, we both are on the same level of the dependence that we have on each other, I think has made things feel a little more equal emotionally.


HT: I feel like, yeah, I mean, like, yeah, I kind of feel like we've become - it's like we've gotten closer in terms of temperament, right?

RS: Mm.

HT: Like, I used to be like Rachel said like really sort of stoic almost.

RS: Emotionless. [Laughs]

HT: Yeah, emotionless. And I definitely feel like I'm a bit more emotional now than I used to be. I probably wouldn't say I'm fiery but you know [laughs]. It's sort of like I'm a warm rock rather than a stone cold rock now, yeah. [Laughs] And you're probably - you know, Rachel's now a bit more - a bit more stable.

RS: Yeah. I mean he's making me sound like I was mentally unstable before [laughs]. But it's more just like I was extremely emotional and I just contain my emotions a little bit more now.

HT: Yeah exactly.

AS: Have you had a fight since the accident?

HT: Oh loads, oh yeah

RS: Oh shut up! [Laughs]

HT: Definitely.

RS: Yeah, we've had a few. The one I remember was when I was like throwing a tantrum and throwing myself on the floor and screaming a little bit. And Hiroki was at that moment in the bathroom on the toilet so couldn't get off it to see what was going on.

AS: And you're doing this great performance and he couldn't see it. [Laughs]

RS: Yeah, he couldn't see it. But the key thing was he could hear it. [Laughs]

HT: That was incredibly frustrating. [Laughs]

RS: So, yeah, we've had - we've definitely had those moments, although far fewer than I would have expected.

AS: What was that fight about? Do you remember?

RS: Yeah, I do remember. It was just after - it was January and I felt quite housebound. I haven't been able to get a job since then because Hiroki still needs a lot of help in the mornings. So I was at - I have to be here until he's ready. I was almost felt like I was a little bit being held hostage. Like Hiroki would often get upset if I was going to go out late with my friends -- which I understand because of the vulnerability of what he's gone through. But I felt like I was trapped and I - I wanted to be there because I was choosing to be, which I have, the whole time. Instead I felt like he was forcing me to be there and then he just wasn't saying the right thing to make me feel better. And then obviously he always used to come and - in the past if I've been in that - in that moment, he would come over and put his arms around me and hold me tight until I like was totally fine. And then it was like - I was like, 'You can't even do that anymore.' And so I just totally lost it. And then I calmed down a bit and I could hear him quite upset and I think I just went back in and was like, 'Oh my god, I'm so sorry.' Like I think we like - I mean it's a bit weird 'cause you were on the toilet but I think I pretty much got on your knee and we hugged.


HT: Yeah, you know for me, like, I think that's something I've definitely noticed though. When we do have sort of arguments or fights, the way that we're able to deal with them, it's that we have to resolve them in different ways.

RS: Yeah.

HT: You know, I'm just thinking back to like - it wasn't even a fight. It was like one time Rachel came home like really drunk. [Laughs]

RS: All right! Oh my god! [Laughs]

HT: And then - no, like, which is understandable, right? Like I've definitely had my fair share of booze to sort of dull the senses at times. But yeah, Rachel came back drunk and then, you know, in the past I'd just be able to pick her up, put her to bed, and be like, right, I know she'll wake up again in a few hours and go brush her teeth then. But now it was like I'd have to wheel over to her when she was sort of on the floor and I can't do - I can't go and lift - pick her up anymore. And it's - it's kind of, I guess, sort of getting used to it all.


AS: Hiroki, do you still feel afraid sometimes that she's gonna leave?

HT: Yeah, definitely. I mean that - I think that, you know, it's one of those things where I don't think there's anything Rachel can do to make that fear go away. Not - I think hopefully with time it will change but, you know, it's sort of - I feel like I don't know how to value myself as a person, so how does someone else value me, you know? And its not to say that I don't have any value anymore, but you're kind of readjusting all of your expectations, readjusting to what you can and can't do. And so as you go through that you're - I think it's sort of it's hard not to - to have that fear at times.


AS: Um how has physical intimacy between you changed since the accident?

HT: Yeah, quite a lot.

RS: It's different. Like we need to understand physically what it is. Like Hiroki's still getting back so much strength in his upper body and his mobility is changing all the time. So we don't know what the limits of it are. I feel like we were scared that we'd never even be able to have a standing hug again, but when Hiroki's on his standing frame, like I climb in and kind of climb on top of him and I guess we've developed more - just a different type of physical relationship.

HT: Hm.


RS: I don't know. I think the scariest thing is when we think about kids and whether we'll be able to have them or not and we don't know at the moment what the deal is with that. So that's something that we need to kind of go and see the doctors about and figure it out.

AS: Mhmm.


RS: Yeah.


AS: Was that something you had talked about when you got married, having children?

RS: Yeah. Hiroki had always said he wanted loads and I'd always said I only want two. In fact I've never really been that maternal, to be honest, as a person and it was only after this accident that I kind of realized that I do have that in me. Like suddenly I wanted to look after Hiroki more than anything else. Like I've learned I think a lot of skills that moms might need, like dressing people and cleaning up after people. I mean, we do want kids so, I mean, it's probably the biggest fear we both have right now.

HT: Yeah, it definitely is.

RS: Yeah.

HT: Yeah. I think it's also - going back to your point about the question about sort of intimacy though is, like - it's definitely one of the - sort of the - I guess it's one of the many things that you - you kind of have to reassess and what it means, you know? And that's definitely been one of the things that I've struggled with is figuring out what it all - figuring out - making sense of it all, I guess.

AS: Yeah. Well I imagine it's very connected to feeling - masculinity, obviously, and figuring out -


HT: Yeah, exactly.


AS: - how that works with sex. Is there part of it - and I might be off-base here, so tell me if I'm wrong - but is - I imagine after being together for 11 years and you have certain routines in what intimacy and what sex looks like because you know each other so well. And then having the accident happen, was there anything that felt kind of like exciting about the rediscovery or the - or having to be so much more present in terms of what - how to make each other feel good?


HT: I mean, I think, in all honesty, like, we haven't gotten to that stage yet. I'm hoping that we'll get to that stage, but we're still in this stage of sort of shock when it comes to that regard, I think. What do you feel about it, Rach?

RS: Um...


HT: That's how I feel, anyway.

RS: Yeah, no. I think I don't have a - like, when the accident happened and they said, 'Oh you'll never walk again,' you don't - it takes a while to register that it's not just that, right? It's - I mean I don't even have to - I'm talking on Hiroki's behalf again, but it's so much more, like, when stuff doesn't work from your waist down, it's not just not walking. So I do think about it a lot and I remember - I remember researching things and like some of my girlfriends would send me like pictures of these like weird contraptions that you can use if you're parapl- I don't know, they were just like, 'You'll be fine, guys.' And I guess - I don't think I was excited by it but I thought, 'Oh you know what, it was a bit stale.' [Laughs]


HT: Thanks. [Laugh]


RS: Maybe this is like spicing it up a bit. But - and it's probably the hardest thing to deal with in the relationship. And I think that's why we need - like the emotional connection that we have is so much deeper than it ever has been before.

HT: Mm.

AS: Is part of the complication of mourning what you lost, like Hiroki survived. He's here.


RS: Hm.

HT: Yeah, but I think the thing is, like, you can only - it's all relative, right? So it's like - it's hard to - it's hard to imagine a loss that you haven't had. But it's very easy to mourn or miss the legs that you did, right? You know, half my body is like here. I can see it. I can touch it. But I can't feel it. And I can't move it. And if you just cut it off then it wouldn't make much difference. Like that - that's - that's sort of such a weird set of emotions to try and understand and comprehend. And I definitely feel like I've lost something. So it is very bittersweet. Both survival and loss mixed into one.
That's Rachel Swidenbank and Hiroki Takeuchi, speaking to me from their London apartment.
Since we spoke, Hiroki and Rachel took their first big trip together since the accident to Dubai and Oman. You can see all their pictures from that, and some from Hiroki's rehab, on Rachel's instagram. The handle is hiro_myhero_. That's h-i-r-o underscore my h-e-r-o underscore.
They also just completed work on their bathroom this week to make it accessible and Hiroki is now able to use it on his own. Rachel has some interviews lined up for freelance work. Their appointment with a fertility specialist is coming up in May.

Death, Sex and Money is a listener-supported production of WNYC Studios in New York. I'm based at the Center for Investigative Reporting in Emeryville, CA. The team includes Katie Bishop, Emily Botein, and Andrew Dunn. Our intern is Adriana Rush.
The Reverend John Delore and Steve Lewis wrote our theme music.
I'm on twitter @annasale, the show is @deathsexmoney.
And send us your stories about student loans and how they've affected your life. Our email address is deathsexmoney@wnyc.org. You can subscribe to our weekly email newsletter at deathsexmoney.org/newsletter.

I started my interview with Rachel and Hiroki late because Hiroki wasn't at the appointment when we were scheduled to start. He'd be shopping for a new car and a salesman got his wheelchair stuck in the trunk. But Rachel says punctuality has never been one of her husband's strong suits.
RS: Hiroki, how many things have you had today and were you on time for any of them?

HT: I was on time for the first -- no, actually I was late for that. [Laughs] Yeah, okay.


RS: Yeah, and it's like - it's gone up by a magnitude of like -


HT: But I have an excuse now.

RS: Yeah, I know, this is the problem. [Laughs]

HT: We'll work on it.

RS: Yeah.
I'm Anna Sale, and this is Death, Sex & Money from WNYC.

Copyright © 2019 New York Public Radio. All rights reserved. Visit our website terms of use at www.wnyc.org for further information.
Music Credits:
"The Soft Glow of Christmas Lights" by Will Bangs
,
"I'm So Glad You Exist" by Will Bangs
,
"Heart Chakra" by Ketsa
,
"Cold Feet" by Will Bangs