Two Wheelchairs and A Baby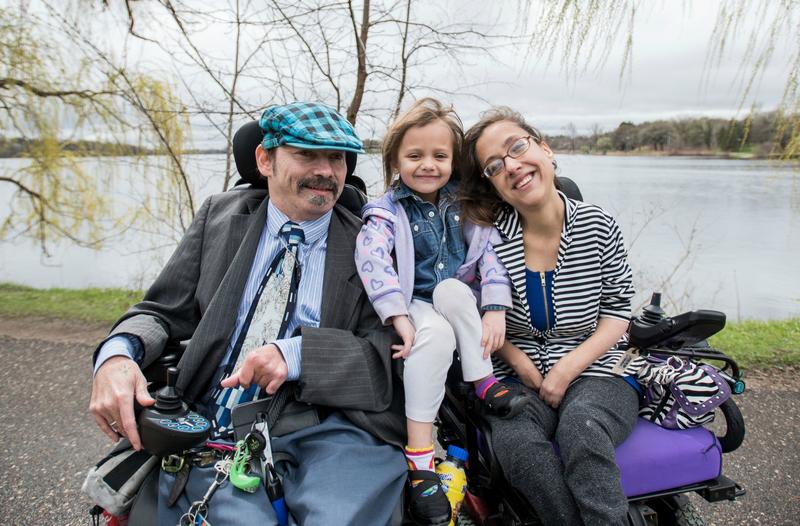 Transcript
Hey everyone.
Before we start, I want to tell you about something new we're doing next week: a live advice show with your questions about anything. Dilemmas about death, sex, money...we've even gotten a question about managing email overload.
I'll be going through your questions live on stage in New York with comedian Hari Kondabolu and his mom Uma Kondabolu. You may remember them from their hilarious interview on the show last year that was chock-full of pithy wisdom about how to do life right.
Another question we've gotten — how do you deal with the guilt of making the choice to live far from your family?
On the night of Wednesday, May 10, Hari and Uma will join me to give you advice live. Send them in now to deathsexmoney@wnyc.org. What do you need help with? Now is the time to ask!
We'll livestream video from the event so all of you can watch along. Okay, on to the episode.
NIKKI VILLAVICENCIO: I had never met another person with a disability that was like me, that would do anything to do what we gotta do. We wanted the same sort of life that everybody else wanted to do, and we would do anything to get that.
This is Death, Sex & Money.
The show from WNYC about the things we think about a lot, and need to talk about more. I'm Anna Sale.
Nikki Villavicencio and Darrell Paulsen have a five-year-old daughter. Her name is Alley.
DARRELL PAULSEN: She'll say things to us like, when she was about two and a half she would say, "When do I get my wheelchair?" And we're like, "Well, maybe you don't get a wheelchair."

NV: And she has a stroller that she pretends is her wheelchair.

DP: Yep.
Their daughter doesn't need a wheelchair. But Nikki and Darrell both use one.
DP: I'm in my chair probably a good 18 to 20 hours a day.
Darrell and Nikki have both been disabled since birth. Darrell has cerebral palsy and Nikki has a rare condition that makes her joints stiff. It's called arthrogryposis. She can't walk, and she doesn't have much use of her arms.
NV: I use my feet for everything, so I am in a wheelchair as well for when I'm out and about. But when I'm at home, I scoot around on my butt which I call "butt walking." Which has really been an awesome thing to be a mother, because children are on the floor, they love being on the floor with you. And so at home, I'm on the floor with Alley the whole time.

ANNA SALE: Does she does she ever get impatient with you two? Frustrated?

NV: Sure.

DP: Absolutely, absolutely.

NV: She's definitely a typical five-year-old in the sense that she definitely has her moments.

DP: Like I think sometimes she - she wants to go ahead and do it herself, because she thinks that she can do it faster. Or she thinks that she can do it better. Or maybe she doesn't want mom's extra saliva on the top of her brush or whatever.

NV: I use my mouth for a lot of things and I brush her hair with my mouth. So I hold the brush in my mouth and I brush her hair like that. So there are times that she'll be like, "Ew that's gross! You know kind of things like that."
When Nikki and Darrell met, he was 38 and she was 24, just out of college. They were at a disability rights rally at the state capitol in Minnesota.
DP: It was a very cold day in March. And she was all bundled up. But the one thing I noticed is that her feet were uncovered. And I was like, huh. And I said, "Aren't your feet cold?" And she says, "No, not really." Well, I convinced somebody to give me a pair of gloves, little mitten gloves. And I went over to her and made sure she put them on. That was the start of - of a 30-day phone call session for me. I repeatedly called her multiple times a day, and for some reason she didn't want to pick up my phone call.

AS: Okay, wait, Nikki, so this guy gives you gloves for your feet and then just starts calling you repeatedly. Like what was your — and he's older — like, what did you think was going on?

NV: [chuckles] Well, it sounds really funny when it's said like that, um, but, honestly, when I first met him, I thought he was kind of this wild older guy. I thought, "Well, he'll be kind of cool to like go to a party with or something like that." And then when he called me a bunch of times, I just didn't answer. I'm like, I didn't have I guess a specific reason. It wasn't like I thought he was weird or anything. And he was about to delete my number, and then I called him up and I said, "Hey do you want to go out?"

DP: Yeah, so she called me. And when she called me I was so excited. I immediately said, "Sure!" and I hung up the phone on her. I immediately called my mom, and I was so excited when I talked to my mom and told my mom I wasn't coming home until later. And - and - and she said, "What's wrong Darrell? You sound like you're crying." I said, "I'm not crying. I'm just happy. She called me. She called me. And I'm going out." So we did. And that evening that we went out was very interesting. I don't know if Nikki wants to elaborate on that but -

NV: Well let's just say, we - we were trying to - I think we were trying to impress each other by drinking each other under the bar or something.

AS: [Laughs] It was a messy evening.

NV: Yes, it was. Tequila and Red Bull shots. That's all I have to say. [Laughs]

AS: And had both of you had serious relationships prior to your getting together?

NV: Oh, sure.

DP: Yeah.

NV: And I mean probably not as many as the average able-bodied person but definitely.

AS: Did you typically date able-bodied people or other people with disabilities?

NV: Yeah. I mean me personally, I've dated both. You know I - it's really funny because my dad always used to kind of strangely say to me — well, if I complained about a boyfriend or something — he'd be like, "Why don't you just date a guy like you, in a wheelchair?" And that used to make me so mad.

AS: And Darrell did, did Nikki feel like a different kind of relationship for you when you got together?

DP: Yeah. Absolutely. Absolutely. I had just left a two year relationship with an individual with bipolar schizophrenia. And she was also 11 years older than me. So I was - I told myself I would never date somebody with a disability. I said it was just challenging. So I - when I met Nikki, there was just something about Nikki. I was compelled to be with Nikki. I wanted to be more than friends with Nikki. And she wanted to be friends. And we kind of had to work that out and...

NV: Yeah, we were out to eat. And he basically said to me, "You know, I got too many friends." And I said, "Well, I just want to be friends. Why can't we just be friends with benefits, you know? Hey!" And he's like, "Well, I don't want to be that. And I either want all of you or nothing at all." And so we talked through the whole night, and I guess we both decided, "Well, I guess we're meant to be together."

AS: It's kind of remarkable to me how clear both of you were. I mean, Darrell you were so clear about the kind of relationship you wanted to have with Nikki.

DP: Right. I think that's really the whole basis of our relationship and what keeps us together. The unique thing about Nikki is, when Nikki and I met, I was sleeping in my chair probably for a good - better part of over 10 years. And she said - she said, "If you want to have a relationship with me, you're going to have to figure out how to get in and out of bed." And I said, "Well, I really don't know if I can do this. I haven't done it for a while." So originally, for the beginning of it, it took me about an hour to do it. And now I think I got it down to 10, 15 minutes on a good day.

AS: Nikki, why was that important to you?

NV: You know, to be honest, I just felt like if this relationship was going to go where we both wanted it to go then that's where it would have to go.

AS: That you would have to be able to sleep beside each other.

NV: Well yeah, definitely.

AS: When you first got together and when it became serious, did you talk about becoming parents together? Was that something that you envisioned together?

DP: We did. We did, on and off. But I think we were -

NV: Not particularly.

DP: I think we were kind of joking about it, more or less.

NV: Yeah, I mean, I feel like we talked about it in the sense of how two lovers talk about stuff, pillow talk, you know or whatever. But I don't think we ever - it wasn't like we were like, "Oh and after we're together, then we're going to have four kids together." It was nothing like that.

AS: Did you think it wasn't a possibility for you?

NV: Yeah. I mean, when Darrell and I were both babies, our parents were told that we would never be able to even have children. I mean, society tells us all the time that people with disabilities either can't have children or shouldn't have children.

AS: So, Nikki, were you using contraception?

NV: I was, but probably not as consistently as I should have been.

DP: When she wasn't being appropriate with her abilities to do her contraception, then she expected me to do my part. And I can do nothing but put things on backwards or inside out. So that didn't quite work for me.

AS: You mean putting on a condom was difficult.

DP: Correct.

NV: Yeah.

DP: So if it's too difficult then we just don't use it. We just go with the flow.
Coming up, Nikki finds out she's pregnant.
NV: It was quite the shocker.
And she and Darrell quickly realize that they aren't the only ones who feel nervous about them being parents.
NV: The society and the state — or however you want to say it — looks at us like, "They can't care for themselves. So how could they care for another child?" I mean, that's how people on the street even say it to our faces.
We first heard about Nikki and Darrell from journalist Kathryn Joyce, who met the couple while reporting on pregnancy and disability for Cosmo's website. Kathryn traveled to Minnesota to spend time with them, and to meet their daughter, Alley.
KATHRYN JOYCE: From a young age she learned how to crawl into her parents laps in their wheelchairs. And they have embraced a whole kind of range of adaptive parenting methods.

AS: Hm. Is there one thing that you noticed them doing that you were like, "Wow, that's ingenious."

KJ: Um, yeah. Well, Nikki uses her feet for most functions that I would use my hands for. So she - I watched her give a PowerPoint presentation using her feet to click through slides. Or all the texting she was doing with me to arrange when to meet, she was doing with her feet.
You can see photos and video of Nikki, Darrell and their daughter, Alley, on our website, deathsexmoney.org. We'll post a link to Kathryn's piece there, too. Thanks to Kathryn and Cosmo for connecting us with Nikki and Darrell.
And we have an update about a family we had on the show who've been dealing with mental illness. Mark and Giulia Lukach talked about her bipolar disorder and her series of psychotic breaks before and after they had their son. Giulia has been doing well in the two years since, working and stable on her current medication. And Mark has a new book out this month about their family. It's called My Lovely Wife in the Psych Ward.
On the next episode…
AS: You - you describe, what you call your "ho phase."

GABOUREY SIDIBE: Ha!
Actress Gabourey Sidibe talks about her life before the movie Precious made her famous, including her first experiences with sex.
GS: The "ho phase" sounds like there was a line outside of my bedroom, and there wasn't. There wasn't. And it wasn't like "I'll take anybody on!" It wasn't like that. I just kind of hung out with people that did not serve or deserve me.
This is Death, Sex & Money from WNYC. I'm Anna Sale.
Both Nikki and Darrell make money doing advocacy work for nonprofits. They also both receive federal disability payments. And their county benefits cover home health aides, who assist them with things like bathing, dressing, and making meals. Six years ago, Nikki's aide also helped her take a pregnancy test.
NV: And we're doing the pee test in the bathroom, and it like turned right away. So it was like, yep, I'm pregnant.

AS: Did the two of you - was there any ambivalence about it? Was there any part of you that was like, "Maybe this isn't a good thing?"

DP: Absolutely. I think it was a scared feeling. It was not that this wasn't the right thing or this wasn't the right feeling, but it was a scared thing. What do we do next?

NV: Right. I would say we weren't ambivalent. We were shocked. Not that it would be a bad thing. But, like Darrell said, what do we do next?

DP: We had to change the ideas of some of our family members, even, that this was going to be an okay thing.

AS: Did you have family members say, you know, maybe it's not wise for you two to become parents?

NV: No.

DP: I don't think they would ever say that to our face. I do know that my mom had reservations about it. My mom had lots of reservations about a lot of things, but the one thing that we knew that my mom was supportive of us with is that we have a cat. And we've had this cat for eight years or whatever. She used to say, "Well, if we can keep the cat alive for a year, I know you guys can be parents." (AS: Laughs) So - so - so we've kept the cat alive for a long time. We became parents.
Nikki gave birth to their daughter in March of 2012. She left the hospital after five days.
DP: She jumps in the wheelchair and -

NV: I didn't quite jump!

DP: Well not jump. I guess she didn't jump in the wheelchair. She scooted in the wheelchair.

NV: Very slowly. It was very painful.

AS: I imagine. You - you had a C-section, Nikki?

NV: Yes, I did have a C-section. The thing about it is, I don't know if you had one or not, but -

AS: I did.

NV: - most of my strength is in my torso.

AS: I was thinking it must have been so painful to move, if that's the way you move.

NV: Yeah. Right. And that was the challenging thing going home, as well, is that I was stuck - I was kind of stuck in bed for a while, because of the muscle still healing. And then when we went to try to ask for more care from the county because of that, they denied us care — extra care for it — because my wound technically was healing properly.

DP: Because it was taped shut.

NV: But never mind that I couldn't hardly move and I had to take care of this brand new baby. It was a huge learning curve for everybody around us to try to figure this whole situation out. And breastfeeding was a challenging thing. I ended up breastfeeding her for two - almost two full years. But starting it was super challenging because my hands are like small as child's hands. So I can't hold a baby the typical - the way a typical mother holds her in sitting up. So the first positions that worked for us was like lying down side by side. And the baby doesn't know what's going on either, so you're both like trying to figure it out.

AS: Did you - did you ever feel like the state might be concerned about whether you were going to be safe parents for a baby?

NV: Oh absolutely.

DP: We've always felt that.

NV: Yep, and we made sure that we volunteered to be in this program that was for at risk families. So - and so what that meant is that we had a home nurse come to our house and weigh Alley and measure her, and then also give us child development skills to learn. And we did this -

DP: Almost two years.

NV: - yeah, two years of Alley's life. And we did that, one, to make sure that we were doing the right thing. But two, to cover our butts and to know that if anybody did try to call Child Protection Services or anything like that, that we would have a record of saying that this lady has been here, she's seen that Alley is safe, she has seen that Alley is healthy, and that we are doing the things that we need to do.

AS: Did anyone tell you that it would be smart to create documentation about how you were performing as parents? Or is that something that you knew from -

DP: No, we just - I had -

NV: I mean, we're disability rights advocates. I feel like it's kind of ingrained in us.

DP: Well, and I also grew up - I also grew up in foster care for a little bit of time when I was a young teenager. So I had a sense always in the back of my mind to always have somebody else check my stuff.

NV: Yeah, and I learned that as a very young person too. That you - if you want something done you have to get it written down.

AS: Did it make it - because you knew that people might be watching and questioning whether it was appropriate for you two to be taking care of a child, did it make you hesitant to say out loud when you were having a hard time, what was difficult for you?

NV: I think it wasn't difficult to say to each other. I think it's been difficult to say to other people at times, because when we're - when you're going through something that challenging, you feel like it's just you. You don't feel like you want to go to someone because then you feel weak or whatever. Or you feel like you can't take care of your own child.
When their daughter was an infant, Nikki and Darrell did have some extra help. Darrell's mom lived with them for the year. And now that Alley's a bit older, she spends half her day at pre-school. Nikki and Darrell don't have any additional childcare. Once Alley's off the bus, she's with them for the rest of the day. And their home care workers aren't allowed to help with anything related to parenting.
DP: Unless she had a disability.

NV: Right, unless she had a disability, but because she doesn't, they - our home care workers are not to do her laundry. They are not to do any meal preparation or anything.

DP: Or assist with the bicycle and getting it in and out of the van. If I need to get it across the street to the park or something. I mean they're not allowed to do any of that.

AS: Do you have rules about what you will ask her to do for you and what you won't?

NV: Yeah. I mean, we always -

DP: Yes and no.

NV: Yeah, yeah. I mean, we don't have hard strict rules, but we always tell her that she doesn't have to do anything for us. And the thing about it is there's times that I won't want her to do something for me, but she will be insistent. I mean, you can ask Darrell that. She will literally climb up me to make sure that she zips my coat.

DP: Yeah, she'll - they'll be like, "I'm just trying to help her put her shirt on," and she'll be like, "No I'll do it. Thank you."

AS: Do you - do you worry about that? Since she's a little girl?

DP: Umm -

NV: I don't fear it at all, because she has a super strong personality and she's super independent. And so I guess I feel like — and I'm sure other people would feel differently than I do — but I feel that I don't worry about those things because I know that she is very good at telling me what she does and doesn't like.

DP: Yep, there's times when she'll be like, "No, Mom, I'm not doing that. I'm tired. I don't want to do it and I'm tired." And we'll be like, "Come on, can you do it this one time? Please just do it this one time and you don't have to do it again!"


NV: Or she's the - she's a negotiator, man.

DP: She's The Art Of The Deal.

NV: Oh yeah.

DP: She knows how to make a deal with mom and dad.

AS: So she's a typical five-year-old. [Laughs]

NV: Oh yeah.
Nikki and Darrell have been together for eight years now. But they've never gotten married.
NV: Not legally, no.

AS: And why have you make that choice?

DP: It's not a choice. It's a matter of fear, most of all. Because sometimes people say, "Well if you get married and you're both on public assistance then you have to join your finances together." And - and let's face it, if we do that, financially it's a loss for us.

NV: Right.

DP: It's not a benefit. So I mean, you know, we already know we love each other. We already know that we're together because we - we choose to be together. So, I mean, I mean, sure I'd love to marry Nikki someday and some day we will do that, because as Alley gets bigger she wants to be a flower girl, she wants to have the opportunity of throwing the petals down the aisle and -

AS: Do you remember the first time your daughter realized that her parents were different than other parents?

DP: I think - I think she's always known that we were different.

NV: Yeah. That's kind of an interesting thing because she talks about it. One day — this just blew my mind — she said to me, "You know, Mom, I have a disability." And I go, "What?" I go, "No you don't." She goes, "Yeah I do. My disability is that I can't use my feet like you do." Because she was trying to pick something up or do something with her feet.

AS: Yeah. How old was she when she said that to you?

NV: She just said that like probably a few months ago.

AS: And - and, Nikki, for you, what's it like to look at your little girl and to think about what you were like as a five-year-old?

NV: You know, that's interesting. I look at her and I see a lot of myself in her personality. Well the fact that we never thought we would ever have children, so to see somebody who looks similar to you, acts similar to you, and has my husband's personality, which is pretty out there at times, it kind of feels like you're in a different world at times. To be honest I'm like, 'Whoa!'

AS: Have you talked about having other children?

NV: Yeah, we have.

DP: Everybody talks to us -

NV: Everybody asks us that and I always say, "Nope, I'm good with the one." And I'm sure Darrell would like another, but.

DP: I don't - I don't - I'm not going to push mom on that. I mean, you know, it's Nikki's body, it's her choice, it's her - I mean, she's done a tremendous great job with Alley. I think - I think the second one would even be a little easier. But - but I can't - I enjoy practicing a lot. So, I mean...

AS: You mean practicing - practice getting pregnant? Is that what you mean?

NV: Yeah.

DP: Yeah. So maybe we should go home and practice some more. [Laughs]
That's Darrell Paulsen and Nikki Villavicencio. They've been pushing legislation in Minnesota this session that would allow home healthcare workers to assist parents with disabilities. And Nikki's preparing to run for their local city council next fall.
The Cosmo piece by Kathryn Joyce has even more reporting about parents with disabilities and their particular challenges they face — from finding doctors who will provide care during pregnancy to keeping custody of their young children. Watch our Facebook page this week for a link to that story.
Death, Sex & Money is a listener-supported production of WNYC Studios in New York. I'm based at the Center for Investigative Reporting in Emeryville, CA. The team includes Katie Bishop, Emily Botein, and Andrew Dunn. Our intern is Adriana Rush. The Reverend John Delore and Steve Lewis wrote our theme music.
I'm on Twitter @annasale, the show is @deathsexmoney. And don't forget to subscribe to our weekly newsletter. Go to deathsexmoney.org/newsletter.
Nikki and Darrell have not always had all the help they've needed. But they've spent their whole lives coming up with creative ways to solve problems.
NV: If we want to open up a jar of pickles, sometimes we go across the street to the regional trail that's across the street from our house and have somebody on the trail open it for us.

AS: Just someone who's hiking by?

NV: Yep. Yeah, we've done that multiple times.

DP: "Hey hey, can you open this for me?"

NV: Yep.
I'm Anna Sale, and this is Death, Sex & Money from WNYC.
Copyright © 2019 New York Public Radio. All rights reserved. Visit our website terms of use at www.wnyc.org for further information.
Music Credits:
"Topslides" by Blue Dot Sessions
,
"Gravestones" by Robin Allender
,
"Sunday Lights" by Blue Dot Sessions
,
"Hickory Interlude" by Blue Dot Sessions
,
"Quizitive" by Lee Rosevere
,
"Chapel Donder" by Blue Dot Sessions