I Served 27 Years In Prison. Now, I'm Out On Parole.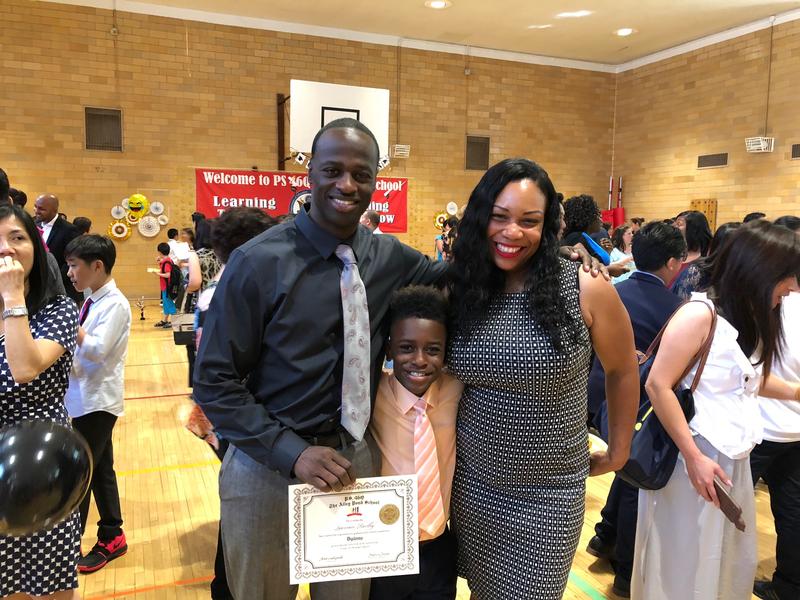 Transcript
Anna Sale: For both of you a lot has changed since the last time I talked to you.

Ronnine Bartley: A lot.

Lawrence Bartley: Yes.

AS: What is your feeling? Like if there is a word, like what is your feeling today?

LB: Um...progress?

RB: Adjustment.

This is Death, Sex & Money.
The show from WNYC about the things we think about a lot…
...and need to talk about more.
I'm Anna Sale.

Lawrence Bartley walked out of Sing Sing prison last May...a free man for the first time in nearly three decades.

UNIDENTIFIED WOMAN: After 27 years!

...he reunited with his wife Ronnine, together on the outside for their first time as a married couple.
[Screaming]
I first interviewed Lawrence at Sing Sing prison in New York in 2014. He was arrested when he was 17...after he was involved in a shootout in a movie theater. An innocent bystander, a fifteen year-old boy, was killed. Lawrence was convicted of second-degree murder and sentenced to 27 years to life. The first time Lawrence went before the parole board, a year ago, he was denied. Then, he appealed that decision and was released in May.

LB: Pleasure to see you!

AS: It's been a long time.

LB: It has been a long time — almost four years.
Lawrence is 45 now. He and Ronnine came into the studios at WNYC to talk to me again….and he told me that after imagining his release day for so many years...the way it actually happened...wasn't what he expected.
LB: I was told 36 hours before the release time. And a lot of the guys were taken by surprise that I was leaving so quickly, so everyone was coming to the cell that they had me living in, and it was a lot of people just waving making a line to say goodbye so...

AS: After so many years of waiting, it was a rush.

LB: Yes, it was a rush. A welcome rush. [laugh]

AS: And was that day what you imagined, Ronnine?

RB: No, um...I was expecting to pick my husband up alone, and it turned into like ten of us going to pick him up um, you know, it's so overwhelming that you don't really get to digest everything. But when he walked through— when he walked out of the van, because it wasn't through a gate with me— that normalcy feeling came over me. And I've been like that ever since.

AS: Like this is real life now. This isn't like a—

RB: Like this is how it's supposed to be.
When Lawrence left prison, he had about $1300 to his name….some of it, gifts from family and friends, and savings from his job in prison...where he earned fifteen dollars every two weeks from doing office work.
The first thing Lawrence did the day he was released was try to open a bank account...but couldn't.
LB: Because they said I needed a driver's license or permit.

AS: You had no ID.

LB: I had the prison ID. I had my social security card. I had my birth certificate, my marriage license. And everything that they said wasn't enough.

AS: Have you ever had a bank account before?

LB: Never.

AS: And it was that day. It was important to you. You wanted that day to like begin a life on the outside—

LB: Yeah.

AS: —with a bank account.

LB: That's it. I wanted... that day I was like— my whole plan. As a part of my freedom. As a part of my own independence. It was something that I can, you know, I can see my money come from my job electronically into my bank account and I can look at it on my phone and look at the app and see that the money is there. It makes me feel connected. Safe.

AS: When did you get your phone?

LB: Oh soon as I got out. The first day Ronnine handed me a phone.

AS: Had you seen a smart phone before?

LB: Only on TV.

AS: And how long did that take to become comfortable with that?

LB: I don't know. I guess Ronnine probably best to answer that question

RB: [sigh] It took him about— I guess like three weeks probably? It was just like— he was just so distracted by the phone in the beginning. Like, if we're walking it takes him like ten minutes to maybe even send a text or something.

LB: Yeah. Because I felt less than, that people in the outside world were texting so freely and it was so easy for them. But for me it took me a long time to do a simple sentence because my thumbs were hitting two and three buttons at the same time. But I always have this feeling like maybe people are watching me. Do they know? 'Oh, he just came out of prison.' 'Oh, look at that guy.' So I try to do things to assimilate well so people won't notice.

Lawrence and Ronnine have known each other since they were growing up in Queens. They even dated in junior high. After he was arrested, Ronnine would visit Lawrence in prison...and in 2006, they got married.
Ronnine has worked for years in New York City Public Schools as an administrator, and now that Lawrence is out, he's working two jobs — both at criminal justice nonprofits.
RB: I send him to work with lunch I thought that was just so cute I don't even make lunch for myself when I'm working.

AS: [laughs]

LB: And that's great. I'm so used to it. And without it I feel like a fish out of water.

RB: I make them breakfast in the morning. Three different breakfasts usually.... but it's something that I enjoy doing.
The three breakfasts are for Lawrence and their two young boys, Little Lawrence, who's 10, and Lawson, who's 5. They were born while Lawrence was in prison.
Sing Sing gives inmates time alone with their families if they have good behavior, so Ronnine, and then Ronnine and the kids, had regular overnight visits.
RB: They know their father. So, you know, it was a slight adjustment but a welcome adjustment I guess so to speak.

LB: It's a little different because when they would come see me every week on the visit, I always wanted this to be my happy moment for the week. Let's just not deal with any issues, let's just have fun today. Hug, everything is nice, but at home I have to be like— I have to discipline Little Lawrence. Don't hang on the light fixture. Don't do that. So I have to be a disciplinarian of sorts. So there's things that I have to do as a parent and sometimes I don't seem as fun anymore. So I have a thing. Sometimes they do crude jokes so I tell them like you got to do pushups. You got to do ten pushups. They play around. All right, it's twenty! So now they do twenty pushups.

RB: I don't like that. It's so silly because they think it's a joke. It's not serious enough for me, but whatever. I just stay out of it.

LB: A lot of the time they come out of the house and they leave the door open. And you don't want to leave the door open in summertime. Mosquitos get in, all of that. So I started to tell them to close the door ten times. I close it and then walk away. Open it. Close it. Walk away. Keep doing it until they're tired of it so they say I'm going to close that door because dad is going to make me do it like ten times. So I hope that works.

AS: It sounds like the household is different than when it was you and the boys, Ronnine.

RB: It's different. I don't yell as much because Lawrence is there, I just let go. It's like, he's here, you can deal with it.

LB: They got to get out of our bed though. We go to sleep then it'll be like four in the morning and someone is coming in between us and another one will come...

RB: Every night.

LB: And then my neck is hurting and I got to adjust and we got four people in one bed. We can't fit! You stay in your room.

AS: The boys want to be close to you.

LB: All the time.

RB: All the time.

LB: Both of us. All the time.
They're living in Queens, in a house they share with Lawrence's father. I interviewed Ronnine there last summer before Lawrence's first parole hearing...the one where he was denied.
RB: I knew that it could be a no, but I wasn't really expecting it to be a no. And once I got the decision that he was denied parole it kind of— something broke inside so to speak. Like the strength in me broke. Because he was supposed to be like my life saver. He was supposed to make it all better. And I was depressed and people don't like— I'm going to get a little emotional, I'm sorry— people don't really like to talk about it. The combination of him not coming home and losing that hope or losing that confidence that I had or trust in the justice system or the parole board. I don't want to say I lost it, but I would like to speak my truth and say that I was depressed.

And, you know, there were bad, horrible days. Horrible. Like where I couldn't even get out of the bed, days that [sniff] I couldn't get the kids dressed in the morning. And I'm used to doing things on my own and not having to depend on people, and seeming like I was a failure... and at the time where I felt like Lawrence needed me most it was like, how could you do that? How could you not have it all together? And I don't want to make it seem like it was all about Lawrence, and me being a person that depends on a man or someone else's freedom is dependent on how I'm living my life. But to a certain extent that's what it is! That's what it was. I guess I felt ashamed about that or felt less than because I kind of felt that way a little bit.

AS: Lawrence, when did you learn the extent of what a hard time Ronnine was having?

LB: Well, I could sense that she was going through some things. And when she told me I was like, you know, nothing else is more important than her sanity. But I felt helpless because I wasn't there. So I would sit down in my cell in the dark and try to think of the way... I say, somewhere in there, there's some way in this world to fix it. And it— there's somewhere in your head, Lawrence, you just have to figure it out. So I would just try and try and try. But luckily she broke through and found a place that would have the conversations with her that she needed and at the same time she would still be there for our children.

AS: I just want to go back to something you said...you talked about um the shame of feeling like you needed this man to be out of prison to help you and that that in some ways made you feel um like you weren't strong? Because—

RB: Yeah.

AS: when you think about how much you were holding together on the outside for so many years... Why did you feel like you couldn't feel heartbroken?

RB: I don't know— I just feel...I guess I felt in a way that I'm not being true to who I claim to be, I guess? I just felt like shouldn't feel like I'm going to be broken if he's not around. I don't know like it sounds kind of cruel I guess when you say it out loud but I like— Lawrence's journey to freedom or Lawrence's journey to success is Lawrence's journey to success. That belongs to him, and my path of whatever I'm doing belongs to me. So that kind of kept me going through the years, knowing that we can love each other but we can still have our own two separate entities of being. So I guess breaking down was...it was like— it was contradictory of what my life statement was for myself.
Ronnine eventually got help at a mental health clinic in Queens...after having to search for weeks for somewhere with an available appointment. She still goes to therapy once a week.
Coming up…how Lawrence is trying to make up for lost time now that he's free.

LB: I don't have any pension. I don't have a 401(k). I was incarcerated all this time, building no social security, nothing like that. So I have to save for all those things in the future and I have to save to make the next generation of Bartleys live better than this generation of Bartleys.

___

Lawrence is out of prison, but still very much involved in the corrections system. Both of the nonprofits where he works focus on criminal justice, and Lawrence is also among the plaintiffs in a federal lawsuit against the New York State parole board. The case centers on inmates who were arrested as juveniles and given indeterminate life sentences, like Lawrence's 27 years to life. The lawsuit wants the parole board to change its standards, so juvenile offenders are evaluated more on their age at the time of their crimes and their rehabilitation in prison.
And as we've been following Lawrence and Ronnine's story for the past few years, we heard from a lot of listeners.
Including one named Ken, who lives in Texas. He reached out after he heard Lawrence describe the internet. Lawrence told me in prison he'd seen pictures of it but never used it.
Ken is a librarian and he tweeted at us with an offer to be Lawrence's "personal librarian."
We passed Ken's contact info on to Ronnine…and during Lawrence's last year in prison, Lawrence told me, they talked on the phone every Sunday afternoon at 4.
LB: He's 50. He's a white guy. I'm 45. I'm a black guy from the inner city. He's from the— definitely not the city. The opposite of being in a city. So it's kind of weird that we connected so well, but we connected over our love for our children so that's what we have in common. That's why he reached out to me, because he sensed that he loved my boys and that it made him think about his boys.
He and Ken have never met in person, and Lawrence can't leave New York City without permission from his parole officer. But Lawrence hopes to get down to Texas someday.
LB: He likes to go canoeing. Sometimes he goes off the grid for a couple of days. So him and I promise each other that we're going to do that together. We're just going to go off the grid for two or three days and just hang out.
—
This is Death Sex & Money from WNYC. I'm Anna Sale.
Lawrence lives in Queens...not too far from where he grew up. Some landmarks still feel familiar, even though he was in high school when he last saw them. And he's been running into people he knew as a teenager.
LB: The other day, my sister had a barbecue. And I went to the barbecue and I saw about eight individuals that were in my kindergarten class. It's good to see that, you know, some of the guys grew up and— and did ok for themselves. And it was also odd at first because a lot of people I didn't recognize because they have gotten much older, and I didn't want to say, "I don't know who you are." So I would act like I knew them, but as the conversation would go on I'm— I'm processing, processing and the eyes stay the same. Oh, you're such a such. And I'm like, 'Yeah ok!' So it's like wow, so I had a lot— I get a lot of those moments. But my high school is having a reunion too. I think next week.

AS: Are you going to go?

LB: Yes, I'm thinking about going.

AS: It'll be what reunion for you?

LB: Oh man, I was supposed to graduate class of 1991. So I've been like what 26 years ago? About 26, 27 years ago.

AS: Since you've gotten out does time feel different to you? The passage of time?

LB: It's too quick. Because on the inside, sometimes it didn't go fast enough. I wanted the board dates to get here I wanted time to get out to get here. I wanted the visit days to get here. And now I want things to slow down a little bit. I want to spend time with my family, but sometimes I can't squeeze all that in.

AS: Does it feel like Lawrence is in a rush, Ronnine?

RB: It just feels like he always has something to do and he tries to fit everything in and it's just not practical. I guess he's taking everything in, I guess that's what it is is. It's just that he just fits too many things in in a day. But he likes it that way.

LB: That's how I lived my life on the inside. I just don't feel myself when I'm not doing multiple things, because then I don't want to feel like I've missed out on an opportunity or I didn't do enough in order to get us where we needed to be. I was 17 years old when I went in and now I'm out trying to do things that I probably would have been doing then. Like trying to start my career, I'm trying to figure out where I am and what I excel at and trying to build my credit. Trying to save money. Trying to get my first car, you know, trying to do all that while at the same time being a dad of young children being a husband to a wife, you know, being a son to my father a son to my mother a brother to my sister. Because everyone in my family has their own wants of me. And I kind of feel like though the years that I robbed them of that, sso I feel like I have to be there for them.

AS: You're shaking your head.

RB: I'm not going— no comment on that one.

LB: I feel like if I'm going to make everyone's life better then I did my job.

RB: But it's not practical, so I guess that's another where we have our little issues. I have a little resentment. I'm not going to lie. He knows that, he calls me the irrational person, which I hate when he says that because I don't think I'm being irrational at all. I think I'm making a lot of sense. And, you know, I have a lot of resentment against people who love him so much but never really came to see him. But just the fact that he feels as if he has to kind of fulfill somebody that wasn't thinking about him when he was in his — at his lowest moment. So you know, use that energy and put it into us! On this side. I mean I could be wrong for it but...

LB: I don't want it to be like I have to choose between putting love into my household and putting love into my extended family. That's not cool being in that position. You know?

RB: I mean that's fine, but I just— I just don't like the hypocrisy in all of the hoopla you know. And I don't think... like, what he doesn't understand— when he's on the inside, they didn't validate me as a wife. As a real wife! "Oh, he married her while he was in jail," you know, this is what they're thinking. And you know that hurt me because I was real. I was a real person. I was a real wife to Lawrence. It's— we are married. We're gonna stay married. And I wasn't just someone that he wanted to marry because he wanted to have conjugal visits or something like that. I was someone that he loved as a kid and then again as an adult. So, you're here in support of him but where were you when I was the wife? Where were you in support of me for being the wife? That's how I feel about the situation.

LB:I guess that's your opinion.

RB: It definitely is. [laughs]
After Lawrence found out he was being paroled, he published an essay from prison….about his crime, and about Tremain Hall, the 15 year-old he was convicted of killing.
He wrote: "After more than 27 years and dozens of understandably unanswered apology letters, I still sit in my cell thinking about Tremain and that one fatal shot—the dreadful, inexcusable, and irreversible action of my 17-year-old self."
Lawrence and Tremain had both gone to a movie — The Godfather Part III — on Christmas night in 1990. Lawrence was there with a group of guys...who started fighting with another group in the dark theater. They pulled out guns and Tremain was killed in the crossfire. Lawrence was charged with his murder.
I talked with Chad Hall, Tremain's older brother, before Lawrence's first parole hearing.
CHAD HALL: I don't hate him. [...] I just do know that because my brother can't come back and my brother doesn't have the ability to be free, neither should he.


LB: Well, I heard it. Ronnine played it for me over the phone. And when I heard it—you know, I kind of always wanted to know what Tremain Hall's family thought of me. I obviously knew what they thought of the situation. But I wanted to know what they thought of me. And it was kind of— it was understandable that he felt that way, that he won't forgive me. I understood that sentiment, but there's a part of me that would say, wow, you don't even— like you don't even know me. It's like, I take full responsibility for my action. I pulled the trigger in that movie theater, but to be honest I don't know if I actually killed Tremain Hall. And I don't mean that to say, 'Oh, he's out he's trying to get over this.' I fired one shot inside of a dark movie theater with 25 other shots fired. But the explanation I got was your bullet was close enough to proximity to him so it had to be you.

AS: We've talked about that might before and when you fired that shot. and when you were still in prison, you didn't bring up the possibility that the bullet you shot might not have killed him. That you may have been convicted of a crime that you didn't in fact commit.

LB: Right.

AS: Do you believe that you killed him?

LB: I really don't know. I really literally don't know. It was dark. And I literally fired a shot after I didn't see anyone in front of me. So I always, before I even went to trial, I kind of thought I didn't do it. But everyone thinks that. No one wants to believe that they did something when they're going to trial. I'm innocent! I shouldn't be here. As I grew up, I kind of whisk it off as, you know, I was just trying to get away from the responsibility. I have to grow up—I'm here I did a crime. Those are the things that I would say to myself in my head. So after some years, I kind of talked myself into, you did it. Did you pull the trigger? I said yes. Was you in there? I said yes. So you did it! You know what I mean? Do you believe that the prosecution could lie. yeah. Do you believe that they wanted to incarcerate somebody? Yes. Do you believe that possible you didn't do it? yes I believe it's possible but do you believe that you have the power to do anything about it? No.

AS: So you've long had doubt and the thing that's changed is you feel like you might be empowered to look into that question in a way that you weren't before.

LB: Yes.

AS: Are you pursuing that? That question?

LB: I plan to. I plan to I'm pursuing it slowly but surely. You know, it costs money to pursue that.So it's easy to get in trouble but it's very hard to get a wrong righted. So I've done the time already. It's easy for someone to say, oh move on, you've done the time all ready. Move on! You did the time you can't go back in time. but— but I don't want to have it on my shoulders that I killed someone. I just want to know that I didn't. I mean, if I did, then, you know, I have to carry this burden further. And hopefully, the Hall family would know that maybe it wasn't me, but then again that would leave the question up in the air for them so I guess thinking it's me in some ways I— I can't say it's better for them because they lost a brother and a son and, you know, so it's— it's just no good answers in this situation. But speaking from me, being here today, I don't want it to be me. I really, really don't want it to be me.

That's Lawrence Bartley, and his wife Ronnine Bartley. After her medical leave, Ronnine is back at work in a New York City school this fall. Lawrence is working his two jobs...and doing some personal training on the side….to get more money saved...and to pay for legal advice.
There are links to my previous interviews with Lawrence and Ronnine, and to the essay Lawrence wrote about preparing for parole on our website at deathsexmoney.org.
Death Sex and Money is a listener-supported production of WNYC Studios in New York. I'm based at the studios of the investigative podcast Reveal in Emeryville, CA. Our team includes Katie Bishop, Anabel Bacon, Stephanie Joyce, Emily Botein, and Andrew Dunn.
The Reverend John Delore and Steve Lewis wrote our theme music.
I'm on twitter @annasale, the show is @deathsexmoney on Twitter, Instagram and Facebook…Or you can email us...at deathsexmoney@wnyc.org
After finding a therapist last fall, Ronnine's been going weekly. And she says it's helped a lot.
RB: I love my therapist. I've missed her since I've gone back to work. I need therapy. I have to be in therapy for the rest of my life I think.
I'm Anna Sale, and this is Death, Sex and Money, from WNYC.
Copyright © 2019 New York Public Radio. All rights reserved. Visit our website terms of use at www.wnyc.org for further information.
Music Credits:
"Arctic Draba" by Blue Dot Sessions
,
"Building the Sled" by Blue Dot Sessions
,
"Transitioning" by Lee Rosevere
,
"Low Coal Camper" by Blue Dot Sessions
,
"Spills" by Blue Dot Sessions