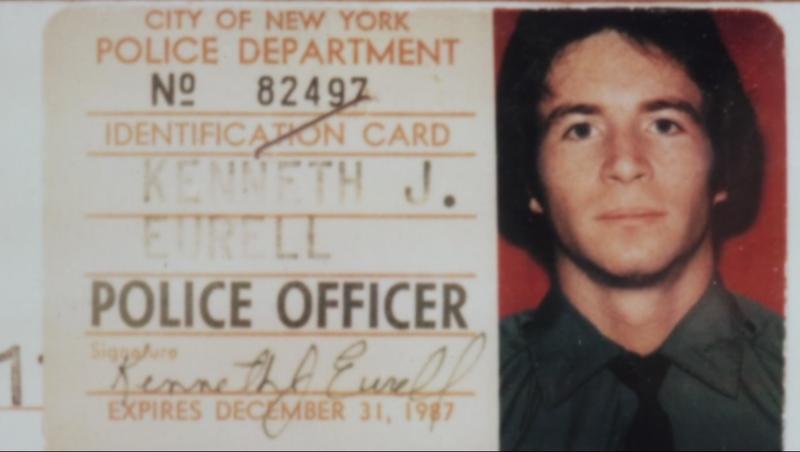 Transcript
I didn't do it to tarnish the badge or make cops look bad. It was just the constant talk of money, money, money, and then seeing it, it was just a greed factor. I was greedy.
This is Death, Sex & Money.
The show from WNYC about the things we think about a lot….
…and need to talk about more.
I'm Anna Sale.
When Ken Eurell was 20 years old, he was a rookie cop in New York City.
KE: Almost immediately because there was so in demand I was put in a patrol car. It was a midnight tour, I was put in with a senior man. He probably had ten years on the job. And we drove down to a bodega, he came out with a six pack of beer. We drove up to Highland Park, put his foot out the window, leaned back, had his beer, and told me, "Okay kid, listen to the radio. I'm going to take a nap."

AS: Was there anybody who you sort of looked at and said, are we supposed to be doing this?

KE: We didn't really say, "Are we supposed to be doing this?" We just thought, "That's how things are done." That's what the veteran officers are showing us. I was, I guess this is what it's like to be a real cop.
Drinking on the job...was just the start of it for Ken Eurell. He was learning how to be a cop in the 75th Precinct, in East New York, a poor neighborhood in Brooklyn, in the 1980s. A new documentary called The Seven Five is about that time of escalating crime and drug violence.
[News footage from the documentary The Seven Five]
"Crack is now sweeping New York."
"Justice Department officials now say there is a direct link between crime and cocaine."
"Evidence of heavy money and heavy, violent drug traffic is all around."
The documentary shows how Ken became a corrupt cop in the midst of this. It all started in 1987, when he became partners with Michael Dowd.
"Well, being good is a cop that would never give up another cop."
Michael Dowd had a clear definition of what made a good cop, as he later told a city hearing after he and Ken were busted.
"...if he witnesses something go down, he's 100% behind anything a cop does, no matter what it is."
Ken initially didn't want to share a squad car with Michael Dowd. He'd been warned.
KE: Don't work with Dowd. He's going to get you in trouble. Don't do it. Give up the squad car if you have to. Go walk a foot post. Don't work with Dowd, he's going to end up getting you in trouble. And I felt, I had never done anything corrupt before, I not gonna do it. But once he was in the car with me, he talked night and day, 99 percent about money, the other one percent he was talking about women. All he discussed was money, money, money, money. And it just drills in your head.

AS: How much money were you making as a police officer in 1987?

KE: It wasn't much. Paycheck was maybe 6-700 dollars, and it was a biweekly paycheck.

AS: When was the first time that you took some money that wasn't yours?

KE: The first time was...He had been attempting to, what he called, show me he was a good cop, but what I call, turn me to be like him, which was to be a corrupt cop. So it was a call for a burglary. And there was a young, teenage girl out front. And her front door was broken in, and she was afraid to go inside. Rightfully so. So she called 911. We showed up. We went inside, we check the house, make sure there was nobody inside, no perpetrators inside. And there wasn't. We came back outside and said, "Okay, it's safe. There's nobody inside." you know, "Call your mother. Get on the phone, call your mother."

And while she's on the phone with her mother, Mike says, "Ask your mother if there were any valuables. That way we can tell if it was missing so they could take a report." The mother tell her, "Yeah. We had money and valuables up in the master bedroom closet." So we go upstairs and Mike opens the closet door, sticks his hand around up top, and goes, "Nope. There's nothing here, they must have got it."

And I'm not thinking nothing of it at all, because it wasn't the way I thought. And we drive maybe 3-4 blocks away and he reaches into his pocket pulls out a 100 dollar bill. He goes, "Here, this is for you." I'm like, "What the hell is that? What's that for?" He goes, "You didn't even see --" he was like proud -- "you didn't even see me take it, did you?"

So I take it, and my thought process was: I could either not take it, and be just as guilty, because now I'm aware he took it. I could turn him in for 100 dollars, ruin his career, and cut my own throat in the department cause no one is ever gonna work with me or trust me again. Or take it and go along with him. So I took the money and it sat on top of my locker for a long time, thinking, like if i didn't spend it, I could go back to being a regular cop, but that didn't work out.

AS: Did you spend it?

KE: Eventually it spent. Yeah. Eventually it spent.

AS: Do you remember what you bought?

KE: I have no idea. I bought bad karma with it. (laughs)
By the time Ken was partners with Dowd, he was married to his wife Dorie and living on Long Island, in Suffolk County, but he grew up in Queens.
KE: My parents for the longest time, were pushing, take a civil servant's job.
His dad worked construction, and wanted his son to have more reliable work and steady pay.
KE: There's a pension in 20 years. You get paid unlimited sick days.

AS: Did you think you deserved a little extra cash for what you were doing?

KE: Did I think I deserved it? Absolutely not. It was pure greed. Once I got into it, it was pure greed. It's almost like sharks in a feeding frenzy. You walk into a room with 10 kilos of cocaine and 300-thousand in cash, you either turn it all in and the department gets to use it, it goes to the city coffers, or, you know, you're takin' it for yourself. Mike just rewired my brain. He taught me a completely different way to think about the job, to approach the job.

AS: It's interesting, because the way you tell the story, it's that you knew the entire time that Mike, your partner, was setting a trap for you, and you knew you were walking right into it.

KE: Basically, I had no choice. I mean, I guess I did have a choice. I could've gave up the car, like my buddy suggested, and let him, you know, do his thing with somebody else. He would have corrupted somebody else. But, I didn't think I would be able to be turned, I guess. And, you know, from there, you graduate to worse and, you know, worse and worse crimes.
And that happened quickly. Within about two months of taking that first hundred dollars, Ken starting taking big weekly payouts from a local drug dealer in exchange for any information about police drug investigations.
KE: Here I am making a couple of hundred a week, and I have this guy offering us $8000 a week.

AS: And where would you put that cash?

KE: Into everything. It went into everything. It went to new cars, jewelry, furniture, appliances...you know.

AS: How would you carry it around?

KE: To transport it home?

AS: Yeah.

KE: Throw it in a bag in the backseat of the car and we drove home.

AS: Because you didn't deposit it into a bank.

KE: No. The way I handled it was I took my NYPD paycheck, I put that in the bank. That paid all my bills; it paid my mortgage, paid my utilities, and anything outside of what's being documented by statements, like just food or furniture or anything like that, I would pay with the cash.

AS: Do you think your wife knew that there was more cash coming into the household than before?

KE: Oh yeah, she knew. She definitely knew there was cash coming in. She really didn't know the extent, I guess I could say, but she knew there was money. That first payoff that we got, and we picked her up after we did a day tour, and I tell my wife to reach into the bag to get us a few beers that were in the bag. We're going to have a beer while we drive home. And she reached into the bag and it was filled with cash. And she let out a scream, like, "Oh my god. What's all this money doing here?" So she was aware of it. Yes.

AS: Were you kind of showing off for her?

KE: I don't know if I was showing off. I was letting her know what's going on. There's gonna to be cash coming into the house. And she begged me: Stop doing what you're doing. Stop doing what you're doing. Stop doing what you're doing.

AS: She did.

KE: Yeah. Over and over.

AS: So she wasn't just not asking questions. She knew you were in danger of being arrested.

KE: Yeah. She knew the threat was there. Especially, later on when we started dealing the cocaine on our own. There was no way for her not to know.
Coming up, how Ken went from taking payoffs from drug dealers to selling cocaine himself.
KE: What happened is...another whole story.
Ken's story is part of the documentary The Seven Five. It's in select theaters across the country this summer and and streaming on Amazon, iTunes and GooglePlay.
But since it's getting to be that time when we all need a few hours sitting in an air conditioned room...I want to get more recommendations of documentaries to watch this summer. We're starting a Google spreadsheet that we can all add to—you can find the link at deathsexmoney.org, our Facebook page, and on twitter @deathsexmoney.
We've already filled in some slots for you. Emily Botein recommends Time Indefinite, a film by Ross McElwee, about love, death, adulthood, and parents. Katie Bishop's pick is Muscle Shoals, about the legendary recording studio. I love Stranger with a Camera, which explores the line between storytelling and exploitation. It comes from Appalshop, the great documentary house based in eastern Kentucky. And the favorite for Benjamin Franklin, one of our new interns? Madonna: Truth or Dare.
So, we're looking for new documentaries and classics. And tell us why. Again, find the link to the Google spreadsheet doc wherever you find us on the internet. Together, we'll help each other avoid that half hour of browsing Netflix or Amazon. We've got better things to do with our time.
On the next episode, your stories about your siblings… and how your relationships have changed as you've gotten older.
Definitely there have been times when it's like, we're strangers.
You know, is it okay to have some distance from your siblings as you grow?
I would love to have a relationship with my sister. I really would.
There's a little bit of sorrow. It's like you've lost them.
--

This is Death, Sex & Money from WNYC. I'm Anna Sale.
So Ken Eurell first started stealing money and taking payoffs in 1987, with his partner, Michael Dowd. But then, Dowd was transferred to another precinct.
KE: We didn't see each other for almost a year. He was gone. I went back on being a regular cop.
Then, in 1989, Ken was trying to make a routine arrest. He says there was a tussle.
KE: This kid's high on angel dust. He's a white kid from the suburbs and he was coming back to buy yet more drugs. And he lunges for my gun.
Ken says he fell back hard on his wrist. It was the last in a series of on-the-job injuries to Ken's hand. He was 28 years old. He retired from the police department...and he became a drug dealer himself.
It started when two of Ken's buddies, who were also cops, asked him for a hook-up to sell cocaine. He did have a hook-up: his former partner, Michael Dowd.
KE: On the way home to Long Island, he would drop it off at my house. The next day I would give it to these other two cops who would go and sell, and the profit would come back to me.

AS: How much money would you make?

KE: At first, it wasn't a lot. And then I learned ways to...I don't want to say cheat the two guys that originally came to me, but I learned ways to make money off of them.

AS: (laughs) Wait. What does that mean? You weren't cheating them, you were just making more money off of them.

KE: Yeah, because the drugs that were coming from Dowd, they're coming straight off the kilo. So I'm realizing I'm getting all this pure cocaine. Why am I giving these guys pure cocaine to sell on Long Island? So I went out to the nutrition store, and I bought inositol, which is basically what's in energy drinks now. And I would cut the cocaine with inositol. I would take 14 grams of pure cocaine. Keep that for myself. And I would take 14 grams that I'm giving to these other guys and cut it with 14 grams of inositol. And I would get two ounces out of the one ounce that were paid for. That's how I got into selling cocaine on my own.

AS: That sounds like you were cheating them. (laughs)

KE: I was making a side deal without including them.

AS: Yeah. (laughs) Did you use?

KE: I did not use. I tried it once and I did not like the effects and that was that.

AS: What was motivating you at that point?

KE: I didn't need the money. I was well off. I mean, my wife had gone back to work because I retired, so I was watching the kids, playing Mr. Mom. I had a pension. I had a rental income. It was, I don't know, opportunity and motive, I guess. And once I was selling the cocaine, you know, you walk into a bar, you're a cocaine dealer, everybody, you know, wants to be your best friend. Everybody wants to know you. So yeah, you feel like a big shot.

AS: So you had two kids?

KE: Correct. A son and a daughter.

AS: A son and a daughter. And you were the primary stay-at-home parent?

KE: Yes.

AS: While you were dealing cocaine?

KE: (laughs) Yes. My wife would work during the day, and I would make drug transactions at night. She'd be yelling at me, "Why are you going out again? Why are you going out again?" I'll be back in a half hour.

AS: How did you make yourself feel okay about this arrangement?

KE: I don't know. There was no justification for it. This is what I am doing. And I'm gonna do it. The money just keeps flowing in.

AS: Where were you when you were arrested?

KE: I was actually in one of my dealer's house. He had owed me money, and it was a long day. I went out, it was probably 9:30, 10 o'clock at night. I had an argument with my wife. She's, "Don't go out again! Don't go out!" I'll be out for 10 minutes. This guy owes me money.

Went to the house, and I'm in there maybe two minutes. Suffolk County hits the front door. They slam the door. And I now revert to thinking like a cop. I'm thinking, "Well, we're getting robbed." So I look down the hallway and I see police shields, and their riot helmets, and all of that, and I'm like, "Fuck." And I just went back in the bedroom. I put my hands on the wall before they were even there. And they came in, you know, start patting us down. They pulled my gun out and got all excited. "Oh, we got a gun! We got a gun!" And that's it. We were arrested. Game was over.
Michael Dowd was also busted. Separately. He was arrested in his police uniform and had cocaine in his pocket.
Both he and Ken got out on bail.
KE: The federal government's calling me in.
But the investigation expanded.
KE: I know people were already cooperating.
Ken didn't know if he could trust Michael Dowd.
KE: I'm thinking...maybe he's gonna flip on me.
But Dowd told Ken he wanted to jump bail, and leave the country with his family.
KE: He kept pushing and calling me.
Here was the plan, and get ready—it sounds crazy. They needed money to flee, so Mike and Ken were going to kidnap the widow of a drug lord for rival dealers. Then the rival dealers were going to kill her, for unpaid debts.
KE: So I go to my lawyer, and I tell him about this kidnapping and execution plan. And he looks at me like, are you a fucking idiot? You can't ignore this the way you tried to ignore when he was first turning you and just go along with it. They kidnap and execute someone without you, you're going to go down because you know about it.
Ken went back to the federal government, and told them everything, going back to when he and Michael Dowd were partners.
KE: It almost becomes like a chess game, who makes the first move.
Ken's move was to tell Dowd he would help with the kidnapping. He wore a wire the whole time.
Hours before it was supposed to go down, federal agents rescued the woman. Then, they arrested Michael Dowd.
KE: Yes, I flipped on him. I didn't set him up.

AS: Did you go into any witness protection?

KE: It was offered to me. We discussed it. And I didn't want to have my children go through changing their names, and, you know, not being able to see their grandparents again, and their uncles, and their aunts. So they just let us move out of state. That was to Florida.

AS: Did you feel safe?

KE: I looked over my shoulder for a long time. Eventually, your guard lets down.

AS: Did you serve any time?

KE: When we were first arrested, it took me two months to make bail. So I guess I was in Suffolk County lock-up for two months. After that, I did not do no prison time. When I went in front of the judge, the judge said the reason why she was giving me no time is to hopefully encourage other officers to come forward in the future if they see crime.
Michael Dowd, Ken's former partner, pled guilty to drug trafficking and racketeering. He served 11 ½ years in prison.
Ken didn't see him again until the making of the documentary, The Seven Five.
KE: And I'm walking up the side block to the seven-five precinct, there's Mike standing at the front door. And we sorta—from my perspective, I didn't know if we were going to hit each other or hug each other. But when I got close enough and saw his eyes, and sort of the smirk on his face, we just grabbed each other, gave each other a big hug. And that was it.

AS: Why do you think you hugged each other?

KE: We were best friends. God, we were like brothers. You know. And I guess time heals all wounds? From what I could see, he's still a little bitter, somewhat, but for the most part, we're all good.

AS: When you think about your time as a police officer, with Dowd...when you think about your time as a cocaine dealer, what are you most ashamed of?

KE: Absolutely everything I did with Dowd while I was a cop. You know, cops have a hard enough time with the public eye, and how they're perceived. I could have not done any of it. I was greedy. You know. When that money comes into the car, I could've said, "All right. I'm gonna turn him in." I didn't do that. I didn't do the right thing. So there's no justification for it. It's, that's, I'm just really stating the facts of how it is and what went down. Hopefully, for me, I would love some young cop to come across that and say, holy shit, I really don't want to go down that path. They see how it screwed up our lives, and they won't make that decision.

AS: Do you feel ashamed about dealing coke after you were a police officer?

KE: At that time? No. Everyone...Everyone...mailmen...all types of people were doing drugs. Everyone did cocaine back in the '80s.

AS: Are you still receiving money from your time as a police officer? Are you still receiving your pension?

KE: A pension is for life.

AS: So despite having told the federal government that you were stealing money, protecting drug dealers as a police officer you still received—

KE: —During my time on the job. Yes. There was a big discussion about that when we were first arrested.

AS: Does that...Does it feel at all shameful, to cash those checks knowing what you did on the job?

KE: Uh...what I did, I feel more shame over. You know...I was legitimately injured so no. It doesn't feel shameful to cash the checks for which I'm receiving.

AS: How much is your pension check?

KE: I'd rather not get into that.

AS: Okay. And how—you're working now, right?

KE: I was working up until this past summer. In the automotive field.

AS: Doing what kind of work?

KE: Auto parts. Selling auto parts.

AS: What was it like to go from making a lot of money selling cocaine and then not having that extra cash as a family?

KE: I lived an average life again. You know. Moved to Florida, where thankfully the cost of living is a lot less than New York. And you just go back to leading a very average life.
More than 25 years after he left the police department, Ken still thinks of himself as a cop.
KE: You always think of yourself as a cop. Always.

AS: Tell me how you—

KE: —It's a conflict. Because everything that happens in the news now, that's going on now with Ferguson and, you know, all these recent cops that were shot and killed in New York, you want to mourn for them, but you feel like you can't because you betrayed the badge. It's very conflicted feeling, very conflicted thoughts.

AS: So you mention Ferguson, and Baltimore of course, and Eric Garner on Staten Island in New York here. And there's been an outcry about police-community relations. Do you feel protective of police officers when people criticize?

KE: Absolutely. I'm almost 100 percent on the side of the cops every time.

AS: I'm interested in that because your own life story shows that there are cops who do not follow the rules, and think they're above the law.

KE: Right. The situations that have been in the paper, I don't see...No cop goes out at the beginning of the tour saying, "I'm going to go out and hurt somebody." No. Even, you know, even the most corrupt cop who is out there grabbing money and working with drug dealers, I never—we never said we're going to go out there and hurt somebody. I never—we never intended to go out and physically harm somebody. We didn't. Nobody sees that. You go out and you see crime. You don't see black, you don't see Hispanic, you don't see Oriental. You go out and you see crime. And you react to the crime at hand.

AS: Do you think that being a white cop in a primarily Hispanic and black precinct made you more bold in breaking the rules?

KE: No, I don't think that had anything to do with it. I would've—we would've broke the rules in a white neighborhood just as much. I mean, if a bag of money is being offered to me back at that time, I'm taking it. It was just pure greed. Once it was drilled into my head and my brain was rewired to do my job in a search for padding my paycheck, I guess you could say, that's all I saw. I saw green. I saw money. And it was definitely a character flaw.
Ken Eurell. He lives in Florida with his wife Dorie. His kids are now grown. And we followed up on that pension question. According to a Newsday article from 1993, Ken receives more than $35,000 a year.
Death Sex and Money is a production of WNYC. The team includes Katie Bishop, Emily Botein, James Ramsay, Rachel Aronoff, Benjamin Franklin and Joe Plourde.
The Reverend John Delore and Steve Lewis wrote our theme music.
I'm on twitter @annasale, the show is @deathsexmoney.
Go there or go to our Facebook page to get the link to the Google spreadsheet to add your recommendation for documentaries we should watch this summer. And if you like Death, Sex & Money, subscribe to us on iTunes—and leave us a review there. That helps other people find the show on the iTunes charts.
So, Ken Eurell doesn't have many regrets about selling cocaine in the '80s...but stealing money? He says he'd never do that again.
KE: Would I ever be tempted again? No. No. No. I could be driving behind a Brinks truck and five bags of money fall off, I'm turning that in.
I'm Anna Sale, and this is Death, Sex & Money from WNYC.
Copyright © 2019 New York Public Radio. All rights reserved. Visit our website terms of use at www.wnyc.org for further information.
Music Credits:
"Futurism" from BWN Music
,
"Broken Castle" by Bijou Basil from BWN Music
,
"Sludge" by Jack Ventimiglia, BMI from BWN Music
,
"Outro" from BWN Music