Jane Fonda After Death and Divorce, Revisited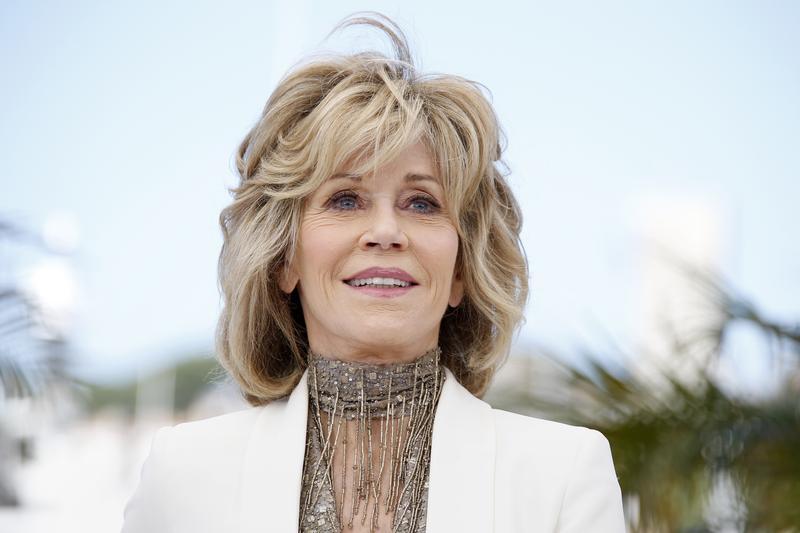 Transcript
Hey -- This is Anna. A lot of new listeners have discovered Death, Sex & Money over the last few months...so we've been thinking about ways to share more of our favorite older episodes with you.
Like this one, from 2014, with Jane Fonda. There's an HBO documentary coming out next week about her --called Jane Fonda in Five Acts -- so, we're taking that as an opportunity to share my interview with her again.
And even if you're a longtime Death Sex & Money fan, this one is worth another listen.
Enjoy.
Jane Fonda: I come from a long line of depressive people, on both sides of my family. My father had low grade undiagnosed depression, and it went way back in his family. And who knew. You know, little Prozac back in the Fonda clan could've changed all of our lives.
This is…
Death, Sex and Money.
The show from WNYC about the things we think about a lot...and need to talk about more.
I'm Anna Sale.
We have these words to signify the American moment that shaped you: millennials, Gen X, boomer, Greatest Generation. They're not always so precise, though. Ask any millennial.
Maybe a better question is, what do you think about when you think about Jane Fonda?
"My name isn't Pretty Pretty. It's Barbarella."
The universe's sexiest space traveler?
Or the divisive activist during the Vietnam war.
"We, as political people have to be sure that we don't ever stop until the people in this country understand that it's been an American defeat."
Or maybe the elegant powerhouse in The Newsroom?
"You wanna play golf, or you want to fuck around?"
But this is MY Jane Fonda.
[SOUND OF WORKOUT VIDEO]
Fitness goddess — seamlessly transitioning between sit-ups and marching in place and lifting weights — all while wearing that belted leotard.
My sister and I clumsily improvised along in front of the TV. I was about ten years old, using towels as mats on the carpet, wearing bathing suits over pantyhose and lifting cans of stewed tomatoes instead of hand weights.
THAT Jane Fonda was graceful. Better coordinated than the rest of us. And so assured.
But that's not how Jane Fonda saw herself.
You know, I was in my 60s before I realized I that could just be who I was, and that was okay. Good enough is good enough.
And that's what Jane Fonda and I talk about in this episode — what changed for her. It was after her third divorce from cable executive Ted Turner, and decades of being haunted by death and confused about sex and intimacy.
She says that sense of searching, looking for reassurance, started around puberty.
It was not good! That was a very confusing, scary time for me. And I, well I just had a lot of questions and fears and I didn't know where to go for answers.
And it's why at age 76, Jane Fonda published a guidebook for teenagers, called, "Being a Teen." It's about love, anatomy, and relationships...during those awkward years. It follows her last two books, her tell-all memoir and a self-help-y book called "Prime Time" about living it up after 60. But she's gone back to those early years, when that feeling of isolation started.
Like a lot of girls, up until puberty, I was a tomboy. I climbed trees and I wrestled and I said, Oh yeah, who says? When I hit puberty, my voice went underground, it was, Whatever you say. I kind of went along and tried to fit in, which meant doing things that I shouldn't have done. And that became a pattern.
Through three marriages, two Oscars, countless public identities…a pattern of always trying to fit in, despite her family's wealth and pedigree.
Her father, Henry Fonda, was a star from the time Jane was born. Her mother was a socialite with royal roots. Jane Fonda is named after Henry VIII's third wife, a distant relative.
When Jane Fonda was a girl, her family moved from California to the East Coast, and within a few years, her father announced plans to get a divorce. Her mother was committed to an asylum, where she killed herself by slitting her throat with a razor. Jane was 12. Her brother Peter was 10.
We found out through magazines how she killed herself and we never were told by anybody in our family that she did. And nobody ever mentioned her name again. So it was like a huge emptiness.
On top of that emptiness came the alienation of adolescence, which every teenager goes through in some ways, but that doesn't make it less painful.
Nothing seemed normal, I didn't get my period until I was 17. I was at boarding school and I would buy Kotex every month and pretend. I pretended a lot of things, because I wanted to fit in. But I didn't fit in. First of all, my father was famous. And second of all, I thought maybe—I mean I actually did think that maybe I was supposed to be a boy. You're probably too young to remember this, but the very first transgendered person to come into public notice was Christine Jorgensen, who became a woman, and I was utterly riveted to this. And was convinced that I was supposed to be a boy.
Can you tell me more about that?
I used to get a mirror and sit in such a way that I could look at my vagina and try figure out if maybe it wasn't supposed to be a penis. I just, I didn't know what I was looking for, I didn't know what was supposed to be there. I didn't know what was normal. I didn't feel any of the things that my girlfriends seemed to be feeling. It was scary, it really was.

You were twelve when your mother killed herself. Who took care of you after that?
Well, my mother's mother, my grandmother was the person who lived with us. Eventually my father married a woman who I very much. She was only 7 years older than I, but she was capable of—bless her soul, she's still alive. Susan. She was an extremely beautiful woman who brought laughter into our family, and that was wonderful. And she didn't stay married to my father very long, but she meant a great deal to me and my brother. We called her Mom 2.
How old were you when she became your step mother?
13. And it was she that when I finally did get my period at 17, she took me to a gynecologist who could answer my questions. The first thing I did when I was alone with him was burst into tears. I started asking questions and just burst into tears. And he said you know something, this is absolutely normal.
How do you think — you describe your teenage years as a time of just, confusion.

Confusion, yeah.
How do you think that affected your relationships with men over your life?
It took a long time. And it's not—it's not just a question of sex. I wasn't dealt a good hand when it came to understanding what intimate relationships are supposed to be like. I did a lot of work on myself while I was married to Ted Turner, so when the time came for us to no longer be together, all the work that I had put into myself, I finally could apply.
When you say work, what does that mean?
Well, it includes therapy. I guess I started in therapy when I was, after I'd been married to Ted for about 3 years.
Was that the first time you'd been in therapy?
Yes.
Wow.
It was not freudian lying on the couch with some guy sitting behind you. It was feminist therapy, it was relational therapy, it was a woman sitting and looking me right in the eye and crying with me, and it made me understand everything about me and my life and my family. And it really saved me, and I'm so grateful.
Jane Fonda first got married at age 27, to the French filmmaker Roger Vadim. He directed her in Barbarella, and she would later say, in the bedroom too. They had a daughter and divorced.
Then in 1972, Jane Fonda married Tom Hayden, a prominent anti-war activist. He was a co-founder of SDS, the Students for a Democratic Society.
They had a son and divorced in 1990. The next year is when Jane Fonda married Ted Turner, the billionaire cable executive.
You have talked after — at the end of your second marriage, your divorce from Tom Hayden, that you had a breakdown.
Yes. I didn't even realize it at the time, it was only looking back on it—well I guess I did. It wasn't even that it was that good a marriage, but sometimes a divorce or a crisis can pull the scab off a very very very early wound. And that's what this did to me. I couldn't speak above a whisper. I couldn't eat. I could only walk very very slowly. It was all the cliches. Heavy heart, my heart weighed 20 pounds.
And that wasn't long — the end of your second marriage and the beginning of your third marriage were pretty close in time. When you started therapy, was it in part to deal with some of the emotional residue from that second divorce, and understanding that breakdown?
Okay, since I've written about it I will say what it is. A month after Ted and I were married, I discovered he was having an affair. And so I left him. And then I decided that I needed to go into therapy and I went to a couples' therapists. And in talking to him about the marriage, I realized that part of the problem was mine. And that maybe I should give Ted a second chance and that the two of us should go into therapy together, which we did. Then I, unlike him, I continued on my own with therapy. So that's how I got into it. And it's how I got out of it, eventually. It was a very scary thing. I was 62 years old. And it was a very safe thing being married to Ted. I didn't have to work. He was funny, he was handsome and fun, and all those things. But I knew that if I stayed with him, I could never be a fully realized person, and I had to make a decision and it was really scary. I felt like Virginia Woolf, only I had two angels in the house. One on one shoulder saying oh come on Fonda lighten up!

The guy's got two million acres of the most gorgeous land in the world and he's funny and he keeps you laughing. And on the other shoulder there was an angel with a very soft whisper saying, Jane, you can stay with him and die married, but you'll die not being whole. And so I opted for the whisper.
Jane Fonda separated from Ted Turner in 2000, and filed for divorce a year later. She'd left acting during their marriage. In 2005, she took her first film role in 15 years — opposite Jennifer Lopez.
From "Monster in Law": "Call me old-fashioned—marriage is a sacred union that should only be entered into with the utmost care.

-"Weren't you married four times?"

-"Yes dear."
I never could have done Monster In Law if I hadn't been married to Ted for 10 years. Ted taught me that over-the-top can be okay. He's completely outrageous, and very loveable at the same time. And Ted gave me courage. Ted gave me the courage to be funny, Ted taught me how to laugh.
Jane Fonda and Ted Turner are still close, as they told Oprah years after their divorce.
From Oprah: "i don't regret a moment of the 10 years that we had together"

"best time I ever had"

"really, best time?"

"Mm-hm."
That is not the kind of relationship Jane Fonda had with her father, Henry Fonda. This is a famous scene between father and daughter, acting together, in the 1982 film "On Golden Pond."
From "On Golden Pond":

"It seems like we've been mad at each other for so long."

"I didn't think we were mad. i thought we just didn't like each other."

"I want to be your friend."
Henry Fonda won the Best Actor Oscar for his role. Daughter Jane accepted it on his behalf because he was too sick to attend the ceremony.
He died a few months later.
Coming up, the way Jane Fonda made peace with her father.
____
KATIE BISHOP: Hello?

AS: Hi Katie!

KB: Hi!
This week, I called up Death, Sex & Money senior producer Katie Bishop, who's been on maternity leave. She's getting ready to come back to work next month.
KB: It's been amazing. Yeah, I think it's been the best four and a half months of my entire life.

AS: What is little girl up to now?

KB: Oh man, she's so fun. She loves to smile and laugh. She likes to talk a lot, so we have a lot of conversations. I feel very--really happy with everything. And I also don't feel totally freaked out about coming back. Like I'm starting to think, like, this might actually be OK!

AS: It will be OK!

KB: And at that point, you will be very pregnant and getting ready to take your next maternity leave!

AS: Oh my god, Katie. [laughs] When you say it out loud like that, it's really happening!

KB: I know. I feel like I missed a lot of your pregnancy so far. But I'm glad I'll get to be there for the home stretch.

AS: Yeah, when I'm in peak good mood. Right? You remember last time?

KB: Oh, I remember last time. [laughs]

AS: Not a grimace in sight.

KB: We got through it, we got through it.
Yes, I'm pregnant, with my second kid! You can tell now when you see me...but most of you don't often see me. But we've got a live show coming up in New York on October 1st with poet Nikki Giovanni. We'll be streaming it live on our Facebook page, and if you watch, you'll notice--so I thought I should tell you.
Baby's not due until the end of year...and just like the last time I went on maternity leave, new episodes of the show will keep coming while I'm out. More on that as we get closer…
For now, if you'll be in New York on October 1, there are still a few tickets left to our show with Nikki Giovanni. Go to our Facebook page to find the link.
On the next episode, I catch up with Lawrence Bartley, whom I first interviewed when he was an inmate at Sing Sing prison in New York. He and his wife Ronnine tell me about what it's been like since he was paroled this past spring….after living behind bars for 27 years.
Lawrence Bartley: I always have this feeling like maybe people are watching me, do they know? 'Oh, he just came out of prison.' 'Oh, look at that guy.' So I try to do things to assimilate well so people won't notice.
____
This is Death, Sex & Money from WNYC. I'm Anna Sale.
After a breakup, there's that moment, when you look around, and notice how much of the stuff you're used to isn't there anymore.
That even happens to Jane Fonda, when your ex-husband is Ted Turner.
I moved into my daughter's house in Atlanta. I was all by myself, which after Ted, the silence was deafening. And I remember standing in the middle of this little bedroom that didn't even have a closet. I'd been living in 23 kingdom-sized estates, flying in private jets, now I had a rented car and a room with no closet. And I stood in the middle of the room in tremendous pain with sadness that the marriage hadn't worked, and yet there was also this voice that said, I'm okay. For the first time in my life, I do not need a man to be whole. And that's what our life is supposed to be about, and man it takes work. It doesn't just happen. And given the title of this radio show—what is it, Death Sex and Money? Haha. Living it intentionally means living it with the constant awareness of death. You know, I'm 76, I have a lot more time behind me than I have ahead of me, and living with the awareness of that helps me make decisions in life. It helps me not squander time.
Do you feel afraid about death?
No. I don't think I'm fooling myself, but no, I'm not afraid of death. You know, I watched my dad die. He took a long time to die, so I had a long time to watch. And he was never a talkative person, he didn't talk to me. I mean I never got brave enough to ask him if he was scared or anything. But what it taught me was that I'm not afraid of dying. What I'm really scared of is dying with regrets, which I feel that he did. So the minute I realized that, I was in my mid 40s then, that I realized, okay then you have to live your life, especially as you get older, so that when you come to the end you won't have regrets.
Not that Jane Fonda thinks she's done everything right. She's apologized repeatedly for that famous picture of her where she's sitting on top of that anti-aircraft gun in North Vietnam, smiling and clapping along with soldiers who are at that moment fighting the United States. She's called that "an unforgivable mistake" that she'll take to her grave.
Your father died in 1982. What was your relationship like with your father when he passed?
Well, I got a chance before he died to tell him that I loved him, and that I was sorry—it's hard to say—that I had hurt him. And that I loved him and I knew that he'd done the best he could. And he never said anything, he just sat in a wheelchair with tears rivering down his face, and I knew he didn't like to cry, and I was afraid that he was embarrassed, so I just left. But we had that exchange.
What were you apologizing for?

Well, when I became famous, I would sometimes say things about him that hurt him. And I knew it. He came to me once and told me that I was hurting him and asked me not to and I never did again, but I had hurt him, and that's what I'm referring to. But he knew I loved him.
Do you have a relationship with your mom's family?
There's no one alive in my mother's family. But I just got together with my brother three days ago, and he and I made a pact that we're going to go to Ogdensberg, New York, where she is buried and we are going to kneel at her tombstone and we're going to plant things and clean it up and pray for her, and to her. And we're going to do it together. Isn't that nice?
That's wonderful.

There's never been closure, so.
Have you been to that grave before?
No, we've never been there.
Never been.
So we both feel we owe it to her. When she died, I was 12, he was 10. No one ever mentioned her again. So we want to make up for that.
What do you remember about your mother?

Well, the mother that I remember is very different than the mother I researched. I remember her as a hypochondriac, febrile, nervous, scared, insecure person. And she was all of those things. But then I also discovered that other people's impressions of her were: vibrant, like, men were attracted to her like moths to a flame. She was very social. I have her and my father in me, I'm like a bear. I hibernate and like to be alone, and that's my father. That's the bigger part of me. But then when I come out of hibernation I like to party real hard and that's my mother.
You know, Jane Fonda looking at your life and all that you've done, I would not think that you would describe yourself as someone who likes to hibernate, you've been so present in American culture.
Oh. I die if I can't be alone. I feel like, when I was married to Ted, it was like in Montana, he has 3 or 4 different ranches, they're all two hours, one from other. We'd have breakfast in one, lunch in another, dinner at another, so we spent a lot of time driving, so he'd be in the front with some business colleague or something like that, and I'd be in the back, and I'd fall asleep to the sound of his voice. Two hours later I'd wake up to the sound of his voice. And I always had the feeling, doesn't his brain empty out? Because I always have the feeling that my brain runs out and that I have to do things like be alone and read and pray and meditate to fill it back up again.
If I could choose only one way to be from now until I die, it would be alone in nature. Preferably at 14,000 feet, above the timberline. I could spend the rest of my life that way.
But the way she is living right now is with her boyfriend Richard Perry, a music producer famous for his work with Barbra Streisand, Harryl Nilson, and The Pointer Sisters. They've been together four and a half years.
So being alone, I want to ask you about that because the way you talked about your divorce from Ted Turner in your memoirs, and what it was to finally be single at that stage in your life—now you're in a relationship again, you live with your partner. Tell me about that decision to recommit to somebody.
Well, I went 7 years celibate, and I thought that was it. But then I met—well I'd already met Richard, but I reconnected with Richard. And I like men who can bring me into a world that's foreign to me, and his is the world of music and he's something new for me. He's kind. And he's very very easy to live with. Like living with a girlfriend who likes sex. He's just real easygoing, and I travel a lot. I'm alone a lot and I'm writing a novel and I hole up in my office and days go by and we don't see each other except maybe at night. Also, I'm working more, so I'm away a lot. Also he has Parkinson's, and I sort of feel like I'm supposed to learn to be more empathic, and to kind of slow down. So I'm just learning stuff.
Does it feel at all uncomfortable to know that with his Parkinson's diagnosis that you will be in a care-taking role with him?
Very uncomfortable, yeah. It's not easy, I'm not a caretaker by nature. I have no idea what the future has in store. I'm trying to do it one day at a time.
But I get sick all the time and he never does, and he takes such good care of me, brings me food in bed when I'm sick. I have a shot immune system. The least I can do is try to give back a little of that care-taking. But it's not my nature. My friends tell me I'm wrong, but I know.
Do you say that self-critically, do you think that you're selfish?
No I don't think I'm selfish, but I'm just, there's so much that I want to do in life, including being alone, including going into the mountains and forests and writing and acting, and I'm not someone who can give that up for someone else. Maybe that's selfish.
It could also be called self-actualized. There's two spins to it.
Maybe a little bit of both.
Yeah. When you reemerged from your celibacy, was sex different?
Yeah. I think sex — that's true, death sex and money. I think that when a woman is older, sex is better. Partly because she doesn't give a fuzzy rat's ass anymore, you know? She's not out there on the marketplace anymore, she knows her body, she knows what she wants, she's less afraid to ask for it. If it doesn't work out, so what?
Do you think you might marry again?
Oh gosh no! No no no. The very thought of it makes me feel like somebody's got their hands around my neck.
Really?
Claustrophobia.
Just the idea of the institution?
Yeah. I'm a believer in it, I went to Jane Goodall's 80th birthday last night at the home of friends of mine who've been married for 50 years, and I said oh I'm so jealous. That will never be mine to have. And people who I know who've been married long like that tell me that it's so beautiful. And I can kinda smell how beautiful it must be. But I will never know it. No, no. I can more envision myself disappearing into a monastery than getting married again.
I have one more question.

Okay.
When you described moving into your daughter's house in Atlanta, that feeling of quiet and aloneness, it made me wonder, what's been the role of friendship in your life? You've been famous your entire life, has it been difficult to have friendships?
No, I didn't use to have friendships, I only started having friendships late-ish. I mean real friendships. I would say, in my 50s. And they're all women. My women friends are all younger than I am. I give regular dance parties now, and it's a way young crowd. And I sort of take on the mother figure. In fact I sign my emails to some of them "Ma."
That's Jane Fonda. She says her favorite things to dance to these days are swing, big band — and the Pointer Sisters.
Jane Fonda...split from her boyfriend Richard Perry in 2017...after eight years together.
The new HBO documentary, Jane Fonda in Five Acts, premieres Monday, September 24.
Death Sex and Money is a production of WNYC Studios in New York. I'm based at the studios of the investigative news podcast Reveal, in Emeryville, California. Our team includes Katie Bishop, Anabel Bacon, Stephanie Joyce, and Andrew Dunn. Thanks to James Ramsay, Jessica Miller, Henry Molofsky, Chris Bannon, Bill O'Neill, Jim Briggs, and Avishay Artsy for their help on the original episode.
The Reverend John Delore and Steve Lewis wrote our theme music.
I'm on Twitter @annasale, and the show is @deathsexmoney on Twitter, Facebook and Instagram.
And every week, the Death, Sex & Money team puts together a really great email newsletter --- with other podcast recommendations, reactions and stories we hear from you, and behind the scenes updates about the show and me. I know you get a lot of email...but we put in a lot of effort to make this one special. Sign up to get it at deathsexmoney.org/newsletter .
But for right now…
"head up...WHOO! you did good work. Thank you, it's all over for today. I'll see you next time."
I'm Anna Sale, and this is Death Sex & Money from WNYC.
Copyright © 2019 New York Public Radio. All rights reserved. Visit our website terms of use at www.wnyc.org for further information.
Music Credits:
"Cerulean" by Tiny Houses
,
"Hollow Man" by Kerry Muzzey
,
"Venice" by Lucy Bland from Audiosocket
,
"Plumb" by Lucy Bland
,
"Sea Level" by Lucy Bland
,
"The Bridge" by Lucy Bland