'Precious' Paid Off Gabourey Sidibe's Crunch Gym Debt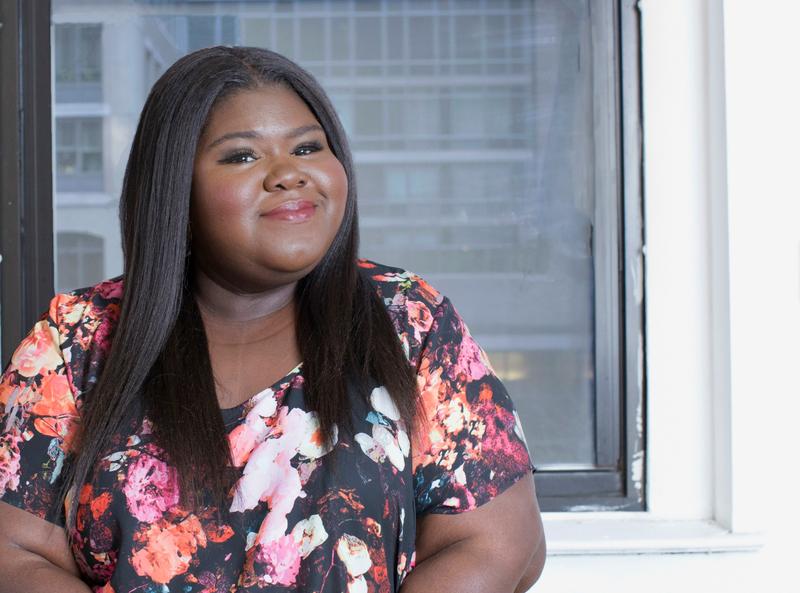 Transcript
GABOUREY SIDIBE: Ugh, Biggie Smalls. Don't even get me started. Someone is like oh my birthday is March 5th and I'm like, 'That's close to March 9th, which is the day I got my period, which is also the day that Biggie Smalls died.' (Laughs) Just crazy. On the day! Like, I don't know why I need to tell everybody that but I do.
This is Death, Sex & Money. The show from WNYC about the things we think about a lot, and need to talk about more. I'm Anna Sale.
If you know Gabourey Sidibe, it's probably from Precious, the 2009 movie about rape, physical abuse, and poverty in one young woman's life. Gabourey was 24 when she got the role. It was her first acting job and it earned her an Oscar nomination.
GS: That's when I knew that whatever Precious was going to be, whatever Precious was going to be, that it was going to change my life. And it had better change my life for the better. Like I really really wanted that because that's what I prayed for.

ANNA SALE: Did it initially?

GS: Yea. Yea. Yea! My life is so much better. Look, with anyone who has their dream job, I'm sure there are things that they hate about it. Before I was an actress nobody said anything about my body. They did when I was a kid but once I became, you know, a person, when I was 18, 19, in college and in real life, nobody said anything about my body ever. And being an actress allowed people to then - to begin to say things about my body again.
Gabourey is responding right now -- to all that talk -- with a new book. It's called This is Just My Face: Try Not to Stare. It's about her life after Precious and before, when she was a teenager growing up in New York.
GS: The 90s were poppin, okay? I don't know if you remember TRL, Total Request Live.

AS: Of course I do.

GS: I would cut school - if N'Sync were going to be there you could just stand in the window and watch them. And there were so many things to show up to and it felt like - it was like a lifestyle. It was like what I was doing.

AS: N'Sync was your extracurricular activity.

GS: Exactly! N'Sync was my extracurricular activity. It made me feel like I had things to do when everything else was so screwed up.
Gabourey's parents divorced when she was nine. Her dad drove a cab. Her mom was a teacher, but left that job because she could earn at least the same amount of money performing in the subways.
GS: My mom is a really - she's a phenomenal singer. But when she started singing in the subway, it was hard to watch. Because at that point, my mom, my brother and I, we all shared two twin beds in a room in my aunt's house. And it felt like no matter how talented she was, we still had to go back and sleep in these twin beds. That we were still going to walk away poor even though she was really really talented. And so my brother and I would just kind of wander off by ourselves, and I'd find a book. There was a bookstore in Penn Station where they would just let me come in and sit down on the floor in the hall.
But these escapes were temporary. Gabourey was struggling. After her parents split, she started having panic attacks, almost daily.
GS: I was crying and sweating and not being able to breathe and this would happen, you know, sometimes first period in junior high or during math in elementary school or, you know, recess or something. And I remember when I was in 7th grade, it was like Parent-Teacher night or something, so my mom and I went down to school and my 7th grade homeroom teacher Mt. Matloff, who was really kind of too sexy for a science teacher (laughs) but he's telling my mom: 'You know, she cries a lot. She cries too much. You know, she lets the other kids get to her and she needs to thicken her skin and she - you know, this is really a problem'. And my mom kind of seemed to be embarrassed by it and I was extremely embarrassed that my teacher who was so sexy had to tell my mom that I was crying too much and both of them were looking at me as though I actually had some control in the matter and I didn't. There were a lot of things going on and neither of my parents saw me. They just couldn't see me or who I was or what was happening to me or what I was going through.
Throughout her teens, Gabourey had anxiety, depression and bulimia. She says making herself throw up gave her a sense of relief. She graduated high school and started taking college courses in Psychology. She also started acting in school productions, but she still felt lost.
GS: All my friends are, you know, hooking up with guys and going to parties and going on dates and having boyfriends and things like that. And I wasn't doing any of that and I said, 'Okay, that's what you have to do to be normal. Cause right now you don't feel normal, but you will feel normal as soon as you become normal and that's what you gotta do to become normal.'

AS: You describe what you call your 'ho phase.'

GS: I was just doing it to do it. Like I just - and it's not like - I mean, it sounds like - the 'ho phase' sounds like there was a line outside my bedroom (laughs). There wasn't. There wasn't. And it wasn't like 'I'll take anybody on.' It wasn't like that. I just kinda hung out with people a bit who did not, um, serve or deserve me.

AS: And are these, at that point in your life like where were you meeting people, parties?

GS: Oh my God. Anyone who lives in New York City who lives in the hood (laughs) knows that all you have to do is walk to the train and people will yell at you, like, 'Hey, hey girl, come here'. Like there were a lot of like 'Yo shorty! Yo shorty!' And so that's how I would meet people. On the way to the train! The classy way.

AS: Well I imagine it felt, I mean you described earlier that when you were in middle and high school it felt like you weren't being seen. That made you feel seen - walking to the train having people notice you.

GS: Yea, exactly. When I was in junior high and high school and you know the thing was - I went to school with all these beautiful Puerto Rican and Dominican girls and they had all the boyfriends and, you know, they were the ones that the boys wanted. And I was - I was really funny with a great personality (laughs). And so, and so all the boys that I liked just wanted to be my best friend. And, you know, with the guys that were standing, you know, on the block on my way to the train station had no idea if I had a great personality or if they wanted to be my best friend. They knew that they wanted to like be inside me, (laugh) which is such a gross thing to say, oh my God! But, you know, they wanted something from me. Whether I wanted to give it to them didn't matter to me, because what I really wanted was to be wanted.

AS: So how long did that phase last?

GS: Less than a year.

AS: That's a very short ho phase for a young woman (laughs).

GS: It's a short ho - I mean, like, yea. It's such a short ho phase. It's more like a 'ho pha--'. You know? Like it's not a full phase.
That phase was long enough for Gabourey to realize she needed help. She was on Medicaid, which covered antidepressants and therapy five days a week for six months, both on her own and in group sessions.
GS: And I was the youngest person in the class by a lot. Everyone else was in their 40s. And it was very strange. Because I couldn't - I mean, I couldn't, you know, deal with my life, but I always imagined that by the time I was 40 I could. And it was really - and this is - I mean, obviously this is no shade on people who were in that group. I just - I was devastated to learn that I wasn't going to magically be a better person by the time I was 25. But that's something I had to learn. Something that I was - I had to learn that what I was going through, I couldn't grow out of. And that's a really good lesson for me to have learned when I was 21. I'm so grateful that I didn't have to sit in sickness and sit in depression until I was dead.
Gabourey decided not to go back to school after this. She needed money. Her therapist suggested she try telemarketing. Gabourey took her advice, sort of.
GS: And I found a job as a phone sex operator. I think my audition call - the first call, like, this guy is like, "Eh, my dick is so hard" or whatever, and I had no idea what to do with a hard dick. Like, yea, I wasn't a virgin but, like, what do I know? I don't know. I certainly don't know what to do in person. I don't know how to describe it over the phone. But what was great is that I'm on the phone, you can't see me! And so I would do most of my calls with a Cosmo Magazine and also a - it was called like Cherry Pie or something - some like porno magazine, where all these - I mean it's just like photographs but it's graphic in nature and so it was really easy to just describe what I saw.

AS: Do you think that job helped you as a performer?

GS: Definitely. Certainly. Because I was never - um, almost never was I a black girl on the phone. Never. No. And, like, I want to be very frank about this. The people that ran the company, most - I want to say 95% of them are black women. But we were not allowed to have black voices on the phone. We'd have a white voice.

AS: What's your white voice sound like?

GS: (Laughs) Pretty much this. Okay, so there are a bunch of different lines, and so I got to try on a lot of different voices. Like, for a college girl, my voice would be more like this: 'You know? I would just end every sentence with an upward inflection, because I'm just kind of - like I'm really cute and stuff like that but I'm also like a little bit dumb' (laughs). But never a black girl. Although there's a line - so, I'm telling you, there's like hundreds of lines that filter all into one company and I was horrible at the black girl calls.

AS: Huh.

GS: Why? Because of racism. Because I am a black girl and so I refuse to 'talk like 'dis so that you can believe that I'm a black girl and have an attitude because that is rude because I've written this shit.' So, like, that felt really -

AS: Uncomfortable, yea.

GS: I mean, I would not do that.

AS: So you're both, like, learning about what it is to be an object of sexual desire and you're learning about being a performer without your body being a part of the equation.

GS: Mmhmm. Yeah, gosh, that's a trip.

AS: Yeah, what did that feel like?

GS: I felt like I could be really really powerful, as long as you could not see me. Which is a really interesting thing to come from when you become an actress. To go from, you know, this brunette with a heart-shaped butt and, you know, really perky titties. To go from that to being the face of, you know, dark skin, black girl, from the hood, as Precious, who is, you know, a sexual abuse survivor. I think that was heavier than I allowed myself to know it was at the time.
Coming up, Gabourey talks about getting that role, just as she was settling in at the phone sex company.
GS: And so it felt like, this is life. This is what I'm supposed to be. But it also felt like a trap because everyone gets a girl number and my girl number was 1266 because I was the 1266th employee hired by the entire company. But number two was still there. Number five, number 20, number 100 -- they were all still there because they were trapped.
Thank you to all of you who submitted life advice questions for our live show last week with comedian Hari Kondabolu and his mom Uma. It was really fun, and they gave really good advice.
UMA KONDABOLU: Just get to know each other and once you trust that he has a sound judgment and means well, then decide.

HARI KONDABOLU: And if he - and if he flips out about this, well then, you know -

UK: Then he's not the guy.

HK: Right, and find out whether you can get it annulled (laughs).
We'll have that in the podcast feed next week, or you can watch the video now on our Facebook page.
An email came in after that show from listener who we think you might be able to help out. Marlena is 46 years old and she's on her way to becoming a stepmother to three boys. She's never been married or had kids before. She's wondering how other people have handled that transition to becoming a step-parent. She wrote, "It's seems like such a culturally fraught relationship, and that there are so many ways to have things go wrong." So send us any lessons you've learned about step-parenthood -- what you've done right, or what you've done wrong. We'll put your advice in our newsletter next week. If you don't already get it, go to deathsexmoney.org/newsletter to subscribe. Or just text the word NEWSLETTER to 69866. We love watching you help each other out in the Death, Sex & Money community, which by the way, includes Gabourey Sidibe.
GS: I'm such a huge fan.

AS: Oh, oh!

GS: I've listened to almost - nearly every single episode of Death, Sex and Money.

AS: Are you serious? That's awesome!
—
This is Death, Sex & Money from WNYC. I'm Anna Sale. In the eight years since Gabourey was cast as Precious, she's been working steadily in big-budget movies like Tower Heist and on TV in American Horror Story, The Big C and Empire. It's something Gabourey never could've imagined when she went to an open audition for Precious, and then got called back to meet director Lee Daniels.
GS: And after, you know, half an hour, maybe 40 minutes just talking to me, just interviewing me, he just gave me the role without a third audition. He just gave it to me. I was just praying that whoever and whatever I would be would begin. Because I had a feeling-

AS: Begin, you said?

GS: Yeah. I just wanted who I am and what I was supposed to be and my purpose to begin.

AS: I mean Precious was a huge cultural phenomenon. You're nominated for an Oscar, you're all over red carpets everywhere and you are being consumed as a product of media and talked about and picked apart. How did you deal with that?

GS: I'm so happy I got that whole pesky panic attack thing, you know, outta the way.

AS: Yea.

GS: But it was really - you know, it was really - it was really hurtful. And it took a while for me to learn that I was never going to out-talent - I was never going to out-talent the fact that I should be skinny in, you know, somebody else's eyes. That I was never going to be funny enough to make people forget that I'm fat. It's not something - I always say confidence is not something you can set and forget. You have to work on it every day and put it on like lipstick. There will always be comments. The Internet is not going away. Thank God because I'm always bored but still. It's never going away.

AS: (Laughs)

GS: Dealing with it has gotta come from inside me.
Gabourey decided to get weight loss surgery about a year ago. She'd considered it earlier, in her early 20s, but had just finished treatment for her eating disorder. Doctors told her she wasn't a good candidate then, because surgery can cause you to throw up after eating and could trigger her bulimia.
GS: I remember thinking I really screwed myself. You know, I really screwed myself out of not being - you know, I'm no longer able to have this surgery because I really messed up. And I stopped thinking about it for a while but I started thinking about it again when I was 27 because I - I think - people think that I don't care that I am bigger. That I don't notice and I've been fat since I was, you know, very young. Four, five years old. The bulk of my family is big. I know. I'm worried. Strangers think that they're more worried about me than - and it's like, 'Can you chill? I'm very aware of what's going on with me.' And people think that I'm lazy, but I have been working - Lee gave me my first trainer. Like the day he hired me he was like, 'We'll get you a trainer.' He was like, 'We gotta get you on a regimen and get you healthy, and we'll -' you know, and he was sending me to yoga instructors and sending me to dietitians because he was like, 'Not only do I want to get you through the filming of this movie. I want you to be a star after. I want this to be your first of many roles.' And so - you know, he's on my team, he's on my side, he always has been. But we had to do reshoots and what happened - I remember I came in one day and the pants they had for me were just falling off of me. And so they had to put pins in them to keep them on. And he was like, 'Hey, baby, we have reshoots coming up in about three weeks, how much weight have you lost?' And he was like, 'Can you just stop working out? Stay right where you are because we can't have you lose any more weight. And I think that if you ate a little bit of cake that, you know, we won't be in so much trouble.' And so -

AS: Wait, getting that instruction, how did that feel? Cause you're - you're doing all this work, you changed your habits, you're losing weight...

GS: Yea. It was - I don't think it was initially devastating. Like at that moment I probably felt kind of dope about it.

AS: Cake!

GS: Like, 'Yesss, lost so much weight, they hatin on how much weight I lost! Cause yes!' Like I kinda felt like really proud of myself. Because I also didn't realize that stopping and backsliding would be a fall down the mountain, you know? I gained all the weight back and then some. And then even more some.

AS: How did you decide to get the surgery and how did you understand the risk that you were taking?

GS: So it happened very quickly. I knew that the - well, one of the risks are, death is definitely a thing to worry about. Different complications and, you know, also I - whether I wanted to or not I am a fat actress. And that's like kind of the realm that I'm in even though my career is not about my body but that was definitely a worry that I had. I didn't tell my manager or my agents. I didn't tell anyone.

AS: Oh, you did it in secret?

GS: I had the surgery in May and my mom didn't know until September.

AS: Why?

GS: Because I - a few reasons. I had made up my mind and I didn't want space for anybody else's mind to be made up about it, and so I wanted my opinion and my comfort and my safety to be the only thing that mattered surrounding the surgery.

AS: How would you describe your relationship with your family when it comes to money?
GS: I mean, what I'm envisioning as you said that, I envision myself standing on a patch of grass out in a field and there's a brick wall next to me and on the other side of the brick wall is my family.

AS: Hmm.

GS: And it's like, you know, eight feet across but they can come around and I can go around there but I won't (laughs).

AS: How come?

GS: I - I really, you know, it's so odd. Money is so odd. And it's so strange. It continues to befuddle me because I have some. I'm not rich, I have some. But my family has the same amount as they did when I was living with them. And if they ask me for money I'm just as upset as if they don't ask me for money and need it. And so it's a very strange thing. It's very strange and I'm still trying to work out my feelings around it. But - but I want my family to have a better life and I want them to be good and I want them to not worry but the idea of them not worrying fills me with so much worry. Because even if I help them out of a jam or pay their rent or this or that I - I'm so scared about whether or not I'll be able to do this the next time. You know? I don't know what will happen. Who can I turn to to help me out because there's not one person in my family that I can depend on the way they can depend on me. Financially speaking.
Gabourey says in her book she earned about $30,000 from Precious and it went fast. By the time Oscar season came around, she was walking alongside the world's most famous actors actors on red carpets.
GS: With zero money in the bank. Yeah. And not that I spent it on frivolous things. I just didn't spend it on anything good. I couldn't buy a car, I didn't even drive then. I couldn't buy a house or apartment, like that was insane. And so I think that I - what I did with the money was I got out of credit card debt.

AS: Uh-huh.

GS: (Laughs) That's it.

AS: That's it.

GS: End of list (laughs). I had a debt - this is so stupid. I had a debt from Crunch Gym, from the membership that I signed up for. And, like, I remember the bill wasn't even - the debt wasn't even that big but it definitely went to like a collection agency. But it was maybe - it was like $3000 or something. And I remember the day I paid it off because the creditor, like, she would call me once a month and I was doing like a, you know, monthly thing and I called her and I was like -- I forget her name, lets call her Lisa -- I was like, 'Lisa I'm gonna pay the whole thing off now.' And she was like, 'Whaaaaat?' And I was like, 'Yeah!' And she was like, 'What happened, did you get a promotion?' And I was like, 'Girl I got a movie!' And she's like, 'Whaaaaaat??' (Laughs) And she was like, 'That is so good for you!' She was - Lisa was so happy for me.

AS: I love picturing Lisa going to see Precious! She must have been so proud!

GS: I hope she was (laughs). But that is all I did with the money. That's what I did with it, yeah.
That's Gabourey Sidibe. Her new memoir is called This is Just My Face: Try Not To Stare. You can also still see her on the show Empire and check out her turn as Ella Fitzgerald on Comedy Central's Drunk History. We loved it and think you will two. The link is on our Facebook page.
Death Sex and Money is a listener-supported production of WNYC Studios in New York. I'm based at the Center for Investigative Reporting in Emeryville, CA. The team includes Katie Bishop, Emily Botein, and Andrew Dunn. We had help this week from Derek John and Destry Sibley. The Reverend John Delore and Steve Lewis wrote our theme music. I'm on twitter @annasale, the show is @deathsexmoney. And again subscribe to our weekly newsletter. Go to deathsexmoney.org/newsletter.
Gabourey says she'll always be a New Yorker at heart. But she also loves a swimming pool.
GS: I swim. I can swim a lap in 21 seconds.
So, when she bought a place, it was in LA.
GS: Oh my God, I'm so fancy. I have a white picket fence and bougainvillea tree.

AS: You do?

GS: And I'm embarrassed by it, honestly. I'm like - if a friend comes to my house and I'm like, 'Yeah, it's the one with the white picket fence. I mean, it's stupid. Nevermind.' (Laughs) And like all of my friends are like, 'It's just a little on the nose, you know?'
I'm Anna Sale, and this is Death, Sex & Money from WNYC.
Copyright © 2019 New York Public Radio. All rights reserved. Visit our website terms of use at www.wnyc.org for further information.
Music Credits:
"Take That Instrumental" by Paul Fischer & Michael Redict
,
"In the Backroom" by Blue Dot Sessions
,
"Lull" by Blue Dot Sessions
,
"Separate Ways Remix" by Willbe
,
"Lemonade" by Broke for Free