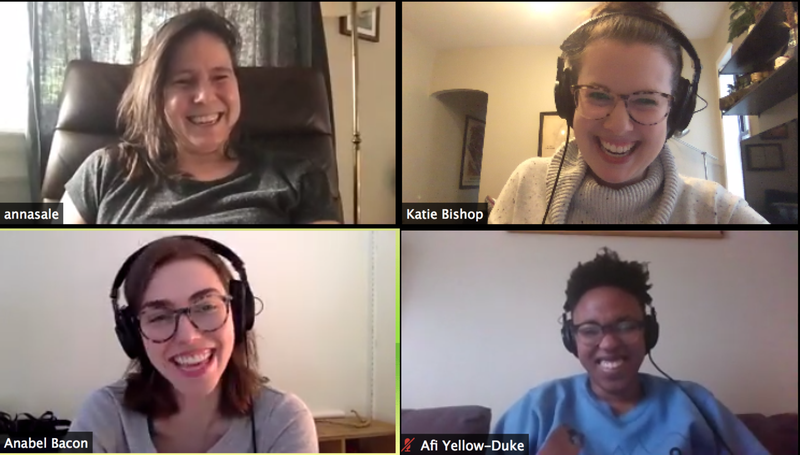 Transcript
ANNA SALE: Y'all, 2020. Holy -
This is Death, Sex & Money.
The show from WNYC about the things we think about a lot, and need to talk about more.
I'm Anna Sale.
And we are doing something different this week. This episode is about things we've thought a lot about and talked about a lot as we have made it through this wild year. This time a year ago, I was just back from a packed work trip to New York City, where I jammed my days with lunch dates, in-person meetings, crowded subway rides, holiday parties, and a fun-filled recording with the entire Death, Sex & Money team, where we were stuffed in a studio together in New York.
One positive thing we can say about 2020, I didn't have to do many work trips. The show saved some money on our travel budget. We also had some expenses that we did not expect, like a conference call line that wouldn't crash, what we now call the "magic cord," which allows me to record conversations through my smartphone.
We did a lot with that magic cord.
In 2020, we wanted to show up for you, be with you, so we made many more episodes this year than we ever have before. When, like a lot of companies and businesses, there was less money coming into WNYC, our home station. So, for this year-end episode, I didn't get to be all together with the team in a studio. But I talked with each producer one-on-one over Zoom about what we made and how we made it. And we'll catch you up on how some of the people you met this year have been doing since we last heard from them.
As you listen, think about if you can donate to what we do here at Death, Sex & Money. We've heard from many of you about how this year is more challenging financially than ever, so we get it if you can't. But if you are someone who has some extra money at the end of the year to put towards things that you believe in and want to support, we hope you'll go to deathsexmoney.org/donate and make a year-end contribution. You'll be supporting this incredible community of all our listeners, including those who don't have any left to give at the end of this tough year. Go to deathsexmoney.org/donate and give what you can.
I want to bring in Anabel Bacon, producer for Death, Sex & Money. Anabel, hello.
ANABEL BACON: Hello.
AS: When I think about this role that you've had on our small but mighty team, I think of you as the person who has really pushed us to tell stories in new and different ways. Do you think of your work in that way?
AB: I hope so. I've definitely felt pushed, and I've felt like I'm learning new things as we've all adapted to what the show can sound like this year. Early on, one of the things that gave me a lot of comfort just in my own life was hearing from listeners in the inbox and staying in touch with people in the audience as we were all going through these huge changes. I remember, early on, we got a great suggestion from a listener who said, "Hey, you remember all those spreadsheets that you do with us? Can we do one that's a toolkit for getting through all of this together?" It was such a good idea. We ended up making it. Watching that in the early weeks of the pandemic, fill up with suggestions of things to do, things to watch, things to cook, I think there's even a tab that's things to think about or say to yourself to keep grounded during all of this, it was special because the idea came from a listener. And for me, it really felt just like something to find out what are the unexpected ways we can be hopefully helpful to people.
AS: I loved that pandemic toolkit too, and I still look back at it every so often like, "What should I cook tonight?" I also love the way that it pushed us to one of my other favorite things we did this year. That prompted a listener to say to us, "Not all of us are having this experience of being at home and having everything taken away. A lot of us still have to report for work. And we have a lot of things that we need too. We need a toolkit on our own." That led to this incredible episode that you worked on.
AB: Yeah, the essential workers episode. I remember we made the episode really quickly. We put the question out, maybe on a Friday or something, and we said, "If you're still going in right now, if you're still working out in the world, what is it that you need?" I remember opening up the inbox frequently over that weekend after we put the question out and just listening to voice memo after voice memo, and it was so clear that listeners had something really important to say. One of my favorite voice memos that we got, I want to play a little bit of tape from. It's a listener named Jackson who called in. He works in a bookstore. Here is what he said.
Jackson: I know that I'm not really on the front lines like the healthcare professionals, and grocery store workers, and janitors out there doing the really dangerous stuff right now. I feel lucky to be able to send books to people who may be stuck inside or maybe are still going to work and need something to take their mind off of what's happening when they get home. I'm just trying to do my tiny, tiny little thing that maybe is helping somebody feel something or learn something, or just have a page to turn.
AS: I remember hearing that and I remember thinking like, "Who are we featuring in this episode? Who's essential? Who's a frontline worker?" I really liked that set of questions that it made me ask. Who has to show up for work? Who wants to show up for work because they want to continue serving the people they serve? Just how is our whole economy organized? It led to me thinking about a lot of things about whose safety and health was being protected, whose wasn't.
AB: Yeah, and also how do we prioritize what our needs are because there's very obvious set of things like food and medicine that people are going into work to provide us with. Then Jackson talking about people who also need an escape during this time. They need something to give them a break from everything that's going on in the world. I felt that very strongly. I've been doing a lot of reading, watching, listening this year. I'm so grateful to people who are going into work so that I can keep doing those things.
AS: When I think about 2020 and what I've hoped this show has acknowledged, is that taking care of our mental health right now is - a lot of us are having to find new tools and find new coping mechanisms because of both the scale of the challenges that are coming at us and also that some of the coping mechanisms that we've relied on in the past are not available to us. That's what I think about when I think about the series you did with Amanda Clayman in our Financial Therapy series. I feel so proud about that because that came at a time when I feel like a lot of our listeners were like, "I have all this stuff, these feelings around money, and I have no idea where to put it."
AB: I loved working on that series so much. It was serendipitous because we had been working with Amanda prior to the pandemic and we had an idea for a series already, and then everything blew up and we realized this is actually more necessary than ever. One moment that I really remember from that series that I've thought about a lot is, in the episode that we did with a woman named Frenchie, who was talking about how to decide how much financial support she could give her family. Let's just listen to a little bit of that.
FRENCHIE: It's difficult to sometimes separate myself from being the one that always has to have it together because I also ask, if something happens to me, is anybody going to be able to support me? Right now I feel like the answer is no.

AMANDA CLAYMAN: I want to give that thought a moment because that's a thought with a big feeling underneath it.

Frenchie: Yes. I have a friend that recently experienced a health crisis, where she had to get emergency surgery. I keep thinking, if I were to have one big emergency like that, there would be no recourse of support for me.
AS: That's a listener named Frenchie, along with financial therapist, Amanda Clayman. I love that tape, Anabel.
AB: Yeah. Isn't that something everybody is thinking about this year in different ways? It's the oxygen mask question on the airplane. How do you take care of yourself? How do you take care of the people you love? What's a good boundary right now? I don't feel like I have that figured out. I really appreciated hearing someone articulate it like that.
AS: Mmhm. Anabel, thanks for everything you've done this year.
AB: Thank you. I wish that we had gotten to see each other in 2020, but I am holding out -
AS: [laughs] Isn't that weird? My last time I went to New York was December 2019. I haven't seen any of you in person this whole calendar year.
AB: It's weird.
AS: You should know, I'm looking really great. [Laughter]
AB: You can't see me right now, but I'm wearing the same pair of overalls I've worn basically every day since July. It's been rough. It's been a rough year.
AS: You can find links to all the episodes we're mentioning here in the show notes, and there's also a link there to our pandemic tool kit. In that spreadsheet, you all told us what was helping you through this time when everything was changing. We also talked about that with many of our guests this year. Afi Yellow-Duke is another producer on our team. Hi, Afi.
AFI YELLOW-DUKE: Hi, Anna.
AS: Hi! Afi, you produced a live show on Zoom that we did back in October that really hit on this. It was with Tracy Clayton and Josh Gwynn, co-hosts of the great podcast Back Issue, where they talked specifically about what was bringing them joy during this miserable year.
AYD: Yeah. For people who don't know, Back Issue is a podcast that dives into the memorable or cringe-worthy moments in pop culture and does kind of like a behind-the-scenes look at how those moments came about. But in the taping, they talked a lot about how to navigate comfort and mental health, and self-care during the pandemic. The way they've done that, which is very similar to their show, is through looking back at the media and the shows that they're nostalgic for.
AS: Let's listen to that.
JOSH GWYNN: I noticed that I was turning more and more towards characters that I already knew, that I didn't have to put the work into getting to know, storylines that felt familiar, as opposed to jumping into a new world, that felt impossible. I found myself watching a lot of stuff that I loved as a teenager or as a kid.
AYD: It was kind of like the overload of the pandemic this year really made it easier for them to go back to these shows from their past, from their childhoods and their youth.
AS: Yeah. I love how you said that - "the overload." That's really what I heard them saying. The way they talked about that was like, oh, this isn't regression. This is going back to something that is deeply comforting and deeply grounding, when you go back to the media that was with you when you were coming of age. Afi, I have a question for you. What has been the media that you've been surprised to see yourself going back to in 2020? What's been comforting to you?
AYD: I uh, rewatched all of Gossip Girl in the spring.
AS: [laughs] I did not know that.
AYD: I did!
AS: Um, the other thing that I thought was really cool that Tracy and Josh talked about, Tracy in particular, I hadn't thought before about how having depression and struggling with depression in the years before 2020 actually helped her feel like she was set up with more coping tools than, perhaps, others because she'd had to learn how to deal with when the bottom fell out and how to take care of herself. Here's Tracy talking about that.
TRACY CLAYTON: I was just like, "Oh, this is going to be a breeze. I've been training for this. This is my version of like a - what is one of those things that people do when they run a lot? Marathon. It was like, "This is my version of a marathon."
AYD: She also talked about realizing that that sort of energy and that sense of preparedness only lasted for so long. She shared a bit about the way she made a certain - a part of her home a place where she could find refuge.
TC: I just thought about things that make me feel good physically. I like really soft things. I love, oh my gosh, gravity blankets, weighted blankets. Oh my gosh.

JG: Weighted blanket gang!

TC: I think Josh has heard of them.

JG: Weighted blanket gang!
AS: Afi, I just got a weighted blanket, and I have to tell you, it's the best thing. It is the best thing.
AYD: I need to get a weighted blanket. I am jealous of everyone who has one. [Laughter]
AS: This, of course, was just one of the live shows that you produced for Death, Sex & Money this year. It was something you developed a real specialty in. You also produced a live conversation that was really one of my favorite interviews of the year with the Nigerian writer, Akwaeke Emezi. Can you talk about why you wanted to have them on the show?
AYD: I have been a fan of Akwaeke's work since I read their debut novel, Freshwater. I think that was in 2018. Like Akwaeke, my dad is also Nigerian. I did not grow up there, but it was really exciting to me to be reading a queer Nigerian author. It was really exciting to hear them share their process until becoming a writer, how they almost didn't become a writer. They also talked about how they're taking care of themselves this year. They actually recently bought a house in New Orleans, and they talked about how the garden that they are building out there has been a really special place for them.
Akwaeke Emezi: Working outside puts me in a neutral space. I just kind of float. I can't actually meditate because I find it very irritating and frustrating to try and meditate. [Laughs] Gardening is the closest I can come to it, where I'm like okay, I'm just listening to music, I'm not thinking about anything. I'm just working with the land. I'm working with these plants. I can spend hours like that.
AS: I just love that. Afi, something I think about that you were really involved in in the show this year - an episode I really loved that I was not very involved in at all myself - was what you did with our listeners who come from immigrant families, talking about the conversations they've been having with their families this year. I just wonder if you can, when you think back on making that episode, what sticks out to you about it?
AYD: I feel like I was really like - like so many people this year was really struggling this summer, and was really struggling with how to talk about the protests and how to engage with them, especially as not only a Black person, but also someone from an immigrant family. I was thinking a lot about how navigating the conversations that so many people are having about racism and politics in 2020 get complicated by the variety of identities that people hold, especially for people like me who are in immigrant families. I was having these conversations in my own family and with my friends who were also from immigrant families. I really was just curious about what our listeners were talking about.
AS: How's your family group chat going?
AYD: It's good. I feel like today it's been a little quiet. [Laughter] We have an offshoot group chat that is - I'm revealing a separate group chat that's just my siblings and I. It's mainly when we want to plan things for my dad, like surprises. That has been very active because we're trying to figure out what to get him for Christmas.
AS: This episode will come out after Christmas, so he will already have known what your plans were, that you were plotting.
AYD: Yes. The surprise will be revealed.
AS: [Laughs] Well Afi, thank you for everything you've made, and thanks for being such a joy to work with. Here's to a new year.
AYD: Here's to a new year. [laughs]
AS: Before we turn the page to that new year, if you are making year-end charitable contributions in these last few days of 2020, we hope you'll remember Death, Sex & Money. Go to deathsexmoney.org/donate, and you can see our thank you gifts there, including our new diner-style Death, Sex & Money mug.
If you decide to give monthly, $10 a month is our most popular level. You'll become a sustaining member of Death, Sex & Money. We have some fun plans for events and activities with members in the coming year. Give now at deathsexmoney.org/donate. Thank you so much.
Coming up, I talk with producer Katie Bishop, and we share some updates on a few of the people that we got to know on the show this year.
STACIE BERGWERFF: Hi, Anna. My name is Stacie Bergwerff, and I'm calling from Ottawa, Ontario. I recently became a sustaining donor almost five years since a friend insisted I would absolutely love your show. Clearly, he was right and giving back to it was long overdue. I'm excited to be turning 50 next month, a birthday I wasn't confident I'd see after a very serious run in with cancer when I was 41. I appreciate every episode of Death, Sex & Money, but the ones that really moved me are with people who have overcome deep pain and trauma. To a person, your guests are able to be open because you truly understand how to listen, and you make space for the truth, no matter how messy it can be. That is such a rare gift that you share with us, so I thank you. I wish all your listeners peace and strong health in 2021.
---
DOUG SACRA: Hi, this is Doug Sacra from Wayland, Massachusetts. I gave this year to Death, Sex & Money because I think you're exploring difficult subjects like how to reduce police shootings, or how to have tough conversations with my wife. We really need to get better at having difficult conversations with people on the other side of an issue in this polarized society of ours. I like Anna Sale's empathetic way of asking the hard questions, and listening really hard for the answers is a perfect start. Thanks for doing what you're doing.
AS: This is Death, Sex & Money from WNYC. I'm Anna Sale. In this episode, we are looking back at some of the things we've made in the last year at Death, Sex & Money, what we've been through together, and how things are shifting slowly but surely as we look ahead to next year. I want to bring in our fearless leader, executive producer, Katie Bishop. Hello, Katie.
KATIE BISHOP: Hello.
AS: First, Katie, I just want to tell you, thank you.
KB: Thank you.
AS: Thank you for everything you've done during these long, hard months. Katie has been leading our team, all while also raising a two-year-old and working out of assorted home arrangements.
KB: Well thank you. It's been quite the journey. [Laughter]
AS: I want to ask you, Katie, when you think about 2020 and the tape that we collected that sticks out to you, what do you think about?
KB: For me, the way I've always felt about working on this show is that the greatest joy comes from our listeners and from our inbox. I have felt that more this year than I think I ever have. One of the episodes that we worked on, actually, two episodes that we worked on that really come to mind are our Skin Hunger episodes, where, along with the team at the podcast Love and Radio, we asked people to tell us how they were feeling the lack of physical touch in their lives during the pandemic. As usual, our listeners responded. We heard from a lot of people with so many different stories. We heard from a single mom by choice in Chicago. Her name is Lillian. She wrote to us in the summer. She'd been quarantining alone with her infant son. She was on maternity leave when the lockdown began there, and she was really feeling the lack of - she was feeling one-directional touch toward her infant son and not getting a whole lot back at that point. Luckily, she talked about how her cousin, who she's very close with, had let her into her pod to a degree. At that point, she described feeling a little bit like a side chick. It was a secret arrangement. I just think that probably resonated for a lot of people out there who were with infants during the early pandemic.
AS: Katie, when we first asked that question, I thought we were going to hear a lot about sensual touch and the lack of sensual touch and missing that. Then to hear from a single mom about what it's like to give comforting touch and give comforting touch day in and day out to your young child and just to ache for it back, it felt so real. In the way that Lillian had to figure out how to ask for that for people whom it wasn't their automatic obligation because she wasn't in their household.
KB: Yeah. We often stay in touch with the people that we have on the show. I recently reached out to Lillian, asked for an update, and she sent us this back.
LILLIAN: My cousins have decided to incorporate me and my son into their household so I do get to see them indoors and at their house. This no longer feels like a side chick, which is great. That has been a huge relief for me to know that I have people that I can see on a regular basis and see inside, and have that contact. I don't think I can emphasize enough how much that means for my sanity.
AS: I'm so glad she's no longer feeling like a side chick.
KB: Me too!
AS: Also, that she has somewhere to go inside. Gathering is different now in the winter. The risks are even higher for figuring out who you can feel safe gathering with.
KB: And as someone with family in Chicago, gathering outside - not much of an option in the winter months. [Laughter] Really glad for Lillian.
AS: Katie, you do such a good job keeping in touch with the people we hear from. Also, when you work with somebody on an episode and you're booking them for an interview, you really get to know each other. One other person that I think about a lot was a woman named Sharron, a listener who is a certified nursing assistant, who we first heard from when we did that episode about essential workers, about how people were feeling about having to go into work at a time when a lot of people were being told to stay home. We heard from Sharron about her fears about her health.
KB: Yeah - after she sent that first voice memo to us, she told us later that it really made her realize how worried she was. She was really concerned about getting sick and the possibility of not being there to take care of her daughter, so she ended up making a lot of changes. She took some time off, then she worked with her supervisor to change her role at the hospital. Now she's working in an operating room, where all of the patients she sees have been screened for COVID. I think she feels just a lot more comfortable in that environment.
AS: And just recently, she sent in another update about what's happened in her life since we talked.
SHARRON: Soon after recording on the podcast, I started seeing a therapist. My company is offering a special program for its workers, which I completely took advantage of and has been helping me tremendously. I feel a little lighter about the situation. Well, I did. Unfortunately, it feels like a slow decline again. The anxiety of not knowing what's to come in the next few weeks is starting to take its toll on me a little bit, but I'm trying really hard to stay positive.
AS: Sharron, we are thinking about you right now and all the healthcare workers that we got to know this year. One other person, one last person that I think about when I think about someone I talked to about work and fearing getting COVID and what the consequences of getting COVID would be was Shelby Harris, the football player for the Denver Broncos, the NFL player, who also had health complications that made him particularly vulnerable, chronic asthma. Since I talked to him in our Game Changer series about how athletes were making it through this year, he did test positive for COVID and had some time off. What's going on there?
KB: He ended up being off the field for about four weeks, first, because he was exposed, and then because he did test positive. But he's been back on the field. He's been playing really well. There's renewed chatter about him scoring a really big contract again next year. So we'll see.
AS: Katie, I did not expect to be checking the injured list from the Denver Broncos when the NFL season was getting started, but I felt very personally invested and still do in Shelby Harris' career and his health. Shelby, we wish you the best, and hope your recovery keeps going and your season keeps going as well as it has been going. Katie, thanks for talking to me about all this. Again, it's so fun to make this show with you. Also, I hope the listeners can hear the ways that you think about them and try to take care of them, and also can hear the way you take care of us as a team because this show would not happen if it were not for the way that you do your work and the way that you are, so thank you.
KB: Well thank you so much. It's been quite an amazing year working together. [Laughs]
AS: There also have been moments, I will say, when I call Katie and she says, "Uh, I was just laying on the floor, [laughs] just taking some deep breaths."
KB: That too. [laughs] That too.
AS: That was executive producer Katie Bishop. You also heard producers Afi Yellow-Duke and Anabel Bacon. I also want to give a big shoutout to our sound engineer, Andrew Dunn, who does all the mixing and sound design on our episodes, and has managed to make our show still sound good even though I have not been in a real recording studio since March. Thank you to Andrew, and to Emily Botein, our benevolent boss who has looked out for us all, always.
Thank you for being along with us this year. If you can, please pitch in and join your fellow listeners in supporting our work. Your contributions make a huge difference, especially right now. Go to deathsexmoney.org/donate, and help keep our show going strong in 2021.
We'll even send you a thank you gift, like our brand new diner-style mug. My parents donated earlier this year and recently got theirs in the mail. My dad told me it's his new favorite way to enjoy his morning coffee. Thanks, dad. Thanks to all of you for chipping in. We are not through this pandemic yet, but we will help each other through whatever's next. I wish all of you a happy and healthy New Year.
I'm Anna Sale, and this is Death, Sex & Money from WNYC.
Copyright © 2020 New York Public Radio. All rights reserved. Visit our website terms of use at www.wnyc.org for further information.
New York Public Radio transcripts are created on a rush deadline, often by contractors. This text may not be in its final form and may be updated or revised in the future. Accuracy and availability may vary. The authoritative record of New York Public Radio's programming is the audio record.
Music Credits:
"Careless Morning" by Blue Dot Sessions
,
"Enter the Room" by Blue Dot Sessions
,
"The Poplar Grove" by Blue Dot Sessions