After My Brother Avonte Disappeared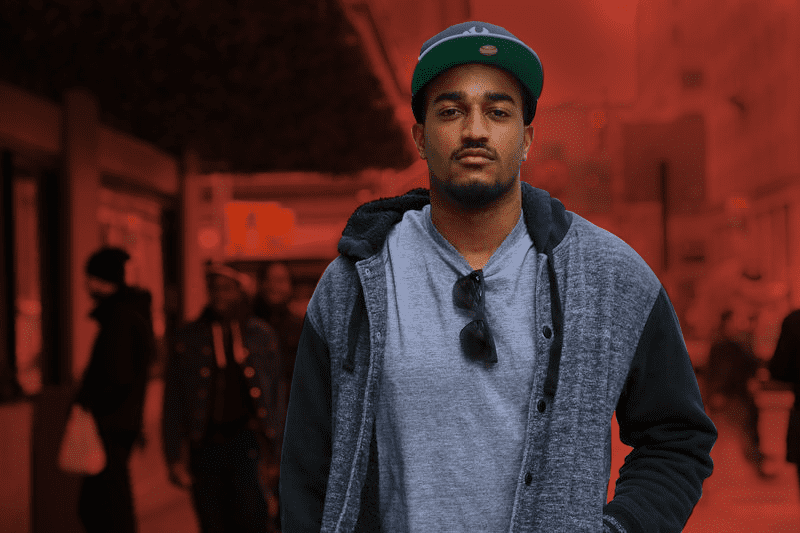 Transcript
Danny Oquendo: I'm not super religious. But you think God giveth and he taketh, right? And he takes something away and he gives you something special in that same year. So it was a rollercoaster.
This is Death, Sex & Money.
The show from WNYC about the things we think about a lot…
…and need to talk about more.
I'm Anna Sale.
In early October of 2013, a 14-year-old boy named Avonte Oquendo disappeared from his public school in New York City.
News clip: Police are still asking for the public's help in finding a missing teenager...

News clip: Avonte Oquendo walked out of his Long Island City public school on October 4th...

News clip: He is autistic and nonverbal...

News clip: How he even got outside the school is being investigated…
Missing person flyers with Avonte's school picture papered the city…search parties scoured train stations and parks looking for Avonte.
One of the people helping to direct the search…was Avonte's older half-brother, Danny.
DO: Anyone on subways, they're going to be with Esmeralda. Anybody in cars, you come to me...
And this is his story -- about what happened after those desperate weeks of searching…when the adrenaline and the headlines faded…and Danny Oquendo was left changed.
Danny didn't grow up with Avonte. After his parents split up when he was a kid, Danny lived with his mom in northern New Jersey. He was their only child. But he'd spend summers in Queens with his dad and three half-brothers, including Avonte. Danny was 12 when Avonte was born.
DO: I just remember how playful he was. How much he enjoyed, you know, play wrestling and watching music videos and just how kinda happy-go-lucky he always was.

AS: When did you realize that there was something different about Avonte?

DO: Uh, we pretty much knew once he had turned 2 or 3 and he wasn't really talking, um, he's - he was nonverbal, so when it came to a point where it was like, well, he should really be talking by now. That's when a lot of the - an intervention started happening with doctor visits and eventually he was diagnosed with autism and we were told why he wasn't speaking.

AS: Did you get the feeling that he kind of saw you as his big brother? Like, when - what would happen when you would come visit?

DO: Um, he would kind of almost attack - like jump on you, and he would check my pockets for candy and he - yeah, there was definitely a relationship there where he knew I was family, or brother, if he had a concept of "brother."

AS: Did you have candy in your pockets ever?

DO: Sometimes. (Laughs)
Danny was the oldest child in his family…on both his dad and mom's sides. It had its perks.
DO: I was sort of a golden child, I guess you could say.
It didn't hurt that Danny was also a football star.
Game clip: What a great catch at the 49 yard line, going up high it's number 17, Danny Oquendo. Wow.
Danny was a wide receiver at the University of Maryland. He got playing time even as a freshman. And he was noticed on the field long before that.
DO: I was pretty much getting recruited freshman year in high school, eighth grade - before that, even. I kind of felt like I always had what it took early on in high school. You always have the - I guess the dream of playing the NFL and you know, making millions of dollars and having your family set.
Growing up, money was sometimes tight. Danny's mom did administrative work in schools...but it didn't always cover all the bills.
DO: I'd say we were at the higher end of lower-class, I guess. You know, trying to cusp the middle-class. You know, almost there but not quite there.

AS: What was it that didn't quite feel secure?

DO: Um, I - you know, we always had food on our tables, we always had clothes on our back, um, but now and then, you know, you'd get a late rent - a late rent - rent request. You know, you'd get knocks from the super, you know, kind of, "Pay your rent, pay your rent," so those little things here and there that you knew that things are a little different than for some people. Lights turning off.

AS: Did that happen?

DO: Yeah. A few times here and there in my life.

AS: Like, how would you understand that as a kid?

DO: Maybe there were a few times where I was a bit embarrassed, but I think for the most part I was always a very, very proud kid. And I don't really have an ego, but I knew that my mom and my family were always doing everything they could for us to always have food on our plates like I said, so. I never really get - let something like that get to me.

AS: It's interesting that you say a "proud kid."

DO: Yeah.

AS: What do you mean?

DO: Um, just proud from where I come from, proud of who's in my family, proud of who's taking care of me, and proud of the things I do, so I would never let a moment where someone else's, I guess, vision of what life should be like kind of - kinda craps on mine.
Danny has a quiet intensity about him. There's none of the showmanship that some wide receivers can be known for. But his focus is clear. In the end, though, his professional football dreams got derailed by his own body.

DO: I tore my LCL, my lateral collateral in my - my left knee. And um, I had a heart procedure also around that time for a, uh, hole in one of the tubes in my heart. So I'd be out of breath. There'd be a lot of dizzy spells on the field, off the field, and they eventually just, you know, we can correct this pretty easy, and they did.

AS: Did that ever feel like something that could be, um, a really serious problem when you're exercising that rigorously?

DO: Yeah, I think so, it'd almost feel like you're having - I've never had a heart attack, but it feels like that's what it would feel like, definitely. Like you have to stop what you're doing or else you're gonna really hurt yourself.

AS: I mean, you don't hear about football players getting heart surgery during the off-season.

DO: Yeah.

AS: It's unusual.

DO: After my last season, maybe a few months after that, I kind of, like - you know what, I don't wanna, I don't want to be on this grind. And just called it quits.

AS: Was that scary?

DO: I guess it's - when you're playing something for so long, it's scary to, you know, you're done with it. So it's - it's like, wow, what's - what's next, or - that's really done, so it's - it's something that you have to get you have to get used to. You know, playing football since you're five years old, so - then, when you're twenty-one, after fifteen, sixteen years, it's that's it? I was done with college that - that, um, fall of my last season. So I was d- I had nothing, yeah.

AS: When you went to college, what did you think you were gonna do after school?

DO: I didn't think about it so much. I know my mother had wanted me to go and get into law school and be a lawyer, um. That could just be her golden child attitude about me. But as someone who didn't have to pay for college, I was extremely scared of having to pay for law school. You're talking $35, $36,000 a year, and I just didn't feel comfortable taking out the loan to go at the time.

AS: And this is like, 2008, 2009? So you - so yeah, you graduated right when the economy was falling apart.

DO: Yeah, exactly, the perfect time.
Like many other college graduates around that year, Danny needed to move back home after school. His dad had moved to Florida, and Danny wanted to take the opportunity to reconnect.
DO: Growing up at my mother's household I guess I never really got the chance to really live with my father and my father's side of the family who all lived down there in Florida.

AS: Did it feel like something was missing. Like you just hadn't quite developed like a deep relationship with your dad?

DO: So when you're a child it's - you're always yearning for that time, you know, no matter how much love is shown, when you're, when you're with a parent or you're with a loved one, if that time's not there sometimes, it's always going to feel like, well, I feel like there's some time missing. And it - it sucks, cause you're, when you're a child of parents that are separated, you know, the amount you see them sometimes is based upon how the parents' relationship is, so. The better that relationship is, the more you're gonna see the other parent. I guess I was looking to have some of that time back.

AS: Did you call your dad and say, "Can I come live with you?"

DO: Um, I didn't say, I don't think I asked, I said, I'm coming to Florida. I'm coming to Florida, dad. He's uh - and he's ecstatic, this is what he's always wanted, too. He always counted down until I was 18 until I could make my own choice to live with him.

AS: You said he was counting down until he was 18?

DO: Yeah.

AS: Did he tell you that?

DO: Oh yeah, he'd tell me that all the time. He's like, I can't wait until you're 18 and you can come live with me, and it's gonna be your choice, and we're gonna have father-son time.
In Florida, things fell into place for Danny. He got a good job with an electronics recycling company, he eventually got his own apartment, he spent a lot of time with his dad. And, he had a girlfriend.
DO: We actually went to prom together in high school and we dated for awhile in college and then after a few years living in Florida, um, she came down to visit a few times and we kind of just sparked things back up.
Then came a phone call from New York. Danny's brother Avonte was gone.
DO: Here and there he'd get out the house. But it was never anything for more than ten or twenty minutes. So once we heard that he was gone for, you know, a few hours, we knew something was different.
Our last episode was about Mike and Susanne, a married couple who went through heroin addiction and recovery together. Those aren't their real names.
We heard from a lot of you afterwards, about how addiction has touched your lives. Megan sent in a voice memo from Florida. She got addicted to heroin when she was 21, and spent 7 years trying to get sober.
Megan: In December 2013, I decided it was time to stop for good. I went to treatment for one final time, and joined a 12-step fellowship when I got out. I've been in that fellowship ever since and use it as part of an everyday life that is now completely not what I imagined it would be. I absolutely never thought that I would be able to function as a normal human being, let alone a successful human being.
Megan went on to work as a counselor for other women trying to get, and stay, sober.
Another listener, Katie, in Boston, works at a methadone clinic.
Katie: The episode gives me hope that listeners will hear the voices of real people and that your hearts will be touched. It is horrible that Mike is facing charges. But that doesn't undermine his and Susanne's story, and the major accomplishment they have made by working on recovery.
The charges Mike is now facing are not drug related; they're for sex abuse of a minor.
We heard from a listener named Adryan in California, who wrote in about a friend who's currently serving time for a sex offense charge. "I struggle with the reason he's there," Adryan wrote, "But I also remind myself: a mistake doesn't define a person, but how they deal with those mistakes proves who they are."
We'll follow what happens in Mike's upcoming trial, and what it means for Susanne and their family.
On the next episode, we'll bring you our live show from Brooklyn. Actors Rosie Perez and Mahershala Ali, and comedian Hari Kondabolu were there with their family members. Plus, singer Lisa Fischer performed live and Dan Savage gave me some more real talk.
Dan Savage: You will instantly become the Democrats and Republicans the second the baby is born… and the problem is, if I can rant for a second…

AS: Rant ahead!

DS: If you don't realize that's what you're doing, it can destroy your relationship.
—
This is Death, Sex & Money from WNYC. I'm Anna Sale.
When his dad got the phone call that Avonte had run away from his school, Danny Oquendo wasn't surprised at first. Avonte was a kid who often wandered. On a school form, his mom had written: "Please make sure you keep an eye out; he likes to run."
DO: Usually everyone's on high-alert, you know? He's not gonna run out the door when, you know, he's got people there and all the locks are on the door, um, there's an alarm - there was an alarm on the door, so.

AS: What do you understand about what would trigger him to wanna flee?

DO: Uh, I don't think it's sometimes, I don't think it's something in particular a lot of times, um. Sometimes it could just be a comfort level. Um, so I think it's - it's something that'd be hard to put - kind of put your finger on. You just - you don't really know. Some autistic kids are just wanderers. And that's what it is.

News clip: They canvassed the streets and surveyed the air. They scoured the East River, even looked in sewer drains.
The search for Avonte eventually expanded throughout New York City's five boroughs. Subway conductors announced a missing person alert on trains…
News clip: The NYPD has expanded its efforts to find the boy, especially here in the subway system since Avonte was known to like trains.
A van drove through neighborhoods blasting Avonte's mother's voice from a speaker.
News clip: Hi Avonte, it's mom. Come to the flashing lights, Avonte…
Danny coordinated volunteers, who fanned out from Avonte's school. For weeks, Danny held out hope.
News clip: If you knew him, you know why we're out here. And we'll be out here for as long as we have to. Until he's found.

AS: When did the adrenaline first run out?

DO: I'd say it took at least three - three weeks. Three weeks to four weeks, um, of us kind of, you know, sleeping outside, sleeping in our cars, um, you just kind of start to lose hope. You're really just - you're desperate for anything. Any kind of news. You really start to be - become disheartened.

AS: Why were you sleeping in cars?

DO: Uh, it was literally non-stop. You know, there was always volunteers coming to the school to see any ways that they can help and we were sort of pointing people in different directions of where to go and where we haven't searched yet and we never wanted to leave that site, so if we weren't looking for Avonte or pointing volunteers of what to do, where to go, we were just literally sleeping right there at that school.

AS: Like, what was it like with your - with your dad doing that during the search?

DO: Uh, I mean, it's - it's good that - I mean it felt good being there with him, you know, searching for Avonte, but, you know, you still see - look on his face, the distraughtness, how emotional he was getting, the weight we were losing - uh, it was - it's - it's hard to explain. He was just visibly distraught at all times, so it's, you know, on one side, you know, we can't find Avonte, we can't find a brother, and on the other side I'm looking at the faces of my father, and my other brothers, and his mother - uh, it's - it's just a sadness from each direction.

AS: Did you get angry?

DO: There are pockets where you get angry. You know, angry at the school for allowing this to happen, angry at any particular employees that might've allowed this to happen. You know, usually the sadness overcomes - overcomes the anger. You know, it's, you get angry for a second but that just turns into sadness.
After about a month, Danny's leave from work ran out. He had to go back to Florida.
Fall turned to winter. More than 400 tips came in to police. Avonte was still missing. Then, three months after this had all started, on a cold January morning…
News Clip: The NYPD's boats were back cruising the East River...

News Clip: As the family of Avonte Oquendo clings to hope...

News Clip: Police came upon and later removed human remains on the shoreline of Powell Cove Park...

News Clip: Tests have now confirmed the human remains are those of missing autistic boy Avonte Oquendo...

AS: What did that - to have an answer that was the worst possible outcome - what did that feel like?

DO: It was terrible. It was like someone dropping 1,000 pounds on your head. You know, especially after everything we tried to do to find him, all the other answers that we were looking for and hoping. You know, there couldn't have been any - any worse news than that. That - you know, he died drowning. You know, the last person in the world that deserves at all, to die one of the worst ways - it - terrible.

AS: Was there a service?

DO: Um, yes, we had a service.

AS: What was it like?

DO: Um, it - was depressing. I mean. Just seeing everyone that's - for the past four months, you know. Looking, looking for Avonte. Just seeing the changes for everyone's body and everyone's demeanor. Um - I've never been a part of anything that was as sad at that was. As uplifting as it was to be able to - to say goodbye with all of our family there, it's just - it clearly had taken its toll and it was hard. I had a break down moment, you know carrying his casket out into the um - into the hearse. Thankfully we have a great support system in our family, just picking each other up when we go down.
After all this, Danny started to feel Florida was just too far away. He decided to come back home.
DO: It felt important to sort of attempt to rekindle all my relationships with my family members. I wanted to make sure I told everyone that I was related to, or that I love, that I loved them.

AS: Are you close to Avonte's brothers?

DO: Um, yeah. Um, it's been hard lately, after Avonte's disappearance, it's been hard to remain close, um. Everyone sort of goes through tragedy in their own way and you know, it's - it's been hard there trying to mend everything and pick up the pieces. So that's still - that's a work in progress.
The loss also brought him closer to his girlfriend, Ileana. They quickly moved in together in New Jersey, where she works as a pre-K teacher.
AS: What is it about her that you think makes you two work?

DO: Um, she's very different from me. So I think in - in that, not to say a cliche, she sort of completes me. All the things that I'm bad at, you know, she's - she's great at.

AS: Like what?

DO: Um, so in regards to any kind of I guess talking, emotions-wise, she's very good at getting that out of me. Um. I'm just disheveled chaos, and she's an organizer. While everything's occurred with Avonte, she was probably one of the - one of my biggest support systems. And was just my net to fall on whenever I felt so down I didn't want to keep going.
Losing Avonte also gave Danny renewed focus...for his career. He spent his first summer back working with a local law firm that specializes in cases involving children with developmental disabilities.
DO: You start to see a lot of the holes that exist. And you want to do whatever you can to fill them. It's just it - it's a very flawed system.
Danny decided it was time to try law school. He enrolled in New York Law School a year and a half ago, while also holding down a full-time job.
AS: Is your work paying for your lifestyle now and student loans are paying for law school?

DO: Um, actually, I'm on a scholarship at New York Law School now. Um, after my first year I finished at the top of my class, so when that happens, they give you a full ride. Um, so I don't have to pay for law school anymore, so.

AS: Is this the hardest you've ever worked?

DO: Yeah, yeah. Definitely. It's - it's been very hard. Every day I walk into school, you know, I'm reminded of the reason I'm walking into the school. Um, every time I finish a test he's who I think about. He's who motivates me.

AS: Do you have picture of him in your home?

DO: Yes, I do. We have a few. There's one where he's taking a selfie. That's one of my favorites. Um, so I have that one hanging up in my office.

AS: When did he take the selfie?

DO: Um, I'd say a year before that. Um, he did it on the ph- on an iPad and it's just a cute picture. You can tell - he's looking up at the camera and smiling. It's a great picture.
A few months after Avonte's body was found, Danny and Illeana found out they were having a baby. Their daughter, Savianah, was born the day before Danny's first law school finals.
DO: Every new thing that my daughter does, it's - it's - brings smile on my face ear to ear. So, you know, she's starting to say, "I love you Dada," every time I leave the house.

AS: As far as like, your parenting style, are you - are you exceptionally focused on keeping your child safe?

DO: Um, yes. For sure. You know, we have like little child locks on everything in the house. From dressers to the toilets. Just, it might be a little - a little hyper. In regards to, um, my protective parenting style. But better safe than sorry.

AS: Does Ileana have a similar style?

DO: Mmmmm... no. No, she tells me to simmer down. You know, and I hope the older she gets the - the less - I guess the less worried I become. But it's hard to say.
Danny Oquendo. He graduates from New York Law School in 2018. He and Ileana are expecting another baby, a son, in May. They're planning a wedding for next summer. You can see their prom picture on our website at deathsexmoney.org.
Since Avonte's disappearance, New York City's installed some 18,000 door alarms in schools across the city as of late last year.
Death, Sex & Money is a listener-supported production of WNYC Studios. The team includes Katie Bishop, Chester Jesus Soria, Emily Botein, Hannah McCarthy and Andrew Dunn.
Special thanks to WNYC's Beth Fertig for her help on this episode.
The Reverend John Delore and Steve Lewis wrote our theme music.
I'm on Twitter @annasale, the show is @deathsexmoney.
Also—if you like the show, subscribe on iTunes and leave us a review. It helps other people find the show. And maybe you all knew this, but we just figured out—you can leave an iTunes review directly from the podcast app on your phone. Just search for Death, Sex & Money, click on reviews, then click 'write a review.'
AS: Do you say "oh-ken-doe" or "oh-kwen-do"?

DO: Um, I kind of interchange, um - it's really, it's "oh-ken-doe," that's how you say it in Spanish, but over the years I've just kind of got accustomed to saying it [02:00] the American way, "oh-kwen-do."

AS: Letting other people tell how to say your...

DO: Ah, pretty much.
I'm Anna Sale and this is Death, Sex & Money from WNYC.
Copyright © 2019 New York Public Radio. All rights reserved. Visit our website terms of use at www.wnyc.org for further information.
Music Credits:
"Inessential" by Blue Dot Sessions
,
"Warm Up Suit" by Broke for Free
,
"Heart Ache" by Broke for Free
,
"Mobile" by Blue Dot Sessions
,
"The Spirit Wooed" by Robin Allender
,
"Miei" by Broke for Free