I Felt Like The Story Had To Change: Life After Heroin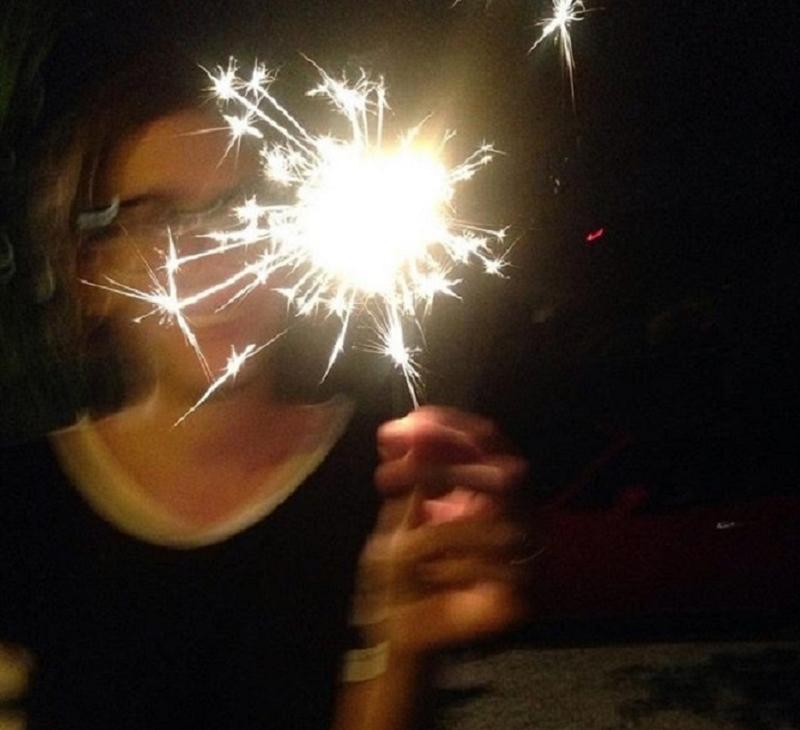 Transcript
Danielle: It's like you're on a subway, and you're on a local and you're just kind of going down the line and you fall asleep or you have your headphones on and you don't hear it. But it turned into an express somewhere. And then you wake up and you're in Coney Island and you're like, how did I get here? That's kind of how it felt. Like, one day I was just like, and now I'm doing heroin every day.
This is Death, Sex & Money.
The show from WNYC about the things we think about a lot...
…and need to talk about more.
I'm Anna Sale.
I first met my friend Danielle in 2009. We were both living in Brooklyn, and we carpooled together to see a friend preach at a Unitarian church in Queens.
D: And...

ANNA SALE: We went to IHOP after.

D: We went to IHOP after. We totally did.

AS: That was when my marriage was falling apart.

D: That's right.

AS: And you were at that point like a year sober.

D: I was a year sober. Just over a year, probably a year and a half. But I remember I was in like the drudges of OKCupid dating-nightmare-hell. And so we both had a lot going on.
I didn't know Danielle when she was using heroin, and we never really talked about that time in her life. And I wanted to know more about it, because there are so many stories of people who get stuck in that period of using. Danielle didn't. She's been sober for years.
When we met, I didn't think of her as an addict. She was my first friend who was a New Yorker, who could teach me about this place I'd just moved. She's from a town on Long Island.
D: Merrick.

AS: Merrick. What's Merrick like?

D: I don't….Merrick is, it's very bland to me. Very beige. Lindsay Lohan's from Merrick. Debbie Gibson. Amy Fisher. That was a big one.

AS: This is the funniest collection of people.

D: I know. I know. (AS: It's very descriptive). We're proud of all of them. We're very proud of all of them.
But as a teenager, Merrick never felt like a comfortable place for Danielle, even though she had a lot of friends in the local punk scene and her family was always close.
D: It was not for lack of love or support, but I just felt very isolated. I felt very alone. I felt very misunderstood. But I just was always kind of looking for, why am I in so much pain? Like, why is life so hard for me? And I just I think I just really kind of threw it back at my parents' faces. They were the easiest targets, you know? Especially my mom, like I turned it on her.

AS: Did you and your mom get along?

D: No. No no no.

AS: And what would you all fight about?

D: Anything. Everything. She asked me to do the dishes you know, "No!" Big fight, how I talk to them, the attitude... the attitude was a big thing, you know. My room was in the basement. I remember her standing on the top of the stairs yelling at me. Me from the bottom, I would blast music really loud. But I was still kind of a good kid through all of this. Like, I was still really good at school and still tried really hard in my classes, and drinking and drugs weren't playing part at that point. I kind of like wrapped myself up in the straight edge stuff. I would always go, "I'm not straight edge, but I hold their values," which I don't even know what that means. I don't even... but you know, I didn't want to hold myself to any sort of promise. But I think I was actually really scared of drinking and drugs, like I kind of had a sense that it wouldn't be pretty. So I held off. You know, people started drinking, kids in my school started drinking in junior high, and I really didn't start until probably 11th grade.

AS: And when you started drinking, was it like drinking drinking?

D: It was pretty immediate that it took a big part of my life. Like, it started to turn like every weekend. I remember the first time getting drunk I was in a park-- it wasn't even a parking lot, it was just like a strip of road out in Roslyn, New York with a bunch of kids that I met at shows. And I got a 40 of Olde E and just drank it. I got drunk. I made out with a boy. A friend got mad at me that I made out with that boy. So I got into a fight with a friend. I fell down and I hurt myself. And I started hysterically crying in front of everyone at a diner and I woke up being like, "I wanna do it again!" It was so much fun, you know?

AS: And then when did your mom first get sick?

D: She got sick kind of around the time I went to college, and it was that year. So right after I graduated high school, she got diagnosed with Hepatitis C and liver failure and it was very, very quick. But honestly I also was just starting college and I remember just being so shoved up my own ass, like I don't really think I paid all that much attention. I was just kind of in my own world.

AS: Were you still arguing?

D: Yeah. We were arguing about doing the dishes. Stupidest stuff. Really, really pointless....and within a year she had passed.

AS: It was Hepatitis C.

D: Yes. You know, after she died my grandma said something to me that was totally mind blowing, where she mentioned something about how my mom was a drug user and she probably got it from that. And I had absolutely no idea. She said it off the cuff, just kind of, "This is what you get for using drugs." And I remember sitting in my living room looking at her and being like, what is she talking about? Because the mom I know, when I asked her if she ever used drugs, told me that she smoked weed once and didn't like it, you know. And so all of a sudden I'm getting this new information, like the day after she passes. And so it turns out that when she was 18, 19 she had become addicted to heroin and was shooting up. And I was actually really mad at her for not telling me herself.

AS: When did you start using hard drugs?

D: It was a slow build, during that whole time. I remember finally feeling like, you know, like I said, my whole life I was kind of looking for the reason that I was in so much pain. And, it sounds horrible to say, but I remember when my mom passed kind of feeling a sense of relief because I was like, oh I finally have my thing. I have my baggage that I've been looking for. I have this mom who passed who I didn't get along with...pity me, you know. This is it. And I'm going to run with it. So I did, and I just used it as a ticket to drink as much as I wanted to. And then I think it started... I met my now ex-boyfriend at the age of 21. And we just kind of used the same way, we both like--we met in a blackout and made out in a total drunk stupor and he kind of introduced me to more like the Xanax and OxyContin and Vicodins. And once you start doing that kind of stuff and you start doing it a lot, heroin starts looking kind of cheap. So you move to that, and it just was a progression.
Danielle's drug use escalated quickly after she graduated and moved to New York City with her boyfriend. That was where they discovered drug delivery services.
D: You can call a number and they will bring drugs to your apartment. Once that started, it was the beginning of the end. That was when the real fork in the road, thankfully, happened. I was 25, I was working in advertising and hating it. I would go to work sick. I would throw up at my desk. I'd do drugs in the bathroom. My job was simply answering emails. I was an executive assistant at this company and every time an e-mail came in I would want to have a panic attack and like cry because I couldn't handle anything. Yet somehow I maintained the job and...I was dirty. I wasn't showering, I wasn't eating well, I didn't brush my teeth. It was like a complete nightmare. Looking back it was like if I kept going, I have no idea. I don't think I'd be alive.

AS: What was the moment when you decided to get sober?

D: Well, it started, my friend Meghan said something to me that kind of shattered my denial. And I just didn't think anyone knew what I was doing. I thought I was the world's best actress and that no one knew. And so she told me that, she basically just said no, people know. You know, and I was humiliated, and I had so much shame. Like, as much as I could have, you know, glamorized drug use through the movies or books that I read or musicians that I idolize, in my real life it wasn't cool. It wasn't cool to be a junkie and at this time a friend of mine who was sober asked to meet me. And we met at a park and I don't know why but I was just admitting to him exactly what I was doing and things I was admitting to him I had never even admitted to myself. Like, they were coming out of my mouth at the time that I was realizing them to be true. And he took them and he listened and then he says, "OK, let's go to a meeting." So he took me to a twelve-step meeting and I was terrified. And I saw a sort of celebrity there and I saw people get into a chair fight, they were like throwing chairs at each other, and I remember thinking, this is the coolest place I've ever been in my life. I loved it. So, it spoke to me. I was like, this is it. I found my people. And it didn't immediately happen there, but about a month later I set a date and I wouldn't recommend this, but I just kinda withdrew in my apartment. And it was really painful and really gross and I started the journey then.
Danielle's boyfriend withdrew with her in their apartment. Two of their friends were there, too, to help.
D: We all had like a three-day sleepover as we were throwing up and sweating and all that stuff.
But for Danielle's boyfriend, it didn't take. Within a month, he was using again.
D: I walked in on him relapsing one day and it was terrifying. There were bags of heroin all over our apartment. And I remember sitting there in the room with a bag in my hand, being like, looking at him, like what do you want me to do with this? What are you...kind of begging him to tell me to do it. You know, just wanting his permission, and he wasn't giving it to me. So, I don't know where it came from. It was something else inside of me. But I just went into the bathroom and I dumped that out and I rinsed... he was snorting it off of a CD case and I washed the CD case off and I didn't lick it or anything, which was kind of a miracle.
Danielle and that boyfriend broke up. She moved apartments, changed jobs, and just tried to get back on her feet. And then, about a year into being sober, around when I met her, Danielle started trying to untangle all the reasons she'd told herself it was OK to use. And that led back to her mom.
D: I always knew I was going to have to deal with it. I mean, she was always there. And then I think it just started to kind of creep in. It was just something that, you know, the guilt was still so there, it was still part of my identity. That story that I've told for so long of the girl with the baggage, that girl with the dead mom, and I knew I had to change the story. I knew or I felt like the story had to change, you know, and I had to find some softness. Because it was very hard, very black and white. It was, I was a horrible daughter and now she's dead, period. You know and there needed to be some nuance, there needed to be some...some gray.

AS: When did that open up for you?

D: It really, really opened up--this is the real moment--I was lying in bed I didn't even do anything. I just looked up to the sky and I earnestly just said how sorry I was that I was not able to fully show up for her the way that she needed me to be, that I was not capable at that time in my life to be the daughter that she needed me to be, that I wished I could be now, that I know that I'm capable of. Now I'm capable of it. But I just wasn't then. And two days later I'm getting my nails done at a salon for a friend's wedding. And I look at my phone and I have a text message from a number that I don't know and it just says, 'Hi. I spoke to your mom...she wants you to know that even though it didn't work out the way that you wanted it to, she's still really proud of you and that she loves you.' Or something like that. And then went on to say other stuff that had nothing to do with me so I don't remember what it said, but it was obviously a wrong message. But in my life today I just choose to believe it. So I just say my mom texted me.
Coming up….how Danielle's life has changed since she got that text….starting with what she did right after.
D: I called that number and I left the craziest voice message known to man. I was like, "Hi. You don't know me but I think I was supposed to get your message today." Never heard from them!
----
We are in a major moment of rethinking what we'll put up with at work. It's all over the news, and I can hear it in your voices.
You know, it kind of feels like going to work in the 50s.

Don't put up with that shit.

I fucking deserve to be here.
You've been sending in your stories about your rage at work...and what you wish you could tell your younger self now about how you should be treated at your job. Here's one.
Hi. I wish I could say to Dierdre my younger self when I worked at the delivery place, no, no you don't have to take $20 for 5 guys to see your ass, which they offered. And when your boss decides to put his hand under your underboob when you're alone, that it's OK to punch them in the chest and say, you're a fucking jerk. And guess what! I'm not working here anymore. You can take your job and just shove it up your...beep!
On the next episode...more of your stories about your rage at work.
----
This is Death, Sex & Money from WNYC. I'm Anna Sale.
So I met Danielle when she was already sober, but while we've been friends there have been other changes, in both of our lives. I got divorced. I started this show. Danielle got married and went back to school. I got remarried and had a baby…
D: Little Junebug.

AS: And now you're seven months pregnant.

D: I am. Life just keeps going huh?

AS: While you've been pregnant how much have you been thinking about your mom?

D: I mean, I think about her a lot. I think about her often. I thought about her as I was preparing to prepare to get pregnant kind of. And I just had so many questions.

AS: Like what?

D: I just was curious about how it was for her, you know? Um was it, did it take a long time for her to get pregnant? Was there complications? Was it easy? Like, did she have morning sickness? You know? And I could ask my dad but it's not the same, you know?

AS: How long have you been sober now?

D: I've been sober since May 2009. So about eight and a half years.

AS: What's it been like to be eight and a half years sober, and to be seeing news coverage of the record number of overdose deaths last year, being on track again for a record this year, like, how did how do you read those stories and think about people who are affected by addiction right now?

D: Well, I see myself in them. You know, I like, I absolutely see how it happens, and how, it just kind of reinforces my feeling that it was so lucky that I got sober that it was so, like a force bigger than me in many ways, because I'm not better than any of those people. Like I didn't--I don't have a stronger constitution. I'm not more moral. I'm not, you know, smarter. I'm not anything. I just happened to hear a message and was able to follow a path and take steps and do some work and and make this change at this time in my life. You know, I see those videos of parents who are passed out or overdosing in a car with their baby screaming in the back and, you know, that especially now that affects me as I prepare to become a mom myself and a sober mom. You know, those images really stay with me.

AS: Is is your pregnancy the first time since you got sober that you've been engaging a lot with doctors?

D: Oh yeah, yeah. I never really went to the doctor before. (laughs)

AS: Has your history of drug use come up in your health care?

D: You know, it's funny, I did mention it on the first visit with the midwives. I don't want them to prescribe me anything addictive or any opiates or any narcotics if we can get around it. I just want that to be like in my paperwork. You know, in my gut I don't want to be back on drugs and I don't want that to happen. So if someone needs to hold the pill-- If I do get prescribed something, then I won't hold that bottle. Like I'll have my husband give me the pill, you know? Like, I wouldn't do it alone.

AS: How do you feel about your sobriety right now? Like how how much how much maintenance is it taking right now?

D: It's kind of taking zero maintenance at the moment. And I don't know, I just feel, I feel pretty solid in it. I actually don't go to meetings anymore. I haven't really gone to meetings in about... I'd say two years. Right around the time I got married, they started to feel a little claustrophobic and I started feeling very judgmental in them and they just weren't helping me the way that they once did.

AS: You said claustrophobic?

D: Yeah.

AS: What do you mean?

D: I mean, I would say for the first three to five years I was going to a meeting every day, at some points, twice a day, and then, you know, three to four times a week, and it just.. there were the same people, they were the same stories. Even if like the people actually weren't the same, they were the same people, you know? Like if they weren't the same individuals, they were the same people, telling the same stories. People would share like really vulnerable things, and I would just want to roll my eyes. Um, I started to just not want to hear it any more, I guess? Like, I would be sitting there with like seven years sober and they would have two years sober and they would be talking about, you know, it sounded as if they felt like they had all the answers and whatever. And I think I was rolling my eyes at them because that's how I felt when I had two or three years sober. Like I just felt like I had this new lease on life. I totally got it. I understood. And then as more years go on, you realize you don't really understand, and no one really knows, and you just kind of show up and do the best you can. I-- it just wasn't bringing out the best sides of me. So I just started to pull away from it.

AS: Do you think of addiction as still being a part of you?

D: You know, I have conflicting thoughts sometimes. I definitely can go back into my past and see how, see how I was just not able to control myself once I put a substance in my body, that there was something in me that reacted to alcohol or drugs that other people around me didn't react that way. There was a sort of insatiable hunger for it. So I do see that, and I don't pretend that that doesn't exist. But at the same time with, a little bit of perspective, I do look back and sometimes will allow myself the questioning of, maybe I was just, my mom died when I was 19, maybe I was just lost and had no tools on how to live this life, and maybe I just went a little crazy, and maybe I was just mourning my mom.
AS: Do you think about-- when you become a mother, are there parts of things you remember about your mom that you want to bring into your family?

D: Mhhm. She was really fun. When I was younger, I couldn't take it because I was so awkward and so uncomfortable so her fun felt offensive to me. But today, today I would love that. She loved music. There was always music; she was always singing in the car. She loved Motown and the Beatles. And I think that's something that I appreciate now because not every family listens to music. You don't know that that's funny that there's constantly music being played and that there's constant singing and dancing going on in the house. You know you don't know that's specific to your family until you grow up.

AS: Like, the way you describe your mom, I think of you.

D: Yeah. Now that I've kind of worked out a lot of my B.S. I feel like I'm so much like her. Like, kind of a bigger personality. Louder. Big laugh, you know, just a big spirit. I think all of those things that were not cool to an angsty dark teenager or pre-teen, you know. Now I see and I love it. I love those parts of me. I think those are parts of me that most people love. You know, I think that's what gets me gets me going in this world, is why I connect with people, are those parts...

AS: Yeah.

D: ...that are her.
That's my friend Danielle. Her baby is due next month and she'll finish her masters in early childhood education later next year.
Death Sex and Money is a listener-supported production of WNYC Studios in New York. I'm based at the Center for Investigative Reporting in Emeryville, CA. Our team includes Katie Bishop, Anabel Bacon, Emily Botein, and Andrew Dunn.
The Reverend John Delore and Steve Lewis wrote our theme music.
I'm on twitter @annasale, the show is @deathsexmoney. And find us on Instagram and Facebook too, if you haven't already.
Having a friend in recovery has taught me so much when I've been going through stuff...including a lot of the great sayings Danielle's picked up in meetings. My personal favorite: don't SHOULD all over yourself.
D: Don't should all over yourself. Yes. That's a good one. It's very much like your should less days in a way. (AS: Yes.) So they connect.

AS: But it's a little bit more edgy.

D: It's a little bit edgy, because it's edging on the word shit. Right?
I'm Anna Sale, and this is Death, Sex & Money from WNYC.
Copyright © 2019 New York Public Radio. All rights reserved. Visit our website terms of use at www.wnyc.org for further information.
Music Credits:
"Anders" by Blue Dot Sessions
,
"Gillicuddy" by Jupiter the Blue
,
"Inside the Paper Crane" by Blue Dot Sessions
,
"Black Ballots" by Blue Dot Sessions
,
"Somebody Good (Light) " by Lucy Michelle
,
"Up Up Up" by Podington Bear
,
"Filing Away" by Podington Bear