Danielle Brooks Is Ready to Talk About Sex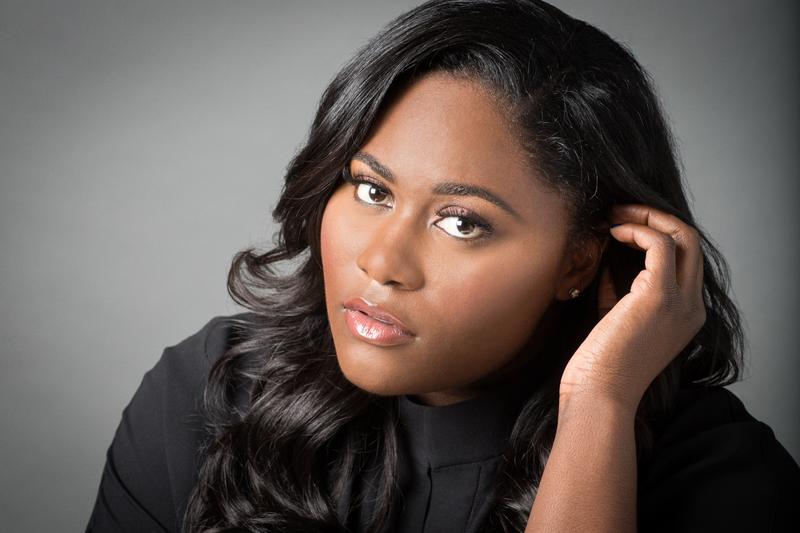 Transcript
Hi, this is Anna. And here at WNYC, the Death, Sex & Money team is celebrating June as Podcast Appreciation Month, or "PAM" for short. It's the time of year when we ask you to think about what you love and appreciate about podcasts, and what it takes to make them here at WNYC. So I'm asking you to make a donation. And I asked for help from some of your fellow listeners who've already donated to Death, Sex & Money.
Hi, my name is Ellen and I live in Mount Kisco, New York.

This is Clyde from the world's most livable city, Melbourne, Australia.

This is Rachel from middle of nowhere, China.

Hey, my name is John and I'm from Oakland, California.

I'm halfway through a bike ride and listened to your latest episode.

Any time I listen to one I write an email to somebody saying, you have to listen to this!

The first episode I heard was Chaz Ebert talking about her relationship with Roger.

I guess my favorite episode, I'd have to go back to Diane late last year, as a parent of three sons, the oldest of which has severe autism.

It made me feel like maybe it's safe to accept what comes, and that life is giving us what we need in every moment, if we're willing to accept it.

That's why I decided to support the show, because of interviews like that.

And you've got a bad-ass name and logo.

To you and the team, Anna, keep up the great work.

I can't wait for the next notification of a new episode to pop up in my stream.
Help us keep popping up in your podcast stream. Visit deathsexmoney.org/donate, or you can just text the letters DSM to 69866. It's easy, it's really quick and it really does make a difference for us. Thanks so much, and happy PAM y'all!
--
DB: Before I didn't really care about giving my number to someone. I'd actually probably rather give my number in hopes of getting a job or like making a new friend. But now I have to kind of close myself off. That was really, really hard for me.
This is Death, Sex & Money.
The show from WNYC about the things we think about a lot…
…and need to talk about more.
I'm Anna Sale.
When actor Danielle Brooks graduated from Juilliard, she was anxious to start auditioning.
DB: When I got out of school, all my agent is sending me in for is like funny black woman or the angry black woman. And that's like not what I'm interested in at all.
She's now 26 years old. Within a year of finishing college, Danielle was working on the hit series Orange is the New Black. She plays an inmate everybody knows as Taystee...
TAYSTEE: ...'Cause my pussy be delicious, like an apple is nutritious, like a Clinton it's ambitious. You wanna mess with all that? Bitch please…

DB: And even Taystee, first thing I notice of course is that she's in prison. Black woman. I'm like, "Oh lord. I don't want to do this. Do I want to do this? I need the money. Okay, let me try to see if I can do this." But then I read the script and that's when I realized that's the kind of projects I want to be a part of. Cause they're willing to make real human beings. So for me it's not even about playing a stereotype, because if you're a good actor, I think you can go further than that.
As a kid in Greenville, South Carolina, Danielle says she wasn't really aware of those stereotypes.
DB: It was very diverse. What I loved about being in elementary school was not even thinking about color and race. And all of that kind of stuff didn't even cross my mind. I do remember liking this boy when I was like five, in like pre-K. And telling my mom how I liked him and stuff. And the boy told me that he couldn't date me. And later on come to find out my mother saw the little boy and then she realized why he was saying, "Yeah, I can't date you." And it was because he was white! And I was like—I didn't think anything of it! But, I, that was the first - and I even remember—now, it's funny how all these memories come back when you start talking about things—but I even remember being in elementary school and a boy called me the N-word. A white boy called me the N-word. And I remember being crushed by it and going - finding the first black teacher I could find and be like, "He called me the N-word!" And she like - he got suspended for two days, and I was like, "Yes! Justice has been served in third grade!"

AS: But you knew you had to find the black teacher?

DB: Yeah, I did. I did. I do remember that.
When Danielle was growing up, her mom ran an after school program from their house, then became a full-time school teacher. Her dad served in the military...and eventually took a job at a BMW manufacturing plant.
Money was tight, but Danielle says her parents never let it show.
DB: My parents are - were middle class, um very much trying to get on their feet. Trying to build themselves up. But struggling. Like, my mom's car would break down all the time on the side of the road. And I remember her just praying for it to start. You know? And my dad had a truck that he, like—you didn't have to have a key to start it. You know what I mean? But they were so striving to make it. And they did. You know? They definitely did at the end of the day.
They raised their kids in a Christian household: Danielle's mother is also a minister. Her father's a deacon.
DB: My mom still has videos. My dad just sent me videos of me when I was in the church choir, and I was a hot mess.

AS: Because you were so moved by the music?

DB: No—moved by the music and just a 5-year-old that was rambunctious and had no spacial awareness at all. The videos are quite hilarious. But I loved it. I loved going. They taught me how to sing. They taught me how to speak. I didn't know what a monologue was. We had oratorical contests and they would give us a scripture or something, and you would have to kind of build your own mini-sermon and give it to the congregation. They really taught me the basics of what I now do.
Danielle's parents noticed how much their daughter enjoyed performing. Her mom enrolled her in middle and high schools for the performing arts.
And when she was 15, Danielle won a free trip to New York City.
DB: Because Bravo, the TV network, they were looking for young kids to promote diversity. And they like taught us how to make these one-minute videos.
Her dad went with her to New York, and he took Danielle to her first Broadway show. He picked The Color Purple, a musical based on the Alice Walker book about black women in the 1930s South.
DB: Cause to him, that's the only one that was relatable at the time. He's like, "Yes, black people, you gotta see this." And I remember sitting there in the mezzanine and just, with my hands on my chin and being so incredibly moved by it. Just like, "Wow, there's people that look like me on this stage."

AS: Do you remember how your dad responded to seeing you see The Color Purple?

DB: Yes. He didn't care. My dad, he's a big man. And the seats in the theater are very small. And he was so uncomfortable. So uncomfortable to the point that he actually, during intermission, stood in the back, cause he was like, "I can't do this. My knees hurt." And I was like, "Well you go do you, and I'm gonna stay right here and have this extra space, because you decided to leave, and enjoy myself."
Danielle returned to Greenville and her arts high school with a clear goal: to get back to New York.
DB: And a year later, I auditioned for Juilliard, not knowing anything about it. The only thing I knew was all of the black girls that were in the classes above me, they were all getting into Juilliard. So I was like, "I don't know what this is but all the chocolate girls are getting into this place and everybody's saying it's the best spot, so I'mma just try it." And that's how it happened. I ended up just trying it out. And I made it.
Coming up, how success has forced Danielle to rethink her relationships, including dating in her 20s.
DB: I'm in a position where people want something from me. And having to put a guard up, especially being this chick from South Carolina who really enjoys being hospitable.
KATIE BISHOP: Hey everyone, this is Death, Sex & Money producer Katie Bishop. I know, normally you don't hear my voice during this part of the show. But Anna has a pretty good excuse for why she's not here today. Let's get her on the line.
(Rings)
AS: Hello!
KB: How are you?
AS: Good!
KB: Are you four days into motherhood now?
AS: I am four days into motherhood and I just came into this room to talk to you on the phone and saw a mosquito flying around and my mama bear instincts just like totally -- I was like, you will not bite my child! And I just like swatted and killed it in the middle of the air. I felt very effective.
KB: Wow. You're superhuman now. So you're in your house in Wyoming...
AS: Mhm. With this brand new baby girl.
KB: And she's awake and looking around? What's she doing right now?
AS: She's having her mid-morning snack.
KB: Uh huh, great.
AS: This little girl June likes to eat.
KB: I love that you picked out the name June.
AS: It makes me really happy. My mom is out here and her name is June and so it's been really cool to see the two Junes together.
KB: Yeah. Were you surprised that it was a little girl and not a little boy? After the entire office was convinced it was a boy?
AS: Yeah, we were... the thing that's so bizarre about a C-section is you are behind this drape and I can feel tugging but I don't really know what's going on. And then all of a sudden they just drop the drape and there's this child after what felt like two minutes.
KB: It's like a magic show!
AS: Yeah! It was so fast. And so Arthur said, "It's a girl! Oh my WORD!" (Laughs) And then we just sort of like took a few minutes to get used to the idea and they brought her over to us. Yeah.
KB: Well, we have some business to take care of on this phone call too.
AS: Okay, let's do it.
KB: Well I figured we should tell people how this summer is gonna work.
AS: Yes.
KB: The plan is, we've been working really hard all spring and we recorded a lot of interviews and for the next couple of months we're gonna be airing those episodes. And then toward the end of the summer, we're gonna have some guest hosted episodes. And we'll tell people more about those as we get closer.
AS: I'm so excited for those.
KB: And people will keep hearing from you one in awhile too, because we'll be checking in with you throughout the summer.
AS: Yeah. I'm on maternity leave which is very important work, but I also, you know, want to keep in touch.
KB: Good. Well tell June I say hi.
AS: I will!
KB: Do you mind if I tell people what's coming up on the next episode of Death, Sex & Money?
AS: Please!
KB: On the next episode, we go inside a Planned Parenthood clinic in New York City.
I've been coming here basically my whole adult sexual life.
KB: And talk with the patients who rely on their services, from STD tests to abortions.
You know people are like, what are you in for?
—
This is Death, Sex & Money from WNYC. I'm Anna Sale.
After Danielle Brooks graduated from Juilliard in 2011, she moved in with another Juilliard graduate. They shared the rent and the bills.
DB: And we actually auditioned for a lot of the same things.
When Danielle didn't land a role, she had to find other ways to make money, including braiding her roommate's hair...for a part Danielle didn't get.
DB: Because they didn't have someone who knew how to cornrow. So I would cornrow her hair for $20 or $25 every time. I was like trying to make this money.

AS: So you didn't - you didn't get cast in the play, and then you had to ask your roommate to give you cash to do her hair.

DB: Yeah. Well she asked them, was it okay if I did her hair. So she kind of looked out for me, was like, "Hey, look, they're not doing my hair well. I know you can braid my hair. Why not, let's make a deal?"

AS: Did you have student loans when you finished school?

DB: Yes I did. I had a lot of student loans. It's funny. The only reason I was able to attend Juilliard was at the time my godmother had passed away, and she ended up leaving me $20,000 for my education. And so that was just enough for us to start paying for the first year, because my parents at the time weren't able to save money for me to go. And so when I came out of school, it was very stressful because I was now 21 and did not have a job, nor did I have any jobs before to say, "Hey, I've had experience." So it was a struggle to figure that out. But I'm a hustler and so I found ways to hustle. I was a dog walker. I babysat. I ended up getting a job at Fred's Restaurant, which I was horrible at. I couldn't even open a bottle of wine. It was bad. But they hired me and kept me 'cause I was chocolate and they needed the diversity. (Laughs) I love you Fred's Restaurant, but it is true. But that's okay, cause it kept me working. To me, actor's years is just like dog years. It can feel like forever, like, when you don't have a job. It can feel like forever. But it's really not.
In Danielle's case, success came fast. When she auditioned for Orange Is the New Black, she was initially hired for just two episodes, but producers took notice of her. So did the audience.
DB: Thirteen hours after it had aired, my life had changed. Because in the course of 13 hours, people consumed these characters and the minute I stepped on the street it was, "Oh my god! I think that's the girl! That's her!" And it got intense. It was very intense on both ends. Where it was pretty cool, you go to a restaurant and someone's like, "Hey, I got your drink," or, "I'll take care of the meal." And you're like, "Okay, this is kind of cool." And then it's hard cause you also aren't making enough money to get a car every day, so you're riding the train and these girls—teenage girls—are like, "Oh my god, it's Taystee!" And they leave you on the train as they exit, and you're left for four stops with people staring at you. Like, it's like not cool!
Not long after the first season of Orange came out, Danielle started getting a few more calls. She was the first black actress to appear in the show "Girls."
SANDY: I am a lesbian. I think.
She also played Asiz Ansari's foul-mouthed manager on "Master of None."
DENISE: I'm trying to get this money. I'm trying to get this 'Friends' money. And you fucking it up.

DEV: I'm not trying to fuck up your 'Friends' money.

DENISE: You better not fuck up my "Friends" money!
And Danielle's currently starring on Broadway, in the revival of The Color Purple. She plays Sofia, a role originated in the movie version by Oprah Winfrey.
When Danielle was nominated for a Tony this year, Oprah sent her a congratulatory tweet.
DB: I feel like sometimes it sounds like this fake fairy tale or like, "Oh, how convenient is that The Color Purple happened to be the first play, yeah, yeah." But no, it legit was!
Danielle performs in eight shows a week on Broadway.
DB: And I've been shooting "Orange" too.
So some days, Danielle works a double shift to do both. On set in the morning, on stage at night.
AS: Do you expect to make more money this year or last year?

DB: Oh this year, definitely. We bout to roll. We bout to be rolling dirty! No—every year we going up, up, up, up in every way.

AS: Have you paid off your student loans now?

DB: Yes I have! Yes, yes, yes!

AS: When did you write your last check?

DB: I wrote my last check this year, actually. I want to say it was in February. I wrote off a check for about $19,000. And I was like, "I am done with you!"

AS: That's like…that is paying your student loans off with a bang. To write a $19,000 check.

DB: And it's kinda crazy. And to think - when you look back, when I first told you, like, even for me to go to Juilliard, my godmother gave me $20,000. And to now pay that last bit and it be close to the same number is pretty cool. It feels amazing.

AS: What do you enjoy spending money on now?

DB: Oh man. I'm very much about saving. My dad has done an incredible job of teaching me how to save my money and be wise with my money. So when I do spend, it's more so like on vacations and stuff. I invest a lot in my career, honestly. Publicists and like stylists and agents and managers—they cost, you know. So I do put a lot into my career.

AS: As far as the choices you make in terms of your career, are you aware that your parents are observing the roles and the things that you're willing to do.

DB: Yes. Yes, girl, yes. Like I said, my background is in the church, but that doesn't mean that I can't have my own opinions about certain subjects and things. I'm just now starting to be okay with that. For the first time in an interview, I talked about what it was like to have sex, and just saying that is weird to me, but even in the conversation I was like, "Oh my gosh, my mom's gonna hear this."

AS: What did you say in that interview?

DB: Well, I did this thing for Ebony Magazine talking about body image. And they were wanting to know how we related to our bodies in the way of sex. And my parents know that I have been sexually active, but that's something they definitely don't want to hear or let the church hear, whatever. But let's be real. All of us have. I remember I had this Bible study teacher, who like scared the bejesus out of us about having sex, because she was like, "Anyone that enters you, they become a part of you!" And I was like, "I'm just not ready for this." So I didn't lose my virginity until college. But like, I just remember like being there and the light's dim or whatever, and saying to him like with just my underwear on, I was like, "Just be gentle." (Laughs) And then, once we got into it, you would have thought I'd had sex for years the way I was talking!

AS: Forget gentle!

DB: I know, but it started out like very, "Let's be gentle." Oh no, forget that. And basically like the month after college, I was like, "Let's get it on."

AS: What's it been like to try to figure out how to date and be in relationships when you are a public figure?

DB: Lordy, it's been hard. Like, my last relationship felt so like me being used in a lot of ways. Like they just wanted to be a part of that fame. That was really challenging. So I was not looking for love. And then it kind of found me. And that's been a beautiful thing. I'm with someone who definitely does not make me feel that way that I did before, and really is there for me. We're taking it very slow, which I think is good. And he's a man, so I don't have to—you know, it's not dealing with a child.

AS: What are you learning about sex at this point in your life?

DB: This thing that I'm in now, that it's more to it. Like I always - I've made love before, but I think where I was before getting into this relationship was I really just wanted to have sex. I didn't want to be in love. But he wanted that. And it was - I'm like realizing it's okay to allow yourself love, even when you're scared of it. And that sex can be more than just physical, or love can definitely be more than physical. We do just enjoy like talking to each other. And to me that makes me orgasm sometimes. Not physically, of course, but I have a mental orgasm when we spend hours in bed just talking, like is amazing to me. Especially to find that in a man. Because women, we just do that. You know? It's pretty awesome.
Danielle Brooks. She's in the latest season of "Orange is the New Black." You can also still catch her on Broadway in The Color Purple through November.
Death, Sex & Money is a listener-supported production of WNYC Studios. The team includes Katie Bishop, Chester Jesus Soria, Emily Botein, Hannah McCarthy and Andrew Dunn.
The Reverend John Delore and Steve Lewis wrote our theme music.
I'm on Twitter @annasale, the show is @deathsexmoney.
You can see a video of little Danielle in her church choir on our website at deathsexmoney.org. We think she has much more spatial awareness than she gives herself credit for.
And definitely check out Danielle on Instagram, where she's documented her workout sessions, photoshoots and her fashion runway debut...with the hashtag "voice of the curves."
DB: It's really challenging being in a business where it's hard to fucking find—can I cuss on this show?—fucking find clothes! It's hard! And it's getting easier, but like we're just now getting fatkinis. Okay? Like, like that is just now trending.
I'm Anna Sale and this is Death, Sex & Money from WNYC.
Copyright © 2019 New York Public Radio. All rights reserved. Visit our website terms of use at www.wnyc.org for further information.
Music Credits:
"Red City Theme" by Blue Dot Sessions
,
"Where It Goes" by Jahzzar
,
"Cold Like This" by Jahzzar
,
"The Simple Things" by William Van Dem Crommert
,
"Parking" by James Thomas Bates
,
"Dirtbike Lovers" by Blue Dot Sessions