Daniel K. Isaac Is Opting For The Gray Area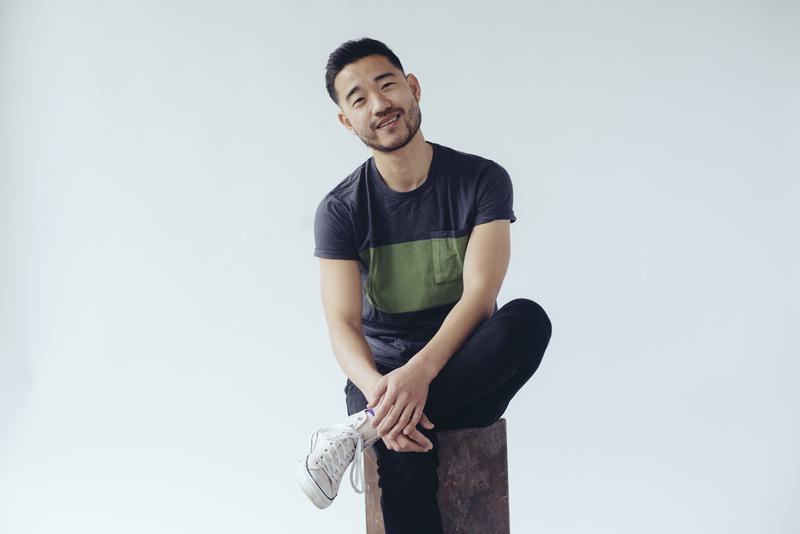 Transcript
DANIEL K. ISAAC: I didn't have a good role model or someone to say, uh, here's a different perspective on it all. And instead I so hated this part of myself. And I was going through puberty and trying to stop it at the same time.
This is Death, Sex & Money.
The show from WNYC about the things we think about a lot...
...And need to talk about more.
I'm Anna Sale.
When Daniel K. Isaac landed his role as a hedge fund analyst on the Showtime show Billions, he didn't have to go far to learn about people who work on Wall Street. He was already waiting their tables.
DI: It was a steakhouse in the basement of a building that had a lot of finance uh, folks in there. And um -

AS: Oh really?

DI: - and they started recognizing me a little, but mostly the show and then I - I was sort of unable to do my job as they wanted to talk more than they would to a, uh, to their server. And um I could be like, help me understand this thing that I don't -

AS: The jargon in the show.

DI: Yeah. But even now, I'm sort of like - it's, it's fun to to get to learn about that world.
When he was young, Daniel's world was very different. He was raised by a single mom in Koreatown in Los Angeles. They didn't have much money. He also didn't have a lot of friends his own age.
DI: I had skipped the second grade and started school early, something such that I was always two years younger than my peers and so that always sort of offset me from, um the people I was around and I think that probably relates to, uh always feeling older or or wanting to be older.
His mom immigrated from South Korea in the 1980s, and is a devout Christian. They spent a lot of time in church when Daniel was growing up.
DI: The one I was born into was the one my mom and, um biological dad got married in. And uh, I would later find out, uh pretty recently, a couple years ago, that my biological father cheated on my mother with the head pastor's daughter, um and that affair became public and that's the reason why he left my mom. But my mom continued to go to that church once a week so that I could see him once a week. That was the arrangement that she had created um for me to have some point of contact with him. Until um she tried remarrying for a short spell, um, when I was in fifth grade and that's what led us to move and my mom to find another, another church. Which I would like to think was better for her so that she's not going to the point of - of such gossip and, um, you know, uh abuse in a way, at least emotionally.

AS: When did you start to get the sense that you are gay?

DI: Uh, it was uh, dial up internet researching porn.

AS: Uh huh.

DI: So whatever that was, 10, 11, 12, somewhere around there. Um, I just remember looking at pornography and then um going towards the gay sections and thinking, oh this is where I would rather be. And that, I guess almost applied a label to it, but it wasn't until, you know, kids made fun of each other, or bullied each other or there was this fear of being labeled gay that I um, that I, that I put that upon myself. So it was pretty early.

AS: Who did you tell?

DI: I didn't tell anyone at first and then, um, I remember one of my first best friends in high school um also had a single mom. And he was, he came over to, and we were on my computer and he was looking something up and I didn't know how to delete browser history yet, and it was gay browser history that came up as he was typing in some uh website. And - and that became the point in which I, that was our access to each other that we could sort of come out to each other. Um, and - and he lived uh a block away and we were both in uh water polo and swimming together. And so then we became these closeted kids together. And then, um, I - I would eventually tell people at church. And I would voluntarily, uh, um, go through conversion therapy with them. And - and while I was doing that "therapy" in, in big quotes, I, um, I came out to my mother under the pretense that um, that I was fighting it, that it was a sin. It was a choice, and I, um, I was already taking the steps to ensure that I wouldn't be that for the rest of my life.
Daniel spent three years in conversion therapy, until he finished high school at 16 and left home to go to college in San Diego. He decided to study theater, and found a supportive group of gay friends away at school. Pretty soon, he decided he was done trying to fight his sexuality. And he came out to his mom again.
DI: And she, uh, she was very upset and disowned me, uh quote unquote, um, uh, because I told her I wasn't - I didn't consider this a sin anymore. Whether or not I even fully believed that at the time I just, I didn't want to do it. And um, and I was doing a show at the time and I remember she still came to it and um, and paraded this sort of um, uh image of a supporting and - and lovely mother and and brought flowers and she, she was wonderful in public. And the moment we were alone, um she, I remember, pulled out a Bible that was covered in Post-its, and each Post-it was marking where I had sinned or committed a sin, whether it was obeying your parents or of um, issues relating to homosexuality or - or passages about bestiality or pedophilia or whatever. And I just remember this Bible of of Post-it notes and we - we had this sort of screaming fight where she, she officially disowned me. And um, and I lived in a dorm with eight or nine other guys and um, and they were, uh a lot of them were home and sort of heard it and - and then kind of like rubbed my back as I was crying or something. And um, and - and then I just had to like figure it out. And I, I went to financial aid and was like, uh, "I'm, I've been disowned for being gay," and they were like, fill out this paperwork and here are, you know, here's a therapist um that you should go see and (laughs) -

AS: Your financial aid office had a referral for a therapist?

DI: They, uh, yeah, they were like, uh, we - either we highly encourage or it is mandatory to go into therapy. Whatever it was, it put me into therapy at the time. And um, and uh, I, I'm so thankful for that and - and for that, for those sessions um, during that time. Um -

AS: And when you say disowned, your moth-, you had no financial support from your mother at that point.

DI: No. Uh, the only thing that she did do, which was a clue for me at the time was um, she continued to pay for my cell phone bill. Like she and I were on a family plan and um, and while tuition and uh my life expenses, I - I would figure out on my own from 16 onwards, uh the cell phone she did continue to pay until I could afford it. And so, while while I had been disowned, it - it always never felt like an option that we would never be a part of each other's lives. Um, and she still hopes I'll come around and um, you know, I'm not leading her on into believe that will happen anytime soon, but um, but we try to relate to each other in other ways.

AS: Have you and your mom talked about that fight with the Post-its since?

DI: Yeah, we've acknowledged it. Um, it's something that just always comes up. You know, she's a single parent and I'm an only child and we are essentially each other's only family. And yet fundamentally we are in disagreement about this one thing regarding sexuality and faith and uh -

AS: And who you are.

DI: Yeah, yeah. Right. And uh, she likes to joke about it now or, or fight about it. And I sort of have to take it in stride and um, and that - and that first therapist was very good about, um, of, of laying out, you can either be black, white or gray about this. You can, you can have your, your life in which you are this out-and-proud homosexual who doesn't have a relationship with your mother because she is so fundamentally against this aspect of yourself. You can, um, be on the opposite spectrum where you, uh, either go back in the closet or you do choose to quote unquote fight this thing and appease your mother and have a relationship with her that way. Or you can find some sort of gray middle ground in which, uh, it requires perhaps more compromise from you as the child. And so, I opted for this slightly trickier but, um sometimes very funny and um weird relationship with my mother that takes a lot out of me at times. This isn't some like, uh, uh, easy enlightened exercise. It - it is a constant negotiation.

AS: Gray is hard.

DI: Yes, gray is hard. (Laughs) Yes.
Coming up, what Daniel isn't willing to compromise on as both he and his mom get older.
DI: I hope to be able to adopt and, and have a kid or two and be able to have the different family unit than um, than I was raised to believe was right or whole or or good. I won't let her perspective deter me from it.
—
Hey everyone, it's Katie, one of the producers here at the show. This conversation with Daniel K. Isaac was recorded right before Anna went out on maternity leave. And since it's been a couple of months now since Anna gave birth to her beautiful baby girl, Eve—we thought it was about time that we checked in with her to see how things are going.
AS: Hello!

KB: Hi! How's leave?

AS: It's been really nice. It's been like such a gift to get to be home, not just with this new little baby but also with her big sister.
Anna's got a two year old at home, in addition to her newborn. And I was curious about what she's been enjoying in the few precious moments of free time that she does have.
AS: I've gotten back into exercising and so I'm catching up on some of the podcast series that I missed. Right now I'm listening to the Startup season about charter schools which I've found to be really interesting and complicated. I'm really loving High Maintenance and Broad City right now. And I think it's just sort of like, I don't know, it's like my NYC alter-ego getting its fix.

KB: Yeah. And you mentioned you have started exercising again. Like what type of exercise are you getting into?

AS: I'm running, jogging. Sometimes faster and sometimes slower.

KB: Yeah. I don't know if you're taking Eve on the runs with you or not, but I found in maternity leave like just having a half hour here or there to get out and exercise just kind of like gave me some headspace.

AS: Yeah. Yeah. I go on walks with Eve, but when I'm exercising I'm trying to keep it a kid-free zone. Just for 30 minutes, um, which takes a lot of planning.

KB: Yes! (Laughs)

AS: - but it's worth it.
Anna will be back in just a few more months. And in a few weeks, we'll announce who's going to be filling in until then. Listen out for that announcement coming your way soon.
—
This is Death, Sex & Money from WNYC. I'm Anna Sale.
When Daniel K. Isaac moved to New York to become an actor, he worked a series of what he called "survival jobs" for eight years. He was a waiter, a personal assistant, a bartender, a caterer. He was only able to quit his last restaurant job two years ago. And he still lives modestly.
DI: I have a roommate. Um, I'm in Astoria in the same apartment I found when I first moved here. Uh, almost ten years ago.

AS: Are you serious?

DI: Yeah. I met a guy at a club who was moving to L.A. And he probably wanted to go out and I just wanted his apartment and I got it.

AS: (Laughs) And how old were you when you arrived in New York City?

DI: 20. And I was gifted a um, on my 18th birthday my friend Jin gave me his driver's license um, so that I - I could be over 21 for bars and clubs. Um,

AS: Uh huh.

DI: because he was Korean-American as well, and then um -

AS: And that was enough? That was enough for the bouncers?

DI: That was enough. It actually got worse because it expired almost right before I moved. And so my other friend, Al Evangelista, who wasn't even Korean-American, he was Filipino-American, he gave me his ID and, and that's how I made it to 21 before I was actually 21 in New York City. And he and I look nothing alike and yet I would just make sure I didn't have an Asian or Asian-American bouncer and I, I would be fine, um I was completely fine.

AS: What was your dating life like in your twenties when all of a sudden you're across the country from your mother, you are proud to be gay. What was it like?

DI: I think, I think the pride thing is a, or at least was, a constant negotiation for awhile. Um, but I, I would sort of, I, I fell in love uh very quickly with someone who then had to move to France to teach English. And then I, I dated a guy who was in the closet for our, the period of our two or three year relationship and that also felt uh like a compromise, I think in that, uh, I was trying to live my my truth, my pride, my, my um shameless self and, and he wasn't - wasn't quite there. And I stuck with that relationship for a while.

AS: That must have been hard.

DI: Yeah. I think, uh, you know, I, you, uh I think gay people are - are warned not to date someone in the closet. And I just, I didn't listen and um -

AS: Would you go out in public together?

DI: We would, uh, the rule I made was that he couldn't be closeted in my world. But what that ended up doing was sort of um segmenting our lives. I had my friend circle and he had his. And when he entered mine, he could be perhaps more uh true in, at least in that uh aspect of his identity. Um, and then when he was in his world, I, I participated as a, a friend and at one point a roommate. And um, and that uh wasn't exactly the best truth to be living um, for either of us. And uh, I think I'm still, you know, I'm - I'm just searching for what is uh, what is the best match or pairing whether it's for marriage or children. And that will be sort of my next, uh act of rebellion or, or act of truth um in being able to create a family unit that is so against what my, my mother and my upbringing um could ever possibly imagine.

AS: Have you talked to your mom about wanting to be a parent?

DI: Oh yeah. Um, I have a friend that I met right before I moved out here, um BD Wong. Um, when I first moved to the city, he would host these Saturday night dinners with his son and his friend group that are family. And my mother came to town once and he invited her, um, as a way for her to see this definitely not heteronormative family unit that, um, that was full of joy and love. And while BD was divorced from the other father of his son, um here they were uh creating family and um friendship and fostering love. And and um, she came and witnessed that and stayed very, very silent through the entire evening, you know, and, and maybe we did dishes together or something at one point. And she, she said, I feel - I feel so bad for that kid um, because he has to be raised in that family unit. She, she didn't see any of the joy. She didn't see any of the light or the love and she felt such extreme sorrow at what I had found such beauty in. And um, and, that was very hard for me to to navigate and you know, um when the like "It Gets Better" campaign came out, um, uh, I've always heard, you know, "It'll get better when you are married," and I've also heard, "It'll get better when you, or if you want to have grandkids um for her." And that was sort of the demonstration that maybe it wouldn't get better, you know, like that phrase has never really worked for me. Because I don't, I don't think she would, at least, you know, in who she is today and what she has said, um she wouldn't participate in that family unit.

AS: Have you had periods where, when your mother is - is honest with you about those strict lines for her, where uh, where it has felt actually too hard to have a close relationship with her, to have her in your life?

DI: Yeah. I, um, you know, if the phone calls ever got too hard once I was living in New York, I would just not, I would just not call her or or you know, pretend I was busy. And um, and it, it really was, it wasn't until my friends that I'd, um, I'd meet up with after a phone call and I'd be like, "My mother just said this," or or like, "I'm really upset right now because this is what just happened." And um, and oftentimes they would, they would laugh and, and it was their laughter and their perspective on the absurdity or the inadvertent comedy of it all. It wasn't until I could, um, witness this other perspective and experience how other people related to my relationship with my mother, that it, it actually helped me re-engage with her and find, find more compassion or love for her. And um, there are times where um if I'm going through something hard, I have actually said to my mother, um, I need you to be a human mother to your, your son right now. And, and try at least for a tiny period of time to relate to me in that way and not, not through any religious filter. I just need my my mother. And, and she can do that for maybe two point five minutes. And, and, and I will take them. You know, like, like in my most recent breakup, I was like, you know, this is sad, this is what I'm going through and she was like, yeah you know, four and a half years is a long time. I can see how that uh could hurt. Um, you know, take care of yourself, go eat something warm. Um you know, when your father left me, I had a hard time too. And that's enough, I guess, you know, like that's what I can hold onto. And then, you know, after two point five minutes it turns into, "But you're actually taking a step closer to God and it's all for the best, and this is all part of God's greater plan for you to become a Christian." So, you know, I just, I just, I just edit. I'll take that, that, that two minutes.
That's actor Daniel K. Isaac. The new season of Billions started just this past weekend. You can watch it on Showtime.
Death, Sex & Money is a listener-supported production of WNYC Studios in New York. I'm based at the studios of the investigative podcast Reveal in Emeryville, CA. Our team includes Katie Bishop, Anabel Bacon, Stephanie Joyce, Emily Botein, and Andrew Dunn. Thanks to Kegan Zema for his help on this episode.
The Reverend John Delore and Steve Lewis wrote our theme music.
I'm on Twitter @annasale, the show is @deathsexmoney on Twitter, Instagram and Facebook. And email us anytime at deathsexmoney@wnyc.org
After Daniel's first serious boyfriend in New York moved to France, he started dating again. And soon discovered he might have a type.
DI: I would then fall in love with someone who moved to China for work, and the guy after that moved to Germany for a year. And so, I remember one wedding speech I gave where I was like, "If you want to have an international chapter in your life, gentlemen, date me and something about me will send you to the other side of the world for you to pursue your passions there."
I'm Anna Sale, and this is Death, Sex & Money, from WNYC.
Copyright © 2019 New York Public Radio. All rights reserved. Visit our website terms of use at www.wnyc.org for further information.
Music Credits:
"Kid Kodi" by Blue Dot Sessions
,
"Thoughtful" by Lee Rosevere
,
"Looking Back" by Lee Rosevere
,
"Nothing at All" by Blue Dot Sessions