Dan Savage Says Cheating Happens. And That's OK.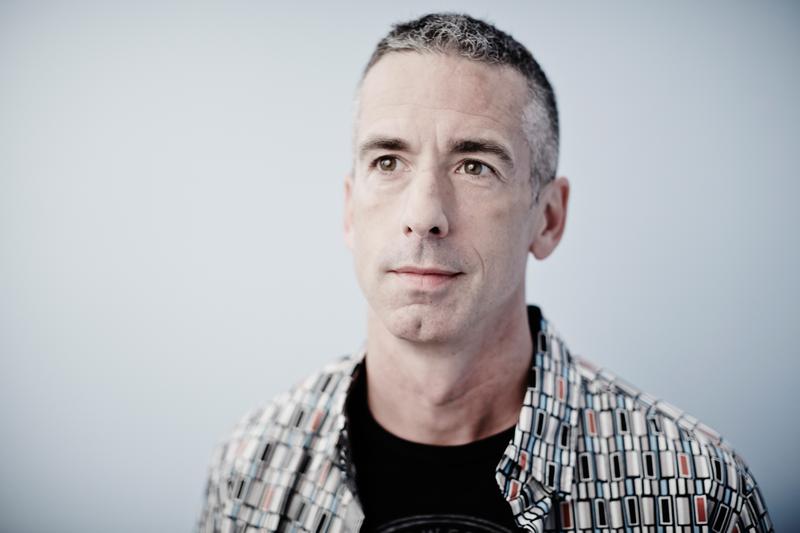 Transcript
NOTE: This transcript contains some mature language.
Parenting is like, I've compared it to having a heroin problem. When you're high, you've never been so high. But when you're miserable, you've never been so fucking miserable. This is the worst.

This is….
Death, Sex & Money.
The show from WNYC about the things we think about a lot...and need to talk about more.
I'm Anna Sale. And the this Dan Savage: writer, podcaster, expert on sex.
The joke, the idea, was, you know, I would treat straight people and straight sex with the same contempt and revulsion that straight advice columnists had always treated gay people and gay sex with. I would sneer at straight people and their horrible depressing marginal sex lives. And their disgusting and perverted sexual practices. And then give them some advice, after just riffing and joking about how icky straight sex was.

And when did you realize you were tapping into a real need?

When the mail started pouring in.
So, Dan Savage starting out making fun of straight people. But it turned out they really needed him.
For more than 20 years now, he's been answering sex advice questions. In graphic detail, with a gleeful dirtiness. So yes, this episode includes saltier language than usual.
A lot of the questions are about what's a deal-breaker, and what's worth working through. Particularly around infidelity and monogamy.
It's something Dan Savage has thought about in his own marriage. He's been with his husband Terry for almost 20 years. They married in 2005, for the first time, in Canada. They have a teenage son, D.J., and live in Seattle.
That's where he was when we talked, while I sat in New York.
I love New York, I wish I lived there. I always thought I would, then I got stuck in Seattle for the rest of my life.

There's still time.

No, there really isn't.

No?

I'm in my 40s, I'm married, my husband doesn't want to leave, we have a kid in high school, so there's just no fucking escape now. We are trapped.
This is classic Dan Savage. Clear-eyed and cynical, a gay straight-talker if you will, but playful and loving about the family he's totally devoted to.
It's how he can be both a sex columnist with a filthy mouth...and the creator of It Gets Better, a viral video series that lovingly assured LGBT kids that they aren't alone.
Dan Savage was a young gay kid that he first started giving sex advice. Men and women would come to him, because he says he could translate, and he was the only gay guy around.
I was the only out gay guy in my theater department. Wrap your head around that. The idea that there could be a big theater department with one homo in it. And I was that homo. A whole bunch of the people I went to college with came out after college, after they graduated. Which used to be the trajectory—I was a freak, I was really weird, I came out in high school. That wasn't what people did in the 80s, right? And so yeah. People would confide in me. People would tell me things. And gay people— we do know more about sex. We have more sex, we're better at it, because we have to communicate with each other in a way that straight people don't. You know, when an opposite sex couple, a boy and a girl, when they get to consent, when they get to yes, we are going to have sex -- and they stop talking to each other. They stop communicating, and negotiating. When two dudes get to yes, it's the beginning of the negotiations -- it's the beginning of another conversation. Who's gonna do what, to who? And that conversation makes us better at sex. It's not just being gay makes us better at sex, communicating makes us better at sex, and we have to communicate in a way that straight people don't have to. And I think we couldn't be gay if we didn't communicate at least that. You have to open your mouth to say you're gay.

So there's negotiating sex acts and what's gonna happen, when you're together in a room. And then there's negotiating when you're not together in the same room. You've had that conversation with your husband. You describe yourself as 'monogamish' as a couple.

To me, and maybe this is because I'm a straight woman, to me, saying to my partner, this is what I want to do with you, and these are some things that I desire with you, versus, I want to have sex with this other person that's not you. And I love you. That conversation would be more difficult for me. Do you see it as one in the same?

I don't see it as one in the same. They're very different, and they're very difficult conversations. The advantage that a same sex couple has — a couple lesbians or a couple gay men — is that the object of one's desire can also be the object of the other's desire. But a non-monogamous relationship is — they're all unique. There are different rules. A monogamish relationship, or a not monogamous relationship, can be anything from, we're socially monogamous, but if you ever do something with someone else, I don't want to know about it. Don't tell me. Don't do it in any way that you'd get caught. Don't do it in a way that's gonna humiliate me in the eyes of my friends or family or our neighbors. But if something happens—alright, whatever, be where you need to be, be where you tell me you're gonna be, love me, be there for our family, maintain our bond and our sexual connection too, and if something happens, I don't want to know.

I don't think anything goes, I don't think people should fuck whoever they want, whenever they want, however they want, I think you can have too much sex. I'm a gay man and I'm almost 50. I watched my peers when I was a very young adult fuck themselves to death. I was there for that. There's a price to untrammeled promiscuity and sexual adventuring. An emotional and a physical price. But there's a balance that needs to be struck.

How do you think coming out and going to gay bars as a teenager in the early 80's when the AIDS epidemic is just starting, and watching what happened to the gay community as you're entering it as a gay man, how do you think that shaped you?

It scared the shit out of me. It certainly rubbed my nose in the potential downside and the importance of really assessing who your partners were, and being careful, and being conscientious and being thoughtful, um —

How many friends of yours died from AIDS?

I was young — it wasn't like I was 30 in 1979. I was 15, 16 in 1979. And something that makes straight people sometimes uncomfortable…when you talk about gay life, particularly then, is that I came out at 15, 16, 17 years old. And most of my gay friends were older. My first boyfriends were older. Because my peers weren't out. I didn't have 15, 16, 17-year-old gay people. Lesbians, bis, trans folks, to hang out with. Because nobody was out except for me. So I lost people — mentors. I lost first boyfriends. And then I lost friends, I lost people my own age 30, 40 people? I moved to Seattle in 1991 and then began to make new friends. And began to lose new friends. And for a while in my cubicle, I would just write their names on this little white space next to my desk whenever somebody I'd gotten to know died. And when we moved out of that office three or four years later into a new one, there were I think 18 names there. It was still mowing people down in the early 90s, before the new drugs came along.

Dozens — to say dozens, seems, it's a terrible word to use for people.

It is, you shouldn't know dozens — you shouldn't have dozens of dead friends by the time you're 28. You really shouldn't. But I did. We did. And you were walking around, going through your day, and most of the world was getting on with it as if this wasn't happening. Because it wasn't happening to them. And so there wasn't a lot of sympathy or understanding. There wasn't much compassion. There was this attitude of, you're getting what you deserve.
Coming up...Dan Savage talks about his family — the one he built in Seattle, and the one he came from in Chicago.
He's one of four kids, born to Irish Catholic parents who divorced when he was growing up. His mother died in 2008.
One of the things you learn as you grow into middle age is, every goddamn cliche actually applies. You should have called your mother more often. We thought time was limitless, we thought we had nothing but time. Even when my mother was diagnosed with a terminal illness, she was given five years to live. And then when the five years ran out, she was given two more to live, and she was dead six weeks later. And so I have massive regrets. There are things I wish I could do for her that I can't. There are things I wanted to do for her that I couldn't when she was alive that I now could. Or I'm now in a position to do for her. And now she's not here. I would love —now that my kid's a teenager — I'd love to be able to talk to her about these years. She got four teenagers successfully through their adolescence. And I wish I could lean on her, I wish I could go to her for advice. And I can't. She was who I went to for advice, she was my Dan Savage.
Dan Savage on his mother Judy. After the break, Dan Savage talks about his father, and why it's still hard for them to connect.
We asked for your stories about money and relationships…
"Hi Anna…"
And you told me about the people you've asked for help.
"The advice of my mother and my mother's mother were that a woman should keep her own bank account in the relationship. And it also longer term makes me think, I don't know that I want to be the bread-winner, I don't know that I want to work hard all my life."
On the next episode, more of your stories about love and money.
"Ultimately, I was kind of working three jobs at the time, totally independent of my parents. I think I was 27 at the time. I decided I couldn't stick it out with somebody who was financially irresponsible. I thought about us getting married and never wanting to share a bank account with him, and I just couldn't commit to being with somebody like that. Financial responsibility and money issues are a huge thing that couples should be thinking about and talking about."
You can still tell us about the money issues in your relationships — write us, or record a voice memo on your smart phone. Send either to deathsexmoney@wnyc.org.
This is Death, Sex & Money from WNYC. I'm Anna Sale.

Dan Savage is the host of the Savage Lovecast, a podcast; he writes a column called Savage Love; and he's written multiple books about sexual politics...and raising his family.
You've dedicated your most recent book, American Savage, to your father. And it says, "Who lives in a red state, watches Fox News, and votes Republican, but loves me and mine just the same." Your mother has passed away, what's your relationship with your father like now?

We talk every once in a while? We're in a much better place than we were 20 years ago. We have a difficult relationship, or a relationship complicated by politics. He's one of those guys, 70-year-old guys who sits in front of his television set in Arizona in retirement watching Fox News. But he's a good guy and a fun guy and I enjoy talking to him when we talk, we're not the closest, but that's life. I guess. I don't even know how to talk about it. I don't want to disrespect my dad. But we never really clicked. I was estranged from my father for many years because I was gay. That estrangement didn't make me gay. I was a little faggot, I was a sissy, I couldn't play baseball, I liked musicals. I was effeminate. And that was embarrassing to my Irish Catholic cop dad. He loved me, but you could see that it was a bit more of an effort to love me? Than it was to love my brothers. And that — sensing that kind of rejection as a child, you react to it, defensively, you meet it with a little bit of rejection of your own. And it's taken a lot of effort on both of our parts to overcome that. His rejection of me, as subtle as it was, as a child — and of course I picked up on it and my reaction, rejecting him as an adolescent.

When was the last time you spoke?

Like three months ago, on the phone.

What makes you uncomfortable to talk about?

My dad. (laughs)

Yeah.

Are you still there?

I am.

What makes me uncomfortable to talk about? Money makes me uncomfortable to talk about. My parents were poor and they had four kids in Catholic school and braces all at once, and there was never any money. We didn't own the house we lived in. And things were always really tight and harrowing. So even to this day, I have hangups about money and tension about money. And spending I have a hard time with.

Was it hard for you —

But nothing else makes me uncomfortable to talk about. Talking about sex with my family makes me uncomfortable. Talking about sex with my relatives makes me uncomfortable.

So you met your husband Terry in 1995. As you're a sex columnist. You're writing about your sex life prior to meeting him. He didn't want you to write about your sex life with him.

Mm-hm. No, and thank God for that.

What was that conversation like, what did he tell you?

Well like all conversations with Terry, it was brief and bossy. Terry has a way of making clear what's a dark line. What's a red line and what's not. He looked at the column, and like all sex columnists of the 90s, I was writing a bit about my own sex life. Or a lot about my own sex life. And Terry just looked at me and said, "Well, you can write about your sex life or you can have sex with me, but you can't have sex with me and write about your sex life." And I was like, Okay, I guess I will stop writing about my sex life! Because look at you.

I wonder where that line is for you two in your relationship though, because you've written books upon books about the intimate details of your family. And adopting your son, and raising him, and conversations you've had with him as he's grown up.

I always like to say Terry is an intensely private person who married a memoirist, that was a big mistake on his part.

Where does Terry draw the line now?

Well Terry's much more open now than he used to be. Anyone who follows him on Instagram can see that. Years ago — not even that long ago, I think five years ago, one of the gay blogs had a big exclusive because they'd actually gotten a photograph of Terry. And there were no photographs of Terry online or in the wild. No one had ever seen him. And they posted this photograph, which was Terry holding our poodle, or our son's poodle, wearing a fake mustache in some halloween picture that somehow made it online. And that was a big deal, and now of course there's tons of pictures of Terry online. And he draws a distinction between what I'm doing when I write Savage Love, which is jokey and dirty, and what I'm doing when I write The Commitment, which is about our marriage. And that's a little bit more serious — there's still sometimes some jokes, I can't help myself. And so he doesn't perceive them the same way. So it wasn't as difficult or fraught a conversation as you might expect considering the law he laid down when it came to the column.

Well one of the things I know from reading that writing about your family is early on, after you adopted D.J. together, your husband Terry did most of the childcare early on while you worked outside the home, and you've talked about having cats in the cradle moments, and coming home and discovering that your son had started walking. Has that balance between you and the parenting responsibility, has that shifted as your son's gotten older?

It has. And I think this is normal. When D.J. was young, Terry was the stay-at-home dad, and whatever Terry says goes. Terry made the rules. And that's a role Terry is most comfortable with, being the boss. And now that D.J.'s a teenager, 16 years old, almost 17, you don't dictate to a teenager. You can't ground a 16-year-old successfully. You have to negotiate with a teenager. You have to reason with a teenager. And Terry's not good at that. And I am. My relationship with D.J. when he was a child was more conversational, more playful, because I wasn't the taskmaster that Terry was, I wasn't the king, the rule-maker. So now that D.J.'s a teenager, we have this rapport, he and I, about negotiation. About talking things out, about reason, that he and Terry right now don't have. And they're having to work on that. And D.J. and I don't have to work on that because it was always our thing. He'd come home at the end of the day and we would talk about his day. We would hang out and chat and I'd take him off Terry's hands. But he was already clean and bathed and back from school when everything was done. And I just had to chat with this human being who was growing and learning and developing in interesting ways. And so I continue to do that.

Was it difficult when you and Terry got together to figure out how you were gonna spend money as a couple. You've written about your joint checking accounts. You were the bread-winner when D.J. was young.

I'm still the bread-winner. One of the things that was so wonderful about the DOMA decision from the Supreme Court was this Sword of Damocles that had been hanging over our heads. It disappeared in an instant. Because I've been the sole bread-winner and Terry's been a stay-at-home parent, if I should've died, if I had died, if somebody killed me, Terry wouldn't get my Social Security survivor benefits because he was the wrong genitals. He couldn't inherit my property or keep our house without paying onerous, crushing taxes. So in addition to losing me, he would've been pauperized and he and D.J. would've both been turned out of the house. And that turned around in an instant. Suddenly, Terry's genitals became irrelevant to those questions. But money is our biggest fault line in our relationship. We still fight about money, we fight about money constantly, 'cause Terry enjoys spending money. And I don't enjoy seeing money spent. Terry is a collector. Terry has a massive record collection that's always growing, and I look at it and think, if I outlive you, what am I gonna do with all of these records? And when is enough? Like, you have more records than you could listen to in 10 years, if you sat on the living room floor just playing your vinyl. It would take you 10 years to listen to every single one of them, and you're not going to do that. And I don't have that gene, I don't understand that desire to possess a thing that has no real use or meaning. But I own three pairs of shoes and Terry owns 50 pairs of shoes. And we're just different people that way. Different also in that I have paid for every single pair of shoes in our house but I only can wear three of them. So if Terry hears this he's gonna be really mad. He doesn't like me to talk about it.

Well I —

This is what we fight about — we don't fight about sex, he can have an affair and that would not be a problem for me. But we will fight when I'm home for a week and every day that I'm home, a UPS truck comes by with a package with shoes or clothes or records in it. Which happens. And we have massive, huge arguments about it.

So from what I understand — from this interview, is that Terry is a bossy taskmaster who shouldn't go on eBay. This is how you've described your husband.

I wish he would go on eBay, because at least that's an auction. You might get a bargain on eBay. He goes on amazon, he goes on Gilt, he goes on Nordstrom. Terry is not on eBay looking for bargains. Terry doesn't have the time, there's too much shopping to do.

You're turning 50 this year, has sex in your 40s been better than sex in your 30s?

Oh my God. You know, it has. But we've prioritized it. And I don't want to be one of those, sex writers or sex people or sex advice assholes who makes people who don't have sex or don't prioritize sex or even are in sexless marriages that are happy where nobody's miserable. Two people together, it's more companionate now, they sex has sort of withered, the passions have cooled, they're content. But I don't want those people to feel like they're being judged — if you're both content, that's a wonderful working relationship. But in our relationship, the sex is still kind of amazing, we have an amazing fun adventurous life. And a sex life. And it's always been a huge component of our connection and our relationship. We've taken care of it and prioritized it. When we first got together, the handful of people we knew in common, were like, What! No. Dan and Terry? No way. We had people tell us to our faces that it would never work, because we were so different. And we are, we're really different people in so many ways. But very sexually compatible. On the same page. But that took work and time and effort, we had to carve these deep grooves into each other. Until we fit together better. We had a kid, there were some fallow periods, there were some periods where not much could happen because of logistics. We just recognized that and acknowledged it, like this isn't about not being in love or anything, this is about stress, and exhaustion, but things have been kind of amazing. And again, because we're gay, and circling back to the earlier convo about monogamy, one of the things that's kept our sexual connection really intense has been the non-monogamy. We have these adventures together. People have come into our lives as lovers and enriched and enhanced our lives. Taken us into new worlds. And exposed us to new communities. New groups of people, new groups of friends. And that's been very rewarding, and very rich. And I don't write about it and I can't write about it. Probably not even supposed to talk about it. And those experiences that we've had together, sometimes sexual involving other people, have helped our marriage last and survive and grow stronger. And you never hear non-monogamous anything get that credit. Everyone talks about non-monogamy or non-monogamous experiences in terms of a long-term committed couple as if those two crazy people are tossing a box of nitroglycerine back and forth. And that just hasn't been the case for us. The non-monogamy is not something that has weakened the relationship. It's actually something that has strengthened our relationship and the relationships of other people that I know.

And what do you want to know about me?

Are you in a committed relationship?

I am.

Are you non-monogamous?

We're monogamous.

So what would you do if you found out that he cheated, or what do you think he'd do if he found out that you cheated? And cheating is something that will probably happen. Like, just putting that out there first, the research and the data shows that roughly 50% of men, 50% of women, in long-term relationships, at some point will cheat. And those 50% of men are not married to those 50% of women. So it will touch almost all committed monogamous relationships. So what's gonna be your reaction if and when that happens to you?

I know, I mean, I read you Dan Savage and you make me uncomfortable. Because intellectually, I understand all this, I get the desire, I get that it's not rational. And I get that it's a real thing. But it—I don't know what I would do with the hurt. I have a really difficult time seeing a way outside of it being okay. Or seeing a way for it to be okay.

Yeah. My advice would be, if and when it happens, you know when people always say, when they talk about the people they love most in their lives? I would take a bullet for this person, I would walk through fire for this person — that's hurt. You're saying I would hurt for this person. In a really profound and life-threatening way. I would take a bullet. I would walk through fire. Infidelity, when people believe in monogamy and monogamy is what they want, infidelity is that bullet. So if you look at your husband and think, I can take a bullet for that man.

We're not married yet. I'm not even there.

If you look at your partner and think I love you so much I could take a bullet for you, just if and when it happens, remember that feeling, because that's the moment where you take the bullet. And some people accuse me because I'm pro non-monogamy that I'm giving get out of jail free cards to serial adulterers. And I'm not. People should honor the commitments that they make. If you make an monogamous commitment, you should attempt to keep it, attempt to honor it, do your best. And then if it happens to you, if you get cheated on, what is love and what is forgiveness if you can't forgive the person you claim to love most in the world for a betrayal that really cuts you to the core? And because infidelity is so common, these things should be thought about well in advance of them happening. Because I think if you set your mind to, that is something — as painful as it is to get through, love each other through, forgive each other for, you're likelier to actually get through it, love each other through it, and forgive each other for it when it happens. If it happens.

Dan Savage thank you so much for your time.

My pleasure.

That's all I'm gonna say. I'm not going to say any more about whether I will be able to handle it if my boyfriend cheats on me. I'm gonna leave it there.

Or if you cheat on him.

Or if I cheat on him, it's true.

Women cheat too.
That's Dan Savage. His podcast is Savage Lovecast. His column is Savage Love. And his latest book is American Savage.
Death Sex and Money is a production of WNYC. The team includes Emily Botein, James Ramsay, Jessica Miller, Henry Molofsky, Chris Bannon, Bill O'Neill, and Jim Briggs.
The Reverend John Delore and Steve Lewis wrote our theme music.
We're on Facebook, and I'm on twitter @annasale. If you like the show subscribe on iTunes, or write us review there.

And Terry, give Dan a little leeway….at the end of our talk, he asked when this episode would be coming out…
So I can have Terry in a locked room for 6 months.

You said it all with love I could tell.

I'm not allowed to talk about shoes on the radio. Can't talk about my sex life in my column or his shoes on the radio.
I'm Anna Sale, and this is Death, Sex & Money from WNYC.
Copyright © 2019 New York Public Radio. All rights reserved. Visit our website terms of use at www.wnyc.org for further information.