After Suicides, a Texas Veterinary Community Opens Up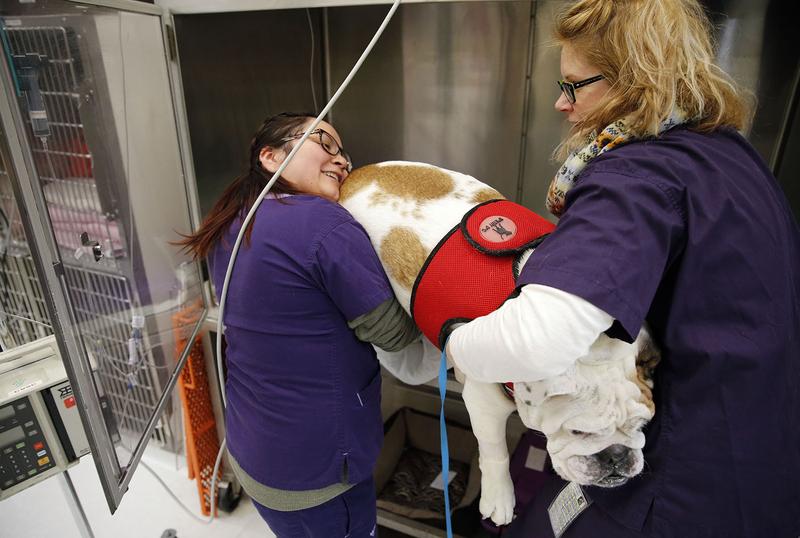 Transcript
Before we begin this episode, I want to let you know that it's about suicide. If you're experiencing suicidal thoughts or feelings—or know someone who is—we've compiled a list of resources on our website, at deathsexmoney.org. Ask for help.
MATT MURPHY: Suicide is like a virus. It hits one and then it will go and go. I mean there are about a hundred thousand veterinarians in these United States. It could barely fill up a football stadium. We're such a tight knit group that when one person goes I mean, well if they can't do it, how am I going to do it?
This is Death, Sex & Money.
The show from WNYC about the things we think about a lot...
...and need to talk about more.
I'm Anna Sale.
[Door sound]

DAVE WILSON: How are y'all doing?

ANNA SALE: Hi, good! I'm Anna.

DW: Nice to meet you.

AS: Nice to meet you, this is Katie.

KATIE BISHOP: Hi, Katie, nice to meet you.

DW: Good to see you guys.
I met Dave Wilson at his home in the Dallas suburbs. My producer Katie Bishop was with me.
DW: Nice to meet y'all. Would you like a beverage or anything? I've got Cherry Coke…
We settled into his living room, screen door open. Dave leaned back in a leather recliner. I sat on the couch beside him.
[Dog low barks]

DW: Harry! No! I'm sorry. He must see an animal outside.

AS: [Laughs] That's okay.

DW: That's the only time he barks. He's not a barker.
I went to Dave's house to talk with him about his older sister, Marnie Mullins. She died on May 21st last year. She was 44.
DW: The last time I texted her was a few weeks prior to her passing and I never got a response. She went dark. I think that she was arranging things for whatever writing she may have seen on the wall. She wanted to protect the people who were closest to her. And let us get used to her not being there all the time and every day and then, you know, maybe it would hurt less or maybe we would miss her less. And she was...wrong.

AS: How do you like to remember your sister?

DW: I like to remember my sister as a person who just really loved. I won't even qualify it. She just loved.
Marnie especially loved animals. She was a veterinary technician, who'd cared for sick pets for more than 20 years.
DW: I know that common sense says a veterinarian's clients are the people who come in and pay the bills. That is not how my sister would have described it at all. Her clients, her patients, were the animals and like that was just how she viewed it.
Marnie was a part of the tight-knit veterinary community in Dallas.
Last spring, that community was left reeling by a series of suicides. Including Marnie's.
AS: How do you think about how her work either helped or or caused stress in terms of mental health issues?

DW: She was already dealing, when we were young, with depression and feeling uncomfortable in a world that didn't seem to feel like home to her?

AS: Mmhm.

DW: And I think that caregiving is likely a field that you might find a lot of people in who are missing some of that acceptance? And they want to provide it to someone or something, in this case animals, almost in a - in a way to compensate maybe for what they don't believe they've been given?

AS: Yeah. A sort of tenderness.

DW: Right.
—
MM: Putting these guys to sleep just rips you apart every day.

SANDRA BRACKENRIDGE: It's not happy puppy stuff.

KELLY BISHOP: And then the stresses of clients not able to pay veterinary bills.

MM: What happens is then you burn out.
For the past several years, veterinary medicine as a whole has been grappling with a suicide rate that's one of the highest in the healthcare profession.
JULIE DUCOTE: Honestly I struggle on a weekly basis even now.
A recent CDC survey found that one in six veterinary school graduates say they've considered suicide. And a British study found that veterinary suicide rates are four times higher than the general population in the U.K.
KB: Sometimes we don't have enough time to reflect or take care of ourselves.
But those statistics seemed distant from the Dallas veterinary community. Until April 14th of last year, when a 32-year-old veterinary technician in the area killed himself.
A few weeks later, Marnie, Dave's sister, killed herself.
And two days after that, a 40-year-old veterinarian named Shawna Chastain died by suicide.
KB: And what drove those suicides were probably on a lot of our minds. But we just pushed through the chaos of busy veterinary practice.

[Dog whining]
At this emergency veterinary hospital in the northwest Dallas suburbs, that chaos can be 24 hours a day. They see the sickest pets, like Lady, who was brought in by her owner.
VET: Lady is your girl?

CLIENT: Yes…
This dog came in weak. And the vet discovered a mass in her spleen. She recommended surgery and further tests to see if it's cancer, which could mean chemo.
VET: But at this point, the only way to get her more time with us would be a blood transfusion and surgery.

OWNER: Mmmm. So, I'm just wondering how much all this will end up costing?

VET: Yeah, it's a good question...
The vets and vet techs here don't just provide medical care, they also discuss the realities of finances...
VET: ...this is just off the top of my head. You're probably looking at 4 to 7 thousand dollars.
And they help pet owners make the ethical call of when to intervene and when to say goodbye.
OWNER: "Okay, let's go ahead and give her some blood and get that spleen out. She's a great dog. So, and we can swing it."
At this clinic, there were no suicides among the staff. But many of the vets and vet techs here knew the people who died.
JD: I knew both Dr. Chastain and Marnie.
Dr. Julie Ducote is a vet who owns this emergency hospital. She didn't just know Dr. Chastain and Marnie, she'd worked with them in the past. And she worried about how their deaths would affect all the people she works with now.
JD: It feels like everybody is a family and so the things that affect one of us seem to kind of affect everybody else too, or at least several other people, so I was worried about it.

AS: Were you at all reluctant or hesitant to use the word suicide talking with staff, out of a fear of, you know, triggering someone who was vulnerable? Did you feel comfortable openly talking about suicide?

JD: In the past I didn't, because I did worry about that. I don't know, I had in my mind that, you know, if we talked about suicide that people would get depressed, people would get sad, you know, and I might have said, "How are you feeling? How are you doing?" But I wouldn't necessarily have directly asked them about if they had thought about suicide or if they considered taking their own life.

AS: Have you had those kinds of conversations?

JD: Uhm, I have with a couple people. And, so and again I wouldn't have done that a year ago.
—
KB: Hi, I'm Kelly.

AS: Nice to meet you, Kelly.
Down the hall at the hospital, I met Kelly Bishop, pushing an anesthesia machine toward the operating room.
KB: I know everything there is to know about every anesthesia machine in this building!
Kelly's a vet tech and a manager. Like everyone on staff at this hospital, she was dressed in scrubs…
KB: and I always make sure my hair is disheveled to make it look like I've been working my ass off. I mean, I really have been but it's just a theatrical move.
Vet techs are basically nurses who tend closely to all the animal patients. In the Dallas area, their pay typically starts at about 15 dollars an hour. Kelly says it's not unusual for her techs to work more than one job.
KB: Probably 40 percent of them work two jobs.

AS: How many hours a week do you work?

KB: Uhm approximately 65.

AS: That's a lot of hours.

KB: I mean I guess. I usually work an 11 to 12 hour day. Or almost 13 hour day, yeah. I think a lot of...many of us in this industry are dysfunctional.

AS: You say that with a smile on [KB: I do] your face.

KB: Cause I put the fun in dysfunction. [AS and KB laugh]
Kelly has worked in Dallas vet clinics for a long time. Years ago, at another clinic, she worked alongside Marnie, Dave's sister. She remembers that same tender heart.
KB: If you could imagine the perfect fluffed bed for a cat with a little piece of kibble or something it was always with a little Marnie touch. She was a free spirit and a good soul.

AS: What are the particular stresses for veterinary techs that you work with that make it taxing on on their mental health?

KB: Besides the job? [KB laughs]

AS: Or like what...what is it?

KB: The technicians and nurses deal a lot with the client and moral stress. We try to keep doctors out of money talks.

AS: Mmm.

KB: So having financial conversations with the client is - is hard and then relaying that information can be - I kind of want to protect the client here but I also want what's best for the dog or the cat. But the doctor's going to want to run these tests but the owner can't afford it. How can I make the best of both worlds happen?

AS: The technicians and nurses have those conversations?

KB: A lot of them yes. Yeah.

AS: Huh. That's hard.

KB: It can be.

AS: How much exposure to death do you have?

KB: It's every day. Whether it is pulling up a euthanasia solution for a doctor, whether it's actually administering the solution, um whether it's putting a body in a bag and then putting it in the freezer. In some way, I'm involved somehow, multiple times a day.

AS: Multiple times a day.

KB: Mhmm. And I - I forgot the count but every day we're supposed to go through the sympathy cards, try and write something in it and get it to the front staff for them to send off. But I think there was about 20 of them in there, that have accumulated at least this week.
—
AS: And where does the animal - is this where the euthanasia happens? How does it usually happen?

SB: Well, if it's a cat or small dog, they can hold them on their lap, but we usually bring a mat in and then we cover it with blankets and people lay on the floor with 'em you know.

AS: Yeah.
The person showing me this room is Sandra Brackenridge. She's not a vet—she's a social worker on staff at this hospital. When she started her career 30 years ago, her work focused on pet owners dealing with loss. But most of her time now is spent working with the staff here.
SB: Stress is in the environment. It's that fast pace. They'll do a euthanasia and not stop, and they go right to the next case. So there's, you know - no processing of it. Um, uh veterinarians witness death more than any human medical professional. It's five times more than any human medical professional, including hospice workers.

AS: Is that so?

SB: Uh-huh. You think about it as compared to human medicine. So—veterinarians are also funeral directors. They also do euthanasia. And so they witness death that much more. And also what I see is that veterinarians and veterinary technicians develop a comfort with death. A lesser degree of death anxiety than other professionals.

AS: And so, if you're used to death, what does that mean? Does that mean you fear death less? Does it mean it -

SB: Mhm, yes.

AS: And does that - do you make the le - is that at all correlated with like when you're stressed and need to escape, that suicidal ideation is something that you go to?

SB: I think it contributes, but that's my opinion. I don't think that there's research to substantiate that yet. Um, what I notice also is that people are attracted to this field in the first place because they love animals. They don't necessarily love humans. But they end up working with humans and alongside of humans. And with humans, there's all kinds of things that go on, right? So sometimes there's communication problems. Sometimes, there's conflict. Sometimes there's a screaming owner in your face. That could be quite traumatizing. So, in my position, sometimes it's hard for me to get people to come and talk to me. Because they've told me, "I don't like talking face-to-face."

AS: Hm.

SB: So what I've done in those situations is, I text a lot. And I, you know, it might be through email or you know? It's not that they don't want support. It's that that human thing is uncomfortable.
—
[Dog whining]
All this sounds familiar to Kelly Bishop, the vet tech supervisor.
KB: I didn't realize how I could spiral or how much of a roller coaster ride it could be. Dealing with people is so much more overwhelming than performing anesthesia on a really sick dog. Completely different. I guess cause it's selfish it's a reward that I did that. And not necessarily talk somebody out of driving off a bridge.

AS: Have you had to do that?

KB: Yes.

AS: Was that recent?

KB: It was this year.
Coming up…I talk with another veterinarian in Dallas, who is dealing with all the daily stresses of the job, while mourning a coworker he worked alongside for years.
MM: Every day I go in I see her desk, where it was, there's someone else sitting there. But I still know it's her desk. Um and it's tough. It's tough.
—
We first started thinking about veterinarians and suicide back in 2016, when we heard from a veterinary social worker in Canada. She wrote to us, "I have such deep regard for my veterinarian colleagues. I just wish the rest of the world understood what they experience and how they struggle."
And last year, veterinarians and suicide came up again when we were putting together our series about student loans. One vet in Georgia, writing about her loans, said, "There have certainly been times where suicide seemed very comforting."
It was soon after that, that producer Katie Bishop heard about the series of suicides in Dallas. So we went there, to hear how this community was coping in the aftermath, and to understand more about why this happened.
What we learned is there isn't a clear-cut answer to why suicide is so prevalent in veterinary medicine. The limited studies that have been done are focused on veterinarians, not vet techs. But they back up what we heard on the ground in Texas. That high expectations from pet owners, euthanasia, debt, and low salaries all could contribute to the increased risk of suicide. Researchers also point to personality traits commonly found in the veterinary profession— something we also heard from Dr. Julie Ducote in Dallas.
JD: The kind of academic achievement they have to attain often selects for individuals who are very very driven and perfectionistic and, you know, more potentially more introverted and those traits have been associated with higher rates of depression and suicide.
In the U.S., research is ongoing to document and better understand how the risk of suicide differs by occupation, beyond self-reported surveys.
We partnered with the Dallas Morning News on this episode. They also visited the same emergency hospital we did, and put together a photo essay and video about the stresses that veterinary workers face. You can find a link at our website, at deathsexmoney.org.
—
This is Death, Sex & Money from WNYC. I'm Anna Sale.
Dr. Matt Murphy is a partner at a veterinary clinic in Dallas. We met him at his home on one of his rare days off. His two Cavalier King Charles Spaniels greeted us at the door…
AS: Ohhh…

KATIE BISHOP: You guys are cute!

AS: What are their names?

MM: Max and Perry.

AS: Max and Perry.
Matt was wearing socks with dogs on them too.
MM: I have hunted everywhere for cavalier king charles socks that fit a guy. There are girls' everywhere, but no one -- apparently no one wants them that's a guy.
Matt has been practicing veterinary medicine for 19 years. Thirteen at his current clinic.
MM: I can't imagine doing anything else. I go to work every day with a smile on my face. I'm happy, uh I mean literally my staff is like you're one of the happiest people I've ever met. And that's because I'm doing exactly what I want wanted to do.
But this last year has been really difficult at work. Matt's very close colleague, Dr. Shawna Chastain, was one of the people in the veterinary community in Dallas who died by suicide.
MM: When I was told, I mean, I was just numb. I mean I'm like, okay, gotta go to work. Gotta figure this out. Gotta do the job. Because I still have to take care of the animals, still have the business to do, still gotta take care of my kids. But at the same time I have a hole there that will never get filled.

AS: Mm. So you had to go to work the day you found out?

MM: Yep. Uh I was going anyway, uh but yeah. We had appointments, fortunately it wasn't that busy of a day. But yeah we still had to see patients we still had to keep the business going. Um, I didn't really take a day off for it. I couldn't. And uh in some ways that was good because I can bury myself in work, and and let the grief, you know, settle. Instead of having time to sit there and just wallow in the grief.

AS: How long did you work with Dr. Chastain?

MM: I knew her for 10 years. I worked with her for about 7 or 8. And uh, the best veterinarian I've ever worked with. And an amazing friend. Um, uh just the most gentle sweet person I've ever known [crying] it's just - it was tough. Still is. Uh talking about it just opens those wounds again, so. Uh I got a lot of closure though at the at her funeral. I was the pallbearer, one of them. And that helped. [Makes kissing sound] [Off mic: Get over here, I need a puppy.] Um, but it helped a lot it, gave me a lot of closure. But at the same time—hi buddy. Hi. Hi. Thank you. [Kiss] Um. Just an amazing soul. It was probably the single hardest thing I've ever gone through.

AS: Were you aware that she was struggling?

MM: Yeah. The day before she talked to me and she had said that she had had thoughts. I thought I had actually talked her out of things, and, but you know she seemed in a good spot. And apparently she was not.

AS: Do you think - do you feel like given the awareness in the veterinary community of of the risk of suicide, do you feel like you know enough or have had enough professional training enough about how to help your colleagues?

MM: Absolutely not. No. No not at all. That's all stuff you've had to figure out or do. Um I wish I had some more training on that to help. Uh or known about the resources that we have. And I wish that, you know, that I had known where she was at that time. Anything I could have done to stop it.

AS: Have you had any counseling?

MM: Yeah I did. I talked to the counselor you talked to, the social worker. I talked to her twice. Um.

AS: Did you find it helpful?

MM: It was. I'm not the best person to counsel because, um I mean, they're like, "How are you doing?" "I'm sad." "Are you having bad thoughts?" "No." They have to draw everything out of me. It's not that I'm not forthcoming, but I just don't know what to say. When I start talking about it a lot, that's when it starts just building up inside.

AS: When you start talking about it a lot it makes you feel worse, is that what you mean?

MM: Yeah, yeah it just makes me sad. And it's not a sad like - that's one of the things with being a veterinarian. Death is part of life and part of something you have to deal with. And that's why I think some of the veterinarians must think it's okay because we see so much death every day. I mean that's also why we have such a high suicide rate I think is because we're successful. Uh we know what to do. We're not fooling around here. We're—if they're going to do it they're going to do it right. They have access to drugs that will do this.

AS: In - in the case of Dr. Chastain was it - did she use drugs?

MM: I think so. I don't know what she took and I'm afraid to - I don't really want to know uh some of my staff have said more than once that they just want to think that she made a mistake that she was just taking pills to make her feel better or sleep and she just overdosed and I'm like, she didn't. I know that. I know this - I knew this woman to a T and she was not that to make a mistake like that it would never happen with her she knew what she was doing, unfortunately.

AS: So it's possible that she used drugs from your clinic.

MM: No, we counted. That was the first thing I did.
Matt says Shawna had access to drugs outside of the clinic because she bred dogs. An autopsy found several drugs in her system, including ones commonly used in animal euthanasia.
Since her death, Matt and his colleagues have dedicated the surgery suite at their clinic to Shawna. Matt says it was her favorite place to be. And he told me, his staff has had several meetings to talk about Shawna's death, and how everyone's doing.
MM: I mean my boundaries at work have been violated [laughs] like them asking about every aspect of my life because they're afraid that you know I would follow suit or something because I was so close to her. I'm like guys I can't do that. I—you know—one that's not me. But two, I have too - I have too many other responsibilities. And when push comes to shove suicide is a very selfish thing. It's you're thought you are more important than all of these other people you're going to affect. I think if Shawna had actually seen how many people she would have affected she wouldn't have done it. She was too caring. She would have seen how much her family was upset, how many other people—I mean her funeral was packed. There must have been 4, 500 people there. There was standing room. Um just because of how many peoples' lives she impacted and meant so much to. And I think if she had seen that she wouldn't have done it. It hurt a lot. And I'm just, right now as far as the grieving stage, um the stages of grief I'm in anger. I'm pissed at her. I still am. And everyone's like, well you gotta work through that. And I'm like she took my best friend from me. [Cries] How can I forgive her right now? So that's where I am. Just, it's just, I haven't forgiven her for taking herself away because she did.
—
VET TECH: What is this little baby's name?

VET TECH: Her name is Sadie.
Work continues at the vet clinics across Dallas. Back at the 24-hour hospital, the staff is there when this dog chewed a battery out of the back of a remote control.
VET TECH: Yeah she ate that battery.

VET TECH: Yeah she got a little acid burn it looks like, a little battery acid burn, the skin's peeling away.

VET TECH: Aw. Aw no.

VET TECH: [to dog] Oh I know. Oh my gosh and we're done and we're done! [dog exciting panting, tail wagging]

AS: Do you feel like the Dallas veterinary community is in the midst of a crisis?

JD: I don't know.
This is Dr. Julie Ducote again, who owns this emergency vet hospital.
JD: I don't know, I do... I don't know if it's a crisis or if it's that we're more aware of it, you know? And it's been there all along. That's, I don't know the answer to that. I think, I think that - I think people have had problems, and I think people have struggled for a long time but I - it may be that we just haven't talked about it or been aware of it before now.
Soon after the suicides in Dallas, Julie and the hospital social worker Sandra Brackenridge organized a public meeting of the veterinary community called Not One More Colleague. They hoped to organize regular support groups for vets and vet techs in the area with the help of the state veterinary association, but they haven't met since.
And since we talked to her, Kelly Bishop, the vet tech and supervisor at the emergency hospital, has given up her management duties. She says she needed to for her own mental health.
Death, Sex & Money is a listener-supported production of WNYC Studios in New York. I'm based at the Center for Investigative Reporting in Emeryville, California. Our team includes Katie Bishop, Anabel Bacon, Emily Botein, and Andrew Dunn. Thanks to Krystina Martinez for her help on this episode.
Our interns are Catherine Xu and Angely Mercado.
The Reverend John Delore and Steve Lewis wrote our theme music.
And thanks to our reporting partners at the Dallas Morning News, especially Terri Langford, Leslie Eaton, Marcia Allert and Vernon Bryant. They produced a video and a beautiful photo essay all about the hidden stresses in the veterinary field. You can find a link to that at our website, deathsexmoney.org.
There, we've also compiled a list of resources for suicide prevention. If you're considering suicide, or if you have a loved one who you think might be, please reach out. The suicide prevention hotline number is 1-800-273-8255.
SB: Suicide is a preventable form of death. you know, a person is only acutely suicidal for a few minutes to a few hours. If they get intervention during that time, they - statistics show that they may not ever be suicidal again.
I'm Anna Sale and this is Death, Sex & Money from WNYC.

Copyright © 2019 New York Public Radio. All rights reserved. Visit our website terms of use at www.wnyc.org for further information.
Music Credits:
"On Early Light" by Blue Dot Sessions
,
"Fifteen Street" by Blue Dot Sessions
,
"Keo Keo" by Blue Dot Sessions