Cult Comedy Heroes Have Bills to Pay, Too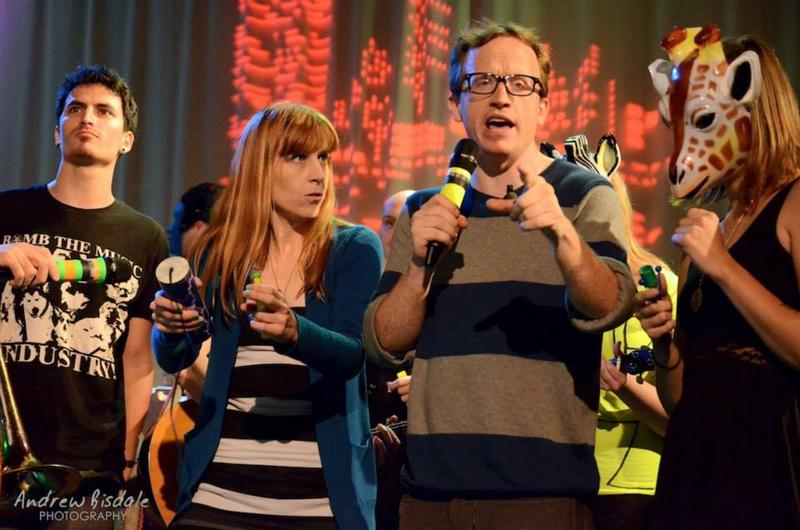 Transcript
C: He said to me, this summer, he was like, you know, you've always been like the loser, like the guy that all the losers can flock to and you're a loser too and that's always been your schtick. And it wasn't a schtick a while ago. But it's a schtick now. You're doing pretty well, and you're getting married to a really hot girl, man, like you can't keep claiming you're the loser.
This is…Death, Sex & Money.
The show from WNYC about the things we think about a lot...and need to talk about more.
I'm Anna Sale.
I had only lived in New York for a few weeks when I first saw Chris Gethard. It was at an improv show, with a Halloween theme. At the door, the crowd was warned our clothes might get dirty. And of course at the end of the show, half of us were soaked in fake blood.
There were lots of performers on stage that night, but Chris Gethard stood out. He very funny. But mostly it was that it was intense. And kinda weird.
And then I started seeing him everywhere. First on a commercial. Then on The Office. And then on Louie!
But I also saw him on the subway.
Chris Gethard didn't feel like a celebrity to me...he felt like a guy I knew … who got to hang out sometimes with famous people.
Then a friend of mine from junior high in West Virginia got in touch with me and said her rap group was performing on this public access show in Manhattan, hosted by Chris Gethard. So of course, I went to the taping, and had no idea what to expect.
It was ridiculous...and really fun.

C: It does feel like a thing that clicks with people of a certain age who are feeling a certain way, which is generally not that good. When they're not feeling that good, that's when they tend to find our show.
The Chris Gethard Show is like a party where everyone there is an outcast everywhere else. No one, on stage or in the audience, is too cool.

That's what drew Hallie Bulleit to the show, years ago.
H: The first one that I saw…I mean I was completely hooked. I don't think I missed many shows after that.

C: No. And that used to freak me out because Hallie is the frontwoman and songwriter for this band The Unlovables that I really loved. I had been listening to her music for like five or six years before she started coming to the show and I thought she was the coolest, prettiest lady.

H: Chris says—I don't remember—but he says he used to write me fan mail on MySpace.

C: Oh yeah. I sent her a couple MySpace letters about The Unlovables.
They had mutual friends now, some musicians that played in the show.
C: I was like you have to stop bringing that girl because it puts me in my head. I get too nervous. And then Hallie just reminded me, there was one show that was like this, we were raising money for the March of Dimes. People were able to bid on stuff. And they put 500 dollars and it meant I had to host the rest of the show naked. So I was covering my junk and apparently I just turned to my left at one point.

H: I was seated actually directly behind you.

C: So you were looking at my butt the whole time. And at one point I turned around and saw that it was Hallie. Who I knew from her band. And apparently I just looked at you and said—

H: You were like, Oh great.

C: Just made direct eye contact.

H: He was on stage. And we didn't know each other that well. For the first time—it was such a weird moment for me to realize like, he knew who I was.

C: Likes you.

H: Cared what I thought about him. He was like a little embarrassed to have me like sitting like three feet directly behind his, like, bare booty.

C: It was a shameful show.

H: It was really funny. I do think we had a mutual, admiration for each other. And one another's work. But it made our conversation so awkward.

C: Painful.

H: It was so short. And lots of looking at the ground. And then like, Okay bye.

C: And then what happened, what were the things leading up to it? There was one week we went out dancing where like, you bumped into a guy. And in totally standard fashion, he got snippy with you and I like, pretty much attacked him. Not physically, but I was ready to fight him. It was a very clear-cut sign that—

H: It was on my birthday.

C: I had some very protective feelings about Hallie that were bubbling, and then there was a night. And it was early, and I was like, I don't want to go home. Then you were like, I don't want to go home either. So we stayed out dancing. And then we made out on the dance floor at Union Pool. Nothing happened, it didn't go too far, I want to be up front. But, we went in my car, and we were making out a little bit more. And then a line that I'm pretty proud of that I've bragged about many times, I said, I was like well, I could drop you off at home, or we could open a real can of worms and you could come back to my place. And then we've been together ever since.

You opened the can.

C: Pretty much from our second date, I was like Oh I'm gonna marry Hallie I guess. It was just pretty much a given.
But when you're Chris Gethard, coupling up with the pretty punk rocker takes some adjusting.
And that's what caught my attention about these two. They're so sure about each other, but their sense of themselves is totally in flux. Like, things are not supposed to go Chris Gethard's way. And in his telling -- it's his fault. He titled his memoir, "A Bad Idea I'm About To Do." And right now...he's doesn't know what to do. The public access show he's hosted for years got a big break...and then, nothing came of it.
So, Chris and Hallie talked to me about their uncertainty around his career, and money. And how they deal with it...while being honest about Chris' struggles with anxiety and depression.
Hallie is also in transition. She had been a punk frontwoman, but she'd made her career as a professional dancer -- performing in shows like Rent and Stomp. When she met Chris in her late 30s, she was realizing she couldn't do it anymore.
H: I was so beat up. I would have ice packs attached to every party of my body.
So both Hallie and Chris are recasting their stories…right as they're getting married and trying to settling down.
Hallie, I want to ask you, right when you started dating Chris Gethard, part of what he talks about in his act and what he talks about in his show and what he talks about in his book is like, all the ways he feels like he's damaged. And like, what is it like when you're entering into a relationship where your potential partner has said, these are all the red flags that you should be afraid of?

H: Well first of all, I haven't read his book.

C: She told me she had not read it, and I asked her to never read it. What do I say?

H: You say, don't read that bad book.

C: It was a bad book. It was a very bad book. You shouldn't read it.

H: He doesn't feel not together, when I'm with him, so he sort of talks in his comedy about having had kind of like a really crazy summer the summer before we got together. and I sort of sensed that he was a little unhinged. And I remember there was a night that he, we had been dancing all night, it was a beautiful summer night and we walked home through Williamsburg, and he lived in Greenpoint and I lived in Williamsburg and there was the point where we would like, go our separate ways, and I was like, does he want to kiss me? Is that what's going on here? And I was like, okay I can't kiss this guy, he doesn't have his stuff together. He doesn't have his stuff together at all. And then like, I don't know. It was just like, months went by, it was like a fever broke or something. And then it was the right time for us to connect.

C: I know when we started dating, too, I went out and I bought frames for my posters, and then also, do you remember—

H: Cus they were still attached to the wall with that blue sticky stuff you used in college.

C: Thumbtacks. I just went to Bed, Bath, and Beyond and was like, what is adult? What do adults do?

H: Some mother and daughter helped you, from Long Island.

C: These very very old school New York ladies, these mother and daughter were like, you gotta pick that out, you got good taste if you want that. If you're gonna get shams, you need this type of sham. It was this sad, pathetic transition point in my life. But it really was one. Where I was like, okay, I have not had my stuff together, but you're giving me a chance. And I was like, look at all these frames and all this bedding huh, I really want to work hard for you.

H: It was cute. I could tell. He went out and bought new bedding, like he's totally trying to like—

C: I didn't want her to be in my house with my unframed posters and crappy bedding.
Chris has also talked openly, and quite seriously, about his mental health struggles. That included years of suicidal thoughts...including a few close calls...followed by medication and a lot of work in therapy.
C: I very publicly own some of the like, not-having-it-together mental health stuff.

You talked about your depression and anxiety.

C: Depression and manic stuff, all that stuff. I talk about that publicly. But we've had to have a couple conversations where it's like, alright, your public persona talks about that. And that stuff's real and in you, but we need to have a conversation more quietly about, well we live in the same house now. So what are the actual red flags and the actual ways to deal with that? And that stuff is so scary and tricky that I think for us, that has been something to keep our eye on. And something that we've had to have some difficult conversations about as grown-ups. Even though I do sort of rally so hard publicly and say like, you got to get control of your own stuff. And I work so hard on my stuff. And I do. But when it's in your own house, it's really different.

Are there days where you just say to Hallie, I'm having a low day. I'm not feeling great. And it's not you, it's me. And this is what's going on?

C: Yeah, I think it's something that's become something I'm really good at. Is just like being totally up front. She's one of the few people I've ever met who I can not only tell, but who I'm willing to let me see like that. Cus like when depression stuff hits, for me at least, just physically don't have it together. You have no energy. You look bad. You're like crying all day so you look like a mess. Like, you don't want to get out of bed, so you're not showered and stuff. And you just don't look good. It's just not a good thing to have people see. But Hallie's one of the—right from the start, I never cared if she saw me like that, which I thought was a pretty huge thing for me. I think the weirder thing is that, some time I have manic stuff too. And that stuff is very much like, no nothing's wrong, I'm fine, I'm fine, everything's great. Everything's fine. And that we've run into where it's like, well how do you deal with that? Because if you tell me you're fine, and you're not, that's weird—when people talk about the depression stuff, I think they know what depression means. But they don't know there's this other side of it sometimes that's much crazier and harder to deal with.

Is it hard though, Hallie, in moments where you don't actually understand what's happening inside his head?

H: Yeah, I mean definitely. I'm telling you, we haven't had that many of those. Chris has just done a ton of work on himself, and he's really articulate, and like, I don't know. I get—he's a very emotional person, and I'm an emotional person too, and so, I don't wish for him to have depression. I don't wish for him to have sadness or mental health stuff. But it's almost—there are many ways in which he's a richer and fuller person because he's dealt with this and he's learned to have to talk about his feelings. I mean it's a notoriously hard thing to get men to do. And here I have this man who's really good at talking about what he's going through, and what he's feeling, and I mean I, I don't want to—it seems tacky to say I benefit from it, but I think there's like, many ways in which—and he is, all of that has translated into his good feelings, too. He's really good at talking about his good feelings. You don't get that with every person.
And they have been dealing with a lot. The audience for The Chris Gethard Show has always been small -- whether over the air on public access or on the Internet. But a couple of months ago, the dream happened -- Comedy Central said they would pay for a pilot of the show.

C: And the taping of the pilot went great, we were all like, Oh we nailed it. And then Comedy Central passed, and we were like, speed bump, let's show it around, and since then, 11 other networks have passed on it.
Coming up -- Chris and Hallie on making plans for the future...when they have no idea where their careers are going.
I heard from many of you after my interview with Chaz Ebert about the death of her husband Roger. Some were skeptical about the way she described an on-going conversation with him, but Sara from Salt Lake City said, "Thank You Chaz for saying it!!!"
A listener named Susan added, "I've also experienced communication with people who have died. At first, I resisted believing it, but once you know it's true, it creates a revolution in your life, and all for the good."
Alan Kahn sent in a story of relief beside a casket as he buried his brother last June. His brother was just 57, and an artist. It was a hard service, because his brother died suddenly and unexpectedly of a heart attack...
And then…
"His son and my son did something very special. My brother had gotten into pouring white paint on objects, just inundating them, covering them completely, and so they poured white paint on the otherwise fairly pristine wooden casket before it was lowered. It was somehow sacrilege, but also somehow completely appropriate for this man. And somehow losing him in such a tragic way was made ironic or humorous or somehow just less sad."
Keep sending in your stories of a memorial that left you changed. Email your story deathsexmoney @ wnyc.org. You can also record a voice memo on your smartphone and send it directly to me. Again the email is deathsexmoney at wnyc.org.
On the next episode, if you've ever wondered what it's like to be an 18 year-old man, a star football player and a celebrity on campus, Domonique Foxworth says it's exactly how you think it is.
"There were some easy opportunities or layups as I called them back then. And those lazy opportunities—"

Oh man, layups.

"Are we going to get into a chance to get into conversation about the more mature Domonique Foxworth that has a better perception on masculinity than racking up numbers. That's how i thought when I was 18. Forgive me."
Now he's 31 years old, retired from the NFL, and a student at Harvard Business School. And he's clear about what football culture got wrong about money and sex.
This is Death, Sex & Money from WNYC. I'm Anna Sale.
Chris Gethard and Hallie Bulliet met working together on an absurdist comedy show that has never made much sense. But now that they're looking ahead to marriage, sometimes it feels like it really doesn't make sense. A lot of that has to do with money.
C: I can't keep showing up to do a show that's guys hitting me with wiffle bats anymore. Like, 2011, I was a pretty depressed guy, dating someone who wasn't nice to me, and I had a lot of stuff that I needed to get out creatively that I think only in the course of getting married, that I've started to stress about lifestyle stuff. I've been putting a lot of pressure on myself, this idea that I now need to be a provider of some sort. Which you scoff at, but that really does stress me out. I always have in my head that my dad had two kids and owned a house when he was I think 27 years old. And I'm 34, and I'm just getting married now, and I'm like, currently workshopping a joke about how I pooped my pants on a subway platform. Like that's professionally what I'm up to right now. Is try to really tighten up a joke about pooping my pants in public.

So like, there's a lot of comparison issues with my dad. And then I don't know, I think it's just natural to feel like, more responsible. I'm like responsible—we've talked about having a kid sooner rather than later, because I think we're both, we're at an age where if we're going to do it, we want to do it. And um, it is just that sort of thing where I've lived this lifestyle that's all calculated on risks. Which is pretty fun, but I legitimately don't know how I'll be making my rent money in November. I don't know. I don't know if I'll have any money coming in. That's pretty fun when you're in your 20s, and when all you have to worry about is yourself and where it's like, oh well, if I need to sublet my room and find someplace not as nice to crash, or whatever, that's pretty fun. But now there's like actual consequences. Someone I have to come home to and look in the eye. And a small human I'm dragging into it. Who doesn't have a choice in it, you know? It stresses me out. That being said, I've talked about this a bunch and I'll talk about it with people and then Hallie will always tell me afterwards, I haven't asked for any of that.

H: I do get sensitive, cus he'll talk about it on stage. He doesn't mention me, it doesn't have anything to do with me, I just still do get sensitive about it, because I feel like that stereotype about like, Oh well that must be coming from the woman. She must be saying, Oh you better line up some work. You better do something that's more dependable. It just couldn't be further from what I like, would want for Chris.

C: Really, it's all internalized neuroses, or some male instinct that does exist in some way. But whatever it is, it all comes from inside me. I definitely did kind of put a lot of my eggs in this basket professionally. Cus I really did have so much confidence in what we were building. And it now looks like that is not going to be my job. At any point. The belief that it was going to be some point in that, that it was worth taking that risk for me—but now that it's a sure thing, it's like, well what do I do? I don't know.

H: I kept waiting for him to freak out. It would've been so understandable. You know? He'd earned the right to totally flip out. And I kept waiting for it and it never really happened. You know, it was just sort of on to the next thing.

C: Yeah, personally I'm on a peak, and professionally I'm in a valley. That's rare. Those usually don't diverge as hardcore as they are right now.

Is that how it feels, that you're in a valley?

C: Professionally, a little bit, yeah.

H: It doesn't appear that way on the surface, I don't think anyone else around you feels that way.

C: Yeah, but what am I, what's the next thing? What am I gonna do?

H: But there always is a next thing for you.

C: Until there's not. Like it feels like a splash of cold water on the face, like a reality check, like okay you got to at some point stop chasing your dreams and make one of them come true. And if you can't, you need to own up to that, and figure out what you're actually going to do with your life. Like, those are real questions that I have to answer right now. You do not like that I'm saying that.

H: I don't mind it at all.

C: Okay.

H: I'm just listening, and no, I mean when the show got passed on, it just got us brought back to like, why do we really do this? It is just like our weird clubhouse, where cool stuff happens there. And neato stuff comes out of it. The fact that we're getting married, I don't know. It's just like this huge thing that came out of it. It's like the show, to me, is just validated in its own way, and for its own reasons. For me, like our relationship is just a huge part of that somehow.

C: Yeah, that is the thing, like, I got a wife out of it.

When you met you were ending your career as a professional dancer, which sounds like it was like, a long goodbye of being beaten up and finally admitting that your body couldn't do it anymore.


H: Yeah.

Where are you now in your career, and what do you think you took from watching the way he worked?

H: You know, there are days where it's hard because Chris chose a career he didn't have to say goodbye to. So all of the work he's done, all of these years, it's all still cumulative. It's really hard not to be like, why did I pick something I was going to have to stop doing? You know, if I was, it's like a rough thing to say, but if I was like a banker, that wouldn't be presented to me on a daily basis. My future as an artist is like, I really have to start over in so many ways.

C: Hallie once said to me too, like, imagine if comedy was a thing where you could like, on the job, hurt yourself and then you weren't able to be as funny as you used to be. That was a real eye-opening thing for me, like, how she's handling all this. And like, you know, she's like, incredibly tough about it. And also relentlessly creative. And so I do feel like there's times where you get stressed by that or you look at, I know I look at you and I'm like, you were in all the coolest shows in New York—any show that was cool in New York, you were in it while it was at its coolest, you wrote two of the best albums I own, I feel like sometimes you'll get upset with me because I'll be like, you're gonna be fine, you're the best. And you're like, thank you, but that's not really how, that's not productive. That's not going to lead to anything.

And is it music and performing that you're interested in sort of exploring at this point?

H: Yeah good questions. I'm doing a lot of choreography at that point, and that's obviously like a natural extension, and now I'm at a point where I'm trying to figure out, okay so I did all this—had this brilliant career that I loved so much. And it's a tough act to follow. It's—how do I find something that I love as much as I loved what I did. So I mean, that's just the nicest thing about being around Chris is just, to use that as a model. You have an idea and you just do it. And he consistently finds that if he has an idea, and he does it, and he does it well, he can get some people pretty excited about it. Maybe not Comedy Central.

C: But 12 year-olds in Kansas.
That's Hallie Bulleit and Chris Gethard. And The Unlovables' song, "Crazy About You."
Hallie and Chris just got married at a summer camp in Upstate New York on August 30. They're honeymooning now….
Death, Sex & Money is a production of WNYC. The team includes Emily Botein, James Ramsay, Jessica Miller, Henry Molofsky, Chris Bannon, Bill O'Neill and Jim Briggs.
The Reverend John Delore and Steve Lewis wrote our theme music.
If the you like this episode. Share this episode on Facebook – or write us a review on iTunes. You can also subscribe.
I'm on twitter @annasale. Again, send your stories of life-changing funerals to deathsexmoney@wnyc.org.
Chris is on a beach with his bride in Hawaii now, still deciding whether he's going to keep doing his public access show. He may agonize about a lot in public, but for this, there won't be any announcements. He says, go to ChrisGethardShow.com for the next scheduled show on Wednesday, September 24 at 11pm Eastern time…
C: Turn it on. If we're here, then the show will continue. And if it's gone, then it's just gone. Let's not be cheesey about it.
I'm Anna Sale. This is Death, Sex & Money from WNYC.
Copyright © 2019 New York Public Radio. All rights reserved. Visit our website terms of use at www.wnyc.org for further information.
Music Credits:
"Take a Ride - Death, Sex & Money Theme" by The Reverend John Delore and Steve Lewis from John Delore
,
"Today's The Day (I Finally Kiss You)" by The Unlovables from Whoa Oh Records
,
"Graying Clouds" by Cullen Fitzpatrick, ASCAP from BWN Music
,
"Busan" by Jack Ventimiglia, BMI from BWN Music
,
"Midnight Grind" by Cullen Fitzpatrick, ASCAP from BWN Music
,
"Crazy About You" by The Unlovables from Knock Knock Records