Cristela Alonzo's Lower Classy Comedy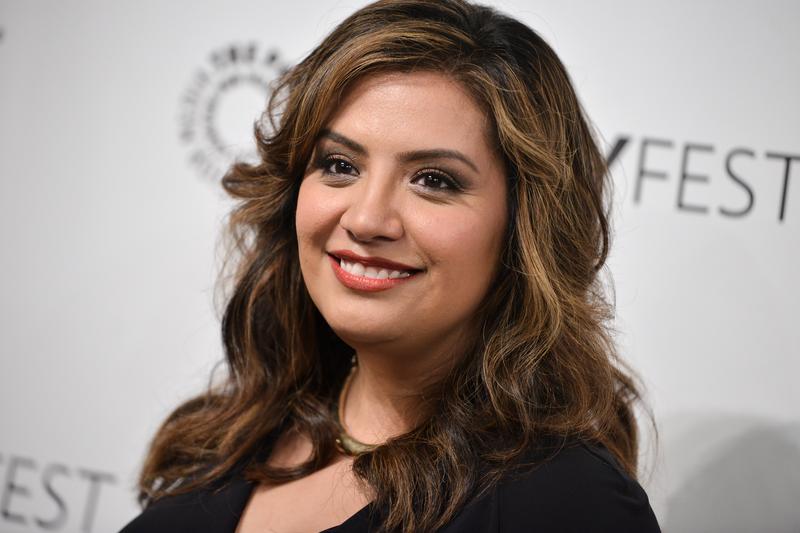 Transcript
Cristela Alonzo: The worst that can happen to me is I end up being as poor as I started, and I know what it's like to live life that poor. So when you have that kind of life, you really, you take chances 'cause you're like, well, if I don't then what's the point?
This is Death, Sex & Money.
The show from WNYC about the things we think about a lot…
…and need to talk about more.
I'm Anna Sale.
Comedian Cristela Alonzo is the youngest of four kids. They were raised by a single mom in South Texas…where they lived in an abandoned diner.
CA: There was no running water, no electricity. This family that lived next to the diner would basically lend us electricity and we would have an extension cord. So my mom used to cook our food on a space heater.
Growing up that poor motivated Cristela. It's also what a lot of her jokes are about…in the sitcom she created and in her latest comedy special.
CLIP: Back when I was growing up, you could feed a family of four back in the day for 20 bucks. Family of four. Twenty bucks. But if you want to make a salad at home—boom, $1,000. I went to Whole Foods. My god that store should have layaway. What the fuck are we doing?...

Anna Sale: I want to start with the name of your special, Lower Classy…

CA: Yes.

AS: …which I think is one of the all time great names for a comedy special. Is that how you think of yourself now?

CA: No. Well, in certain situations I do, actually. I feel like I'm made to feel like that in certain situations. But you know, I actually chose lower classy because I like talking about where I came from to show people why I am the way I am now. You know, like, so many people feel bad for me that I grew up poor. It's like no, no, no—I'm actually really good right now. Like, I actually did okay. The poverty I grew up with actually made me want to work really hard to not ever be that poor again.

AS: So, right now, do you feel upper-middle classy?

CA: Right now, no. Actually, right now I feel lower-middle. Like, for me to say "middle" is a big deal. For me, it's just...I have money. I have the kind of money where I can go into a Target and just go on my own Pretty Woman shopping spree. You know I feel...

AS: Fill the cart. Yeah. [Laughs.]

CA: For me...

AS: I'm going to the clothing section now...

CA: I'm like bring me that Mossimo, I can afford, it you know what I mean? It's like, "Look at you, fancy lady."
Cristela was born in Texas. Her mom moved there from Mexico…without her husband. She left him after finding out he was having an affair.
CA: My dad actually thought that he could get away with having two families. And my mom said nope, you're not doing that. Not, no, nope. When she told him that she was pregnant with me, he didn't want me. And he left to the other family and I never saw him. And I never met him in my life.

AS: Never met him?

CA: Nope.

AS: So your mother has three little kids and a newborn. And is a single mom. Who in the States, like, who in the part of Texas that you were living in, who was part of her community?

CA: No one. She had no one. That's actually what I think was very heartbreaking. She worked at a restaurant, and she would kind of socialize with the women that she worked with but she worked double shifts. You know, my mom would make 150 bucks a week, you know, working these double shifts. She didn't have a lot of free time. She was trying to survive and trying to get us to survive. She had no community. She had no...she had nothing. And you can tell how hard it was on her.
Cristela's mom was also trying to live under the radar while she waited for her immigration papers to be finalized. That wasn't an uncommon situation in their border town, where a lot of people lived on the margins.
CA: In my neighborhood, everybody...I want to say that about 70 percent of the people in my area live well below the poverty line. Having said that, though, we were the poor kids of the poor kids. That was my family.

AS: Is it strange for you now as an adult to go into a diner?

CA: No, you know, it's funny. It's not. I didn't realize I lived in a diner until I was in my 20s and told the story. And then some of my friends were like, "Wait a minute, you grew up in a diner." I was like, no no no. It wasn't a diner because it was so non-functioning, and so decrepit that like you couldn't even...

AS: Yeah, there wasn't a counter and booths.

CA: Exactly. You know it's funny, I remember calling my brothers and I think my mom and asking her. And they were like, "Yeah stupid, it was a diner. Duh stupid. God, you're dumb. Like, why are you so dumb. Like are you really related to me?"

AS: "I was four!"

CA: Exactly! I was…exactly. I barely knew colors and shapes. [Laughs.]
When Cristela was seven, her mom was able to move the family out of the diner and into a house. She also bought a couch.
CA: And every picture you see of us growing up none of us are sitting on that couch because my mom didn't want the couch to age. Because for her it was such a trophy that she could afford this couch. That's kind of how I grew up. Everything that we had everything that we bought was really taken care of and was cherished like hell because we couldn't believe we were getting these things.

CLIP: So one year, my mom—single mom—tried to do her version of Santa Claus, right? I wake up, there's a gift wrapped box with a card that says Santa Claus. I look at my mom and she's like, "I am Santa Claus." "What?" "I am Santa Claus. Merry Christmas. No, no, no. I did not bust my butt so this white man takes credit for my shit. I am Santa Claus. Me. Ho ho ho. Ho ho ho."

AS: When you, when you were growing up was your mom always working the double shifts in restaurants?

CA: Yes, absolutely.

AS: And who would take care of you when you were home?

CA: My sister took care of me. And then she eloped when she was 18 years old. She ran off and got married with her boyfriend. And my brothers kind of took over, but my brothers were also responsible for helping out with the family. So they had to get work. So I became a latchkey kid at, I would say, like maybe 4, 6. I would stay by myself and I used watch TV all day. TV was my best friend growing up. It's kind of like...do you remember the Gilda Radner character where she has her own talent show by herself in her room she's like a little girl?

AS: Yeah…

CA: That was me as a kid. I was by myself. I would create these little shows by myself. It was weird. Now looking back I realize that me—I'm very similar to my mom where I never had a community. I never really had a group of people. I was really kind of always by myself.
Cristela's obsession with TV turned into a love for theater when a middle school teacher signed her up for a class. She started traveling to do theater competitions in high school—and was winning. That helped her go off to college in St. Louis.
CA: I actually never thought I was going to go to college. And I was told that I would probably not go to college.

AS: By whom?

CA: By my mom. Um, a lot of times, in my family, the parents pick the kid that will take care of them when they're older. And my mom picked me. Which means that my entire life I always knew that if she ever got I would always have to put my life on hold to take care of her because she chose me. It's kind of winning a really resentful lottery in a way. You know what I mean? And that's exactly what happened. I went to college at 18 and I was there for a year. And my mom got sick. And I had to drop out. And, you know, my sister needed help with the kids. And my mom told me, "This is family. You have to quit your life. You have to take care of me or you have to take care of your sister's kids."
Cristela went back to Texas to help her mom, but couldn't stop thinking about becoming an actress. She left home again when she was 20, but instead of going back to college, she headed to LA in a red Chevy Cavalier.
She wasn't there long though. Cristela got a call that her mom had gotten sick again.
CA: No one told me she was dying until I got home. When I saw her, she ended up getting better. And my mom believed that seeing me saved her life because she loved me so much.

AS: Oh, my goodness.

CA: She asked me to not go back to L.A. and to stay with her and take care of her and I did. We ended up moving in with my sister. I shared a little tiny room with her. Because she had heart problems, she was constantly in pain. So I never really slept because she would spend the night moaning. She was in pain and I was sleeping next to her. And that was my life for about I would say close to a year. And then finally, um, she got sick, had an ambulance. I went to the hospital with her. I was in the emergency room with her. And , uh, after surgery, she didn't improve and we had to sign the papers to turn off the machines. And I remember...I think I was the only one in my family that could stand to be near her in the room. They didn't want to be in the room when it happened. And I was in the doorway. I…I couldn't get closer to her. My body would not allow me to be as close and I just stood in that doorway just looking at my mom and just kind of slipping away.
Towards the end, Cristela learned that her mom had had several strokes over many years… but they didn't know because she never went to the doctor.
Her mom was 57 years old when she died. Cristela was 22.
Coming up…Cristela tries to restart her career after her mother's death, but not before she makes a big mistake.
CA: I blew a .24.

AS: Oh, that's a lot of alcohol.

CA: Yeah, that is a lot of alcohol. And I feel really...that's probably one of the worst things I think I've ever done.
—
We heard from a lot of you after our breakups episode came out last week. And for some of you, it prompted some big life decisions...but not all about romantic relationships.
Right after listening, our listener Cindy told us, "I submitted my resignation at work. Nothing was changing and it was definitely toxic. Thanks for the push I needed!"
We also saw a lot of you adding to our breakup survival kit Google Doc… including lots of suggestions for the "things to watch" section.
And inspired by that tonight, February 22, let's watch a classic breakup movie together, "10 Things I Hate About You." Cue up your Netflix stream, and at 9:30 p.m. Eastern/6:30 p.m. Pacific, we'll all press play together. I'll be tweeting along with the hashtag #DSMMovieNight and I hope you'll join in! All the info's on our Facebook page.
And I have one more cool thing to tell you about. We wanted to add some real-time person to person advice for your breakup survival needs. So, next Friday, March 3, I'll be taking your calls LIVE with two of my favorite past guests – musicians Jason Isbell and Amanda Shires. We'll be talking in Nashville -- the heartache capital of the world.
The last time I talked with Jason and Amanda, they opened up about the ups and downs in their relationship.
Jason Isbell: "I had to go through a series of trials—Herculean trials—before she would actually say that we were...that I was her boyfriend. It wasn't like we were playing the field, it was just like...she just didn't know she could trust me.

Amanda Shires: It's hard to trust somebody who's out carousing every night, you know?
Now, it's YOUR turn to call us and talk to Jason, Amanda and me about what relationship dilemmas or post-breakup feelings you're sorting through. We'll be streaming our call-in special on Facebook live at 3 p.m. Eastern on Friday, March 3. All those details are on our Facebook page. I can't wait to talk with you.
—
This is Death, Sex & Money from WNYC. I'm Anna Sale.
After her mother died, Cristela Alonzo found work at a comedy club in Dallas. She started learning about stand up… and about alcohol.
CA: I had just started drinking so it was kind of a new thing for me to drink because my family doesn't drink.

AS: So you were learning how to drink…

CA:: Yes, yes, yes.

AS: …at your moment of...most traumatic moment.

CA: Absolutely. It was really weird. It's that thing where I was going through a very painful part of my life, but I was also kind of...I kind of felt like a teenager at times. You know, it's like I'm learning things that other people have been doing for years now. Like, you know, so that was my way of doing it, especially cause I worked at a bar. So it was so convenient. One night I got really really drunk and, out of habit because I used to talk to her every day when I wasn't near her, I called her number. And it was disconnected. And I realized...that's when it hit me that my mom was gone. And, uh, I got a DUI that night. And I deserved it.

AS: Did they take you in? Did you go to the police station?

CA: Oh yes. Oh yeah, yes. I was taken to the police station. I was there overnight. I remember waking up the next day thinking I was dreaming because I was in a jail cell. And I went back to sleep and then I woke up and I realized that it was a real thing. My sister had posted bail but... no one in my family would pick me up from the police station. They made me walk home as punishment. So I had to walk six miles that day. 'Cause I had no cash, no anything. Nothing. I had to walk back home because no one, no one would pick me up just to teach me a lesson.

AS: What do you remember thinking and feeling during this six miles of walking?

CA: You know, it's weird. I was walking and I was so depressed because I thought, "My god, now I have a DUI. So now I have no mom, I'm an orphan. And now...rock bottom."
It was around this time that Cristela started getting up on stage at the comedy club where she worked. Performing felt good...and stand-up gave her way to talk about her mom.
CLIP CA: I'm not very girly, and I come from an old-school Mexican family that they expect you to always wear makeup and be dressed up. My mom would be like 'Mija, why aren't you wearing makeup?' Cause I'm going to bed, dude. It's like late.
Cristela started meeting other comics and doing stand-up on the road. She eventually decided to go back to LA. She wrote for TV, and performed on Last Comic Standing.
Then she came up with an idea for her own show -- she called it "Cristela". She pitched it to ABC.
CA: And I remember they passed on the pilot and I thought, "Well, "I'm going to go back to doing stand up." Why not? I had a week in San Antonio. I remember that. I was on the plane. Had no WiFi. I landed and I got. I had all these calls on my phone. And the producer of the show—she called me and , uh, she said, "You know, I just feel like there's something here."
So even though ABC passed on their pitch, Cristela and her producer decided to make a pilot anyway. They had a tiny budget...and used the set of an existing sitcom, a Tim Allen show.
CA: The crew worked overnight and changed the set to kind of make it look different and pretty much donated their time the audience was packed with people that like knew me from stand-up. And I remember that night, I came out. We shot the pilot, and the first scene...everybody laughed and you kind of knew that we had something special. There was something different about this show.
On her show, Cristela plays a young law student who has to move home to take care of her mother. One of the pilot's earliest scenes has Cristela's character waiting for a job interview in a law office, when she's mistaken for a janitor…
CLIP CA: "Is this really happening?"

CLIP Actor: "Oh my God, oh my God. I am so sorry. Obviously you're not the cleaning crew. Can you validate me?"

CLIP CA: "I think you've been validated enough."

CA: The audience was predominantly Latino. And they got jokes that the network didn't get reading the pilot. And, uh, basically because they passed on the pilot, the network and the studio couldn't give us notes because we were doing it on our own.

AS: So you had creative control.

CA: Absolutely. And then when we turned it in, and it turns out that they liked the pilot. So all of the sudden, this pilot, this long shot we're like the Bad News Bears—we're the underdogs. We're still kind of in the running. And finally I get the call and they tell me that the show's been picked up.

AS: Do you remember what you did after getting that call?

CA: I actually cried for a really long time. I cried a lot because um everything that I've done with my career, every time I get like a break. I always think of my mom before anything else…

AS: At that point you in your career were you able...were you feeling financially secure as a stand up, were you able to support yourself through your performing?

CA: No, I was actually very broke. And I was actually in the middle of...I was preparing to move back to Texas. I had given up. I was…

AS: Really?

CA: Yeah, I was doing stand up. I was going college gigs. And my boyfriend at the time, we were so broke we had to borrow money from his parents to kind of keep going as long as we could. Our friends gave us money to kind of keep going because they kind of believed in what we were both trying to do...

AS: This is like help with rent money?

CA: Yeah, oh yeah, yeah, yeah. I mean, this is rent money, this is bills, you know what I mean? This is gas. I mean we were...I mean I was pretty broke. Even when I was developing the show and we shot the pilot, I wasn't getting paid for the pilot. Like, we paid the cast. I didn't get paid anything. When we got the show picked up and I had to go to upfronts, I bought a dress wore it and then I had to return it because I couldn't afford the dress.

AS: Really?

CA: Yeah, that's how broke I was.

AS: Where'd you buy the dress from?

CA: J. Crew.

AS: I won't tell them. [Both laugh]
"Cristela", the show, premiered in late 2014…and critics loved Cristela — the person. The show named after her, though, got panned.
After 22 episodes with disappointing ratings, ABC cancelled it.
CA: I was really proud of the stories we told because they were very personal to me. At the same time though I find it really surprising at how critical people were of my life. As a Latino show, as a show with a Latino family, for some reason we have to represent all Latinos. And if one...and if Latinos see my show and they don't resonate, or they don't really connect with what I'm trying to say, they say I'm being stereotypical or like, "My family's not like that." Well, it's not about your family. That's why the name of the show is Cristela. It's like, this is my family. You know what I mean? It's like I don't see Roseanne and think all white moms are like that. Like that's just Roseanne. I mean, I'm talking about a specific demographic which is a Mexican family from South Texas. The show's set in Dallas. And even then I can't represent all South Texan Mexicans because we're all different. You know, so when I look back it was interesting to not get the support that I thought I was going to get, because my career...I think I've been pretty much known for being very honest about where I come from and how I lived.

AS: What's your mood about your career now?

CA: My mood is that I'm so picky. I was actually working on developing a new show this year, actually. And then after the election I pulled out of the deal because I wanted to wait a year to see what the climate would be like politically throughout the country. I didn't want to develop and put so much effort on a show that maybe the network would be too frightened to put on the air.
Cristela's also taken the last few years to focus on herself. She broke up with her longtime boyfriend after 10 years together.
CA: I've never really been single. You know what I mean, I grew up with my family. Family obligation, family obligation. I met by boyfriend in Dallas. We were both you know doing stand-up. You know, I move to L.A., he moves with me. He lives with me. So I've never really been alone. And trust me my life is not like Sex In The City. At all. They lied. But you know what? I like living by myself. Because honestly it's, like, when you have a job where you talk to people all the time, it's kind of nice to have that moment where you can be in your little cave, you know? And this is my thing—I'll buy like a Lego set and I'll build Legos by myself in my apartment.

AS: You will?

CA: Yeah, I bought the Lego Batcave set and it's Bruce Wayne Manor with, like, the Batcave and the Batmobile. I will sit and build Legos. And I just put on music and I just go to town. That's kind of what I like to do.
—
Cristela Alonzo. You can watch her latest special, Lower Classy, on Netflix. The 22 episodes of her show Cristela are there too. She's also a voice in the next Cars animated movie. Her character is named Cruz Ramirez.
Death Sex and Money is a listener-supported production of WNYC Studios in New York. I'm based at the Center for Investigative Reporting in Emeryville, CA. The team includes Katie Bishop, Chester Jesus Soria, Emily Botein, Andrew Dunn and Chase Culpon.
Our intern is Adriana Rush.
The Reverend John Delore and Steve Lewis wrote our theme music.
I'm on Twitter @annasale, the show is @deathsexmoney.
And don't forget—tonight, February 22… let's watch the classic breakup movie "10 Things I Hate About You" together. All the details are on our Facebook page. I'll be using the hashtag #DSMMovieNight as I watch with you.
Back when Cristela would spend hours in front of her TV, she says one of her favorite shows was Golden Girls. She even got sent to the principal's office because she wouldn't stop singing the theme song in class.
CA: I loved the show so much I even did it in Spanish. "Gracias por ser mi amigo." Like, I don't even know. I used to do it…That's how much I loved it! I sat down and translated the song in Spanish that's how much I loved it.
I'm Anna Sale, and this is Death, Sex & Money from WNYC.
Copyright © 2019 New York Public Radio. All rights reserved. Visit our website terms of use at www.wnyc.org for further information.
Music Credits:
"Summer Spliffs" by Broke For Free
,
"Lemonfade" by Broke For Free
,
"#1" by Severin
,
"Your Mother's Daughter" by Chris Zabriskie
,
"Secret Place" by Alex Fitch
,
"Heart Ache" by Broke For Free
,
"Spring Comes Early" by Podington Bear