From Conversion Therapy to a Rainbow Yarmulke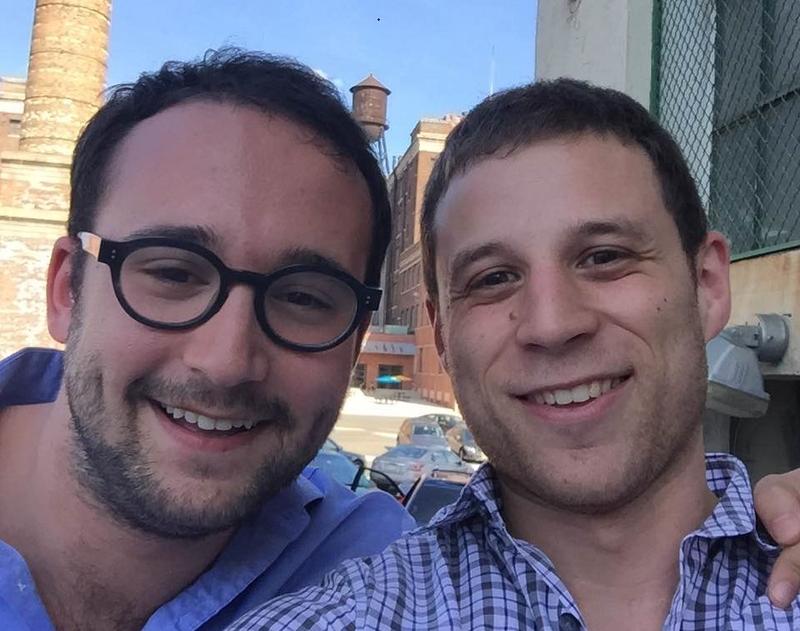 Transcript
BENJY UNGER: At that point I considered it a journey to get to an end goal, and I have these people to support me and I can support them.

ANNA SALE: The end goal of not being gay anymore.

BU: Yes, of not being gay.
This is Death, Sex & Money.
The show from WNYC about the things we think about a lot…
…and need to talk about more.
I'm Anna Sale.
Benjy Unger and Chaim Levin are really good friends.
BU: …almost like… platonic dating.
They grew up just a few miles apart in Brooklyn... but they didn't meet until about nine years ago, when Benjy was 20 and Chaim was 18.
CHAIM LEVIN: I tell people that we met in a closet, and he hates it. He literally -

BU: I don't hate it.

CL: He hates it! He yells at me. He's like, "stop it!" And, "why do you do that?" But I think it's really funny. Because we met in a place where the goal of being there was to stay in darkness.
They were both raised in big Jewish families, that followed strict Orthodox rules. They went to religious schools... yeshivas... through high school and beyond. Back then, they wore traditional Orthodox dress: white shirts, black pants and wide-brimmed black hats.
BU: Chaim and I grew up in different sects of Orthodox Judaism. Mine was probably a little bit - a little bit more liberal, but not with - in the case of being gay. There was no such thing as being gay. You know, it's not - you know, it's one thing if something is talked about. The problem is it didn't exist. And when something, you know - when you're going through this inner turmoil and it doesn't exist in the world around you, that's torture.
When they were teenagers, Benjy and Chaim responded differently to their attraction to other young men. Chaim acted on it… and learned it wasn't safe to talk about.
CL: I had confided in a close friend because something had happened between me and another friend, something sexual.

AS: A man?

CL: Yeah, yeah. And then, you know, he, you know, my friend who I told, told someone else and he told someone else and then there I was, persona non grata. It was really - it was pretty awful. One Friday night a guy started yelling at me in front of like 15 people, "Chaim Levin, you're a faggot. No one stood up for me.
Benji took another approach… He tried really hard to be straight.
BU: I was being approached to be set up on dates with girls. And I was like, "oh my God, there's a problem." And I became extremely depressed because of this. I was very depressed and very anxious about all that because I knew that there was something different about me and I couldn't be like the other guys in the school

AS: How did you first try to deal with it during that phase, like what do you remember?

BU: If I was attracted to a guy, I would try to like shake it out of my head and say, "This is not real. This is not a real attraction. It is disgusting, et cetera." And if I would see a woman I would try to like, kind of - even though I wasn't attracted initially I would try to go a step further in my head and become attracted to the woman. It worked to an extent. I mean, I didn't become not gay, but there was a point where it was very hard for me to be intimate with a guy because my brain would automatically shut down if I got an erection.

AS: Yeah, you'd shame yourself.

BU: Yeah, it actually worked, to a horrible - in a horrible way.
Both Benjy and Chaim decided…they needed help. They talked to their parents… who connected them to rabbis and therapists.
BU: One rabbi told me that, "I've heard of this before and this is a chemical imbalance and there's treatment for it in hospitals." Another rabbi told me that "physical attraction doesn't really mean so much anyways in marriage. And as long as she cooks well and, you know, she cares for you and raises your children well, that's enough to have a great fulfilling marriage. And if you have friction it will work." Those were his words. He didn't get into detail, but he was like, "Well, I'm going to say that if there's friction it works." Um... And that - I think that actually made me a little bit more depressed because it was so outrageous.
Benjy and Chaim separately made their way to a conversion therapy program for Jewish men that was called JONAH — an acronym for Jews Offering New Alternatives to Homosexuality.
It was led by a man who they were told was a rabbi and a doctor, though he was unlicensed.
BU: It was like I struck gold. You know, wow, I finally found like my messiah. For that moment I was very happy and inspired, actually. I felt great.
And it was here… at JONAH… where Benjy and Chaim first met.
BU: Chaim and I kind of connected right away. I remember even he drove me home that night. And we had this stupid conversation about - we both made believe we were into sports. And we were talking about the Yankees and -

AS: Wait, neither of you are actually into sports?

BU: I was more than him, I would say.

CL: He was into sports back then. And I was very little. And now I am a lot more, actually.

AS: So you were pretending, and you were not pretending.

BU: Right.

CL: I wouldn't call it pretending, but like we had this macho conversation about, you know, sports bro -

BU: I wouldn't call it macho.

AS: And Chaim, what did you notice about Benjy when you first met him?

CL: Benjy was just - he really was like one of the - one of those bros from high school that - that was just so regular and nobody would guess that he's gay. At least that's what I was thinking back then, you know. He was so straight-acting.

BU: Totes masc bro, that's what we would -- that's how we would refer to it.

CL: And for some reason, like, I wasn't ever attracted to him, just to get - everyone, whatever. But I was attracted to the idea of being his friend. I was like, "I want to be friends with this guy. Like, cause he's so cool." And we actually did, at one point in one of the group sessions we did what they call a 'clearing,' where you hold a staff and you face each other and -

AS: A staff like a - ?

BU: A big wooden stick.

CL: A big wooden stick. And you tell each other - it's usually used for like when you're attracted to someone in the group you could have like a 'clearing' and talk about your perceptions towards them and that's supposed to make you unattracted to someone, which is bullshit. Anyway, I did a clearing with Benjy because I just wanted to be his friend and didn't believe that I was worthy of having a cool friend like Benjy. That was basically my impression.

BU: It's actually really funny hearing this though because I don't think I was ever more insecure than during that period. I was a mess during then. So it just goes to show how perception is everything. I didn't think I looked with-it or put-together at all.

CL: We were just two peas in a pod. And we've stayed that way ever since.
Benjy had doubts about whether the program was going to work for him... especially when he saw how well Chaim seemed to be responding to treatment.
BU: It seemed like he was more - to me at least -- and again, perception is everything -- it seemed like he was more clear and more, I would say, into the JONAH program than I was.

CL: I was a true believer. I was like really, like, I - not only was I a true believer. I was so enthusiastic. My god, I drank the Kool-Aid. I got like food poisoning from the Kool-Aid… and for many people like me who - who were rejected by everyone around us for so long -- we were treated like dirt, and suddenly you're away with all these people who share so much of your pain the only thing you really have are things like group sessions at JONAH where you can sort of reconnect to that energy and community of men. At the time I think maybe that was just - I needed that in a way, and like, I just needed that connection with people.

CL: That's what I think what was one of the things that was very cruel about JONAH, was that they targeted people who didn't know anything about this stuff. I mean, I know that there are all types of people who go to conversion therapy, but in large part it's people who come from backgrounds that don't teach them about sexuality. And they were the first people to ever tell us, "Oh, you know, it's going to be okay. it's going to get better."
Coming up... what happened after Benjy decided to give up on conversion therapy.
BU: I never believed it a hundred percent even though I was in it. I was just extremely desperate.

AS: Did you tell Chaim that it wasn't - that you were having these doubts about the program?

BU: No. It was something you don't talk about, actually. You kind of just, like, keep it to yourself because if you do doubt it then there's something wrong with you.
I'm getting ready to leave New York this week…I'm packing up after about seven years.
About a month after I landed here... when I was still getting regularly lost on the subway and learning about this strange city where people are totally cool with not having washer and dryer… this song came out.
ALICIA KEYS: In New York

Concrete jungle where dreams are made of

There's nothing you can't do

Now you're in New York
I remember going to the park near my apartment and feeling it follow me -- because so many people were playing it at barbecues, or out of car windows. It was so inspiring... and terrifying... because I didn't know how to live here.
JAY-Z: Eight million stories out there in the naked

City it's a pity half of y'all won't make it

Me I gotta plug Special Ed "I got it made"

If Jeezy's payin' LeBron, I'm payin' Dwayne Wade

Three-dice Cee-lo, three-card Monte

Labor Day parade, rest in peace Bob Marley

Long live the king, yo, I'm from the Empire State that's
Now, as I've been getting ready to leave this city, the Carter family has been getting me through again. This time, Beyonce Knowles Carter. I've been spending a lot of time with Lemonade as I pack up and take my last subway rides as a full-time New Yorker and now exactly where I'm going.
BEYONCE: Freedom! Freedom! I can't move

Freedom, cut me loose!

Freedom! Freedom! Where are you?

Cause I need freedom too!
Beyonce brings the swagger as Jay-Z, but hers is mixed with humiliation, furious anger, uncertainty, pain... and rebuilding.
BEYONCE: Hey! I'm a keep running

Cause a winner don't quit on themselves
Seems an appropriate bookend to my time in New York. You made me curse you so many times, but God, you made me strong.
So, now we head west. Arthur and I decided it was easier to move a pregnant lady than a newborn and two new parents. (That also seemed to be the consensus from many of you who've done similar moves) Nothing's going to change in how you get the show, of course… and I'll keep you updated on other changes as they come.
On the next episode, actor Jeff Daniels. He tells me about his struggle with alcohol addiction, about living far away from the entertainment industry, and about his vasectomy after his wife had their third child.
JEFF DANIELS: I had watched her go through child birth three times. I said, "there's no way I am going to force you or ask you to do anyth-"
I said, "I'm the one, I gotta be the one that gets fixed. And I remember laying there, and he had just snipped the first tube. And you could head it. Snip.

AS: Oh, you heard it?

JD: Oh, you heard it.
—
This is Death, Sex & Money from WNYC. I'm Anna Sale.
After a few months of sessions, Benjy Unger was less and less sure that his counselors could come through with their promise to help him not be gay. Because the treatment... wasn't making sense to him.
BU: The things that they say are the reasons that cause people to be gay, most of them didn't apply to me. Yet they tried to convince me that they did. So the typical example was "not close to your father." Right? "You're not close enough to your father." I am and have always been extremely close to my father. "Too close to your mother." Um, as one therapist said, "If that was the reason to become gay, every Jewish person in Brooklyn would be gay." So, you know, so that didn't really work. So this thing about masculinity, where you're not masculine enough. I mean, like I said before -

CL: Have you seen him?

BU: Totes masc bro. But like, they mentioned that I should go to the gym to get more masculine, which is insane, because no group of people go to the gym more than gay people in New York City. So, like, nothing made sense. But I kept going at it. And then, I was getting more and more depressed, more and more depressed. I was getting suicidal. Um, and I said, oh, this is not, this pro- this isn't as what, you know, what they made it out to be in the beginning.
Benjy tried to find some answers through an email listserv, where other young men struggling with their sexuality shared stories and tried to help each other. One e-mail in particular stood out.
BU: His post was, "Hey guys, so I've been in conversion therapy now for 15 years and I think I'm starting to see some progress." And everyone was like, "Good job, yay, go you!" Whatever. And I'm just like, wait. This is inspirational? I mean, this person has been doing this for 15 years and he thinks he might be starting to see progress? If this is success, I don't want to be part of this anymore.
Chaim's breaking point came a few weeks later, after Benjy had already left JONAH. In what would be one of his final private sessions with the program, a counselor told him to stand in front of a full-length mirror. He had to say one negative thing about his body and then take off a piece of clothing.
This went on until Chaim was fully undressed… staring at himself naked. According to court documents, the counselor then told Chaim to hold his penis… to "feel his masculinity."
CL: When I left that room that day in October in 2008… I said, "I'm just never going to talk about this and just pretend it never happened." But eventually I couldn't - you know, I couldn't ignore it and there was just this survival instinct in me that said, "I can't continue going."
Within a few months, Chaim was out to his family and friends. But for Benjy… leaving the therapy at JONAH didn't mean it was ready to accept that he was gay.
BU: Not yet. So when I left JONAH finally, I was thrown out of Jewish school because I told my rabbi that I'm leaving, and he's like, "if you don't" - he said, "if you - if you leave you're a danger to the boys in this school." So I said, "okay, I'm out of here," I left. There was a good few month period where I - I wasn't out but I wasn't in. I was like in this really depressing middle ground. I had no friends. I literally lost all my friends.

CL: It's called no man's land. We called it that. No man's land. You're kind of in between.

AS: Where were you living?

BU: I was living in - I was living with my mom still actually -

AS: With your family?

BU: In Brooklyn with my mom, yeah. And what I did was -- I was so desperate for any kind of friendship or people... knowing people I was gay -- I uh, I put a post on Craigslist. Now it sounds shady, and I actually put the post on the "Men seeking men" section. But... um, this wasn't a typical Craigslist post. The title of the post was "Choking in the closet" and I wrote like a four, like, paragraph essay about what I'm going through, "I need help." I got like a few hundred responses actually. And then I saw that Chaim was out, actually. And one thing about Chaim, when Chaim does something, boy does he do it. So - um, so when he was out, rainbows here and rainbow glitter there and rainbow yarmulke and rainbow bracelets and rainbow necklace. And I was like, "okay," but he at least seemed happy. I wasn't going to go to that extent, but I kind of followed him, and then...

CL: Then we started discussing what happened. Because, you know, in 2010, no one had any idea what was going on with these places. When you Googled, it wasn't even called - it was called 'reparative therapy.' I would think, "if people only knew what was going on here, like, you know, nobody would go."
Benjy and Chaim… along with two other former clients… decided to sue JONAH and its counselors. It was a consumer fraud lawsuit.
They argued that the program failed to keep its promise to help gay men overcome same-sex urges.
Attorneys for JONAH argued that neither Chaim nor Benjy stayed with the program long enough to see results. They said the program never guaranteed it could change anyone's sexual orientation.
CL: I would not have survived this lawsuit without this schmuck right here. We used to go into court every day and then we would come back to the hotel and we would just sit there and laugh our asses off. Like, "Can you believe that we're literally in the middle of a lawsuit, we have 14 lawyers and a whole jury and a judge and our stories are the things that are being debated. We didn't laugh because any of this is funny. This is all horribly, horribly sad. I mean, there were moments in that courtroom where I just wanted to scream. And, you know, I remember - I remember during the closing statement by our lawyer turning around and seeing Benjy just bawling and bawling and it just broke my heart because this was such a - so - crazy and deep and personal.
In the summer of 2015, a jury unanimously agreed with Benjy and Chaim. A judge ordered JONAH to close a few months later.
During the trial, Chaim and Benjy stayed close to their families and the neighborhoods they grew up in. But they've started to build lives very separate from the Orthodox tradition.
Benjy works as a bartender, at a nice restaurant in Manhattan. He wants to open up his own bar someday. Chaim has become an LGBT activist and blogger, and recently signed up for a few college classes.
AS: Has there been a sense of loss of feeling like you don't fit in the communities that you came from anymore?

BU: In the beginning, yes. Now, not at all. I am so happy, you know, forget the gay thing. I'm happy where I am able to live in a world where I can make my own choices. Not to fit into a box.

AS: Do you feel that way, Chaim?

CL: Well, you know, it's interesting, because I - I didn't feel like I missed it but at the same time I wanted them to understand me. But what happened over these last few years, especially recently, the community that I come from is changing in ways, on personal levels. Like, once it becomes personal -- once it's your friend or your cousin or your -- then, then you have to become a little more open-minded. As like even my parents did. My parents are down with the gay now but it took them time.

AS: You both grew up with such a specific version of what family looks like. Do you think about what kind of family you want to have in your adult life?

BU: I feel like, you know, the traditional part of me doesn't really - can't really go away completely. Which I'm fine with. So, I definitely want to have a family. Meaning, I want a husband and I want - I think I want kids. But the beauty of the life - again, this is another reason I'm happy I'm outside the box now is that I can decide when that is. I think having kids would be awesome. My mother cannot complain about not having enough grandkids because of me. She has 13. My brother just had his ninth kid. All right? She's doing just fine. So I have the ability to wait and give her her 25th grandkid when I'm ready. So that's good.

AS: And what do you want?

CL: I mean, I have nine nieces and nephews and for a long time I've kind of been on the fence about kids in general. I'm terrified of the idea of having kids because I'm terrified that I wouldn't be able to protect them from all the evils that this world has to offer. At the same time, I don't know. It's definitely something I'm open to. You know, I've had some relationships that didn't quite work out. Um, I...

BU: Do you have another three hours to talk about this dude's…?

CL: But, you know, we'll see! We'll see what happens, I guess. I -- I'm open minded.

AS: Do you talk about your love lives with each other?

BU: We definitely talk about it. We talk about everything.

CL: Well yeah. At different points in our lives we've both had to deal with each other's disgruntled exes of sorts.

AS: Oh, because you're so close. It's like a threat.

CL: Yes.

BU: Yes

CL: Yes, where they like came complaining to me or complaining to him.

BU: And the beautiful thing is, Chaim and I definitely have very different types, so we're never competition. We're never - there's never an issue of that.

CL: Yeah.

BU: You couldn't get more further on the spectrum as far as types go with us.

CL: We are like polar opposites.

BU: Chaim is very out there. He's very out there. And if it weren't for people like Chaim, I might be still in the closet. You know, you need that. You need that balance.

CL I tell people that the only good thing I ever got out of JONAH was this guy.

BU: Here we go.

CL: No, it's true. It's true.

BU: And how we met in the closet. That's the other thing we got.

CL: No, but really. I mean like, you know, I think that, like - you know, I'm - I don't know how or if I would have met him or if I had met him in a different context our friendship would be this way but, um, you know, I think that we're kind of stuck with each other forever now and it's going to -

BU: Oy vey!
Benjy Unger and Chaim Levin. You can read more about their experiences with JONAH and their trial in a Newsweek article by Zoe Schlanger. There's a link on our website at deathsexmoney.org.
Thanks, Zoe, for your help with this episode.
Conversion therapy is now banned in New Jersey, California, Illinois, Oregon and Washington D.C. And in February, New York State prohibited health insurers from covering conversion therapy.
Death, Sex and Money is a listener-supported production of WNYC Studios. The team includes Katie Bishop, Chester Jesus Soria, Emily Botein, Hannah McCarthy, Andrew Dunn and Rick Kwan.
The Reverend John Delore and Steve Lewis wrote our theme music.
I'm on Twitter @annasale, the show is @deathsexmoney. And if you like our show, please leave us a review on iTunes. It helps other people find the show.
And while Benjy bartends… Chaim found a new passion he never would have anticipated when he was younger: Dog walking.
CL: Growing up in that community, most people don't have dogs. And I was terrified of dogs. From that I became - I mean, the craziest dog-lover in the world. My Facebook page is loaded with dog selfies. And so it's like, I write about gay rights, sexual abuse, education, and then I kind of balance it out with dog pictures because it's all about balance.
I'm Anna Sale and this is Death, Sex & Money from WNYC.
Copyright © 2019 New York Public Radio. All rights reserved. Visit our website terms of use at www.wnyc.org for further information.
Music Credits:
"Story Four Theme" by Blue Dot Sessions
,
"Cirrus" by Blue Dot Sessions
,
"Spills" by Blue Dot Sessions
,
"White Limit" by Blue Dot Sessions
,
"Cab Ride" by Blue Dot Sessions
,
"The Silver Hatch" by Blue Dot Sessions
,
"Pickers" by Blue Dot Sessions