College Sweethearts: Transformed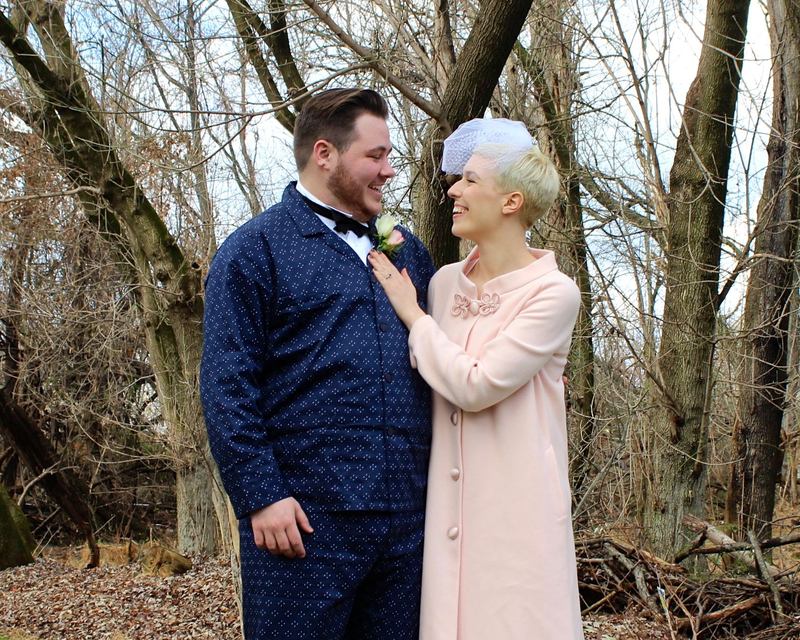 Transcript
L: Marisa and I started to look like a straight couple, instead of some sort of queerish mish-mash.
This is Death, Sex & Money. The show from WNYC about the things we think about a lot, and need to talk about more.
I'm Anna Sale.
Liam had been crushing on Marisa for a while when it happened.
L: We were both getting on the same subway, and I needed to get off the train and transfer, but I was so wrapped up and excited in seeing her that I just stayed on the train.
Liam Lowery was a freshman, at Fordham. He'd noticed Marisa's cool haircut and worn cowboy boots in the campus cafe a few months before.
Marisa Carroll was older, a sophomore.
M: We had some mutual friends. I was casually dating other people.
So she didn't think much about it when Liam asked her to coffee.
M: And then he walked me home after, tried to plant a kiss on me as we said goodbye. And I shut it down.

L: That you did.

M: That wasn't within the rules of the game. I felt like we had met on friendly ground. But the act of him having come on to me in that way, I just couldn't get him out of my head. I reached out to Liam on Facebook chat.

So when that Facebook chat popped up on that computer screen, you were stoked.

L: Then I was panicking. I was very excited initially, also I felt like she was instigating it. And I was like, oh, this is a very big shift. So then I think I texted you and asked if I could bring anything, and you said, Yeah if you want to get, like, a diet Dr. Pepper. And I was like, okay, yes. And then once I had a task to do, I felt a lot more comfortable.

What happened by the end of that night together?

L: Made out. It was awesome.

M: Totally made out, it was great.

And how did making out with Marisa feel for you, Liam?

L: Totally sweet. Great. Worth the wait. It felt like a transformative experience. I was very, at that point, familiar with transformations.
Liam wasn't always Liam. He'd been born a girl.
L: I'd previously come out to my family as trans and I knew I was transgender, and doing the whole name change, deleting the old Facebook, all that kind of stuff.

You created a new profile?

L: Yeah, I just deleted everyone, because when I came out at the end of high school, I didn't receive a lot of good feedback. From people who I thought were my friends. So I just thought, let's burn it down, let's start over.

And Liam at this point, where were you in the process of transitioning?

L: It was clear to me that there were some things I was going to want to change physically. What was challenging was at that point, I was like, someday I'd like to get reconstructive chest surgery, top surgery, and I also would like to start testosterone. So I was starting to reckon with me being trans wasn't going to be like me having an eye color or a hair color. It was going to be a very big part of my life. I had no desire to be in a relationship before I met Marisa because I was like, I have so much work to do. And yet, how could I not, once I met her?

Did you not have a moment of like, oh my gosh, I've got so much—I need to focus on myself, this is a lot I'm going through—

L: That happened later.

When did that happen?

L: That happened after we'd been dating for about six months. I was like, I just don't know what we're doing, I think we should break up.

M: I got dumped.

Is that what it felt like?

M: That's what it was. I totally got dumped.
Before Marisa met Liam, she'd always thought of herself as straight. This was different. Because, to be clear, even before Marisa met Liam, she'd heard about this guy on campus who was trans.
M: That was something that people wanted to talk about.

Oh, so Liam was a transgendered celebrity.

M: Oh, totally—big celebrity.
Their relationship had gotten really intense really fast...to a point.
Did you introduce Liam to people in your life? Your family?

M: No. I introduced Liam to various friends and people in New York, but I—even if there wasn't identity questions involved, I don't know if I would've introduced someone I was dating to my family at that point, so it just seemed like something that we didn't have to discuss.

Was Liam—I mean, this is in the era of social media—were you and Liam on Facebook together?

M: We were on Facebook, but we were not 'Facebook official.' Which is important—

L: It was a sticking point.

M: It was a sticking point. I didn't want to have that be public on social media.

L: You didn't want me to post on your wall, though.

M: I didn't want him to post on my wall.

What was it about the wall?

M: Cus then people would get the idea, if you were only posting all the time, that we were in a relationship or something.

L: God forbid.

M: I wasn't ready to commit to what our relationship meant, and to commit to what being in a relationship with Liam meant. And I think that really showed me that I had to commit to him one hundred percent. And to all of him.

Why did you get back together, or how did you get back together?

L: I realized immediately it was a horrible mistake. Marisa had written me a letter. I immediately wanted to call her and say, this is a horrible mistake, I'm an idiot. But part of it for me was like, Oh my God, I'm going to include you on this journey of me, starting making all these huge changes that I've waited my whole life to do, essentially. And you won't even be—you won't even have me write on your wall or be in a Facebook relationship with me, which is a very silly yardstick, and to me—

But it's also a very appropriate one.

L: At the time. It was entirely appropriate, because of course, at the time, I was like, I can't have you be in this if you're not gonna fully commit to me and commit to me being out publicly. So I waited, I forget exactly how long, because I was in torment. I don't know, we just saw each other and it really was—that was sort of the second big transformation. I remember you were wearing a white shirt, and I brought you flowers, and we walked to your apartment from the Metro-North station, and it just felt really different. All the same things were there, all the same attraction and intense emotional connection. But you were holding my hand the whole way.
Coming up, what's changed, and what hasn't in the three and a half years since Liam started testosterone.
L: I started getting really hairy. Everywhere. My voice started to get lower, things like that. But, those were all changes that—I knew I wanted those physical changes. And Marisa, to her credit, was like, whatever you want. I really like you, whatever you want to do.

M: Oh, I was in like—I'm your biggest supporter. Don't break up with me again. Please! Aren't I great, huh?
There are about 700 thousand trans people in the U.S., according to the Williams Institute at UCLA. That's a bigger population than Seattle. It includes JJ, a listener in Connecticut. He shared his story after hearing we were working on an episode with Liam and Marisa.
We met in '97, on an AOL dating board.
He and his partner fell in love. At that point, they were both living as women -- as lesbians. But they shared a discomfort with their bodies. They were together for ten years -- they got married, they built a life in the California suburbs together. Until they split up. JJ moved back East to be near family.
Once I got to Connecticut, I was like, Oh my God, where'd all these trans guys come from? It's like they grow them on beanstalks out here. I'm like, what the hell?
It helped him work up the nerve to begin medical interventions. Separately, his former partner transitioned, and now lives as a man. People at work don't know he was born female.
And now they've just started talking about getting back together.
In the past, I was all about being out. Now? I don't give a shit. Whatever it takes to make the relationship work is what we're going to do. Because that's more important.
We'll send you more listener stories in the new Death, Sex & Money newsletter. It comes out every Wednesday. Go to our website to sign up -- deathsexmoney.org. The sign-up is in the right hand column.
On the next episode, Lawrence Bartley. He's been behind bars since 1990, for murder, since he was 17. He got married in prison, and has two young boys. The older one is seven.
He says things like, why does all the daddies in here wear green pants? Why do the daddies have to stand up—we have to stand up in the visiting room in order to be counted. I explained to him one time but he didn't get it, so I'm waiting for that moment when he really really gets it, so I can really explain to him. Because I don't want to shatter his world right now, but I don't want to lie to him. That's what I don't want to do.
This is Death, Sex & Money from WNYC. I'm Anna Sale.
After he started injecting hormones, Liam Lowery watched his body change. And then, he started noticing other things.
L: Definitely became harder to cry. Tears didn't well up in my eyes as much, and that was like the biggest one I saw.

Were you scared of the emotional changes?

L: Yeah, because I was scared that I would get turned into a man against my will. And that, you know, those things about myself that I liked, or that I thought made me a good partner, I was so scared they would just get washed away.

Did you notice any changes in what happened when there was fighting or conflict between you two?

L: Do you think so?

M: I think that we had more difficulty talking things out.

L: I remember one argument we had was I would do an injection and my leg would be so tingly and it was really this odd sensation. I was like, oh, my leg is so tingly. Marisa was like, what? Are you okay, do we need to go to the hospital? And I was like, of course we don't need to go to the hospital, you don't understand. That's sort of when I started to become, like—there was this very harmful time pretty soon after that, where my gut reaction when she wouldn't instantly understand from two words what I was talking about—I'd be like, I'm trans, you don't get it. I'm trans, you're not, whatever. Thank god, that got quashed pretty soon, because you were like, no, I just don't understand because you're not telling me. So how could I understand this thing I've never done before? But, yeah. That's more what I remember of that time was having this feeling of like, misunderstood. Constantly.

Well also, because you are going through a lot of this alone. Even as you're in a relationship.

L: Yeah, and being worried about ruining a relationship because of this change that I'm making, that then, of course, I couldn't help but feel like I have this commitment to myself that I was going to do this before I ever met you. This is a non-negotiable. There were moments, there are times where it's like, you know, you cannot understand this. This is something that I know that you'll never know. But I will say, to have that be my baseline. To have that be my, oh if you don't get something it's probably because of this—was not healthy for us. And wasn't healthy for me, because it really made me feel like I was at war with the world, including the person I loved. Especially when I was going through a lot of changes, and for kind of the first time ever feeling like I didn't even know myself.

Did you ever get really angry when he would tell you that, that you didn't understand, that you weren't doing enough to be supportive?

M: Yeah, absolutely. I mean, I loved him. That's really the answer to why I was able to weather that period was because I loved him, and I wasn't thinking about what we'd do in the future, I was thinking, I can't get through a day if I don't spend time with you or talk to you. But yeah, I think it's very hurtful to feel like, I'm really putting in the effort to try to be a good partner and try to be supportive, and I'm getting kind of shot down. And then at the same time feeling like I have to put on the appearance of not feeling hurt because you're right, you are the person who's going through this, you are the person who's suffered, you are the person who's finally being able to become the person they want to be. I didn't want to make him feel like I was another person in the world not supporting his journey. You know?
Liam's choice to do just a top surgery -- on the chest -- and not on the bottom -- on the genitals -- is not uncommon. It has a bigger impact on outward appearance, and at a certain point, costs can get prohibitive. Plus, not everyone wants it.
Did your intimate relationship, your sex life change as your body changed?

L: Yeah, I'd say that it did, but I'd say that the biggest change was when we started dating, our sex life was great. Not to be too bold, but I think it was fantastic. But, it's worth mentioning I guess, I had never been nude in front of anyone except Marisa, or a doctor, and before that, I had never been nude with myself, except to shower quickly without looking down at my body. So I had some definite disconnect. So to be told by someone that I was so into -- not only am I attracted to you, I'm attracted to you without clothes as well, and you're very hot, and I like you -- was really special. But then, as I started to have the changes in my body that I wanted, it was sort of, different for me because I was starting to communicate likes and dislikes in a way I had never done before, because I had never really known before.

M: And then I took that as, Oh, so this has all been a sham? You didn't actually enjoy being with me this whole time? I thought I'm having like, the best relationship, the best sex of my life. And you were not into it. And have misled me. Which I didn't so much say out loud, but it's definitely how I felt. How I felt when I was thinking about it on my own. I felt kind of, not betrayed, just kind of sad. I was like, oh this stinks. What does this mean about our relationship?

Did this not count before transitioning?

M: Totally, it's like, this counted for me, so did it not count for you?
They've been working through all this for years now. They both graduated college. Liam is in law school, and working as a trans activist. Marisa is a writer at Marie Claire magazine. They live together in Queens.
That doesn't mean they've figured it all out. It was hard, when it was finally time for Liam's surgery last spring.
M: I was really scared, because it's a major surgery. They put you under. It's expensive. It meant that he couldn't work for months afterwards. Which, even though I wouldn't be paying for his surgery, we live together. We share our bills, all these things. Like, it mattered if Liam wasn't working. But more than that, it was like, I think you've got a rockin' bod. I like you, I love you, I think that you're sexy and beautiful and all that the way you are. I think I said that once, and the response wasn't like, he didn't shut me down. But he had a very real conversation with me about, I appreciate that but this is how I feel.

L: It was sort of like, the conversation I remember it as me needing to learn to tell you what I needed to hear from you. And also needing to give you space to say, I want to talk about your feelings, but right now I need you to say this to me. I need you to communicate to me that you understand that this isn't a choice for me, we have to do it. And then to also say, and I want to talk to you about how you're feeling. Because I know you can't be feeling good. Instead of very black and white, looking at it like, I promised myself I'm doing this. I'm doing this. I don't really care.

How did you pay for that surgery?

L: I received help from my parents. Actually, it was sort of funny because I was sort of saving money ambiguously for top surgery at some point, and I wound up instead purchasing an engagement ring, which I don't regret, which was the right choice, because that was part of it too. When it's natural if I were to pit it in my head as my transition and Marisa are at odds, and I must choose one over the other...

When they're coming out of the same bank account.

L: Right.

M: All of this I was not privy to, by the way. And that's not the decision I would've made with Liam's finances.

L: However, that's what it was. It was my choice, and I made it. The top surgery is gonna happen when it's gonna happen. I'm going to work it out. Something's gotta give, whatever. So I had some savings left, but it was not near enough. And insurance was actually supposed to cover my top surgery. We set it up, and I was so excited. Because I was like, finally we're going to get this done. At that point that's what it felt like for me. It was the same as when I started testosterone. I was checking things off a list more so than feeling like, I need to be a full human, I need to do this. It was like, ugh, this again, whatever. Then, a little bit before my surgery, the insurance company backed out. Like days before. Less than a week.
Liam told his parents, who hadn't always understood his trans identity.
L: My dad was like, well you still have the date. Right? Why don't we—it's a wedding present. We'll take care of it for you.

It's a wedding present.

L: Yeah. That was really, that meant a lot to me.

Why look ahead to marriage at this point?

L: Is that one for me? Okay.

M: That one's for Liam.

L: Well, I guess part of it, or a big part of it, was when I got my name legally changed, I'd been going as Liam for a year, but it didn't change what was on my ID card. It didn't change that when I got carded, someone would be like, Liam, huh?

Your driver's license was not Liam?

L: No. And, I had to live that way for a year, knowing this really true, absolutely, undeniable thing and not being able to have it recognized legally. And that's what marriage, the shift meant for me. It wasn't about have we made a lifelong commitment to each other, are we sure. At the end of the day it's like, it's about the piece of paper. As silly as that might sound.

So you volleyed that over to Liam pretty quickly.

M: Totally.

Did you feel comfortable with the idea of getting married? You're in your mid 20s.

M: Yeah. I feel really psyched. I'm not the mastermind behind this plan, however. And being a mid 20s woman of New York, it's not something that is a default for me. Liam talked about wanting to make a lifelong commitment—I think we've made a lifelong commitment. Like, I think we could, or at least I felt at the time, like we—this thing is locked in. We don't need to have a tax incentive-related reason, but if this is something that means that to you, if marriage is important to you, then I'm totally on board. Because if you're driving this train, I'm sitting in the first class car. I'm all about it.

The way you describe your decisiveness, Liam, is striking. Like, there are things that you have known, and they've been unquestionable, about things like, going on hormone therapy, doing the surgery, getting married. Are there things that you think back, in previous versions of yourself, that you miss?

L: No, I was so unhappy. I mostly remember being really unhappy, as a kid and a teenager. And I'm sure there were a variety of reasons. But for me, a lot of it was about the gender identity piece. Ever I've been with Marisa, I've never felt that way before. I've never felt that sort of—even when things are a nightmare, and something—the insurance company just called and said they're not covering my surgery and what are we gonna do—I've never felt that haze of sadness covering everything. Can I say one more thing? I think because of maybe the setting, and not wanting to sound mushy, I want the legal recognition of being married to Marisa, but being with her is the greatest joy of my life and it's what I want to do forever, and that's why I want to get married to you. Just to clear it up.

Look at those testosterone-fueled tears.

M: How do you say no to that, right?
Liam Lowery and Marisa Carroll. They just got married at Liam's parents' house on Thanksgiving Day.
Death, Sex & Money is a production of WNYC. The team includes Katie Bishop, Emily Botein, James Ramsay, Jenna Weiss-Berman, Chris Bannon, Greg Rippin and Jim Briggs.
I'm on twitter @annasale. Death, Sex & Money is on Facebook -- if you like us, like our page. And sign up for the new weekly newsletter on our website, at deathsexmoney.org. All of our episodes are there too. There are also pictures there of Liam and Marisa -- including a photo from their wedding day.
You appear like a straight white guy.


L: Exactly.

You're over 6 feet tall. You have broad shoulders.

L: Accurate.

You're like the masculine ideal.

L: Yeah. I can't tell you how many times I've almost just gone out and just pierced up my whole face because I wanted to be visibly queer again, and I missed that.
I'm Anna Sale, and this is Death, Sex & Money from WNYC.
Copyright © 2019 New York Public Radio. All rights reserved. Visit our website terms of use at www.wnyc.org for further information.
Music Credits:
"Hook, Line and Sinker" from BWN Music
,
"I Am A Flying Squirrel" from BWN Music
,
"Drums and Bass and Keys " from BWN Music
,
"When You're Away" by Kenneth J Brahmstedt, BMI from BWN Music
,
"I Like Ya" from BWN Music