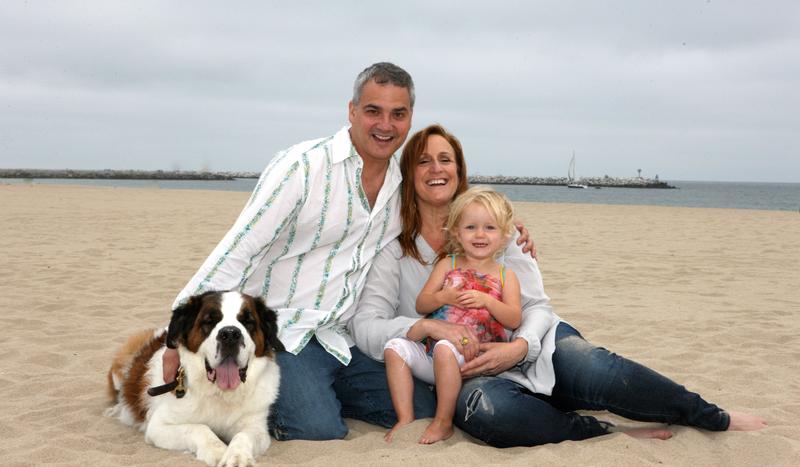 Transcript
AS: So you don't know me, so this is a hard question to answer perhaps, but—

CC: You will be fine. You're going to be just perfectly happy. Is that what you were going to ask?
This is Death, Sex & Money.
The show from WNYC about the things we think about a lot
…and need to talk about more.
I'm Anna Sale.
And I know I told you wouldn't hear from me until after I'm married, but I had a nice conversation with Cindy Chupack, who wrote a book called The Longest Date: Life as a Wife. And I wanted to share it with you before I go off to do this thing.
Cindy is an Emmy-winning television writer and producer. She worked on Everybody Loves Raymond, then Sex and the City, then Modern Family. So, she's been part of this massive change in the ways we tell stories about marriage and family in America. Particularly, for women.
Cindy grew up in Oklahoma and moved to New York after college. She got married at 25, and then divorced two years later when her first husband realized he was gay. After that, her writing career blew up and she did a lot of dating.
She married her current husband, Ian, 10 years ago, when she was 40.
CC: You know, when I first met Ian I thought he was the opposite of what I needed cause he really didn't seem to want to settle down at all. So it really felt like he's not just looking for someone to put in the spot of wife for him, he's really kind of fighting every instinct he has and just unable to walk away from me. So it felt sort of solid for both of us, I guess, that we were kind of wanting to walk away from each other and couldn't.

AS: You dated for about two years before you married, is that right?

CC: Yeah.

AS: And how long were you engaged?

CC: Really a short time. It was maybe four months.

AS: Does that time of deciding to get married before you got married— Looking back, is there something you did while you were engaged that you feel that you're glad that you did together?

CC: Um, well I definitely freaked out right after he asked me to marry him because what I think happens with a lot of men is they...they, um, finally ask someone to marry when they want to have a kid. So it was sort of all tumbled up in one package. But right after he proposed, I threw my birth control into the ocean, you know, in sort of a show of good faith, and then I immediately thought— just wanted to dive in after it. Of course, years later, I realize that I was taking birth control completely— It was doing nothing because it was, of course, so hard to have a baby. But at the time, I still thought that was in control of whether or not I was going to get pregnant. And I was so nervous about it. So I was a little bit freaked out about the thought of immediately marrying this guy and starting a family with him.

And then the wedding itself seemed really overwhelming to me, because he's opinionated and you know, you're...you're figuring out how you function as a couple. It's the first thing you kind of manage as a project together. And he just, you know, had big ideas and was really insistent that "Sweet Home Alabama" be one of the songs [LAUGHTER] and this DJ we had really didn't want it. And um, everything feels magnified, like, is this how he's going to be forever? This song "Sweet Home Alabama," is this emblematic of just, he's going to dig in on crazy things? You know, I don't know. [LAUGHTER] Or do I just give in, does it matter? Anyway, we did play that song at our reception and it went over quite well.

AS: Before you married, you did have to deal with money.

CC: Yeah, that...that continues to be fun, probably. [LAUGHTER] I tried to write honestly— That was one of the hardest things I thought because, you know, the question of, if a woman makes more money, just how does that pan out? I supported myself for a long time, and I've had this house, and Ian, um, came into the...into our union with a lot of debt, and a job he hated, where he could make money. And he really just did not like corporate law, and he got involved in some pro bono work defending Guantanamo Bay detainees. Now he does prisoner rights. And I'm so happy he loves what he does now. But he was basically leaving a job that kind of did pay to try to do something that mattered, and I was supportive of that...in theory. [LAUGHTER] But I think, I was just trying to tease out in my book how it affects things. And I know I was working at Modern Family for awhile with guys who were kind of joking, complaining about their wives spending so much money on things. And, for men, it's kind of bragging rights to talk about your spouse spending a lot of money, but there's no world in which women can—you know, my husband bought a Jeep he didn't need...and some pot. You know, there's not really a great place to laugh about those things with people without women kind of judging you, but we just kind of had to work out a system that worked for us of, you know, how to just try to make the money not an issue we dealt with every day.

AS: And what would come up for you when you would—like, in the very back of your head, like, the things you couldn't say out loud?

CC: I guess the part of me feels like he doesn't really get to decide these things since I'm the one making the money. More of the money. And that's not necessarily true, or a good way to think, but—and I sometimes think have men been feeling this way a long time. You know, I think there's just a different thing built into our society for when women who are supported by men have opinions versus men who are largely supported by women. But it's still an uncomfortable conversation, especially saying this right here into the radio with no feedback. I just imagine men and women at home with their jaws dropping going well— I feel either women will judge me and think, "Why would you marry someone who isn't contributing?" and feel very judgmental about that, or feel, "Well shut up. You're lucky that you make enough to support the two of you, and men have been doing that for a long time, and..." There's just not a really great forum for this. [LAUGHTER]

AS: No. And you admit that also in your book, the feeling of, like, shouldn't I have more control and decision making because of what I'm bringing financially?

CC: Yeah, like vacations. I just sometimes think, "Don't I get to decide?" But yeah, but then he'll have ideas, and then we'll do them, and we'll have so much fun, you know. He definitely is more of a partner in every other way—non-financial way—than anybody I could imagine. I mean, he's really involved in raising our daughter, and he's a great support and partner for me, and, you know, reads what I write, and I love the work he does, so, you know, if you could just take that money part out of it, it's all really good. But that money part is a strain.
Coming up… Cindy tells me about a relationship she's been in for even longer than her marriage… the one with her beloved therapist.
CC: She's seen me through the whole thing. [LAUGHTER] She's got like the whole parade of men. I saw her just in some moments where I'm sure she was like, "OK, now you're off track."
You might remember that the team traveled to New Orleans last month. We talked to people about the 10 years of rebuilding after Hurricane Katrina and, about some of the other things that have happened in their lives since like running for political office… starting a new business… mourning a mother.
One of the people I talked with was just beginning the adoption process when Katrina hit. That was delayed. But five years after the storm, she and her husband brought home a little boy from China.
We know where he was found. We know the orphanage he was placed in. We went to visit it. We met some of the people. But there are a lot of question marks and, um, I wish I had those answers. And I mainly, um, wish that I could speak to his birth mom. I mean, I wish that I could send her a little picture of him. And I miss that in such a profound way that I just never knew was possible to miss somebody that you've never met before.
Look out for our stories from New Orleans next week.
--
This is Death, Sex & Money from WNYC. I'm Anna Sale.
While we talked, I told Cindy Chupack I was getting married really soon.
AS: What sort of advice do you have for me?

CC: Well one, I guess a lot of things. I mean I'm not afraid of therapy with your husband, and, you know, I brought almost every boyfriend I ever was about to break up with to therapy so if you did a montage on my therapist's couch you would have almost everyone I ever dated. And then...and then I brought Ian, and he was the first person who it felt like we actually got somewhere. And we don't have a stigma that we're breaking up because we're going. And we just go for tuneups. We don't go all the time. But I think we...when we were going through trying to have a baby we were very— There are just times when I couldn't reassure him in the ways he needed reassuring, or he was kind of exhausted and tired and sad, and I was exhausted and tired and sad, and sometimes that works to your benefit cause you can...you both understand what you're going through, but other times you just don't have gas left to give the person what they need. And just kind of thinking of it of as an emotional flu, like sometimes you just have an emotional flu and even though you can't explain why you need to be in bed or watch the Real Housewives of Beverly Hills for four hours or, you know, whatever it takes to just unplug and recharge, um, you can't always explain why that's going to help. And it might look to your partner like, is this what— I think my fear is, or maybe Ian's fear is, is this who you're turning into? So now you're going to be this person in pajamas watching The Real Housewives. You know, there's always that fear when you're married: Is this it? Is this going to be the rest of our lives? So I would say, whenever you get that feeling just try to remember: It doesn't have to be the rest of our lives; it might just be today. And it's OK.

AS: During the hardest moments, has either of you talked about the option to leave?

CC: Yeah. I think, part of my evolution dating was that I got used to, "I can get out of a relationship I'm not happy with. I can leave at any moment. I don't have to just be the sad girl who's broken up with. I can leave if this isn't what I want." And I did break off some relationships, and I think I still had that empowerment when I went into the marriage, like, if this doesn't work for me I am out of here. I just felt always on the edge of, "I could leave this," and it felt comforting to feel that way. Um, and I don't— I can't remember what changed that I started to realize like, I don't— You know the thing— Probably what changed is that Ian never did that. He never threw that around. He was trying the old, "Let's try to solve this problem before we go to sleep." And if I was running off to a hotel, which I would do sometimes—that'...that's the new version of running off to your mother's house—I would run off to a hotel.

Um, so um, I think, at a certain point he also kind of threatened that he wasn't sure it was right. And that really scared me cause he had always been solid, and I'd always been the histrionic one. And when he also let that in as a possibility I realized how hurtful it was and that I shouldn't be just throwing that around.

AS: Were you married when Ian first said that?

CC: Yeah. It was pretty— It was several years in, I think, before he threatened that, and it was like, what? [LAUGHTER]

AS: You're not allowed. You're not supposed to say that.

CC: I can say I'm leaving and you convince me to come back. Yeah, it was scary to hear, and to think it might be real. I mean, we've gone through some rough patches and I don't even know...it was just when we were both out of gas really. I mean just...Not any one thing, just sometimes it felt like we were so out of gas with just life and work and, you know, sometimes you just need to say aloud just how...how frustrated you are and then you're better...to let it not be a seething secret, I guess.

AS: So your book is called The Longest Date: Life as a Wife, and reading it as someone who's about to become a wife, it just reminded me again about how pro-spective the decision to get married is.

CC: Uh huh.

AS: Can you tell me—

CC: Did the book make you feel nervous? Or more relaxed about it...

AS: No, it sort of made me feel like, "Oh you think there's this work you can do to be prepared." But...

CC: Yes. [LAUGHTER]

AS: ...that's this grand illusion. Um. You just have to trust that you're going to be able to tackle things as they come.

CC: I have found letting go of control is really the lesson of marriage for me. I didn't realize what a control freak I was until I had someone I was married to who I could not control. [LAUGHTER] And I would say, just, you know, my own life, and especially being in the same house I was in before where everything was kind of ordered and—it's not like I was a total neat freak—but I just, I wrote there. It was my kind of oasis. I was in control of it. And then this man, his things, this Saint Bernard, now this child. We're in this same house, and, um, it's so full of life. There's life in my life now. And it's big and messy and out of control, but it's what was missing. And I, you know, it's not easy to embrace sometimes if you're used to being able to feel like you can have the answers and you have...you can control it. You just can't. But that's the nature of love, and that's kind of what's great about it is that you end up going places and learning things that by yourself you wouldn't have otherwise. So it's just uncomfortable. [LAUGHTER]
Cindy Chupack. She's currently working on a new HBO show starring Sarah Jessica Parker. It's called...Divorce.
Death, Sex & Money is a production of WNYC. The team includes Katie Bishop, Emily Botein, James Ramsay, Rachel Aronoff, Benjamin Franklin and Joe Plourde.
Special thanks to Anna Hiatt for her help on this episode.
The Reverend John Delore and Steve Lewis wrote our theme music.
I'm on twitter @annasale, the show is @deathsexmoney. You can email us anytime at deathsexmoney@wnyc.org
And next week, look out for our stories from New Orleans.
So Cindy Chupack wrote about the good and the bad about life as a wife. What she hears back: what a great husband she has.
CC: I really tried to make sure that I was examining what part of it was my fault, and maybe I just went a little too far because [LAUGHTER] Ian comes off really well. In fact at one point I was like, you are not allowed to leave me for someone who reads the book and thinks you're dreamy. [LAUGHTER] That would be the opposite of what I'm trying to accomplish with this book.
I'm Anna Sale, and this is Death, Sex & Money from WNYC.
Copyright © 2019 New York Public Radio. All rights reserved. Visit our website terms of use at www.wnyc.org for further information.
Music Credits:
"Solid Situation" from BWN Music
,
"Summer Sunset" from BWN Music