Chris Gethard & Tim Dillon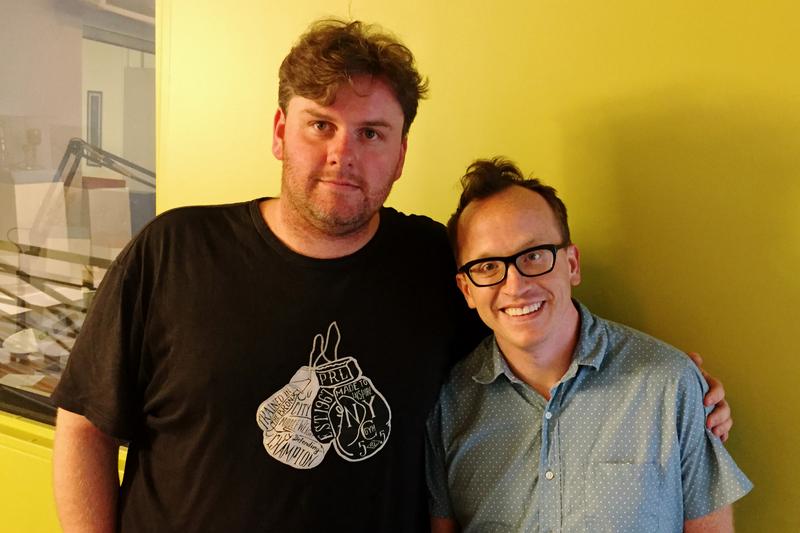 Transcript
TIM DILLON: I mean, nobody admitted my mother was schizophrenic, and she was talking about Elvis being her dad. They're like, "No, he's not gay. And maybe Elvis is Patty's father. Shut up—let's all have a nightcap."
This is Death, Sex & Money.
The show from WNYC about the things we think about a lot...and need to talk about more.
I'm Chris Gethard, filling in for Anna Sale. I know everybody out there misses Anna. I do to, trust me. We're going to catch up with Anna a little later in the show.
I myself—a former guest on Death, Sex & Money. I'm also a comedian. Anna talked to me a while back, along with my wife Hallie, about comedy and depression and anxiety, our careers—all the things you've come to expect from this great podcast that I'm lucky to be a part of.
Now like I said, I'm a comedian. And look—when you're a comedian, you're just around comedians all the time. You get numb to it. Comedy becomes like static, you just watch all these comedians...it's just background noise, comedy after awhile.
Then I met...Tim Dillon.
TD: [Stand up] A couple of years ago, there was a tragedy. A young gay student prematurely ended his life by jumping off the George Washington Bridge. I told my friends and family that I was gay the same week that happened. So you can only imagine the phone calls and the emails that I got. They were like, "We hope you would never do anything like that." And I was like, as bad as things get for me, do you have any idea how long of walk it is to the middle of that fucking bridge?
I did a show with this guy a few years ago. I had to follow him—I had to go after his set. Didn't go well. He was too funny. He was like a hurricane, it was like a hurricane or a tornado hit the room.
He's so smart and manic, and just throws all these opinions against the wall. And he can tell me the perspective of a drug addict, and he can tell me the perspective of a conservative, and of an angry guy...all these things that I think I am not. He makes me understand.
TD: I was a child actor. I started doing coke at 12. My mother's a schizophrenic. I was a closeted homosexual. I'm politically all over the map, though I lean conservative. I was in the mortgage industry. I idolize hucksters, thieves, cons and cheats. My dream is to be a traveling salesman through America. And if comedy works, that's nice too.

CHRIS GETHARD: Now, I've heard of people who say like they smoked their first cigarette at age 12. You even hear some what I would say are generally concerning stories of someone who says, "Oh, I started drinking when I was 12."

TD: Sure.

CG: You're the only person I know who says they've started doing cocaine at the age of 12, is that true?

TD: Well, I did a line of cocaine with my friends, in-in my friend Tina's backyard, and we did a few, and then we started to do it somewhat regularly, you know. It was the adult thing to do. I come from a town on the South Shore of Long Island that when my Dad moved there in the 1970s described it as like "tough." And by the time I was growing up it was the '90s. But we were awash in drugs, you know? It was the end of this era—it was before 9/11, so it was really the end of this era of—so that I think it was like, to be a kid then was amazing.

CG: No, I have to jump in and say...that you have to understand.

TD: Yeah.

CG: Because you say things like this...

TD: Right.

CG:...and I'm always fascinated.

TD: Yeah yeah yeah.

CG: You have to understand most people don't say that, "Oh, oh, it was before 9/11."

TD: Well, no, but what I'm trying to say is it was a great time to be a kid. You didn't have a cell phone, nobody was bothering you. I was hanging out with people much older than me. I was learning. I was spending time in crack houses. I learned some of the greatest lessons of my life in crack houses, I mean...

CG: How old were you when you started hanging out in crack houses, and you say you learned lessons?

TD: Thirteen. I learned a lot of lessons.

CG: What are the lessons you learned at 13 at a crack house?

TD: That crack has, positives and negatives is one of the lessons. And that life has positives and negatives. Nothing is all bad, nothing's all good.

CG: What are the positives of crack?!

TD: Someone said to me in a crack house, this is one of the greatest things I ever learned. This guy Vinny. I was 13, I was with my friend, and Vinny said to me, he goes, "Do you wanna know the secret of life?" I said yes. And he was, he was eating a tomato like an apple, which was very disturbing but then someone told me that Sicilians did that. And I didn't know that, and I didn't know I was being ethnocentric and trying to make everyone conform to my idea of knives. But he was eating a tomato and then he said to me, "I don't hang out with anyone who's lower than me, or anyone who can't do nothing for me." And I said, "Well, what a great statement!" Like...the idea of no, I don't hang out with anyone lower than me or somebody who can't do anything for me is such a cut-to-the-chase philosophy. I thought that was amazing.

CG: So you've been from a young age, living a pretty hard life. Doesn't sound like a traditional safety net was provided to you as a child.

TD: No, you know I don't think so, I mean I was a child actor and I failed. You know, so I deserved the no safety net. I came really close to so many parts and just couldn't clinch them, you know?

CG: What was your highest-profile success as a child actor?

TD: Well, I toured around the country with "Annie Get Your Gun." I played Little Jake. I was with my mother and we would, you know, we were a ragtag group of actors, actresses, ex-Dallas Cowboy cheerleaders, pothead musicians, this crazy Ethel Merman impersonator and we were, you know, traveling around the Eastern seaboard, bringing the show that no one asked for to their town. And playing in some great theaters that were filled with tens of people that came out to see "Annie Get Your Gun." I was on Sesame Street three times. I was in a Comedy Central stupid little skit about O.J. Simpson called "Just Say No-J." Again, the high point, of...you know. But again, I wasn't the guy. I had the same voice I do now, which was very disturbing to casting directors. Very gravelly voice, you know. I mean nobody wants that. Yeah, I mean it was very tough. I got a rej- I remember after an audition once, I said to my parents, I said, "I didn't get it, but can we still go to McDonalds?" And my Dad goes, "That's a kid with a real great sense of proportion," like he's not beating himself up. No, that's a kid with an eating disorder.
TD: [Stand up] I was eating at McDonald's five times a day because I grew up in a home where my mother believed she could retire by collecting Disney movie toy sets at McDonald's, putting them in plastic bags and selling them to other crazy people at flea markets for increased retail value.
CG: Speaking of your-your mom. I do want to know... I speak very vocally about my own mental health issues, and...I don't...if it's, I mean we've talked about it...

TD: No, I talk about everything.

CG: When did you realize your mom was...

TD: When I was in seventh grade, my mother and my friend and me were in a car, and my mother was talking about being followed, and people tailing her, and I had known as a child, I'm like, oh this doesn't, this isn't good. And even my friend was like kind of like—we were hanging out at crack houses and nobody thought they were being followed, so I was like this isn't a good sign. They're more lucid than she is. It's a problem. You know, we're doing acid with these people, they seem to have their head screwed on straight. What's going on with my mother? So I started to notice things like that, and then you know, by the time I think I was twenty, she had a breakdown, and she went into an institution and then's been in and out of institutions. She's in an institution right now, I don't know if she'll be there forever, I don't know that she'll be able to live...I mean, I visit her once a week, and she's supportive of me and my career and everything like that but her mental and physical health is not great. And unfortunately we don't—there's a tremendous stigma with mental health. It was very hard to force her into an institution, and she desperately needed to be there.

CG: Did you have to participate?

TD: No, because I wasn't even old enough. Like it was like my, my, my, grandmother, and my aunt, her mother and her sister, had to really kind of say that this is, somebody's a danger to herself and others, she needs to be somewhere. So it is very tough, and I'm very conscious of how delicate people's mental state is, you know? Because I think she was probably - had these issues her entire life, and I think she was kind of just pushed over the edge by circumstances. And that's unfortunate, you know?

CG: What is it like when you visit her?

TD: She's lucid, I mean, she says hello, we talk, we discuss things, I talk about my career in comedy and you know. She's very supportive, and she tells me that I'm too fat to be on TV consistently. And she's right, she goes, they'll put you on occasionally, but to be consistently on TV, you're too fat. And I said, no, that's probably right, you know, you know? But every now and then it'll flare up, the paranoia will flare up, and she'll describe how her sister, who's done everything for her, is trying to scam her. Or she'll tell me one of her ex-friends was an FBI agent who was just following her, and tailing - and I'm like, well, this doesn't make any sense. So every now and then it will become an issue.

CG: And as, your grandmother just passed away recently...

TD: Right.

CG: Which is very sad. Does that put more...are you starting to feel more weight on your shoulders to take care of her, now that your grandmother...

TD: You know, I am but there's also the reality of like...I...if I had a million dollars, and I had a home, and I could move her in and pay all her bills, she wouldn't be better. I want to be a good son, and I want to be as helpful to her as I can. But there's no, I can't - the amount of success I have, cannot fix this. It just can't, you know? And I think that's an important thing for me to realize and go, "Okay, I can do everything I can, I can be really loving towards her." But you know if I had the money to put her in a big house she's not going to not think she's...you know one day she told me that she thought there was a good chance that Elvis was her father. She could be saying that in my mansion if I sell 10 shows, and she goes, "You know, I think Elvis is my dad." It's like, oh, well, this is still an issue. I mean, I'd love to have more money to make her life easier, but as far as fixing, you can't fix that.

CG: And I know, like when I first fell into...

TD: Unless Elvis is her father and she's in a hospital for no reason, which is completely plausible. I mean, if that's the case then I feel really bad, and sorry Mom, we'll let you out.

CG: I know when I, I first fell into some mental health stuff in my, in my 20s, and when I finally got help and talked to my parents, they revealed to me that there was a long history of this in my family that I never knew about. My grandfather had been institutionalized, I - all over the place. It can run in families. Do you worry about your health? Is that something that you stay on top of? Or...

TD: Um, no, I don't worry. I mean, I don't give it a ton of thought. I don't - I think that there's a very good chance that anything can happen to anyone at anytime. People have aneurysms; people have all kinds of things. They die in their sleep, you know. Am I going to worry that one day later on in life it's a possibility that I'm going to develop some type of illness? You know, mental instability, imbalance, things like that? I'm not going to really worry. I'm just going to try to be as funny as I can and, and that's what I'm trying to do. And whatever happens kinda happens.
Coming up, Tim talks about selling subprime mortgages on Long Island...and even taking one himself. He used it to buy a house that he'd never seen in person.
CG: Are you, like financially -

TD: Yes.

CG: Are you still recovering from the...?

TD: Yeah, no, sure. I mean credit-wise, my credit's shot. But I mean what am I going to do? I can't lease a BMW. Uh oh!
—
[Ring]
CG: Hello?

Anna Sale: Hello!

CG: Is this Anna Sale?

AS: Mr. Chris Gethard. How are you doing?

CG: I'm pretty good. I'm a little intimidated to fill your seat. It's a daunting task. I feel like you're just a straight-up better and more professional human being than I am. And I hope I don't drop the ball and disappoint you.

AS: How do you feel like it's been going?

CG: I think it's pretty good. I tell you, I'm talking to a guy - luckily I picked a guy who's like one of the - he's either the smartest maniac or craziest genius I know in the comedy world. And I feel bad for your editors, because he has a lot to say. And also a lot of inappropriate things to say. If the outtakes of this one ever hit, people will be perturbed.

AS: Well, it seems to me that, like, your career is just taking off in even more exciting ways than when we last talked. Do you feel good?

CG: I do feel good. There's been a handful of times where it's seemed like my career was about to take off. I've learned not to count them before they're hatched and whatnot. I think last time we got lunch I told you I was starting a podcast, and that's become like a big thing for my career.

AS: Huge!

CG: I never expected it. This podcasting gig, it's a pretty sweet racket.

AS: Good! I love your show. I think it's really, it captures what you're most particularly and uniquely gifted at, in terms of letting people feel safe to just tell you crazy vulnerable things.

CG: Yes.

AS: It's really beautiful.

CG: Thank you. And a producer just came in my ear and said don't be bashful. You can say the name of it. It's called Beautiful Stories from Anonymous People, if anybody wants to check it out.

AS: And how's married life? When we talked you were just getting married.

CG: It's really good. We bought a co-op in Jackson Heights, Queens.

AS: Cool!

CG: Yeah, it's nice out there. It's like, now we're at this new phase where it's like, how do you build a family when you have a career when you don't know - you might make a third of the money you made last year next year. Or you might make three times. It's all luck. It's all rolling the dice, so.

AS: Well you figured out how to get a mortgage with your creative lifestyle. I think you can figure out how to raise a family.

CG: Ooh. It was...the co-op board, everything in New York is a co-op, they said we don't want just your tax returns. We want all your W-2s and 1099s. And I was like, "Ooh, you don't know what you're in for." Because every time I do stand-up in a different state, I get a new 1099. And they said our co-op board application was the longest one they've ever seen. It was over 800 pages long.

AS: (Laughs)

CG: Well, Anna it's been so nice catching up with you. And I'm sure the listeners are so happy to hear your voice. And I bet both you and the listeners would love to hear a little bit about what's coming up next week on your show.

AS: Yes!

Diane Gill Morris: I'm Diane Gill Morris. Last year, I was on this show talking about my life with my two teenage sons who both have autism. Next week, I'll be guest hosting and talking with two other parents of autistic kids—one whose son was injured in a confrontation with police...

Maria Caldwell: He had a busted head, busted lip...

DGM: ...and one who's working to prevent things like that from happening again.

Robert Zink: I never want to see something like that happen to my sons. One of the problems with police work is our standard response to things generally has the inverse reaction with those on the spectrum. And if you can get it clear to guys that if you can take a different approach, it'll make your job as a police officer so much better.
—
This is Death, Sex & Money. I'm Chris Gethard, standing in for Anna Sale.
Comedian Tim Dillon wasn't always a comedian. The 31-year-old only started doing stand up about six years ago. Before that, he worked all sorts of jobs. Including as a tour bus guide.
TD: And just imagine that. Just imagine from what you've heard so far...

CG: You also told me that you would be regularly reprimanded for ignoring tourist -

TD: Yes.

CG: - sights, and instead pointing out homes rich people lived in.

TD: Yes, I wouldn't point out the Empire State Building because I - if you need me to point out that building, I can't help you. And what I'm trying to do, uh, you know...the only thing interesting about New York is the massive amounts of money. That's the only thing left about New York. And that's fascinating, and I love money more than anyone. And I love the people that make it.

CG: Now, you have told me which New York socialites you love the most, you've also -

TD: That's my Pokemon, is New York socialites. I wanna catch them all. That's the way I - I love money and I love the rich because they don't love me and never will, and it's so, purifying. It's clear, it's clarity, in a world of mishmash and nonsense. I love it.
TD: [Stand up] I was out of work recently. Anybody else? Good. Nobody. I like that. I only perform for financially secure people.
CG: Now maybe you'd be willing, as a man who's obsessed with wealth but living a stand-up comedian's lifestyle...

TD: Sure.

CG: ...you quit the tour bus job within the past few months.

TD: Yeah, I was doing good enough in stand-up, I could kind of quit.

CG: So you're doing good enough in stand-up. I think -

TD: Right.

CG: - as a comedian, maybe you could walk me through the past few weeks.

TD: Yeah.

CG: What types of gigs have you worked?

TD: So, I have done gigs in open-air fields. I performed in Central Park last week for disinterested tourists and corgis. I did comedy for two people sitting at a table, you know, once in a restaurant because they thought it would be funny to have a comedian come. I did an all-Russian birthday party where I praised Vladimir Putin much to the chagrin of the man in the crowd who then told me that Putin had his friend killed. It was a tough...I had to dig out of that hole. It was not easy. But you know, they came around at the end, I have some very strong frozen yogurt material that everyone found relatable. You know, so these are the things.

CG: Now, you were a tour bus guide.

TD: Yeah.

CG: You've had other jobs over the years, one I know that we've spoken about.

TD: Yeah.

CG: You were an actual mortgage salesman.

TD: Yeah I was a - I sold subprime mortgages in Long Island, yeah.

CG: Like "The Big Short."

TD: And I sold good - like I sold federally insured ones like the FHA ones. But I also sold like, you know, the products that blew up the entire economy.

CG: You were, you are, admittedly...

TD: Yes.

CG: And you've told me that you were aware while selling them that it was a bad business.

TD: I didn't think it was great. You know, but I didn't know how bad it was going to get. I mean I took one myself.

CG: How old were you?

TD: I took a mortgage myself that foreclosed. My credit's completely destroyed and I had no idea that was gonna happen. I mean I took this loan, thinking I'd be able to, like everyone else, refinance out of it to a lower fixed rate. That's literally what we thought was going to be able to happen. We had no idea the world economy was going to crash. I was 22 years old.

CG: Now, this house you purchased. How many bedrooms?

TD: (Sighs) Two, fo...it was like a four-bedroom, mother-daughter house on the South Shore of Long Island.

CG: You're 22 years old.

TD: 24 when I bought the house. I had never saw it before I bought it.

CG: What?

TD: I just saw a photo of it, I never actually visited it. I just saw a photo of the home.

CG: Why did you...you're one of the smartest people I know.

TD: I know.

CG: Why did you do that?

TD: Well, I mean it was a good deal, it was it was a good deal, and I said let's just do it. And I just kind of jumped on it. And I was in the car with my friend. This was how crazy times were back then, like I said, "I'm going to buy a house!" And he didn't say to me like, "How?" or "Why?" He just looked at me and he was like, "You're doing good. You're doing good." And then I just said, all right, we'll buy the house.

CG: How much did you spend on it?

TD: I think $570,000?

CG: Twenty-two years old, you purchase a $570,000 four bedroom home?

TD: Yeah.

CG: No one stopped you.

TD: No, but I mean you know this, this is the way it is. This is the way it was. You know? I mean, um, looking back now it doesn't seem prudent.

CG: Now artists, traditionally some of the most liberal people. People who moved to New York to pursue art, New Yorkers in general, very liberal people. The gay community, generally viewed as a very liberal culture.

TD: Right.

CG: You've posted some of the most extreme conservative opinions I've ever seen a comedian post on Facebook.

TD: Right. You know, my whole big thing is, I don't subscribe to any team. And I would disagree with Republicans and conservatives. But there are certain things that I - I'm very skeptical about the government, and the government's ability to make me happy, or to make me prosperous. Now listen Republicans — and I'm a gay person — Republicans said horrible things about gay people. You know, most of them incorrect. And I think that you know that's unfortunate. But political coalitions aren't built because you agree with everything that the people around you do. When you're an adult, you go, all right, I don't agree with you on this, and I don't agree with you on that, but I think you have a point about this and a point about that.
TD: [Stand up] I'm a gay person but I understand homophobia. Anybody homophobic in here? That's cool. I understand homophobia because I think you should always understand the discrimination against you, because 99% of the time it's going to be ridiculous. And 1% of the time, it's going to be strikingly accurate.
CG: How did you know you were gay, how old were you, how did you come out of the closet?

TD: I watched Jonathan Taylor Thomas on Home Improvement, I was like 11 or 12 and I think I felt gay then, because I felt like, oh, this is weird. I think that was the first inkling I had, and then throughout junior high and high school I was kind of getting it, because you're coming to terms with it more. But I still thought it was something that I might be able to alter or change.

CG: So you resisted it.

TD: I resisted it, yeah. I came out at 25, that's very late.

CG: Yeah. This is something I wasn't aware of. Did you once publicly say that you were married in Vegas?

TD: Yes.

CG: Is that true?

TD: It was true.

CG: You've never told me this.

TD: Oh. I don't know yeah, well I was married. I married a girl in Vegas. As like a gag. Not a gag, it was like 12th grade. We did it. It was like a girl that I was kind of like dating.

CG: Were you 18?

TD: I guess so. But it wasn't like, it wasn't like a legal marriage, it was just one of those sham things in Vegas, you know.

CG: But did you have to get divorced?

TD: No, because it was never legal. It was just like a...like you have to fill out the paperwork like later on. Like we never filled out the paperwork.

CG: So you never followed up.

TD: We never followed up.

CG: So was there a part of you that was serious about it?

TD: No.

CG: And then you bailed?

TD: No, no. I think it was kind of just like a drunken thing. I don't know, it wasn't like, I mean I wouldn't like....maybe for the show it would be better if I was like, "It was very serious and we really wanted to try and make it work." No, it was kind of just like a fun thing.

CG: So yeah, because in my mind, this was the drama of maybe like, in your, in your closeted stretch maybe your most, uh, profound effort to dive in.

TD: No, no. I wish, no. I tried dating girls, I tried to become straight. I had sex with girls, I took them out to dinner, you know. I mean, what are you going to do, it just didn't work.

CG: Not your thing.

TD: It just wasn't my thing.

CG: When you were still closeted and dating women -

TD: Yeah.

CG: - were you also quietly dating men?

TD: Yeah, no I was doing stuff with dudes. And you know I didn't date a ton of women, I was dating some. I was trying it out, you know what I mean? But, uh, there was a lot of like, dinners, more than like hooking up. There was some hooking up but it was more dinners with chicks. Like I'd go out to really great res—I love food—so we'd go out to great restaurants, you know? It's a lot of women that maybe have trust issues because of me also had the greatest meals of their lives.
TD: [Stand up] I was out to dinner the other night with a guy at a steakhouse, and the waiter asked what he he wanted to drink. And his response was a flute of pink champagne. At that point, just order the cup of semen.
CG: And when did you first start dating men? Or experimenting with men?

TD: I think that like...there's all these high school experiment things that kind of don't count, and then there's like - I think the first, the first guy that I hooked up with was off Craigslist. You know, and he was like a firefighter in Brooklyn, you know?

CG: Wow.

TD: So that was the first, he was my age, you know.

CG: That's a pretty, pretty good for your first time out of the gate. Firefighter?

TD: Yeah no, yeah yeah yeah, it was not bad. I mean I don't know if he was a fire- like he was in the program studying to be a firefighter. I don't know if he ever made it. He might have just lit places on fire, I don't know. But I met him, and he was a dude who said he wasn't gay, which was great because right before I blew him he said, "I'm not gay." His penis was in my mouth and I took it out and I said, "Oh no, I know," I had thought this whole thing made us gay but it didn't! So. I felt great about it. I said well this is fine, he's not gay either.

CG: What was the reaction amongst your family...

TD: Well my dad was great about it, you know it didn't involve him working extra hours so he was happy. I'm kidding, I love my father. My mother was like, you know I kind of wanted grandchildren, which was nice of her. I said, "Well, thanks, I wanted a mom who didn't tell people Elvis was her dad." So we're all -- she laughed at that. My grandmother didn't care. She was just drinking scotch, I think I had said — literally Michele Bachmann's husband, who's like a pray-away-the-gay preacher was on TV, and I said, "I should make an appointment with him and straighten myself out." And my grandmother was drinking scotch, and her eyes never left the TV. She said, "Why Timothy? Is he also a nutritionist?" So she was tough, you know? Nobody - she was tough. These are very tough, funny people. There was no like, "We love you!" There was none of that. We're just, we're just, they're funny, acerbic people.

CG: That is the most harsh way. Because your grandmother effectively saying -

TD: You're fat!

CG: - your homosexuality doesn't matter to me, but your nutrition is concerning.

TD: Right, but she's right!

CG: I mean, when you think about it, it's one of the most harsh ways to show -

TD: It's hilarious!

CG: - support that I've ever heard of.

TD: How great is it? It's true! It's like, why don't you take care of yourself and live, you idiot? Who cares who you sleep with, you know? It's one of those things that when you think about it more, it makes more and more sense.

CG: And how's your...

TD: I mean, I don't date people as much as I'd like to, I do, do a lot of stand-up. I'll meet people here and there, you can hook up with people, but I don't have like a steady boyfriend. You know, I don't know why with all my opinions, you know.

CG: So have, have you ever been in love?

TD: No. Probably not. Well I mean not with somebody who's been in love with me in a reciprocal thing where it's like we're both in crazy love. I think I've been in love with people who were like, "Eh." And then it's been the other way around where people really like me and I've been like, "Eh." So I've never had that real, I think reciprocal love. It's been close.

CG: You've had relationships that were important to you?

TD: Yes, but it's been close. But I don't think it's been—it's not the movie stuff.

CG: What's the longest you've dated someone? Or the most important person?

TD: I think on and off, like maybe four months. You know, it hasn't been that long and it has been, it hasn't been the thing that I ever like -- it was never a thing that I was like, "This is a forever thing."

CG: And that's something you're actively seeking.

TD: Eventually. If it happens, it happens, but you know, it's gotta be, uh, I think someone will come along who's been broken by some circumstance, and we'll connect, you know? But who knows, you know.

CG: Right now it seems like you're in a place that I've been at and where I think many people have been at where it's like, the professional life comes now, the personal life, I'll fill it out later. You're in that stretch that's both exciting and terrifying of picking up the gigs like month-to-month. How far into the future do you plan for?

TD: I mean, ugh, I'm not thinking that far ahead. Some of this comes from being a drug addict. And going I'm doing, today, today, today. Shows. I want to do a million shows. And I want to have new material, and I want to work it out. But that longer burn of like, "No, what's the vision?" That, that I don't have.

CG: Yeah.

TD: People say what's a five year plan, I said I don't know.

CG: So when you say that the, you know, the recovering drug addict, "live for today" attitude infects that. Is that something you're still in the thick of? Is staying clean still a concern?

TD: That's a big deal to me. But I'm not, I'm not suffering in the way, like, day-to-day I'm thinking of drinking. I'm never thinking of driving, but I'm still cognizant of like, being in the mindset of doing the right thing, treating people the right way. But if I were to have a few months of being really lazy or really inconsiderate and really dishonest or really selfish, or really—because drinking's not a problem, drinking is a solution to all of those issues. So if you get angry, if you get jealous, if you get resentful, that's when the alcohol, that's when the little drink voice goes, "Why don't you just have a couple of drinks tonight? And forget about this."

CG: So how do you keep that in check?

TD: I try to work as hard as I can, and I try to be a better son and be a good friend or be this. All of that proactive stuff. Then you don't have time. You don't have time to be resentful or negative or selfish, because you're you're effectively just doing good things, you know, in the space that you'd be doing bad ones.

CG: How many shows a week are you doing now?

TD: I try to do two or three a night, if possible.

CG: Seven, seven nights a week.

TD: Yeah.

CG: Do you know the most you've done in a night?

TD: Five, maybe.

CG: Okay.

TD: You know...

CG: And by the standards of a New York comedian, that's like solid, but there's people who...

TD: Nah, there's people doing a lot more than me.

CG: Yeah.

TD: People that do nine or ten.

CG: And what would have to happen for you to slow down a little bit? What's the type of thing that you see?

TD: If I fell deeply in love with somebody, you know, I'd then, then that would be something that it would be hard to kind of...um...I don't know, I can't predict what would happen. But it would seem like really meeting somebody that you connected with and that...that might...but I mean, outside...and and I'm not saying that that even would slow me down, I'm just saying that could, that could.

CG: I feel like the only thing you don't have completely a fully-formed opinion on is your own future.

TD: Yeah. Right.

CG: Tha's the only thing you can't snap into an immediate, instinctive opinion on.

TD: It's true, no, I mean that's a very good point. I mean I don't know, who knows, you know? I mean it's very possible that in five years, I'm selling real estate in San Diego. I hope not. But it's a beautiful city.

CG: You think they'd let you sell real estate again?

TD: Absolutely.
—
That's Tim Dillon. You can hear him on his own podcast Tim Dillon Is Going To Hell. Take a look at his Instagram @TimJDillon for a look at some of his favorite tasting menus and all sorts of fancy buildings around New York City.
Death, Sex & Money is a listener-supported production of WNYC Studios. The team includes Katie Bishop, Chester Jesus Soria, Emily Botein and Andrew Dunn. The Reverend John Delore and Steve Lewis wrote our theme music.
You can find me, Chris Gethard, on Twitter @ChrisGethard, which is spelled, unfortunately, like Get Hard. @ChrisGetHard, you'll find me. Don't ever pronounce it like that, please.
You can find more episodes of Death, Sex & Money, including the one where Anna interviewed me, by visiting deathsexmoney.org. You can also find it and other episodes on iTunes. And if you're interested in me, one exciting thing I've got going on is an off-Broadway show. It's presented by Judd Apatow, directed by Kimberly Senior, it's called Career Suicide, and you can buy tickets at www.careersuicideshow.com.
Tim's still looking for love. And, he told me... he's not totally opposed to being with a woman again.
TD: I would try again for a very wealthy woman. I would try again. If a woman had a net worth of $10 million I would marry her. I mean, I'd prefer $100 million, but $10 million you're still talking some nice interest. And God bless the people that wouldn't. That's all I'll say.
I'm Chris Gethard, in for Anna Sale—Anna, congrats again on everything—and this is Death, Sex & Money from WNYC.
Copyright © 2019 New York Public Radio. All rights reserved. Visit our website terms of use at www.wnyc.org for further information.
Music Credits:
"Steady" by Cullen Fitzpatrick from BWN Music
,
"Fountains of Burgundy" by Jahzzar
,
"In My Pocket" by Jahzzar
,
"The Shoes They Wear" by Blue Dot Sessions
,
"Patched In" by Blue Dot Sessions