Alzheimer's and the World's Saddest Comedy Club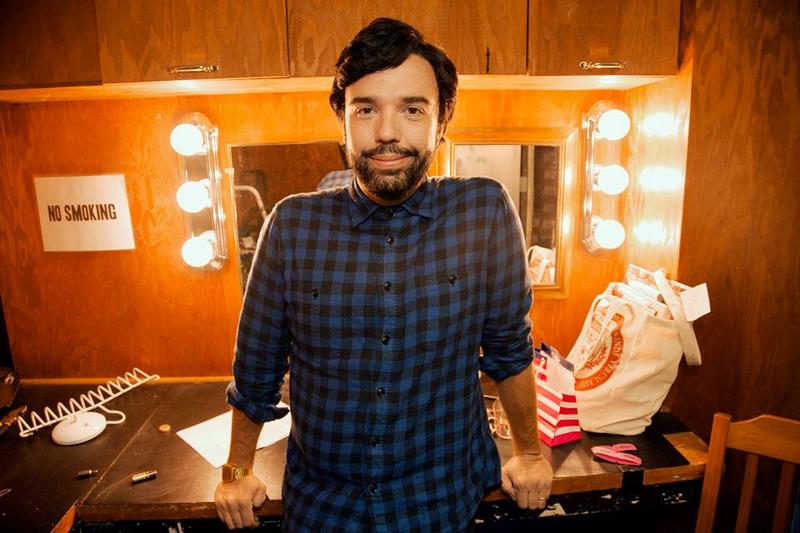 Transcript
Hey, it's Anna, and today, we're bringing you a couple of stories about death, but they're not from our team.... They're part of a pilot project that our colleagues here at WNYC Studios have been working on with comedian Chris Garcia.
You may have heard Chris on 2 Dope Queens...or on This American Life. Chris's father died of Alzheimer's last year, and he's been working on this new pilot as he's been processing that death in the months since.
It's a work in progress, but we're sharing it with you now because WNYC Studios wants your feedback as we explore new shows and new ideas.…and obviously, you listen to Death, Sex & Money, so we know you have great taste. So after you listen, head over to deathsexmoney.org/pilot to tell us what you think.
Here's Chris Garcia.

CHRIS GARCIA [standup]: Hello everybody… hiyeeeee… My parents are refugees. They're immigrants from Cuba. [Cheering] Thank you. And you know what? I think a lot of comics get onstage and they make fun of their immigrant parents, and I think those days are done. I think we have a better responsibility now.

It's very disrespectful. It's very rude. It's also very unfair, because my father doesn't have any recourse. [Laughter] My dad never once got onstage and shit on me. Not once did my dad get onstage, "Hey, you guys, anybody have an American-born kid? [Laughter] Okay, I'm going to talk about it. Oh, man! My son Christian, he goes by Chris. [Laughter] Yeah, okay, I believe it man. His name is Christian Andres Primitivo Garcia, but sure, call him Chris. Oh, yeah, very cute.
Yup, that's me. Chris Garcia. 40 years old, although I look like a tired 36. I'm a comedian. And a lot of my material draws from my family and especially from my dad: Andres Primitivo Garcia. Andre, for short.
I put everything – I broke my back for this kid. I worked blue collar jobs, graveyard shift, to put him in a good school. Escuela Privada, private school. I encourage him, Christian, you can do it. You can do it. You can do it. This is America, the land of opportunity. You are a good person. You work hard. You can do forever you want. You can do forever you want. [Laughter]
My dad grew up poor in Cuba -- and had big dreams for his American kids.
He goes to UC Berkeley. [Cheering] Yeah, one of the best public universities in the United States. And you want to know what he's studying? [Yelling] Anyone want to take a gander? At what this motherfucker is studying? [Laughter] He studied poetry! Are you telling me I floated through shark-infested waters on a hubcap so this motherfucker can read haikus? [Laughter]. My father never did that.
People loved my dad, his infectious laugh, his great stories. He was so nice. Whenever he met one of my girlfriends, he'd extend his hand, give them a firm handshake and say… [phrase in Spanish] Which means "I'm Andres, I serve at your feet." Just a real classy gentleman.
Sometime in 2008 he started acting kind of weird. He repeated the same stories over and over again. He started to get irritable. He had mood swings. We just thought he was depressed, like the way old guys get depressed when they first retire. We thought it was a phase. It turns out it was Alzheimer's. And if you know anything about the disease, or anyone who's ever had it, you know how the story goes. It gets worse and worse. It never gets better.
People with Alzheimer's, they sometimes get violent. In my dad's case, he started to punch strangers. He'd get afraid and confused and he'd just lash out.
After 8 years it finally killed my dad. It was February 5th, 2017.
I miss him. There's so much we never got to talk about.
I want to know about those years in prison. Is there a link between his time and the Alzheimer's that came later?
I also want to know what it was like to have kids and be a dad, because I wanna have kids and be a dad.
And here's a question: How do you stay married for 53 years? How do you get through the bad times?
But my dad's not here.
It's also been hard in terms of interacting with the living.
A lot of people don't know how to talk to me about it, so they avoid it, or things get awkward. I get it. What are you supposed to say? Hey, how are you doing with your dead dad stuff, you know?
But then, I have friends -- most of them who are comedians -- who have also lost their parents. And these are the people who have been sources of comfort to me -- and we've helped each other through this.
They just get it.
It's almost like we have a Dead Parents Society.
I'm going to take those conversations into this podcast. Some of it's kinda awkward, some of it's funny, but it's all stuff that's comforted me -- and might help you.
But in this first episode, it's really going to be about me and my dad.
And… my mom.

Ana: Ok mi nombre es Ana. Soy la mama del beautiful, handsome guy. Su nombre es Chris.

My mom's name's Ana. She was the love of my dad's life -- high school sweet hearts, married for 53 years. And she's the person who knew him best.

She's about 4'8". She's kind of like a chihuahua, she's tiny and adorable, but she's got teeth and she's always up in my shit. She's also really up on pop culture. She loves the Cuban rapper Pitbull.

Her favorite movies are Big Momma's House, Paul Blart: Mall Cop and...
Ana: Um the family… Meet the Fockers.

Meet the Fockers.

But most of all, she loves me.

MOM: Como dicen I Love Raymond, dice I love Chris.

C: [Laughing] Everybody loves Raymond and everybody loves Chris, okay...
When I visit her in Miami, she welcomes me in a way that is just, so textbook old Cuban lady.
MOM: Mira tienes que comer mango.

C: [Laughing.] Our refrigerator is filled with dozens of mangos. It's like hey, can you prove that you're Cuban real quick. 'No problem, here's a thousand mangos!' 53, 54, 55...
It's been a tough year and a half for my mom. On top of losing my dad, she also lost both of her parents. She's a widow and an orphan, all at once. She's been staying at her parents house in Hialeah, just outside of Miami, getting it ready to put on the market. There are boxes everywhere. There's old pictures scattered all over the place. There's a rusty machete.
A: Yo lo puse (shwiiiing!)

C: My mom put it there! (laughs) My mom put the machete there as some sort of security device.

...And this is my grandpa's record collection.

A: Allí tengo más en la caja, hay más allí. Mira. Guajira Guantanamera.

C: Oh classic.

A: Yo creo que tenía Alvarez Guedes allí, chequea.

C: Alvarez Guedes is like the famous Cuban comedian who I was raised on and kind of um... ¿Te acuerdas en el caro mami, cuando nosotros-?

A: No yo ustedes, esperar el ano siempre en casa, esperando Alvarez Guedes, esperar a las 12 de la noche y era fun.

C: We would listen to comedy records til midnight waiting for New Year's Eve and we'd sit and listen to these records and they're really funny. It's like inside Cuban jokes and some of them are street jokes and stuff, but he has over 40 albums. And as a kid I think that's what, that was my first experience with standup, was these records.

A: Te acuerdas uno que...

Alvarez Guede: Cuando se muere Fidel dicen que van enterrar sus pies en Santiago porque eso es donde paso sus primeros pasos. Y vamos enterar su cerebro en la Habana porque eso es donde tuvo sus mejores pensamientos. Pero donde vamos enterrar su culo porque el tipo se cago pro todo mang.'

C: He's like when Fidel dies we're going to bury his feet in Santiago, wherever he was born because that's where he took his first steps--in Havana. Because that's where he had his greatest thoughts. But where are you going to bury his ass because he shit all over the country. It was like this subversive, like, oooh sick burn communism!
My dad had one dying wish. That we scatter his ashes off the coast of Cuba. My mom. She doesn't give a shit about dying wishes. Because she pretty much vowed to never go back to Cuba ever again.
A: Un pais que era tan lindo todo y alegre la gente, ahora vez que la gente anda toda destruida acabado. Los jóvenes parecen viejos y es muy triste. Entonces para ver a mi hermana así destruida-- tu viste a mi hermana.

C: Yeah.

M: Luce mas mayor que mi mama. Viejita, viejita, horrible. Pero muy mal esta mi hermana.

C: We're talking about me visiting my aunt last year. She's saying her sister looks older than her mom did and it's because, just the, life in Cuba is so hard and the food and the economy, and the health care is um difficult. So, She's um sick and not doing well.

I brought her a bunch of supplies and stuff and I brought her, le traía pilas y ella empezó a llorar. I brought her batteries and she started crying because none of the clocks in the house were working and they decided to use the batteries for the remote control. They were like screw time. Time doesn't exist here, we're just stuck so who fucking cares what time it is.
So my mom has offered an alternative to my dad's dying wish: to scatter his ashes off the coast of Miami.
Like, I don't know – it's all the same ocean just dump it over there!
While we figure all this out… my dad's ashes currently reside in a box. Under my desk. Like he's trying to stay safe during an earthquake.
And there's something nice about having my dad around.
When the Dodgers were in the World Series I tried to take him to the game. They said I couldn't bring the ashes so, I just took the box to a bar. I mean I put it in a duffle bag, put a little Dodgers hat on him. I even bought him a beer. I drank it myself.
But the last time I checked he didn't want to spend his afterlife next to my surge protector. And honoring his last wishes is something that matters a lot to me. Maybe I didn't become an engineer like he wanted and maybe it took me two years to learn how to tie my shoes. But at least I can follow one fucking direction and scatter his ashes off the coast of Cuba like he wanted.
C: Lo que papi quiere es que nosotros lo hicimos en las playas, las costas cerca de Cuba, pero no dijo las costas cerca de Miami.

A: Cerca de Cuba.

C: So he said he wanted this in Cuba, so yo creo que para respetar a papi y que lo vimos cerquita y tambien pa' que tu veas tu-

A: Vez, he's like me. El es llorón como yo. Y me gusta. Me gusta. Llora, llora!

Translation: my kid's a cry baby and I love it.
C: [Laughing]. Pero yo creo que seria muy especial a llevar a papi y dejarlo alli en el Malecon o algo asi, ma.

A: En el Malecon no porque no permiten. Alli hay gente pescando, capas que lo cojen y se lo pesquen. No, la gente esta loca ahora.

C: I said they should do it in Malecon it's where they had their. No el malecon-

A: Fishing, you laughing-

C: Malecon is like the famous castle, it's on the coast there, not the castle but it's the-

A: Es la bahia, la bahia-

C: It's the bay right there in Havana and she's like, 'No, we'll put his ashes in there and someone will fish it out. Are you kidding me? People are having sex in that water. We can't leave dad there.' Good idea mom!
My parents both grew up in a small neighborhood outside of the center of Havana called Lawton.
They lived three houses down from each other, but my dad didn't notice my mom until they were teenagers.
My mom wants listeners to know that he liked her legs. She has told me to include that in the script of this podcast twice now.
They got married in 1964 and had my sister in 1965. They moved pretty fast.
Fidel had come into power a few years earlier, in 1959. Like a lot of Cubans, my parents were very excited about it at first, but over time, they felt like he wasn't delivering on his promise of equality for all.
So my dad asked the government for permission to leave Cuba - and for that, he was sent to a labor camp for two years. He had to pull sugar cane with his bare hands. They put him in solitary confinement, they tortured him, and they starved him.
C: ¿Y como lo viste a el cuando tu lo-?

MOM: Muy mal, muy mal.

C: Flaco.

MOM: Flaco.

C: ¿Que flaco? ¿Como?

MOM: Skinny, skinny, como papi estaba-

C: He was as skinny as he was at the end of his life.
My mom visited my dad every week while he was detained.

MOM: que cuando ya regreso a la Habana, llego a la casa, y toco la puerta, y Laurita estaba chiquita, tenia como 6 o 7, o 5 años. Y no lo conoció y le dijo Laurita a mi, 'Mami, mami hay un señor en la puerta esta tocando, esta preguntando.' Y no lo co noció por lo delgado que estaba. Papi siempre hacia el cuento ese.

C: So when my, when my dad finally got out of the sugar cane camp, he came back to my mom's house, their old house, and he knocked on the door and my sister saw him and was like, 'Hey mom, there's a man at the door.' He was left so skinny and frail that she didn't recognize him anymore.
My father wasn't the same after he was released. He developed PTSD and he sometimes had a bad temper. Once, during Christmas dinner, he told my brother in law he was gonna shove a computer up his ass. Another time, when he was doing a renovation on the house, he got so frustrated and he completely freaked out and destroyed the laundry room with a hammer.
And all of this is BEFORE he had Alzheimer's.
At the same time I saw him being so sweet to my mom.
They held hands all the time, and when they watched TV they'd cuddle on the couch. And he was a super macho guy, but he held her purse when they went out. Like, some guy would bump into him and he'd be like, "Hey, watch where you're going man!" And then just like turn and walk away with a teal purse on his arm.
Even after he got sick, you could tell he was still so into her.
One time when she was visiting him at his assisted living facility, he got, like, pretty handsy with her. And we went in to kiss her, he stopped himself and he said "I don't know if I can do this, I have a wife and two kids."
During his final days, we were all by his side. My sister, her kids, our spouses, my mom.
MOM: El Superbowl.

C: Yea the Superbowl. It was Superbowl Sunday, y yo, estamos sentados y we brought fried chicken, we brought stuff to have, but the Superbowl wasn't playing. But my dad loved the Superbowl but we were just all there and my dad was hanging in there. Y te acuerdas el half-time, mami, my mom was like go see your wife, go home, we got it down, and I went home and I watched the rest of the Superbowl, and it was the most amazing comeback. The Patriots were down by like 30-something, 30 points, or 31 points. Algo asi. And they win the Superbowl. The best comeback of all time. And I'm like, you know it's like exciting, the best Superbowl of all time and then my mom calls me, like, 'Dad's dead.' Y eso, no me voy olvidar. Eso fucked up the Superbowl otra vez you know, y era tan sad, y tu me lo dijiste tan, dijiste, 'Dad se paso.' It was this weird thing with Tom Brady and the trophy and stuff....

A: Papi se fue-

C: Papi se fue, that's what you said.

A: El servicio que tuvimos con papi, que cosa mas linda. Los amigos tuyos.

C: Yea we had a nice service and you know… and I, I remember, me recuerdo mom I was like, I'm going to go in here and this eulogy, I'm going to crush this thing. I was like I have given a million toasts at weddings, I talk about my dad so much on stage, I'm going to go up here and I'm just going to give the talk of my life about how much my dad meant and I ate it.

I was so distracted by how much I ate it because I just started crying and I lost my shit and I couldn't finish anything, that during other people's eulogy's I was thinking if I could go back up again. Like a comedian would after a bad set. My sister who is not a public speaker, goes up and she cleans up and it like drove me crazy. But that comedian drive and stage drive never goes away, even at your own dad's funeral.
[MUSIC]
C: Si tu tuvieras cinco minutos papi, que tu hacieras con el?

A: El amor. [Laughter. Cinco minutos es muy poquito. No, no, no.

C: She said I asked her if she had five minutes with my father, what she would do, and she said, 'I'd make love but five minutes isn't enough time.'

When I think about my parents' marriage, it just seems like this epic love story - I don't know how they stayed together through all the shit they went through. But I know they were best friends. She knows everything about him. And now I want to know everything too.

There's this thing my dad used to say when I was a kid. He'd say: "if you're gonna do something do it all through the way -- all through the way." And I'm gonna.
ANNA SALE:
That's Chris Garcia, with his mom, Ana, talking about Chris' dad, Andres Primitivo Garcia, who died in February of last year. He was 75 years old. Today, August 8th, would have been Chris' parents 54th wedding anniversary.
After the break, a conversation between Chris and another comedian who lost a parent to Alzheimer's...Karen Kilgariff, who hosts the podcast My Favorite Murder. And a reminder...we want to know what you think about what you're hearing: Tell us at deathsexmoney.org/pilot.
_____
ANNA SALE: This week, we want your feedback on a new pilot from our colleagues at WNYC Studios that's hosted by Chris Garcia.
Chris has been grieving his dad for the past year...but he's also a comedian, and while he's been grieving, he's been talking to to fellow funny people about this very un-funny thing. People like comedian Karen Kilgariff, who hosts the podcast My Favorite Murder.
Chris Garcia: Well Karen we kind of have this crazy thing in common. Um, both of our parents had Alzheimer's.

Karen Kilgariff: Yeah.

C: Um, what was your mom's name?

K: [Laughs] I thought you were going to say "What was that like?"

C: [Laughs]

K: It was easy. It was -- it was kind of light. Um, went quickly. My mom's name was Pat Kilgariff.
Pat was a head nurse at a psychiatric hospital before she got sick. Karen was 45 years old when her mom died…
On My Favorite Murder, Karen talks about death a lot….but not about death in her own life. That's what Chris wanted to ask her about.
C: Tell me about your mom before she got sick. What was she like?

K: My mom was the person that if somebody was yelling in public she would take care of it. she was a deescalator. So it wasn't like she was confrontational; she just took care of things. She made things go away and she made things stop being bad.

C: She just always handled it. Was it difficult to see her not handle things once, uh, dementia took hold?

K: I mean that was the horror of it is it was a different person so it was this . . . it was a person . . . she, you know -- once she retired, um, my mom and my dad were happily married their whole lives and when she retired from work, um, she started kind of doing less and less. And then we could tell that it was because, uh, her -- you know, she was starting to forget things and starting to get uncomfortable and not trust herself.

C: Because they know. Part of them, they don't completely know but part of them knows that something's going on.

K: Yes, that something's wrong.

C: And so they resort to something, like my father would, um, he would start taking things apart. And so like going -- he stayed at home.

K: Yeah.

C: He would like take a door apart. But he's a mechanically-minded person.

K: Yeah.

C: That normally would do something like that. He just had to always tinker with things. And he just kept on tinkering. Even to like -- I remember he started tinkering with silverware and making sure it was like bent properly.

K: [Laughs]

C: He's doing all this weird stuff but I was like that's my dad knowing that's how his brain works but he's trying to hide it either from us or he doesn't know what's going on.

K: Yeah, almost like they're using that as like a comfort, what they go to. Where it's this is the thing that soothes me. I know if I sweep up all the dog hair that's in this and then my kitchen floor is clean I can feel better and I can calm down. But of course that wasn't it, you know? That didn't work.

C: Yeah. Do you remember the first time you saw her being off where you're like whoa, this is not . . . this is serious. This isn't my mom -- 100% my mom anymore?

K: Yeah, and it was really . . . [Laughs] It was, uh, it was very scary and it was also kind of like one of those I can remember it like a movie in my head. Um, she used to always pick me up, uh, from when I would fly up from LA. And it was nighttime and my dad would never do it if it was nighttime because he had bad night vision. Um, so she would always do it. And everything was normal and we were driving home and she did this thing where she took the exit before the exit to the San Rafael Bridge. And she did it in this way where all the -- it looked like . . . it seemed like all of a sudden she was waking up and then she just took this exit really fast. and it was the wrong exit. And all of a sudden we were off the freeway somewhere else and I was like what are you doing? And I -- it hit me before I think I knew consciously what was really going on. It hit me like . . . like really emotionally, and I got really mad at her. Then she was like "I'm sorry! I just didn't realize." And it's like but we've taken this drive literally 150 times so there's no way you didn't . . . and I was like she can't be in charge anymore. Like she can't -- she can't come pick me up anymore.

It was shocking because my mother was a medical professional. My father was, you know, a first responder type.

C: Yeah.

K: It's like we all know you know and you've seen these signs. And the same thing of sunglasses in the freezer, that was one of the first--and it's bone-chilling.

C: Yeah.

K: It's like you . . . any horror movie cannot--it pales in comparison to these little tiny, weird things where you're like oh, this isn't my mom anymore.

C: Yeah.

K: No one's holding down the fort.

C: It's -- it's . . . it's like watching someone slowly devolve like almost back into a child in a way.

K: I had a friend who was like "How's everything with your mom?" And I would always say "It's fine. It's -- you know, my dad and my sister are there all the time. I just go and dip my toe in and it's not that hard for me." I would always kind of make these excuses because I had so much guilt.

And this one time my friend asked me, and I know that he meant -- he wasn't just saying it and he wanted to know. And I went "You know what it's like?" I said "It's like the movie Jaws except that the shark is like way far away and you just have to wait for the shark to come. So you know it's coming and you're just fucking treading water and you're freaked out and everything you see is making you flinch but it's not there and it's not there. And after a while you just want the fucking shark to come. After a while you're rooting for the shark because you can't take the real time, 24/7 horror show of life suspense anymore. You just want it to be over."

C: You want -- because it's like they're stripped completely of their dignity.

K: Yeah.

C: Completely of all their faculties. And you're like please just make it stop. It's a cruel disease because there's no solution to it and it'll drag on for 10 . . . I think the average, once you get it, I think the average lifespan is like 10 years. But sometimes it's 12. Sometimes it's 20.

K: My mom's was 12.

C: Yeah, that's such a cruel death. What was it like? Were there moments when, you know, the shark's coming . . . [Laughs] But you're like oh, there she is. That's my mom again?

K: here's the worst one, and I'll definitely cry as I tell you this. My sister was putting her to bed one night, or like one evening, and She would do these weird things. It was the sun downing thing where she would get real anxious at the end of -- around 7, and she would always say she wanted to take a nap. And then you'd take her upstairs to take a nap, and then she'd start fighting you like a child that doesn't want to go to bed.

So anyway my sister was helping her get into bed and then my mom was like "I don't want to go to bed!" and doing this weird stuff and my sister started crying and it was like -- screamed at her and said something mean. And my mom grabbed my sister's arm and looked her in the eye and they're staring at each other and she goes "You do know I love both of you don't you?"

C: Oh my gosh.

K: And she had been gone.--she hadn't been coming back anymore. We were way past that point. So that like . . . that idea that you could talk to any real part of my mom was so gone and it was like she came back to make up for all the horrible, you know, like . . . she said shit like -- she told everybody at Easter, uh, that she never wanted to have kids. [Laughs]

C: [Laughs]

K: Which is so -- it was like, as everyone's quietly talking in the kitchen.

C: Yeah.

K: So there's like 30 people in the kitchen, and it just, you know . . . the 20-minute conversational lull hits and it gets a little bit quiet. And you hear my mom across the room, "Well I never even wanted kids." And she's talking to my three aunts and all my aunts start talking at once like they can cover it up, do you know what I mean?

C: Yeah.

K: Like they're going to be able to mute what just happened. So there was like -- there was so much shittiness that was unintentional and that was the disease and that was her -- her bad past, you know? It wasn't . . . it wasn't really about us. It was about her kind of old damage. But then she still fucking broke through, you know, at the eleventh hour just to grab my sister's arm. And it was like my sister told me that and I like thought I was going to have a nervous breakdown.

C: Yeah. Are you and your sister, um, do you guys share a lot emotionally?

K: Yes.

C: Have you always?

K: We always -- we always have. It's different. It's different now because now it's the best it's ever been. We talk to each other pretty much every day, um, and she's my best friend. And -- but during my mom being sick there was . . . there was just so much tension and there's so much anxiety and there was so much. Um, there was just so much to manage at one time, and as . . .As we lost my mom more and more we would tell each other.

Like the first time I had the experience where I was trying to put mom to bed and she fought me and I yelled at her and then I scared her and she kind of went like "I'm sorry. I'm sorry," and apologized to me, and then I couldn't stop crying because it was so awful. [Laughs] This -- this is like gallows humor, like crazy. But um, so one night my sister came to get me and that had happened and it was really bad and I had to tell my sister because I felt like I'd done that so badly and that was like I yelled at our sick mom and like what's wrong with me? [Laughs] And my sister goes "Are you fucking kidding me? I do it every time." And I was like "Wait, what?" She goes "She drives you crazy. Of course you yell at her." And I was like oh my, like I felt -- I felt like I was like borderline elder abuse, how mad I got.

C: Yeah.

K: And she goes "Yeah, she makes you that mad. That -- that's what we're all doing all the time." Then I go -- I said, in the middle of really bad sobbing, I just go "I just want her to die." And I said it so dramatically of like "Can you believe I'm even saying this?" And my sister goes "Oh please, you don't think I don't think about spiking her shit with Abilify every time I go over there?"

C: [Laughs]

K: Because remember that Abilify commercial where they're like "It could cause death in Alzheimer's patients."

C: Yeah.

K: It's like my sister had already made a plan of like how she could actually end this fucking horror show. And then we -- in the middle of crying she said that and we both were laughing so hard where it's like this is a nightmare.

C: [Laughs]

K: We are in a fucking nightmare and we're just reacting like normal, fucked-up people that have been thrown in a nightmare with no training or preparation or anything.

And my mom and I didn't get along great, um, in our previous relationship. So it wasn't like this thing where it was like the great . . . I mean she was a great mom but she and I had interpersonal problems that we never solved and we never got a chance to solve. Um, so I was in therapy just dealing almost like with my therapist about the problems that I had with her because I knew I would never be able to deal with her, uh, or talk to her about them or apologize or any of that. [Crying] I think a lot of people talk about Alzheimer's and dealing with it with their parents from this like "They were the best and now it's so sad and now they died and it was also great." But if you have any kind of an issue with that parent, it like triples the guilt, you know what I mean? There's already so much guilt and then you have even more because you're like I wasted time and I was selfish. And they would not want us to be sitting here like, you know, flogging ourselves for the failures of the relationship. Because that's every parent/child relationship.

C: Yeah.

K: They're all -- that's the . . . that's the definition of, you know, you don't . . . nobody gets out unscathed in a parent/child relationship, and especially mother/daughter. It's tough. It's really tough. And I know that she was so not about guilt. She was like -- she would say it all the time in normal life where it'd be like nope, don't even. That's not -- that's not your problem. Or don't live like that. Life is short and you have to be the happiest you can be all the time. So that's what I try to actually focus on. I just don't think I've ever said those words out loud of like really having problems with her beforehand and having that just slide into sickness. So you can't go back and be like "Mom, can we talk about that thing? Because I really think I was right." Like, you know . .

C: [Laughs] Yeah. Have I -- you know, I . . . funny thing. You know, my dad's kind of the cornerstone of my stand-up set and he always has.

K: Yes.

C: Like even when I first started 13 years ago I would talk about my dad.

K: Of course.

C: Do you, um -- did you talk about your mom in your stand-up at all?

K: You know what's funny? I tried to. So I didn't do stand-up from, um, I was the head writer at the Ellen DeGeneres show from 2003 to 2008 and I did not do stand-up comedy in that time. I tried to do it a couple of times in the very beginning at Largo. It was the end of the Largo days. And I went back there one time after one of the first visits home where there was moldy bread and there was, you know, sunglasses in the freezer and all the really upsetting things and I tried to do a stand-up set about it. and I was totally being like "Oh my god." And my favorite joke that I wrote about it was I was like -- when I found the moldy bread I was like "Are you guys going to make food for ghosts? Because everything in here is old and rotten." And it was so quiet in that fucking room it was . . . And you could've heard a pin drop. The audience was horrified. It wasn't funny enough to where . . . it clearly wasn't processed.

C: Yeah.

K: And it was one of the worst sets I've ever had. And at the end -- this was the thing. Greg Fitzsimmons used to, when he was on the show, he would always go last and he would do his whole set making fun of everybody else's set.

C: Yeah.

K: It was one of my favorite things. And that night he skipped me and I was so angry at him and I was so bummed out and I was like I did as bad as I thought I did, and I went up to him after the show and I was like "Was my set really that bad that you had to skip me?" And he grabbed my arm and goes "It was so sad." And then I was like oh fuck. Then I just didn't . . . I was like I don't even know where I am right now. I don't know what I'm saying. I don't know why I'm saying it. I'm in a complete panic and this isn't funny.

C: Yeah.

K: This is the breakdown of my family. So I just went to work and stopped performing and basically for the next five years just was a TV producer and writer essentially and got out of it. And then when I left that show I started doing all kinds of stuff again. I was doing stand-up and I was doing music and I was doing all kinds of things. And I actually wrote up a story version of that night my mom took the wrong exit.

C: Yeah.

K: And it actually came out amazing where it was that kind of thing where I'm like oh, this is . . . I need to express this sadness accurately and honestly and not try to put this veneer of comedy on it because that's not how I feel about it.

C: Yeah.

K: I don't think this is -- like I haven't thought this was funny ever and trying to force it through that . . . and that's also why the first time I saw you do it I adored it and admired it so much because it was simultaneously sincere and pained but hilarious at the same time. Like you did the thing that I think I was either too close or I just didn't -- I didn't give it the kind of real thought that it needed and worked it out. But it was the thing that I could not bring myself to do.
That's Karen Kilgariff, interviewed by comedian Chris Garcia. We really want to hear what you think of what you heard--to tell us, go to deathsexmoney.org/pilot. And thank you
Along with Chris Garcia, our colleagues Joanna Solotaroff, Isaac Jones, Megan Cunnane, Julia Longoria, Jenny Lawton, and Paula Szuchman worked on this pilot.
I'm Anna Sale and on the next Death, Sex & Money episode, I talk with the one and only Nick Offerman. Before then, don't forget, go to deathsexmoney.org/pilot to tell us what you thought of this episode.
Copyright © 2019 New York Public Radio. All rights reserved. Visit our website terms of use at www.wnyc.org for further information.
Music Credits:
"Struggle Face" by Isaac Jones
,
"Time Doesn't Exist Here" by Isaac Jones
,
"You Already Know" by Isaac Jones
,
"Get Used To It" by Isaac Jones