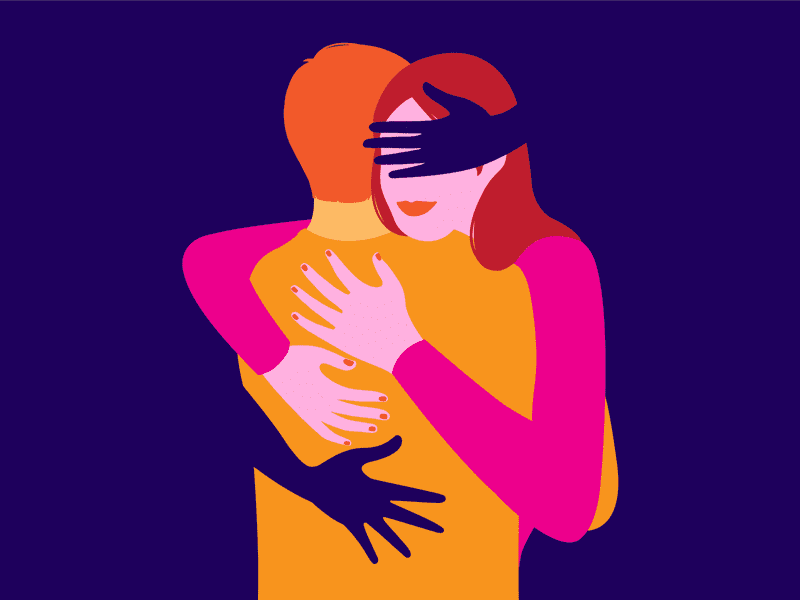 Transcript
Ali: It was nothing that he ever tried to hide from me, but honestly I had just never looked down at his hand. And one day I did, and it was just like...oh.
This is Death, Sex & Money.
The show from WNYC about the things we think about a lot, and need to talk about more.
I'm Anna Sale.
Having an affair seems like such a big decision. Of course, it's really a series of small choices.
Ali: Once it actually finally happened, and we started making out, I said, "Fuck!" And he was like, "What?" And I was like, "I hoped you were going to be so bad at this."
You're going to hear a lot of cheating stories in this episode. I'm going to start with one.
Ali in Massachusetts met the guy she called her "married boyfriend" through work. They hit it off and starting emailing and texting jokes to each other. He lived in another town, so they'd only see each other occasionally. Each time, she felt pulled further in. She was 29, single, and had never felt this way about someone...even though she knew he had a wife, a two year old and an infant at home.
Ali: I would say there was probably a two week span of battling in my head because my dad cheated on my mom so I was so against, anti, like, no -- if you chose to be with that person, then you're with that person and if you're not happy you leave and that's just how it is. But that's not really how it is.

AS: How is it? What were you thinking about?

Ali: It became more painful to not do it and to just test the waters and say, maybe this is the only guy that I'll ever be in love with and for me to deny myself that -- that would be terrible.

AS: So you felt a very deep connection to this guy?

Ali: Oh yeah. He had really become my best friend and there was no denying that what we had was quasi-real.

AS: Quasi-real.

Ali: Quasi-real.

AS: You never had any illusions that it was going to be a long-term thing but it felt right in that moment.

Ali: No, I had lots of illusions that this would be for the long term and there were a couple times that we actually talked about it and I said, "Listen, I want us to be something." And he kind of said, "You know, I'm right there with you." It was an illusion that we both kind of built for each other.

AS: This guy was not just married, he was married with two little kids.

Ali: Yeah.

AS: When did you talk about that?

Ali: It was always a little bit present. There were certain times when he would go out and talk to his wife on the phone.

AS: He would leave a room where you were to go call his wife.

Ali: Oh yeah. He would go outside and smoke a cigarette because he was a smoker.

AS: And what would you do while he was making those calls?

Ali: Play on my phone. Watch TV. Every once in a while you reflect on it and you feel bad. We both felt bad. It wasn't something where we were like, "This is really fun, we're having a blast!" It was like, "Wow, what if life could be without this?"

AS: What if like could be without this?

Ali: Without his wife and kids. If it could just be us. Would that even work? That would be something that I would always question in my head.
Ali told me their affair ended after about year. By then, she says, she felt like it was all about sex, and that's not what she wanted. As far as she knows, his wife never found out, and she hopes it stays that way.
This was one of the stories you sent in when I asked about cheating. I heard from a lot of you.
I started having an affair about two weeks into the marriage which makes me sound like the most horrible person in the world.

It is one of the most isolating and lonely experiences.

This is the only way that I find comfort.

I actually don't feel a lot of guilt about it.

Don't do it, just don't do it. It's a terrible idea.
I heard stories of people who cheated and were cheated on.
What's he got that I don't have?
Dating and married.
I had taken my wedding band off and I left it in his cubby at work.
Almost all of the stories were from straight people. Just a few lesbians wrote in...No gay men on this one.
Some of you are right in the middle of it.
The person I'm involved with is definitely cheating. He's still married. I'm not.
"I feel like a shithole of a man even as I type this message…" wrote a husband whose wife doesn't know about his current cheating.
"I love both men deeply," wrote a married woman who reconnected with a college love. She added, "Is it right to have an affair? No. But I don't feel bad about what I'm doing."
I had been wanting to break up with him, and so I cheated on him. And I had to break up with him afterwards. It's not the best thing to do as a human being, but I'm really happy. I don't think I would be this happy without doing it.
Others of you wrote with some perspective, well after the initial crisis.
We decided to write down all the events that had taken place that we were disappointed in ourselves with, and read it together as a couple and then lit it on fire. Since that moment, it has been incredible.
"The affair is like that vacuum cleaner you get as a birthday gift," Michelle says now. "You don't want it, you have a bad reaction to it and then a few years down the line you acknowledge how much better your life is with it."
A note on sourcing: because this is such a tender subject, and because in most cases, I heard just one side of the story, I'm using first names here...and sometimes, changing them completely. I'll tell you when I do that.
This is Andy, in Connecticut.
Andy: I remember one time I had a new boss, and one of the things my colleague told the new boss is, "There's one thing I'll say about Andy: Andy loves his wife very much and is very faithful to her." I didn't know where that came from. But that was kind of the vibe I wanted to put out there. To quote Hall and Oates, "I'm a family man!"
Andy's story about infidelity started long before he was ever in a relationship. He says his dad cheated first on his mom, and after their divorce, on his girlfriends.
Andy: The best one was, I think I might have been 12, and I was visiting him in Florida. He was dating this woman very seriously and this was a wonderful woman and my brother and I really liked her a lot. My dad had this woman from his past, sort of this on-again off-again romance. I don't want to judge it as a fling or anything, but it was just this woman who periodically would appear and disappear, appear and disappear. And this woman called and my dad was going to fly her down to Florida. My brother and I said, "Dad you can't do this! You have a very serious girlfriend. You're gonna ruin this." He said, "No, she's never going to find out." We said, "You can't do this, you can't do this at all. You're gonna blow it." My brother and I pleaded with him. Argued with him. I'm 12, my brother's 6. We are berating my father and finally he slams on the brakes in the car and says "I'm a grown man and I can make my own decisions!" I remember thinking, "You may be a grown man but you've got the mind of a child." And guess what happened? She came down. The other woman found out. And he lost her.

AS: Is your father still living?

Andy: Yes.

AS: Do you have a relationship?

Andy: Oh yes. I love my father very much. At some point you have to reconcile the fact that things happen. You can either go through your life upset, angry, bitter, sad, whatever, or you can love the person you love unconditionally and more or less forgive them. I knew what kind of man I wanted to be and what kind of man I didn't want to be. I feel like people have a choice. They don't have to be unfaithful or entertain the possibility of being unfaithful. Fidelity is something that I think of like a value, and I value fidelity. I value faithfulness. Forgiving a spouse for cheating on you might be like taking a bullet, but I would never want to be the one to fire the gun.
That analogy… that forgiving someone for cheating is like taking a bullet for them… that comes from sex columnist Dan Savage when we talked about infidelity on the show last July. And it's stuck with people. Including a woman I'm calling Sheri. That's not her real name. She's 41, and says she's been married to her husband for almost 18 years. They met in high school… and got married right after college.
Sheri: Despite doing women's studies class and considering myself a feminist since I can remember, I felt like I somehow managed to fall into every trap that's set for women.

AS: And what do you mean by traps?

Sheri: I did everything I think is expected. I gave away my name. I took his name. We got married. We had 2 kids who are, of course, perfect and extraordinary. We lived in the right places. We did all of the right things and to a certain extent we have been very successful and I don't want to discount that. When you make all of those very safe choices you are rewarded for that.

AS: How old are your children now?

Sheri: My children now are 16 and 13. A lot of the trouble began when my youngest started to grow out. When they're little, for the first 10 years or so they take up so much of your literal physical and mental self that you sort of lose yourself in the parenting. And when your kids get a little bit older they start to not need you in that way. They start to pull away. It left me as a mother wondering how I was going to fill all this time that I suddenly had.

AS: And what happened?

Sheri: Well, there was a lot of different things going on. I describe it now as this awful hurricane. I turned 39 and my kids got older and I lost all this weight and suddenly this question started coming up about who was actually in control of my physical self. It felt like for a long time of course it was my kids and for all of my adult life it was presumed to be under the control in a lot of ways of my husband. And at the same time we did start to have sexual problems. He was turning me down a lot which was not okay. So all of that was happening at the same time. And in the middle of that hurricane, there I stood, and in stepped this wonderful distraction.

AS: Where did you meet the wonderful distraction?

Sheri: So I met this distraction through work. He's not a coworker, but I met him in the course of my work.

AS: How did your relationship with this guy move from being professional to personal?

Sheri: It was just through emails and text messages. I sometimes think about how text messaging may have changed everything about marriage and infidelity because it makes it so easy to share personal information while maintaining distance. So there was just a lot of text messaging.

AS: Would you text while you were in the room with your husband?

Sheri: Yes, absolutely. I was not horribly concerned about being caught in that way. My husband and I had been together for so long and I came to realize that he in a lot of ways had stopped paying attention. I think to a certain extent we were both sort of invisible to each other.

AS: Was this guy you were having an affair with also in a relationship?

Sheri: Yes. He is married. It was absolute secret on both ends.

AS: And you would meet in hotels?

Sheri: Yeah. Keep in mind too, I don't know how other people's affairs work, but this was not something that happened all of the time. The entire affair lasted sometime between nine months to a year and in that time we only met up three times physically. There was a lot more in between text messaging and communication that way.

AS: You lost a lot of weight when you were 39. Do you think that had to do with feeling like you wanted more physically from the world?

Sheri: It may have. And I think it amplified for me how little control I felt I had. I was happy and joyful with this newfound sexuality that I had, and I felt like I had this power that I never had before over men, ever. But at the very same time I was infuriated about it. That I am the same person that I was before, and the fact that so much had changed because I had lost this ridiculous weight is maddening.

AS: The way you tell this story is this experience of feeling deeply empowered and also angry, and a lot of resentment coming to the fore. Why did the affair end?

Sheri: Because I wanted it to end. Because I could not continue to live the way I was living.

AS: At what point did you tell your husband?

Sheri: It was several months later.

AS: And you're still together… what happened?

Sheri: I think mainly what happened is that… my husband happened. One of the things that I feel bad about now is that I feel like I underestimated him. It never occurred to me that my husband would react in any way other than anger and judgement. The dominant narrative is that, right? The cheater cheats and the person who's been cheated on calls a lawyer, and crockery is thrown and that's how it's supposed to go. And that's not how it went. I don't want to minimize his pain because it was very very awful and very painful for him, but he was able, for whatever reason, to look past this incredible pain that he was going through and ask why? And listen to the answer.
It did take some negotiation before Sheri and her husband decided to stay together. Sheri wanted three things: to take back her maiden name… move to a new house… and allow each of them to have occasional flings outside the marriage. She says her husband didn't want to sell the house… but OK'd the rest.
Sheri: One of the things that we talked about or that I was saying to him is that you don't have to follow the narrative that everybody else does. You don't have get divorced. You can decide to go a different way.

AS: How did your husband respond when you said I think we should allow non-monogamy into our marriage?

Sheri: He thought about it very hard and tried to see it from my perspective. Really listening to what I was saying and what experiences I was having that would cause this. It was sort of funny, but one of the things I said to him was, "I cannot believe that our 20 year relationship and this life that we've built together can be destroyed because my vagina was in the wrong place." It's absurd and I did say that to him. Part of me thinks this is ridiculous. Why should this matter the way that it does? I just don't think it should.

AS: And for him, agreeing was in part because you made it a condition for keeping the marriage together, right?

Sheri: Yes. That is correct. And I hate to think what people would think of me if they knew that, because I don't think the reaction would be good. I question myself about it. Did I emotionally blackmail him? And basically say, like a ransom letter or something, "You either do what I want or I'm going to blow up our lives." That is what happened. That is what I did. Right or wrong. And I don't quite know whether it was right or wrong yet.
Coming up, more on the emotional cost as we figure out what's right and wrong. Like for Cody in California, who says his girlfriend cheated on him repeatedly...and denied it...until he caught her. That was almost 5 years ago, and he hasn't been in a serious relationship since.
Cody: "It purely comes down to trust. I don't really know how anymore and it's terrifying to me. I tried dating. I haven't been on a date since October, because I don't want to hurt anybody's feelings. I saw this pattern of every time it gets just to the cusp of vulnerability having to present itself, I run. I just can't do it."
So, reading and listening to all your messages about cheating over the past several weeks has given me a stomachache.
The prospect that this could happen to me…or more frightening...that I could do this...has been at the front of my mind as I've listened.
Here are the statistics.
Dan Savage told me on the show that 50 percent of men and 50 percent of women cheat. That episode is on our website at DeathSexMoney.org. Other studies have found a range -- 20 to 40 percent of straight married men cheat; 20 to 25 percent of straight married women. The numbers are imprecise, because remember -- researchers only know what we admit to them.
When you're dating, the rates are much higher. 70 percent, according to a 2006 study of American couples.
The thing is, I understand. The details of how this happened in your lives...have been so mundane. I've felt ignored in my relationships, bored, like my needs weren't being met. I get those feelings.
But then I'd worry that if I could understand TOO much, I was losing my moral footing.
Let me know what you think of all of this. Email me at deathsexmoney@wnyc.org.
On the next episode: Singer Lisa Fischer, on growing up poor in Brooklyn, touring with the Rolling Stones, and what she wishes she'd learned earlier about money.
LF: "You're staying in all these great hotels and you're spending money like water. You're buying the caviar for breakfast and yada yada because you can. It's just so new and it's so cool and blah blah blah. And now I'm looking back like, "That was stupid."
This is Death, Sex & Money from WNYC. I'm Anna Sale.
Sasha: Hi Anna, I'm calling in about the cheating episode.
Sasha recorded a voice memo about cheating while she driving home from work. That's not her real name.
She talked for 10 minutes about a relationship gone horribly wrong.
Sasha: The thing that feels the worst to me about all of it is just how much work he put into the deception.
Sasha is a biologist. Before this, she considered monogamy unnatural, and worth deconstructing.
Looking back she feels naive, because the force of her pain keeps surprising her.
Sasha: It's hard not to take it personally. It's hard not to say, "You must have really hated me. Why not just leave?"
Sasha says she and her partner were together for five years when she first confronted him. She thought he was having an affair with a colleague.
Sasha: He had said to me, "You're paranoid, you don't trust me, I don't know if I can be in a relationship with someone like you."

AS: How did you find out the extent of his cheating?

Sasha: The initial stuff with the woman here, I asked to look at his cell phone and saw excessive text messages with lots of specific conversations that only people who are intimately involved would have. After her, I was contacted by a woman who had responded to an ad he had posted on the internet looking for casual sex and she said that she had responded to the ad in April of 2013. This was October when she reached out to me. I decided to log into this particular account. I thought maybe he hasn't changed his password. So I went in and you could look at the history and I discovered these kinds of ads for years. The first one was in March of 2011, when we lived in a different state.

AS: And you'd moved together?

Sasha: Yeah. We moved together.

AS: Did you ever confront him about this after your breakup?

Sasha: I did. In the form of a text message.

AS: And what happened?

Sasha: He denied it. He denies it still.

AS: What did you say?

Sasha: I don't remember exactly but I think it was fairly pointed. I said something about knowing everything and feeling incredibly betrayed and really hurt and utterly distraught at the whole idea. I think I probably thanked him for the need to go get tested for STDs.

AS: Have you thought about being in another relationship?

Sasha: Yeah. I think about it constantly but I'm not there yet.

AS: How do you know?

Sasha: Because I haven't forgiven myself. And until I can do that and ultimately forgive him I won't be good for anyone.

AS: What do you blame yourself about?

Sasha: It's a complicated question. It shouldn't be but it is. I have taken a lot of the blame for ignoring some red flags. Not trusting myself more or valuing myself enough to say "this isn't okay" when things were happening but rather covering them up or compensating for them.

AS: What do you think you'll say the next time you have a conversation with somebody you're beginning a relationship with -- what will you say about your expectations?

Sasha: I think I want to make sure the person that I'm with can answer the question, "Do you know what you need to be happy?"

AS: Do you know what you need?

Sasha: More so now than ever. Even though there were days when I just wanted the earth to open up and swallow me whole. I think now I'm a better person. It's a two-way street. I certainly, clearly wasn't making him happy in ways, and I think that I will be a better partner for it moving forward, when I'm ready. When I'm ready to be vulnerable again.

Voice memo: "About a year ago, my partner of 10 years confessed that she was having an affair and fell in love with one of our best friends. We immediately started couples therapy, as we have kids together and we wanted to try and make this work. I'm working through fear that she will change her mind and leave me for the other woman. I know I have to forgive her and trust again. I'm just scared to make myself vulnerable."
For Joe in Texas, the problem hasn't been vulnerability. He's had trouble finding women who could commit to him.
Joe: All my interactions with other women have basically been them cheating on their significant others.
Joe -- and that's not his real name -- says it's been this way since just after high school. He's in his 40s now. Over the last 7 or 8 years, he's met women online and it's developed from there...including in his last relationship with a married mother. He says it lasted about two years until he broke it off last fall.
Joe: You find ways to justify it. I'm feeling a little bad about my situation, she's feeling bad about her situation, why don't we just support each other?

AS: And it was a physical relationship too?

Joe: Turned into it. Not right off the bat or immediately, but it did turn into it. It didn't really change much of what was going on in my life. She would come and see me.

AS: Why did it end?

Joe: It just started adding up. I don't see where I fit into this thing. I felt like I was just a sideshow.

AS: There's a pattern that you can look back on your life and see that you've been with a series of women that weren't available to be just with you, but it sounds like you haven't quite figured out why that is.

Joe: I've got reasons why I believe that. Physically I'm an overweight guy. So I feel like that's probably why I can't be the number one choice. They may love my sense of humor and my compassionate side and the fact that I'm not afraid to let out my feelings and tell 'em different things. All that loses to the fact that I'm not 6'4" and have rock-hard abs and look fabulous.

AS: How tall are you and how much do you weigh?

Joe: I'm 6'1" and I am very happy to say that I'm about 295 lbs right now. I lost about 45 lbs in the past year.

AS: Congratulations.

Joe: Thank you very much. I'm trying to be done being ashamed of anything about me and just putting it out there and saying, "This is me, this is who I am."

Voice memos: "I've been married 3 times, and each time I went out and cheated to find, I guess, love."

"It's so much harder being on this side of things than I think people realize."

"You need to talk about endings before your beginning. You need to talk about, if it all falls apart, how would we behave? How would you want to behave?"

"We don't offer enough support to those that have made mistakes like this."

"I'm trying to be loyal in that area. I hope that it works out this time."
And it has to be said, when you're talking about SEX, sometimes there are consequences beyond busted relationships and emotional wounds. Cheating can lead to a child.
Chrystal: "I found out later that he had gotten a friend of his pregnant..."
A woman I'm calling Chrystal sent this in from Virginia. She's 27...she's been with her boyfriend for 6 years. She told me he's in the Army, and has deployed several times during their relationship. Sometimes there were tensions.
At one point, she says he thought they were on a break while he deployed. She didn't. When he was back at base in the US, she called him.
Chrystal: When he finally did answer the call he was in tears and like, "Oh my god I messed up." So I'm like, "What is it?" And he just kind of said, "So and so is pregnant." I was like, "What?" I think my stomach just dropped to my feet and the tears just welled up. How do you react to that? I said, "I'm not taking this sitting down. We're not handling this over the phone. As soon as you get home you will buy me a plane ticket. I will fly out this evening. I am coming to stay with you for a couple weeks. We're hashing this out."

AS: That was incredibly brave of you. That your impulse was to go towards it.

Chrystal: It was actually really funny because as soon as I got to the airport, the first thing I said, I looked at him in the face, gave him a fake punch in the chest and said, "Fuck you, you suck. Let's go home."

AS: Did he think he cheated on you?

Chrystal: I think he thinks he betrayed me. Even when I think about it I don't necessarily think he cheated on me. I see it more as a betrayal which is much different. Cheating doesn't have to carry anything with it. Some people cheat and that means a long term affair. Other people cheat and that means a one time fling. Some people cheat and their partners never know and they're probably better for not knowing or carrying that with them. Cheating for me is not the physical act that makes infidelity what it is. It's the emotional impact and the mental impact and living with it. I was haunted by what happened for so long. I think I just felt so much more betrayed because now we have a surprise human coming out of it.

AS: Who's their child.

Chrystal: Now I have two people in my life who would not necessarily have been there before. It's more the imposition of what the end result turned into that got me for a very long time. I had the very human reaction, after I came to grips with what this whole situation meant for me and for him and for what our relationship would be, I would have these very mean, mean fantasies. "Maybe she'll fall down some stairs. Maybe she'll slip and fall on something. Maybe something will happen." And of course I never wished those things on her.

AS: And they were about her and not about him.

Chrystal: Don't worry, he actually got some. He got all of my ire up front. There were now fantasies about the ire for him. He got my ire up front. He was not spared.

AS: But it was thinking about, how can this baby not come into the world.

Chrystal: Exactly, because if the baby is not here then she's not here, and I get to have my pretty picture back.
Now it's a new family picture for Chrystal. Her partner's daughter is 4 years old -- Chrystal says she's a riot.
The little girl's mom got married last summer. Chrystal and her partner were at the wedding to celebrate.
Only you know what's right in your relationship. Until cheating happens, it's hard to predict how you'll handle it.
Hi Anna. I'm calling from an undisclosed location in Europe…
That's what I learned from this message. It was among the first to come in…and it's stuck out.
We'd been married for 12 years. We'd been together for 15. We have two kids, a house… the full catastrophe. It came as a shock, well, these things are a shock. Especially because not only did she have an affair, she had an affair with someone who I considered a friend and on top of that is also our neighbor. So it was a very, very -- and still is -- a confronting situation. I think my initial reaction was to break everything, break up and start from scratch. And I was very fortunate to be able to talk to somebody who brought the whole confrontation back to me and got me to ask the question of, "Who do I want to be as a person? How do I want to respond?" And how I respond I will have to live with for the rest of my life. So after some days I actually decided there was too much at stake to simply drop everything right there and then. So I decided to face the consequences of what had happened in my life, and I think at a deep level we really really love each other and that is enough of a basis to try to continue to build on that relationship. If you would have asked me beforehand, how would you react if you found out my partner had had an affair? I would have probably said I would walk. It's also a surprise of what I had in me. In a crisis situation you just meet a different part of yourself. For me, I must say that I'm glad I took this journey and even though I still feel there is no guarantee but then again there never is in relationships between people.
So when a secret affair is revealed, it's devastating, destructive, and something we all would like to avoid -- but it's also a moment that can make us finally, fully honest about what's been missing, and what's worth saving. Thank you for sharing your stories.
Death, Sex and Money is a production of WNYC. The team includes Katie Bishop, Emily Botein, James Ramsay, Caitlin Pierce, Zachary Mack, and Bill Moss. Thanks to Paul Ruest at Argot Studios for his help with this episode.
And a special thank you to Chris Bannon. This show exists because you asked for ideas. The team and I are forever grateful for your support, guidance, and exacting standards -- and we wish you the very best in your next adventure.
The Reverend John Delore and Steve Lewis wrote our theme music.
If you like the show -- subscribe on iTunes and write us a review. I like to hear what you think, and it helps more people find us on the podcast chart.
All this has made me think a lot about cheating...though if you ask my fiance Arthur...we don't need to talk about it more.
Arthur: Because I'm tired of it disrupting our conversations, everyday or every other day.

AS: Do you think it's also been useful premarital conversations?

Arthur: Yeah. That's also true. Several of the conversations have been useful. The other 47 have not. They've just been frightening.
I'm Anna Sale, and this is Death, Sex & Money from WNYC.
Copyright © 2019 New York Public Radio. All rights reserved. Visit our website terms of use at www.wnyc.org for further information.
Music Credits:
"Midnight Grind"
,
"Thoughts" from BWN Catalog
,
"Peaceful" by Justin Asher from BWN Music
,
"Healing Hands" from BWN Catalog
,
"Can't take it "
,
"Immobilessence "
,
"Runaway Waltz"