Can You Help Your Kid's Anxiety By Changing Your Behavior?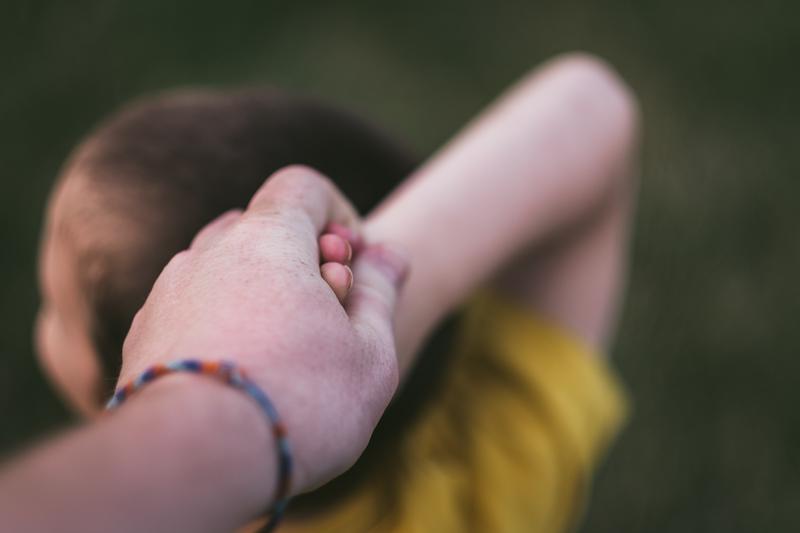 Transcript
Dr. Lebowitz: One message that I would want any parent of an anxious child to know is that, in all of mental health, in all of psychiatry and psychology, there is no problem more treatable than anxiety.
(opening theme for Death, Sex & Money)
This is Death, Sex and Money.
The show from WNYC about the things we think about a lot…
…and need to talk about more.
I'm Anna Sale.
(end of opening theme for Death, Sex & Money)
1 in 11 American children and adolescents has an anxiety disorder, a number that's been increasing over the last 20 years. We heard about this in our recent call-in series about mental health, called Hold On.
I have two young kids and I also hear about this in conversations with other parents – in disrupted family routines, battles over going to school, or access to social media. Many of us are questioning how to support our kids through their fears while also pushing them when they need it.
I was riffing on some version of that with some neighbors on my deck in Berkeley a few months back and one of them, Mike Morasky, described growing up in the 70s in Montana. He was not hovered over as a kid which suited his personality. He's always had a healthy skepticism of authority. He moved to the Bay Area initially with his punk band, and before that, there was skateboarding.
(Blue Dot - Our Only Lark Alt Montuno)
Mike: I remember literally the first time I stepped on a skateboard. I went down a hill and fell and scraped both my knees and my elbows and then, you know, I mean it was a real wipe out. Literally the first time and then, you know, just jumped up and was like, "Fuck yeah, I gotta do that again." You know?
Anna: Where were your parents?
Mike: Well, nowhere, I mean, I would say nowhere nearby, but they were really supportive. You know, they would drive us to skateboard contests, which in Montana is not a small undertaking. It'd be a long, long, long drive. But that behavior, a penchant for risk, started way, way younger.
I'd go jump on my bike and bike away and go wherever for the day and they'd have no idea where I was, and my parents were a little more extreme in that regard in that my dad was a research psychologist and behavioral psychologist at Montana State University and really believed in, what do you call it, natural consequences, right? Like that sort of learning where you learn by doing.
Anna: Interesting. So he had an intellectual framework for letting you figure stuff out on your own.
Mike: Right, for being a lazy parent. He had an intellectual framework for being a lazy parent. Yes.
(Blue Dot - Persimmon St)
Anna: I remember when we were sitting on my deck and the sun was setting and my memory of our conversation about the way your teenage years… we were talking about skate punk culture, and you were describing what it was like to come of age in that scene, and you described something a therapist said to you about it. Do you remember what you said?
Mike: Yeah. As I was kind of describing my upbringing to her, you know, and sort of some of the contemporary manifestations of it. She was like, "Well, so it sounds like you're not really afraid of much of anything, but you never feel safe." I have always kind of felt like, at some point the other shoe was gonna drop, right? Like that something was gonna go wrong or that things weren't gonna work out.
Anna: Some kind of dread.
Mike: Yeah, and I always just assumed it was, you know, my punk rock culture, uh, just having zero faith in humanity, right? Which is, I think, a reasonable stance to take. But I had never really kind of tied it to this idea that as a child when you're growing up, and this is how she sort of explained it to me, you know, you're gonna poke at the edges of things. And if you have adults telling you, "Hey, don't do this, you could get hurt, don't do this other thing." You kind of have this, you know, you learn boundaries without being hurt by them.
But if you have adults telling you you can do anything you want, but it's gonna hurt, you do learn kind of where the real boundaries are but through pain, you're gonna go, you know, can you go off a 50 foot cliff? Can you go off a 60 foot cliff? Can you go off an 80 foot cliff? What does that feel like? And if I go 10 more feet, at what point is it breaking bones?
Afraid of nothing, but never feeling safe… I've thought back on that a lot.
Especially as a parent. How do you get that balance right, of showing your kids that you're going to protect them, while also helping them learn to tolerate discomfort?
I mean, truly, it's a question for any intimate relationship. How do you be there for your loved ones when they're in distress, and help them solve a problem when you can, but not solve so many, that you get in the way of their own growth?
In poking around on these sorts of questions, our producer Zoe Azulay read about a treatment program for kids who suffer from anxiety disorder and OCD developed at Yale University.
But the program does not focus on the kids. Instead, it gives clear instructions to the parents.
Like Alexis, a mother in New England. She and her husband started getting help when their son was eight, and really struggling with anxiety and OCD.

(Blue Dot - Cloud Line)
Alexis: He couldn't be alone, even if it meant I was just down the hall with the door shut for three minutes and he was in the living room, that was too much for him.
With the help of a therapist, Alexis and her husband developed a plan to change their parenting patterns, incrementally. And it's a pretty formal system: you start by writing a letter to your child, explaining what will change. The focus is on what the parents have been doing to try to comfort their child, what the program calls "accommodations."
For Alexis, it was about not having to be physically next to her son whenever they were home.
Alexis: I would always be like, "Okay, I'm going right upstairs. I'm just switching the load of laundry. I'll be right back." "Okay. I'm just gonna run to the bathroom." So he knew where I was every minute of the day.
Anna: Can you describe for me the scene of when you wrote your first letter to tell your son that some things were gonna change in your household? What was that like? How did you do that?
Alexis: So we wrote the letter and it wasn't even the drafting of the letter that was too difficult. My husband and I sat in the office and kind of drafted it out.
Anna: By long hand or on a computer?
Alexis: On the computer, because we knew we would print it and then read it to him and give it to him. We got through the reading okay, but he was visibly upset and crying and he shredded it immediately. And this was the accommodation that, you know, we know it's hard for you to be away from mom and dad, but you know, when you come into the bathroom, we are not gonna respond to you until we're done.
And then we'll be happy to, you know, respond to anything you need after we're done in the bathroom. I think he cried for a good three hours that night, and had a very strong response to the announcement and said things like, "I wish I was never born," "I wish I was dead," that we didn't have to do this.
Anna: Had he said things like that before?
Alexis: No, so that was so hard as a mom because that's your baby. And it was concerning enough that we contacted the therapist about it, you know, is this okay? And she basically reiterated that this is exactly why we're doing this therapy because he's having such a strong response to what is really a minor change.
(Blue Dot - Persimmon St)
This program was developed at Yale by Dr. Eli Lebowitz, which he describes in a book called Breaking Free of Child Anxiety and OCD: A Scientifically Proven Program for Parents. I found it very readable and useful as a parenting guide in general, to help me reflect on what distress feels like for a child, and how my reactions as a parent shape that.
After all, Dr. Lebowitz says childhood anxiety is best understood as a relational process.
Dr. Lebowitz: Children by nature don't respond just with their own fight or flight response, and that's in large part because we're born not really able to do that. I mean, if you start from infancy, a baby can't really do fight or flight, what can they do? They can cry. That's the main thing they can do, and that crying will alert their parent, their caregiver, that they need help.
And that tendency to look to your parent for help in coping with something that is triggering your fear or anxiety or you know, your distress that remains throughout childhood, even as we gradually develop more independent coping abilities. So the first thing I want a parent to understand is just that they are an integral part of how anxiety works in a child.
And if you're a kid and you're growing up, learning about yourself through your parents is, "I can't handle anxiety." Well, you're gonna have a lot of anxiety in your life and you're going to feel vulnerable to it, and it's going to be more impairing to you because that feeling of "I can't handle anxiety" is what drives most of the impairment in anxiety disorders.
But Dr. Lebowitz stresses that parents, for the most part, do not CAUSE anxiety disorders or OCD in kids…and he says, while parenting styles certainly evolve across generations, he doesn't endorse one way over another.
Dr. Lebowitz: There's something of a pendulum that tends to swing back and forth over generations or decades in parenting styles and attitudes. There's a little bit of a pendulum swing where sometimes, you know, we can swing more to the very over protective side and maybe other times to the more independent, hands-off kind of approach. And sometimes maybe that pendulum swings a little bit too far before it starts to correct itself. I actually think that you can be an excellent parent in many, many ways.
If you're a patient of Dr. Lebowitz or see someone in his practice, you'd be asked to write up a list of accommodations you do for your child, and slowly eliminate them at home, and in place use what he calls "supportive" statements.
Dr. Lebowitz: I think it can be as simple as saying to your child, "I get that this is really scary for you and I know that you can handle it," or, "I understand that this makes you very uncomfortable and I'm sure that you will be okay." So it doesn't have to be a sophisticated exercise in creative writing. It can be very, very simple. Something parents can sort of practice a few times and then even sort of stick with the same sentence.
Anna: Yeah, they're so simple, but also not ones that are at the tip of my tongue. You know, as a parent, I've been like, this isn't something you should be scared of. You're strong, kind of diminishing the fear as a way of trying to be encouraging.
Dr. Lebowitz: I think we hear that a lot. In fact, I would say in stark contrast to a supportive stance of the kind that I was describing, there are two other attitudes that are not what I would call supportive, but that are very common among parents. And one of them is, what we call the demanding parent or what you might, what some people might call the "suck it up buttercup."
Anna: Uh huh, I'm sometimes her. I'm sometimes an accommodater and sometimes I'm, "suck it up buttercup."
Dr. Lebowitz: Well, that's actually one of the things that we see most commonly, is you have two parents and they kind of split it between them, so you end up with one parent who's like really protective and really accommodating and the other parent who's frustrated and just gnashing their teeth and just so frustrated because they want to, you know, they want to get this message across that you have to suck it up. And I think of them as traps. They might be really well intentioned, but I think of them as traps because they actually get in the way of being more supportive. You know, if you're really protective, well, you might be soothing and reassuring your child, but you're not communicating that confidence.
You're not showing them they can handle things. And if you're really demanding, well, you're not really being supportive, right? Because you're not acknowledging that it's not just a choice to be anxious or not be anxious. Your kid can't just decide that they feel fine and or suddenly act as though they have no anxiety. And so it's a trap rather than a really productive or useful stance. And we'll try to help parents to switch away from those protective or demanding attitudes toward a more supportive one.
Anna: To speak specifically to accommodation. One of the things I found myself thinking about first when thinking about kind of being told to examine where my interventions might be keeping my child from growing in a way that they would be helped by. It made me think about early on in parenthood with an infant and thinking about sleep training and being told to try to help them, you know, to have them cry it out at night time so they could learn to self-soothe and how painful that was as a parent. Do you think that's an apt metaphor?
Dr. Lebowitz: I think it can work as a metaphor, but I think we're trying to do more than just cry it out, right? The cry it out, there's parts of that that resonate because part of that is believing that your child will be okay. Even without you, you know, rescuing them, so to speak, in this moment. But the part that is maybe missing there is that, that parental presence, that supportive message of like, "I do get it, I do understand that it's really hard." I don't want a parent just ignoring the fact that their child is really, really anxious. So the metaphor works on some levels, but there's parts that aren't there as well.
Anna: So I understand what you're saying how, for a child, avoiding circumstances that create anxiety, does not diminish anxiety. In fact, it can make it grow.
Dr. Lebowitz: Mm-hmm.
Anna: And it can make, you know, the idea of coming across that anxious circumstance again, feel like it's certainly something they need to avoid. When you're a parent who is trying to go about your family's routines, and along with that comes a certain need for efficiency often and avoiding acting out, right, or avoiding blow ups or avoiding what you can anticipate as a parent, A child's very strong reaction. Say, I want to go to the store and I really need some groceries. And I know if I do it this way, my child's gonna have difficulty.
If I do it this way, I'm gonna maneuver around the thing that's gonna give my child difficulty. How do you talk, how do you talk to a parent about those micro-choices like that we all make for our family where we're just trying to get through the day?
Dr. Lebowitz: You know, when I talk about being supportive, at this point I actually haven't even asked a parent to do anything differently, right? At step number one for me, I'm just saying even as you are taking them to the store, instead of leaving them home, you could still have them hear that supportive message.
Even in the car, on the way to the store, you could be saying to them, you know, I get it. It's really scary for you if I go out and you are home without me. I want you to know I think you're able to handle that kind of feeling. And so you're not even yet doing anything differently, but you're holding up a mirror to your child.That says, I believe in your ability.
(Blue Dot - Downhill Racer)
Coming up: How Alexis's son reacted to his parents' change in behavior…
Alexis: So we kept trying to reiterate supportive statements. He was pretty much in a place where he wasn't really hearing us. But the fact that we kind of stayed firm with that, we were still gonna go ahead, we didn't do all of this for him to then cry for three hours and realize it's too hard.
–
This is Death, Sex and Money from WNYC. I'm Anna Sale.
I have to say that after reading Dr. Lebowitz's book, I started thinking about supportive statements in my everyday interactions, with my kids, when they're resisting doing something uncomfortable or new, and also with my husband, when he's had a tough day. It helped me be intentional about saying two things, both – I understand how you feel and also, here's why I know you can handle this.
And then, a week into when I asked my four year old if I could give her a hand on the monkey bars, she yelled back, "No, I can HANDLE this!'
Of course, for parents of children with anxiety disorders, Dr. Lebowitz's program can be an extreme shake up, both for the child, and parents. It was for Alexis.
Alexis: Just watching him struggle so much was heartbreaking and hard to then manage the rest of the home when, you know, it's hours of him tantruming. So just spending time with our daughter, making dinner, taking care of dogs, like just any daily tasks kind of all came to a halt for a while.
Alexis and her husband worked with a therapist to list out their accommodations. They allowed their son to follow them into every room, to pick and re-pick out his outfits, and to agonize over food choices. When they wrote the letter announcing the first change, that he couldn't follow his mom into the bathroom anymore, and he raged and cried, Alexis could see that it was disorienting to him to have this abrupt change in their routines.
Alexis: He also had a lot of fear that by doing this, that my husband and I would be different to him, "I won't know you, you'll be different," because we reiterated that mom and dad are gonna do this.
Anna: Those three hours of crying, what were you told to do? Could you be with him? Were you told to give him space? What was the guidance there?
Alexis: Yeah. So we were with him. We just stayed near him and let him have, you know, the emotions he was having. You know, they talk about like, without judgment, like it's okay, he's angry. And I tried to regulate our own emotions. I know for myself three hours is a long time for your child to be that distressed. And to not give in and not change the fact that you've set out to do this accommodation because that only conveys to him that he's not strong enough to handle this.
And we know that he can, you know, the whole point is giving him that confidence that he can regulate himself and he can manage this.
Anna: Did you have a new thing to say that would contain both of those things? Like when you were trying to say, "I know this is really hard, and also I'm gonna try to walk you through that." What, what were the things that–
Alexis: In terms of supportive statements, he was not a big fan of them. Not at all. [laughs].
Anna: It sounded like jargon to him.
Alexis: Yeah, he was like, "Why are you talking like this? This is weird." To this day, he's not a huge fan. When we bring them up, he gets a little bit upset, but it also takes him out of the moment when he is so anxious, because then he's now mad that we're using a supportive statement.
Anna: Uh huh. Now he's being sassy and making fun of you.
Alexis: Yeah, exactly. Yes. And then we're kind of like, hey, at least, you know, it brought the temperature down a little bit. We know this is hard for you, buddy. We know it's really hard for you with change and when you don't know what's gonna happen. But we know you can do this and mommy and daddy are gonna be here for you.
And then, you know, repeat it internally to yourself: We can all do this. Because it's hard. I mean, it's hard work. You see a spike in, at least we saw a lot of spikes in symptoms and anxiety as you're trying to decrease accommodations. I think for parents, I think just knowing that it, you know, is not gonna be the easiest process, but it's so well worth it for everybody.
Anna: When did you get that first sense of, "Oh, this is shifting something in a positive way?" How, how long did it take and what did you notice?
Alexis: Honestly, after we did that letter on a Sunday night, I think by Tuesday or Wednesday, a couple days in, my husband and I looked at each other and we'd be like, "he's doing it." He wasn't bringing it up anymore, but he also wasn't even coming into the bathroom.
Anna: Hmm.
Alexis: And you almost are so nervous to be like "it's working!" You want to whisper it. But, I honestly don't think I'd like peed alone in, you know, seven years, eight years. So I was like, oh my gosh.
Anna: Oh, I hope you like got a nice bathroom candle and lit it from time to time for 30 seconds of quiet.
Alexis: Right.
Anna: Just to appreciate it.
Alexis: It's happening!
Anna and Alexis: laughter
(Blue Dot - Persimmon St)
The next accommodation Alexis and her husband decided to tackle was about their son's clothes. Alexis's son had become obsessive about what he was going to wear to school, painstakingly going over his outfits, and needing to put on the clothes in a specific order. Alexis had found herself doing loads of laundry in the morning just to make sure the right choices were available. The new letter said they wouldn't do that anymore and that they would spend just 5 minutes the night before choosing clothes.
Alexis: He took it better. Again, cried, shredded the announcement.
Anna: Oh he did it again.
Anna and Alexis: laughter
Alexis: He did it again. Yeah, I don't think he kept one, but at the end he just started throwing them in the garbage and it was far less dramatic.
So we tackled his clothes, which is still, again, working to this day. He still can have, you know, meltdowns over the fact that, you know, he's going to wear something specific and the weather isn't gonna be appropriate. But they're far less frequent and intense.
And they don't ruin his day like it used to just be, "I hate this day, it's the worst." And it would just sort of set this negative tone for the rest of the day for him.
Anna: As you're making the list of things, you know, in every household where there are two parents, kids respond to each parent in a particular way. Was there ever a moment where, as the mom, where you were looking at the list of accommodations and who your son looked to for comfort, that it kind of felt like, did you ever feel like defensive or guilty that a lot of it was directed at you?
Alexis: So much, so much guilt. Again, I think because I'm his primary caregiver, I felt really responsible for a lot of the accommodations. Because so many of them were obviously gonna directly affect his anxiety, but also my ability to parent in our home and get through the day.
And I think it just makes you reflect, at least for me, it made me reflect on so many things from his infancy onward of just, oh gosh, I feel like maybe when he was this age I shouldn't have done this. Or, you know, when he was this, what if we had tried that. I think it's easy to beat yourself up. So I, for myself, it was a lot to just unpack. And then it feels like you are on eggshells all day and I feel like you don't have a lot of time to process anything.
Because you're just waiting for the next pin to drop and you spend all day making sure, you eliminate all the triggers, and then of course something happens that you didn't expect to be a trigger and you start all over again. That going through it and seeing him do so well, which is just, I mean, it was just amazing, but it also gave you some time and some space to go, "Oh wow, things were really bad" or, "I wish we would've done this sooner."
I think then all of a sudden I had space in my head and my life to really reflect on parenting.
Anna: I mean, you know, when you're in that moment of managing the chaos , and keep it from spinning out of control, like there's some kind of a block in your throat and you're sort of parenting, just trying to keep everything contained, and rolling along.
And how I experience that sometimes is like, my head will hit the pillow and the kids will finally be asleep and I'll be like, oh, I didn't take a minute to just, I don't know, look at them with loving eyes. Because I was trying to make sure they were gonna, you know, be in bed and have their PJs on and their teeth brushed, you know?
So I totally understand that, and what I hear you saying is like, it was compounded by, you know, when things went awry, your son was in real distress, like deep distress, and you were trying to make him feel comforted.
Alexis: Thank you. Yes. That's exactly what you're describing. You just, yeah. By the time it's all said and done, I think I hit a point midway through therapy where I thought, I don't, I hadn't been enjoying him in a way that, it kind of hit me like a ton of bricks. And then of course, then on cue the mom guilt.
As he started to improve, it was like it brought my boy back. He was laughing more, we were laughing more. He was, you know, telling jokes again and it was about halfway through where then we were going to bed and thinking like, that was fun today. Or I like, really enjoyed sitting and chatting with him, and realizing how that had not been a part of our family life.
Anna: What's it like for you when you can see that there's something that's happening that is upsetting him and you see him responding in a different way where he's not looking to you to fix it?
Alexis: You almost just feel so overcome with relief and happiness, because I think I had worried for a long time. I really worried about him as an adult. I thought, the world is just not gonna understand him. It's not, oh, see… now I could cry. Like they aren't gonna, like how will he do this as a grown man?
I think I see it and I think he's going to be okay. Like, he can do this. And I almost feel bad. My husband and I both have said this when we first started thinking it's just too much, he's not gonna handle it. And he has just proved this wrong at every turn and continues to.
And it's just, I think, I just feel so proud of him.
(end theme for Death, Sex & Money)
That's a mom named Alexis, in New England. If you're interested in checking out Dr. Lebowitz's book, it's called Breaking Free of Child Anxiety and OCD: A Scientifically Proven Program for Parents. And thanks again to my neighbor Mike, for letting me take our private deck chat public on the podcast.
Death, Sex & Money is a listener-supported production of WNYC Studios in New York. This episode was produced by Zoe Azulay. The rest of the team is Liliana Maria Percy Ruiz, Afi Yellow-Duke, Lindsay Foster Thomas, and Andrew Dunn.
Our intern is Christian Reidy.
The Reverend John Delore and Steve Lewis wrote our theme music.
I'm on Instagram @annasalepics, that's P-I-C-S. The show is @deathsexmoney on Twitter, Facebook, and Instagram.
Thank you to Lillian Harris in Falmouth, Maine for being a member of Death, Sex & Money and supporting us with a monthly donation. Join Lillian and support what we do here by going to deathsexmoney.org/donate.
Alexis also told me that, as a self-identified people pleaser, it has been helpful to learn about supportive statements and to think about using them on other grown-ups to remind them of what they can handle on their own without her stepping in…
Alexis: I've definitely thought it, no, but I've definitely thought like, you've got this sister, you can do it.
I'm Anna Sale and this is Death, Sex & Money from WNYC.
(end of end theme for Death, Sex & Money)
Copyright © 2023 New York Public Radio. All rights reserved. Visit our website terms of use at www.wnyc.org for further information.
Music Credits:
"Our Only Lark Alt Montuno" by Blue Dot Sessions
,
"Persimmon St" by Blue Dot Sessions
,
"Cloud Line" by Blue Dot Sessions
,
"Downhill Racer" by Blue Dot Sessions