When Fire Takes Everything: Rebuilding in Northern California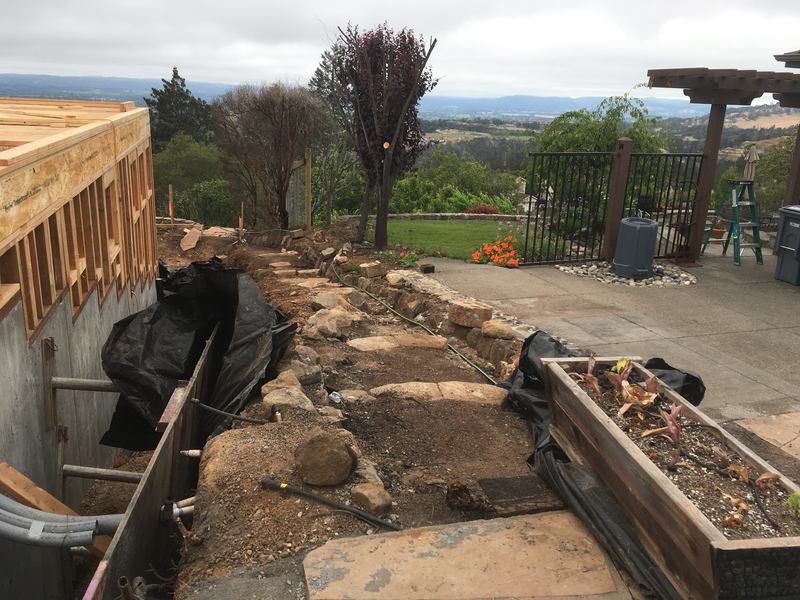 Transcript
ED HAMILTON: You see the movies and TV where everything's burning, and you just go wow, that's terrible. It's worse than that. It's worse than that.

This is Death, Sex & Money

The show from WNYC about the things we think about a lot…

...and need to talk about more.

I'm Anna Sale.
EH: We had six inches of house left. Six inches of ash and it's all that was left.
Several months ago, I drove out to the end of a cul-de-sac in the hills of Santa Rosa, California.
AS: Are we able to walk out on the floor?
There are a lot of really beautiful homes on this street... and right next to them are a lot of charred trees and empty lots, where houses used to stand.
A year ago, wildfires swept through this part of Sonoma county, killing 43 people and destroying over 4500 homes, including Ed and Kathy Hamilton's.
EH: There was a few metal things that didn't burn, some chairs and a couple of...

KATHY HAMILTON: The water heater. I think you could recognize the water heater.

EH: And the barbecue. But we spent a couple of weeks coming back over sifting through the rubble looking for stuff. We found a pair of her diamond studs just purely by accident. Most of the jewelry was melted. The studs were melted, but the stones were still there. They looked perfect.

Ed and Kathy are in their sixties. They met on match.com fifteen years ago, and lived together in this house for seven. Standing there on their lot, it was easy to see the path of the fire.
AS: Is this is a fire damaged wall here?

EH: Yeah. Yep.
The two homes to the left of their house also burned to the ground. Their next-door neighbor's house on the other side...was untouched.
EH: Yeah, that's where the we caught on fire as it came over that little crack right there, over that where the first step is.
The fire started in the middle of the night last October. Ed and Kathy were sleeping when they heard banging on their front door. It was their neighbor.
EH: And as soon as we opened the front door, over in that direction, it was just a huge arc of orange glow covering that whole quadrant of the sky.

AS: Uh huh. So you're -

EH: It was just a scene from hell. It really - it's indescribable.

AS: You were surrounded by fire?

EH: We were. We felt that way. We actually weren't in danger at that time. But when we looked out and you see the fire coming that way and the wind's blowing towards us at 60 miles an hour, we thought we better go.
Wildfires happen in California every year, but they're getting bigger. 12 of the 15 largest fires in state history have burned since 2000.
SUKEY LEWIS: These fires are more extreme and more destructive.
Sukey Lewis is a reporter at KQED public radio in San Francisco.
SL: And climate change has created this situation of drought in California and that has exacerbated just the ferocity of these fires.
Sukey's covered wildfires across California, including in the rural part of the state where she's from: Lake County. It's right next to Sonoma County, where Ed and Kathy live, but it's a lot less well-off.
And Lake County has been hit particularly hard by fire in the last four years. Sukey told me it wasn't like this when she was a kid.
SL: I mean every summer you would smell smoke, you know, a number of times, but we never had to evacuate. And it seemed like they always kind of got it under control pretty easily. And then in the recent years that's obviously changed.

AS: What is different now?

SL: It's burning much faster, and these fires as they say are kind of breaking all the old rules. They used to be like, "fire doesn't burn downhill." The Valley Fire in Lake County burned downhill. The fire tornado that happened earlier this year. That was a thousand feet across fire tornado! Firefighters had never seen anything like that before. So it's this really intense fire behavior coupled with a number of other different things, which is that we have now built so many homes in this area where there didn't used to be homes. So it used to be like, oh there's a wildfire, but it's not destructive in the same way because it's not burning homes. It's burning trees and it's burning wildland, and you know, the wildland of California is supposed to burn sometimes. But now as humans have encroached on the wildland and the wildland is encroaching on humans, these fires are destroying many more homes and lives than they used to.
And what happens after a fire...depends on how much money you have.
Ed and Kathy own their own business -- a staffing agency that's done really well -- so they were able to start rebuilding within four months….that's not the reality for most people.
BART LEVENSON: it's so big what happened. It's taking a strange amount of time to come to terms with and understand. I didn't know that this was going to be the most stuck I'd ever be my whole life.
Earlier this year, Sukey interviewed Bart Levenson, whose home burned down in 2015. She's been wrangling with her insurance company ever since.
SL: She had retired up here up to Lake County, you know, California's crazy expensive but Lake County is one of the few places where you can still buy property for somewhat reasonable sum of money and get some land.

BL: Where I lived it was so quiet that you'd hear a sound and you realize that you were hearing-- not just seeing a bird fly, but hearing the woosh woosh of the wings because that was the loudest thing in the moment.

SL: I think like many people she thought she was prepared because she did have insurance. You know, she did have these things in place that we assume are going to be our safety net. But then I think once the disaster hits you read the fine print of your insurance policy and you begin to understand how little prepared you really are.

BL: Here's an example: I had 6 acres of trees. In my insurance policy I was insured to have one tree removed after a disaster. I have six acres of trees. What could possibly be right about that?
Sukey met Bart when she was in temporary housing...which was a room in an abandoned resort that the owners had opened up to fire survivors.
SL: It was this very surreal kind of movie set setting, you know, the giant Olympic-size swimming pool with just a mud puddle and some mosquitoes breeding in it. And the thatch on the little Tiki Berets down by the water was all ripped off and shredded. And you know, she was pretty stoked actually because the hotel rooms themselves are okay. They had some issues for sure, but she was like, okay I have heat, I have internet and a place that is my own even though it's like living in a kind of Twilight Zone, you know Hotel California-type situation for two years. And when she moved in she didn't have any idea it was going to be that long. So I think in 2009 it was shuttered and a management team of like three or four people stayed on to try and keep the facilities up to some working order so that it could be sold at some point.

AS: How many other people were living there when you met Bart?

SL: At the time there were 18 families there from three different disasters.

AS: Three different disasters. So they came in waves.

SL: Yes. It's very... I don't know. Unsettling.

BL: And it boils down to the simplest mundane, but shocking things that the only picture I have of my home is Google Earth.

SL: Oh wow.

BL: That's it. And that's one of the things you know right away with insurance... Well, how are you going to prove what you had? The camera burned, all the pictures burned. The computer burned. The cell phone burned. My little phonebook of forever....phone numbers from way back in high school...that burned. It all burned.

SL: So she kind of had this disintegration of her everything. Her social life, her financial life, and then her life as many fire survivors have told me became just about recovery, just about paperwork. And it is a burden that I think those who have not gone through that could ever really understand.

BL: In some ways, I think we all feel tender about the normalness of our lives. Even if it's boring or somehow not quite what you want it to be. It turns out that normal and ordinary, undisturbed-regular life is just so fantastic.
For Ed and Kathy...getting back to normal means rebuilding a 5,000 square foot house to almost the exact same specifications as the one that burned down. Their insurance policy will almost cover the whole rebuild. When I visited the site, the foundation was already poured, and you could begin to see the outlines of rooms.
EH: We made a bathroom smaller upstairs...

AS: Uh huh.

EH: ...made a bathroom bigger downstairs ,and then we made the kitchen, and the patio bigger. That's about it. There's a wine cellar now and a man cave under the garage.

AS: Uh huh. Nice.

E: And you're standing on the, this is the stairs going downstairs right here.

AS: I see.

KH: I think seeing the construction is helpful for me, you know, it's replaceable, I get that. You know, and we're alive and that's great, but it is a blow every time you think about that. And what it's going to take to get it back.
Coming up, I talk with Ed and Kathy about one of the hardest parts of rebuilding after a disaster...everything's more expensive.
KH: You know, $10,000 for a door just seemed nuts. Now, I don't know. Is that the demand pricing or is that really what a door costs? This is the other thing. How does anyone know?
So Kathy started a blog...telling everyone at least what they were paying.
___

I live in California, where just this week, the electric company preemptively shut off power in parts of Sonoma, Napa and Lake counties because of high winds, to try to keep any downed power lines from from igniting the dry landscape.
As I listened to the whipping wind, it reminded me of the night just over a year ago, when I woke up to the smell of thick smoke from the fire that had started overnight a few counties north.
Sukey Lewis caught up with a young woman, Kayla Swaim, that she'd met in the hours after that fire in Sonoma county, for the KQED podcast The Bay. The place Kayla rented from her mom had burned down in Santa Rosa...and she eventually also lost her job as an administrative assistant at a real estate office...because it was too hard to see so many people come in, looking for somewhere to live.
KAYLA SWAIM: I'm at work and I'm supposed to be professional, I'm supposed to be able to greet customers or clients that come in, I'm supposed to be able to answer the phone, and I can't do that because I hear a fire survivor in the other room crying because of all the things that they lost and all I want to do is go in there and hug them.
Her story gets at the dual crises happening right now in California…the dire shortage of housing that's affordable...and housing that is built with California's fire risks in mind.
Death, Sex & Money producer Stephanie Joyce reported a story this summer for the podcast 99 Percent Invisible about the residential design choices...that have made wildfires in California worse…
What I've found is that you don't have to be very exotic about your design and materials in order to make the houses very resistant to ignition.
There's a link to both of those episodes on our website at deathsexmoney.org.
On the next episode, former Michigan Governor Jennifer Granholm talks about the rules she was told to follow if she wanted to win election as a woman….what's changed since then, and what hasn't.
JENNIFER GRANHOLM: So people want a warrior. They do not want a victim. And so the more you call attention to that the more people see you as seeing yourself as victimized and you don't want to be seen as a victim. You want to be their champion.

___

This is Death, Sex & Money from WNYC. I'm Anna Sale.
The fire that destroyed Ed and Kathy Hamilton's home last year displaced thousands of families, so when they were looking to find temporary housing, there wasn't much...and landlords were charging a lot for what there was.
EH: We pay $11,500 a month for this.
Or more accurately--their insurance does. Ed found this rental on Craigslist about a month after the fire.
EH: We called our adjuster and said, what's, you know what's our limit? And he said, there's no limit as long as it's comparable to what you had.
The home they lost was big...so their rental is too. It's a four-bedroom in Santa Rosa, just a few miles from where their house burned. And it's just the two of them in it.
EH: Some people said, how could you take a house that's so big and take it away from a family? And they were outraged that we would take it from a family that needed it. They couldn't afford it. They couldn't. They couldn't do it financially. So I got over it. I mean it was either this or wait till something reasonable went up and fight with 20 other people. The first two weeks was just insanity. Just insane.

AS: Yeah, well, and also that, that so many people are in crisis and you're also immediately needing to compete with each other.

EH: Yeah. That's what Kathy said. It was like a beauty contest.
The house is a furnished rental and feels comfortable, if a bit sterile...like it's been staged by a realtor. Ed and Kathy say, trying to fill it with new things has not been a priority, after they lost almost everything in the fire.
KH: I feel detached. I feel like having to pick out all the things for this new house, I know I'm not going to love any of this stuff as deeply as I loved what I had. Like even shopping for clothes, you know, I lost almost every piece of clothing I had. It doesn't grab me like it used to. When I look at a shirt or something that's like, oh, that, it'll do you know, it's fine. So for me that's been the experience and obviously the things that are irreplaceable, my children's baby books, you know, like I had their little lock of hair when they were just born and their teeth and that kind of thing...

EH: You kept their teeth?

KH: I did, I always told them I was gonna make them necklaces out of it.
I first heard about Ed and Kathy through Kathy's blog, which she started in February, as they began reconstruction. She posted regularly about what they were learning...and how much it was costing.
KH: Money is a weird thing that generally you don't want to say how much do you make, how much do you spend, you know, it's always been something that we just don't really discuss. And it has put us in this weird place where we're advertising what exactly you know, how much money is flowing out -

EH: It's been interesting too because Kathy has really gone out of her way to say what things cost.

KH: There was so much that nobody knew, you know, when you're starting this process and here we have thousands of people going through the exact same process we're going through. So people were starting to ask me, well what's the lumber cost? What's the concrete cost? And so I just wanted to answer the question, you know, and I did try to make it clear that our house is a custom house, so it's not an easy build and that our experience was not necessarily going to be anyone else's experience, but for us this is what we're going through.

AS: And has there been, for either of you, a moment where you're like, mmm, maybe we didn't need to put all of this out there? Where you felt exposed?

EH: Yes.

KH: See, I have I have not had that reaction.

E; Well, I only--every now and then I thought about it, putting out that information, like we're bragging about who we are and our our luck in life. But I stepped back and realized that we're helping people by doing that. We're not trying to blow our own horns at all, whatsoever. We're trying to help everybody else get through the process and from all results from her blog so far it it has helped a lot of people. We meet people all the time who say, oh you're Kathy Hamilton! I know, I follow your blog!

AS: And what does it feel like being in the neighborhood and talking to your neighbors who have their homes and you don't have your home?

EH: We've gotten a lot closer to our neighbors.

KH: You know, for weeks after the fire you couldn't go anywhere where you didn't immediately fall into conversation with whoever you were talking about. The guy in Target, the two people behind you standing in the post office...I wonder if what you're asking me though is the resentment, you know?

AS: Well, just what it's like when you had very different experiences.

KH: I mean, the people on one side of us whose house survived and the people on the other side whose house didn't, there are times when I get a little resentful of the ones who survived, whose property survived. Their, their yard is intact, their flowers are blooming...

EH: They have all their personal belongings. Everything.

KH: Yeah, sometimes I am resentful that, you know, for whatever reason they escaped….and I'm sure, the people who were either renters with no renters insurance, or the people who were so underinsured that there's no hope for them to rebuild or anything, they probably have that same feeling of resentment towards people like us, who are in a completely different boat. And I understand it. And we work really hard for our income. We were not trust fund babies by any means.

EH: No.

KH: That's one thing we share. We, you know, grew up lower middle class if, if anything, and many years of my adult life, you know, were paycheck to paycheck and sometimes not even that.

EH: So yeah, we, you feel it. You feel sorry for folks. You feel survivor's guilt because we were fortunate enough when we bought the house, we bought our house at the bottom of the market, so we got it for half what it was worth. So when we talked to our insurance agent, I said I don't want to insure it for what I paid for it, I want to insure it for what it's worth. And that's why we were insured for enough because if we hadn't done that, we would've been underinsured and we would've been in the same boat as everybody else. We wouldn't have been able to rebuild.
Ed and Kathy are on track to move in next spring ....they go up to the construction site almost every day.
EH: Now that the house has got wood up in the air, we go out and sit on the top floor and we get wine glasses and wine and we sit there and watch the sunset.

KH: Yeah. We like to go in the evening when all the work is done and we just go out -

EH: Yeah, when the guys, when the workers are gone.

KH: Yeah. Especially when it's warm in the evening. We like to sit there and have a glass of wine and...

AS: Oh that's nice.

KH: ...contemplate how much sooner we are to getting back in.

EH: Yeah, like you saw there, they had the lines on the floor where the walls are going to go. We'd we'd go sit in the kitchen or we'd go sit in the living room, you know there's no walls there.

K: Play pretend.
Ed and Kathy's insurance was more generous than most, but they still think it'll come up about $400,000 short. But they say, that's money they have to finish construction.
Bart Levenson waited nearly three years to see if her insurance could cover the costs of a rebuild on her lot...but earlier this year, she decided it didn't make sense to keep waiting...as housing prices kept going up.
So she bought a different place….to make sure that she wouldn't get priced out altogether.
She moved out of the resort and into her new home a few months ago.
BL: I'm thinking of it as my in-town house because it's in a neighborhood next to other houses. So it's like a normal house. I was very lucky before that I just had me and wildness. And you know I could watch stars in the sky from my bed. So now I see the lights of my neighbors and take comfort from things like right up the street is a retired fire captain and that actually is what enabled me to feel like I'm like I can buy a place again. That I live near a fire hydrant and a fire station and a retired fire captain.
Still, when fires were burning in Lake County this summer...Bart told Sukey...she was forced to evacuate again.
BL: And it's not just my home. It's my whole area. My whole town. My region. My county. It's both kind of an odd comfort of I share this with so many thousands of other people. There's nothing special or unique about what I'm going through...still, it never stops being shocking.

That's Bart Levenson, talking with KQED's Sukey Lewis. Along with other KQED reporters, Sukey's been following the current fire season...which included the biggest fire in California history just a few months ago. You can hear more of their reporting on KQED's podcast The Bay...at KQED dot org slash the bay...or find a link at our website at deathsexmoney.org -- where we also have a link to Kathy's blog.
Death Sex and Money is a listener-supported production of WNYC Studios in New York. I'm based at the studios of the investigative podcast Reveal in Emeryville, CA. Our team includes Katie Bishop, Anabel Bacon, Stephanie Joyce, Joanna Solotaroff, Emily Botein, and Andrew Dunn. Special thanks to Sukey Lewis and Julie Caine for their help on this episode.
The Reverend John Delore and Steve Lewis wrote our theme music.
I'm on twitter @annasale, the show is @deathsexmoney on Twitter, Instagram and Facebook…Or you can email us...at deathsexmoney@wnyc.org
Ed and Kathy loved to entertain in their old home. They told me their biggest parties there...had about fifty guests.

EH: But I'm telling you the first one we have is going to be 300 people.

KH: Yeah, the more the merrier.

EH: A lot of people here.

KH: I mean I think that's part of it. We are like, we are just going to celebrate to the end here. We're probably going to have a week long party. Just drop in, stay for a couple of days.

KH: We'll have jugglers.

AS: Tents around the cul de sac.

KH: Mimes.

EH: Tents, yeah mimes. Mimes, yeah. No mimes.

I'm Anna Sale, and this is Death, Sex & Money from WNYC.
Copyright © 2019 New York Public Radio. All rights reserved. Visit our website terms of use at www.wnyc.org for further information.
Music Credits:
"Denzel Sprak" by Blue Dot Sessions
,
"Cirrus" by Blue Dot Sessions
,
"Weathervane" by Blue Dot Sessions
,
"Ottol" by Blue Dot Session