A Funeral Director's Life After Burnout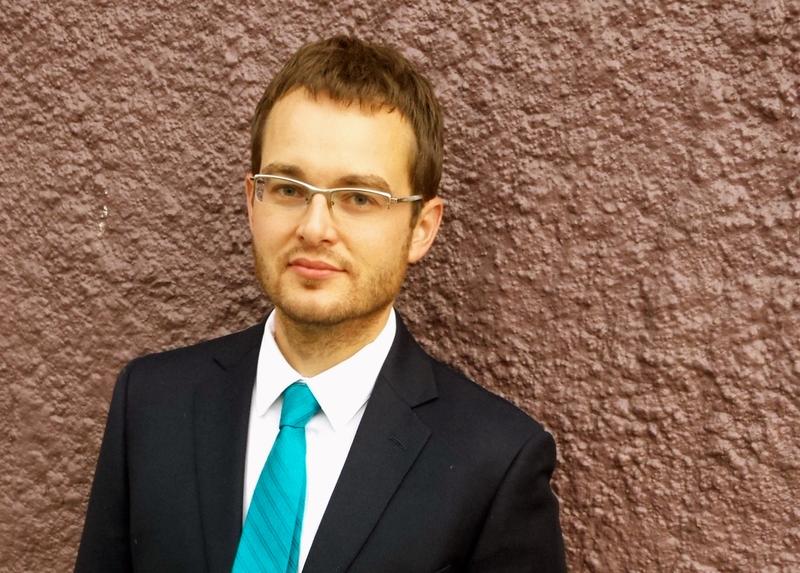 Transcript
Hi everyone, it's Anna. The Death, Sex & Money team is in New Orleans this week, doing some interviews for an upcoming episode...and eating a lot of good food. So this week, we're bringing you an update on Caleb Wilde, the sixth-generation funeral director from Pennsylvania. We asked you which past guests you've been wondering about, and Natalie from Chicago asked for Caleb.
Natalie: I'm just wondering how he's doing, and if he's even in the business anymore.
I called up Caleb, and he told me about what's happened in his life since we talked. He's in a very different place than he was when we met about a year ago. Listen for that update at the end, but first, here's my original conversation with Caleb Wilde.
This is Death, Sex & Money...the show from WNYC about the things we think about a lot...and need to talk about more.
CW: At the top of the steps we'll be right in the funeral home itself. So, sneak on upstairs, and we'll go from there.
Caleb Wilde leads me into the Wilde Funeral Home through the back…
I have never entered a funeral home through the back door...so first thing, I asked Caleb to show me around.
CW: My mom might be at the top of these steps.
This is a family-run business. The building sits at a corner of main street in Parkesburg, Pennsylvania...a community of just over 3,600 people. As we make our way to the second floor, I notice the place has the feel of an old home...because it is.
CW: My grandfather was born in this very room and that chair is where he takes his nap and he often says he will probably die in that chair. When you are around death, you talk about these things, and it's not morbid.
Just below us, at the foot of the front stairs, a crowd is beginning to gather in the foyer.
CW: He's a younger gentleman who died of cancer. The connection is, my dad knew him from church.

AS: Is the music something that's being played live, or is it a recording.

CW: That'd be nice—sometimes it is live, this is a recording. It's an instrumental we bought from Walmart. It's hymns.
Caleb's family has been doing this for six generations in Parkesburg, going back to his great-great-GREAT-grandfather. The family made cabinets before the Civil War...which led to making coffins...and the rest is history. Caleb's grandfather is 83 -- and running this funeral downstairs.
CW: The funny thing is, is in the funeral industry, you reach your prime state when you're older, because you know the people that you're serving. In my grandfather's case, he's burying a lot of his friends and family. The other nice thing about being older is that people have more freedom. Or more willingness for you to be tactile with them. For me, when I go up and I touch somebody, it can be weird. But for my grandfather, people are very willing—so he'll come up behind maybe the widow, and pull them in around their waist and give them a hug. This is something I can't do—people don't feel that comfortable with me. Probably because I'm younger. I'm more the behind the scenes person.
A lot happens behind the scenes in a family funeral home.
CW: Picking up the deceased in the middle of the night.
Caleb also mans the phones, or responds to a 24-hour answering service.
CW: If it's a death call they'll call us directly, and then we'll call the family right back.
He helps customers plan their funerals, too. Before there's a death.
CW: This is the casket showroom.
The caskets range from around $800 for a coffin made of particle board up to solid cherry for 6,000 dollars.
CW: It's kind of like the Mercedes.

AS: This is the most expensive casket?

CW: That we have, yeah.

AS: How many of these will you sell in a year?

CW: Oh, we'll probably sell about one or two a year.
About a third of their services are cremations. So Caleb shuttles those bodies to the local crematorium.
But the delicate work of embalming -- the removal of bodily fluids before a viewing or burial -- Caleb usually doesn't do that alone.
CW: It's rare that I'll embalm a body without being proctored by my grandfather likes to look over my shoulder and make sure I'm doing everything right. Or my dad comes in and checks.
Caleb is 33. He has two sisters, but he's the only one working full-time in the family business.
CW: I'm also a blogger, and I write about my experiences in the crossroads of death and life.
The blog — called Confessions of a Funeral Director — has gotten Caleb some attention. He's done a local TED talk and appeared on national news shows like 20/20.
So Caleb is both the heir to a somber family business and a child of the Internet. Sometimes, those identities clash.
Bill Wilde: Everything's going good with the movie star here?
This is Caleb's dad Bill. He both ribs and appreciates his son for the attention he's getting.
AS: He's a great writer.

BW: Yeah, he is.

AS: Do you read his stuff?

BW: I do.

CW: Don't lie. You read some of it.

BW: I don't read all of it, probably.

CW: One in ten.

BW: But I do read it. And my dad, the older generation—yeah, he don't care even to look at it. Ok...some people have to work.

AS: It's nice to meet you.
That work is about death, everyday.
CW: We're on call, 24/7.
And for Caleb, it can be hard, being, as he describes himself on Twitter: "The last person to let you down in Parkesburg, Pennsylvania."
The service gets underway downstairs, so we slip out the back of the funeral home, and move through the rows of cars and pickups that crowded into the driveway. A lot of the vehicles are familiar -- Caleb knows nearly all his customers, and their families, sometimes going back generations. People don't move in and out of Parkesburg much.
CW: Since it lacks industry, they can't afford to move out, so they live with their parents and that kind of becomes a generational home. I'm the sixth generation here at the funeral home, and there's a lot of other families who can trace their roots even farther back than I can.

AS: Do you remember the first time you were involved in the funeral of someone you knew personally from town?

CW: The one I recollect the clearest was my grandmother, who passed in 92. And I was 12. So that's kind of my first memory.

AS: When a family member of a funeral director dies—

CW: Yeah it's complicated.

AS: Does the funeral director run the funeral?

CW: It's really complicated, it's that intersection of profession and personal life. And you just kind of stand around, you don't know whether to shake people's hand because they're comforting you, or to direct them. And the embalming process is hard. You know, that's a consideration that each funeral director makes on a personal level. Do you personally embalm your brother, your spouse, sibling, etc. Or do you hire out? When my mom's grandfather died, my dad and I embalmed him, and that's something that we felt we should do. And we did it. It's like the last thing you can do for them. When my grandmother passed away suddenly, in '92, my grandfather was unable to—and not that he should have. But my uncle was the one who was involved with that process.

AS: Is this something that was part of your training as you were growing up, from either your father or your grandfather?

CW: Not explicitly. nobody told me, look, you're going to have stressful days, extremely stressful days, where you'll see dead children. And exposed to things on a regular basis that people should only be exposed to once in a lifetime. And nobody ever told me that it's going to affect you negatively and you're going to have to learn to cope. There is very little training at all. And so for me, I've had to dig into different psychology books and attempt to understand what I was experiencing, because I didn't have any explanation in my schooling, which I think was a shame. If funeral directors would've been taught to cope better, I think there'd be a lot less funeral directors who leave the industry because they're burnt out, which happens a lot. I forget the statistics, I think it's 70 percent of funeral directors leave within the first five years. So it's a pretty high burn-out rate.

AS: So you have outlasted the trends?

CW: Yeah, and then once you're in it for ten, you're supposedly in it forever. So. Yeah, unfortunately I guess. I've outlasted the trend, so now I'm damned to be a funeral director the rest of my life.

AS: Is that really how you feel?

CW: No, sometimes I do.
Employment statistics in the funeral industry vary depending on the source, but the challenge of combating burnout does regularly comes up in industry trade magazines.
Joining the family funeral business wasn't Caleb's first choice. Right out of high school, he worked abroad for a Christian humanitarian group. He couldn't make enough make money, so he came home.
But he's always got an eye on what's going on outside Parkesburg.
AS: You've been checking your phone while we've been together. Have you been looking at Twitter?

CW: Yeah, I'm just making sure the death universe is stable right now, and nobody's hating me.
It can be dicey talking about death on the Internet. Caleb posts jokey pictures to his 20-thousand twitter followers -- like a photo of a pickup in a McDonald's drive-thru with a coffin in the back. Other posts bring tricks of the funeral industry out into the open. He hasn't always gotten the tone right.
AS: Can I ask you about the tweet about your last screw, this is your last screw.

CW: Oh yes. That was the most controversial one within the funeral industry. "This is your last screw," and it was with a picture of what's called an AV plug. A stands for anal, V stands for vaginal. Some funeral directors will use it so the fluids don't come out of the deceased. So yes, so I tweeted that. Kind of one of the principles I have that I try to go towards is transparency, I think there's a cloud of secrecy within the funeral industry. How that transparency plays out, is something else that I'm learning in what areas I need to be transparent in, and in what areas I shouldn't be. I try to keep on top of that because I don't want to—irreverent, yes, insensitive, no. I don't want to be insensitive.
Coming up, more on the sense of isolation that drew Caleb to social media in the first place.
AS: Does it make you feel less lonely?

CW: It does, it does. To realize that there's other people out there who have death as a defining part of their life.
Two weeks ago, we put out our siblings episode, and the stories keep coming. ...including how the death of a parent ...and sorting out money afterward… have caused rifts between you and your siblings.
Malissa from California lost both of her parents in the past decade. She emailed us this about her sister: "We had a fairly amicable time sorting out inheritance, but it left me a little bitter. It almost doesn't feeling like we are sisters anymore, just sort of relatives who are bound by being family, but not much else. I'm still trying to sort it out."
And we heard from Sam, who doesn't have any siblings… and is starting to worry about what will happen after her parents are gone.
"When my parents die I have to figure out what I'm gonna do with my parents' house and go through all of their old stuff. Every time I'm at the house I'm like, what am I gonna do with all this shit?"
So, I want to hear your stories about money… and death. We're casting the net wide here -- not just family stories, but any moment where a death brought unexpected money challenges, lessons...or benefits.
Record yourself using the voice memo app on your smartphone and email that to deathsexmoney@wnyc.org. Or, write out your story… send it directly to us. Again it's deathsexmoney@wnyc.org.
On the next episode, Joy Williams. The singer talks about having her first child, losing her father, and the breakup of her band, the Civil Wars… and how all of those changes affected her marriage.
Joy Williams: We almost quit on each other. We realized we could fake it, we didn't want to do that. So we didn't make any grand declarations that we would stay together. We kind of took that off the table. We just said, let's take it one day at a time.
--
This is Death, Sex & Money from WNYC. I'm Anna Sale.
Caleb Wilde grew up in an independent Protestant church in Parkesburg. When he came back to his hometown, he got licensed as a funeral director, and went to seminary. When we finally sit down together, he tells me he's working towards a Ph.D. in religious studies now, on top of his full-time work.
CW: I love being in academia. I'm a nerd.

AS: How would you say that working in a funeral home for 10 years, how has that affected you?

CW: On a personal level, it's overexposed me to death. And it's created burnout, depression—at the same time though, it's allowed me to see beautiful aspects of humanity: compassion, empathy, tolerance. On a faith level, it's certainly changed the way that I look at God. A close experience with death changes us. It changes all aspects of our being. It either solidifies what we already believe, or it creates a loss where the beliefs that we held to before are called into question, and reshaped, and redefined. I don't think you can have a neutral experience with death.

AS: And you said you've struggled with depression.

CW: Yeah, yeah I have. Especially the first couple years at the funeral home, because I was working seven days a week. And it just got to be too much. I was starting to have compassion fatigue where I just didn't feel the same degree of compassion for people—I knew that there was a problem. When my temper would flare up and so forth. The common symptoms of somebody who's nearing burn-out. And so I tried to deal with it in healthy ways, through exercise, seeing a psychologist, and going on meds.

AS: Was that something anyone in your family had done before, seeing a psychologist?

CW: Not that I know of, yeah. It might just be my personality type, I tend to be more introverted than the rest of my family. It's an industry that has extremes. You'll see beautiful things, families that haven't spoken for years come together and reconcile, or the community come together and not only pay for a funeral but start a college fund for a young boy who just lost his father. You'll see those things and then you'll see suicides and murders, and it's impossible not to be affected. Anybody who claims that they're not affected. It's learning to acknowledge that it's a difficult job and finding positive and healthy coping mechanisms which is what I'm still attempting to do.

AS: Can you tell me more about how, what you call your overexposure to death, how that's affected your faith?

CW: I think in many ways, death is the muse of religion. So for me, death has called into question a lot of my assumptions.

AS: Has it made you have less faith in the sense of order in the universe?

CW: Yeah, yeah for sure. I'm at a place now where I'm comfortable in silence. I used to want to speak towards death. Have words towards death. And what I mean by that is answers. Where I wanted some type of framework that makes me feel comfortable with my mortality. And maybe there isn't. maybe when we talk about death, all there is is silence.

AS: You've been going through this as you're working in a family business. A family funeral home. Has that been difficult when you have a very specific faith background that you have shared with your family? And this is leading you to a different place?

CW: Yes and no. Some of my shifts in beliefs I've kept quiet because I know that they would upset members of my family. But at the same time, it hasn't been difficult because this is something that I feel if I didn't address the questions and find a way to feel comfortable in the silence, that I wouldn't be able to survive.

AS: You said you've been relatively quiet about how your feelings and beliefs have changed, as you're speaking into a microphone. So how do you think about that?

CW: I doubt that—there's certainly, I'm selective with what my parents hear for the most part. In one sense I would say I'm more agnostic than I ever have been. At the same time, I think what often happens in secularization is that we assume that we can exist outside of a tradition. And I don't know that we can do that, I think tradition, and whether we have any affiliated religion, there's deeply held beliefs within our community that make us interconnected. And that is something that I still hold to, and is an anchor for me.

AS: Yeah it's community.

CW: Yeah, yeah.

AS: When I moved to New York City, I would walk to the grocery store past a funeral home in Brooklyn and I became obsessed with the idea of, if I died in new York City, I had no idea where my body would go. Because it was this question of where's my home now, you know?

CW: Yeah.

AS: That's what you're speaking to. In the community where you live and serve, there's that sense of connectedness.

CW: And it's valuable. And I'm afraid sometimes in our attempt to assert our independence and our individuality when we remove ourselves from traditions, when we remove ourselves from community, it does make death seem like a larger specter.

AS: Is there a particular death that you worked on, I don't know if you call them clients?

CW: There was. When I first started, after I was licensed, I woke up early in the morning, I turned on my TV because I had heard the sound of helicopters outside of the place where we were living at the time, and there was enough of them where I thought, well this could be something serious. So I went downstairs on my TV. And sure enough, there was, on the screen, a Philadelphia news station that had come out to cover a fire, a trailer fire that had happened about a mile away from my house. And at that time, they were reporting that two young children and two adults had perished in the fire. And my first thought was, this is terrible. And my second thought was, there's a real possibility that we could be the ones who take care of these individuals who had perished. And sure enough, I went to the funeral home and we had gotten the calls. Two young children, I believe they were both under the age of 10. And then their grandparents. So the following day, after the coroner had done his autopsies and so forth, I was the one who went to the hospital to pick up the children. And when I got back to the funeral home, I was also the one who was to determine whether or not these children could be viewed. And so I unzipped the body bags. And they were actually both in the same body bag. And it was a defining moment internally as well—it did something in me where I began to recognize the part that I play as a funeral director, in the grieving and the death process. The family was fighting because the one part of the family was Wiccan, and the other part was Christian, and they were trying to determine what type of service they would have. And it got to such an intense level that we had to involve the cops. So the day before the funeral, we had the cop there. One of the cops. And we were going over some of the logistics of what would happen if there was a fight. And I collapsed. My heart was racing really intensely. And they took me into the hospital—it ended up just being exhaustion, and I was given orders to stay in bed for a couple days, and the next day, I got up and I put on my suit and I came to the service, and it was just a—looking back, it was a moment where—it wasn't conscious—but I saw a need and I placed a need of others above my own needs. Which at the time was rest. And looking back, I see that as a very pivotal moment in my professional life where something internal clicked and it became more about the people that I was serving than my own well-being.

AS: When you came to the service that day, do you remember talking to your father or grandfather when you walked through the door?

CW: I don't. I remember them being surprised that I was there because they knew I had just been in the hospital. And they knew that I wasn't supposed to be there. But I quickly fell into place and did whatever I needed to do to help the service run smoothly. I don't remember what I said. I just remember them being surprised that I showed up.

AS: So they were surprised but there was nothing really said, and you started—just took your place and started doing the work.

CW: Yeah, because in some sense I think they understood.
AS: Hi, Caleb?

CW: Hi Anna.
It's been about a year since I visited Caleb at the Wilde Funeral Home in Parkesburg, Pennsylvania. I wanted to know what's changed in Caleb's life since we talked last year. It turns out, a lot has shifted… including the stake he holds in his family business.
CW: I'm now a equal partner. I think the last time we spoke I was minority, so.

AS: So you got a promotion.

CW: I guess I'm a bigger deal now. (Laughs)

AS: Congratulations.

CW: Well, thanks.

AS: What has that meant for your workload?

CW: Um, it's stayed about the same. Last year was our busiest year on record, so I think we're all trying to accommodate to the new level of business we have, and figure out ways that we can share the workload.

AS: So what happened to make you partner? Was it something that was scheduled, or did the family make a decision to bring you in at the full partner level?

CW: My great-uncle died. So, that's kind of how that happens in a family business. Somebody dies or retires, and the partnership gets spread around.

AS: And, Caleb, did you listen to the episode when it came out?

CW: I did. Yes.

AS: What did it feel like to hear it?

CW: Um, I thought it went well. It was fun to listen to.

AS: Do you know if any of your family members listened?

CW: I don't. I don't know. I shared it on my Facebook page and I think I just have the expectation that they don't follow that. But I know they read my blog every once in awhile.

AS: How's your grandfather doing?

CW: He's doing well. His health is still good, he's still full of energy. He told me the other day he's gonna retire because his back hurts. But that's a lie.

AS: Is he working as much as ever?

CW: Yep. He is.

AS: And how old is he now?

CW: He's 84.

AS: He's 84.

CW: Yeah.

AS: And what's your relationship like now? I feel like when we visited, he was glad you were working for the family business. He was a little more ambivalent about your blogging and social media presence.

CW: Yeah, I think he's starting to come around to the idea. This past October I spoke at the National Funeral Director's Association, and that meant more to him than it did to me. I think that solidified in his mind that some of the things I'm doing must be positive if they asked me to speak there. So, yeah, I feel like he's coming around and kind of appreciates the idea or understands it a little bit more, maybe that's a good way to say it.

AS: It also seemed pretty clear when we talked last fall that you were -- you were grappling with some of the bigger questions that come from your work and the daily routine of working in the funeral industry. Have you developed any different coping mechanisms from when we talked last?

CW: Um, I think that I've grown as a person, and just been able to handle the tensions a little bit better. This past year's been pretty inspired as far as me being able to find some degree of beauty in death. I think as I've progressed in seeing that, and starting to make connections, it's certainly helped in my ability to cope. This past year has just been easier on me personally than in years prior.

AS: When you say "the beauty of death," what do you mean?

CW: Yeah, it's hard to see. It's -- of course the analogy's way overused -- but the idea that in the dark we can see the stars. In death it's just not that way. There's a lot more darkness, and you kind of have to feel your way around instead of see your way around. But once you start to adjust and you are able to see in the night, you find there's a beauty to it. I think for me some of the things that I see are just the way that death allows us to embrace life. And that being reminded of our own mortality, going through periods of grief, allow us to value the time that we have more dearly. I think death, unlike many other things, can bring people together. Because it's our most basic human experience, and unites us all to one degree or another.

AS: We also talked about your depression.

CW: Yeah.

AS: How are you managing that?

CW: I'm at a good spot. I think I am. I was thinking about it the other day. I was thinking about how it's been easier for me to get out of bed. I think most people who are depressed know the struggle of getting out of bed. It's just difficult at times because you'd rather just stay in. Maybe that's everybody, and not just people who are depressed. But it just hit me the other day that most days out of the week I'm ready to get up. And that's a good place to be.
Caleb Wilde. His blog, Confessions of a Funeral Director, is at calebwilde.com.
Death, Sex & Money is a production of WNYC. The team includes Katie Bishop, Emily Botein, James Ramsay, Caitlin Pierce, Rachel Aronoff, Benjamin Franklin and Joe Plourde.
The Reverend John Delore and Steve Lewis wrote our theme music.
And we may be on the road this week, but there are lots of ways to keep connected between episodes….and to see some pictures from our adventures in New Orleans. Like us on Facebook...
And if you're not signed up already for our weekly newsletter, subscribe at deathsexmoney.org/newsletter. This isn't just your run of the mill newsletter -- we take time to make it special each week -- with updates, recommendations of other podcast episodes, and stories we're hearing from you. Also, if you're not getting it, you're missing out on Katie Bishop's genius curation of gifs. Not to be missed.
One more update on Caleb...he is much better rested now than he was a year ago. He'd gotten basically no sleep the night before the day I visited...thanks to his restless toddler. But Caleb rallied, and our tour around Parkesburg was fueled by a steady supply of energy drinks. Tall boys.
CW: You guys made me sound pretty good, despite the fact that I had a Red Bull or a Monster in me. And by Monster, I mean drink.
I'm Anna Sale, and this is Death, Sex & Money from WNYC.
Copyright © 2019 New York Public Radio. All rights reserved. Visit our website terms of use at www.wnyc.org for further information.
Music Credits:
"Through the Night "
,
"Play Sad"