Brooke Shields, Recovering Daughter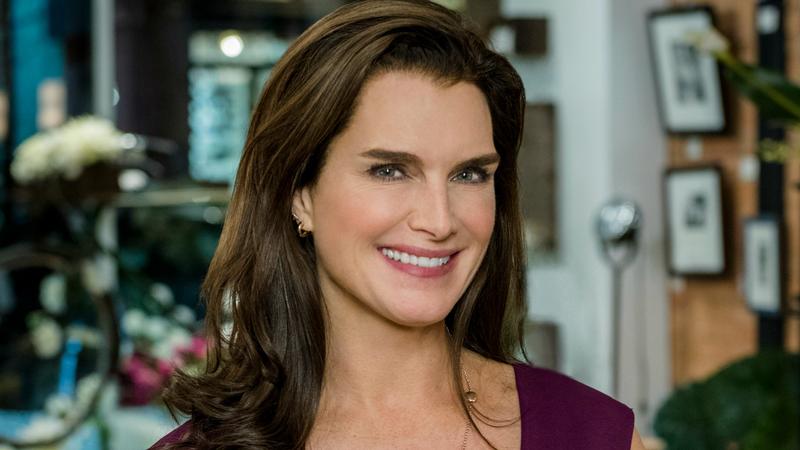 Transcript
Brooke Shields: There was this outside image of me that I was a Lolita, or I was a very mature sexually. But then I became the most famous virgin in the world. So you can imagine my confusion! You can imagine why I needed therapy!
This is Death, Sex & Money.
The show from WNYC about the things we think about a lot….
….and need to talk about more.
I'm Anna Sale.
Brooke Shields is 50 years old. Her career is 49.
That was my first relationship was my career, I mean, next to my mom. I have a very strong, enduring relationship with my career. And I don't plan on divorcing it.
She booked her first national modeling campaign before she was a year old. By 12, Brooke had landed a lead role in the movie Pretty Baby, where she was a child actor...playing a child prostitute.
Violet: I'm not a child!
Bellocq: Excuse me, that is your opinion.
Then, there was Blue Lagoon...the sexy teen romance movie.
Richard: Kiss me.
Emmeline: You're all sticky!
Richard: So what? Kiss me!
Emmeline: Stop! I can't breathe!
Richard: But I don't wanna stop.
When she was 15, Brooke became the face of Calvin Klein jeans. It was a controversial campaign...
Brooke: "You wanna know what comes between me and my Calvins? Nothing."
Brooke was a sex symbol. But she wasn't having sex. When she wrote her first book in college, she admitted she was a virgin. And then she became well known for that.
BS: I was very naive. I had a very strict father and a very strict mother. And I was not aware. I was not sexually aware. And I had no problem talking about it, because I wasn't ashamed of it. In fact I was sort of proud that I was standing up for myself, because I was afraid!
Sex scared Brooke. but her early work—the film shoots and the modeling gigs—didn't. She remembers feeling safe.
BS: The sort of odd part about it or the crazy part was that I was really just a little 13 year old kid who was so sheltered, who went to regular schools, who loved horses. And so there were these two kind of—there was a juxtaposition of those two things.

AS: I wonder if now being a mother to young girls, has it changed how you think about the work that you did when you were a young woman and the question of consent?

BS: It's a really good question. I think—I think having children just changes everything that you think of. But what I've really learned to appreciate is that I cannot compare them to me. I think it's a very different era right now. I mean, I wouldn't want my children now to be in this industry at all. It's borderline toxic for—if you are not of a certain mental and physical constitution, if you don't have the right surrounding people around you. But when I was younger, I felt like I did have more control because it was just my mother and myself.
Brooke's mom Teri...was always there with her. Brooke's parents split up not long after she was born...and her mom managed her career.
AS: How old were you when you were the prime breadwinner for your family? For you and your mom?

BS: Oh god, from eleven months until 29. I mean, I was really—that was it. I mean, it was—you know, I always used to say to my mom, like I wished she had taken a salary because it would have been clearer had she had taken a salary. The thing is, you know, it was sort of all mine but, you know, we bought houses, we bought cars, and you know, weren't also - not very well advised. You probably shouldn't have six homes at one time. We didn't have anybody saying, "You know, should probably sell this before you do that." And we didn't, you know—people wanted—people said yes. You find the person that sort of says "Sure, yeah, okay, I can do that. You know, but I was—without my working we didn't have an income.
While she was working, Brooke was also...trying to manage her mom's alcoholism. Brooke organized the first intervention to get her mom to rehab when she was 13. It didn't take.
BS: When she was drunk she was nasty. You know, and it's hard. It's funny because people always say, "Well have you forgiven her?" It's sort of like, I forgave her the minute after she ever said anything unkind. It was almost like the split second because somewhere in my bones I knew she loved me. And she would ruin things and I would get angry, but you can't get angry for someone for being weak and incapable. And she damaged almost every relationship she had. She cut almost everybody off. And I was the only thing left. But I don't resent it, because I concurrently made a life. So that no matter what she was going through, I didn't have to take it personally. And I could still love her and she could still love me. Somewhere along the line that became my defense mechanism and I stuck to it and I think it helped me.

AS: When you were 29, you separated from her professionally—financially and as far as who was going to manage your career. Do you wish you'd done that earlier?

BS: I definitely wish I had done that earlier. I was sort of beholden to her and so afraid. And had no other people in my life that I could go to and trust, because those bridges had been burned. I think that if I had had the guts to—maybe not at a teenager age but definitely pretty soon after that—if I had had the guts and the strength to leave her and get the proper professional guidance, I think it would have been a wise career move. And it might—it might've even been better personally with the two of us. But I was scared, I was too weak, I couldn't—I didn't see a way out, to be honest.
Brooke says it was her first husband, tennis star Andre Agassi, who helped her find that way out. One weekend, behind her mother's back, Brooke had their entire business office packed up and shipped to her new home in Las Vegas. The legal wrangling afterward, between mother and daughter, went on for years.
AS: Do you remember when your finances were finally separated from your mom's, what the first major purchase was that you bought for yourself?

BS: Oh god, I don't think I bought anything for a really long time.

AS: Really?

BS: Really.

AS: Were you afraid to spend money?

BS: I wasn't in a very celebratory mood.

AS: Yeah.

BS: You know, I wasn't really—there was a lot that needed to be sold and tied up and legal fees and stuff that I really had to assume. I mean, I really had to do all that. So my whole thing was just—you know, actually it was spending money on her. On getting her—her house sold. Getting her in a facility that could keep her healthy. That's where all the money just started getting doled out to.

AS: So you spent money on her but you were also setting her up to not need you.

BS: Need me. I just wanted to get her in a position so that I could finally—I could know that there was—whatever was being dipped into was hers and was gonna last. So that I could then just sort of start earning money again. 'Cause I really needed to, I kind of started at zero again. You know, a lot of people start then.

AS: Yeah, you were just turning thirty.

BS: I was just turning thirty, so...

AS: It's when many careers begin!

BS: It was all fine. I just, you know—one cancels out and the other one starts over.
Coming up, Brooke talks about her struggle to adapt to motherhood…and how her postpartum depression impacted her second marriage.
BS: I'm saying to him, "You don't understand. You don't understand. You don't understand." And he doesn't. He can't. There's no possible way he can. But he's the—he's part of the byproduct of it. And he's a casualty of it.
I mentioned in the Death, Sex & Money newsletter that I was spending the holidays in California. I was holiday-ing with family, but also doing some fact-finding for a big life change in 2016. In about six months, Arthur and I are going to leave New York City and move to the Bay Area. He's joining the faculty at UC Berkeley—I'm very proud. And I'm going to be opening the west coast headquarters for Death, Sex & Money.
This means I'll be leaving New York City after seven years—the longest I've lived anywhere since college. A lot has happened while I lived here.
So I'm in one of those weird moments in life...when you know everything is about to completely change...but it hasn't yet. And I need some music to go along with it.
We're making a list of the songs that have been your anthems during moments of big transition. For me, I spent the summer before I went to college scream-singing the song "Wide Open Spaces" by the Dixie Chicks while I drove around in my Dodge Shadow. For our producer Chester, it was "Common People" by Pulp, which he listened to while working up the nerve to quit a desk job he hated. (Now you know why Pulp's his favorite band)
So, we're building a playlist over the next few months. You can find a link on the Death, Sex & Money Facebook page. It can be the soundtrack for my move...and for whatever else you have coming up this year.
Speaking of big leaps…base jumper and wingsuit flier Jeb Corliss is on the next episode. We talk about his many brushes with death, and how he learned to deal with fear, when he was a kid getting bullied.
JC: I never saw school as a place to go to learn something. It was a battlefield. It was a place I went to go to war. I got a real understanding of fear, real early in life. And what fear was. And how to not only control fear within myself, but once I learned how to kind of harness fear and understand it, then I learned how to control it to—when you're getting attacked by ten people, you know, you can't win, physically.
—

This is Death, Sex and Money from WNYC. I'm Anna Sale.
Brooke Shields married comedy writer and producer Chris Henchy in 2001. They immediately started trying to have a baby. She was 35, and she found she needed IVF.
BS: I sort of jumped in with humor. You know, "Oh I'm gonna go get my eggs today! I'll tell ya how they look!" You know. "The hen's gonna go lay 'em!" You know, whatever the thing was cause that would be my thing. That was my schtick, you know. In a very strange way it made me feel like, I was a normal person who had struggles. And I think all my life I have tried to a fault to prove that I'm not better than anybody else. So then all of a sudden I had this struggle and I thought, "Oh, this is great. People will identify with me now." But then what happens is, then more and more of your friends start getting pregnant and having babies, and you're still the one not. Or you lose your first child. Or by the time I got to my sixth IVF, then I started to get a little bitter. And that's when I kind of shut down and didn't talk about it anymore.

AS: How many miscarriages did you have?

BS: I had just one pregnancy and miscarriage at three months. It was the first attempt. So I got pregnant in the first attempt. And so I had this unbelievable sense of—it was just going to be a great thing. And then three months into it was told it was an unviable pregnancy. And then had to basically, you know, give birth. That was—that was when I kind of got—like losing the first one was the thing that changed—sort of changed me more than the whole process did.

AS: Yeah.

BS: You know, just—and you sort of—it is a very lonely—even if you talk to people that have gone through it, even with your partner or spouse or whoever, like, it was interesting. It was only the dog that I would allow be in the room with me. Because she just sat at my feet and she would sort of slowly come up and lick my face and then go back down. 'Cause it took a really—it took through the night. And I remember waking up and thinking, "Well, it's—I'm definitely not a kid anymore." You know, it was definitely—I was older. Emotionally and just psychically, I was just an older person the next morning.
When Brooke did eventually get pregnant again, it almost felt unexpected after so many tries. And she was thrilled.
BS: It was like birds were flying around my head when I was pregnant.
Her daughter's birth wasn't easy. After 24 hours of labor, Brooke needed an emergency C-section.
BS: My uterus was like blown out of the water on the table, and the baby's got her cord wrapped around her four times, and the doctor's telling me, you know, "You may die, so we've taken precautions." It was just all very—I was just very angry at everything. And then just felt inept. And didn't realize that I was just very unhealthy, you know, chemically. Biochemically.

AS: When did you realize that something was wrong?

BS: You know, it took me a while. It took me about—it was at least between three and five weeks of just being so miserable and unhappy and scared and just out of my body and not—and, you know, and having everybody tell me one thing. One person's telling me to stop breastfeeding. And another person's telling me to do this. And another person's telling me—everybody's got a solution. And, you know, you go to the doctor so many times when you have a newborn. You go every week. And it's all about the baby. And, you know, if they say, "How are you?" and you say, "Oh, you know, I've been crying" or "It's been hard," they say, "Oh it'll pass. You'll get over it. You know, it's the baby blues." Or, "You're tired, your body's going through a lot." And it —I just kept going darker and darker and darker. You know, I saw my baby going—hitting the wall. Like, being flung across the room. I was the kind of—

AS: You visualized that.

BS: I visualized that. I didn't want the doing it. But I would sit there. I would close my eyes. And these horrible things, these images, would come through my mind. On one visit to the doctor for my daughter, I took the doctor aside and I said, "Can I talk to you for a second?" And he said "Yes." And I said, "I've made a terrible mistake. I really can't do this. You have to figure it out. I need to figure out something to do." You know, it wasn't about giving up the baby. It was just, what do you do when you've made a horrible mistake and you can't handle something? I was like, "I can't do this. I thought I could. I was stupid. I should have learned. You know, I couldn't have children naturally so that must have been a sign. And I should have never played with fate." I felt like I was dying. I wanted to disappear. I just wanted to separate myself from the situation and pretend it never happened and I wasn't in it. You know, and even if I had to go far away, I figured she'd be fine, you know, everybody that was normal would be fine and they could take care of her. It was just a very rational hysteria.
The doctor asked if Brooke would consider taking medication for postpartum depression. That infuriated Brooke…
BS: "You know, I'm not depressed. I'm not broken..."
...then her husband asked her to consider it, so she started taking an antidepressant. The first drug didn't work…but after a couple of tries, she found a combination that seemed to help.
BS: I then decided that that would be a perfect time to go off everything cold turkey. Because that was a brilliant idea that I had, and...

AS: Because you were fixed.

BS: Because I was fixed. And clearly it wasn't the medication. Because I had taken all these other medications and this was just no different. I just happened to have been, you know, got better. Or got something. So I went off cold turkey. Hit a—hit a very bad, bad, bad relapse. But it was the first thing that made me realize that what I had was a real thing. It was a real affliction. A biochemical shift that needed to be addressed. Whereas prior to that I was thinking I had much more control over it. And that I was just a failure.

AS: Yeah it's interesting to me that it was much easier to accept that it was your failure to be an adequate mother than it was that you had something happening with your brain chemistry.

BS: Oh absolutely. Because see if the psychology of that for me was: I've never been normal. Ever since I was a baby I was sort of singled out as something. Then I was this. Then I had a really non-conventional life. And then so by the time I got to this, I thought, well of course. Of course! You didn't listen in the beginning. You had to try. You had to have a baby. You had to be normal. What were you thinking? And then of course I'm not equipped to be a mother. I had an alcoholic mother. I didn't, you know—I wasn't normal. So it would make sense that I would then ruin another little child's life. You know, those are all the poisonous toxic thoughts that actually very clearly and rationally speak to you when you have postpartum depression.

AS: Did it make you nervous and scared to try to have a second baby?

BS: Have another one? No cause in my third trimester I balanced myself hormonally. I took the right medicine. I took the right—I did everything to fortify.

AS: You were public about your struggles with postpartum depression nearly almost as it was happening. Within two years after the birth you'd written a book about it.

BS: Mhmm.

AS: How have you talked to your daughter about that time?

BS: Um, I've had to really make sure that I don't give her too much information because she's 12.

AS: Yeah.

BS: So, you know, my tendency—my tendency in my brain is to want to sit down and really talk about all of it. And then you look at her and you're like, she's 12. She doesn't want to hear about your uterus. She's not interested. In your ovaries, she's not interested. She wants Instagram or candy. You know? It's like—there's no real—I don't think they're really ready to talk about it. And, you know, I have to be really really careful. And so I also can't make my struggles hers. You know, I can't—that was something I really did go through and she has absolutely no part in it. You know, no fault of hers. She's—there's nothing that she did. But if you don't word it right at the right time it could be interpreted that she was somehow responsible for my misery. You know what I mean? And I think that that—you have to be really careful with not making your problems their problems.
Brooke's getting daily reminders of that...now that her oldest daughter is almost a teenager.
BS: I was trying to get her out to school today and there's a sort of inordinate amount of time that she's standing in front of the mirror. And she's just posing kind of doing this with her hair and fixing herself. And I was like, "Can we get out, the bus is coming, can we please get out of the house?" And I said, "You look fine, your hair looks fine, can we please go?" And as I was walking to the bus I thought, my god, I used to fall in dance class cause I couldn't look at myself, because everybody else had looked at me so much. And part of me is envious of her. Part of me is, you know, angry that I couldn't do that as a kid. And then part of me is so proud that she feels that way—that she is able to do that, and I want to nurture that. But I have to remember she's not me, and so I'm instantly, you talk about, it's like, I don't know how to deal with a person like that, that self-confidence! I don't know what they do.

AS: You do know that she has to catch the bus.

BS: And I also don't want her to be vain so I'm trying to go like, "Stop staring at yourself! Get out of the house!" It all was—it all just came kind of in at one moment. I think that, you know, we also as a parent, your ego is so fragile. And, you know, I want their approval all the time. You know, and I'm also—I'm in competition with her for her father's attention. It's ridiculous!
Around the time that Brooke's second daughter was born, Brooke's mom started showing signs of dementia. After a long deterioration, Teri Shields died in 2012.
AS: Do you ever have flashes of anger at her still?

BS: I have flashes of anger a lot but I'm pissed off at her for not—not being able to stick around and watch. My kids are hysterical. They're so funny. We have like—we've really built the life that I'd always wanted to build. So it's that kind of stuff. And then I sit there and I think, "You know, it's a shame. She wasn't as strong as you are." You know, "She didn't like herself as much. You know, she didn't learn to love herself to take care of herself." I couldn't do that for her. Like, I can't—you can't do that for someone else. That's the stuff that just kind of pisses you off. And you've got no control over it.

AS: So you're fifty years old. When you think about where you are in your career, what are you excited to do?

BS: I'm excited now to have even more energy going forward. I'm producing more. I realize I have actually earned my opinions. And I think it really took—I think my—I had to become this age and I think I had to lose my mother before I really could come into my own and not be waiting constantly to be picked. Or approved of. Or chosen. Or in the crowd going, "Ooh ooh! I can do this!" Instead now, and I don't know there was a shift that happened, and it's on my terms. So now it's about, what do I want to do? How do I want to spend my day?

AS: How do you think - why do you think losing your mom led to that shift?

BS: Because even though she wasn't present in my daily life, everything was done with her in my mind. It was either, I was trying to run away from her or I was running towards her. I was trying to fix her or I was trying to find someone else to fix her. I was trying to keep her alive or hiring someone else to keep her alive. I was—every time the phone rang, I thought it was going to be a healthcare professional. You know, everything. There's that sort of vice that is on your chest, especially if you're a single child. There's no other relatives. It was me and that's it. And everything I did I thought, okay, I better, you know—I gotta call today. I gotta go visit today. And there is this preoccupation and you're watching someone just absolutely deteriorate. And you—you still have so much to do every day with it. And I—I can't have it anymore. It's not there. Like that's not a part of my day anymore. And with that time, I just took that for myself.

AS: Is it hard for you to share money now in your family given what you went through with your mom?

BS: What do you mean? Like with my kids?

AS: With your husband, like figuring out finances.

BS: No, you know, it's a really funny—well it's not funny—It's actually very embarrassing. I am having my first real—now I've had these meetings with my accountants and lawyers since I was a kid. But I can't say I've ever really read through a document. And it wasn't until after my mom died, again I don't know what it was, that I started reading all the fine print. You know, it's weird, before you're fifty you're sort of still—you can still go, oh I'm in my—these years, and I've got those people are good and I trust them and dah dah dah and, you know, there's all these little bubbles that you can kind of put yourself in and you don't really have to be aware of the boring horrible scary terrifying nature of money. Right? So it's just recently. And tomorrow afternoon I have my first sort of really proactive, I called it, fully cognizant, fully aware, have read all the documents, even know the numbers—tomorrow. And I'm fifty.

AS: A financial planning meeting.

BS: A financial planning meeting where I pay attention. I've had financial planning meetings before and I tell ya I can't wait to get out of there. I'm actually going to walk in there like—like an executive producer! That I am.

AS: That you are!

BS: That I am now. I'm going to bring a clipboard!
That's Brooke Shields. She wrote a book about her mother's death, called "There Was a Little Girl." It's just out in paperback. And she's executive producing and acting in a new TV series called Flower Shop Mystery. Brooke says it's like Murder She Wrote, but in a flower shop… so for all you Jessica Fletcher fans, find it on the Hallmark's mystery channel.
Death, Sex & Money is a listener-supported production of WNYC Studios. The team includes Katie Bishop, Chester Jesus Soria, Emily Botein, and Andrew Dunn.
The Reverend John Delore and Steve Lewis wrote our theme music.
I'm on Twitter @annasale, the show is @deathsexmoney. Or you can email us anytime with your story or feedback anytime at deathsexmoney@wnyc.org.
And do us a favor—if you like the show, give us a review on iTunes. It helps other people find the show, and we like to read them.
Brooke Shields says that another thing that's changed since her mother's death is her sex life. She says her mom could make her feel guilty about sex, even with her husband…
BS: I'm reveling in it more because I don't feel like I have to apologize. I have to apologize to him for certain things. (Laughs) I had carpal tunnel and people were saying, you know, well how did you get it? And my husband's like, "I'll tell you how she didn't get it!"
I'm Anna Sale, and this is Death, Sex & Money from WNYC.
Copyright © 2019 New York Public Radio. All rights reserved. Visit our website terms of use at www.wnyc.org for further information.
Music Credits:
"Stingray Theme" by Blue Dot Sessions
,
"Building a City" by Schuyler Peterson
,
"People Like You (Instrumental)" by Weinland
,
"Seamless" by Blue Dot Sessions
,
"Brother and Sister" by Justin Asher from BWN Music
,
"At All Ends" by Blue Dot Sessions
,
"Mountains" by Cory Gray