A Son and His Mom Laugh Through Darkness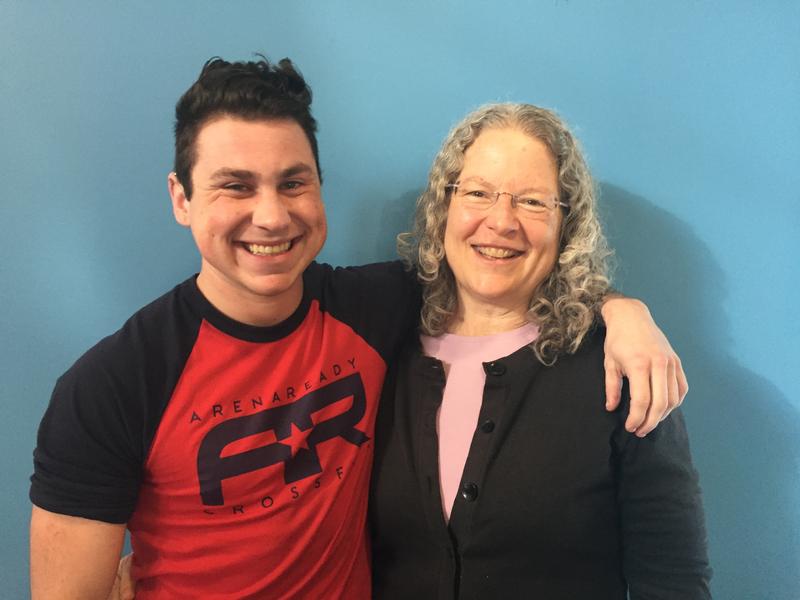 Transcript
BM: I was a demon child.

KR: He suffered a lot.

BM: That makes me found like I'm fucking Jesus. Like I just... [laughs]

KR: You were suffering a lot. And yeah, it was awful.

BM: Yeah, it was tough.
This is Death, Sex & Money.
The show from WNYC about the things we think about a lot…
...and need to talk about more.
I'm Anna Sale.
Earlier this year, we did an episode about near death experiences. Bex Montz was one of the people I interviewed. He's a 23-year-old trans man, who survived a suicide attempt. And he wrote in to the show about it.
BM: Like I legitimately didn't think that anything was going to come of it, 'cause I just don't think that my life is that interesting. Um.

KR: Yeah, it's probably not going to go on air.
This is Bex's mom, Katie Ryan. She knew about Bex's suicide attempt, but it wasn't something Bex shared with the rest of their family. Until the podcast came out.
KR: One of my niece's friends listened to it. And recognized his name. I'm like, you used your whole name on that thing you know, and this podcast is kind of a popular podcast. I think you know that. [Laughs]

BM: I guess I didn't like think it through. I was like yeah, why not?

KR: It's fine.

AS: Was it fine?

KR: Yeah. My sis-

BM: I sort of figured they all assumed. Like, I've been mentally ill since I was like 13 years old. Jesus Christ, I hope there's a suicide attempt in there or else I'm like, what have I been doing with the last couple of years. You know? [Laughs]

AS: [Laughs] Oh my god.
This is something that stayed with me about Bex, after the first time that we talked. He's really funny, even when he's talking about some of the darkest moments in his life.
After I moved to California, I remembered Bex lives in the Bay Area too. I wanted to meet him in person. And meet his mom.
Because Bex had told me that after he attempted suicide in 2014, when he woke up in a hospital room, the first thing he saw was his mom sitting in the corner.
KR: When I got to the emergency room, it was weird, he was in a pod by himself. And there was nobody in there taking care of him. And I didn't realize he wasn't conscious. Um, and I tried to wake him up. And he's a super light sleeper. And just touching him normally would have like bolted him upright. And I shook him and I was like turning his head and it was just floppy. And I was like oh shit. He's unconscious.
Katie's a doctor. She's an OB-GYN. And she works at the hospital where Bex was treated.
KR: I've sat in that ICU with patients. Like I've been in the room that he was in. So it was, um - yeah it's just surreal.
Bex has struggled with depression since he was a kid. But that day, he took a lot of pills. He slit his wrists, too. Before he slipped into a coma, Bex called 911. That saved his life. After spending a few days in the hospital, Bex went back home to live with his mom.
KR: He wouldn't talk to me about what happened -

BM: Yeah.

KR: - at home.

BM: I mean. I don't - yeah, I had a therapist. I still have a therapist that I really really like. And I see like twice a week. And so I was talking to him. And I sort of figured that you were like - like you were there. Like you knew what hap- like you knew what happened. Like, you saw me. Like you -

KR: Yeah.

BM: So it sort of felt like...

KR: There's still parts that I don't know though.

BM: I get... I guess.

KR: Like you cut yourself. And like what happened to the blood? There was no dirty rags anywhere. I couldn't find them anywhere. Like what did you do with them, I don't know.

BM: EMT cleaned up. They came in. They called some uh, some cleaning ladies and they came and scrubbed the whole house. It was great.

KR: You're lying.

BM: No, no. I know. I mean--I...I don't I don't know. The reality is I don't know like part of it. Like, there's not a whole lot, from my end.

KR: Yeah. But you and I have never talked about the thought process that led up to -

BM: Yeah. I - like I want to try to figure out all the shit by myself. Like that's my ideal. That's my inclination is like, I can do this by myself. I can figure this out by myself. And it won't be a big deal.
This tension—between wanting independence, and the comfort that comes with family support—that's something that Bex is working through. He's still living at home with his mom. His older brother lives with them too.
BM: It's been helpful living at home. That it just like, it means I have a place that I can go home to. Which is super soothing when there is a lot of other issues going on in your life.
AS: Do you feel close to your mom, Bex?
BM: Yeah, yeah. I think it started when dad died. That like, it just became like, no one else was around. Like we moved, and there was sort of no one else to talk to.

KR: I mean, they pretty much grew up - you know, I was the only adult in the house until they became adults. So we all became kind of treated each other like adults pretty early, for better or for worse.
Katie was 44 when her husband, Rick Montz, died suddenly from a heart attack. BM was 9. Back then, the family lived in Baltimore, where Rick was a gynecologic surgeon and oncologist at Johns Hopkins.
KR: He was super committed to his work. Um, and super committed to his family but spent way more time at work than he did with his family. Just sort of worked like a crazy man most of the time. Um, yeah. He's the love of my life.

AS: Did you ever see your husband one of one with patients?

KR: Yeah, I worked with him. Yeah. It was kind of magic.

AS: What do you mean?

KR: It was just fun to watch him. He was just a really great surgeon so it was fun to watch him in the operating room. And um, yeah, he just um. He was good at it.

AS: And Bex, when you think about a moment with your father when you were a child. Like what's a memory that comes up?

BM: Um, a couple of them. Some of it is my dad used to come home and we would go running on Thursdays. That's the only day of the week that dad would pick us up from school. And then if we got our homework done then we got to go running. And like, really he got to go running and the kids came. But it was almost always dark. And it was like Baltimore, Maryland, year round. So sometimes it was freezing cold, so we went running when it was freezing cold and there was snow on the ground. I remember once like we had this run where there was all this black ice and we just kept falling on our asses. Like no matter what the weather. Sopping wet out we would go running. But it was mostly like in the dark, this one running path.

KR: He wouldn't take them out in the middle of the night, so.

BM: But it was dark.

KR: It was dark. But it also wasn't like 11:30 at night that he would get to you guys instead of putting you to bed he would take you out for a run.

BM: No, no no.

KR: Yeah, it was just, yeah.

BM: You're like I am a good parent. I promise. [Laughs]

KR: He was a good dad, oh my god! [Laughs]

AS: So you and your husband were both in your 40s. You are, as an OBGYN, you're dealing with birth and the possibility of complications and death at work. Your husband is dealing with death at work. Did you talk about your own deaths with each other?

KR: Yeah, um, we did. Rick thought he was going to live kind of forever. He was the big runner, exerciser. I'm not. He was pretty sure I was going to die of heart disease because I just never took care of myself. So he was pretty sure that I was gonna die first. And we had talked about, he said he was never going to get married again, he was gonna date, and we joked about it. That he'd have a series of different people. I'm like, please just don't bring them home to the kids. Please don't bring them home to the kids.

AS: Really?

KR: Yeah! 'Cause I just don't need this rotating door of women coming into my children's lives. And no, we talked about it a lot actually. And, my family's here in San Francisco. And we joked that, you know, that the only way we are going to go back to San Francisco is that if he died, I'd move back home. And that's what happened. He died and we moved back to San Francisco six months later. Kind of did all the things you're not supposed to do. Sold a house. Bought a house. Quit my job. Got a new job. Changed my kids' schools. Like all those things they tell you not to do in the first year after a death, we did all of them.

AS: Was that the right thing to do?

KR: Yeah, for sure. I had to. Yeah, I had to. I needed the help. I couldn't do it by myself.
Coming up…
BM: I wish that I could have just gone undercover for forever and then like a year later I like show up and I'm like, ha ha! Surprise! I've been a dude the whole time!
Bex talks about coming out to his mom as trans, before he felt ready.
BM: Yeah I think I probably would have waited until I was like more settled down so that I could actually like answer questions. 'Cause I couldn't answer questions, like I couldn't articulate any of like, are you okay with being called the daughter? Are you okay with being called a sister? Like what does that mean to you? And you were asking me these questions.

KR: No I wasn't!

BM: Yes you were! Yes you were!
—
It's the end of year, a year that—good or bad—is leaving its mark on many of our lives.
A lot of the internet has decidedly turned against 2016. But one bright spot I noticed was a recent series of tweets from Jihan Crowther, whom you met in our episode called Why You're Not Having Sex. She's noticed that as a black woman, her opportunities to have sex are much better when she leaves the US. And she talked about that on the show.
JIHAN CROWTHER: It felt really really scary. I think I expected a lot of like, a bad response to that. And I think I just felt relieved and surprised that the inverse happened.
I called up Jihan to talk with her, because, as she said in her tweets, coming on the show to talk about something really personal ended up kicking off a lot of good in her year.
JC: I remember reading something where Cheryl Strayed said something like, if you walk into the light and speak your truth you'll find that you're not there alone. And that's exactly what happened. And it was really kind of amazing and it kind of led to other opportunities to write things and it sort of ultimately -- you can't really draw a straight line to my new job but you kind of can.

AS: What's your new job?

JC: I'm writing for a new HBO TV show that's being run by a hero of mine. I didn't think I would sort of land in a place like that, starting with just kind of telling the truth about things that are hard to talk about.
Jihan says she's writing for a show with Alan Ball, the creator of Six Feet Under. This happened less than a year after she decided to quit her full-time office job to finally try to support herself by writing.
She's still not dating much. But after her 2016, Jihan's not too worried out it.
JC: I don't feel hopeless about it at all. And that's just maybe me ignoring history or my own experience, but there's also no reason not to. I think even me ending up writing full time is something that I spent a lot of years hoping would happen and it finally did and there was no reason to expect it, and so I kind of feel the same way about the relationship piece. There's no reason to expect it but there's no reason not to.
One of the pieces Jihan wrote this year was for Jezebel. We posted it on our Facebook page. It's called What Dating Abroad Taught Me About Stateside Racism.
And on a personal note, I want to thank you for all of your support for the the show, and me, during 2016. I shed a life that I knew and loved for this whole new world of parenthood and California, that I'm really excited by—and just getting used to.
You have shared your stories with me, and with each other. Like Jihan did. Stories about what you've experienced and how you've gotten through.
In this next year, let's keep doing more of this. Listening to each other and pushing each other to be more honest, brave, humble and kind. I need this. I think we all do. Happy New Year.
—
This is Death, Sex & Money from WNYC.
Bex Montz says losing his dad was really hard. But he remembers feeling depressed even before that, as a really young kid, and not understanding why.
BM: I got really sad when I was a little kid. Like in bed late at night getting very sad. And having to attribute it to something. I remember one of your friends died and I would always attribute it to that, because that was the one bad dead thing that I knew happened. That I knew was acceptable for me to be sad about.

KR: And he cried at the end of every movie. Like and it was just this emotional outburst at the end of a movie and he would just be in tears.
After his dad died, Bex continued to struggle with depression. He says junior high and high school were a disaster. He hadn't come out as trans yet—
BM: And I - yeah, I was just fucking miserable and just wanted it to be over with.

AS: What was your plan for when high school was over. What was the fantasy?

BM: Oh boy. I was going to go straight to college and then go to med school. I was going to be a doctor. Like I couldn't wait to get to medical school. Could not wait.

AS: What do you think that was about?

BM: I mean…Freud would have a fucking field day, but I'm sure some of it was dad stuff. And some it was that like medicine was how I was taught, this is how you find a job that you find interesting where you can help other people and you can constantly be curious. And like medicine is how you do that. Like medicine is that job. And so it felt really right and like the right thing to do.
Bex went away to college. But he started drinking a lot. His grades started to slip. He was really depressed. And struggling with his gender identity. He talked to a few friends at school about it, but wasn't ready to tell his family. But his mom could tell something was going on.
KR: He had been talking to me for awhile about getting an LGBT counselor. I'm like, this is a great idea and I'm online trying to find resources. He had burned out at mental health on campus. It just was totally dysfunctional. Um, and I was trying to find resources in the community. I'm online, da da, da da. And I visiting and we were driving and he brought it up again. And I had probably talked to somebody at work—because I used my coworkers as therapists instead of actually getting a real therapist—

BM: Super healthy. Super healthy.

KR: So I talked to one of my coworkers and I must have like said maybe it's something more. Because he was self identifying as a lesbian at that time and I thought maybe it's something more than that. Maybe it's bigger than this. And um, so we're driving and he brings up the idea again about getting an LGBT counselor and I just kind of looked over and I was like, are you thinking of transitioning? And he goes mom! You can't just like ask people that out of nowhere! You can't just be like asking stuff like that, you can't do that. And then he started crying hysterically. And I was like, oh, so I guess we know the answer to this.

BM: Like, okay. One: you're not supposed to ask that fucking question. Like, let me come out to you, Jesus goddamn Christ! And I think that I had like also recently bought dude's clothing. I was trying to be semi-secret about trying it a little bit. Like there's this trial period that I wanted. And I didn't get it because this fucking asshole like asks me whether I'm trans. And I'm not going to look her in the eyes and be like, no I am not considering this. But also, like I don't want to say yes. I wasn't ready to come out. And I was out. And I was totally out.

AS: Did it feel like a relief after crying or no?

BM: Uh no. 'Cause it was—coming out becomes a whole thing in it of itself. And it was super stressful. It was just more stress. It was just super super stressful.

AS: And it felt like your mom was forcing - speeding up the momentum of everything before you were ready to share.

BM: Yeah. It felt it felt like I hadn't 100% decided that I was going to do this thing and I basically had to make a decision.

KR: I didn't force you into it though. I just asked if you were thinking about it.

BM: Like, you don't - okay. If you're not trans, you probably never think about transitioning. So in saying, yeah I'm thinking about it. I'm basically would be coming out to you.

AS: And you as a mother, Katie. You're googling LGBT counselors - you're trying to find the way in to be helpful and loving. And like to hear Bex say, what you said in that moment was the exact wrong thing to say, like how does that feel?

KR: Um, it doesn't bother me that much. Nothing was right. Nothing I did was right. Um, and he really never asks for help and the fact that he kept asking about getting an LGBT counselor, so yeah, I knew something bigger was happening. Things were desperate and it needed to be addressed if that was it.

BM: Yeah and I mean I don't hold it -

KR: He needed help.

BM: Yeah I don't hold it against you. It's just like, for sure, not the ideal way to go about it. But also like, nothing about that situation was ideal. Nothing about a lot of parts of my life have been ideal.

KR: Yeah. These gender issues are the smallest problems we've faced together.

BM: Well yeah.

AS: They feel small.

KR: They're minuscule. For me. Compared to the other issues that have, the mental health issues.
Those mental health issues were why Bex eventually dropped out of college. He moved back home with his mom, got sober, and got top surgery. It was after all this that Bex tried to kill himself. He didn't tell his mom how bad he was still feeling.
BM: That's not my inclination at all. And particularly when I'm super depressed I don't want to be talking to anybody. And so I don't.
And Katie says, that's made her question everything.
KR: I never know what's real, what's not real. What's okay. What's not okay. That I - you know, even when it feels like things are good, I don't trust it because it's just safer not to trust it, and to just kind of keep my eyes open. And think and wait and watch and try to be there.

AS: Do you feel like you're able to watch Bex and try to keep him safe?

KR: Um, I've learned that I can't keep him safe. He doesn't share enough, he doesn't ask for help from me. So I know intellectually that providing room and board and access to a car, that those things are helpful for him but I can't keep him safe. I can't do that. He has to do that. I haven't been able to do it. I've failed. Yeah.

AS: So you've had to learn that?

KR: Yeah, I've had to learn. I thought that sleeping on a mattress outside his bedroom door and taking the door off the door jam would keep him safe and it meant that he wasn't - yeah it meant nothing, it meant that I was pissing him off 'case he didn't have a door to his bedroom and I was sleeping on the floor outside his bedroom because I couldn't trust him. And it didn't work.

AS: Your face, Bex, is such a big cringe right now.

BM: Yeah, yeah. I mean, because it's true. Like, I can just - I haven't made things easy on anybody. And like that's obviously not a choice. Like I don't purposefully wake up in the morning and be like, today I'm going to be an asshole. But it also doesn't feel good you know.

AS: Do you think about being a parent, Bex?

BM: Uh not a lot no. I don't think that I could make the sacrifices required to be a good parent. I think that it's really hard to be a good parent. I think mom has done a great job with it, but I don't think I would be able to do it. Like, there's this thing that you love desperately and you always want to be around, and progressively over the course of its life as it gets more interesting you have to let it go and like that sounds awful. That sounds horrible. Like both of you guys are fucking idiots! Like, that sounds awful. [Laughs] And like, yeah, I just. I think I'm too self centered.

KR: Do you think being a parent would take you out of yourself? That it would force you to stop spending so much time perseverating about things that don't need to be perseverated about? And fill your day with other stuff?

BM: I think that's idealistic. I don't think so. 'Cause it's not - yeah, I think that it's idealistic. That, realistically, it would be that way for a while, and I would try really hard, but in reality, like, I'm going to deal with depression and anxiety and my issues around gender for the rest of my life. That sucks and until I figure out how to deal with that in a constructive way, there is no way I'm going to bring another human being who has no say in it, there's no way I'm gonna bring someone else into it. If someone wants to come in on this, then fine. That's my dating profile. If someone wants to come in on this [laughs], but like I'm not going to force anyone, you know?

AS: [Laughs] I have to say, when you said you guys are fucking crazy, like I think—I have a 5 month old baby—and hearing you—I have related to you, Katie, more than I have expected to in this conversation—and the puzzle of having so much love to give to your child but needing to find just the right slots where they'll let you give it.

KR: Yeah.

AS: And sometimes you try and you end up repelling them like the wrong side of a magnet is such a daunting thing.

KR: I mean, parenting is - it's crazy. And obviously I take care of patients when they're pregnant. And they think that this is the most complicated time of their life and like I can't even. I just let them think this is the most complicated time of their life because the reality is just literally unbelievable, of the responsibilities of being a parent. And it's just a huge job. Huge. And you can mess it up.
It's been 14 years since Katie lost her partner in parenting: her husband, Rick. The anniversary of his death was just about a month ago.
AS: Katie, have you dated?

KR: No.

AS: Has that been a choice?

KR: Yeah. Yeah. Um, I don't understand it fully. And I probably do need to see a therapist about it.

BM: I just want to note. You've said that like five times so far maybe you should actually do it. [Laughs]

KR: I think initially I did use the kids as an excuse and I really felt strongly that I didn't want to be bringing random people through their lives. They went through enough and they didn't have to do that. But now my kids are adults and I have no excuse and I still come up with excuses. It's just, I don't know.

AS: How do you think about where you are in the grieving process?

KR: Um, you know, it's been a really long time. And my life has been good without him, and I never thought I'd be able to say that and it relaly has. So it's sort of surprising, um. But yeah, it's changed who I am, for sure. I - I don't think there's any way it can't. I'm a different person now. There was part of me that was just completely crazy and wild about him and it was hard in the first years and I think—it dawned on me one day that I think that that girl left me. I think that it was too painful for part of me to want to be with him. And I just had to let her go and she left and like I didn't know this happened but one day I just knew that she wasn't bugging me, that she wasn't making my life hard. And it was kind of a relief. She just wasn't there torturing me anymore. 'Cause it was bad. It just felt like I just wanted to be with him and there was no way I could do it and yeah she just went.

AS: When did she go?

KR: It was a couple years probably after he died. At least a couple years. Four, five years probably. It's not a bad thing. But it's not super great either. [Laughs]

AS: And Bex, when you think about your mom and what you want for her, what do you think?

BM: As long as she's happy she can do whatever the hell she wants. Like the most I can do is try not to get in the way of her happiness, but I know I will. Like I know -

KR: No, I don't think you do.

BM: Okay, when I'm deeply, deeply depressed, which I inevitably will be again, that will get in the way of your happiness.

KR: A little bit, yeah.

BM: So the most I can do is sort of mitigate that circumstance.

AS: By taking care of yourself.

BM: Yeah, by trying to take care of myself. This is just me being self-centered. It's just like to take care of my mom, I need to take of me. It's all about me. We've been talking about motherhood for too long, come on, bring it back, bring it back.
That's Bex Montz and his mom, Katie Ryan. They live in San Francisco. Bex is reapplying to undergraduate programs now. He's thinking about pursuing a degree in public health. Katie hasn't yet made a therapy appointment.
Death, Sex & Money is a listener-supported production of WNYC Studios in New York. I'm based at the Center for Investigative Reporting in Emeryville, CA. The team includes Katie Bishop, Chester Jesus Soria, Emily Botein, and Andrew Dunn.
The Reverend John Delore and Steve Lewis wrote our theme music.
I'm on twitter @annasale, the show is @deathsexmoney. And please—if you like the show, give us review on iTunes. Just go to the iTunes store, search "death sex money," and click on "write a review." By sharing your thoughts, you'll help new listeners find the show.
And, while you're checking out the podcast feed, look for Bex's first appearance on the show in the episode "When I Almost Died." He offered some advice to other suicide survivors. And, he had this to say about his mom.
BM: I love her to death. That's probably a really bad way to put that. [Laughs] But yeah, I really love her. I think that she's amazing.
I'm Anna Sale, and this is Death, Sex & Money from WNYC.
Copyright © 2019 New York Public Radio. All rights reserved. Visit our website terms of use at www.wnyc.org for further information.
Music Credits:
"One And" by Broke for Free
,
"A Year" by Broke For Free
,
"Holding Hands" by Podington Bear
,
"In and Out" by Podington Bear
,
"The Gold Lining" by Broke for Free