The Student Loan Nerd Helping Borrowers One Email At A Time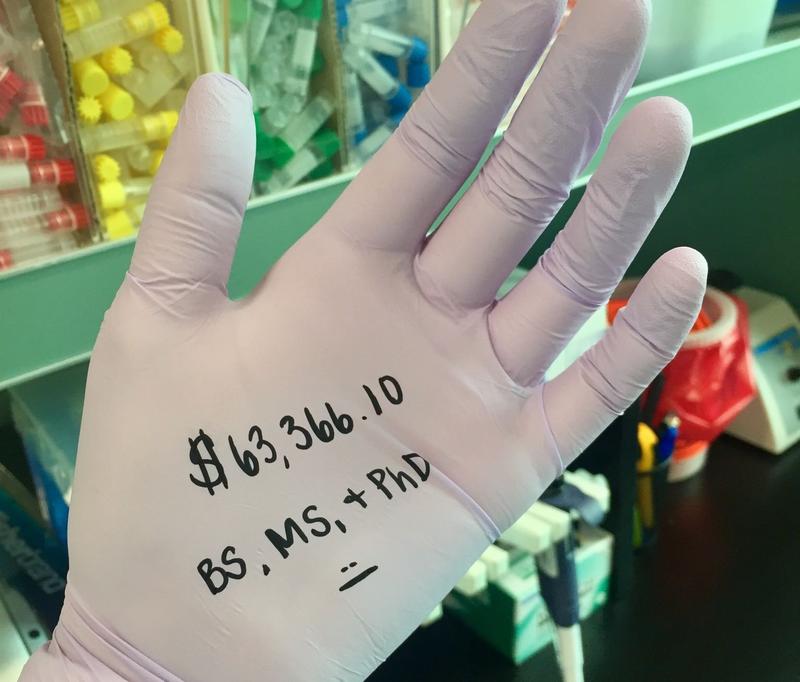 Transcript
BETSY MAYOTTE: You know when I was a little girl, I didn't say I want to grow up and be a student loan compliance officer, but that's where life led me and I loved the job and it gave me the skill set to help people. Sometimes borrowers just want to feel heard. And I always keep that in the back of my mind when I'm working with them.
This is Death, Sex & Money.
The show from WNYC about the things we think about a lot…
...and need to talk about more.
I'm Anna Sale.
Last week, we revisited our series about student loans…and all the ways that carrying that type of debt impacts your lives.
You told us about your finances…your career choices…your relationships. Plus, you told us about how stressful managing that debt can be. It can feel really overwhelming. And it's left you with a lot of questions.
BM: I can't afford to pay. What should I do? I'm in default. What should I do? I'm trying to see if I qualify for a forgiveness program, my servicer told me this, is this right?
This is Betsy Mayotte. And those were the types of questions she found when she stumbled upon the student loan section of Reddit a few years ago.
BM: It took me aback that these borrowers⁠—and a lot of them⁠—were so desperate for help that they were willing to ask strangers on the internet that they had no idea what their credentials were.

AS: Hm.

BM: But the programs are complicated. They're more complicated than they need to be. I mean, there's five different income driven plans and they're all exactly the same except where they're different.

AS: [Laughs]

BM: There's two plans called income-based repayment, or IBR, and they're both different from each other. One of them takes 10% of your discretionary income. The other one takes fifteen. One forgives in 20 years, the other forgives in 25. You know, how would - how would anybody who didn't do this for a living for 20 years know that off - they shouldn't be expected to.
The only reason Betsy knows all this stuff…is because she IS that person who does this for a living.
BM: I've been I've been in the student loan industry since the Earth cooled.
Betsy graduated from college in the 1990s with about $15,000 in student loans. And to pay them off, she started working in the student loan industry. She ended up spending almost two decades at American Student Assistance, which works in partnership with the federal student loan program.
BM: My job was compliance officer, which is usually an inward facing role and I realized that the sort of nerd level knowledge that I had of the student loan regulations put me in a really good position to help borrowers.
So, two years ago, Betsy her job to directly help borrowers full-time. She started a small non-profit⁠—just her and a few volunteers⁠—called TISLA⁠. The Institute of Student Loan Advisors.
BM: And the whole reason I started the organization was to make sure that all consumers had access to free expert and unbiased student loan advice.

AS: And about how many hours a week would you say that you're - you're helping answer people's questions about student loans?

BM: Well, I mean I work every day, weekends, too. You know, I'm generally sitting in front of my computer by 7, 7:30, if not earlier, until eight or nine o'clock at night. But not all of that is the answering borrower questions. So, I don't know I probably spend 30 hours a week at least, doing things that are directly impactful to borrowers whether it's answering questions or reviewing disputes. I'm answering anywhere between 10 and maybe 25 questions a day I think.

AS: Do you take a day off from looking in the inbox?

BM: So I've had to make my, so [laughs] - six or eight months ago. I had to tell myself to stop opening my email on the weekends. And I've also had to stop - I've had to make myself close down my email at night and not open it until I've done like human being things in the morning like take a shower.

AS: What do the emails sound like? Like like what's the general tone of them when you open up an email?

BM: I have two types of borrowers. I have the borrower whose - their Google-fu is strong. They've read all the things.

AS: Wait, you said their Google what is strong?

BM: Their Google-fu. They're Dr. Google McGoogle. Um, so they've read all the things. They've gone to the Department of Ed's website. They've read all the correspondence they got from their loan servicer. They've talked to their loan servicer. But the programs are so complicated that they just - they just want a third party to take a look at what they've come up with for a strategy and verify for them that they haven't missed anything and that this really is the best strategy for them.

AS: Mm. They just want, like, somebody to confirm that they're - they're understanding all of the fine print right the right way.

BM: And they're not missing anything. Correct. And then I have my other types of borrowers who are just completely overwhelmed. They're either overwhelmed by their debt or they're overwhelmed by all the different options on the rules associated with them. Some of them have an air of desperation. Some of them have this some strong undertones of anger. I would even go so far as to use the word rage because they're so frustrated with their situation. The vast majority of them are just - are people that are just looking for help.

AS: Yeah, how much of when you're - when you're making - when you're crafting a reply, are you dispassionate or are you also trying to make them feel cared for?

BM: So I have some little rules that are really important to me. Um, so I respond to almost all my e-mails with, "Hi there," instead of "Dear so-and-so."

AS: Oh interesting. A little casual.

BM: Right. Because I want people to be comfortable to come to us. And I want people to be comfortable to ask their questions. And so we are empathetic, not just the way we write but the way we feel about the people that we're helping. So even if you know, sometimes the news we have to give people isn't good news. And I always try to make a point no matter how busy we are to say I - you know, I understand this isn't the news you may have wanted. Um, but at least, you know, hopefully you can feel a little better knowing that you have explored all the options that are out there, for example.

AS: Do you have borrowers that you hear from who you are worried about like, just like deeply worried about their state of mind?

BM: I have called the police on several occasions and tried to help them track down where borrowers were because I was concerned for their safety.

AS: Like they would hurt themselves.

BM: Yes.

AS: On several occasions you've done that.

BM: Yes.

AS: I just wonder, Betsy like when you - you know, we did this series about student loans here at Death, Sex & Money and talking to people who are, you know, really struggling. And many people who who want to to do the right thing and get their loans paid off but it's - they get stuck in this confusing morass of servicers or they're not quite sure they're doing the right thing. And I found myself, you know kind of like - on the one hand you hear these individual stories and on the other hand just grappling with the big structural issues of how to finance higher education and whether this is a fair system that's working well. What do you find yourself thinking about at the end of the day after you've had all these intimate one-on-one interactions with people who are struggling with their the small details of their particular story?

BM: One of the things I've learned working with these individual borrowers is there is no single solution. You know, the current presidential hopefuls, there's been a couple proposals, let's get rid of all the student loans. And you know at face value that sounds wonderful. It sounds like it'll solve the problems. But it won't. Student loans are the symptom. The problem is the cost of higher education. So until we address the cost of higher education and making it affordable in the first place getting rid of all student loans is not going - it'll be a one second fix. And you don't want to do anything that would limit college choice. If it wasn't for student loans low, low-middle and middle-income families, a lot of them couldn't afford school or would be very limited into number of schools that they can afford. And I think college choice should be available regardless of what your income situation is. So we need to find a solution that solves the debt problem, that prevents the debt problem from reoccurring and doesn't significantly restrict college choice.

AS: That keeps like the upward mobility that can come with a really high quality college education accessible.

BM: Right. 'Cause it all but it all boils down. It's an it's an income inequality issue, right? And right now student debt is exacerbating the income inequality of the lower and middle class. Because they have this additional debt in addition to making less income. But if you get rid of the tool that allows lower and middle-class families to attend school in the first place, now, you're broadening the income inequality because I mean, listen, college isn't for everybody, but there's no doubt the data shows that college education increases income potential.

AS: And just, I'm curious for your own, like, from where you were in your career⁠—was it a scary thing for you to walk away from what had been a job with a company for many many years to say, I'm going to start my own thing because I see that this need exists?

BM: Um, so, I think I was led to do this, but I was and still am completely freaked out by it.

AS: What scares you about it, specifically?

BM: I want to be able to keep it afloat. I want - I think as time goes on and the more people we help and the more people that cross our threshold, our virtual threshold, I think this resource is really needed and I think that we can - we make a difference one borrower at a time. I'm just worried that - I hope that we continue to get the support we need to keep the place going.

AS: And Betsy, how old are you?

BM: 47

AS: 47 and and since you started your nonprofit, have you taken a salary?

BM: No

AS: No.

BM: No I haven't. We have enough now where the organization is able to pay its like day-to-day expenses like, you know the cost of hosting our website and that kind of thing. I was, you know, supporting myself with savings, but just at the right moment, I was able to pick up contracting job on the side that will give me - gives me a little more time to figure everything out.

AS: And Betsy, you're working - you're working for free to help all these people. Why do you do it?

BM: Because I have to. You know, these people need help and if I could fix the system as a whole that would be my preference. But these people need help and I have the skill set to do it. So I have to do it.
Coming up, Betsy does what she does best, and answers some of your questions about your student loans.
—
If you're looking for a place to vent about your debt, or share your payoff glory, you should check out our student loan map at deathsexmoney.org/studentloans. More than 4,000 of you already have added to it. And if you haven't spent some time clicking around, reading student loan stories from across the globe, you are missing out.
Eliza wrote in from Oman, in the Middle East. She and her husband owe about $100,000 in student loans. And they moved there from the U.S. so they can pay them down faster.
Matthew is Scottish and went to school in the U.K., and he wrote that he was blown away by the ways the U.S. and the U.K. handle student debt differently. Student loans there, he wrote, come out pre-tax in your paycheck once you make over a certain amount, and are widely regarded as "the cheapest loan you will ever have."
And, of course, there are thousands of stories to browse here in the United States. It's especially interesting to zoom way in and find people close to each other. Like in Kearney, Nebraska, where two of you wrote in. Owen graduated in 2005 and told us that his parents saved up and he lived at home, and he graduated debt free. Ranae owes $80,000 in student loans, and got behind on her payments. She wrote, "DSM made me know I wasn't alone and they couldn't actually put me in front of a firing squad, so I waited until the last minute and called." She continued, "I was hyperventilating and sobbing most of the call. I'm so screwed."
You can find our student loan map and add your story to it at deathsexmoney.org/studentloans.
Next on Death, Sex & Money: Saeed Jones. The writer and poet moved from New York to Columbus, Ohio last summer… where Life. Is. Good.
SAEED JONES: Last week I went out with, I went out with friends here for drinks. And I finally was like, okay, I'm ready to turn on the dating apps.

AS: Light 'em up.

SJ: Literally, I was like, here we go, T minus 10, nine, eight and I kid you not, I thought my phone was going to fall off the table. It started vibrating so much. [Laughs]
—
This is Death, Sex & Money from WNYC. I'm Anna Sale.
We got a lot of questions from our listeners after we put out our series about student loan debt. So, we're going to do something a little different today. Because I'm not a student loan expert, and Betsy Mayotte is a self-described student loan nerd, we thought we'd run some of your questions by her.
AS: I want to start with a woman named Anna. She's in Washington, D.C., and this is her question about her student loans.

ANNA: I work in the public sector which makes me eligible to apply for the Public Service Loan Forgiveness program. And my experience trying to apply to this program for the past two years leads me to wonder, does the federal loan system want me to fail? It took no fewer than three tries, from faxed forms to mailed in forms for them to accept my application the first time. And after five qualifying payments, I stopped getting my payments tracked. And I was then told that I needed to renew my application. And I wonder if I ever do manage to be enrolled and manage to make my 120 qualifying payments, will I then have to jump through a million more hoops to free myself even then? Thanks for taking my question.

AS: So Betsy, is Anna's experience representative? Is this the kind of thing you hear about people trying to get enrolled in Public Service Loan Forgiveness?

BM: I want to say no to that so bad, but I would be a big liar.

AS: Oh no. [Laughs]

BM: Listen, there are some issues with PSLF and there's a couple different reasons for those issues. I think one of the primary causes is the lack of education that was pushed out to borrowers in the first six, seven years after the law was passed. There is also some sort of volume issues on the PSLF side. It can take a long time to get stuff done because they're still sort of working the kinks out. A lot of times borrowers have to ask for their payments to be recounted because the count is incorrect. That is a that is a true and live issue. But to answer Anna's question, PSLF is absolutely achievable. The federal government and FedLoan servicing are absolutely not actively trying to disqualify people. The best advice I can give any borrower whether they're about to actually apply for forgiveness or if they're in the beginning of the process like Anna is, is read the manual. Make sure you understand all the rules of the program and are following those rules.

AS: Let's take a question⁠—Natalie from Beacon, New York, sent in this question.

NATALIE: Thank you so much for covering this topic again. Student debt has been a big source of anxiety over the last few years. Both my husband and I got our doctorates in our field, and together we've accrued well over $100,000 in debt. We've been enrolled in the Public Service Loan Forgiveness program for five years. He works for a non-profit, and I'm active duty in the Army. I was told by FedLoan that we had to use an income driven repayment plan in order for our payments to qualify, but our issue is that these payments are less than the accruing interest, so we're actually seeing our debt steadily increase. I'm terrified that by the end of the 10 years, not only will the program have dissolved or denied us for some unknown reason, but that Congress will have passed a cap on the amount forgiven and we will still end up with a huge debt to pay. So my question is, should we be paying more than the required amount, at least to pay off the interest? Will those payments even count? Or should we continue to save money and put it in a CD or some kind of mutual fund as a Plan B? Thanks so much!

BM: I love this question.

AS: Okay!

BM: I love this question because it's a - it's, her anxiety and the reasons for her anxiety are very common. So I hope a lot of people can take some comfort in this. So where to start. Okay, so I've researched the Higher Education Act back to the '70s. Remember, I told you that I was a nerd for this stuff, and I can tell you that Congress has never retroactively removed benefit from existing loans. So anybody who has loans now and is pursuing PSLF doesn't have anything to worry about. That doesn't mean that the program won't change for future loans or future borrowers. In fact, I can almost guarantee you that it will. Maybe they'll put a cap on the amount of forgiveness. Maybe they'll limit what types of employment count. Maybe they'll do other income limitations, but that's for - that'll be for loans taken out on or after whatever date they pass this imaginary legislation that doesn't exist yet. So she's okay there. The fact that her income-driven plan payments - first of all, it's true, you do need to be on an income driven plan for the payments to count for Public service Loan Forgiveness. You can also be on a 10-year standard plan. But if you're on a 10-year standard plan for 120 payments you're going to pay the loan off so you, to get real benefit from PSLF, you want to be on an income driven plan.

AS: So as she's watching her student debt balance steadily increase even as they're making income based repayment, you're saying that's okay.

BM: I'm not only - yes. I am saying that's okay. Now, she said should we be paying extra and if I was not afraid of blowing your eardrums out, I would scream absolutely not for a couple reasons. First of all, paying extra can actually screw up future qualifying payments. So don't pay extra for number one that reason. Number two, if you really are confident that you're going to be working for qualifying employment for 10 years, you're robbing yourself by paying extra that is not billed to you. Um, so I do run into a lot of people that want to hedge their bets because maybe they're not sure they're going to stay in public service. I tell those people to open a separate savings account, put the extra money in that separate savings account. And then when they do get forgiveness, they can take a nice vacation with that money or if they decide to leave public service, then they can make a lump sum payment at that point, but it's a terrible idea to pay extra if you're actively pursuing public service loan forgiveness.

AS: So I just want to underscore this because you know - as, for borrowers who are doing public service work, they think that they are eligible for Public Service Loan Forgiveness in - after making 10 years of payments, and they think this is what's going to happen for them. But then they're also seeing headlines that 99% of people who are applying for forgiveness are getting denied⁠—you're saying trust this, this is going to work out.

BM: I'm not freaked out by those numbers and the reason is, if you look at the types of loans that were prominent back in 2007 when former President Bush signed it into law, there shouldn't be a lot of people getting forgiveness under PSLF at this point. So if I'm still seeing reject rates like this in say, 2022, 2025 then I'm going to freak out, but I am not freaking out by those numbers now. It goes back to what I said a little while ago, is it's important to read the manual. Make sure that you understand the rules going in and you're crossing all those t's.

AS: Let's listen to this question from Tiffany.

TIFFANY: I received a document, and in the document it says I owe $25,000 for a student loan. But searching my credit on Credit Karma, it's not stated on there. And I talked to the Department of Education and they said that loan's not on their record. So I guess I'm confused as to why I'd get a notice from a lender that I'm unaware of, and how serious is that? He kept calling me, and leaving me lots of messages, and then he said that if I paid $410 a month for a whole year that my debt would be gone. Obviously that's a lot less than $25,000. And honestly I got very scared and I paid one bill of $410. And it wasn't 'til afterwards that I talked with the Department of Education, and they told me that I shouldn't be paying that loan. I'm confused how someone has the right to say that I owe money. I don't understand how that can happen.

BM: Oh man, is my spidey sense tingling here.

AS: What do you think is going on here?

BM: I think it's one of two things. It's either - and both of them lead to the answer of I wish she hadn't paid that $410. It's either a complete and hundred percent scam. Or it's possible it could be a private loan. The Department of Education wouldn't know if she had taken out a private student loan at some point. $25,000 is an awfully clean number for a loan that would have been in collections at this point. It wouldn't have been a clean number like that. I would check someplace other than Credit Karma to make absolutely sure. The other thing she could do is go back to her school's bursar's office and ask if they have any record of her taking out a private loan. I don't completely trust Credit Karma to get it all right, so I would check one of the big threes to see if the private loan shows up there.

AS: So even like tracking down precisely which loans you have and what's open can be a little bit of a search.

BM: To make sure that you can be confident with the data that you have, yes. If you want to see all your federal loans, you should go to a website called the National Student Loan Data System, and their web address is nslds.ed.gov. So that will list all your federal student loans, what status they're in, who the loan holder is, the balance will be pretty close to right, it doesn't get updated daily. So you should always go to who the loan holder is to get the exact balance. It'll tell you what school it's from. So that's where to find all your federal loans, private loans the only place you can find them is your credit report. Now going back to her situation, I don't know. I'm on the fence whether this is a loan that she may have forgotten about or whether it's a scam. If it's a scam, I strongly encourage her, you know, if she made that payment with a credit card to do a credit card dispute if she made it with a debit card talk to her bank. I really want to see her file a complaint with the attorney general's office. I also want to see her file a complaint with the Federal Trade Commission and I want her to do that regardless of whether this was a real loan or a scam because they may have been threatening her in a way that was in violation of the Fair Debt Collection Act. So no matter what something smells bad here.

AS: And Betsy, so for our listeners who are just catching this and they're thinking okay, I'm gonna - I'm gonna just like deal with my student loans and make sure I'm handling them in the best way possible. Like what's the first thing they should do?

BM: They should talk to their loan servicer.

AS: And what should they say?

BM: Well, let me back up. I guess the first thing is to make sure you know all the loans that you have and you do that by checking that NSLDS website that we talked about earlier and your credit report. So make sure you know where all your loans are and what status that they're in. And then you want to figure out what your financial goals are. Do you need to lower the payment because they're unaffordable? Are you trying to pay them off aggressively? You know, you also need to think about your other financial goals - are you saving for a house, are you contributing to retirement? And then if the payment plan that you're on isn't fulfilling those goals, then you want to call your loan holder because they're in the best position to know what you're eligible for and what these different plans can - how they can affect your your payment amount. You know, no matter how overwhelming your situation is or how convinced that there's no solution, please talk to somebody. You know, work with your loan holder first. And if you feel like you still need more help, Google is your friend and so is TISLA.

AS: Google is your friend and so is TISLA. I like that.
TISLA: The Institute for Student Loan Advisors. Betsy Mayotte is its founder. And you can also find her on Reddit, where she now moderates the Public Service Loan Forgiveness and financial aid subreddits.
Death, Sex & Money is a listener-supported production of WNYC Studios in New York. I'm based at the studios of the investigative podcast Reveal in Emeryville, CA. Our team includes Katie Bishop, Anabel Bacon, Xandra Ellin, Emily Botein, and Andrew Dunn. The Reverend John Delore and Steve Lewis wrote our theme music.
I'm on Twitter @annasale, the show is @deathsexmoney on Twitter, Instagram and Facebook.
And, if you want to know more about Betsy and her organization The Institute of Student Loan Advisors, visit their website: freestudentloanadvice.org.
AS: That's a really good URL, Betsy.

BM: Thank you. But you know what? It's the longest email address on the planet like sometimes if I have to fill out those forms or text it to somebody it's brutal.
I'm Anna Sale and this is Death, Sex & Money from WNYC.
Music Credits:
"Thought Projection" by Ketsa
,
"Coast Highway" by AA Alto
,
"Heart Chakra" by Ketsa
,
"Good Questions" by Ladies' English School