The Voice of NYC's Subways Comes Out as Trans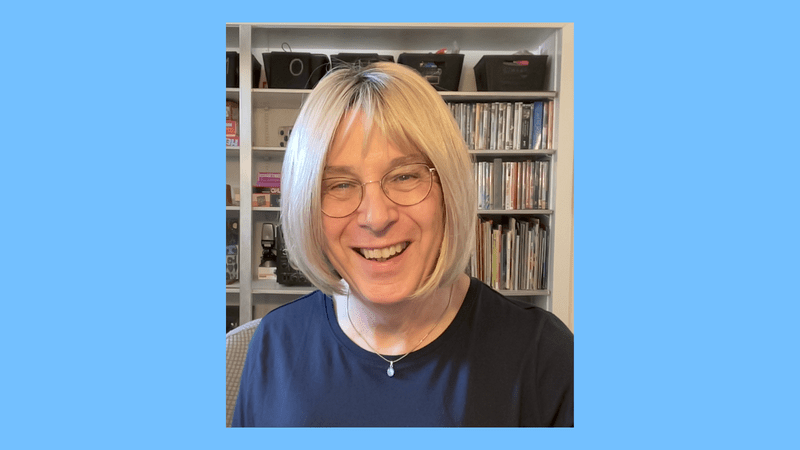 Transcript
Bernie Wagenblast: I think it was my imagination that really drove me and, and helped me survive because I would imagine being a girl and then later on being a woman, that was how I let off the, the pressure to live this life that I had to live, but at the same time, not deny the way I felt.
(opening theme for Death, Sex & Money)
This is Death, Sex & Money.
The show from WNYC about the things we think about a lot....
....and need to talk about more.
I'm Anna Sale.
(end of opening theme for Death, Sex & Money)
If you live in the New York City metro area, you might recognize Bernie Wagenblast's voice.
Bernie Wagenblast: Right now the primary way that I show up in people's daily lives is on transportation, and that would include the New York City subway, the AirTrain at Newark Liberty International Airport, and for anybody who's down in South Jersey or Philadelphia, it would be on PATCO. So they would hear me making announcements, um, or my disembodied voice at least making announcements in those places.

Anna Sale: Oh, that's interesting, that distinction between you and my disembodied voice. Does that feel separate?

Bernie Wagenblast: Well, especially on the New York City subway, it feels a bit separate. It sounds very staccato in terms of how it's presented, because it's a computer putting together all these little words and phrases that I recorded and trying to make a sentence so, it, it would sound something like the next downtown number one will arrive in one minute.

Anna Sale: I know that! That was amazing!

Bernie Wagenblast: So that is kind of disembodied when I hear it. In fact, I was a little bit early and I actually ducked down into, uh, a nearby subway station just to hear how it's, uh, sounding these days.

Anna Sale: Oh, how, what did you think?

Bernie Wagenblast: Well, it sounded fine. It was a little bit loud I thought. Um, but you, you kind of have to be loud in New York to be heard over all the other noise.
(Towboat Theme – Blue Dot Sessions)
Bernie is 66. She grew up in the New Jersey suburbs in the 1960s and 70s. Since she started her career in media in her early 20s, her voice has been her calling card. But after coming out as a trans woman at the end of last year, a lot of things have changed, including her voice.
(end of Towboat Theme – Blue Dot Sessions)
Bernie Wagenblast: I've only been using this voice full-time since January 1st. Um, before that I had been working on it, but most of my conversation was what I call my guy voice, and professionally I still use that voice, but I'm trying to use this voice more and more so that it becomes more natural, I become more comfortable with it, and hopefully I can improve upon it.

Anna Sale: Mm-hmm. Well, so before January 1st, 2023, um, were you using the voice that I'm hearing now anywhere outside your home?

Bernie Wagenblast: No, no, I was um, my voice therapist would hear this voice, but that was about it. Those were the only places where I was really using the voice was at home and, and when I was with my voice therapist.

Anna Sale: Hmm. How long have you seen the voice therapist?

Bernie Wagenblast: Oh, about a year and a half or so. I, I'm not currently seeing the voice therapist. Um, I think I've got some of the basics down. It's much better than it was, but it still has a ways to go, and I set a fairly high bar because I use my voice professionally, so I have a fairly high bar with what I want it to be. But there's something that's still there that I can't quite put my finger on that I need to change to get it to be where I want it to be and to be what I would consider passable. That's not important to all trans women. But because my voice has played such an important part in my life. That is something that is important to me personally.

Anna Sale: Yeah. And have you needed to use, as you call it, your guy voice, um, in 2023?

Bernie Wagenblast: Oh yeah. Yes, I did. Uh, I had some, there were some updated announcements over at Newark Airport. They opened up a new terminal, so they had a bunch of new recordings that had to be done for that. And I host, uh, the transportation podcast. I do two every month. So since January I've probably done four of those or so, where I've used this vo– my old voice.

Anna Sale: Mm, mm-hmm. And when you had to go in, when you had to go in, uh, to record the new Newark announcements because of the new terminal, did you, how did it feel to be in the studio and to feel yourself switching back when you had intentionally switched away from it at the start of this year?

Bernie Wagenblast: Well, fortunately I was able to do it from home, so I didn't have to do it in front of anyone, but it feels a little strange and one of the things that I've noticed is that it's a little bit easier or a lot easier actually now it's to switch between the two voices.

Anna Sale: In your life, when, when do you, when's the first flash of when you can remember feeling like a girl?

Bernie Wagenblast: Four years old. I remember clearly being at my grandmother's house, sitting in front of her vanity, putting on some of her necklaces, and I think she had powder at her vanity and putting that on my face.

Anna Sale: Mm-hmm, and how did it feel when you were sitting at that vanity?

Bernie Wagenblast: Well, it felt good. It felt natural. It felt like, why can't I do this? Um, I'm not sure when I first came across the, the impression that this wasn't okay, but I think fairly soon I realized that this was not okay.

Anna Sale: Mmm-hmm.How did you know what the risk was? What what? What was the fear of what would happen?

Bernie Wagenblast: Oh, I think different, different things that have happened. Um, One was, I was probably six or seven years old, and my best friend who lived across the street, she was a girl and her dad had built a little fort in the backyard, and one day I suggested to her that we switch clothes. I don't even remember what she was wearing, but we switched clothes. And her older brother, who probably was only 10 or so, saw us and shared it with his parents, who in turn shared it with my parents, who made it clear to me they weren't yelling at me or anything like that I wasn't punished, but told me that that was not acceptable.

Another one was junior high and junior high was tough for everybody, but for whatever reason, I thought, well, maybe I can start to show this a little more outwardly. And I changed how I carried my books. Boys would typically carry their books in their, the crook of their arm by their side, and girls would carry it up closer to their chest. And I did that a couple of times and boys would come along, knock the books outta my, my arm sprawling, all across the, the hallway. They would call me names. So that very quickly ended, and I realized again that this was just something that was not acceptable and that I could not let anybody else know about.

Anna Sale: So that's around the time. Was your body beginning to change with puberty?

Bernie Wagenblast: Yes, yes it was. And my voice was getting deeper and, you know, all the things that boys typically go through.

Anna Sale: Mm-hmm. And what was that like to notice your body changing? Was it troubling?

Bernie Wagenblast: Not terribly. Um, there was one thing that I, I remember though that gave me joy, um, that I think a lot of boys, when they start going through puberty, have breast growth, And I thought, oh my gosh, I'm growing breasts. This is great. And it stopped. So that was, that was the one thing that, that I remember being upset about. But I think at that point in my life, I had just anticipated that I was going to have to live the rest of my life as a guy, and I would make the best of the hand I was dealt.

Anna Sale: Hmm. Do you remember at that phase around junior high, like finding any grownups that you thought you could confide in?

Bernie Wagenblast: There was one, there was a, a teacher in a nearby town who had transitioned and I looked up her address in the phone book and I actually sent her a letter and told her about myself. And we made arrangements for her to call me one evening at a payphone, um, that was maybe a half mile away from where I lived. We set a time and I sent her the phone number and she called me and I just for the first time ever shared with somebody how I felt and talked with someone who I knew could understand what I was feeling. And I have to give her a lot of credit because I was a minor and she was taking a risk. She was fired from her job, um, because she had transitioned, and she took a great risk, I thought, in retrospect now, uh, of talking with me, but it was so helpful to me to have someone that I could confide in and someone I, that I could talk to and someone I knew who understood what I was feeling.

Anna Sale: Yeah. Do you remember how you had heard about this teacher in the other town?

Bernie Wagenblast: It was in the newspaper.

Anna Sale: Ah, and when that phone call happened, had she already been fired?

Bernie Wagenblast: I think it was at that point, it was still being debated. It it, she had come out during the summer and the Board of Education decided, I believe, before the start of the next school year in September, that they were going to let her go.

Anna Sale: Hmm. Do you know if she's still living?

Bernie Wagenblast: She is not.

Anna Sale: Mm-hmm. Did you, did you keep in touch at all?

Bernie Wagenblast: No, unfortunately, and that is a great regret of mine that I never had a chance to tell her how much she meant to me. Um, I never did keep in touch with her after that phone call.

Anna Sale: Do you wanna tell us her name?

Bernie Wagenblast: Um, Paula Grossman was her name.

Anna Sale: Paula Grossman. Paula Grossman got a letter in the mail from a 13 year old and called the payphone when you needed to hear from her. That's just beautiful.

Bernie Wagenblast: Yeah. It was.
(The Bus at Dawn – Blue Dot Sessions)
By the time Bernie learned about Paula in her local paper, she'd been reading the news for years. She fell in love with media early. Bernie was in fifth grade when she set her sights on becoming a broadcaster.
(end of The Bus at Dawn – Blue Dot Sessions)
Bernie Wagenblast: I had my little transistor radio that I brought with me everywhere. I listened to it all the time and it was something I fell in love with.

Anna Sale: And you grew up in the era where voices on the radio had a certain tenor, especially from men. Like, it was like very male, like booming voices and, and, and is that, did you want to be that on the, on the radio?

Bernie Wagenblast: Yeah. That was one of the things I did. I, I would take the newspaper and just read it out loud to try to develop that kind of a voice, even before my voice started changing, but as my voice did start to deepen, I welcomed that, that I knew that would sound more authoritative, and it sounded, uh, uh, better than, than having a, a higher pitched voice would.

Anna Sale: Uhhuh. So you wanted to cultivate this, this delivery that was one of authority. Um, did that feel at all in tension with, um, how you, you desired to express yourself gender-wise, otherwise?

Bernie Wagenblast: It again, I think it felt as if unfortunately I am going to have to live as a male all my life. So doing the deep voice was the best way to go forward and to do something that I loved doing. And I think it was in some ways a distraction.

Anna Sale: Hmm. You say you had sort of, like, you looked ahead, you saw your future, it was living as a man, and that's, that's what was gonna be. So how to make the best of it. Did you, um, did it feel like you were trying to sort of push away this knowingness or just kind of keep it secret and say, there's nothing I can do for this part of me? Um, but I know it's still a part of me.

Bernie Wagenblast: I think the way that I dealt with it was just with my imagination. I would imagine myself, I remember as a kid going through the Sears catalog and just looking at the girls' dresses and just imagining myself in that. I would spend countless hours at my local library, and there used to be a publication called The Reader's Guide to Periodical Literature and it was an index of magazines. And I would look, and again, they were indexed under sex change at the time, and any articles I could find about it. I don't think there was one waking hour of my life from six years on that I didn't think about being a girl at least once during that hour. That's how pervasive it was. It was something that was always there.

Anna Sale: Hmm. I'm just judging from the tone of your voice though. When you describe every hour, it is something you thought about. It doesn't, the way you describe it, it, I don't hear a sort of like heaviness and dread that this was being withheld from you. I hear it more as like, almost like a thought that you would come back to as like, there she is. There she is. She's still there. Um, and did it, am I reading that correctly? Is that, did it not have a sense of like, why can't I, why can't I let her out?

Bernie Wagenblast: I think it was both. I think there were times where I did really regret that I couldn't let her out, that I couldn't be that person that I always wanted to be. To guard myself against being depressed, I would live in that fantasy world.
(Dearborn – Blue Dot Sessions)
Bernie stayed in New Jersey for college at Seton Hall University, where she started working at her college radio station. She worked her way up to news director by her junior year, but she did make some time for romance.
(end of Dearborn – Blue Dot Sessions)
Bernie Wagenblast: I only dated two people in my life. One was while I was in college, and that was more at her, uh, her starting the, the relationship. Um, and I, I did share with her about myself. And that relationship ended shortly thereafter. And then the next person that I shared it with was the woman who became my wife. And it was clear that I was going to ask her to marry me, but I felt that if I was going to do that, she needed to know about this part because I knew by then this was never going to disappear, and anybody that I was going to marry was going to have to live with this to some extent. So we were on a, a little picnic date at Liberty State Park in New Jersey, and it was a fall day. And I shared with her, and I remember breaking down in tears because I was sure that she was going to say that that would be the end of our relationship. I was so choked up. It was very hard for me to get those words out of my mouth because I knew the likely outcome of this conversation would be the end of the relationship that we had enjoyed for a couple of months. It felt much longer at that point, but what we had enjoyed up for those first couple of months, and this was a woman that I could see myself spending the rest of my life with and anticipating that this would be the end. So it was perhaps the most difficult conversation I had had up to that point.

Anna Sale: Mm-hmm. What do you remember her, what she said back?

Bernie Wagenblast: She told me that she loved me. She told me that it was okay that we could deal with this, that this was not the end of our relationship. Um, she hugged me. It was far better than I could have hoped for at the time.
(The Consulate – Blue Dot Sessions)
Coming up… how a photo app helped Bernie realize she could live as a woman…
Bernie Wagenblast: Until that time when I imagined transitioning to being a woman, it was always the expectation that I would not be very pretty, that it would be embarrassing, all these things that were negative that I had convinced myself about. But when I saw that picture, that was, that was the moment.
(end of The Consulate – Blue Dot Sessions)
(midshow theme for Death, Sex & Money)
One theme that we have heard over and over on the show over the years is how relieving it can be when you finally find someone to talk to about a secret, something difficult, or a way you feel misunderstood, how it can be nothing short of life-saving.
Teenage Bernie found Paula. For a lot of us, it's a therapist. And it's always interesting to me to hear when you first sought out therapy. I remember back in 2014, Jane Fonda told me she was in her 50s when she tried it for the first time. It was early on in her marriage to Ted Turner.
Jane Fonda: I guess I started in therapy when I was, after I'd been married to Ted for about 3 years.

Anna Sale: Was that the first time you'd been in therapy?

Jane Fonda: Yes.

Anna Sale: Wow.

Jane Fonda: It was not Freudian lying on the couch with some guy sitting behind you. It was feminist therapy, it was relational therapy, it was a woman sitting and looking me right in the eye and crying with me, and it made me understand everything about me and my life and my family. And it really saved me, and I'm so grateful.
We are doing a series of live call-ins about mental health next month, called Hold On. You'll be able to join in the conversation on public radio stations across the country, and hear it here on the podcast feed. And as we prepare for it, we want to hear from those of you who've also found a therapist that felt really right for you. How'd you do it? When did you know it was a good fit.? Your tips may help someone else. Record a voice memo and tell us about it, finding that therapist that really helped you, and send it to us at deathsexmoney@wnyc.org.
And if you want to listen back to my whole conversation with Jane Fonda, there's a link in our show notes. It's an episode I really love.
And one more thing: we also want to hear from those of you who are therapists, and hear what you are noticing about the moment we're living in, and what you're hearing from clients. Be our reporters. What themes are coming up over and over again? Are you being contacted by a lot of first time clients? Generally, how's it feel like we're all doing out here? We don't need to hear about specific clients, and we can leave your name out if you'd prefer, but we want to know generally, if you're a therapist, what are you hearing from the people you work with? You can tell us in a voice memo, too – record one and send it to our inbox at deathsexmoney@wnyc.org.
(end of midshow theme for Death, Sex & Money)
–
This is Death, Sex & Money from WNYC. I'm Anna Sale.
By the time Bernie Wagenblast was 23 years old, professionally, things were going great. She'd landed her dream job, reporting for not one but two of the most popular radio stations in New York City.
Bernie Wagenblast: Not only was I on the air in New York, I was on two New York stations in drive time, which is the time where most people are listening to radio. So it was a dream come true to be in this kind of a situation.
Bernie married her wife not long after, and a few years later, they became parents.
Bernie Wagenblast: When we got married, I think we knew that we didn't want to have children immediately. So it was three years after we married that we had our first baby. Um, but it was, it was clear, I think, that we were at least going to have two kids. It wasn't particularly well planned, but it worked out very, very nicely. It was three years from our marriage to the first baby, three years after that to our second, and then three years after that to our third. The youngest one was already potty trained by the time the next one came along,

Anna Sale: Yeah, that's nice. I have two little kids and didn't quite get that work just quite right. Um, but I, I'm curious when you, when you were parenting little kids, you know so much about seeing them when their personalities are just coming out. Like it's, it's, you're getting to know them and, and did you feel, were you, did you try to be particularly attentive to their gender expression as little kids?

Bernie Wagenblast: No, no, I don't recall that being something that I thought of at all, to be honest with you. Uh, all three are girls, so I think a lot of that kind of fell on my wife in terms of picking out clothes and fixing their hair and dealing, you know, as they got a little older, helping them with any girl related issues that they may have had because I wasn't the one that they would turn to for that.

Anna Sale: Mm. That's interesting that you didn't like participate in the, like, I don't know, the fashion for the first formal or something like that. You, that was all your wife's territory, is what you're saying.

Bernie Wagenblast: Yeah. And yeah, and again, at the time while I was struggling with this every day, there was nothing that I was doing about it. So it, you know, I did not dress in women's clothes in secret. I did not, um, follow fashion and, and know what was going on. I, I, I think I threw myself into my job. That was, that was my outlet to use my job as a place where I could let off and, and show my creativity and things of that sort. So that was really my outlet for dealing with this issue. And that's what we called it. That's what my wife and I called that our shorthand was the issue. So every so often she would ask, how are you dealing with the issue? And I would report, you know, oh, this was, this has been a really tough weekend, or this one has been, you know, wasn't too bad this week. And that, that's how we, we dealt with it. But it was just a secret between the two of us. No one else knew.

Anna Sale: And were you seeing a therapist or anything?

Bernie Wagenblast: Not immediately. I first, the first therapist I saw was probably about 20 years ago, and I went to her and she was encouraging me to at least partially transition. And I felt afraid. That was scary to me. And I said, no, I don't wanna do that. And I was terrified of that because I was afraid of somebody discovering me and what that would mean to the rest of my life. So I stopped seeing her because it was just too, too scary to, to contemplate that. And it probably wasn't for another, oh, I don't know, 10 years later that I went back and started to see another therapist and tried to deal with this, uh, from a therapy perspective.

Anna Sale: When did it begin to feel urgent to confront and incorporate in your life in a different way?

Bernie Wagenblast: It was, I can tell the, the exact date, April 21st of 2017.

Anna Sale: Hmm.

Bernie Wagenblast: There was this, this new app that had come out called Face App. And was being talked about on TV because they were taking photos of NFL quarterbacks and putting them through this Face App. And one of the things that it would do is it could change your gender. I, as soon as I heard about this, I said, oh, I have to try this and see what, what this is gonna look like. And I wasn't expecting much. I expected, you know, that it would just like put long hair on me and maybe some lipstick or something like that. But for the first time I saw myself as a woman, what I felt was a realistic portrayal of what I might look like. But I also saw this resemblance to my mom, I had been told that I looked more like my mom than my dad, but I could never identify what made me look more like her. And I saw that for the first time and it was this light bulb going off that, oh my gosh.

Anna Sale: Do you remember like a well up of emotion?

Bernie Wagenblast: Yeah, it was, it was exciting. It was something that I felt I needed to share.

Anna Sale: You wanted, you wanted to be seen. Yeah.

Bernie Wagenblast: Yeah. Oh, definitely, definitely. I put this up on my Facebook page, but did it with the explanation of, oh, you know, here's what, if I had had a twin sister, here's what she may have looked like. And I wanted to see what people would say. And I remember reading the comments, and so many of the comments were, oh, she's beautiful. Oh, you look good as a woman. And it felt so good to me. You know, some people took it as a joke and laughed, but the, the compliments, just meant so much to me. At the same time, I think it was also something that was very scary to my wife to see. She was not terribly happy with those comments and I don't think she wanted to do anything that would be encouraging to have me transition.

Anna Sale: Yeah. Can I ask you, you, you mentioned, um, you mentioned how you'd always worried that you wouldn't be a pretty woman. Can we just talk about like, like how you to, to be seen as being an attractive woman? Like, can you talk to me a little bit about that fear and, and what it was like to see yourself as a woman and, and to gauge whether you thought you looked attractive?

Bernie Wagenblast: I never had a goal of being a beautiful woman. I would always describe myself if I could, as being the girl next door, being cute. That was how I wanted to see myself. I wasn't even envisioning myself being what I would call movie star beautiful. I think what meant the most to me was just to be able to be with other women. To be seen by other women as a woman, to be accepted in that way. And when those inevitable moments came where women and men would segregate themselves into separate groups at parties or at events I always felt I had to go with the guys and I wanted to stay with the girls, and sometimes I would. Um, but I, I always felt a bit of an outsider when I did that, and that was very tough for me.
(Mangion – Blue Dot Sessions)
Anna Sale: And how, how did you talk to your kids about this? When did you have conversations with them?
(end of Mangion – Blue Dot Sessions)
Bernie Wagenblast: That happened probably about four years ago. All three of my daughters are married, so with each one we had a separate conversation. My wife and I together met with them and told them about how I've always felt about myself and some of the things that I was doing, but still at the time that there was no plan for me to transition or to change my appearance, or even at that point, my legal identity or gender. It was just letting them know something that I had always struggled with and wanting them to be aware of that. I didn't want them to hear this secondhand if something happened to me, I didn't want them to not have a chance to talk with me about it and to ask me questions and to really get to know their dad on a much deeper level.

Anna Sale: Yeah. And how did it feel to you to, to feel known in that deeper way by your children?

Bernie Wagenblast: Each time I would break down in tears telling them about this, and it wasn't that I was afraid of them rejecting me or anything like that, but I think it was just this emotional release of what I was feeling inside.

Anna Sale: Yeah. Yeah. And you know, with any, with any big disclosure in a family, like there's your experience of disclosing and, and sharing. Um, and then it also changes the reality of the family. So a lot of people's realities are, are shifted and, and, um, it can challenge family dynamics, it can challenge relationships and what they can hold. Um, have you gotten any outside help, just helping everybody navigate this together?

Bernie Wagenblast: Well, I think each of us, to some degree or another, with maybe one exception, have seen therapists. Once all of my daughters knew about this, they had each other that they could talk to, and I think that was very important that they had each other that they could turn to and share this information with and share their concerns and, and everything else that went along with it.
Bernie and her wife eventually decided to separate, though she didn't want to go into detail about that out of respect for her wife's privacy.
After telling her family, Bernie began to explore more ways to privately affirm her gender, though she still wasn't sure she'd ever transition socially.
Bernie Wagenblast: I did what I think is a, a rather slow but deliberate transition, and I would start to change things here and there. One of the first things I did was I went on the lowest dose possible of hormone replacement therapy in the hope that maybe that would be enough, that that would make me feel calm. And I think just the knowledge that I now had estrogen in my bloodstream felt so good. And then there were subsequent steps. I, I started getting some clothing that was more androgynous that wasn't necessarily feminine, but it wasn't masculine either. And, and wearing that and seeing how that felt. Um, I eventually made a, a legal change where I changed my first name to the name that I've always gone by. Everyone's always known me as Bernie, but Bernie can also be short for Bernadette. At that point, I wasn't, still wasn't planning on socially transitioning, but it would make it easier if I ever did that they would have to learn new pronouns, but they wouldn't have to learn a new name.
(Littl Jon – Blue Dot Sessions)
But by the very end of 2022, that changed. Bernie wanted to socially transition. She posted an announcement on Facebook and on LinkedIn that she was starting the new year living publicly as a woman.
(end of Littl Jon – Blue Dot Sessions)
Bernie Wagenblast: This would be an opportunity to say it in my own words. That was what was important to me. I wanted this to be said in my own words and not for people to hear about it in quiet conversations with, oh, did you hear about Bernie Wagenblast, or something like that. I wanted them to have a chance to read it in my own words and hear what I had to say and why this was important.

Anna Sale: Hmm. You posted it on December 28th and it says "beginning January 1st, I plan to begin living as a female full-time." So it was sort of a few days in advance, and you're announcing this publicly. Um, before that post, um, were you going out, were you presenting as female when you were leaving the house? Like to go to the store?

Bernie Wagenblast: Not really. Um, there were a few occasions. The first time I ever went out publicly outside of Halloween was in November. The support group that I'm a part of, had Pride Awards that evening, and it's a semi-formal affair and I was planning to attend as I had in years past. But it was feeling increasingly uncomfortable to go to something like this in a jacket and tie. So I reached out to one of my trans friends who is older than me and said to her, is there anything you can suggest that would add a little bit of feminine flair to this jacket in time? And she said, go to a costume store, get a cheap wig, and I've got a dress for you. And I went down to her house that day, and she gave me the dress. Another friend had a real wig that she gave me so I didn't have to depend on the cheap costume store wig, thank goodness, and she made up my face and I, I bought a pair of heels and went to this event. And it was scary and exhilarating all at the same time, you know, we had to drive there and it was still daylight. And I'm just thinking you know, is anybody looking at me? Is anybody noticing? But then once I got to the event, the support and the love that I received from the other people there felt so good. And that was the moment I knew that I was going to socially transition. Now I saw in real life that it was possible. After the event was over, we went back to my friend's house and I got dressed up again in my boy clothes, and it was like Cinderella at midnight when she went back to her ragged dress. Here I was, I was going back to my ragged clothes. It made clear to me that this was, this was something that I needed to do.
(end theme for Death, Sex & Money)
That's Bernie Wagenblast. She told us that she doesn't plan on using her new voice for her voiceover work, but she is exploring using it on the two podcasts she hosts, Transportation Radio, and Cranford Radio, which is about her hometown of Cranford, New Jersey.
Death, Sex & Money is a listener-supported production of WNYC Studios in New York. This episode was produced by Zoe Azulay and Afi Yellow-Duke. The rest of the team is Liliana Maria Percy Ruiz, Lindsay Foster Thomas, and Andrew Dunn.
Our intern is Baiz Hoen.
The Reverend John Delore and Steve Lewis wrote our theme music.
I'm on Instagram @annasalepics, that's P-I-C-S, and the show is @deathsexmoney on Twitter, Facebook, and Instagram.
Thanks to Peyton Migliano in North Hollywood, California for being a member of Death, Sex & Money and supporting us with a monthly donation. Join Peyton and support what we do here by going to deathsexmoney.org/donate.
Bernie also told me how she decided to keep her name. She was inspired by a colleague from years back who also went by Bernie.
Bernie Wagenblast: I would sometimes fill in as a traffic reporter for a woman who went by Bernie and it was always fun on the air because Bernie filling in for Bernie, but this Bernie has a much deeper voice than the usual Bernie.

Anna Sale: Uh-huh.

Bernie Wagenblast: That was part of what, uh, convinced me that Bernie could, could work.
I'm Anna Sale, and this is Death, Sex & Money from WNYC.
(end of end theme for Death, Sex & Money)
Copyright © 2022 New York Public Radio. All rights reserved. Visit our website terms of use at www.wnyc.org for further information.
Music Credits:
"Towboat Theme" by Blue Dot Sessions
,
"The Bus At Dawn" by Blue Dot Sessions
,
"Dearborn" by Blue Dot Sessions
,
"The Consulate" by Blue Dot Sessions
,
"Mangion" by Blue Dot Sessions
,
"Littl Jon" by Blue Dot Sessions