Autism Isn't What I Signed Up For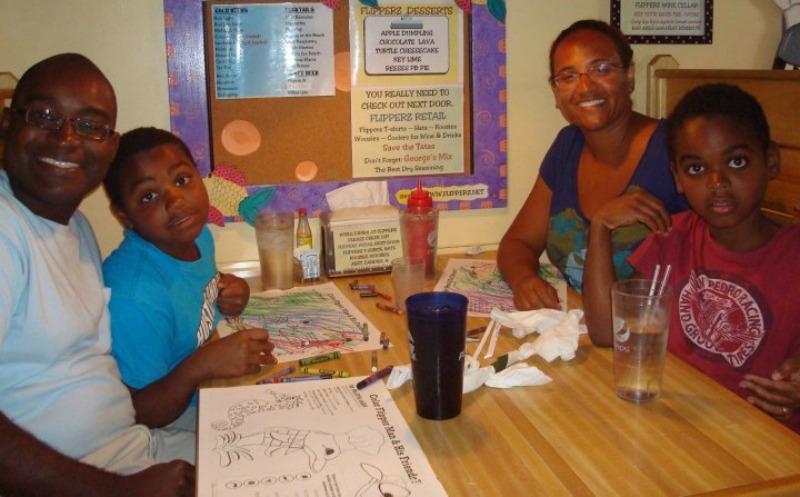 Transcript
ANNA SALE: Hey, it's Anna. The episode today is a conversation I had with a listener named Diane Gill Morris, a mom who told me about the challenges of raising her two sons who have autism. We're bringing you this episode again because tomorrow, you'll see a new episode with Diane in your podcast feed. I checked back in with her recently to hear how things have been for their family since we last spoke. Here is the original show with Diane from 2015.
Diane Gill Morris: I mean, I certainly kind of consider myself the go-to person for, "If you really want to have a conversation about what having kids is like, you know, and maybe want somebody to talk you out of it, come to Diane!"
This is Death, Sex & Money.
The show from WNYC about the things we think about a lot…
…and need to talk about more.
I'm Anna Sale.
I first met Diane Gill Morris on the Death, Sex & Money Facebook page. We'd posted an article about people thinking about having kids and Diane commented: "We have two teenage boys with autism. I love them deeply, but" she wrote, "if someone had told me that this is what it'd be like, I never would have had kids."
We reached out to Diane in North Carolina, where she lives outside Raleigh.
DGM: I just feel like it's - we live in a society where, especially, you know, now with Facebook and everybody will post these great beautiful pictures of their kids and talk about all their great successes and how wonderful things are. And I feel like sometimes it would benefit people to understand that you go into kids thinking that it's going to be this wonderful, amazing lifelong experience and the reality is, it may just take so much more from you than you would have imagined.
What she imagined was very different when first she met her husband, Greg. She was 18, a college sophomore. They were both studying journalism at the University of Missouri.

DGM: And I was in love with him within three weeks.

AS: Why?

DGM: We just click. I was just crazy about him. I got home, literally after our first date, and called my mother and I said, "Oh my god, you won't believe this date I just went on. I can't wait to see him again." And we ended up spending the next day together. And then we were just together ever since.
That was 23 years ago. Soon after Diane graduated from college, she and Greg got married. And they quickly started talking about having kids.
DGM: We had bought a house and it seemed natural to, you know, put a couple of kids in it. So my thought was that if I had my kids young I could then go back to my career. So, like, Kenny was born, I was 25. Theo was born, I was 27. I figured by 30 I'm back at my career. And that is not how things worked out at all.

AS: When did you notice that there was something different about Kenny?

DGM: Well, he was - you know, he hit, you know, 12 months and he had a smattering of words, you know, about ten words that he was using. And then maybe at about 15 or 16 months old, my husband and I just kind of looked at each other and goes - and we're like, "When was the last time you heard Kenny say something?" You know, it just like suddenly dawned on us that he hadn't - he had just kind of stopped talking.
They took him to the doctor. But it took about another year for Kenny to be officially diagnosed with autism, when he was two and a half years old.
DGM: At that point Theo was already 8 months old.

AS: So you had already chosen to have a second child.

DGM: Yes. And at the time we were like, "Well you know what's going to be really great for Kenny is that, you know, Theo's going to be here to be like this great role model for him." And then Theo was about 16 months old, and by this point, you know, now we knew what to look for and, you know, how to - how to judge these things. I remember my husband and I each sitting next to Theo and he's playing with blocks and like putting them in a row or something. And we're like, "Theo, Theo, Theo" and getting absolutely no response. And we just looked at each other and we were like, "Well, okay. Here we go again."
Both of Diane's sons struggle with speech, but they have really different personalities. Kenny was a pretty laid back little boy. Theo wasn't.
DGM: Theo was a nut. He was - he used to beat up everybody. When he was six years old he put his teacher's arm in a sling. He would go off about anything. So we would just be - it would seem to me like everything was just going as normal, and all of a sudden he would be desperately upset. And my first reaction as a mother was to try to connect with him, right? You know, you get down on their level and you get in their face and you'd be like, "Sweetheart, it's okay, don't -" You know, I don't even know what's wrong, but, "It's okay, everything, you know, I'm here." And what I had to learn was that that made me vulnerable. Because when I got down on his level, he could now smack me in the face in places that really hurt. So I had to learn to disregard my own maternal instincts.

AS: So you had to think about your personal safety.

DGM: Yeah. You know, and - but, you know, we started this therapy, relationship development intervention, and it helped me to understand where he was coming from. And I - you know, understand that what we were dealing with was just such tremendous anxiety that he would just explode.
Diane pulled both Theo and Kenny out of school and taught them at home. She'd already cut her work hours down to part time.
DGM: There's just not enough services to make it possible for you to - for you to be able to go to work all day. You know, so we would have a helper and then suddenly they say, "Oh, I can't come, my car's broken down." Or they quit because the payment through Medicaid, which is how we got those services, was just so low that they were always looking for another job. And so, you know, my husband and I have tried numerous configurations. Most of the time it's been me not working full time.

AS: Why did you end up being the parent who worked less than full time? Did you choose that or did it fall to you?

DGM: I think - I think in some ways it made more sense because, I think, for me, I wanted to be there. And my husband, you know, it just didn't - and it didn't work for him. It's just very hard for a man to say to his boss, "I need to work fewer hours," and, you know, still expect the same respect within the workplace.

AS: Were you working because you needed the money or because you needed to be working?

DGM: I - I - I was working because I needed the money but I also did need to be working. I mean, being - it would not have been healthy for me to not be working. Because it's very hard to have a social life when you have kids like that, right? I mean, moms get together with their kids, right? You go to the playground with your kid. Well my kid's the lunatic who I have to be, like, right next to every second. I can't sit down and have a conversation with another mom. Because I'm always worried that he's going to beat up some other kid on the playground. So there was no social interaction opportunities for me. So having -- being able to work, is probably what kept me sane throughout that experience.
Diane also started going to church, even though she didn't go regularly growing up.
DGM: And I found that being in service and just kind of having that quiet time, having this quiet hour and a half was so something I needed. But people were asking for prayers about all kinds of things and I would be like, "Okay, if this is how this works, let me do this." You know, and I would pray and cry and cry and cry and cry and cry and cry and pray, and I'd just be like, "Just tell me what I'm supposed to do." And at some point I realized that I was - I was beating myself up in an effort to impress God. I was making myself feel worse. And over the years, I have found that I have become not just like fully atheist but like devoutly atheist.

AS: Why?

DGM: Because if I have to accept the idea that somebody chose this for me, that's - I can't accept that. I can't get there. That's too hard. But if I can just accept that it's just, you know, a accident of biology, I can do that.

AS: Did anyone at church ever tell you, "This is - this is God's plan, everything happens for a reason"?

DGM: Oh yeah. Oh yeah. I mean, everybody says that. Everybody says, you know, "God only gives special children to special people." To which I say, "Well then God can go fuck himself." (Laughs) I - I - I - you know, I mean like - not. No. No. That's not a thing.
Coming up…how Diane is planning for her kids' futures...and her own.
DGM: You know, right now, our current plan is not to die (laughs) because I don't know - I don't know what would happen.
--
When this episode with Diane first came out three years ago, it definitely touched a nerve for a lot of you. Many of you sent in notes of support for Diane. We forwarded those on to her. One of those notes came in from a 31-year-old woman living in New York City. She has a sibling with autism, and she teaches autistic students.
I'm not a parent, so I can't relate to Diane's story completely, but I never signed up to be a sibling of someone with autism either. But I'm so glad I am one. While there were certainly challenging experiences growing up, my brother is the best thing that happened to me and the best thing that is in my life. I suspect my parents feel similarly. We love him so much, but it's important to share how hard it is. Loving someone and finding joy in them and not wishing they were any different still means it's hard.
For others, the episode was deeply upsetting, even offensive. A woman named Erin from Omaha, Nebraska left us this voice memo. She is autistic, and she has a kid who's autistic too.
Erin: Telling the world that you wish your autistic children had never been born and that that they have taken too much from you is not brave or admirable, it's hateful and bigoted and devalues the lives of disabled people. This kind of narrative actively harms autistic people, by spreading the message that we are lesser kinds of human beings, burdensome to caregivers, and that the world would be better off if we didn't exist.
We also heard from Jon, who was diagnosed with autism in his late forties.
Jon: In your podcast, the mom says if she knew what she was in for before she had her boys, she would not have had them. My version of that, my wish, is that I relive my life starting over with one crucial difference. That everyone would know about autism and the ways for helping parents and their kids cope and thrive.
Thanks to all of you for sharing your responses with us. I've stayed in touch with Diane over the years. She actually hosted an episode for us the first time I was out on maternity leave. She interviewed two other parents of kids with autism -- one of whom is also a police officer. There's a link to that on our website at deathsexmoney.org.
And on the next episode...coming tomorrow, Diane talks about how her family is doing now...as her two sons are entering young adulthood.
--
This is Death, Sex & Money from WNYC. I'm Anna Sale.
Diane Gill Morris's sons are teenagers now. They have their routines down -- but parenting hasn't gotten any simpler.
THEO: [Yelling]
DGM: Go on back to your room and when you're ready to eat breakfast let me know what you want to eat.
Diane sent us this recording from a recent morning. Her younger son, Theo, is yelling in the background, while she's trying to convince her older son Kenny to eat breakfast.
DGM: Stop it. Stop hitting your head. You need to go to your room. No, let me go. Talk to me when you're ready to eat.
[Door slam]
DGM: Puberty is awesome, by the way!

AS: What changed with puberty?

DGM: Oh, I mean Kenny was like this really sweet kid and he hit about 14 and a half and he turned into, like, it was just like he got pissed off about everything. He would start smacking himself in the head. Most of his aggression was towards himself and towards the walls. The walls have taken quite a toll. And it only got worse. The more I interacted with him, the worse his behavior got. So I had to change my approach. So now when he starts getting mad about something, I tell him, "I am not interested, you need to go to your room." And he recognized that he needed to learn how to keep himself under control. Because I had to make it his responsibility. I can't control him. He has to learn how to control himself.

Kenny, now that he's 16, he is very soon going to be a young black man. He is. I mean, he's 5'7". He is a young black man. And I am still trying to figure out how I make sure that he is safe in the world. You know, when I can't explain to him all the - all the intricacies involved in what it means to be young and black in America. For me personally, I feel like it leaves me isolated. There's a lot fewer - the community of moms with special needs kids that's actually like organized and together is almost entirely white. These are the moms who - a lot of these are moms who get to stay home. And they tend to make relationships. And a lot of the minority moms that I know who have special needs kids work.

AS: Have to work.

DGM: They have to work. And they don't have the opportunity - the time and opportunity to make the same relationships. I mean, I'm - I'm guessing that that might be the reason. But, we're friends on Facebook and everything. And I see them all, you know, together for their - their little, you know, night out or whatever. And I'm like, you know, "Oh okay, well, you know, I'm glad they're enjoying themselves. I would have liked to have gotten out tonight but whatever." You know, kind of thing.

AS: You're not invited.

DGM: But, yeah, but it's like, I'm just not on the list. And I don't know that we would all be friends anyway. I mean, I'm don't - I don't know these women like so well that I would be say, "Oh, you know, we would all be best friends if - if - if that were - if it weren't - you know, if they would just invite me or something like that." And, you know, legitimately maybe they just don't like me, which I think is a totally - a totally valid reason not to invite someone. But -

AS: But you don't know.

DGM: But you - right. And this is just kind of the reality of my life. Cause I'm a - I'm mixed. My mother is white and my father is black and I've kind of spent my whole life as that person who wonders, "Was I excluded just because they didn't want me there or was I excluded because it never occurred to them that they would - it never occurred to this group of people that they would include a black person?"

AS: When you feel down, like what do you do?

DGM: Um, I have a bottle of gin in my cabinet. (Laughs)

AS: Really?

DGM: Yeah, yeah, my mother won't want to hear about that. I - yeah, I have a - I - I drink probably pretty regularly. Um, it's just the tension of meeting their needs and, you know, making sure that everybody's okay and it builds over the course of every day. And, you know, by the time the day's over, you know, good god you need a drink. And - and - and that's, I mean, that's just kind of how - how you can - how you get through the day. In fact, this - this I've found to be pretty common amongst special needs moms. A good number of us polish off half a bottle to a bottle of wine at the end of each day. You know, that's not uncommon.

AS: Do you drink with your husband or is that like your special alone time?

DGM: No, um, he doesn't really like to drink. He - 'cause he just - he just doesn't see the need. He doesn't have that need. He doesn't let things get to him the way I do.

AS: How has parenting changed your marriage?

DGM: Greg and I have been together since I was 18 and he was 19. And, you know, I can't say that I knew that I had a man who could go through something like this and be strong. He - he does bedtime every night, unless he has to be someplace. You know, I hear them in the bathroom and he's being totally silly, and they're giggling together, you know. He - he just - you know, he just is such an amazing partner. And I think, you know, the hard part, is, you know, is not having the time together that we - I think we thought we would have by the time you have teenagers. You know, by the time they're teenagers, you're thinking that you're going to get to go away for a weekend together. Or go out to dinner or things like that. And we do get to do that occasionally but it's much harder to make it happen. We don't get to go away, that's not an option.

AS: When was the last time you traveled together, just the two of you?

DGM: Once! When - actually I think I was pregnant with Theo. I think we only had Kenny at that point. We went from Raleigh to Winston-Salem, North Carolina for a week. And that was it. (Laughs) And so, what we've done a few times is - where we do a hotel night in town. So we did a night - we did a weekend once where we spent two nights at the Embassy Suites that was like five miles from our house. So my parents were with the kids and, you know, we could be there in less than ten minutes if something happened.

AS: Do you ever tell like, sort of, you know, dark humored jokes - jokes where you're making fun of your kids to each other?

DGM: Oh totally. (Laughs) Totally. I mean, like, you know, yes. We routinely make fun of our children. (Laughs). You know, because, I mean, they do - they do things that are just like ridiculous. And, you know, what else can you do? You know, I mean, this is like the weirdest thing, is that, you know, they are difficult and stressful and, you know, a constant challenge. And yet they are sweet and loving and funny and - and they kind of do their own versions of jokes. Yesterday Kenny and I are making oatmeal cookies and I say, "Okay, the next step is baking soda." And he looks in the cabinet and he like gets this smile on his face. And he pulls out the honey, which is in one of those bear-shaped jars. He knows that's not baking soda! He's done this a million times. And he just smiles at me. And he's holding the honey, and he's like waiting for me to react. And we're - and our heads are getting closer together until our foreheads touch. And then I'm just like, "That is not-" and before I can even finish, he just bursts out laughing. He just - he completely cracks up. I mean, for him, that's his version of a joke, you know? And I thought it was awesome. I thought it was great. And I told my husband about it when he got home. They're just like - they're amazing people and, you know, you - I am constantly astonished by how they have managed to evolve despite all their challenges and how they've pushed through difficulties.

AS: So I hear you say that, Diane, and - and I think back to how we started this conversation. I think back to you also being pretty clear that if you'd known what motherhood would be like for you, you wouldn't have had kids.

DGM: Yeah. And - and that's still true. I mean, when I think about my life, what I wanted for my life, this is not it. You know, I wanted a career, I wanted to travel. I wouldn't - I wouldn't have chosen this path because I had to give all of that up. And I can't - I don't even know if that's ever going to change. I mean, I don't know that there's going to be a place for them when they're in their - when they're adults. I mean, that still has to be my priority as a mother no matter how old they are.

AS: Or how old you are.

DGM: Or no matter how old I am, yes. That's where it gets hard. So - so I - I think it's shifted. When they were little, it was all about figuring out how to help them. "How do I help them? How do I help them be better? How do I - what should I be doing? I don't know what to do." And trying to figure that out. Now, it's okay, this is who they are. I can help - I can continue to help them grow and evolve, and at least now I kind of have some understanding of what that entails. But the hard part is just accepting that this is quite conceivably the rest of my life.

AS: Do you think you and your husband mourned what could have been at the same time or did it happen at different paces?

DGM: Um, I don't know. I mean, it's funny. It's not something that we - it's not something that we talk about that much. Because I think we're just both very aware that it's there. I mean, the - the most heartbreaking thing my husband ever said to me, and this was years ago when the boys were small, you know, he just goes to me one day, "I could've been such a great dad." And he is a great dad. But I understand what he means. You know, he was just like, "We could have raised these like really amazing young African American men, and we would have made sure that they were well-educated and we would've made sure that they were, you know, respectful and intelligent and, you know, had lots of exper - great experiences and all this stuff." But, you know, you have to push so much of that down. You know, it's a bizarre experience to essentially mourn the loss of someone you never met. But, you know, you can - you can drive yourself crazy with that. You know, because these boys are right in front of me. And they're beautiful and sweet and amazing and, you know, they deserve a mother who's not sitting there thinking, "I wish you were somebody else." Cause, you know, that's not fair. This is who they are. For whatever reason, I don't know. But - but, you know, they are - they are my children and I love them and I will do whatever it takes to make sure that they're okay. And that's what I have to focus on.
That's Diane Gill Morris. She's a mom and freelance writer from Cary, North Carolina.
Death, Sex & Money is a listener-supported production of WNYC Studios. The team includes Katie Bishop, Emily Botein, James Ramsay, Destry Sibley and Rick Kwan.
Special thanks to Stephanie Joyce for her help on this episode.
The Reverend John Delore and Steve Lewis wrote our theme music.
I'm on twitter @annasale, the show is @deathsexmoney. Or you can email us anytime with feedback or a story to share at deathsexmoney@wnyc.org.
Diane says what's hardest is not knowing how or when things with her family might change. So I asked her...
AS: What would make your life easier?
DGM: Wow, that is an incredibly big question. The only thing I can think of would be a million dollars. A million dollars would make - like, like not having to worry about that. Couple million bucks? That would make my life easier. You think you can hook me up?

AS: Well, you said a million at first, and then you said a couple million.

DGM: (Laughs) I know! Well I started to calculate. I was like, "Well I got two, so (laughs), I need to rethink that. Maybe one isn't going to be enough!" After taxes...
I'm Anna Sale and this is Death, Sex & Money from WNYC.
Copyright © 2019 New York Public Radio. All rights reserved. Visit our website terms of use at www.wnyc.org for further information.
Music Credits:
"Two Dreams No Drums" by BLM
,
"Kettle Mystery" by BWN
,
"Realization" by BWN
,
"City Limits" by Blue Dot Session
,
"I Still Can't Believe"
,
"Big Heart" by BLM